25 Stunning Wedding Hairstyles For Grandmothers
Olivia
Updated At 16 Jul 23
Wedding hairstyles are important since they influence the overall transformation. The bride and groom, as well as family and friends, have grown to be crucial components of the wedding and its preparations. These gorgeous wedding hairstyles for grandmothers are listed here. Grandmothers can select from a variety of lovely hairstyles for a wedding. Whatever hairdo a grandma opts for, she should make sure that it will make her feel confident and at ease on the big day.
25 Best Wedding Hairstyles For Grandma's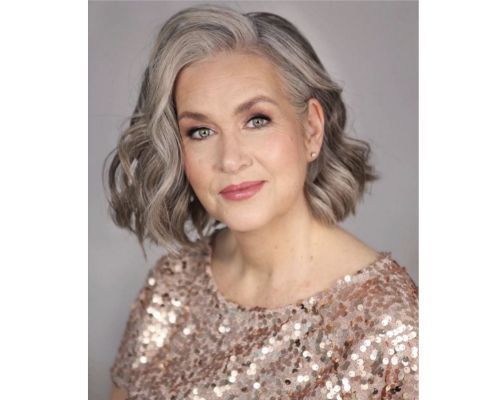 1. Wavy Bob Hairstyle
A wavy bob is a great wedding hairstyle for grandmothers who want, simple and comfortable style that still looks chic and modern. The wavy bob which is just above the shoulder creates an amazing fancy look which will work for a wedding occasion. This grandma wedding hairstyle for short hair can be complimented with a hair accessory. The waves can be created with a good styling tool.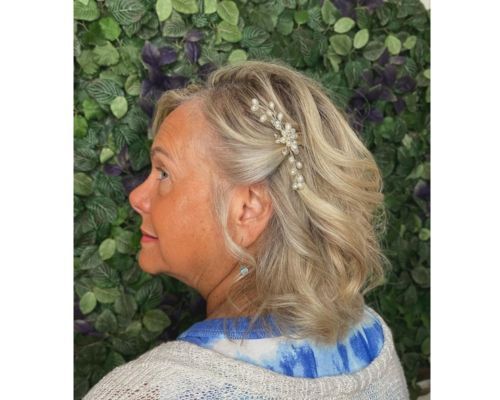 2. Sparkling Waves With Pins
This hairdo appears modest and produces a revitalising impact. A styling tool may be used to create delicate waves, and one side of the hair is put up with a lovely pearl pin. The entire hairstyle is adorable.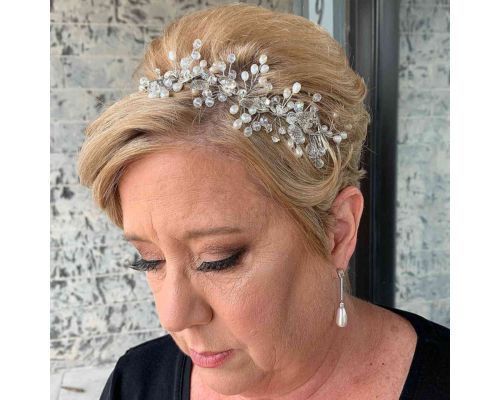 3. Updo With Layered Fringe
This is a stunning grandma hairstyle for long hair. The elegant, gorgeous hairstyle is perfect. The layered side fringe and the updo work well together to complete the look. Between the updo and the front layers, a hairpiece or hair band with crystals looks stunning.
If you are looking for inspiration for mother of the groom hair styles, do check out our detailed guide as we list 25+ stunning haircuts which have been trending this year!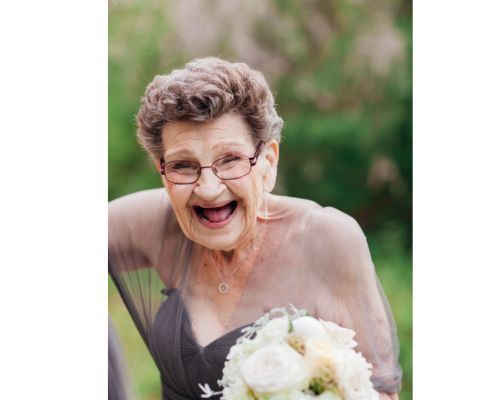 4. Cool Grandma Bob
This is the coolest grandma haircut, right? This fashionable grandmother hairstyle with a short bob is interesting. You may attempt this look for any occasion if you have short hair and want to wear a bob hairstyle. This stylish bob requires little upkeep and is portable.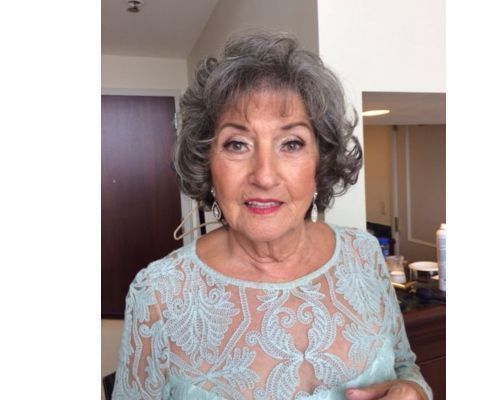 5. Wispy Hairstyle
If an older woman wants to have a delicate, feminine appearance, a wispy haircut might be a perfect choice. It's captivating to see short hair with wispy fringe and gentle outward curls. This is a fantastic wedding hairstyle for grandmothers who want a simple, understated look for the occasion.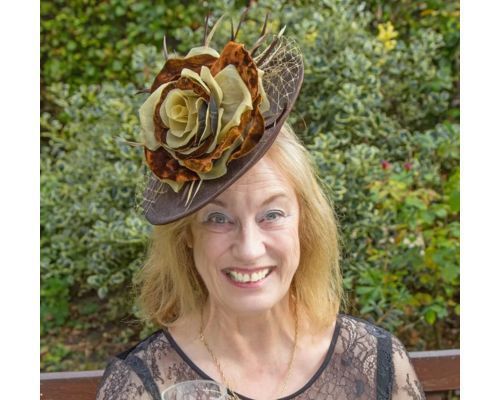 6. Brown Fascinator Mini Hat With Feathers
You can let your hair open and add elegance with a beautiful brown fascinator mini hat with feathers which will look amazing on the grandma at the wedding. If you have short hair or thin hair, this hat can give you a stunning appearance.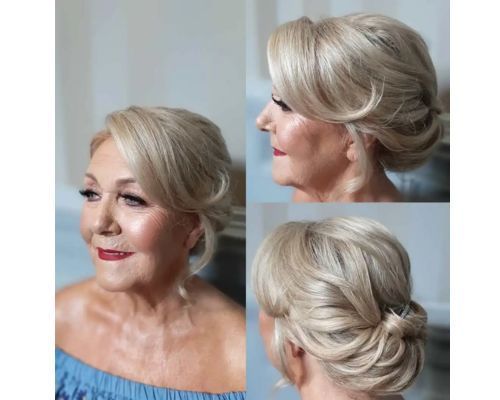 7. The Knot Style
Try this knot hairstyle, which has a low barbering in the back with decorative layers and a puffy one-side layered appearance, for a wedding. A small knot is formed in the centre of the hair when it is pulled back and twisted in textured layers. The grandparents with long hair would look lovely in this wedding hairdo.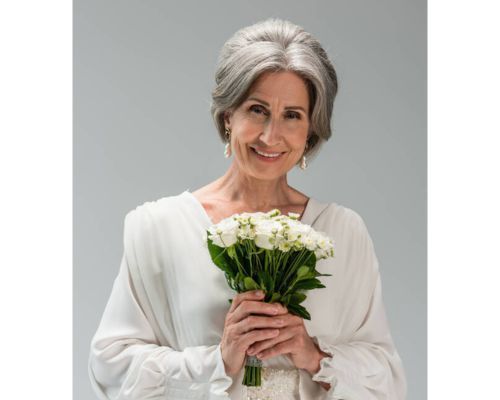 8. Middle-Parted Style
If you have short, thick hair, you should attempt this hairstyle. The front hair is centre divided, and the remaining hair is pulled back with a puffy appearance, giving the illusion of much more volume and beauty. This hairstyle perfectly suits the wedding theme.


9. Twisted Layered Hairstyle
This twisted layered hairstyle is another wedding hairstyle for a grandmother, who wants to have a pinned layered hairstyle. The hair is textured using a styling tool and the front long layered fringes are tucked back from the side with a beautiful studded hair accessory. This hairstyle gives a royal appearance.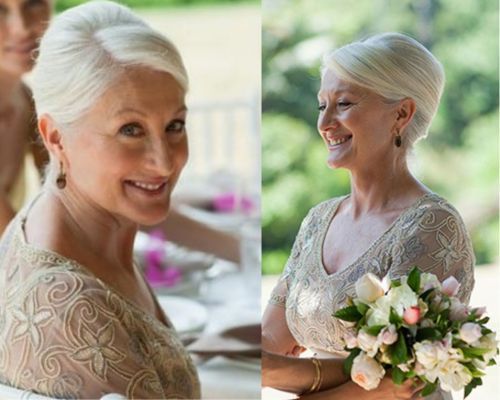 10. French Knot
Call it a French Knot, but this voluminous hairdo is perfect for a grandma with long hair. The face seems clean and apparent with this hairdo. This hairstyle, which is simple to wear and attractive, has layers that are pulled back in the front and a bumpy appearance at the hair crown.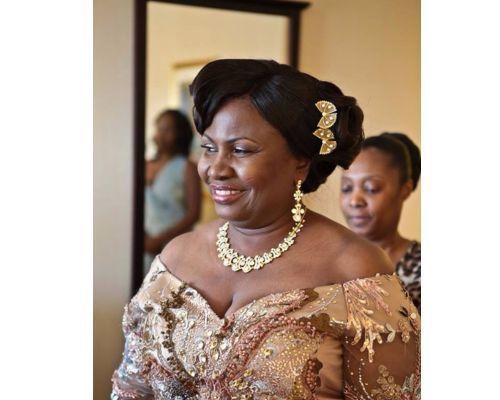 11. Side Bun
Weddings are always unique, and the planning for them is no different. You may dress as you want to look your best for a wedding. So give the conventional style the boot and look lovely with a Side bun wedding hairstyle for your grandmother. The side bun is well-made, and the item attached to it looks stunning. Along with the side bun, there are also some short, layered fringe on the front, and on the opposite.
Also check out our guide to find out the latest black wedding hairstyles as we list 25+ trending and stylish haircuts for black women which have been trending this year!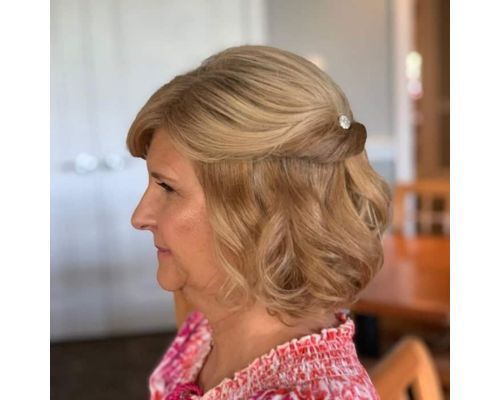 12. Short Curly Bob
This is another stunning grandma hairstyle for short hair and can be worn on wedding occasions. If you have above-the-shoulder hair, then you can try this bob style with soft and loose curls that can be pinned back to create a frizzy style making it a casual look.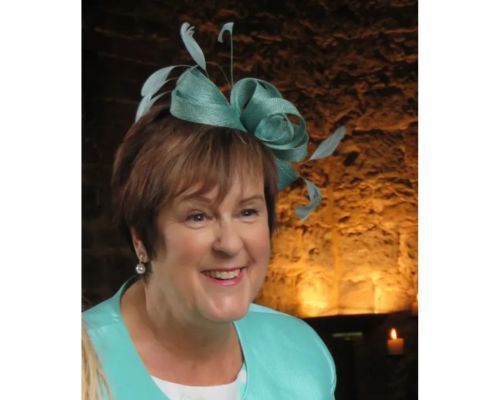 13. The Glamouros Hat Style
Your short hair will look glamorous with this blue derby hat, which you can wear as your hair accessory for a wedding. This is a popular hairstyle for grandmothers with short, fine hair who want to showcase it stylishly and look amazing. The one-sided placement of the bowler hat and the wispy fringe that hide the forehead are perfect for a wedding look.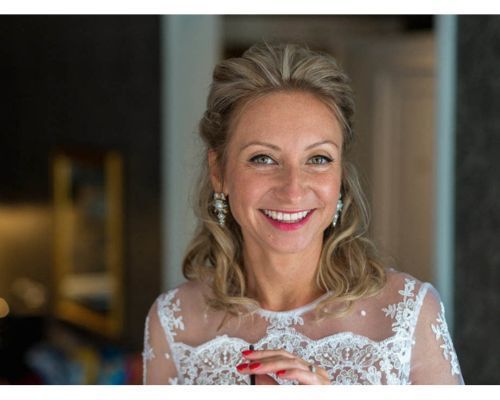 14. Half Up, Half Down
Many grandmothers discover that a half-up, half-down hairdo is a versatile alternative that suits them. To get this look, pull back the top layer of hair and fasten it with an elastic band or hair clip while keeping the rest of the hair free. The loose hair can either be curled or left straight.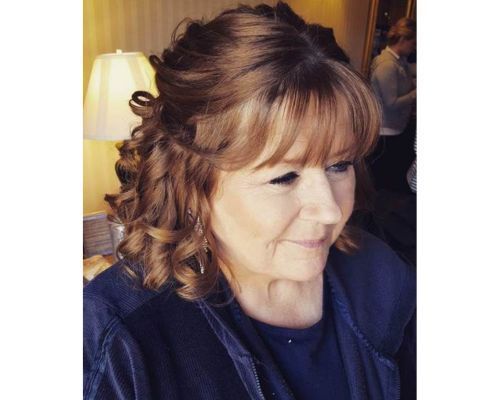 15. Fringes And Curls
An adorable blend of hot curls and open fringe that completely covers the forehead. This short hairdo for Grandma is really lovely and charming. With the use of a hairpin, the front hair at the crown is pushed back and tucked, and any residual free hair is hot curled.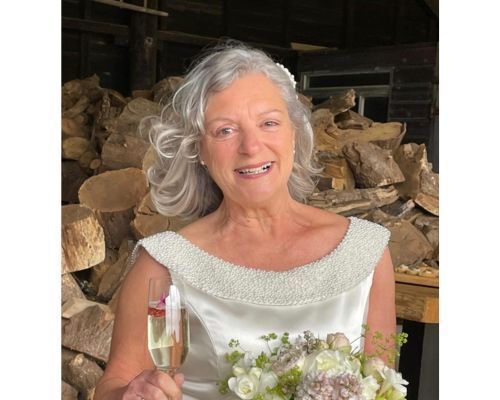 16. Layered Lob
This layered lob is a lengthened bob with shoulder-length hair that has been cut into thick, out-turned layers. Grandma can wear her short hair in this easy and sophisticated haircut. Using a lovely hair accessory, the hair may be flipped back from one side.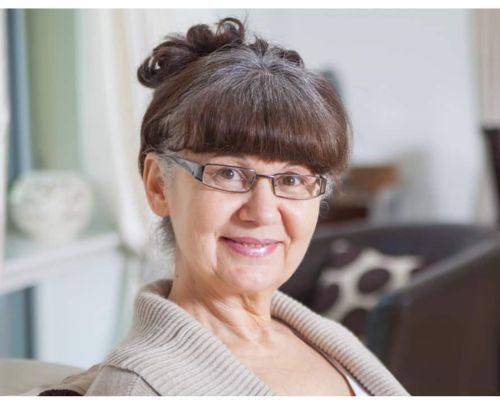 17. Heavy Bangs Updo
This can be considered a hairstyle for a grandma with long and thick hair. Grandmothers may very well show up with thick bangs that are only cut above the eyebrows, covering the entire forehead, and twist up the rest of their hair, adding some curls at the bottom to make it seem lovely when turned up.
If you are looking for mother of the bride hairstyles with bangs, then do check out our guide as we list the 25 most popular hairstyles trending this year. From waves to chignons, we cover all the trending hairstyles.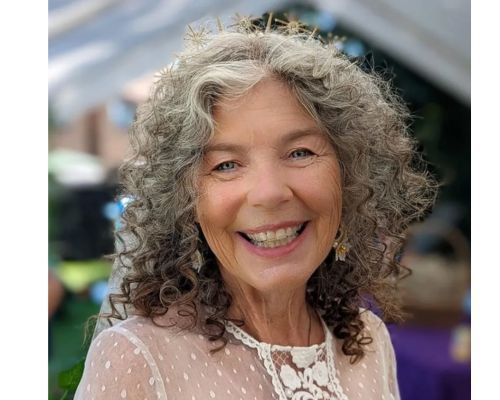 18. Loose Curls For Grandma
The most understated and preferred hairstyle for grandmothers is the natural curls when they are left open. Although styling products may be used to get this appearance, natural curls are preferred since they give the hairstyle tremendous volume and finesse. The natural loose curls are accessorised with a princess headband.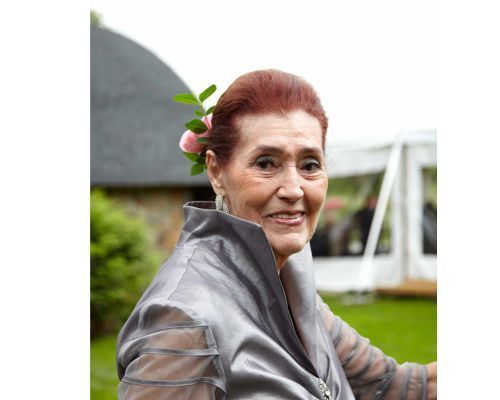 19. Back Pulled Bun
A simple and most preferred hairstyle for some grandma is this back pulled bun hairstyle, wherein the entire hair from the front is simply pulled back into a tied bun. The hair is adorned with some original flowers and leaves that are exquisitely placed throughout the hair.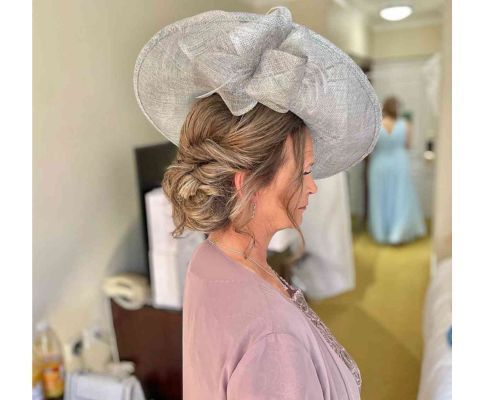 20. Messy Low Bun
One of the popular and stylish hairstyles for weddings is this messy low bun. Grandma with long, silky hair might attempt this untidy low bun with open hair strands in the front for an elegant look. It is made directly below the ear. The hat gave her appearance appeal.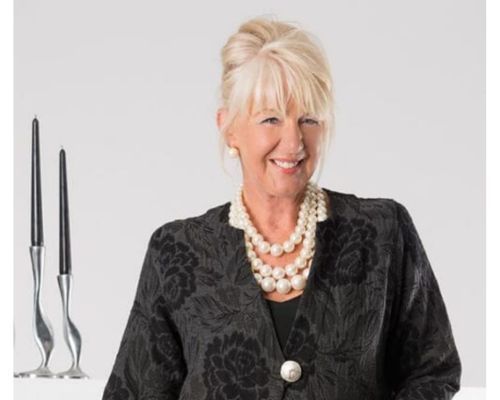 21. Bouffant With Bangs
Although appearing formal, this hairdo may also be seen as informal. The front fringe, which is trimmed just above the eyebrows and covers the forehead, is perfectly styled. The fringe in both corners is left long, which does a wonderful job of framing the face. The back hair is pulled up into a bun, giving the crown a bouffant look. The fringe and bouffant are working out wonderfully and giving off a mesmerising hairstyle.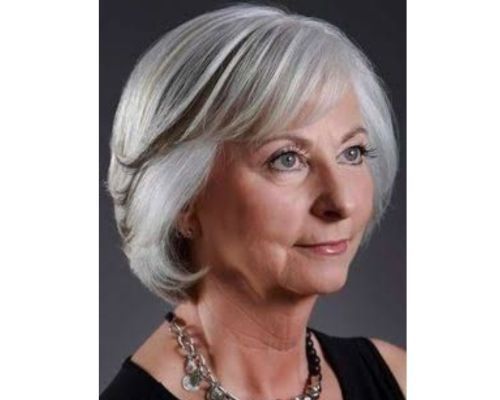 22. Stacked Bob
Grandmothers who desire a shorter, simple haircut for a wedding may find this stacked bob to be a chic and fashionable option. This bob can have short-sided layers added to it, which gives it an attractive appearance.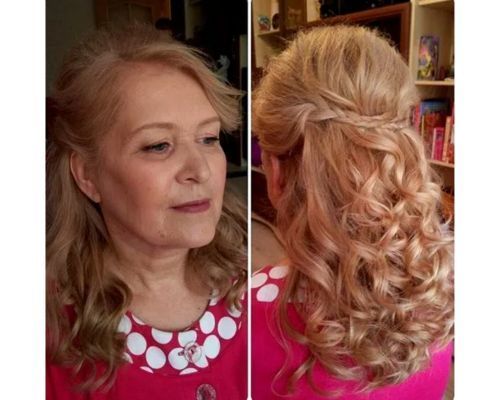 23. Half-Up Style With Braid
This gorgeous, carefree hairstyle will look stunning at weddings. Grandmothers seeking a straightforward, non-complicated hairdo may give this lovely haircut a try. You could want to think about a half-updo with gentle curls that are let down and a delicate braid at the back.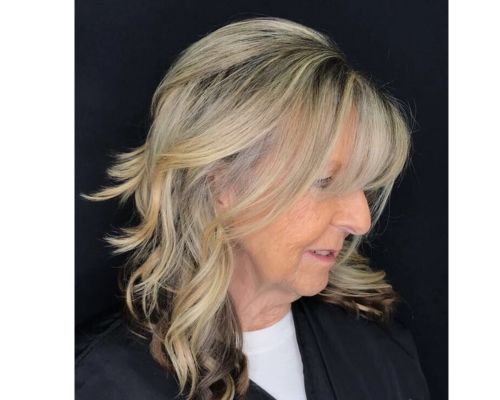 24. Bouncy Hairstyle
With this wavy, bouncy hairstyle, which is ideal for enhancing the texture of your hair, you may add volume to it. For a grandmother who prefers to wear her hair in waves, this is a stylish and sophisticated option. This hairstyle is simple and classy and maybe glammed up with a lovely hairpiece, such as a sparkly hairpin or a floral crown.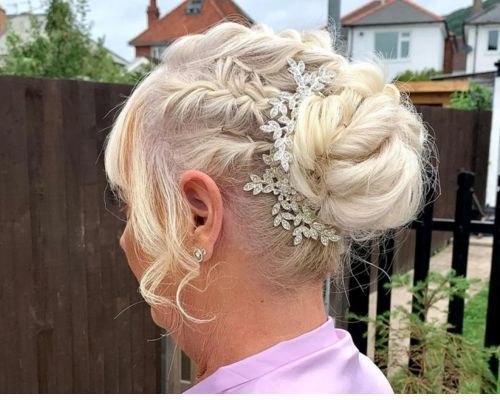 25. Braided Bun
How nice would it be to style the braids with a bun? For a grandmother with long hair, try this elegant and distinctive haircut. If one does not want to wear their hair open, they may attempt this chic and current braided bun. This bun is finished off with a lovely hairpiece.