15 Best Essential Oil Diffusers To Buy In 2023
Shalu Bhati
Updated At 16 Jan 23
Want to know about the best essential oil diffusers of 2023? Then, you have come to the right place. Keep reading.
Essential oils are the current craze across the world and rightfully so. These oils boast of a variety of benefits. From your hair and skin to your mental as well as physical health, essential oils can have a greatly positive impact on your life. This is one of the many reasons why aromatherapy has gained popularity over the years. It has been found through many scientific studies that the aroma of essential oils can interact with our brain. By simply being surrounded by their aroma, we can solve many issues including stress and anxiety.
Now, there are many ways to fill your home with the soothing aroma of essential oils but one of the best, easiest, and safest ways to do so is through essential oil diffusers. These diffusers will help disperse the essential oil of your choice into the air and spread it throughout your home. As a result, you will feel refreshed, calm, and less anxious. Your home will become a haven in true essence with the presence of an essential oil diffuser. So, what are you waiting for? We have brought for you the 15 best essential oil diffusers to buy this year. Read our suggestions and then go shop!
Let's begin!
15 Best Essential Oil Diffusers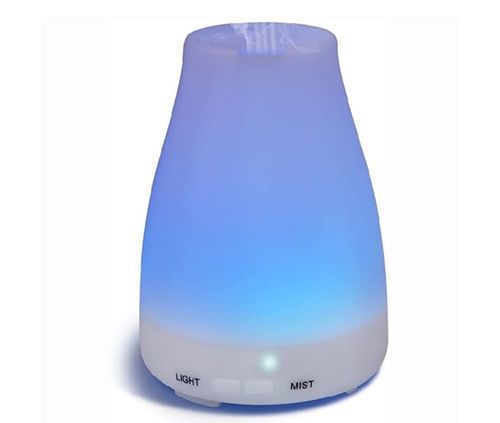 1. Homeweeks Colorful Essential Oil Diffuser With Adjustable Mist Mode
This Homeweeks diffuser is the best essential oil diffuser of this year with its multiple functions. It can not only be used as an aromatherapy diffuser but also as a humidifier and a night light. Its portable design makes it easy for you to take it away on your trips. Its operation is simple yet effective. It will automatically shut when the level of water or oil gets too low. You can adjust the various modes. The fine and smooth mist from this diffuser will help you relax and soothe your dry skin.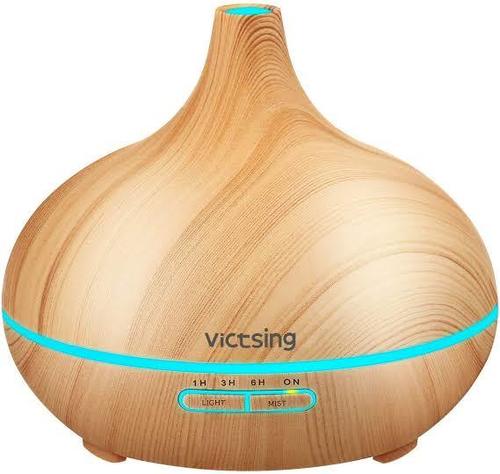 2. VicTsing Essential Oil Diffuser
This 300 ml beauty comes with two mist modes that you can adjust as per your needs. This VicTsing essential oil diffuser is one of the best performers of this year. Besides its two modes, it also comes with four different timer modes. At a low mist level, it can last for as long as 10 hours. Its beautiful wood grain design makes for a perfect gift for family and friends.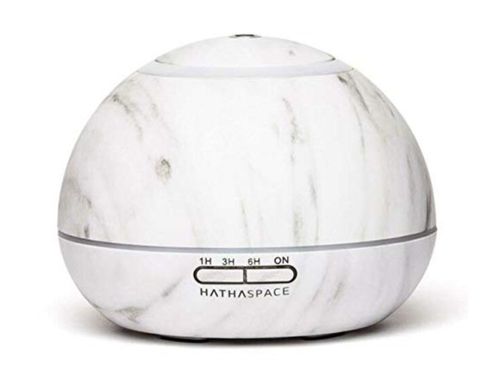 3. Hathaspace Marble Essential Oil Aroma Diffuser
This is yet another best essential oil diffuser. Its marble design makes it a suitable candidate for being a beautiful décor piece. Now, this diffuser is not just a pretty piece of tech. It comes with 350ml of capacity, the dual function of diffuser and humidifier, improved ultrasonic technology, and two mist modes. It will work for over 24 hours in one go! You can enjoy your aromatherapy sessions at home for longer. So add the best smelling essential oils to diffuse, sit back, and relax. And oh, you can also set the mood by choosing amongst seven different colors of light that come in a bright and a dim mode.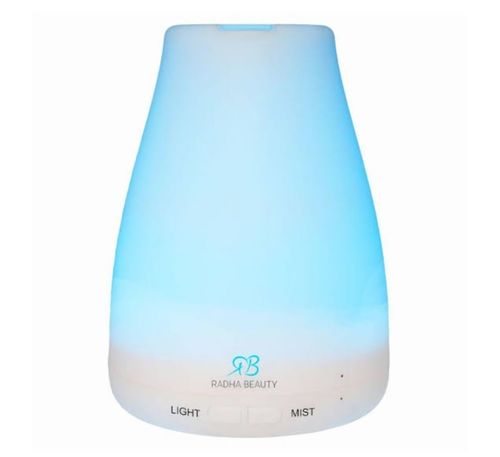 4. Radha Beauty Essential Oil Diffuser For Longer Mist
Enjoy all the essential oil diffuser benefits with this diffuser by Radha Beauty. It is an electric diffuser that is compatible with almost all essential oils. Its ultrasonic technology breaks the water and essential oil particles into millions of microparticles and diffuses into the air. It creates a calm and relaxing mood. It has an automatic shut-off function and comes with seven color-changing LED lights.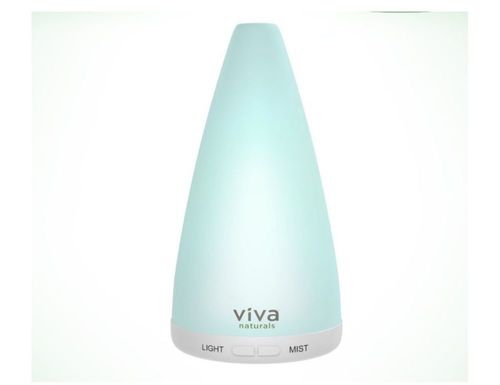 5. Viva Naturals Aromatherapy Essential Oil Diffuser
This is an essential oil diffuser that features the latest aromatherapy technology. It uses relatively less oil and vaporizes without any heat. Its benefits are only maximized. This ultrasonic diffuser will help in purifying the air and will let you enjoy the relaxing aroma for up to 8 hours. It has a compact design which makes it travel friendly and is compatible even with tap water.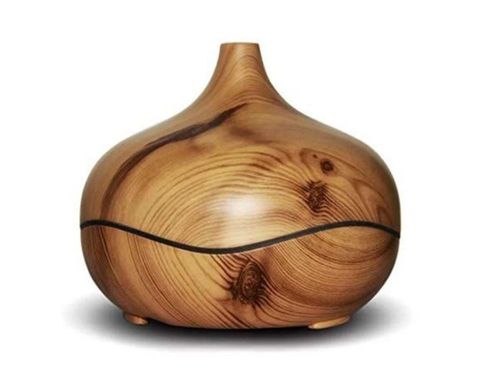 6. SOLOLIFE Aromatherapy Natural Wood Grain Aroma Diffuser
This aroma diffuser comes with an elegant woody design and a 300 ml tan. It will give you a continuous mist for 8 hours and if the water is low, it will shut off automatically. It is easy to use and comes with four LED lights. This essential oil diffuser not only looks good but also works efficiently so that you can relax and be calm.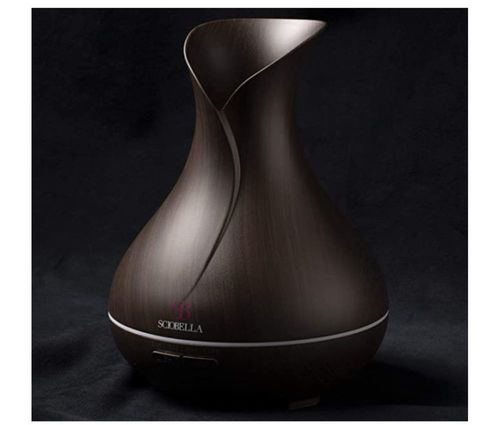 7. Sciobella Essential Oil Diffuser for Large Room
Relax after a long day with the therapeutic effects of this aroma diffuser. With four timer settings, seven LED lights, and an automatic shut-off function, this diffuser is one of the best. It comes with a 400 ml capacity that lets you go about your day. This ultrasonic diffuser is elegant, powerful as well as quiet. What more can you need?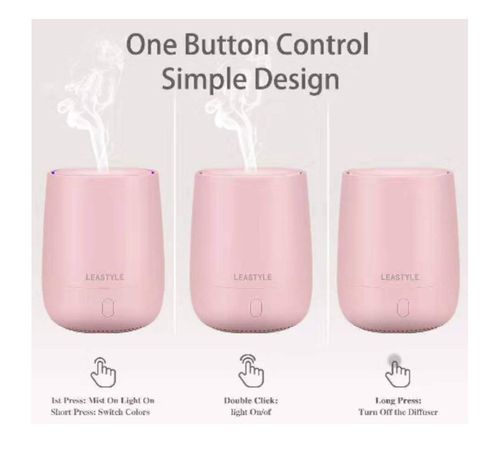 8. LEASTYLE Essential Oil Portable Mini Diffuser
It is pretty, portable, and powerful. This essential oil diffuser performs three functions of a diffuser, humidifier, and a seven-colored LED light. Due to its mini and portable size, you can take this aromatherapy diffuser anywhere with you. It is noiseless, easy to use, and has a design that will not spit water so you don't have to worry about any wet mess.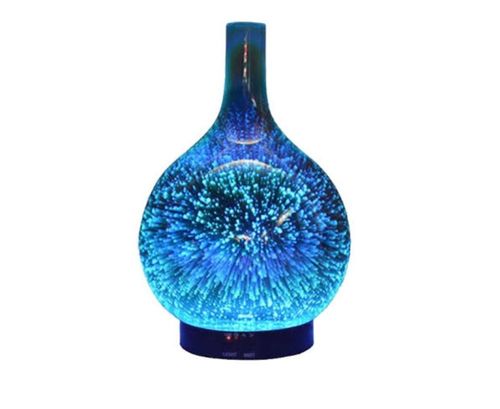 9. Ingeniuso Essential Oil Diffuser
Here is a magical essential oil diffuser for you from ingeniuso. This is one of the bestselling diffusers on Amazon thanks to its multi-functioning ability. It comes with six different colors that rotate automatically to give out a 3D celestial effect. This beautiful and colorful diffuser is safe, natural, and BPA free. It can run on both water and waterless mode. When the water is low, it will shut off on its own and can be used as a night light by activating waterless mode. People love it in 2022 because it gives off a strong mist while showing you all the colors of the wind, sky, and space.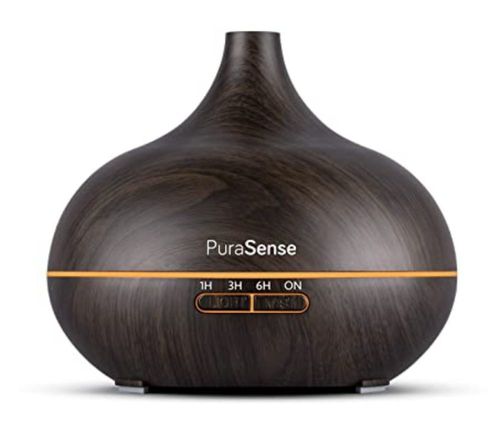 10. PuraSense Ultrasonic Aromatherapy Essential Oil
Here is yet another aromatherapy diffuser that comes with an elegant design and powerful functioning. It gives out a lovely ultra-fine mist that will cover an entire room with ease and remove the indoor stuffiness. With a capacity of 550 ml and an automatic shut-off function, this essential oil diffuser will let you relax for longer hours without worrying about refilling.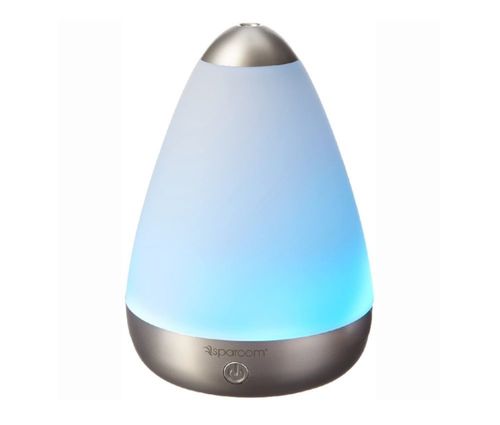 11. SpaRoom PureMist Ultrasonic Essential Oil Diffuser And Fragrance Mister with LED Light Show
If you want a classic ultrasonic diffuser that gives a strong and continuous mist for 3 hours while giving out a beautiful lighting effect, then this essential oil diffuser from SpaRoom is the one for you. This fan diffuser will operate without making any noise so that you can enjoy the soothing aroma in peace. It can cover about 100 square feet of space and has an automatic shut-off function.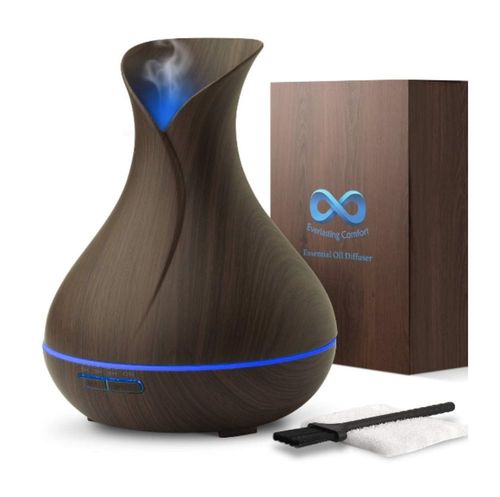 12. Everlasting Comfort Diffuser for Essential Oils
The Everlasting electric diffuser comes with 400 ml capacity which makes it one of the top contenders for the title of the best essential oil diffuser. It has a 400 ml tank that can give you about 13 hours of continuous mist. You can choose between a low and a high setting. This is a powerful oil diffuser that comes with a flower vase-like design. It will easily fit with your home décor and give you all the aromatherapy that you need.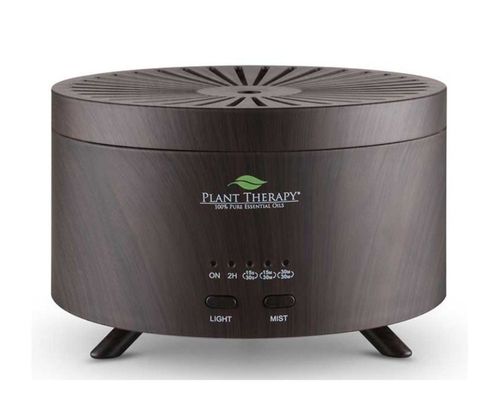 13. Plant Therapy AromaFuse Aromatherapy Essential Oil Diffuser
Want the best oil diffuser for large spaces? Then, this is your best bet. You have placed your trust in Plant Therapy essential oils. Now it is time to put the same faith in their diffuser. This diffuser can cover more than 500 square feet of area and can give 10 hours of continuous mist. It comes with an automatic shut-off function and five different settings that you can customize as per your needs. This essential oil diffuser will be a great refreshing addition to your home.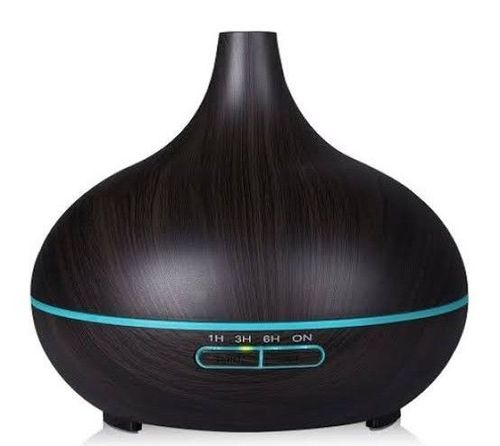 14. Aromatherapy Diffuser Aroma Essential Oil Diffuser Gift Edition
The Alike Aromatherapy diffuser with a capacity of 300 ml is perfect for the bedroom as well as office spaces. Its elegant design and easy to use functions make it the top choice amongst essential oil diffusers in 2022. This diffuser works quietly and can help soothe dry and chapped skin. With 7 colors and two modes, this is the best option for you to receive all those lavender essential oil diffuser benefits.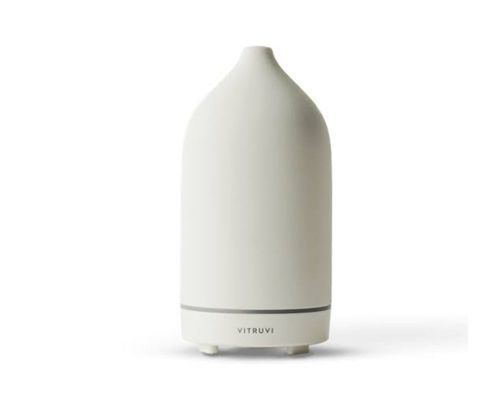 15. Vitruvi Stone Ceramic Ultrasonic Essential Oil Diffuser for Aromatherapy
The Vitruvi essential oil diffuser is slightly expensive and has only 100 ml capacity. But, its strong stream of mist and ease of use make it one of the best diffusers of 2022. Its unique design and porcelain ceramic finish look sophisticated and attractive. It can be used easily with its two timers setting for smaller spaces. It is easy to clean which is often a struggle with many other diffusers. Its indicator light is subtle and won't disturb your sleep if you prefer a dark room. And if you are still not satisfied with its features, it can always be used as a wonderful gifting option.