Kylie Jenner Exact Skincare Routine With Beauty Products
Olivia
Updated At 13 Feb 23
Kylie Jenner is a reality TV star, model, and beauty entrepreneur who is known for her love of beauty products. From launching her successful line of makeup called Kylie Cosmetics to her very own skincare line called Kylie Skin– at a young age, she has become a business mogul.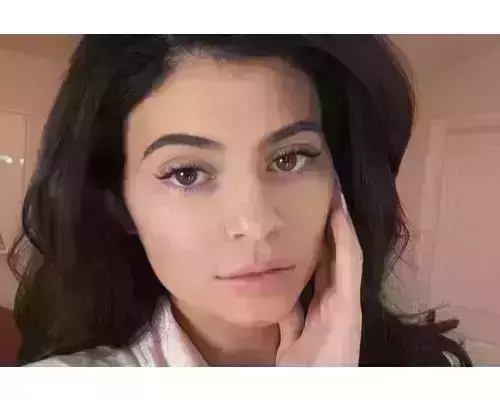 Fans are often curious about the secret behind the "Keeping Up With The Kardashians" star's flawless skin. If you're one such curious fan as well, keep reading this article! We have laid down, in detail, the official Kylie Jenner skincare routine and her favourite beauty tips, secrets and products.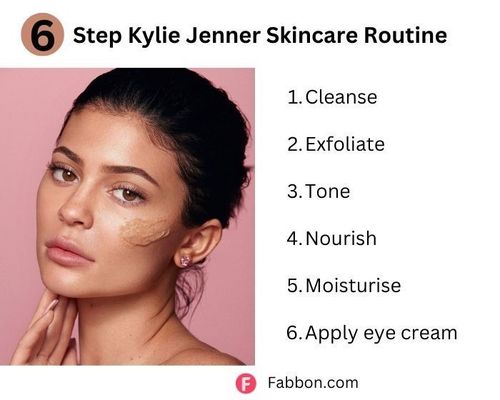 Kylie Jenner's Skincare Routine

If you are curious about the official Kylie Jenner skincare routine, we have your answers right here.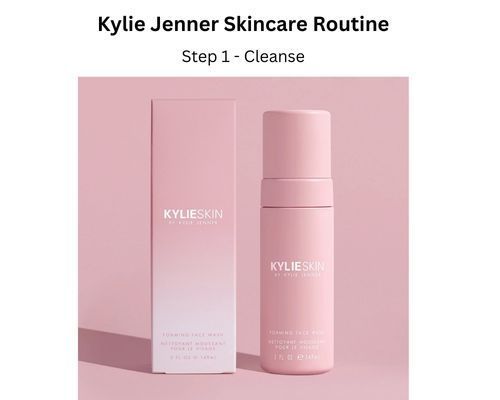 Step 1. Cleanse
Kylie Jenner begins her skincare routine by cleansing her face with a gentle facial cleanser, such as the Kylie Skin Foaming Face Wash. This helps to remove dirt, oil, and makeup from the skin, leaving it clean and refreshed. If she is wearing heavy makeup, she will preface this step with the Kylie Skin Makeup Melting Cleanser.
If you check out Jennifer Lopez skincare routine, you would find out that cleansing is one of the most important steps in her skincare routine as well. She also makes sure to clanse her face regularly during the day.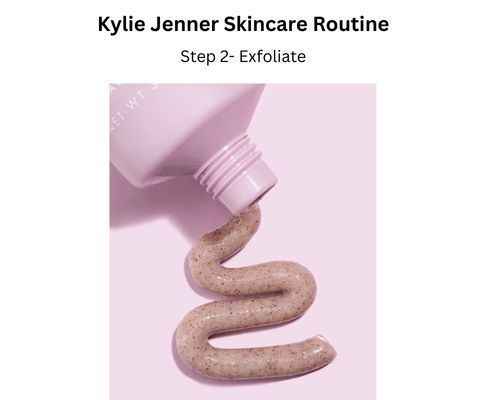 Step 2. Exfoliate
After cleansing, Kylie goes for the Kylie Skin Walnut Scrub. Kylie suggests exfoliating only a couple of times a week, as over-exfoliation can cause damage to sensitive skin.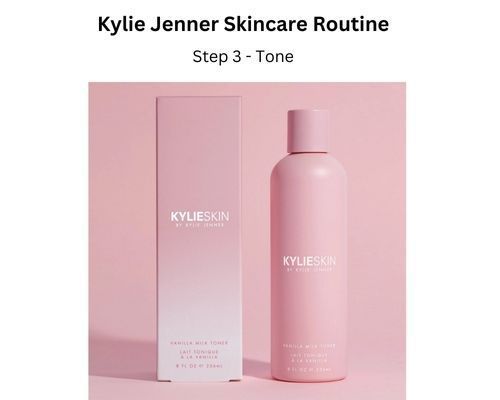 Step 3. Tone
The step which Kylie claims is the secret to "delicious" skin! She loves using the Kylie Skin Vanilla Milk Toner to balance the pH of the skin. The yummy vanilla scent is a bonus.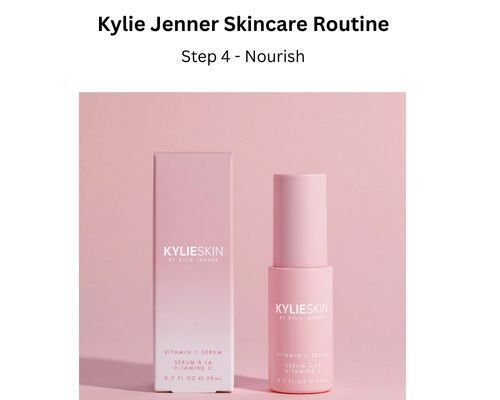 Step 4. Nourish
The lip kit mogul follows up with her favourite hydration-boosting serums, which include the magical and synergistic duo of Vitamin C and Hyaluronic acid. Sometimes she also uses a treatment product, such as a sensitive skin mask or acne spot treatment, to address any specific skin concerns.
Many celebs use a serum in their skincare routine. If you check out Lady Gaga skincare routine, she loves to use Ole Henriksen's Truth Serum. It is a vitamin C serum that is her secret behind a bright flawless complexion.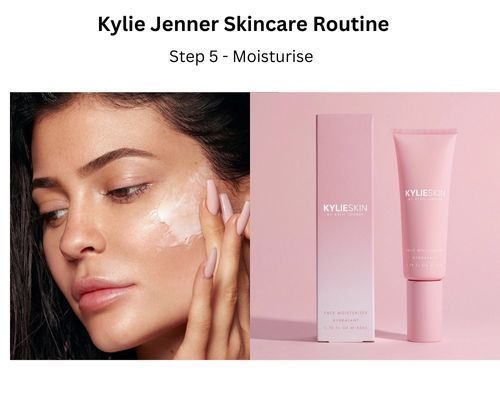 Step 5. Moisturise
Next on the Kylie Jenner skincare routine is a nourishing moisturizer such as the one by Kylie Skin. During winter, she likes to add on more moisture with skin-loving products such as the Charlotte Tilbury Magic Cream and the Osea Essential Hydrating Oil. This helps to hydrate and nourish the skin, leaving it feeling soft and smooth.
Similar to Kylie, many celebs include hydration as one of the key steps in their skincare routine. Kate Middleton skincare routine too involves this step. Kate takes special care of her face and moisturizes using the Nivea Crème. Yes, it's true. Kate was spotted purchasing the Nivea moisturizing crème in the UK. It is one of the most affordable skin care products that Kate Middleton uses.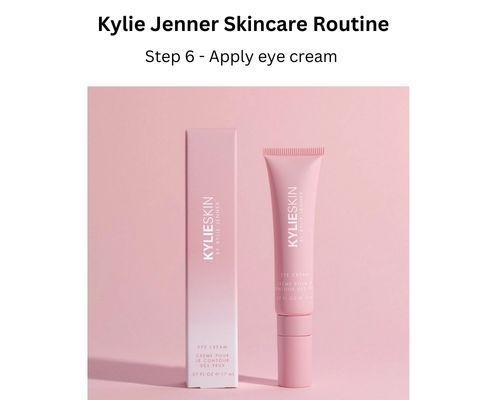 Step 6. Eye Cream
Probably what is the most essential part of the Kylie Jenner skincare routine? Kylie finishes off her process with a nourishing and hydrating eye cream, such as the Kylie Skin Eye Cream or the Mario Badescu Hyaluronic Eye Cream.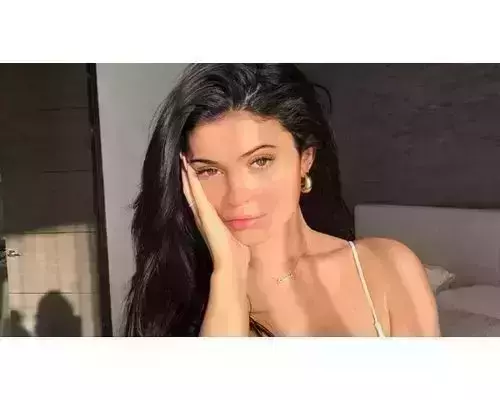 Kylie Jenner's Beauty Tips and Secrets
Kylie Jenner's skincare routine has several affordable products you can pick from the local store to maintain supple and smooth skin. But some skin concerns need more expert help. The other Jenner sister, Kendall, has revealed she battled with acne in her early years, and only a dermatologist in Beverly Hills could help her out. Kylie Jenner likes to visit the same dermatologist for routine checkups and treatments.
Some more beauty tips Kylie has revealed are-
1) Hydration: Hydration shouldn't just be limited to slathering hydrating masks on your face! Internal hydration is just as important, so make sure you get an ample intake of water daily.
2) Exercise: Doing physical activity helps to flush out toxins through sweat and gets your blood pumping, which gives you a natural glow and rosy cheeks.
3) Laser Hair Removal: Kylie revealed she goes to Sev Laser on Melrose. This eliminates the effort and pain of waxing and shaving and also helps with smoother makeup application.
4) Sunscreen: It is important to use a good SPF product to prevent hyperpigmentation and ageing caused by the harmful UV rays of the sun. Kylie reminds her fans that it's important to use sunscreen not just on your face but also on the neck, chest and hands.
5) Teeth Whitening: Kylie pays regular visits to her dentist for this. She says using teeth whitening strips from the drugstore can be just as effective.
6) Diet: Kylie emphasizes the importance of good nutrition to heal from the within. She has reportedly cut out dairy from her diet to reduce inflammation.
7) Acne Care: Instead of picking on your acne and causing scars, Kylie suggests applying an acne-drying solution using a Q-tip.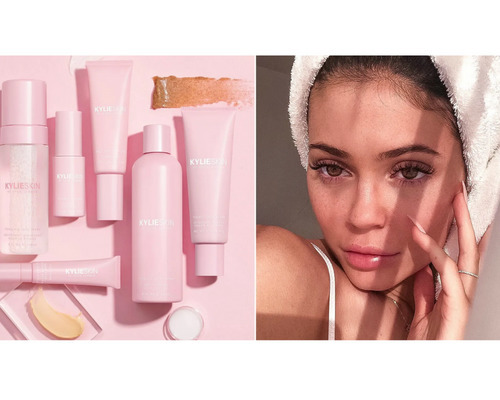 Kylie Jenner's Favorite Skincare Products
Kylie Jenner has many skincare products in her aisle. Apart from the Kylie Skin line products and the essentials mentioned in her skincare routine, she has a few other products she uses to address specific concerns.
Nivea Men Sensitive Post Shave Balm: Kylie Jenner has revealed that she uses this product as a makeup primer to help smooth out her skin and prep it for makeup application.
Kiehl's Grapefruit Crème de Corps Whipped Body Butter: This nourishing product is Kylie's go-to body moisturizer to battle the harsh winter dryness.
Kiehl's Midnight Recovery Botanical Cleansing Oil: This non-comedogenic product with the goodness of squalane and primrose oil functions as an excellent makeup remover.
Kylie Skin Lip Oil: Can we compile a list of Kylie Jenner skin care products without mentioning what the "lip kit" pioneer uses on her lips? Kylie claims this product helps to smooth and plump her lips.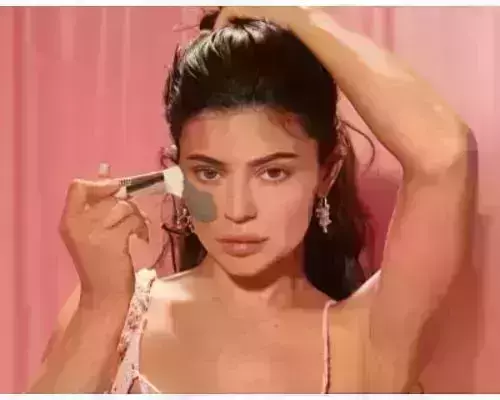 Kylie Jenner's Favorite Masks
Kylie Jenner usually goes for the Kylie Skin detox mask or store-bought sheet masks such as the green tea mask by Sephora. She has shared a number of her favourite masks on her social media accounts and in interviews. Here are a few of the masks that she has mentioned:
Clay Masks
Kylie is a huge fan of using clay masks to help absorb excess oil and draw out impurities from the skin. For this, she likes to use the Kylie Skin detox mask.
You can also create a DIY version of this Kylie Skin clay mask by mixing the following ingredients-
● 3 tbsp Kaolin Clay
● 1 tsp Bentonite Clay
● 1/2 tsp Charcoal
● 2 tbsp Water
● 1/2 tsp Glycerine
Another clay mask Kylie has claimed as her go-to mask during winter is the L'Oreal Detox & Brighten Clay Mask.
Hydrating Masks
It is claimed that Kylie Jenner's skin type is sensitive. Kylie likes to hydrate her skin after cleansing to prep the skin before moving on to the actual moisturizing step. The Kylie Skin Hydrating mask checks all the boxes with its nourishing ingredients. It has shea butter and skin-friendly antioxidants. Shea butter is a heavenly moisturizing ingredient from mother nature's lap, while antioxidants like Vitamin B3 help to brighten the skin, and Vitamin E helps in anti-ageing and moisturizing.
Another hydrating product revealed to be essential in the Kylie Jenner skin care aisle is the NARS Aqua Gel Luminous Mask.
Sheet Masks

Kylie likes to use store-bought, ready-to-use sheet masks at least once a week. She considers them a great pick-me-up for easy pampering sessions. Some of the sheet masks Kylie has shared with her fans include-
● Snail sheet masks: Snail mucin is the brainchild of K-beauty experts. This magical ingredient can hydrate and nourish the driest skin, leaving it supple and glowing. For this, Kylie likes the Oh K! Intense Hydration Snail Mucin & Seaweed Fibre Mask.
● Gold sheet masks: 24K gold masks are just like their name suggests. You can give your skin a luminescent, golden glow like Kylie with the Miss Spa Restore and Brighten 24k Gold Radiance Mask.
● Plant extract sheet masks: Kylie Jenner's skincare pack will often contain one of Sephora's sheet masks such as the Green Tea or Rose sheet mask.
● Diamond sheet mask: Yes, this mask screams extravagance, but do we expect anything less than opulence from the young billionaire? For extra special occasions, consider the Rodial Pink Diamond Lifting Face Mask.
It's worth noting that everyone's skin is different, and it's important to be careful when using DIY masks and to do a patch test before applying them to your face. If you have sensitive skin or are unsure about using a particular ingredient, it's a good idea to consult with a dermatologist or other skincare professional.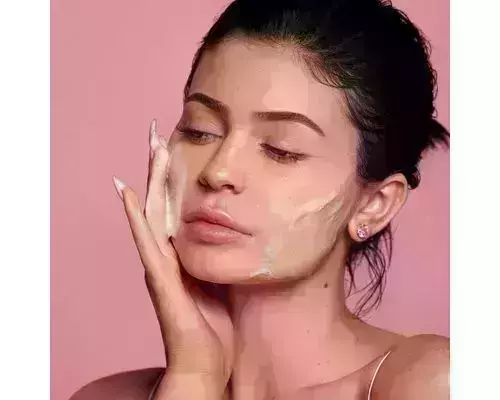 Kylie Jenner Skincare FAQs

Q. What serums does Kylie Jenner use?
A- There are two essential serums in the official Kylie Jenner skincare routine. These serums are a vitamin C serum and a hyaluronic acid serum. The main function of these two products is to provide hydration and to make the skin supple and bouncy. Vitamin C also doubles down as an anti-ageing and brightening ingredient.
Q. What is Kylie Jenner's skincare routine?
A- Fans and skincare enthusiasts are often curious about the official Kylie Jenner skincare routine. Kylie's everyday routine consists of 4 hero products from Kylie Skin:
Step 1. Kylie Skin Foaming Face Wash
Step 2. Kylie Skin Walnut Scrub
Step 3. Kylie Skin Vanilla Milk Toner
Step 4. Kylie Skin Vitamin C Serum
Step 5. Kylie Skin Moisturizer
Step 6. Kylie Skin Eye Cream
Q. What cleanser does Kylie Jenner use?
A - Kylie often wears makeup, so she likes to start by using the Kylie Skin Makeup Melting Cleanser to remove the makeup first. Otherwise, she goes straight for the Kylie Skin Foaming Face Wash. The celeb proudly claims that simply one pump is enough to remove all dirt and grime from your face.