25 Best Braided Hairstyles For Short And Long Hair
Mohini Banerjee
Updated At 08 Oct 22
Are you tired of making the same old braids? Looking for the best braided hairstyles for long hair which can transform your look?
Look no further as we list the best braided hairstyles which will give you a lot of options. From celebs to famous models, these braided hairstyles have been used by all. We also list the braided hairstyles for short hair.Check it out!!
Best Braided Hairstyles For Long Hair And Short Hair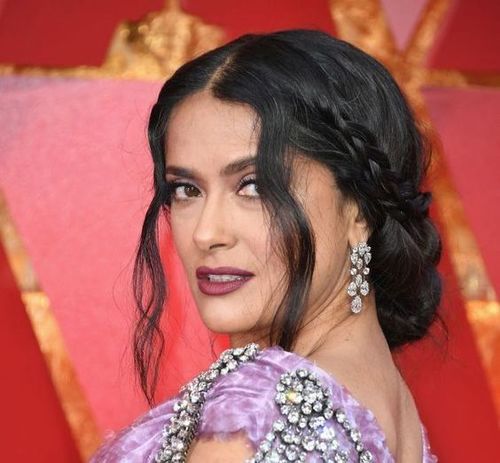 1. Braided Bun
If you want to look classy and chic at the same time, then you can choose to combine a braid with a bun. One of the best braided hairstyles, this look with braided bun is one of the top options when you are going to attend a formal occasion. The elegance of this hairdo sets it apart from the various other braid options you can opt for. Salma Hayek slays the look like no other! Short curly hairstyles are trending this year so do check out our guide to find out the latest hairstyles.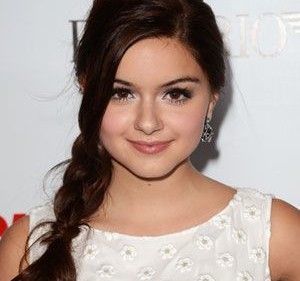 2. Side tousled braid with waves
If you want a soft and feminine look, then this is one of the best braided hairstyles you can go for. The tousled effect gives it a beautiful messy look that will enhance your face. Creating a loose side braid is also not very difficult which means that you can even recreate the style in a hurry. Curl the ends for those romantic waves. One of the best shoulder length haircuts, this braided hairstyles looks stunning.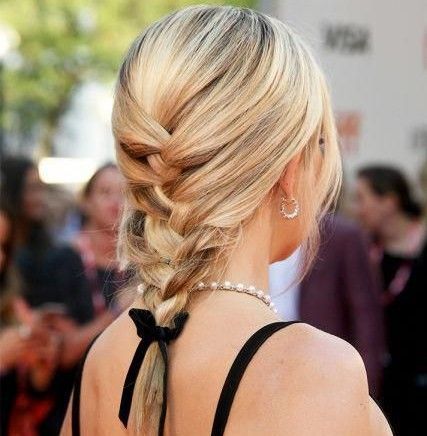 3. The Bow Braid
You will be surprised at how much of a difference a simple bow can make. You might think at first that a bow will make you look childish, but hear us out. All you need to do is create a soft and segmented French braid, to begin with. Now add a small bow towards the end matching it with your dress. This is one of the best braided hairstyles for short hair.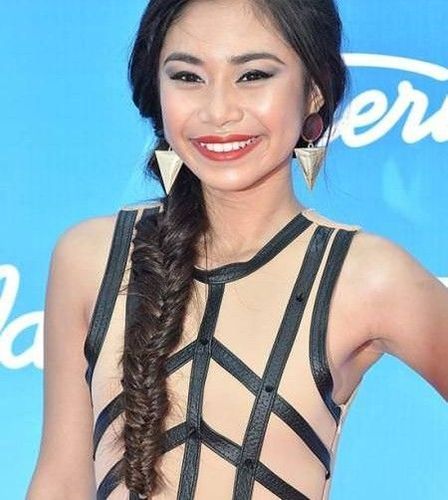 4. Low Side Fishtail Braid with a Side Parting
This fishtail braided hairstyle will add an edge to your look. You can sweep your hair to one side and then make a thick side fishtail braid starting right at the base of the neck. It is one of the best braided hairstyles for long hair and it is easy to replicate if you know how to make a fishtail.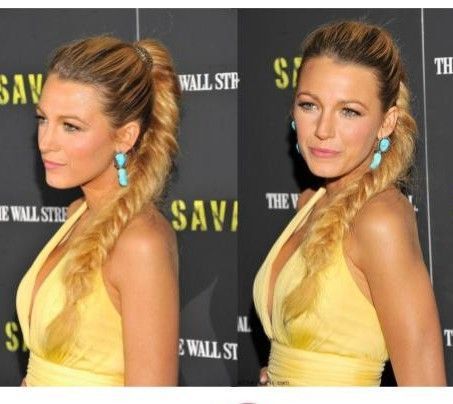 5. High Fishtail Braided Ponytail
To make your look stand out, you can play around with the texture of your hair. You need to make your hair look voluminous and full. Add a texturising spray towards the top to fluff it up, and then make a high ponytail at the back of your head. Now you can create a thick fishtail braid that will be rather messy but gorgeous. You can also use extensions if you want to go all the way. Considered one of the best braided hairstyles for long hair, this is easy to implement as well Curly bob is another hairstyle which can be used if you are looking for a hair makeover.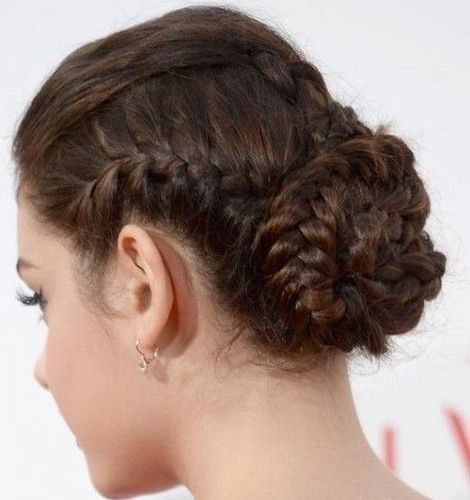 6. Elegant Multi Braided Bun
Combining the bun and the braid into one hairstyle can give birth to one of the most elegant braided hairstyles that you will ever sport. At first, you will need the separate your hair into a front section and a back section. Take the latter and create two tight braids that will hold it all in. Use these braids to make a precise bun. Puff up the front section so that it looks even better. You can use bobby pins to secure the look.
This elegant bun is amongst the best braided hairstyles if you want to try out something new.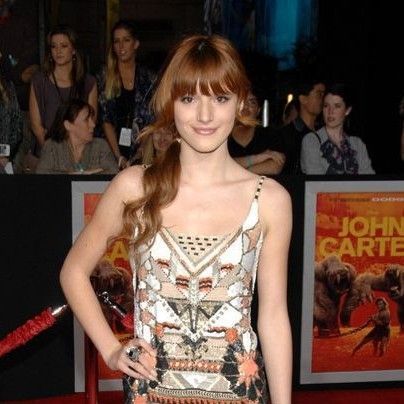 7. Half Braid Half Pony
If you cannot decide whether to sport your favourite braid or your favourite ponytail, you should try both at once. Apply a volumizing spray through your hair so that it appears fuller. Tie your hair back into a short braid at the back and tie with a band. Now you need to create soft waves towards the bottom. You can also make your bangs wavy for that effortless half-and-half structure.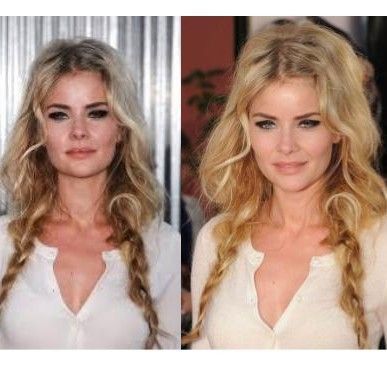 8. Tousled Braided Pigtails With Puffy Top And Free Ends
No. You do not have to leave your pigtails behind in the fourth standard. There is nothing wrong about sporting graceful braided pigtails that will only make you appear more chic. The tousled pigtail hairstyle will give you an edgy book that you will love. The look is characterised by a volumized crown and textured side bangs. One of the best braided hairstyles to try, this works best on blow-dried hair.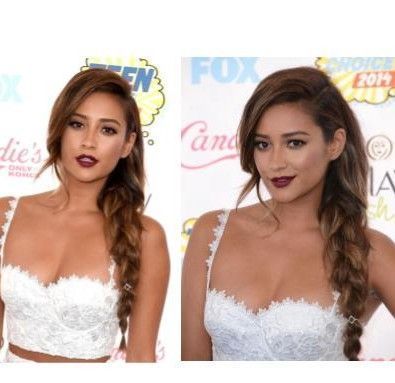 9. Rope Braid
You cannot get tired of the classic rope braid, can you? Once you learn how to make a rope braid, you will be sporting it everywhere. You can make your braid hand low and loose, but you will be surprised at how well it holds up. This three-strand braid will also frame your face nicely so that you look your best. if you are looking for the best braided hairstyles for long hair, then rope braid can be a very good option.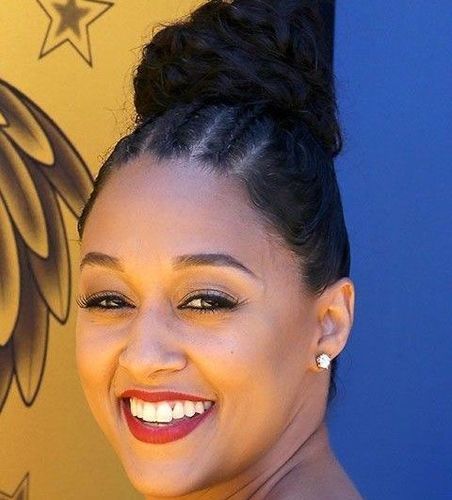 10. Braided Bun With Cornrows
One of the easiest cornrows braided hairstyles, you will be able to pull this off effortlessly. If you have triple cornrows, all you need to do is take them together and wrap them into a tight braided knot. While it sounds easy, the result is anything but simple. Braided bun with cornrows is one of the best braided hairstyles for short hair.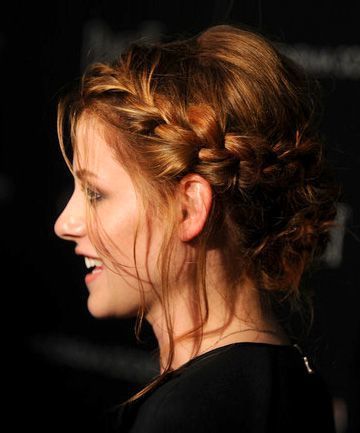 11. Side-Braided Bun with Bangs
If you want your look to be soft and elegant, then you can try making a side braided bun. It will frame your face cutting down on the edges. Begin by fluffing up the crown of your head, and then make simple braids along your hairline on both sides. Now you have to make a low, tight bun that will hold its position. You can leave some loose strands to add that messy touch.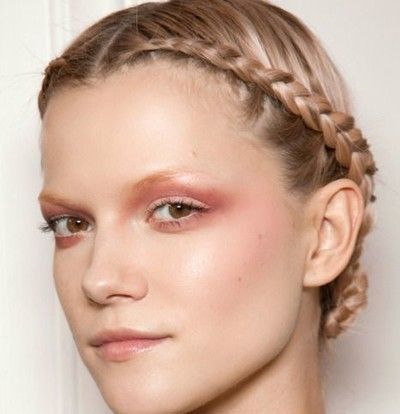 12. Middle Part With Braided Wraparound
If you want to stand out, then you can try this unique style. Begin by parting your hair in the middle. The key to making this look work is to smoothen your hair so that there are no flying strands. Pull your hair back and then make a tight braid which you will be able to use as a wraparound. Try out this best braided hairstyle and look like a dream!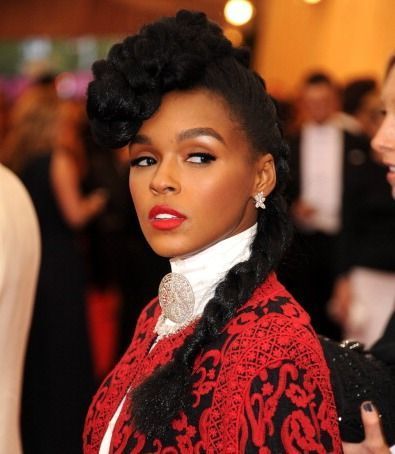 13. Double Braids
These are not like regular double braids which usually fall over both your shoulders. A unique way of styling African braids, this look involves one braid being held up by gravity atop your head while the other one falls loosely over your shoulders. The top braid is piled up to give it more volume.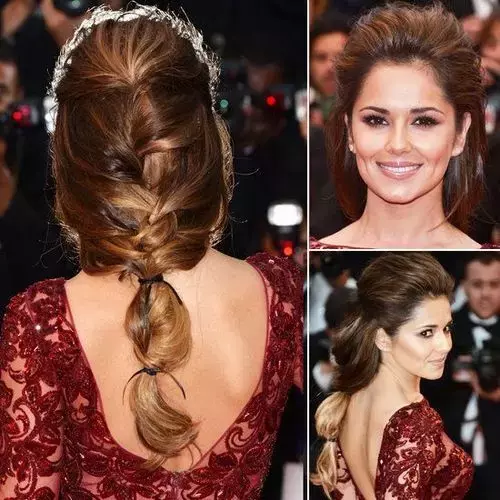 14. Waterfall Braid
Considered to be one of the most elegant braided hairstyles to exist, the waterfall braid is the perfect way to complement your backless evening dress. A long and segmented waterfall braid can change your entire look. The best part is that you do not even have to put in a lot of effort to achieve the perfect waterfall braid.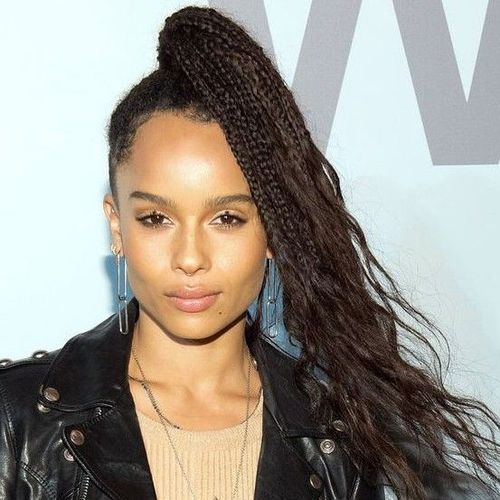 15. The Braid Ponytail
One of the easiest braided hairstyles combining the elegance of the braid with the convenience of a ponytail, this look is easy to achieve. If you have African braids in your hair, then you can simply sweep them up to make a high ponytail on the top of your head. You can be sure that it will look excellent.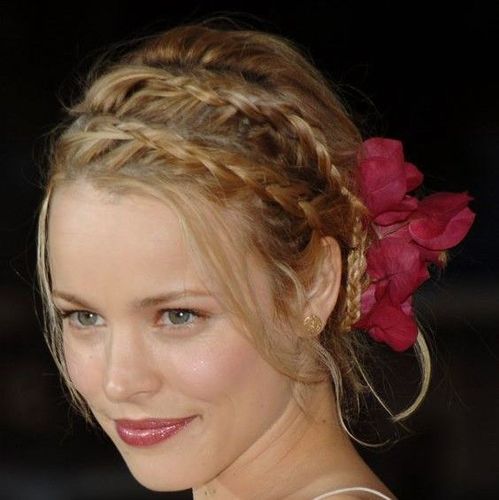 17. Ornamented Braids
A quick way of making your hairdo more elegant is to add an ornament or flower to the equation. Create double braids and then tuck a flower behind your ears so that you look fresh and graceful. This is one of the most popular braided hairstyles for brides and bridesmaids currently.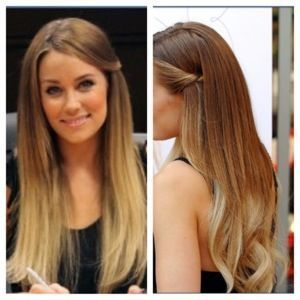 18. Braid Tuck
If you are super lazy and you do not want to put any effort into your hairstyle, then you should try a simple braid tuck. You will be surprised at how effective it can be in making you look sorted. These are easy braids for short hair because the length of the hair does not play a role. Next time you are in a hurry, give this one a shot!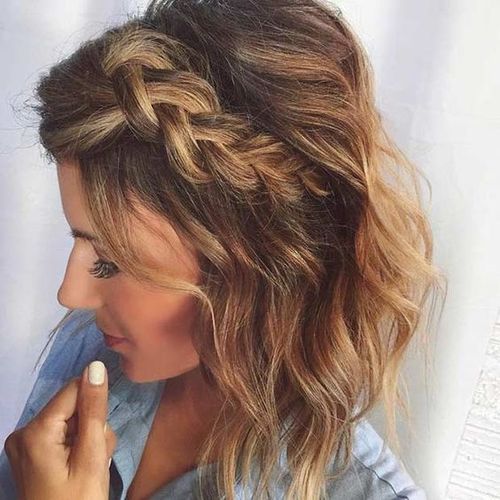 19. Freshly Woven Braid
If you are looking for braid hairstyles with weave that will look effortless and elegant, then you can try this look. This works best with highlighted hair because the contrast becomes apparent. Make sure that the braid runs throughout the back of your head and then tuck it in properly. This is one of the easiest braids for short hair.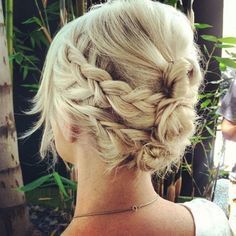 20. Three Little Knots
In case you want your hairstyle to look complicated and intricate but are not willing to invest a lot of time and effort, you can try this hairdo. You need to create three separate braids on each side by layering your hair so that it gives a voluminous look. Now tie the corresponding braids with each other to create three different knots and secure them in place.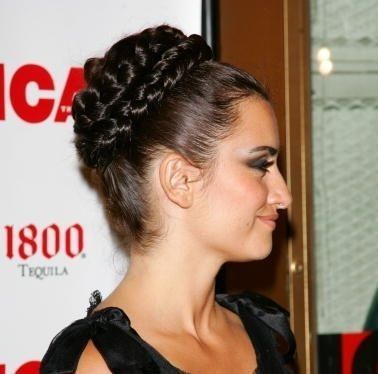 21. Double braided milkmaid
If you hate it when there is hair all over your face, then this is the hairstyle that should go for. One of the most intricate braided hairstyles you can try, this double braided milkmaid will make you look elegant and sophisticated. It will appear like a Grecian-style hair crown on your head, and you will not have to worry about your hair being all over the place.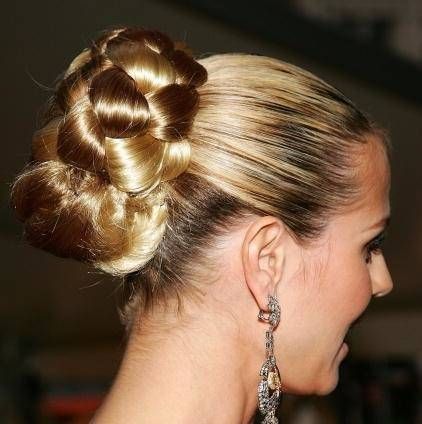 22. The Big Bun
If you want to make a statement, then there is nothing like a top hair-do. This style works best with thick and luscious hair since the bun has to look voluminous. Highlighted blonde hair also allows a nice contrast making the effect more eye-catching. Begin by applying a lot of smoothing serum, and then tightly braid your hair. Pull it into a bun.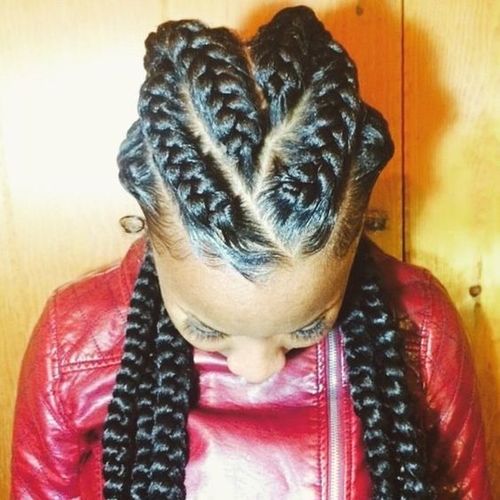 23. Criss-Cross Goddess Braids
Among the best cornrows braided hairstyles, this look will definitely turn heads. Goddess braids styled in a crisscross manner will give an edgy but classic look. If you cannot be too bothered with styling your hair, then this is the way to go. They make for very pretty African braids.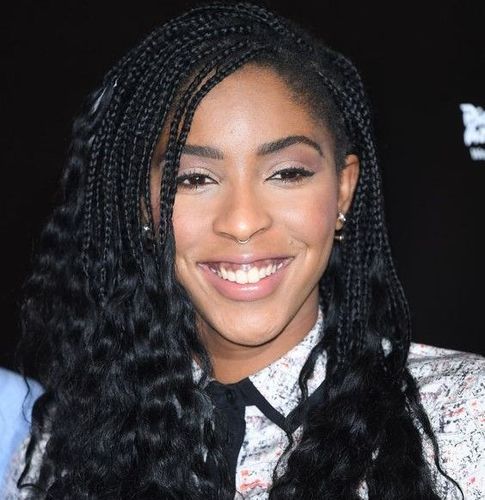 24. Half Braid Half Open Hairstyle
If you want an effortless hairstyle, then you can give this one a shot. Create tight braids till about the mid-length of your hair and then leave the rest of the hair as it is. The loose ends will add a beautiful flow to the look while the braids will give structure. This is among the easy braid hairstyles for black hair.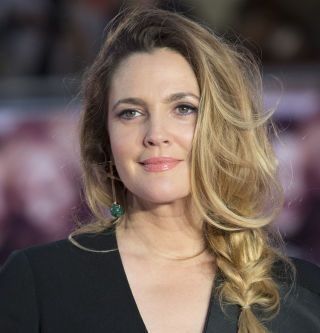 25. The Bohemian Braid
If your hair has both bangs and layers, then you will not be able to make a tight braid. But not to worry, because that is a style of its own. Make a normal braid, and you will find a significant portion of the hair undone. Use a texturizing spray to fluff it up.
Which one will you try?