55 Stunning Blue-black Hairstyles Trending In 2023
Olivia
Updated At 04 Jul 23
There's no doubt that hairstyles are constantly changing and evolving, which is why you'll want to pay close attention to the latest blue-black hair trend. This style is perfect for those who want something a little different but still comfortable and stylish.
Looking for a new hairstyle? Check out the blue-black hair trend! This style is perfect if you're looking to add some colour and energy to your locks, without having to go all-in with bold colours. The key to this look is using dark tones throughout your hair, from the roots down and not including the roots at all. You can also try adding lighter blues or greens into the mix for an interesting effect. If you're not sure how to get started, check out this article of 55 Stunning Blue Black Hairstyles Trending In 2023.
55 Best Blue Black Hairstyles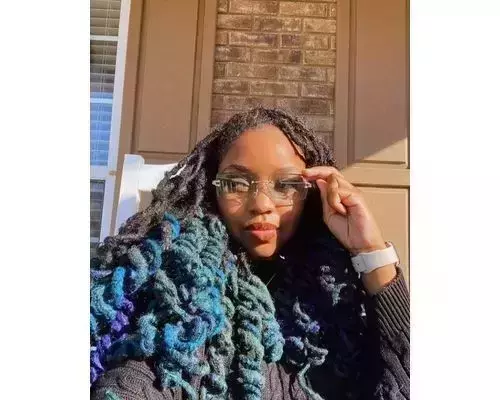 1. Blue Black Dreadlocks
Dreadlocks are one of the most popular styles right now, and for good reason. They're visually stunning, versatile, and easy to care for. Dreadlocks can be worn in a variety of ways - as an afro style, twist-outs, or crochet braids - so there is sure to be a hairstyle that suits your unique personality and fashion sense. Blue Black dreadlocks are a fun new way to spice up your hair game and make you stand out.
Read More: Black Girls Hairstyles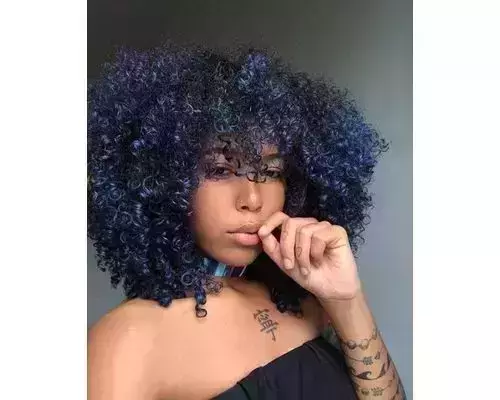 2. Blue Black Afro Curls
If you're looking for a colour that will add depth and dimension to your curls, blue-black is a great option. This colour can be subtle or dramatic, depending on how much you apply it. If you want to go with a more subtle approach, try mixing blue-black with another dark colour like brown or black charcoal. For a more intense look, use pure blue-black exclusively. Either way, your hair will thank you for getting afro hair!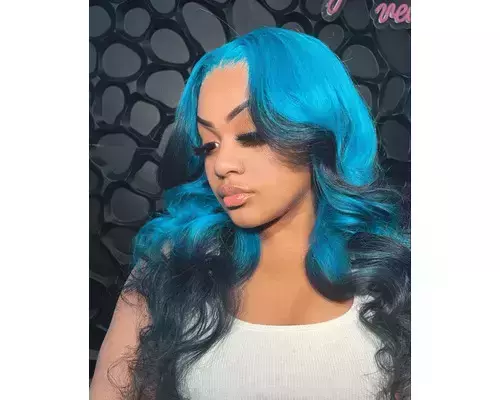 3. Blue Roots And Black Ends
Blue Black Hair looks great no matter what but sometimes it also depends on how you choose to distribute the hair colour and the hair colour ratio as well. Neon hair colour is trending in 2023 and if you are looking for a light blue neon shade hairstyle for black hair, this might be the one for you. Colour your hair blue on the roots and let the hair remain naturally black to get this amazing and bright black-blue hair. One of the top black women haircuts, this has been trending a lot recently.
Read More: Afro Hairstyles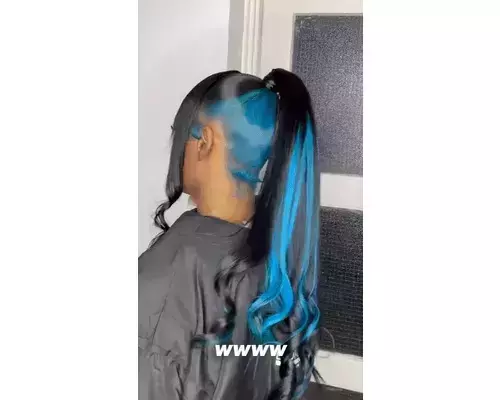 4. Bright Blue Black Ponytail
A high ponytail is everybody's favourite and go-to hairstyle but if you want your regular high ponytail to look even better and stunning you may try this blue-black hair ponytail. If you are not ready for a long-term commitment, you can also go for a temporary blue-black hair dye which may come out after one wash. If you get the back of your hair coloured blue and may also get bright blue highlights on black hair.
Read More: Purple Black Hairstyles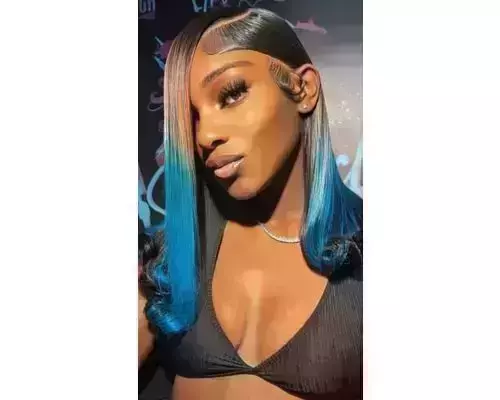 5. Blue Black Slick Hair With Curly Ends
"But we love our straight hair!" If you are like us you also love straight hair but do not want to skip on curly hair as well. Well, we have the solution to it as well. You can try curling your hair at the end using a curling rod if you decided to straighten your hair. This will give a unique and creative look to your hair and make it stand out. Snatched edges are always a plus one. It is always going to be your choice if you want the hair coloured to the scalp or not. If you like them natural then you leave the hair as it is and get the rest of the hair coloured.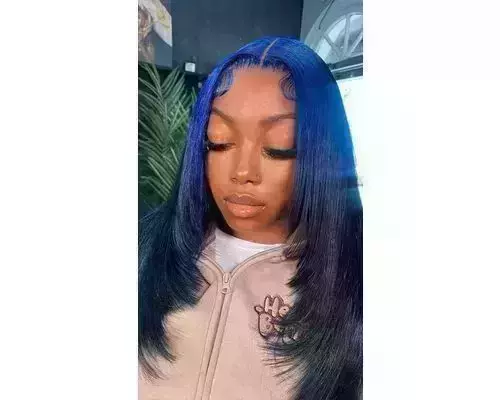 6. Blue Roots Layered Hair
If you have naturally black hair and you wish to experiment a little with hair colour, you may give this blue roots and black layered hair a try. Beginning by colouring your hair blue from the very base and leaving half of it uncoloured you may get the desired hair colour. For the hair layering haircut you may look out for a professional because this is a relatively difficult haircut and takes a lot of practice to get your hands set on.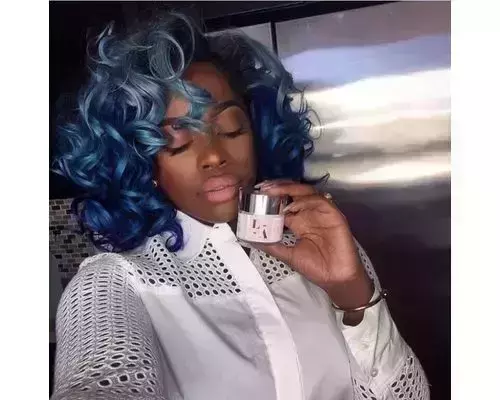 7. Short Blue Black Curly Hair
One of the most common hair colours is blue-black, and it's often a favourite among celebrities and fashion models. This colour can be very versatile because it can be used to create different looks with different lighting and styles. If you want your hair to stand out and look amazing, use styling products specifically designed for curly hair - these will help control frizz and give your curls definition and shape. One of the best curly hairstyles for black women, this short haircut looks stunning and can work for almost all occasions.
Read More: Cornrow Braids Ponytail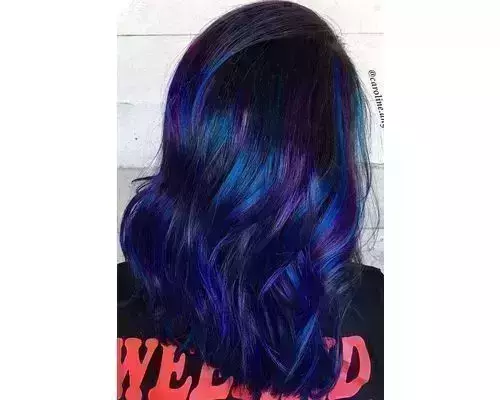 8. Blue Black And Purple Hair
Blue highlights on black hair look absolutely gorgeous at all times but if you want to add a little more spice, you may want to add a streak or two of purple hair colour as well. If you are going for blue dark hair then the violet shade may become undistinguishable, so choose the shade of hair colour wisely. You can also choose to get your hair curled a bit or get them a little wavy if you want a trendy look.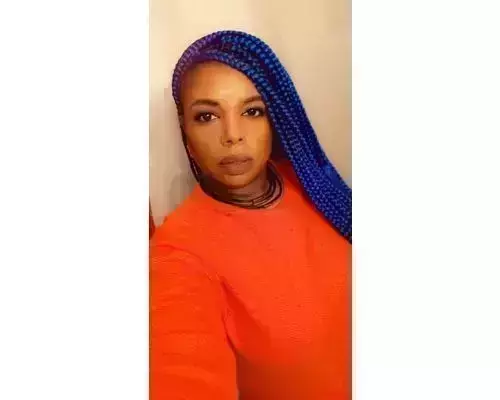 9. Blue And Black Box Braids
When it comes to boxing braids, there is no wrong or right answer. What's important is that you choose a style that suits your complexion and hair type. If you have blue-black hair, then try box braids in a way that compliments your natural hair colour as well. If you have naturally black hair left at just the roots of your scalp then braid your hair so that the black hair compliments your blue hair as well.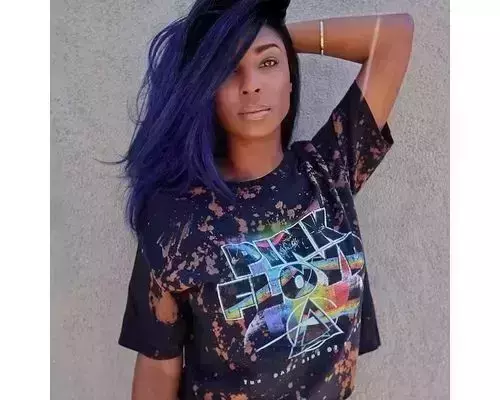 10. Medium Side Swept Hair
If you are bored of your regular middle-part hairstyles and want to try something new effortlessly, try flipping your hair to the side. Yes! Side-swept hair is one of the easiest and coolest hairstyles which has been here for decades and is still trending. If you have blue-black hair and you want to try some new hairstyle without any effort try the side swept hairstyle so that you can flaunt your black and blue hair both at the same time.
Read More: Pixie Cuts For Black Women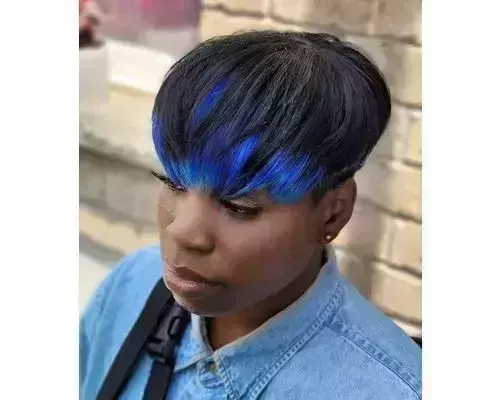 11. Short Blue Black Bangs
There are many different hair colours and styles, but blue-black short hair is one of the most popular. It's not just a pretty colour – blue-black hair has some amazing benefits that can help you look and feel your best. This short blue-black bangs hairstyle is perfect for people with dark skin who want darker locks that won't show every single blemish.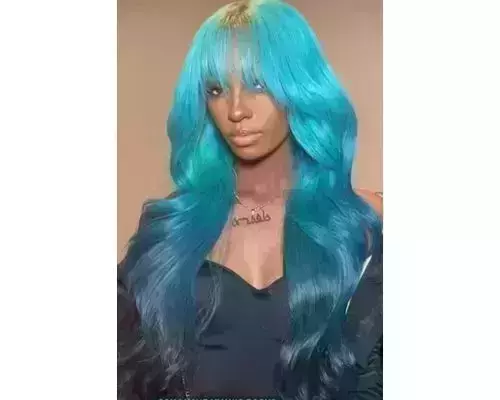 12. Black Ends Blue Roots
Are you looking for a cool and trendy hairstyle to try this year? Then look no further, this black ends blue roots hairstyle with bangs is the one for you. Leaving the hair on the scalp as it is, you can ask your hairstylist to colour the rest of the hair including the bangs. If you do not have bangs cut, you may also want to give it a try if you like your forehead covered. You can also try going for different shades of blue to colour the hair.
Read More: Long Hairstyles For Black Women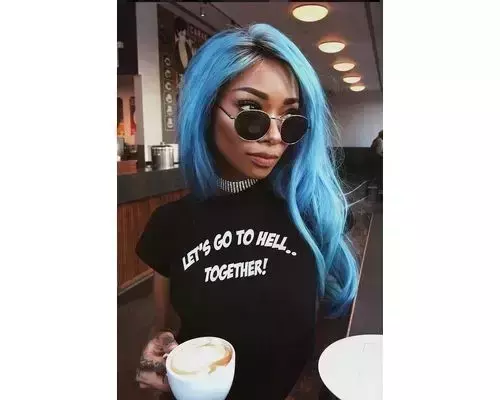 13. Black Roots Light Blue Hair
Neon Blue or light blue black hair dye are trending in 2023 and many people are preferring to get this hair colour to add a little more funk and style to their regular look. Since the very beginning many people have preferred to have the hair on the scalp left as it is, that is leaving the hair on the scalp naturally coloured and colouring the rest of the hair. Open wavy hair with light blue hair colour looks cool and will add to your personality.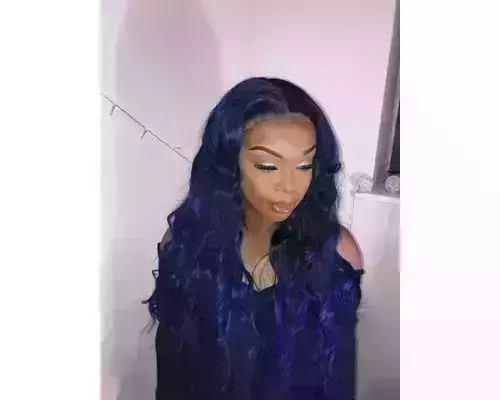 14. Long Dark Blue Hair
Long blue-black hair is versatile enough to wear any style – from classical updos and cuts down low, all the way up through elaborate braid designs and even high fashion hairstyles like romantic waves... there's something for everyone in this colour family! Blue dark hair looks great on every skin tone and compliments every outfit that you choose to wear.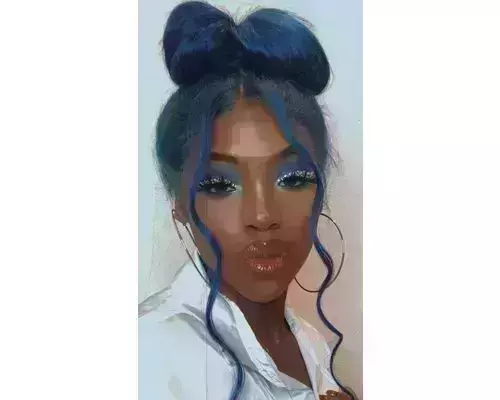 15. Curly Flicks And A Bun
You do not need to have specifically longer or shorter hair for this hairstyle you do not need to have a flick-cut shirt for it. All you need to get done is blue-black hair dye and you can rock the curly flicks in a bun hairstyle. Blue-black hair looks great in every hairstyle whether it is keeping the hair open or tying them in a bun. A hair bun is an easy and manageable way to wear your hair and leaving a few strands of hair in the front open and curled will make you appear more sexy and fine.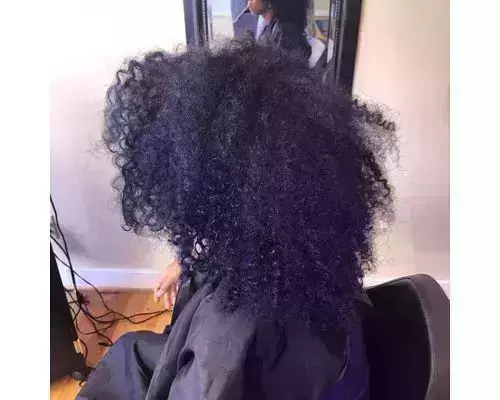 16. Blue Black Coily Curls
If you have extremely curly/ coily curls, and frizzy hair that is difficult to manage, then you may want to consider using a blue-black colour. Blue-black colours are perfect for this type of hair because they help to reduce the amount of heat needed to style your hair. They also contain black pigments which can control frizz and add volume to curls. Black hair alone does look good but this blue-black hair dye adds a lot to your hair and personality.
Read More: Small Cornrows Hairstyles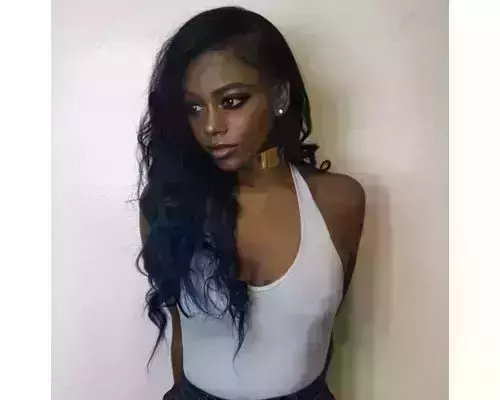 17. Curly Dark Blue Black Hair
To get this amazing blue-black hair, start by consulting a colour consultation service or salon that specializes in hair care for curly hair. They will be able to provide you with professional advice on the best way to achieve this particular hue, based on your natural skin tone and other personal factors. If your hair is not naturally curly, you may want to give this curly hair look a try by heat curling your hair.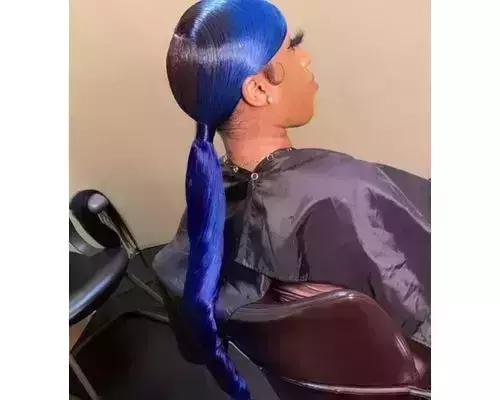 18. Blue And Black Slick Back Hair
There are a lot of different blue-black hair hairstyles that can look beautiful on anyone. Whether you want sleek and straight locks, wavy tresses, or bouncy curls, there is a style for you. This classic hairstyle features smooth, straight hair that's been slickened back using product or water. It's perfect for those who want to take control of their frizziness and give their locks some volume and shine.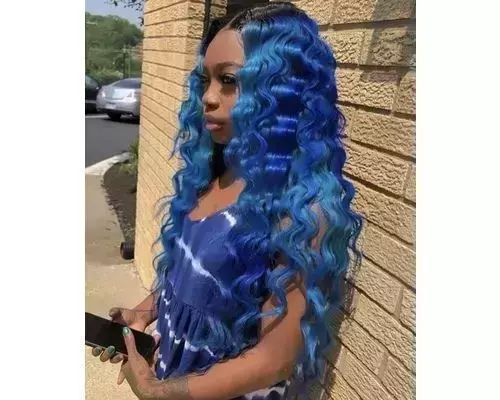 19. Blue Black Medium Curls
The blue-black colour can be very flattering on curly hair. It can make the curls look more copious and pretty, and it can add depth and dimension to the overall appearance of your hair. If you are looking for something new and exciting to try out with your curly locks, go for this beautiful hue! This blue-black hair will look amazing on curly hair texture and long hair as well.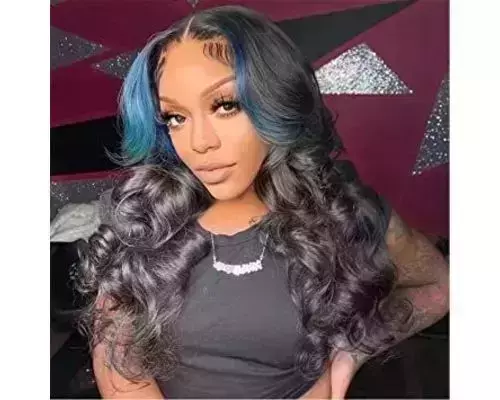 20. Blue Flicks And Black Hair
If you are about to get blue-black hair dye then you may want to consider a few options as to how and in what proportion you want to get your hair coloured. If you are thinking of getting blue highlights on black hair then you may also consider getting the flicks or the bangs coloured blue and leaving the rest of the hair as it that is coloured black. This hairstyle looks cool on everyone and is a good option if you do not want a lot done in your hair.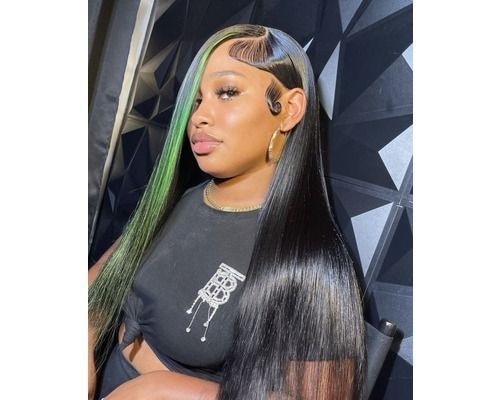 21. Black Edges Blue And Green Hair
If you are considering getting blue-black hair then you may also consider getting another colour streak to spice up your hair game. Work in small sections at a time and wait until the colour has settled before moving on to the next section. Allow about two hours for all layers to lighten up evenly. Create soft highlights throughout your entire head of hair using toners, gels, sprays, or mousse products.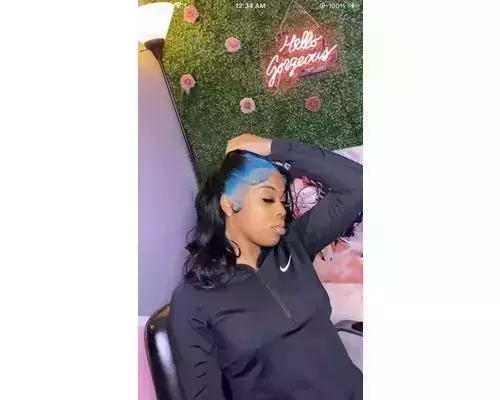 22. Blue Edges Short Black Hair
If you're looking for a change of pace, blue-black short hair may be the perfect style for you. This colour palette is often associated with warmth and depth, which can add dimension to your look. You can achieve this look by choosing bright colours like neon blues and greens in your hair dye. Perfectly styled edges are everyone's dream and if these edges are blue they would look even better and cool.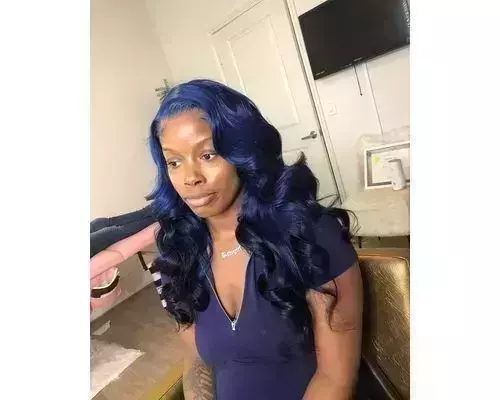 23. Side Part Blue Black Hair
As we all know the way we part our hair can create a huge difference in the way one looks. One of the easiest, time-efficient and cost-efficient ways to style your blue-black hair is to leave your hair open and part the hair to the side. Parting the hair to the side makes your hair appear even more voluminous and is a great option if you have a naturally oily scalp and hair as this side-parted blue-black hairstyle avoids the hair from being slick.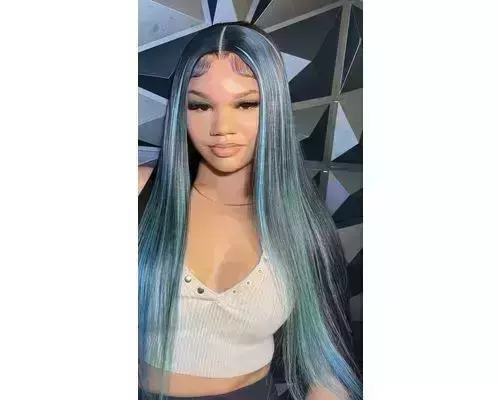 24. Blue Highlights On Black Hair
The blue highlights on black hair look amazing on any hair texture and length. If you have long hair you may want to straighten up your hair a little so as the blue highlights on black hair are more visible and appears more subtle. Also straightening the hair adds length to your hair and makes them appear frizz-free. Try adding blue streaks randomly on black hair so that it appears more natural than artificial and damaging.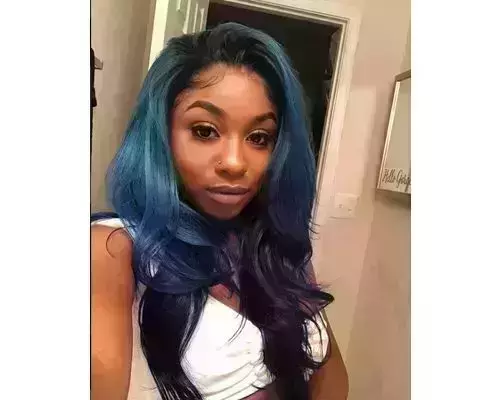 25. Black Roots And Blue Hair
Black scalp hair and blue ends hairstyle is the perfect style for people who want to add a bit of edge to their look. It's versatile enough to be worn any time of year, and it can easily be styled in a variety of ways. There are a few different ways to get the blue ends hair look. The first is to use a black scalp hairstyle. Leaving the hair on the scalp naturally black, you can get blue dark hair colour on the rest of the hair.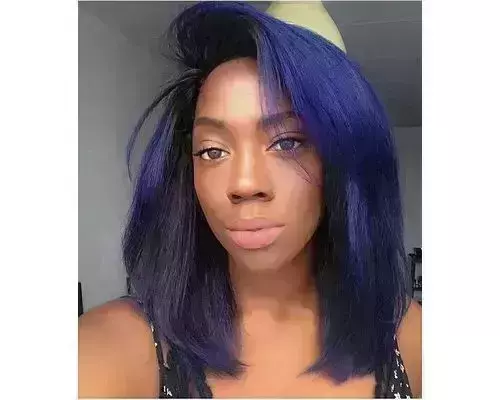 26. Blue And Black Straight Bob
Blue-black colour straight hair can be really beautiful, but it requires a bit of extra effort and care. This dark brown/ black colour has an icy effect on the hair, which makes it look smooth and shiny. It's also perfect if you want to create a sophisticated yet edgy look. Short hair styled in a bob is always a wonderful choice if you want to flaunt your hair colour and your new hairstyle at the same time.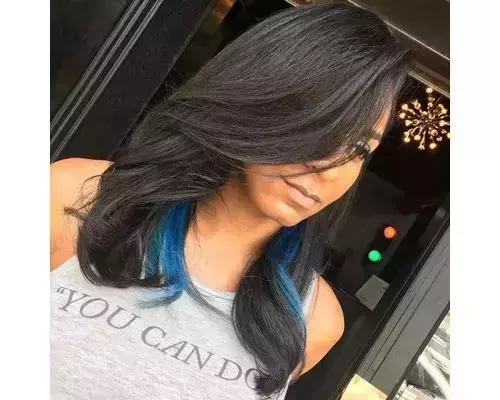 27. Short Blue Highlighted Hair
Short hair is also a great choice if you want to experiment with different styles without having to worry about long locks getting in your way. Wearing low ponytails high up on your head, or tucking strands behind your ears are two simple ways to wear blue-black short hair stylishly. Blue highlights on black hair look amazing and stylish as it is trending in 2023 and the best thing is it looks wonderful on short hair as well.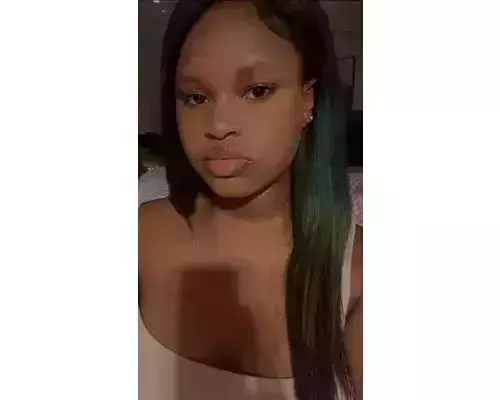 28. Blue Ombre Streak
If you love blue-black hair and want to experiment a little more with your style then you can also try to get ombre streaks. To get the best results with blue-black hair colour, be sure to use balayage or ombre techniques to add depth and dimension. When we talk about ombre streaks with other colors than golden it becomes a common misconception that the colour had to be a light one. Even a darker shade of blue would be a great option if you want blue-black hair and is going to be one of the best hair colour choices.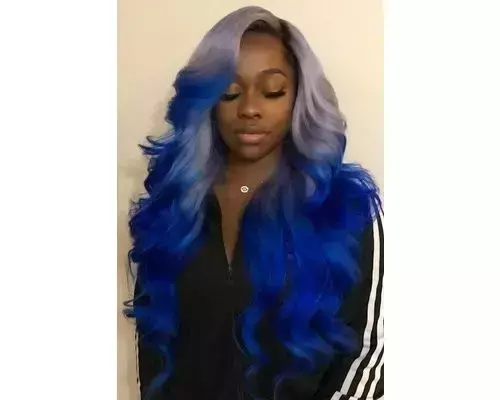 29. Light And Dark Blue Hair
Hair colours can be tricky, but there are a few that work well on dark hair. Blue-black tones are especially gorgeous and will look great with any eye colour or skin tone. Some of the most popular shades include icy blue, navy blue, electric green, and pink. If you're not sure what colour to choose for your hair, try a sample pack from a salon or store to get an idea of how different colours will look on your natural hair texture.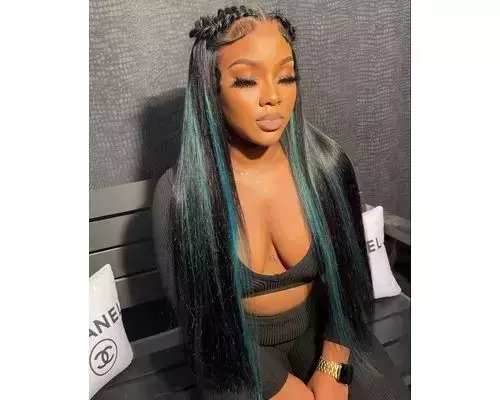 30. Blue Black Straight Hair With Braids
If you're looking for a colour that will give your hair a sleek and straight appearance, blue-black is the color for you. Blue highlights on black hair are a wonderful choice to give your hair a stylish, edgy and less damaging look. Try a Discipline Creme conditioner before shampooing to seal in moisture and protect against humidity loss during washing sessions. You can braid your hair on the crown to make your hair appear more attractive and gorgeous.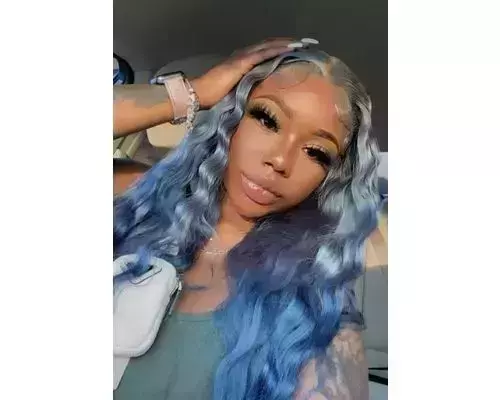 31. Fairy Blue Hair
Fairy blue hair is the new us. We love this new blue-back hair as it provides you with many more opportunities to experiment with your style. We call it the fairy blue hairstyle because it has multiple shades of blue incorporated to complete the hair colour style. Lighter and darker shades of blue are layered in such a way that it gives the effect of fairy-style hair. It is always easy to style the hair by keeping them open or tying then into a ponytail or bun.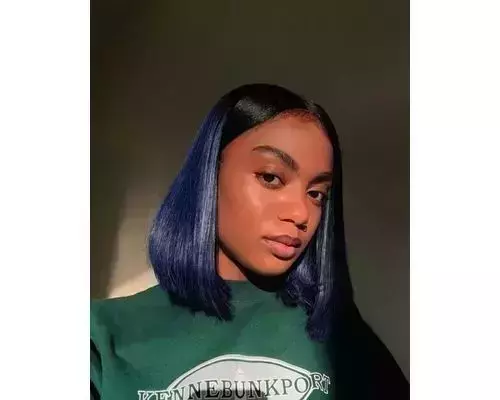 32. Dark Blue U Shaped Bob
Bob is the best when it comes to styling any type of hair. It is not a necessity to tie the hair as the short bobs are by themselves easy to manage. Blue dark hair with a black natural shade looks cool and stylish on skin type and face. There are various ways a bob can be cut into including straight-cut bobs and U Shaped Bob. U Shaped bob gives a volumizing and bouncy effect to the hair and the blue dark hair as well accentuates your facial features and compliments any outfit that you wear.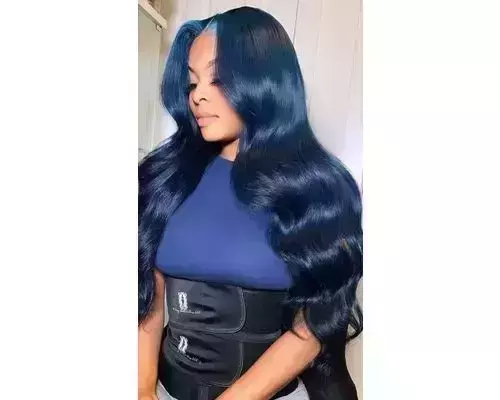 33. Dark Blue Color On Black Wavy Hair
Blue dark hair colour looks amazing on wavy hair. There are a lot of different blue-black hair hairstyles that you can try. To get this blue-black hairstyle all you need to do is start by styling your hair into natural waves using a wet hand or dryer setting. Next, use clay or pomade to add volume and shape to the waves. To finish, secure the style with some hairspray.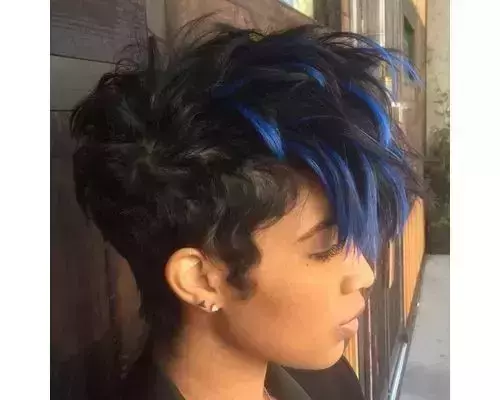 34. Blue Fangs On Black Hair
One of the most common requests that hairstylists receive is for blue highlights on black hair. There are a couple of reasons for this: people love the dramatic effect blue highlights can have, and black hair dye often doesn't show as strongly against dark skin tones. You can also dye the hair blue using special dyes designed for this purpose, or you can go natural and highlight the tips of your black hair using temporary blue hair colours.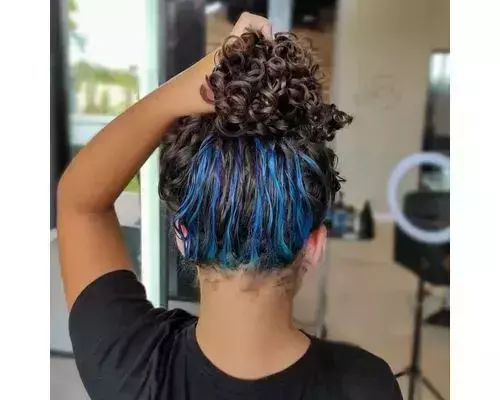 35. Blue Streaks On Black Hair
There are a few things you need to know before applying blue Highlights on black hair. First and foremost, make sure your hair is properly prepped - anything from dry shampooing to deep conditioning will help ensure that the colour lasts longer and looks better throughout the entire process. These blue streaks look amazing on black hair and even better if you decide to get the back side of your hair colour which you can flaunt while wearing your hair in a ponytail.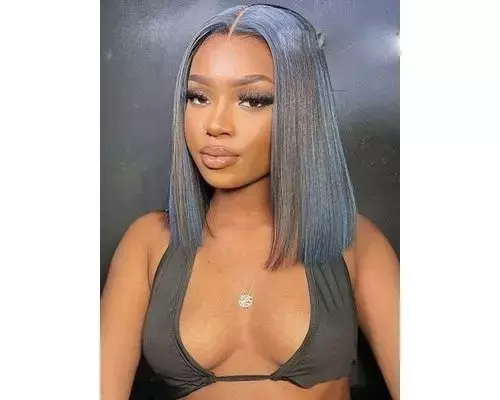 36. Mix Blue Highlights On Black Bob
Multiple shades of blue highlights on black hair can add a touch of class and excitement to your look. This colour combination is perfect for those who want to stand out from the crowd. It also works great as a contrast against other dark colours, like brown or black hair. To achieve this hue, you will need multiple light-to-medium shades ranging from sky blue to navy blue. You can also use purple or teal if they are more of your style. Styling the blue-black hair in a bob is always going to be a plus one.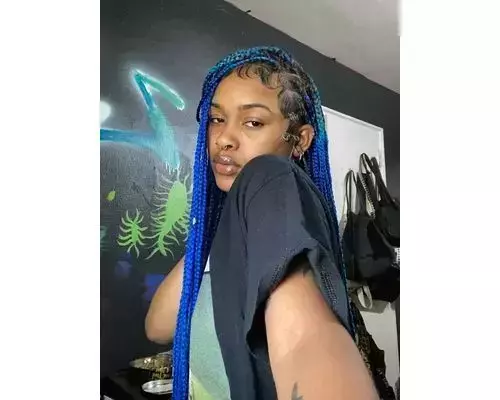 37. Bright Blue Box Braids
Box braids are a popular style for women with blue-black hair. Box braids are made by sectioning your hair into small boxes and then twisting each box around its axis. This creates tight, high-centralized coils that can be styled in many ways. Try combining different colours to create unique highlights and shadows throughout your box braids. Whether you go traditional or experimental with your box braid style, blue-black will look amazing!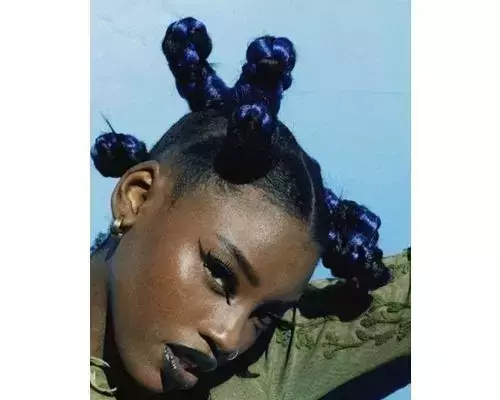 38. Blue Black Bantu Knots
If you're looking for a new style that will flatter your features, try blue-black bantu knot hair. This look is perfect for women who have African or Caribbean heritage and want to add some fun and spice to their looks. The pattern creates a natural-looking volume, while the colouration makes your hair appear more vibrant and healthy. And because this style is easy to care for just wash it with mild shampoo and conditioner - you can wear it nearly every day without worrying about damage or frizziness.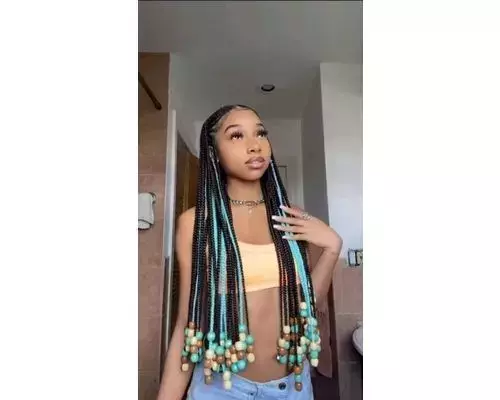 39. Light Blue And Black Cornrows
Cornrows are one of the most efficient and manageable ways to style your hair. Multiple shades of blue highlights on black hair can make your hair look brighter and more intense. When it comes to highlighting, be sure not to overdo it - just enough so that the colour is visible but does not overpower the rest of your hair colour. For best results, avoid using too many harsh chemicals or products that contain peroxide because these could damage your hair and cause future problems down the road.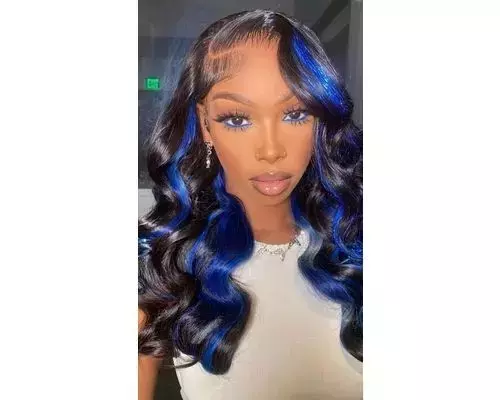 40. Dark Neon Blue Wavy Hair
Neon Blue dark hair is becoming trendy amongst people who want to spice up their hair game and also add a bossy look to their personality. Wavy Hair is a great styling option you can go for if you want to style your neon blue-black hair. Adding neon blue dark hair colour to the front of your hair or towards the major distribution area of your head hair will help your blue-black hair colour to become more visible and you will be able to flaunt this cool shade without any problem.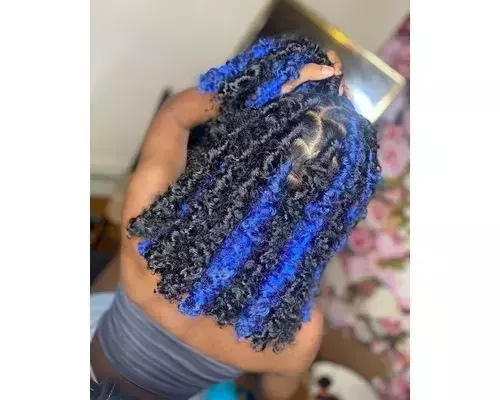 41. Blue Streaks Finger Coil Curls
If you have naturally curly hair, you should check out this hairstyle. This is one of the most liked hairstyles that will make your hair appear more copious and pretty. Begin by curling and locking the hair from the rots ad tie them an inch or two away from there. Blue highlights on black hair will make the rest of the hair look amazing and will give a brand-new and gorgeous style as well.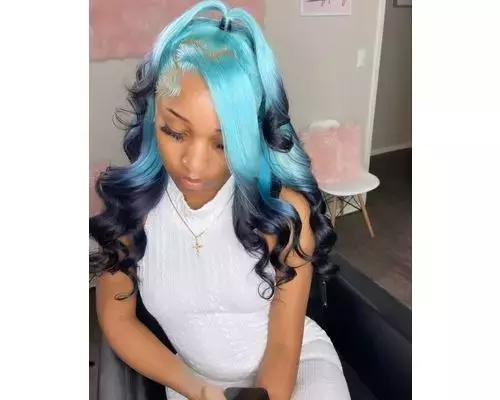 42. Light Blue And Black High Pony
To achieve this light blue and black high ponytail look, start by dying your hair with light colours first. Use a bleaching agent to add lighter shades of blue tones beginning from the top of your hair. Finally, rinse the colour out completely with clean water. Be sure to wait until your roots have had a chance to dry before styling your hair in any way. Leaving the hair from the middle with natural colour or dying them black, you can achieve this light blue-black hair look. You can also tie your hair in a high Ponytail for a new and stylish look.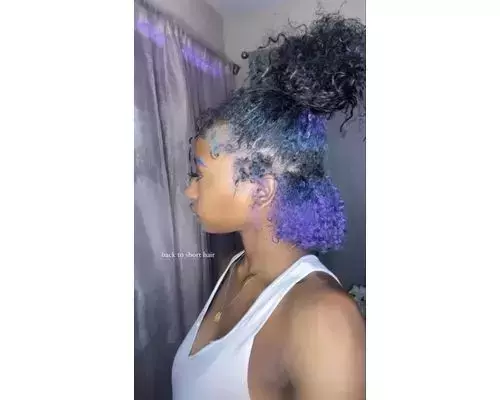 43. Blue, Purple And Black Afro Curls
If you are going to try blue-black hair for the first time, you may want to check this hair colour combo first. Adding purple colour to your blue-black hair option may help you get this amazing tri-colour look. You can go for teal blue as well and colour the bottom half of your hair with teal blue or purple and highlight with the other colour, leaving the upper half as it is or adding some colour to it as well. You may or may not get your hair short as this blue-black hair is going to look amazing in good lengths as well.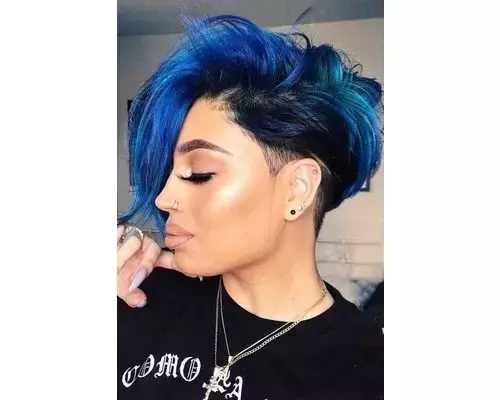 44. Side Swept Blue Black Hair
The side-swept blue-black hair is an exclusive look for people with short hair. Every individual's hair colour and highlights will be unique, so you'll have to experiment a little bit to find what looks best on you. However, some tips that may help include going with lighter colours for your hair and highlighting it in shades of blue or green. These colours will complement your dark skin tones nicely, and they will also add a touch of brightness and energy to your look.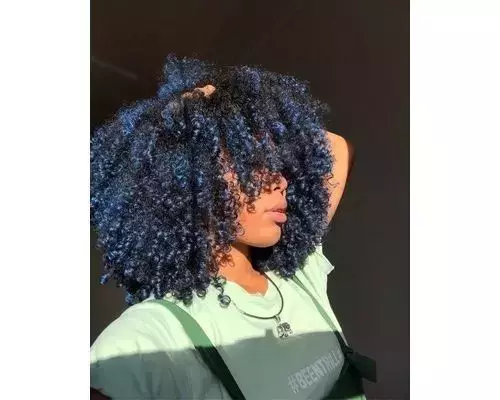 45. Navy Blue Short Afro Hair
A good thing about afro hair is that it can be worn in many different styles, from simple buns to elaborate updos. Afro hair can also be made with different colours, making them perfect for those who want something unique and eye-catching on their hair. Blue dark hair is the first choice for all those who want a subtle yet visible hair colour treatment done to their hair. This navy blue short hairstyle looks amazing on all face types as well.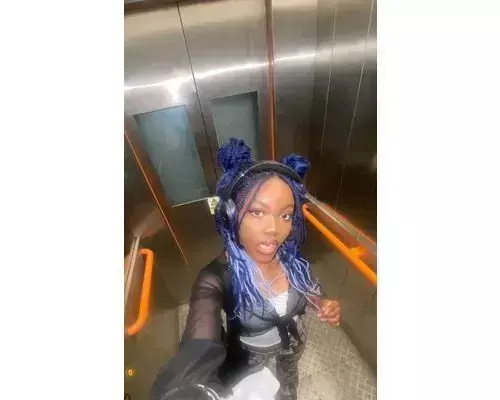 46. Multi Color Blue Top Knots
If you do not want to settle for just one shade of blue then you should try getting multiple shades of blue colour dyed to your hair. You can go for light and dark shades of blue together to get dyed your hair. You can choose to leave the hair near the scalp naturally coloured only or you can get them coloured too. Either way, this multi Color Blue black hair is going to look amazing on you. If you are also wondering how to style your hair, you can tie your hair into two updos and leave a few strands of hair tied in Cornrows only.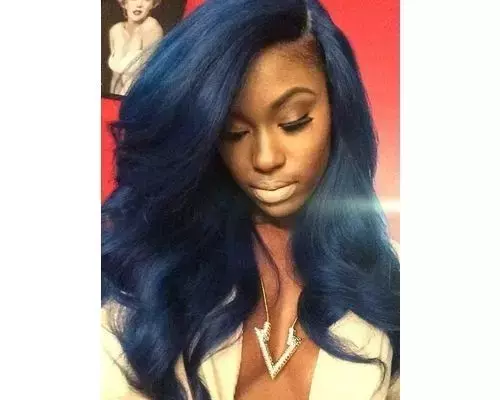 47. Side Part Blue And Black Hair
There are several different ways to colour black hair with blue highlights. The most popular technique is to use a cool-toned hair colour on the front half of your head and a warm-toned colour on the back half of your head. This will create the perfect balance for your hair colour, without being too intense or too light. Whatever hair colour style you choose side swept hairstyle will be one of the hairstyles always included in your go-to hair styling list. No matter what the side swept open hair will always remain one of the easiest ways to style your blue-black hair all the time.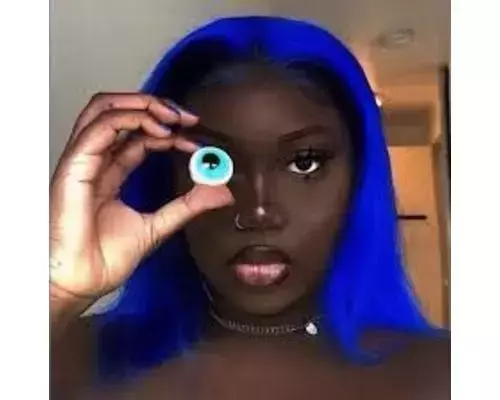 48. Neon Blue And Black Short Hair
Neon and bright shades of all colours have gained immense popularity in 2022 which we can all agree upon, however, they contniue to remain popular even in 2023. If you are looking for something new or you want to try a brighter and more shining and attractive shade of blue then neon blue black hair shade is for you. Neon Blue shade looks good on all outfits and when contrasted with black hair, gives an extraordinary and flashy look. Sometimes we all crave a better and brighter look for our hair but if you are not sure how this hair colour will look on you, you can even try a temporary hair colour shade of Neon Blue.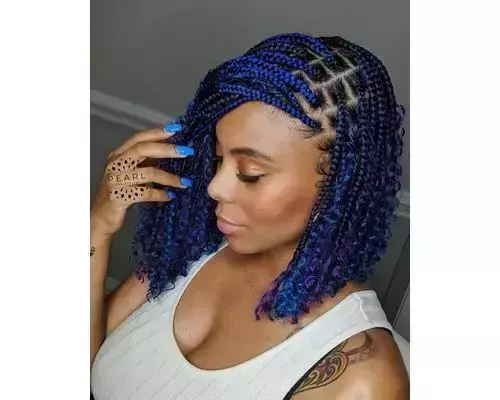 49. Half Braided Blue And Black Cornrows
If you're undecided about which style to choose, ask your stylist what other styles they recommend for people with blue-black hair. They may be able to recommend something unique and stylish that won't look too traditional or old-fashioned. This half-braided blue-black hair is an amazing choice if you want to have an amazing, creative and unique look which can be done perfectly by your hairstylist.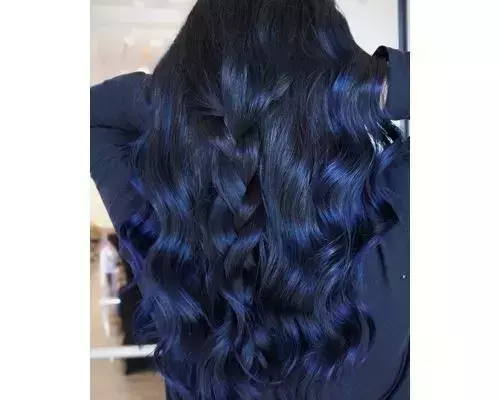 50. Blue Black Wavy Hair
Blue-black hair for wavy hair texture is one of the best and most liked hair colours this year. Wavy Hair looks amazing on its own whether they be with black hair colour or any other hair colour shade. Wavy Hair also looks amazing in ponytails, messy buns or open hairstyles. Blue-black hair dye is only going to add to your hair styling game and is going to become a great change to your personality.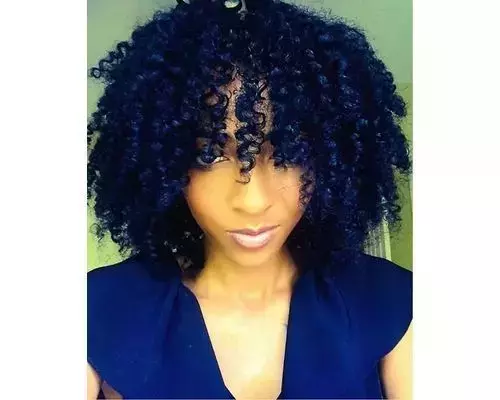 51. Dark Blue Short Curly Hair
If you are blessed with coil curls then you may surely love to try this blue-black hair die. Everyone wants something new in their life and new hair colour makes a huge difference when it comes to changing your style. Short curly hair looks beautiful in blue-black hair die and is easy to maintain as well. There's no need to make any major changes to your hair routine until you get used to them.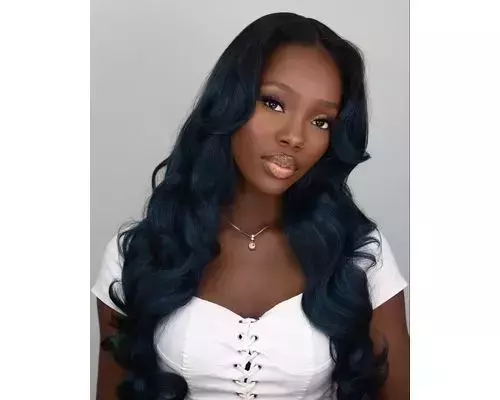 52. Prussian Blue And Black Hair
If you are like us then you have probably wondered how would Prussian blue colour look on black hair. Well, we have the answer for you right here. This Prussian Blue Color looks amazing on black hair and adds a much more calming and sweet effect to your hair. If you want to experiment with your hair, try to go for Prussian Blue black hair instead of the regular light or dark blue shade. As the colour is new to the hair colour range, it will be difficult for you to find this hair shade in public which will make your hair stand out even more.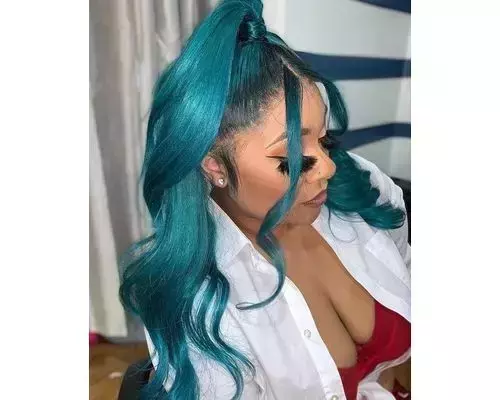 53. Teal Blue And Black Hair
Teal is an amazing colour, however, we never thought it would look this good on black hair. This teal blue-black hair is going to compliment your natural beauty and is even going to make your skin appear bright and glowing if you have a darker skin tone. You can always tie your hair into a high Ponytail if you are looking for a more trendy way to style your blue-black hair. If you are planning to leave the hair near the scalp black, do not forget your fringes and bangs to get coloured.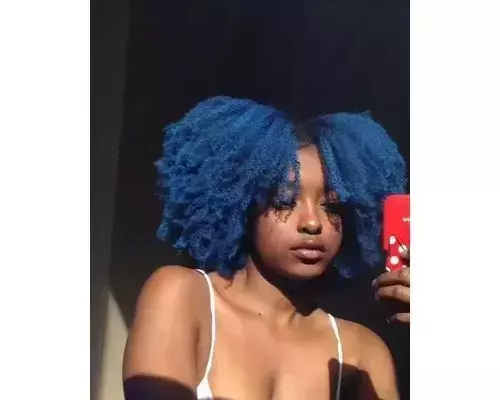 54. Mid Part Short Afro Locks
We can assure you that the middle part is still a thing in 2023 it is trending this year and many celebrities were seen styling them this year for various events and functions. Blue-black hair looks amazing but one of the most important things you can do to keep your dreads healthy is to properly care for them. Make sure to avoid harsh shampoos that could damage your locks or scalp. All you are going to need is a gel or wax to stick the hair on the top to the scalp and let the rest of the hair rule the game.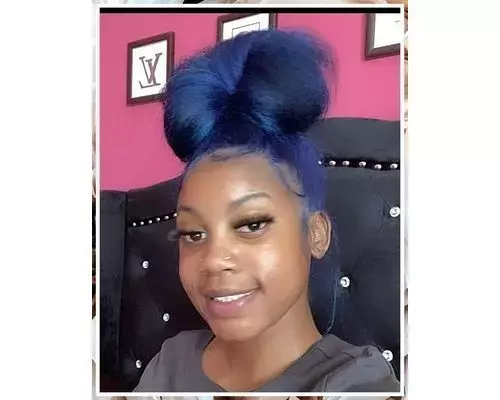 55. Blue Black Hair Messy Bun
Easiest and quickest way to style your blue-black hair? Tie it into a messy bun and be done in minutes. The messy bun is quick and a fun way to wear your blue-black hair in. You can go for any shade of blue including royal blue or neon blue and rock the messy bun look because it does not matter what the colour of your hair is until you take good care of them and apply hair care products regularly or advised your hairstylist.