25 Stunning Cornrow Braids Ponytail - 2023 (With Images)
Ankita Ghoshal
Updated At 04 Jul 23
Gone are the days when you could style your hair same way every day and still make a statement. Times are changing and to stay in the fashion game for long, you need to keep experimenting with your hair. Give your topknots and messy buns a break and try a cornrow ponytail for a change. This '90s' classic hairstyle is back with a bang and you need to try them for once to see for yourself how amazing they look. If you are looking for the top ponytail hairstyles for black women, here are 25 best cornrow braids ponytail ideas that are worth giving a shot in 2023.
25 Best Cornrow Braids Ponytail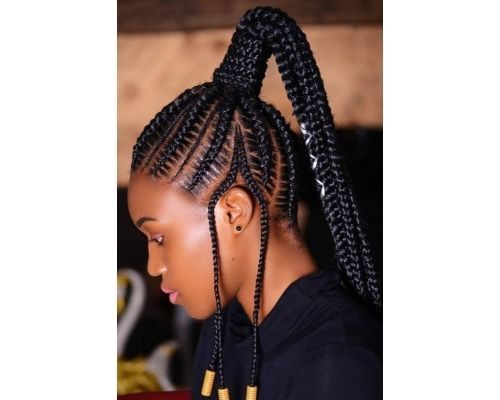 1. Accented Cornrow Braid Ponytail
While a classic cornrow ponytail is enough to make heads turn, you can level up a bit and decorate your meticulous pony cornrow with different beads and threads at different lengths.
Check out our guide on box braids with beads to find out 55+ amazing option for hairstyles with beads which are perfect fora hair makeover!
Read More: Black Girls Hairstyles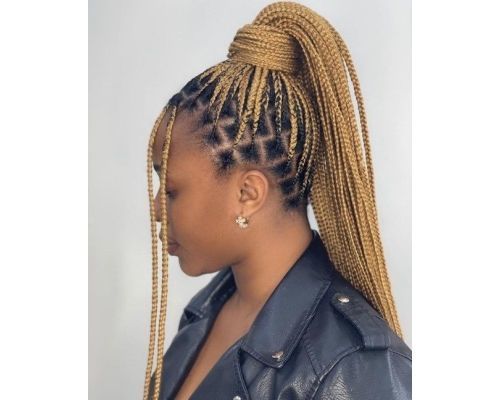 2. Blonde Cornrow Ponytails
Blonde is one of those summer colours that can instantly make you look like a diva by making your cornrows glamorous. After getting your hair coloured in blonde, your cornrow pony braids will be even more appealing and stylish.
Read More: Best Afro Hairstyles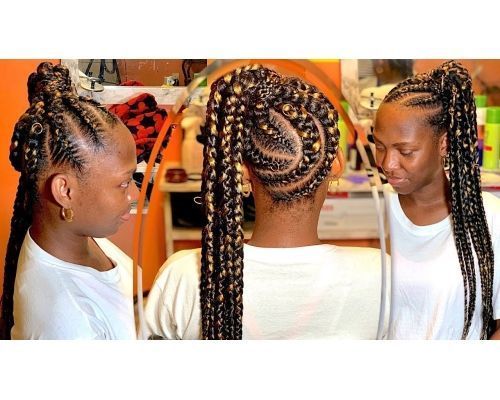 3. Box Braids In Ponytail
If you want to ditch the conventional pony cornrow styles, go for box braids held in a ponytail. They look even more fabulous and are perfect for both formal and casual events.
Check out our detailed guide on braids hairstyles as we list 55+ stunning box braids trending this year. From long hair to s hort hair, we have covered options for all.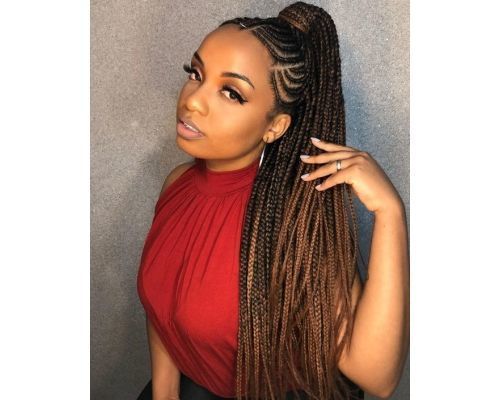 4. Cascading Cornrow Ponytail
Make your vacations and parties even more amazing by letting your mane do the talking. Cascading ponytail cornrow braids are synonymous to summers and you are sure to enter the season in style.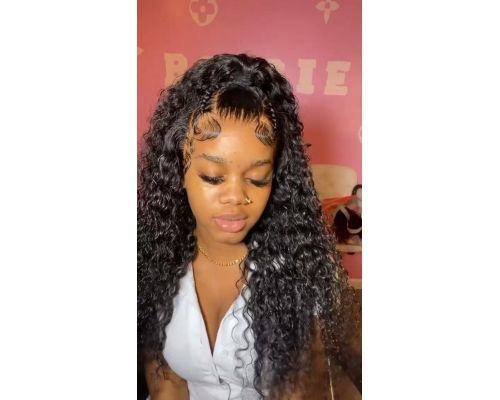 5. Minimal Cornrow Braid Ponytail
If a full-fledged cornrow braids ponytail is not up your alley, you can cornrow just the front part of your head followed by your natural texture showing up in a ponytail. One of the best curly hairstyles for black women, minimal cornrows look elegant and stylish.
Read More: Cornrows Hairstyles With Natural Hair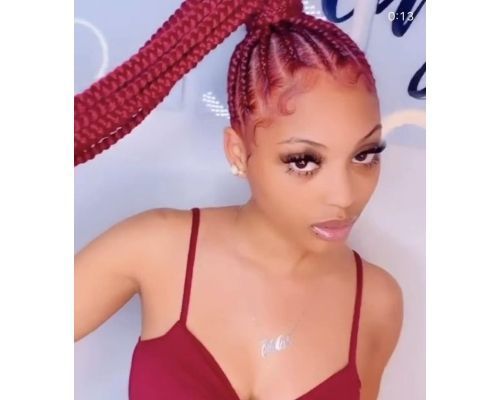 6. Red Cornrow Ponytail
Nothing can make a bolder statement than pony cornrow braids in a fire red colour! Try it once and you will fall in love with its alluring appeal and how it complements your outfits. It is just too good to miss.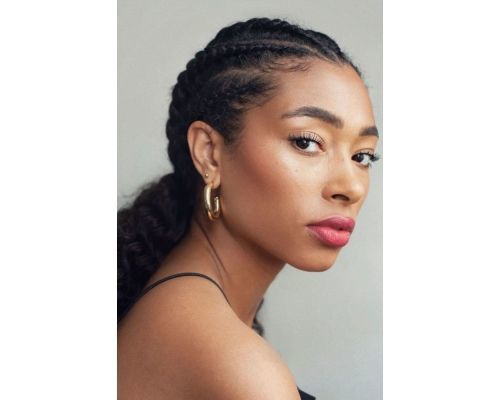 7. Low Pony Cornrow
A sleek and low cornrow ponytail is all that you need to make a statement no matter where you are headed to. This low maintenance and protective hairdo is ideal for a romantic date night, relaxing brunches with your BFFs, or even running errands.
Check out our guide on afro hairstyles to find the most popular ones trending this year. From curls to bantu knots, we have covered all of them. These indeed look stunning and are perfect for a hair makeover.
8. Long Cornrow Braid Ponytail
The longer your hair is, the more scope it has to flaunt your beautiful cornrows. Make the most use of it by holding your cornrows in a neat ponytail and make it shine through. You will look like the girlboss that you are. One of the best long hairstyles for black women, the long cornrows look gorgeous and elegant.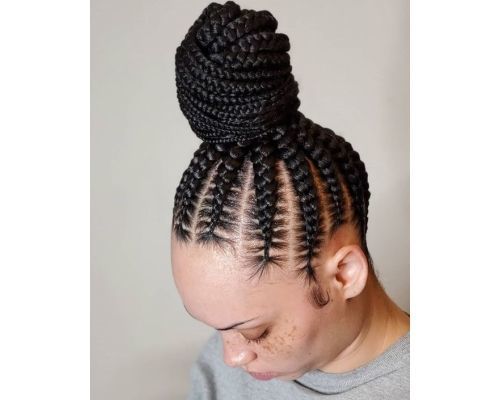 9. Cornrow Ponytail Bun
The best part about pony cornrow braids is how versatile and flexible they are. You can style your cornrow ponytail in a more unique way by just swirling it in a bun for an evening outing. if you are looking for new hairstyle options, small cornrows hairstyles also work well.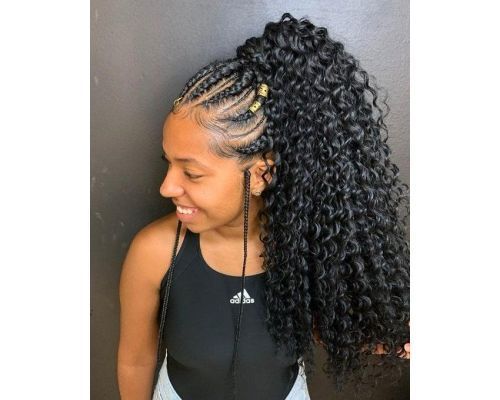 10. Curly Cornrow Ponytail
If you like to keep things simple but add a little twist, just braid your hair in sleek cornrows, hold them up in a ponytail and curl the ends to amp up your hairstyle in an instant.
Check out our guide on kinky twist hairstyles which have been trending on social media this year. These amplify your look completely and work for all hair lengths as well.
11. Electrifying Cornrow Braids Ponytail
Channel your hot girl energy by colouring your hair in dazzling shades of silver and purple. Style them in a sexy cornrow ponytail and that is all you need to be the star of any show.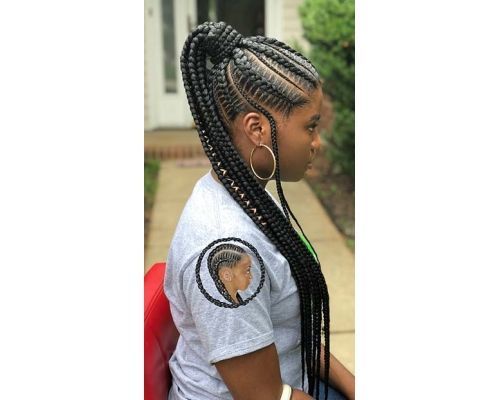 12. Wrap Around Cornrow Ponytail
One of the easiest and most interesting cornrow braided ponytail hairstyles is to just wrap a few braids all around your ponytail base to make it look more exaggerated and detailed.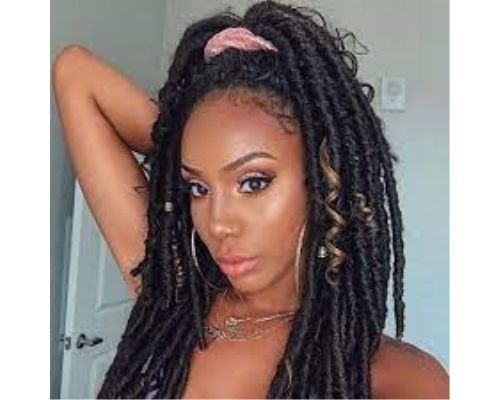 13. Cornrow Braids Ponytail With Scruncie
You can make your classic cornrow pony braids a lot fancier by updating them with a cute scrunchie that calls out to you. Scrunchies are high on trend this year and they can make your cornrows a lot more interesting and chirpy. Short braids with beads is another stunning options if you are looking for a hair makeover.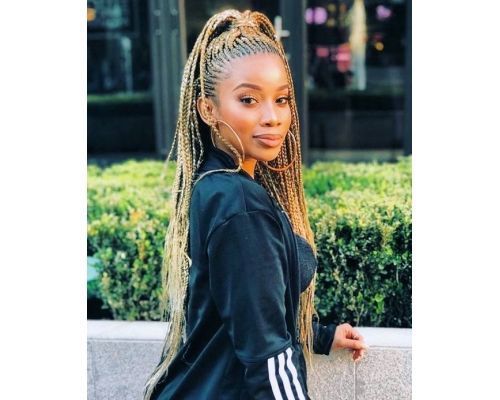 14. Ombre Cornrow Braids Ponytail
If you are set to experiment with your hairstyles, you might as well try different colours too. If you are unsure of getting rid of your natural hair colour, use temporary shades to see what looks the best on you. Ombre cornrow braids ponytails look wonderful to say the least.
If you are looking for a new hairstyle and haven't tried fulani braids yet, then you might be missing out on an amazing option.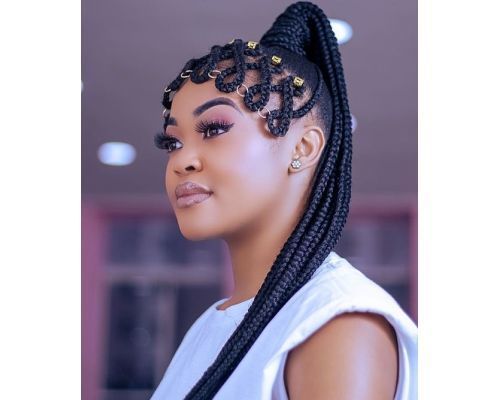 15. Cornrow Ponytail With A Headband
Your pony cornrow can be a lot more dramatic and fancy if you just style your cornrow braids in such a way that a chunk of them forms a headband over your crown while the high ponytail rests behind. It will also make your hair look thicker and better textured.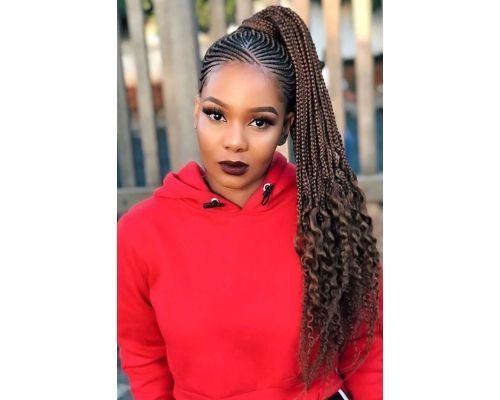 16. Face Framing Cornrow Ponytail
If you want your cornrow braids ponytail to frame your face, all you need to do is just pull out two braids and let them hang loose at either side of your face. This will barely take a minute but will make you look a lot prettier. If you don't want that, you can style the hair on your crown I na way that it accentuates your facial features.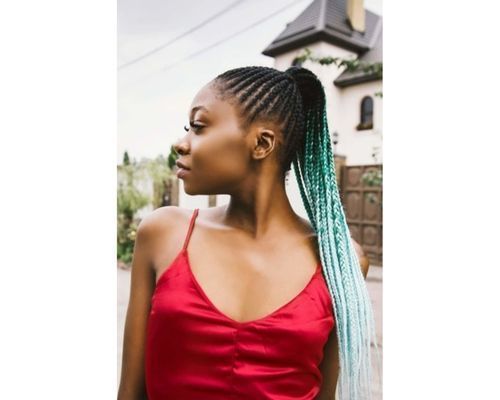 17. Cornrow Ponytail With Highlights
Just to keep things more fashionable and stylish, go for highlights to shine through your pony cornrow. Be it blonde streak or a mix and match of various shades, highlights can do a lot to a simple cornrow ponytail.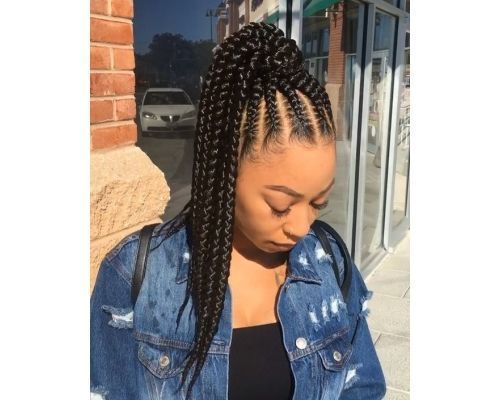 18. Cornrow Ponytail With Natural Edges
While most pony cornrow styles look very neatly done, you can add a tinge of naturalness to them by embracing your free edges and leaving them out of your cornrow design on purpose.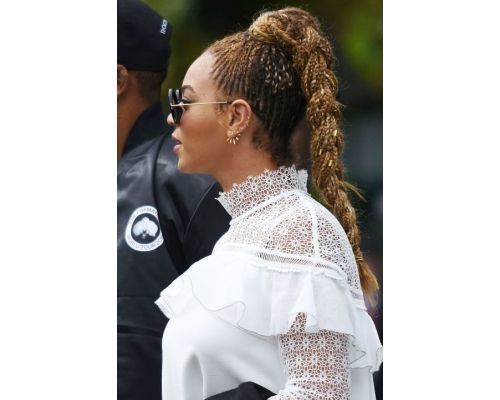 19. Cute Hybrid Cornrow Ponytails
Play around with the thickness of your cornrow braids and create a youthful hairstyle of your own. Mix and match different widths of cornrows and make it a combination of jumbo-sized and medium-sized braids and hold them up gracefully in a ponytail.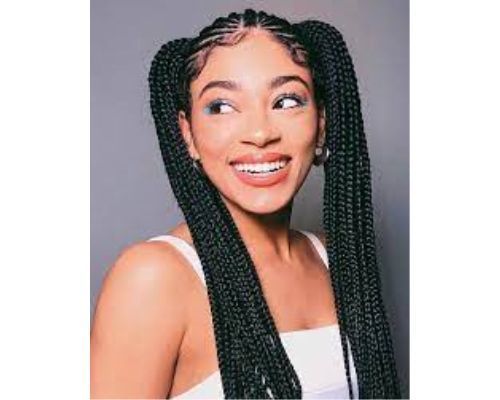 20. Two Cornrow Braids Ponytails
What is better than a cornrow ponytail? Two cornrow braids ponytails! It is the perfect pairing of cuteness and sexiness together which will make you look at the top of your fashion game.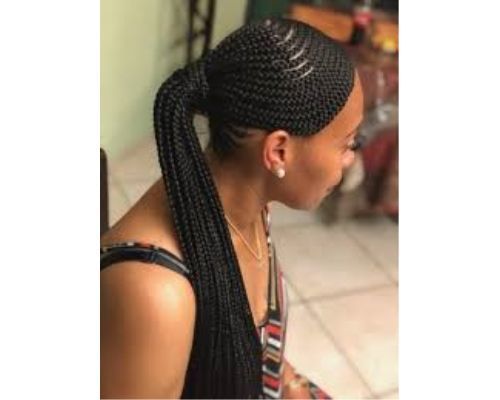 21. Everyday Cornrow Ponytail
Just gather all your cornrows and wrap a scrunchie around them and you are all sorted to head out of your house. It is the perfect everyday hairstyle especially because it's practical as well as beautiful.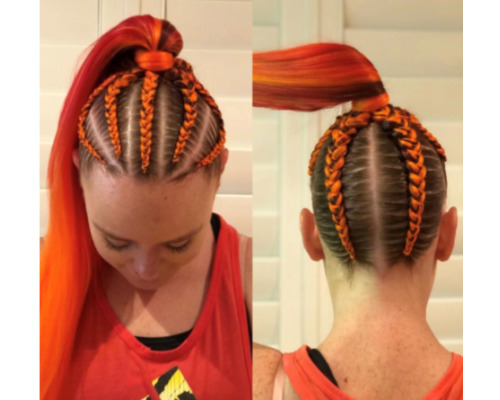 22. Ponytail With Five Cornrows
If elegant simplicity is all that you love, just style your hair into five neat cornrows and tied them up in a pony. This minimalist hairstyle is very protective and won't put stress on your scalp.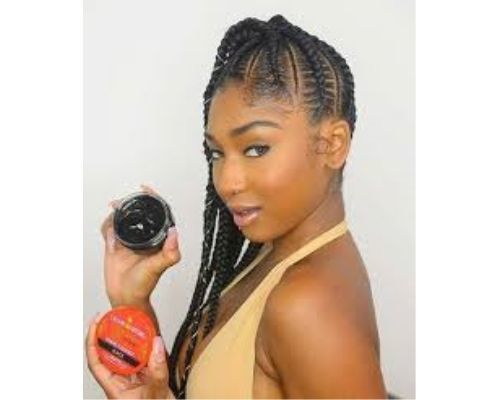 23. Side Cornrow Ponytail
To spice things up with your hairstyle, just make a centre parting and braid one side of your hair into neat cornrows. Hold them up in a ponytail and let the other half remain loose and free to make a carefree appeal.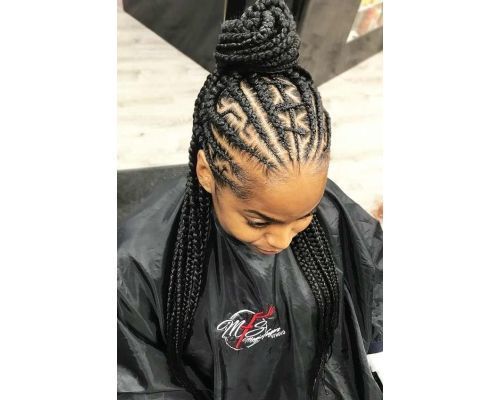 24. Half Up Cornrow Ponytail
To make your hair look voluminous and stylish at the same time, just take a huge chunk of hair on the crown, braid it in tiny cornrows and hold them in a high ponytail. The remaining hair will give an illusion of your hair being denser and more voluminous.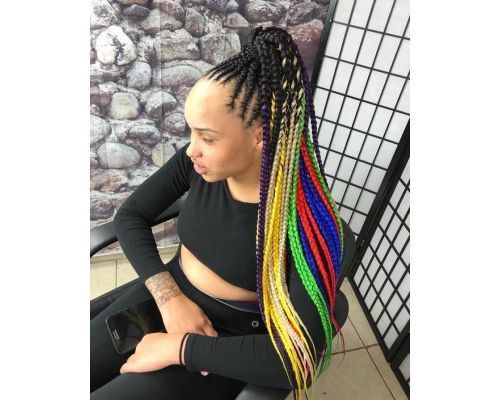 25. Rainbow Cornrow Ponytail
Be it cakes or hairstyles, rainbows are a trend in everything these days. Get onboard with the trend and paint your hair in the brightest shades of VIBGYOR or you could even get extensions before styling it into a cute cornrow ponytail.
Now that you know 25 hair inspirations for cornrow braids ponytails, it's time to get into your experimental mode and put your best foot forward in the hairstyling game.