25 Stunning Purple Black Hairstyles And Haircuts (With Photos)
Alicia
Updated At 07 Feb 23

It's true, we all love our hair but once in a while we also crave some change. What better way than adding some color to them? Hair color is becoming more and more popular each day and people are also experimenting with different colors and styles as well as the application of hair color. From roots to ends, colors change the entire game. Purple and black hair is becoming excessively popular hair color choice as it is unique and a flavorful combination. This hair color combination suits black women perfectly and gives them an even more stunning appearance. If you are willing to experiment a little with your hair, check out these 25 stunning purple black hairstyles.
25 Stunning Purple Black Hairstyles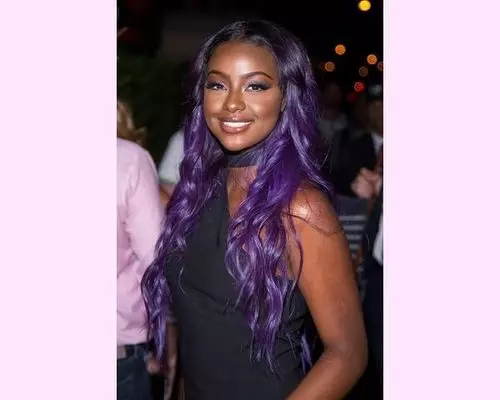 1. Black Base And Purple Hair
Your black hair would surely look gorgeous but a shade of purple will make it appear even prettier. Smooth, straight hair great to wear but if you want to wear your hair differently and want to make you hair a little extra you can try wavy hair as it accentuates the style of your hair making your black and purple hair stand out and compliment your style as well. Similar to purple hair, blue black hairstyles have been also trending this year.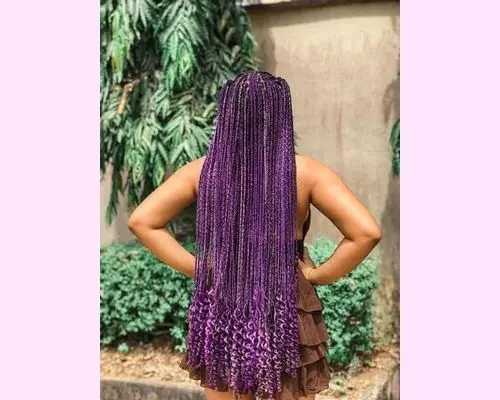 2. Purple Highlights With Curly Ends
Cornrows are everybody's favorite and are all really trending in 2022 but we are always looking to make our hair look better and different from the usual, everyday hairstyle. This black and purple hair looks extremely gorgeous and is one of the best long hairstyles for black women. The braids are not tied all the way to the end and is left open and curled towards the end to get a volumizing and graceful look with cornrows.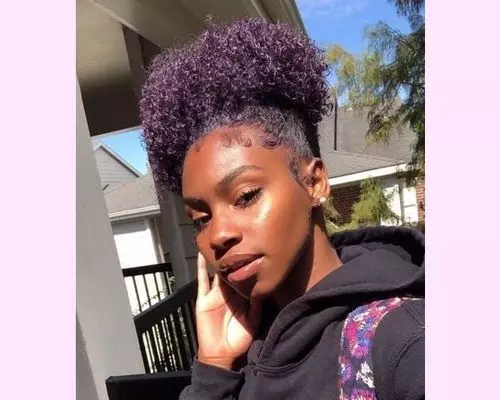 3. Purple And Black High Tie Pony
High tie pony is one of the easiest and most sought after hairstyles for women. Manageable, easy and elegant, high tie pony looks great on all hair types and texture. Snatched edges are a plus one for any hairstyle you go for. It looks great on black ad purple hair, entirely colored hair or with purple highlights on black hairs.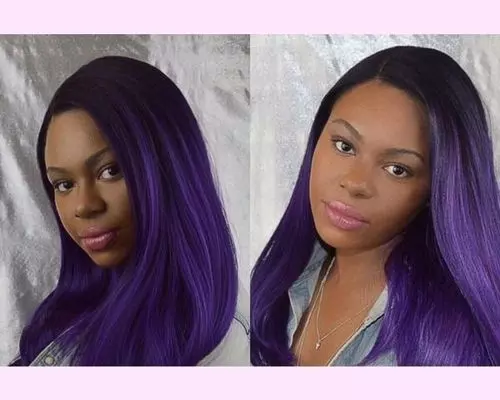 4. Side Part Medium Cut Hair
It becomes really hard to style medium length hair. We all see a lot of hairstyling tips for medium hair but the side part hairstyle is one of the easiest and trending hairstyles of all times. If you also love straight hair, this hairstyle will work well for your hair. Side part black and purple hair is easy to manage and is easily visible in any hair texture and works perfectly well with any outfit and occasion.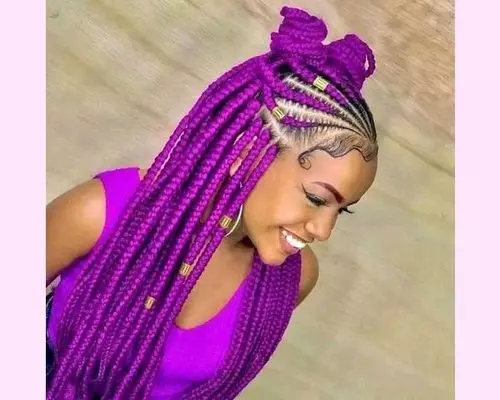 5. Two Topknots And Cornrows
First and foremost, cornrows with two topknots offer an elegant and stylish look that can complement any outfit. Additionally, they provide extra protection against heat damage during exercise thanks to their protective style. They are also great for maintaining scalp health since they help retain moisture in the hair follicles. Finally, cornrows with two topknots are ideal for people who are bored of tying regular braids because they are quick and easy to do.
Related Articles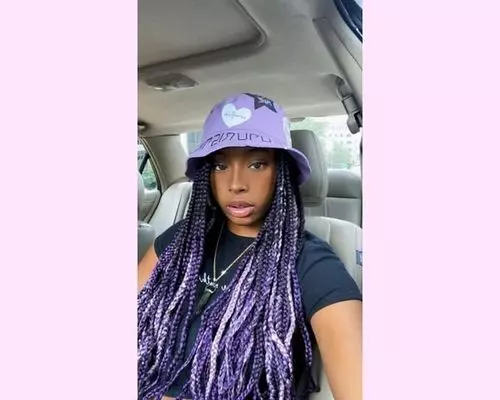 6. Shades Of Purple Braids
If you are yet to get your hair colored, you can try going for not just one, but multiple different shades of purple. Getting purple, lavender, lilac, violet shade of highlights will create a unique, creative look that will definitely make you and your hair stand out and is going to be the most different and stylish look you own. Wearing your hair in braids will accentuate the hair color and will draw more attention to the seemingly normal box braids making it appear stylish and cool.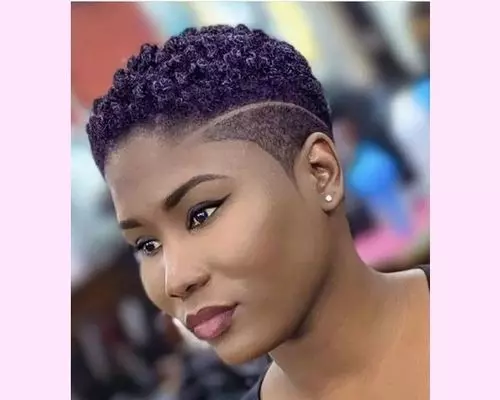 7. Short Hair With An Undercut
If you have your hair currently short you may want to style them in an undercut. Styling them with black and purple color has to be your new you. This amazing short black and purple hairstyle looks amazing on all face cuts and looks really cool. Many women are defying the norms of compulsorily having long hair and are opting for short hair. Short hair is easy to manage and cost efficient as well. The only money you may want to put apart from your hair care is getting your hair colored.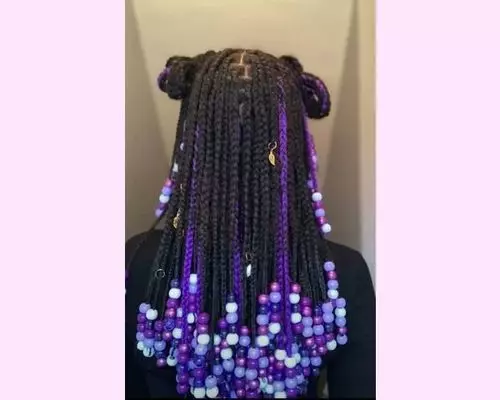 8. Purple Highlights With Cornrows
This trendy hairstyle is versatile enough for everyday wear and can be easily dressed up for special occasions too. If you are a practiced individual, you can tie the cornrows yourself otherwise help can be taken from professionals to achieve the seamless look effortlessly. Adding accessories to hair is one of the best ways to make your hair stand out and look beautiful. Adding beads to the end of your hair of the same color as your purple highlight on black hair will create a cool and stylish look effortlessly at any time.
Check out our guide to find the best box braids with beads as we list 55 hairstyles trending this year.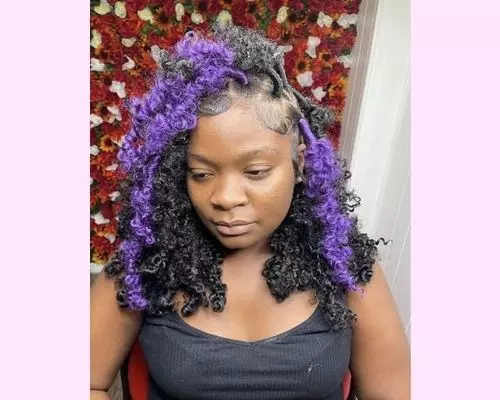 9. Top Tied Locks And Snatched Edges
Tying a top tied knot with snatched edge women's hair can be tricky. Beginning from the scalp as we always do, you need to tie the hair in knots that are tight enough to hold themselves and create a locking visual. Just as you like it, you can stop tying the knots and let the rest of the hair be as it is. Make sure the knots are tight against the scalp but not too tight as this might cause pain when wearing the hair for longer time periods without opening or relaxing your hair.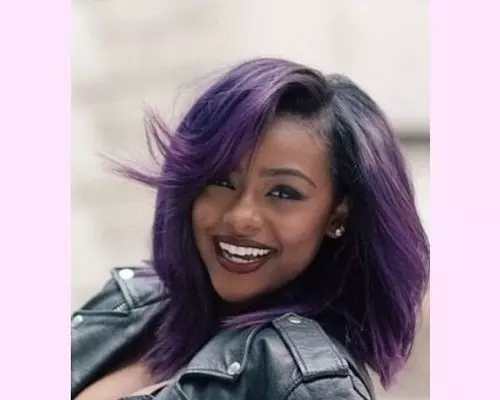 10. Short Purple And Black Hair
Short hairs are currently in trend and look really good on small faces. If you want to a little spice to your short hair, try this black and purple hair in a bob. This hairstyle looks great in black and purple hair and you can always get flicks or bangs to make your hairs even more appealing. Leaving the roots/scalp black and styling the hair in layers might appear even better.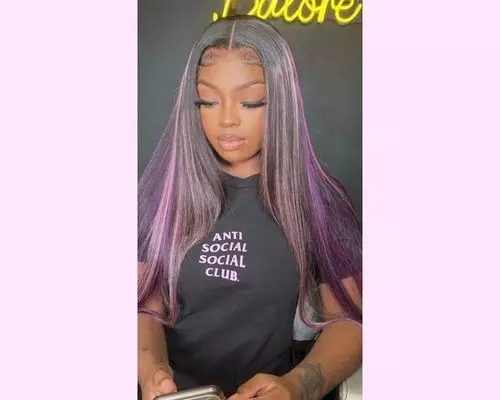 11. Purple Highlights On Black Hair
If you have long hair, you may really want to try the purple highlights on black hair. The highlighting might even look good on short or extremely short hair. Keeping the hair open mostly helps displays the beautiful highlights and the texture perfectly. Another way to add some spark to the way your hair appears is by straightening your hair. If you have naturally curly hair and you atlso consider yourself a beginner, it is recommended you get your hair straightened by a professional so that you do not burn your hand and hair.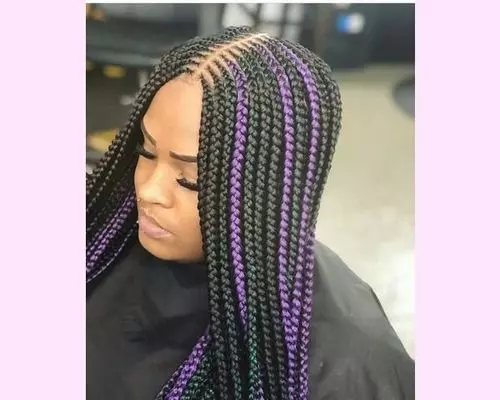 12. Purple Highlights On Braids
We totally agree! Box braids looks complicated and are a little hard to perfect but we also agree that box braids look really cool on black women and makes hair even more manageable. Separating the purple highlights from the naturally black or dyed black hairs and braiding them separately will help you achieve the look. Beginning from the roots you can start braiding your hair in sections so that the style on the scalp looks neat and subtle.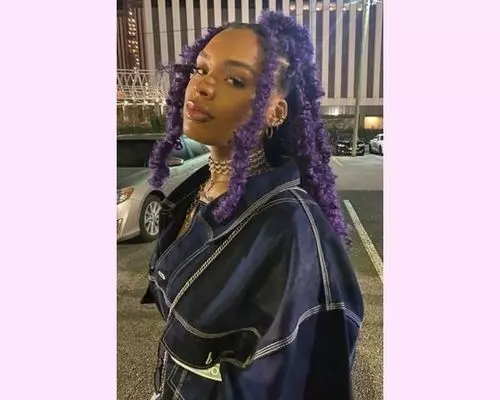 13. Black and Purple Hair Locks
Highlighting and coloring the hair has been in trend for quite some time nw. Also that women are experimenting with different ways to style wear their hair, from adoring their natural locks to braiding them, everything is beautiful and stylish. Letting your hair flow open or in dreadlocks, the purple hair will look amazing either way. Dreadlocks are really common and styling them close to the scalp will be easier for you to manage and will look definitely pretty.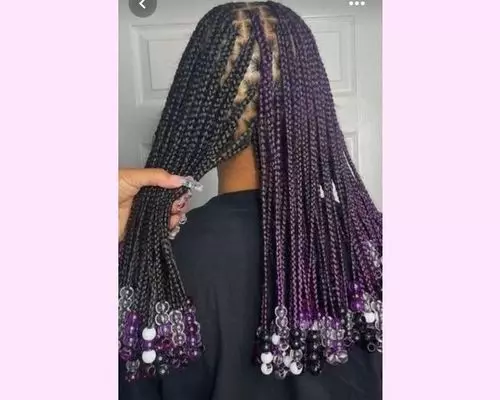 14. Half And Half's Cornrows
Half and half style is a lot in trend and therefore we have brought one of the most liked and chosen hairstyle for black and purple hair by women. This hairstyle can be achieved by firstly separating and dividing your hair in half on the basis of black hair and purple hair. Second step involves braiding the hair separately from the scalp in cornrows, and you may even attach beads to the end of your hair to make your hair appear different, stylish and beautiful.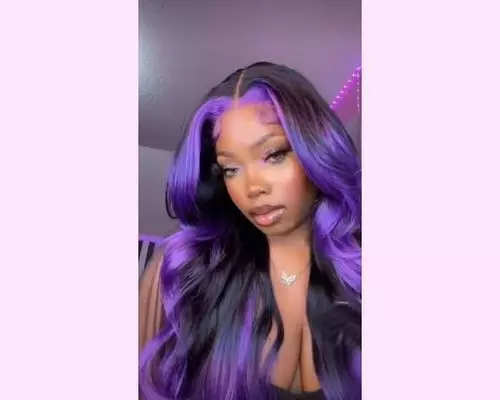 15. Wavy Hair With Flicks
Purple highlights on black hair looks amazing, and it looks even more appealing if styled perfectly. This black and purple hair look requires minimum time and can be achieved at home without going to the salon with the use of a few products included a curler, and gel. If you already have your flicks cut this is going to be easier for you as all you would be required to do is heat your hair to get the waves and use the gel/wax to get your edged snatched.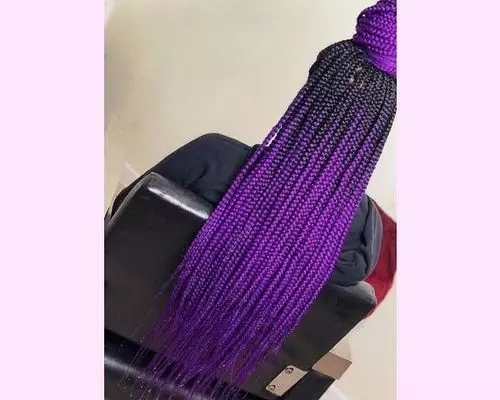 16. Cornrows And A Topknot
Cornrows with a topknot can be styled in a variety of ways, depending on your desired look. Consider doing them up high or low on the head, traditional or nontraditional styles, long or short hair lengths - the options are endless. Black and purple hair is always there to add a +1. It doesn't matter if you have the edges or the roots colored or the hair are just highlighted purple, this cornrows and topknot hairstyle is going to suit all variation of color application.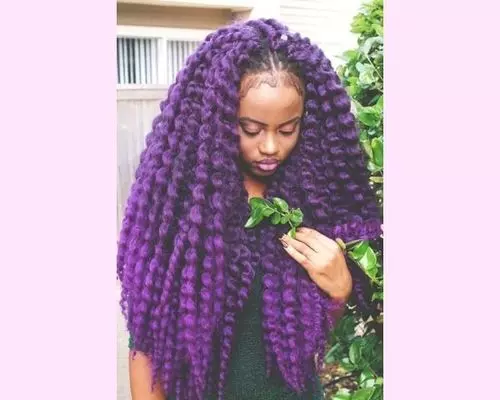 17. Cornrows With Curls
If you love cornrows but you don't want to spend enough time making them and find them hard to manage, this hairstyle is for you. Starting from the base all you need to do is, braid just an inch or two and leave the rest of your hair flowing. It would not even require a lot f your efforts if you have naturally curly hair, otherwise curling hair or straightening them is personal choice and either may look good on your face. It just requires a little experimenting.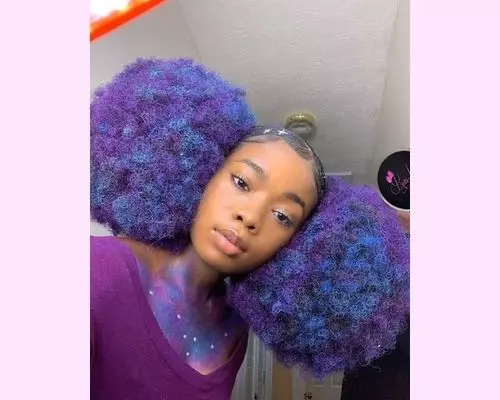 18. Afro Black And Purple Hair
If you are looking for a new and exciting hairstyle, then an Afro black and purple hairstyle may be the perfect option for you. This style is versatile enough to suit any occasion, and it can be styled in a number of different ways. Slick hair on the top may help you create a better and subtle look as the rest of your hair can flow as it is to the sides. All you need is really tight and durable bands to tie your hair n either side.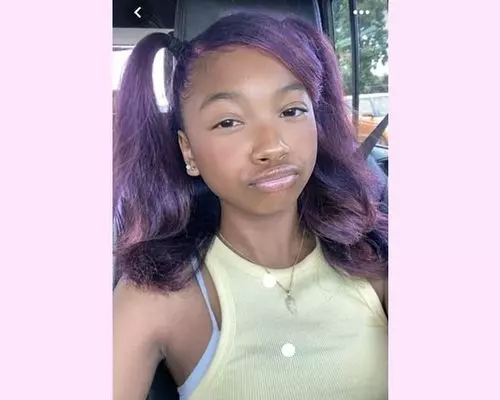 19. Pony Tails With Side Bangs
2 ponytails with bangs on black and purple hair is a style you can wear for work or casual events. It's simple and easy to do, and it will help you look more polished and professional. To create this look, start by taking two sections of hair down from the back of your head. Tie the ponytail on either sides of your head. For the bangs, you can do the same and separate the hair on the front and style the short hair/flicks to just one side majorly. One of the top short hairstyles for black women, this one is elegant and looks stylish at the same time.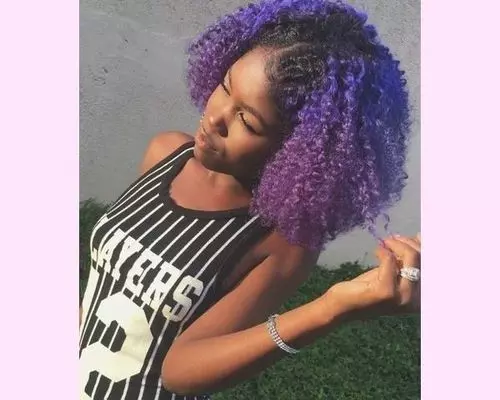 20. Curly Short Black And Purple Hair
Not everyone can manage long hair and not everyone likes long hair as well. Many people chose to color their when they get bored of their regular hairstyle and cannot or do not want to change the length or texture of the hair. Many people prefer coloring from the scalp itself while some leave a certain amount of hair with natural hair color only. Whatever you do, you can also go for slick hair at the top till the hair is uncolored and leave rest of the purple colored hair flow gracefully.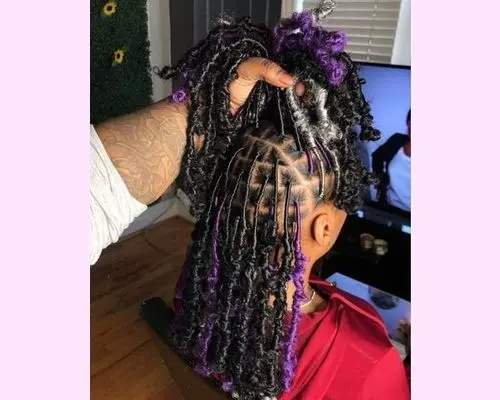 21. Square And Curled Locks
If you are bored with your regular cornrows hairstyle or if you just want to try something ew, we have got you covered. This square and curled locks style is an amazing hairstyle that looks really stylish and is trending amongst women nowadays. Square curled locks are little difficult to create on your own but a professional hairstylist may help you to get the amazing look and even if you mess up a little, don't worry as it will still look good on your black and purple hair.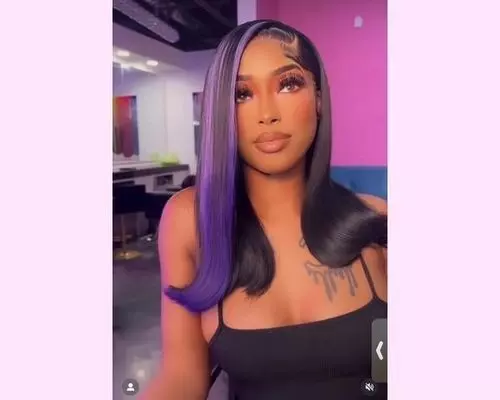 22. U Cut Straight Hair
If you are all set for a new haircut, you may try getting a U shaped cut which gives a U shape at the bottom of your hair. If you have already got a haircut for yourself, you need not worry as you can take a curling rod and curl the base according to your choice. The U shape cut on straight hair is enough and looks great on itself without any extra styling, however as said snatched edges are good to go with all hairstyles and with purple highlights on black hair as well.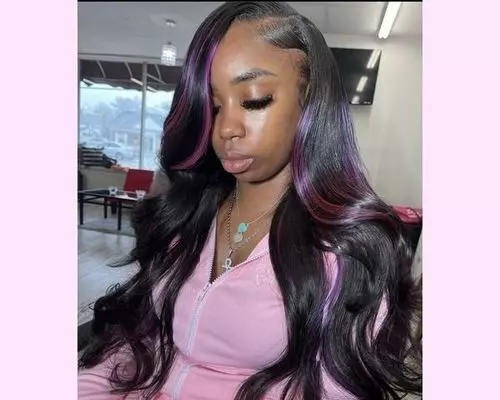 23. Purple Highlighted Side Part Hair
Purple highlighted side part hair is a style that's gaining popularity these days. It's perfect for women who want to add some style and brightness to their look, without having to go all out with bold colors or drastic changes in hairstyle. Basically, purple highlight on black hair is just a subtle way of adding color and interest to your hair without overwhelming it.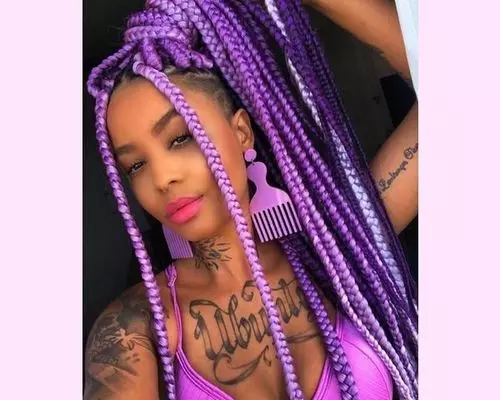 24. Thick Cornrows With Purple Shades
Different shades of purple highlights on black hair in a cornrow can add some visual interest and brightness to an otherwise drab look. The different hues will also help break up the monotony of your current style. Purple highlights on black hair can be really stunning, depending on the color and style of your cornrow. If you're looking for something a little different, consider using shades of purple as highlights.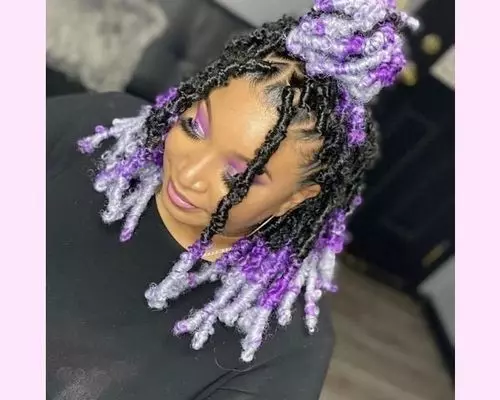 25. Light And Dark In A Topknot
Choose a light purple that will complement your natural hair color without being too subtle or washout if you don't like your hair grabbing all the attention. If you have curly hair, steam your locks after applying highlight dye to soften and disperse the pigment throughout your entire head of curls. This also helps keep frizz down. Then you can always tie your hair in a topknot to avoid them getting all tangled and leave it that one to create this unique and stylish look.