25 Stunning Drew Barrymore Hairstyles And Haircolors
Pooja Angurasu
Updated At 14 Mar 23
Actress, director, producer, talk show host, and author Drew Blythe Barrymore resides in the United States. She is a member of the Barrymore acting family and has won and been nominated for numerous accolades, including a British Academy Film Award, seven Emmy Awards, a Golden Globe Award, and a Screen Actors Guild Award. A fresh hairstyle sounds appealing to oneself. Use Drew Barrymore's changing hairstyles and hair colours as inspiration. Drew has always had amazing style, whether it was her classic '90s bob or her current ombre look! Let's check out 25 stunning Drew Barrymore hairstyles and hair colors.
25 Drew Barrymore Hairstyles And Haircolors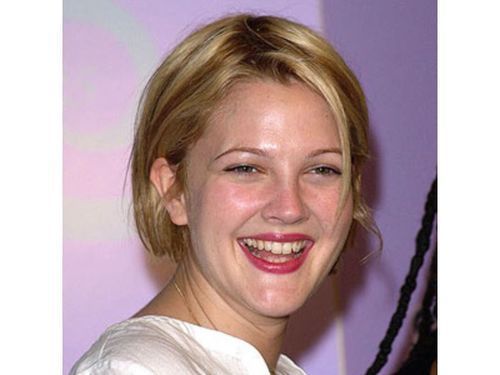 1. Drew Barrymore's Pixie Haircut
One of the best celebrity haircuts, the pixie cut just looks amazing on her. The side-parted, straight, and smooth blonde pixie cut is pushed back and fastened with a bobby pin, and the bangs are styled to the side. The red-hued lipstick and Drew Barrymore's smile just adds more charm to the overall look.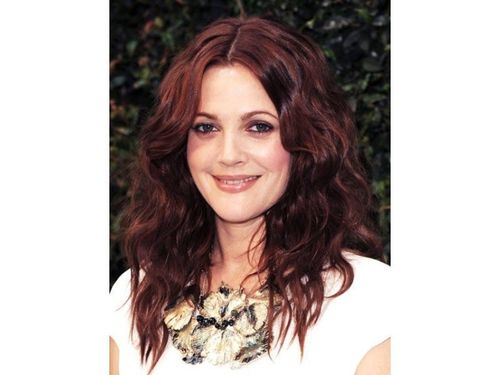 2. Drew Barrymore's Auburn Colour
With this lovely medium-length auburn haircut, the actress exuded a sophisticated and experienced appearance. Her fair complexion complements the warm tone beautifully. This Drew Barrymore hairstyle and hair colour are suitable for people with medium-length hair.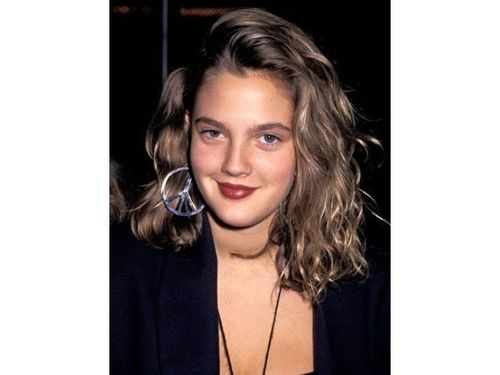 3. Beach Waves
Drew Barrymore looked stunningly beautiful with her medium-length, loose hair styled in beachy waves. This is one of Drew Barrymore's 90s hairstyles with an exotic sense of style and a contemporary attitude. If you are looking for more inspiration, check out this Kristen Stewart hairstyle in which she is showcasing shaggy hair.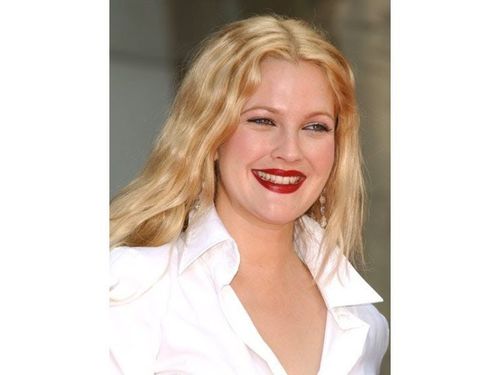 4. Drew Barrymore's Ombre Haircolor
Drew Barrymore is a major fan of ombre hair; whether she wears long hair, shoulder-length hair, or even short hair, she loves to colour her hair and sport a chic ombred hairstyle! Drew Barrymore's ombre hairstyle has become popular in recent years, as we can see many celebrities sporting it these days.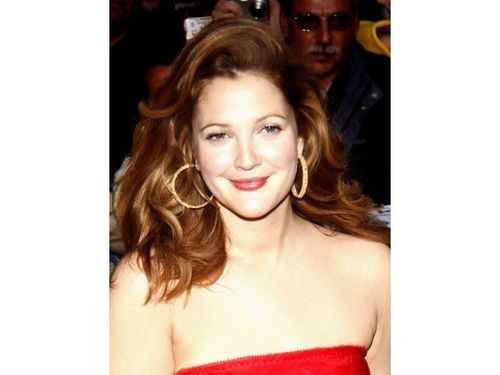 5. Honey Blonde
Warm and golden in tone, honey blonde hair has shades of amber, blonde, chestnut, light brown, and even a touch of red. Although it has a warm blonde tint, it is not orange or brassy blonde. The tint of Drew Barrymore's hair colour complements her gorgeous skin well.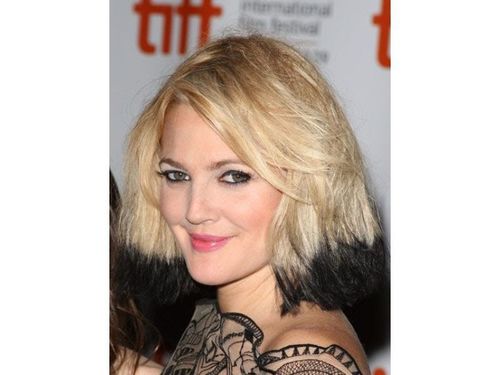 6. Dual-Toned Hair
Long layers that are cut around the borders of this shoulder-length haircut highlight the two-toned effect, which adds contrast to the style. With a completely unique and contemporary appearance, Drew Barrymore's haircut is very simple to maintain.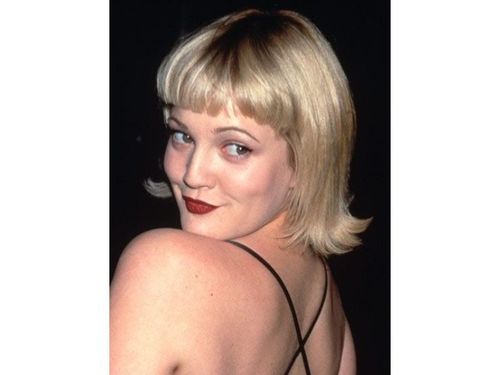 7. Drew Barrymore's Bangs Haircut
The 90s fashion scene was greatly influenced by Drew Barrymore's bangs haircut. Even though bangs have been popular since a long time, they never lose their incredible attractiveness, and bangs continue to set trends today.
Also check out Jennifer Garner bangs as she gives us the perfect inspiration to transform the look using bangs.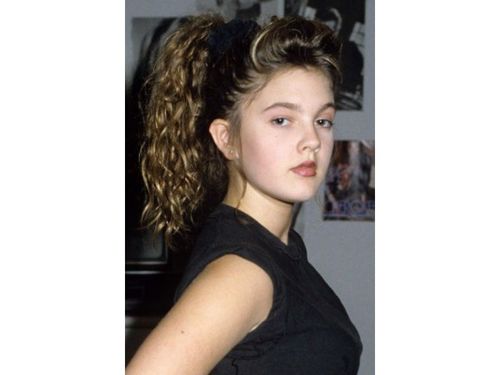 8. Drew Barrymore's Pony Hairstyle
A wavy style that has a little front bouffant adds significant volume and looks beautiful from any angle in a photo. Never undervalue the power of a ponytail, whether it is from the 1980s, the 1990s, or today. This Drew Barrymore's hairstyle is so great!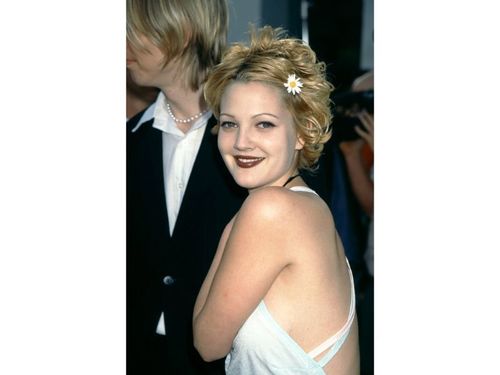 9. Drew Barrymore's Short Hair
Barrymore in her teenage had this super short bob cut in her blonde hair which is center parted and settled back of her ears. This cute and brave haircut shows hers boldness. The teenage Drew Barrymore short hair looks adorable and cute.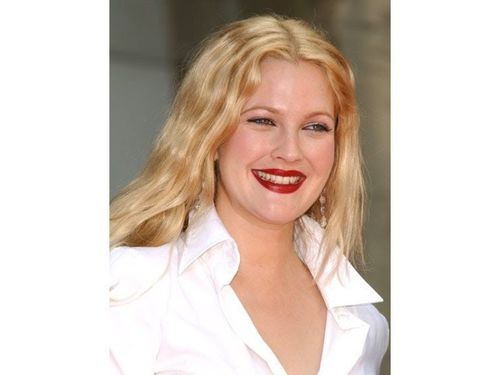 10. Bleach Blonde
One of the most popular hues is this Drew Barrymore hair colour. You can look lively, young, and brilliant with blonde hair. Barrymore smiles through a disaster that is unavoidable given her penchant for experimentation.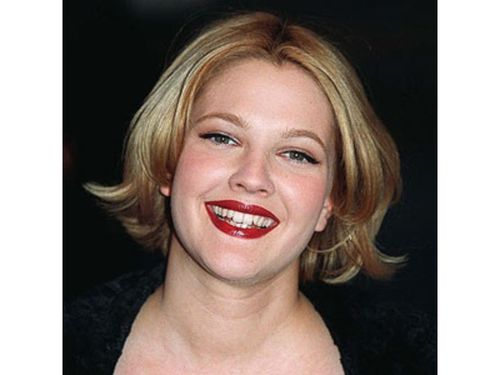 11. Drew Barrymore's Bob Hairstyle
Along with her own style, Drew Barrymore's bob hairstyle radiates both power and grace. It is a fairly straightforward hairstyle that requires little to no styling. One of Drew Barrymore's 90s hairstyles was the best.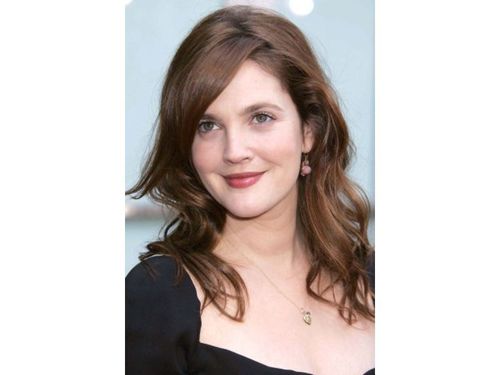 12. Drew Barrymore's Sideswept Bang
During the international premiere of the movie "Curious George," this attractive diva looked stunning with her chocolate-colored hair. Drew has been cut so that only her top and shoulders are visible. She looks chic with her Drew Barrymore bang hairstyle.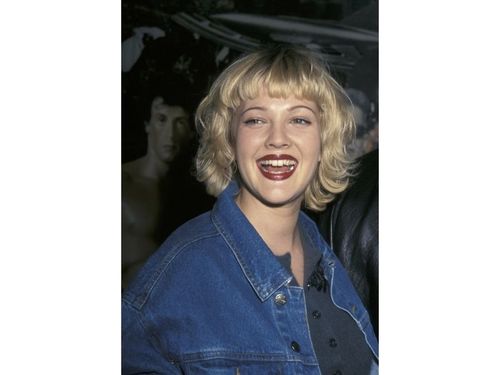 13. Drew Barrymore's Bob Haircut
The feathery blonde waves that surround her face and can be tucked behind her ears when appropriate are perhaps the most recognisably identifiable aspect of Drew Barrymore's 90s hairstyle. Drew Barrymore's bob haircut is stunning.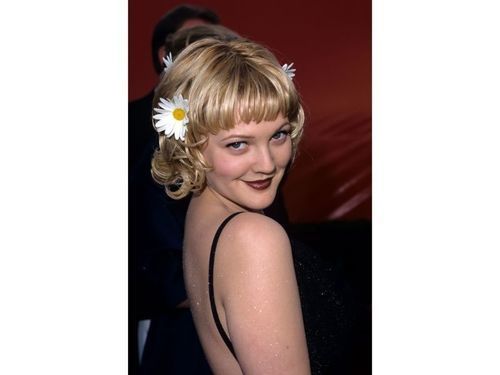 14. Drew Barrymore 90s Hairstyle
The actress included flowers into her platinum curly haircut with bangs for the Academy Oscars in true Drew style. One of Drew Barrymore's most well-known and stunning 90s hairstyles, this one makes people look younger and prettier.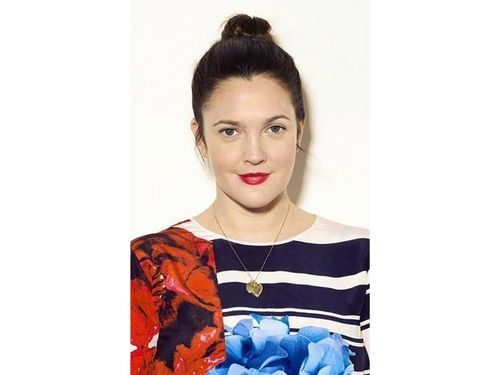 15. High Bun
One of the most popular haircut among celebrities, the high bun is straightforward and stylish. Drew Barrymore had her hair dyed black and tied back in a high bun. With any contemporary ensemble, Drew Barrymore's stripped-back hairstyle looks great. Also check out Selena Gomez hairstyles as she gives ample inspiration for various new and trending haircuts including the bun hairstyle which has been one of her most popular haircuts.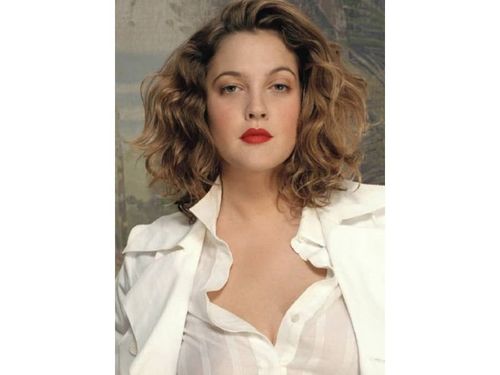 16. Curly Bob
With her new curly bob hairstyle, this producer of Hollywood renown looks amazing. The side-parted hair is given the lovely curls, which make it appear thick and voluminous. This captivating Drew Barrymore haircut appears adventurous and daring.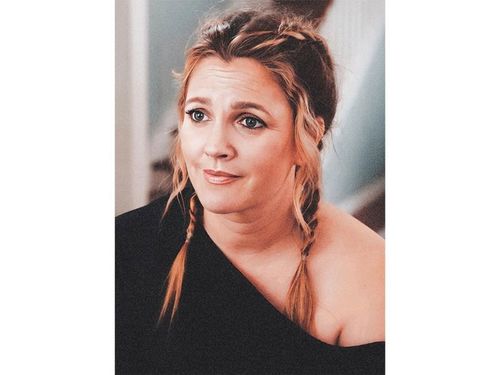 17. Double Braids
With double braids, a wavy fringe, and blonde highlights, Drew Barrymore's hairstyle looks great. A few hairs from the front are twisted on two sides and added along the remaining divided hair, which is braided separately on two sides. The messy hair is centre-parted and divided into two sections. This haircut is amazing and adorable at the same time.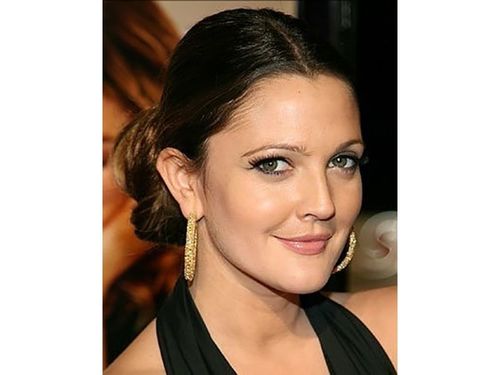 18. Updo Haircut
Drew Barrymore wears an exquisite and unfussy updo on her black hair with a centre part. The attractiveness and gorgeousness of Barrymore are brought out by her haircut and her large, golden earrings. This adorable Drew Barrymore's haircut is simple to make. If you are looking for more inspiration for updo hairstyles, do check out Kim Kardashian haircuts as she showcases multiple looks with this hairstyle.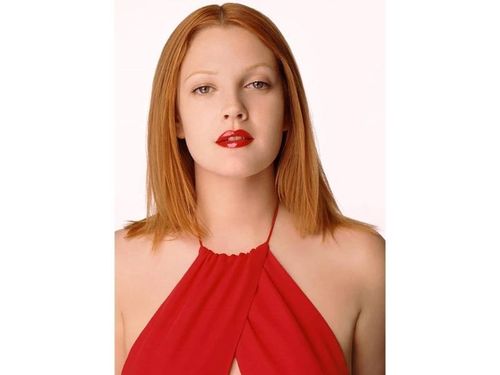 19. Orange Straight Hair
The alluring and audacious looks of Drew Barrymore's haircut with her shoulder-length, center-parted, orange-brown straight mane are readily maintained, and it has a feather cut that flows back and forth. This attractive Drew Barrymore's hair colour is straightforward but hot and daring.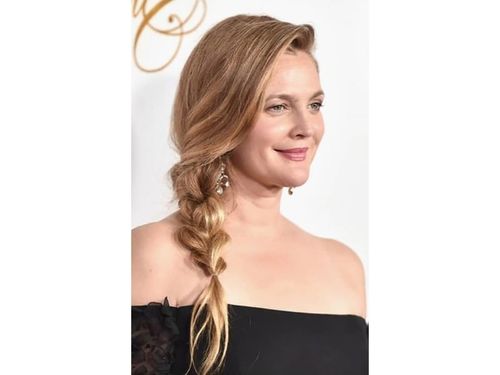 20. Fishtail Hairstyle
The most attractive and sophisticated haircut on Drew Barrymore is this one. The roots of the side-parted hair are elevated, giving the side-swept hair in a messy braid the appearance of a waterfall. Her haircut and the strapless, daring black dress that Barrymore chose to wear give her a nice and endearing appearance. Drew Barrymore's hairstyle is appropriate for a romantic evening.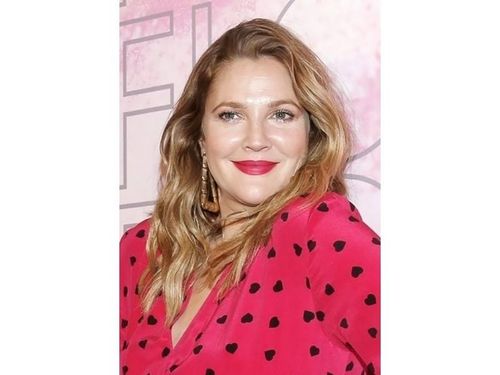 21. Wavy Tresses
Only Drew Barrymore's hair colour and wavy hairstyle may be credited for her consistently stunning appearance. Several females are inspired to copy Drew Barrymore's haircut by the way she wears her medium-length, shiny, wavy tresses because they find it endearing and lovely.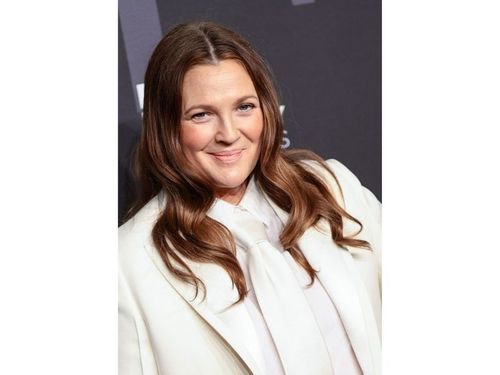 22. Cinnamon Brown Hair
Barrymore entered the scene wearing her hair in center-parted, cinnamon-brown waves that were added at the end. The midlength of her hair is straight. This plumpness and gorgeous smile are highlighted by the unassuming and modest colour of Drew Barrymore's hair.
23. Pinned Back Beach Waves
Drew Barrymore, who is young, has this lovely haircut and looks even more attractive. The beachy waves of the side-parted mane are pinned to one side, leaving the other side free. Most of her fans adore the amazing Drew Barrymore's haircut since it makes her look incredibly adorable and charming.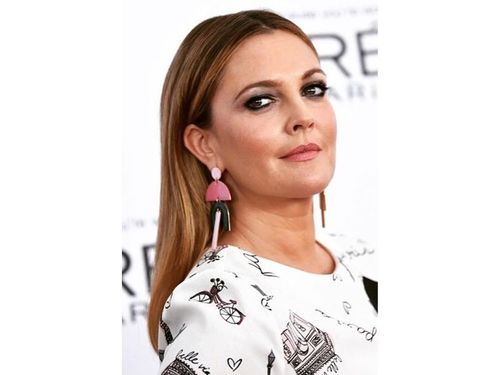 24. Straight Haircut
Drew Barrymore's appearance is made stunning and confident by this classy hairstyle. It is center-parted and sleekly straight. Everyone looks great for all occasions with this easy-to-maintain Drew Barrymore hairstyle.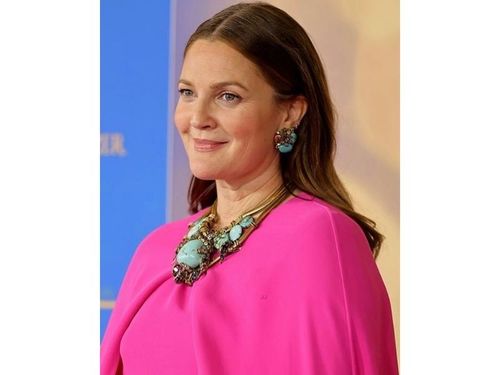 25. Smooth And Straight Tresses
Drew Barrymore's center-parted haircut is secured behind each ear on both sides, while the remaining smooth tresses with slightly bent ends are left free in the back. With this beautiful Drew Barrymore haircut, she appeared on the Emmy red carpet.