25 Stunning Short Braids With Beads - 2023
Ankita Ghoshal
Updated At 16 Jan 23
If you are in search of an easy way of leveling up your braiding style, beaded hairstyles are what you must try as these are one of the top hairstyles for black women. They are all over Instagram, celebs are going gaga over them, and they look marvelous even on short hair. Here are some of the super cool 25 short braids with beads that you can rock this year.
25 Best Short Braids With Beads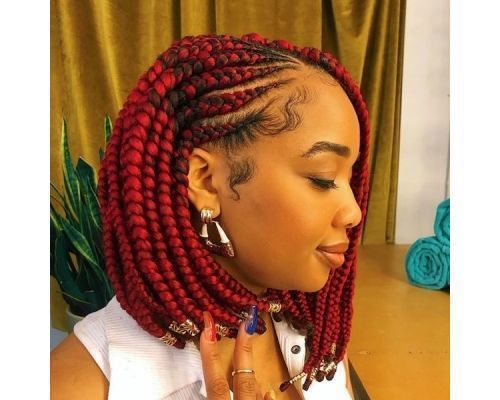 1. Braided Bob And Beads
This hassle-free, straightforward hairstyle is a favourite among many women with short hair. A bob cut with short braids and beads screams "cuteness" at its loudest. Moreover, this is a pretty flexible hairstyle that you can flaunt with formal and casual events both.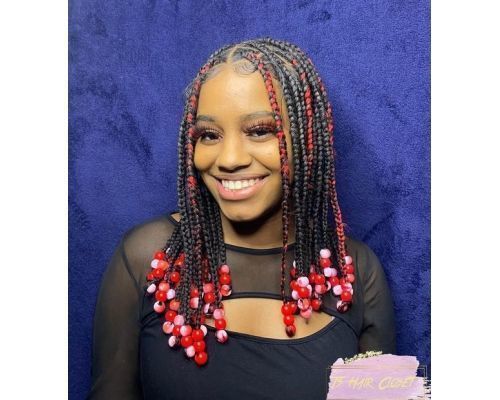 2. Beads On Center Parted Braiding
Sleek middle parting with beaded braids always works wonders. To make it all the more interesting, add different coloured beads to create a little rainbow of your own. Slide them on the ends of your braids and you are sorted. If you are looking for new and trending hairstyle options, knotless braids with beads can work really well as well.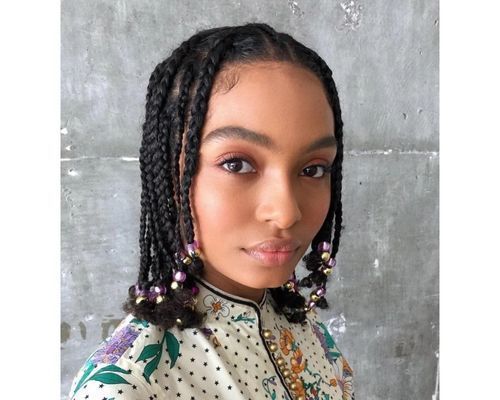 3. Tiny Beads On Short Braids
If you want a different and intriguing hairstyle, braid your hair at varying lengths. Use the beads all over your hair, without worrying about the ends. You can even stack wooden braids at random parts of your braids to rock the look.
Check out our guide on braids hairstyles as we list 55 most popular braided haircuts which have been trending this year. From simple box braids, bob with box braids, knotless box braids to crochet box braids, we have covered all of them.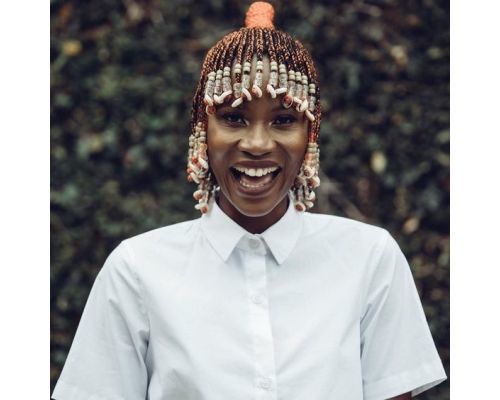 4. Beads on Fulani Braids
You can never go wrong with fulani braids. These short braids with beads are the cutest hairstyling inspiration that you must check out right now. Add a couple of wooden beads towards the ends of your braids and you are all set to fetch compliments.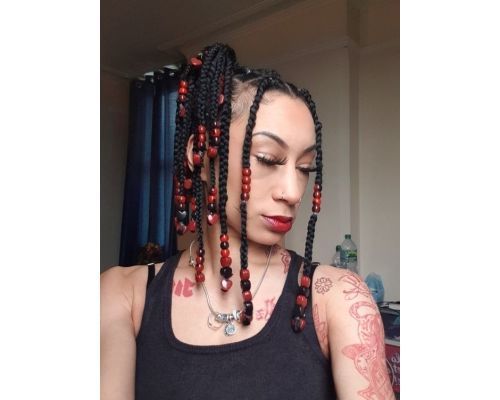 5. Very Short Beaded Braids
Recently, we all fell in love with celebrities sporting uber-cool beads and braids combo. You can do the same to your hair and rock the style just by adding some beads to make your braids extra pretty.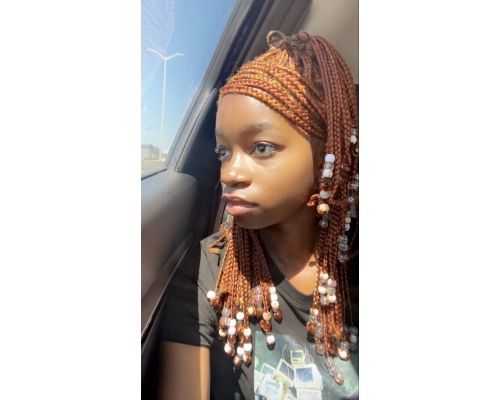 6. Clear Beads On Braids
The awesome part of clear beads is that they are so neutral that they can pair well with all types of braided hairstyles. They are incredibly pretty and you can make them all the more amazing by going for a sleek middle parting and golden hoop earrings.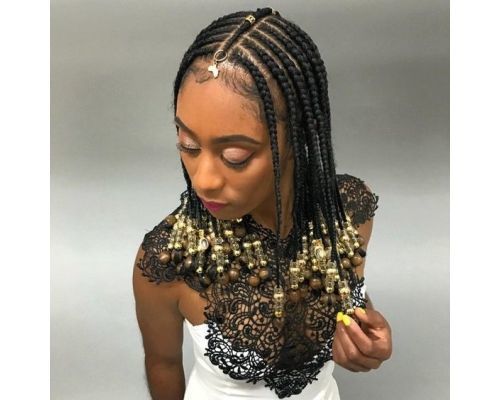 7. Beaded Shoulder Length Braids
One doesn't need super long braids for trying beaded styles. These short shoulder-lengthed braids decorated with white beads make for a great fashion statement. Don't forget to put on your bright red lipstick while you are at it!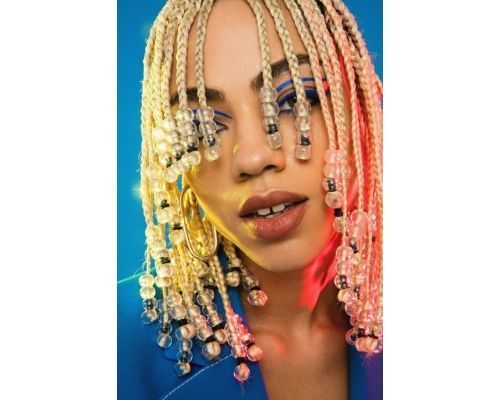 8. Beaded Braids On Forehead
If you have seen Yara Shahidi flaunting her beaded braids, you know how bold and sexy they look. That is a great way to experiment with size and texture of your hair and you can definitely give it a shot. The beaded braids on forehead will surely steal the show.
Check out our detailed guide on cornrows as we list 50+ stunning options if you are looking for a hair makeover. From celebs like Beyonce to Rihanna, many have flaunted their new cornrows this year.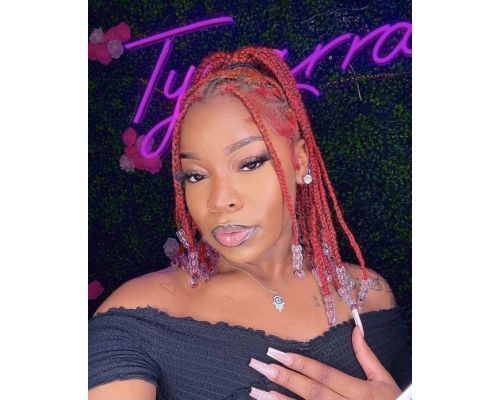 9. Ponytail With Beads And Braids
Braided ponytails always make a statement in the crowd and top take the hairstyle up a notch, just throw in some beads! The stellar combo of beads in different sizes, textures and colours are a treat to the eyes. You can also wrap the ponytail towards the top of the head for giving a nice stage for the beads to show up.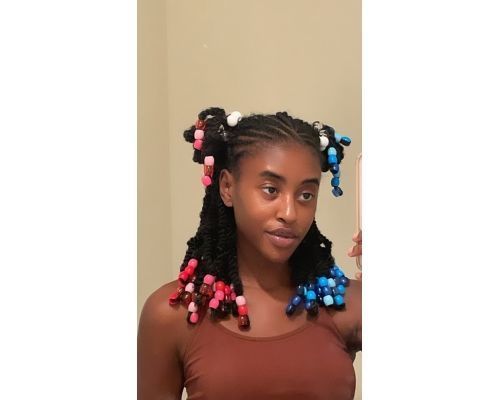 10. Beads On Half Up Braided Buns
Half-up braided buns never fail to make heads turn and the icing on the cake is when you add cute wooden beads on it. Stick them up at the ends of the braids to complete the beautiful look.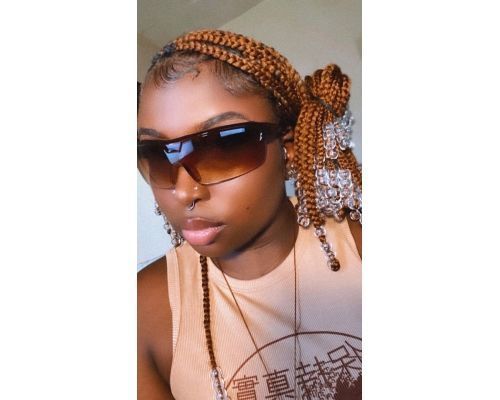 11. Beads On Knotless Braids
You can make your knotless braids extra special by adding a chunky row of multi-coloured beads on both the ends. The unique combination of gold, red, neutral and clear beads is too pretty to not try.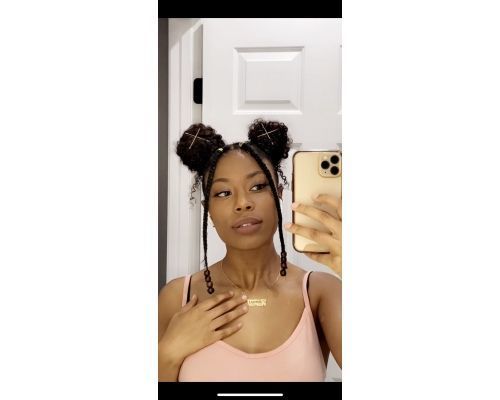 12. Beads On Braided Buns
If you want an adorable style for your beach trip, you can try the super easy and neat braided buns with beads. Sleek buns with subtle beads can never go wrong. It is also a great alternative to short box braids with beads as the buns add a breath of fresh air.
Check out our guide on box braids with beads as we list 55 stunning options for all hair lengths. From beaded cornrows, fulani beaded braids to bantu box braids with beads, we list all the popular options.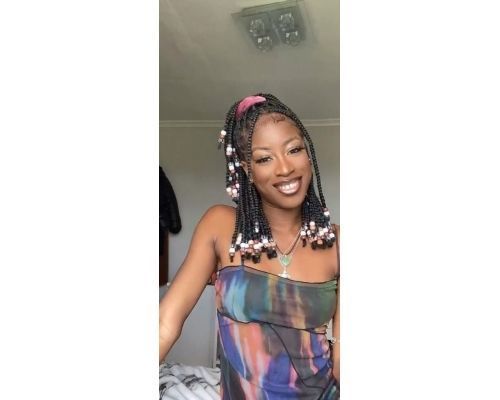 13. Layered Beads on Braids
Ignore the conventional way of placing beads towards the ends of the braids and try something new. Recreate your look by adding an extra layered dimension to it. You will get a lot of room for playing around as you can experiment with varying colours and sizes of beads.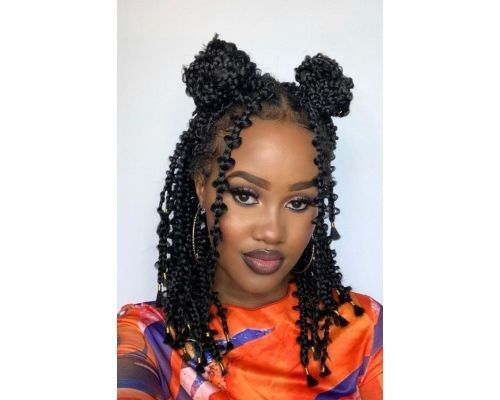 14. Braided Updo And Beads
Braided updos are a timeless hairstyle which never seems to fall off the trends. You can go all bonkers with this when it comes to the accessorizing part. Don't just stop at beads. Have fun with a mix of decals, beads, cuffs, threads, and so on to make things super cool.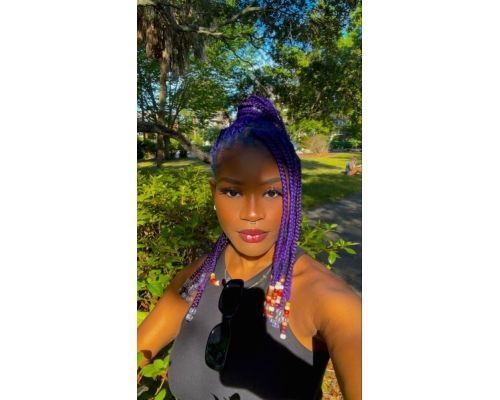 15. Braids And Beaded Ends
If you love clear beads, you are going to adore this hairstyle for sure. On days you want a soft and subtle vibe, just hold your short hair in prim braids and then use clear beads to secure the ends. Cornrow braids ponytail is another stunning option if you are looking for a hair makeover.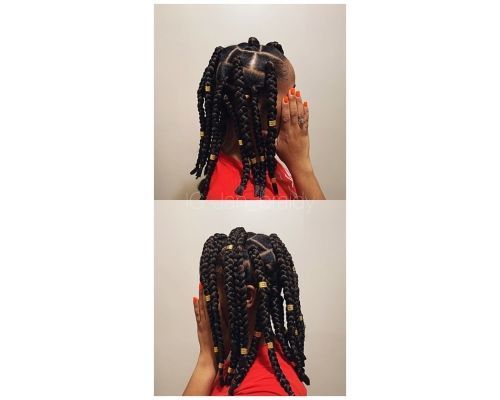 16. Beads on Jumbo Braids
Wrap your blingy, glittery beads on your jumbo box braids to bring out the diva in you. You can try different placements to put up your beads on the lengths of your cute braids.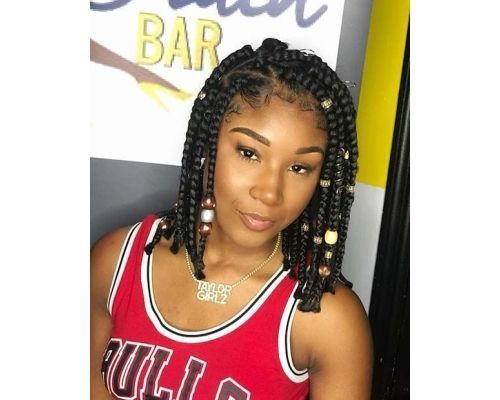 17. Thick Beads on Braids
Pick up your wooden beads to slide them towards the ends and mid-lengths of your neatly done braids. For getting the perfect look, use thick and chunky beads as they would make you a cut above the rest for sure.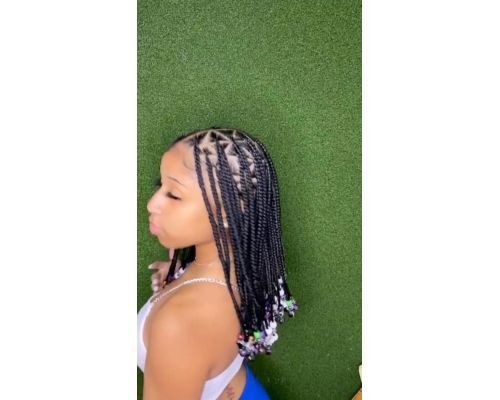 18. Beads on Knotless Box Braids
While knotless box braids are a classic on their own, you can amp up the hairdo by adding beads for setting your style apart. Go for the dainty gold and silver ones to be at the top of your fashion game.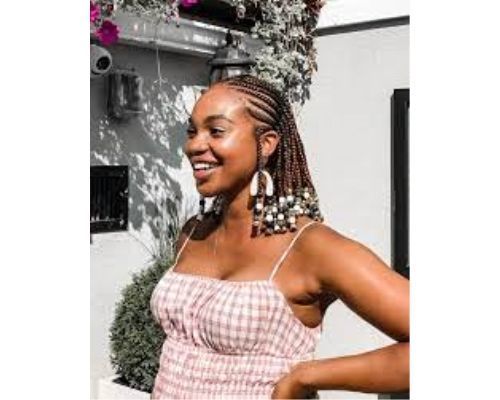 19. Lowkey Short Braids with Beads
If you are not after all the jazz and want a simple and classy look, check out Gabrielle Union's cute braids and cuffs style. She holds her long braids with just a single golden cuff and that makes all the difference. If you are not a fan of chunky cuffs, you can easily recreate the look using a thicker size of bead too.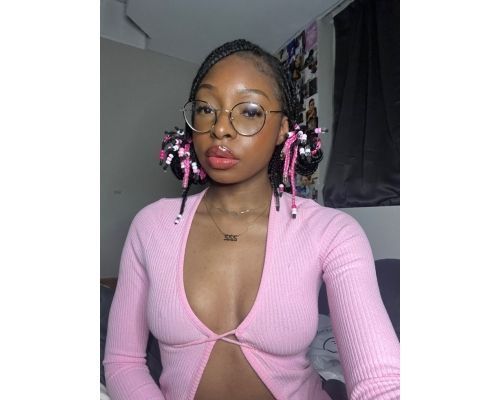 20. Bright Beads on Braids
Sounds like a tongue twister, doesn't it? Anyway, you can give your minimal box braids an instant oomph factor just by using bright-coloured beads at the lengths or ends. Be it yellow or magenta pink, bright beads are perfect to make your hairstyle apt for spring and summer alike.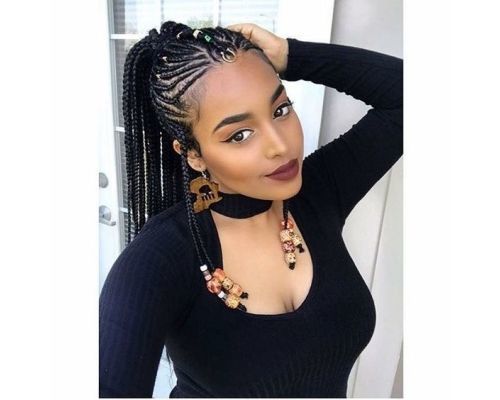 21. Beads On Sleek Braids
Use a dazzling assortment of silver and golden beads on your sleek braids that reach upto your waist. Switch things up a bit by placing them at different lengths throughout your hair.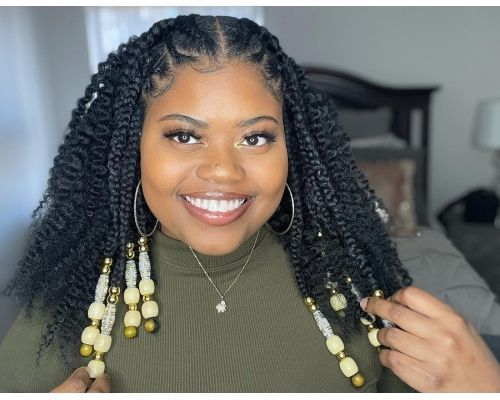 22. Curls, Braids And Beads
Braids ending with curls and adorned with pretty beads is a sight that nobody can hate. The three together make for the cutest combination that can do wonders to a boring outfit in a second.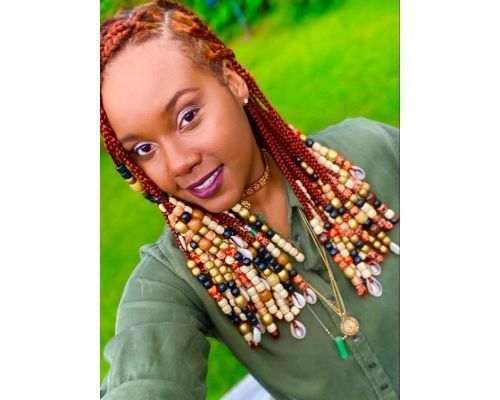 23. Beads On Coloured Hair
Every once in a while, you need to give your hair a break and try different colours on it. You don't have to go for permanent colouring. Just try the temporary shades with different braids and beads to create a new look every time you step out of your house.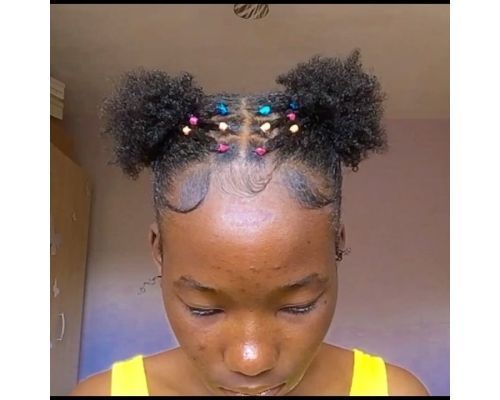 24. Beads On Mini Buns
For this sensational look start by putting your hair in short box braids with beads and cuffs. After you are done placing the accessories, wrap the hair in two small buns on the crown of your scalp. That is all you need to create a gorgeous hairstyle. If you are not a fan of space buns, you can leave a chunk of hair loose right at the bottom of your scalp.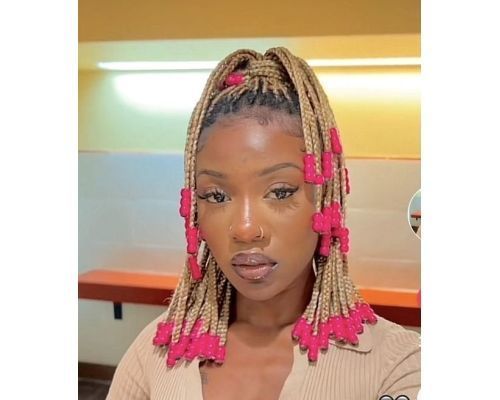 25. Beads On High Ponytail
Nothing gives a more business-like appeal than a high ponytail. To give it your own twist, make short braids of your hair first and then hold them all up in a high ponytail. Now, stack cuffs and beads to complete the beautiful look.
These were some of the best short braids with beads ideas that you can try in 2022 and 2023 to always be at the talk of the fashion town.