55 Medium Length Hair Styles For Women Over 50
Sreedarshini Mitra
Updated At 08 Sep 23
Any shoulder-to-chest-length haircut that accentuates older women with thinning strands by making the hair look thicker qualifies as a medium-length hairstyle for women over 50. Now that we have sophisticated hair cutting and styling methods, looking younger is simple!
 Famous goddesses like Julianne Moore, Catherine Keener, Ann Curry, and Michelle Obama serve as tremendous hair inspiration by demonstrating that virtually any mid-length hairdo can be worn at any age. You can definitely pull off any of these haircuts for women over 50, whether you prefer straight hair or wavy, textured locks. Here is a list of 55 best medium length hairstyles for women over 50.
55 Medium Length Hairstyles For Women Over 50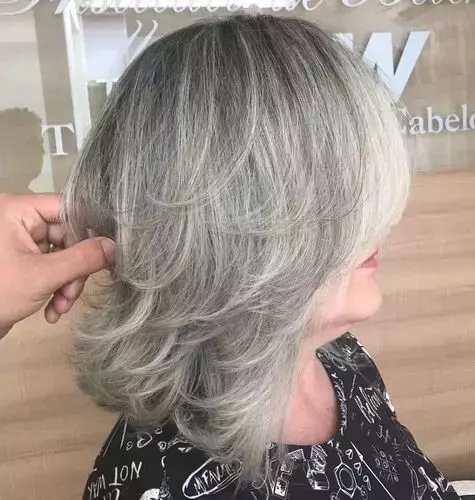 1. Medium Length Layered Hair
One of the best methods for giving medium-length haircuts character and structure is layering. Request face-framing layered fringe, then use a round brush to blow dry the flowing hair. The oblong face and the round face both look great in this mid-length design.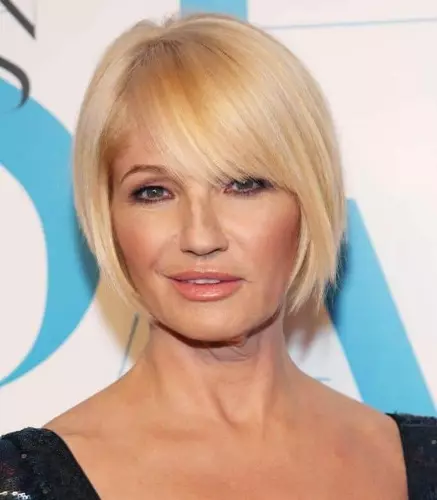 2. Long bob for straight hair
A gamine silhouette with a delightful hint of edginess is created by the traditional blonde cut hitting your shoulders, which holds up nicely between trims. Using a curling iron to produce body waves brings out gorgeous features like your cheekbones. One of the top bob haircuts for over 50, this long bob looks stunning and can work well on all important occasions as well.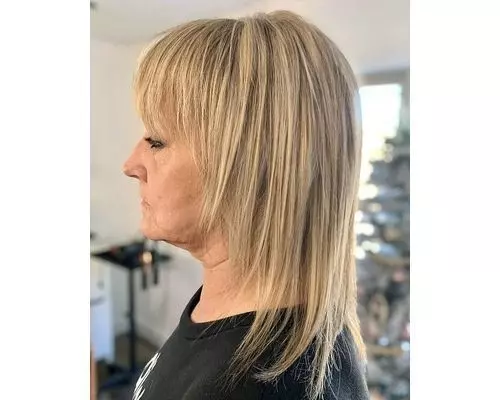 3. Medium Shag Haircut
One of the most popular medium length hairstyles to try this year is the shag. All hair types and natural hair colors work flawlessly with it, so the only consistent maintenance strategy required is routine washing and conditioning. You may achieve the ideal disheveled appearance by applying serum to your hair and letting it air dry.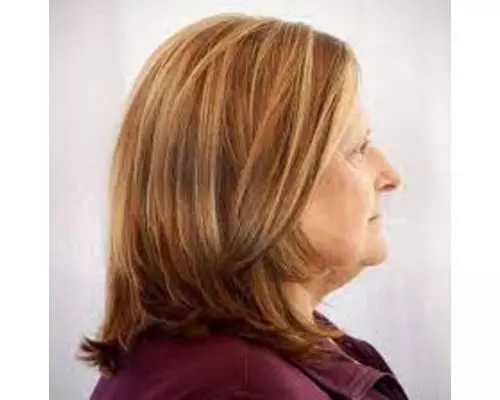 4. Medium Length Haircut For Thin Hair For A Round Face
As we age, our hair naturally becomes thinner; thus, while choosing your hair length, the main objective might be to create volume and movement. Wavy texture and a bob cut with side bangs are two excellent ways to make your thin hair stand out, and it's one of the best haircuts for women over 50 with fine hair.
Looking for more inspiration for different hairstyles? Do check out our guide on wash and wear haircuts for over 50 to find easy and low maintenance hairstyles.
5. Wavy shoulder-length hairstyle
The hairstyle to try is a blonde bob that ends just above the neck. When the hair is curled or waved, the style appears much more gorgeous. Although regular use of hot tools will cause hair damage and brassiness, try using a curl-enhancing treatment and some scrunching if your hair is naturally curly.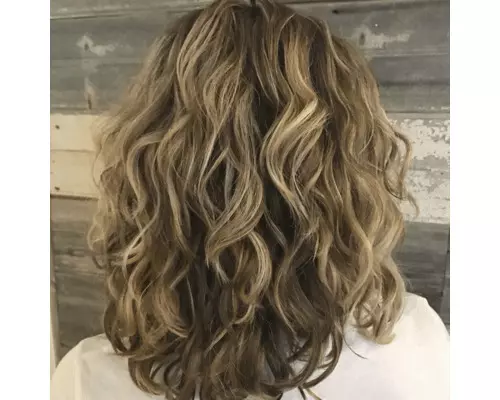 6. Mid-Length Cut With Loose Curls
 People with curly hair frequently have fun-loving, kind, and extroverted personalities. The natural texture is given more prominence. It has a lot of texture, bounce, and fluff to enjoy! Your stylist can highlight the contour and highlight your beautiful roller-set ringlets thanks to their fun length. Mid-length hair is excellent since it sheds and tangles less when you get out of bed.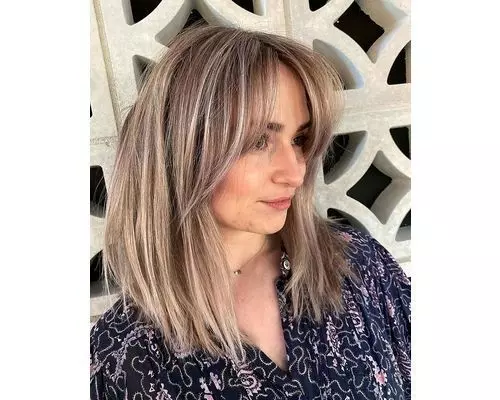 7. Low-Maintenance Shoulder-Length Haircut With Curtain Bangs
Curtain bangs look great with any hairdo and are adaptable. It is intended to present a remarkably contemporary and youthful appearance. The blonde hair color revitalises the appearance by emphasizing the best facial features and hiding the imperfections. This is a low-maintenance hairstyle that transforms the bangs into a smooth curtain with a dab of hair gel at the crown and front of the hairline.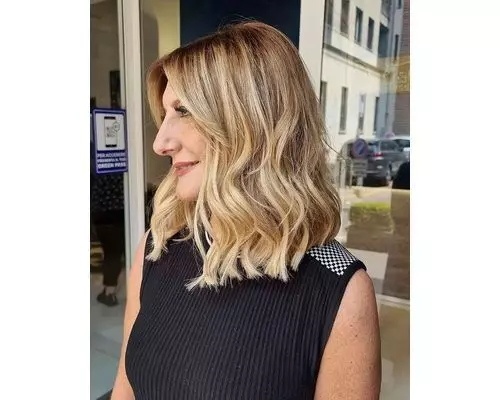 8. Shoulder-Length Blowout Hair
 Medium-length hairstyles for women over 50 may look quite different with proper styling. Learn how to create a blowout for a stunning, polished look. The cut with minimal layers will complement the style the best. For more movement and height on top, you might go for a deeper side part and pull the front layers to one side.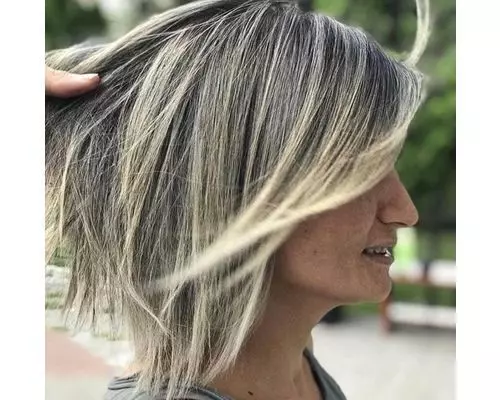 9. Bright blonde highlights and lowlights
With this cut, round faces are beautifully framed and given substance. While the combination of bright blonde high and lowlights gives this age-appropriate medium haircut for women over 50 a youthful feel, the visible layers maintain this hairstyle as intriguing and trendy.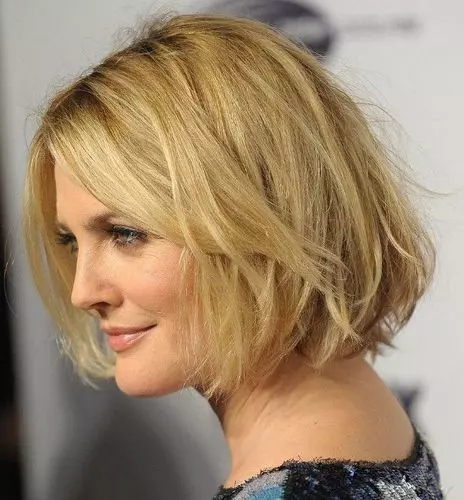 10. Summer Blonde with Dark Lowends
This blonde beauty is another shoulder-length stunner and has a powerful cut. Although the layers are flexible and permit longer strands, there is a noticeable difference that produces this amazing shape. A winner for any hair type, this gorgeous hairstyle is easy to maintain and looks great on any face.
Do check out our guide on the top hairstyles for over 50 with glasses as we list 25+ most popular haircuts which have been trending this year.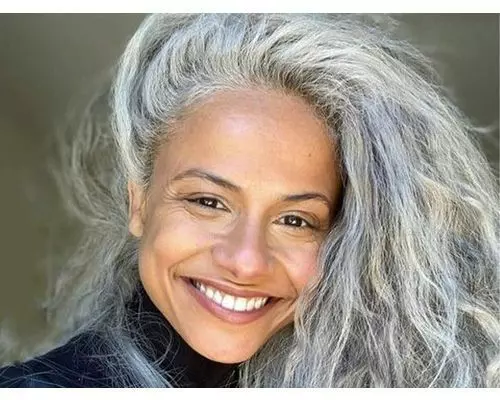 11. Voluminous grey locks
One more victory for thick hair! This over-50 woman sports big, heavy bangs and loosely layered hair. This shade is also a great option because it's halfway between gray and blonde. This organically styled hairstyle, which is just long enough to reach the shoulder, will never go out of style.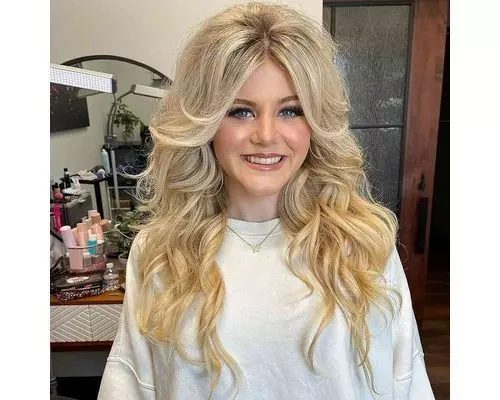 12. Beachy Waves Vanilla Blonde
The side fringe on this shoulder-length hairstyle is quite long and robust, creating gentle, romantic swoops around the face. Several of the aforementioned elements, like beachy waves with beachy tousles, a bright blonde color, delicate layers, and inventive bangs, are present in the medium-length style. This is a fantastic style that is made much better if you have fine, soft hair.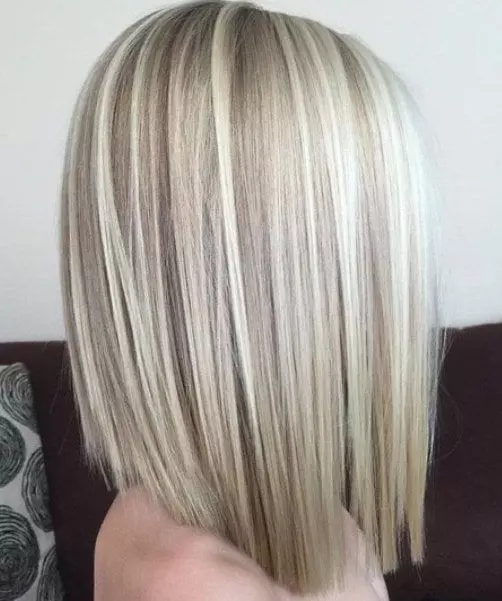 13. Straight Lob with Blonde Highlights
This is one of the medium-length hairstyles for women over 50. This mid-length blunt cut features softer, fuller top bangs and a razor-sharp trim. A sleek straight cut like this one is an excellent choice to accentuate your natural hair texture if you have hair that is naturally full of volume.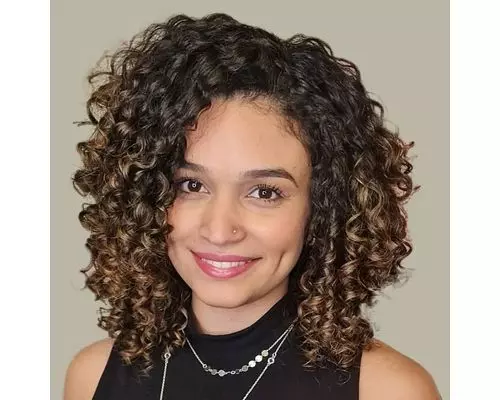 14. Round romantic curls
For thick hair, this haircut works well. It has a romantic side part, round curls, and lengthy layers. At any age, this appearance exhibits a naturally glowing vitality within and is both gentle and robust. It can be worn in blonde, as shown,
or would also look great in grey. Natural curls work really well even when the hair length is short. Infact, these are amongst the top short hairstyles for over 50 as well.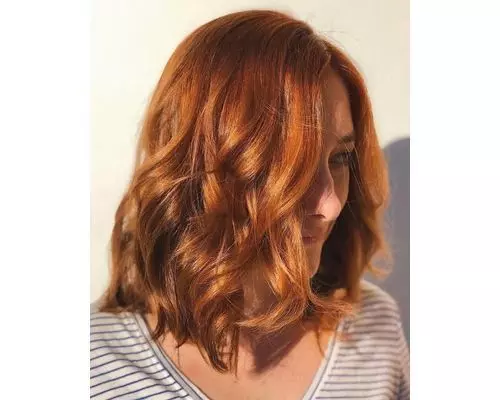 15. Medium-Length Auburn Lob
This medium-length hairstyle is for the put-together, intelligent, and confident woman over 50 who wears glasses. It features a gentle side-swept bang, a self-assured auburn color, and a mindful framing that works well for those who wear it. A young cut is combined with composure and maturity in this timeless design that emphasizes the face without taking any insane risks.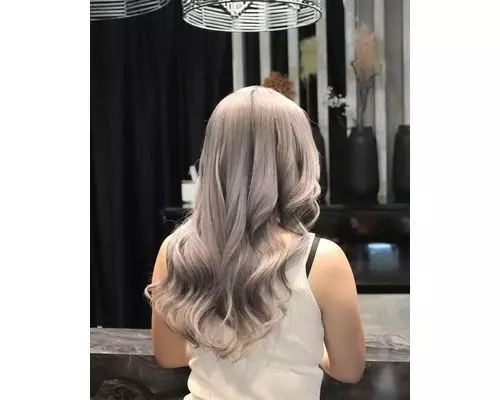 16. Cool ashy tones
Wear that stunning grey! This medium-length hairstyle respects your natural hair color and delicately skims the collarbone. It has easy-to-maintain soft waves that give it a stylishly disheveled appearance that can be dressed up or down with ease. This is a winner if you're looking for extremely traditional hairstyles for older women.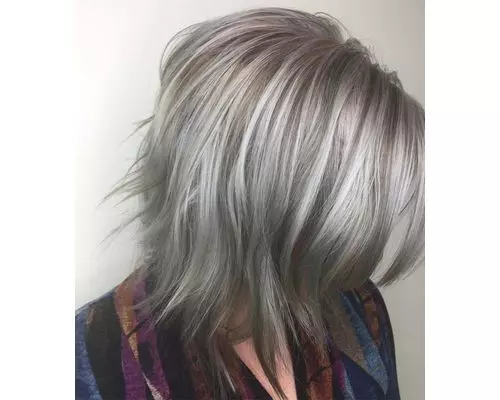 17. Grey Lowlights With A Bold Color Pop
For ladies over 50 who are self-assured, modern, and proud of their fashionable gray hair, this stunning look for curly hair is an exquisite short medium hairstyle. With spectacles, this look works extremely well. This shoulder-length hairstyle is stunning because of the gentle curls and the bright flash of color.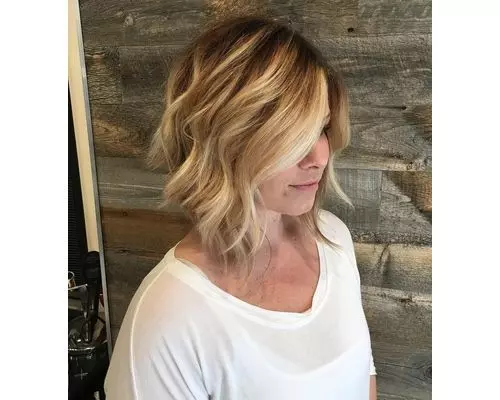 18. Trendy Bob and Beach
With dark tones and an easy-to-manage cut, this style has a naturally beautiful appearance. Go for layers that are simple to manage and won't require a lot of product to perfect each morning if you want a polished appearance but don't have much time to style every day.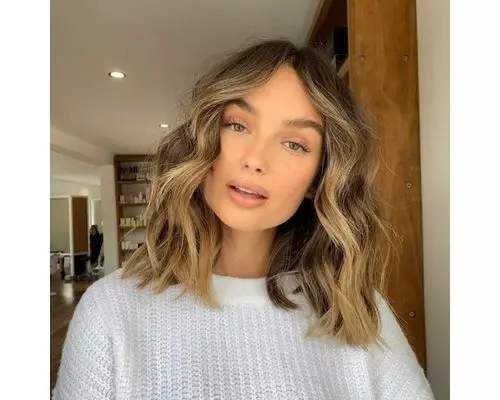 19. Medium Length Balayage Bob
With this stylish balayage bob, the hair stylist brings thick hair front and center. This medium-length hairstyle for a 50-year-old woman has a timeless quality to it thanks to its dark golden tones and thick, gentle curls.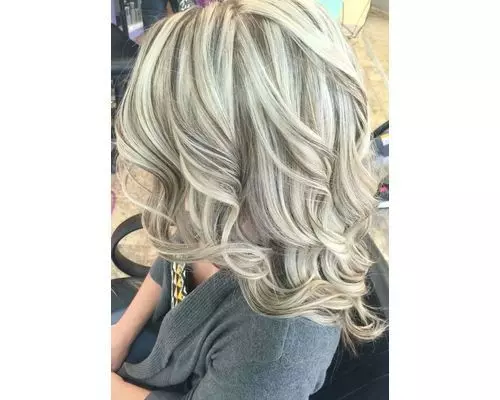 20. Bright Blonde Highlights and Darker Lowlights
Any age may rock this masterpiece for both straight and curly hair. You're guaranteed to have fun with this young hairstyle for medium-length hair, which contrasts bright blonde highlights with darker lowlights. In the world of medium haircuts for women over 50, this is a cheery and assured stunner.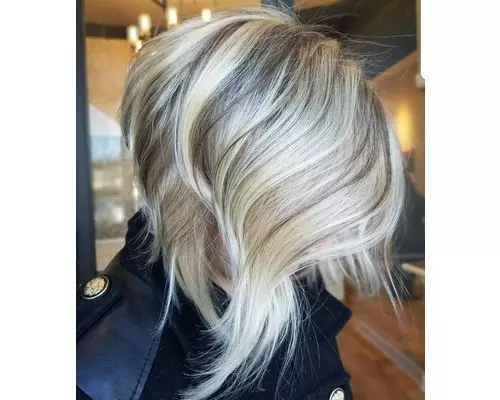 21. Tousled platinum blonde hairstyle
This blonde, disheveled hairstyle is a sophisticated yet trendy style. You can't go wrong with this inspiration if you enjoy the beachy vibe. The best feature of this style is how well it complements every hair texture.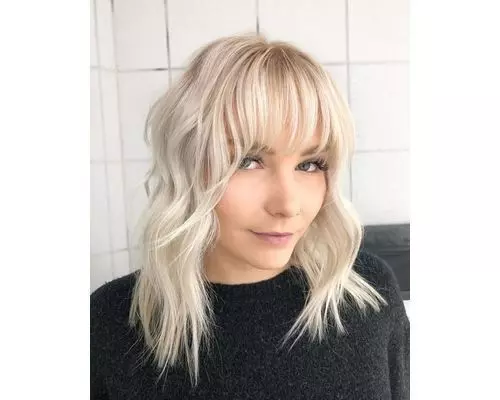 22. Grey-Blonde Bangs
This over-50 woman sports big, heavy bangs and loosely layered hair. This shade is also a great option because it's halfway between gray and blonde. This organically styled hairstyle, which is just long enough to reach the shoulder, will never go out of style.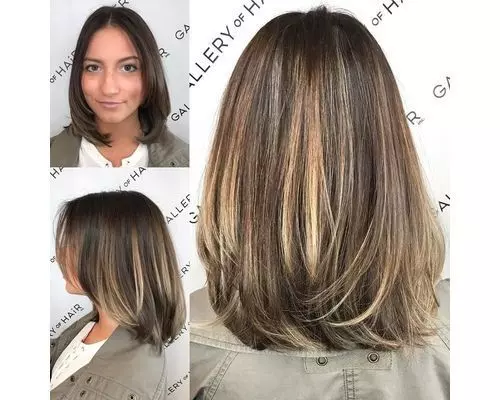 23. Balancing With Undercut Layers
This full-looking cut uses undercut layers to produce a haircut that is thick, smooth, and shiny, just skimming in at shoulder length. This is the ideal medium haircut for ladies over 50 with fine hair because of the flawless shaping.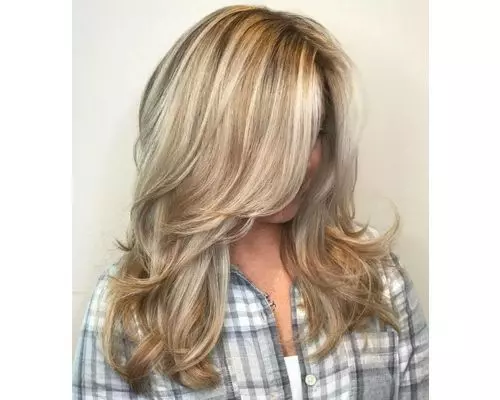 24. Blonde Layers on Sweeping Locks
 This full-looking cut uses undercut layers to produce a hairdo that is thick and sleek (and shiny!) and just barely grazes the shoulder. This medium haircut is ideal for people over 50 with fine hair because of the flawless sculpting.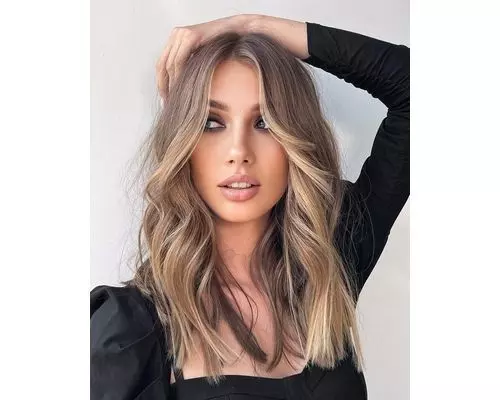 25. Blonde Highs And Warm Undertones Lows
 This elegant, layered bob is always in style. Medium-length layered hairstyles for women over 50 look great at any age because they complement both fine and thick hair. The naturally sweeping side bang that ties everything together is really stunning.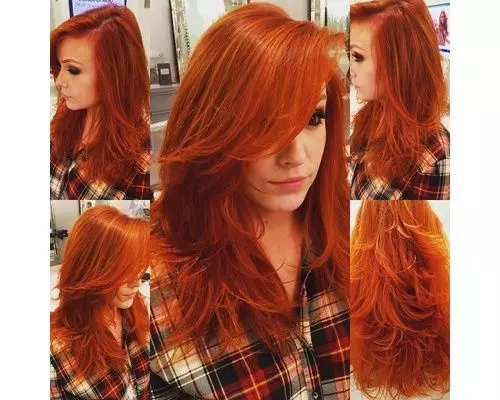 26. Red Layered Hairstyle
 By making finer hair texture appear thicker and fuller, this incredible layered haircut does wonders for finer hair. Make sure your stylist is aware of your objectives, whether they are to add volume, length, or interest, in order to achieve fantastic layers. Orange and crimson hues can add even more opulence to your appearance.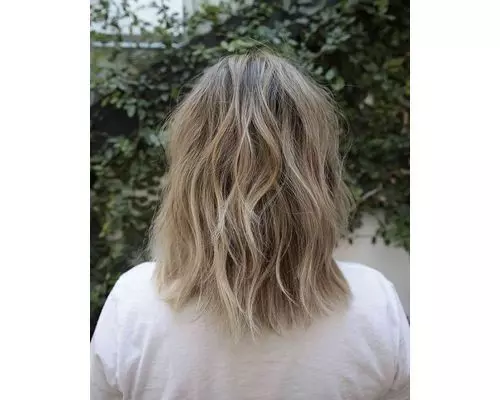 27. Dirty Medium-Length Blonde Hair
 Another great hairstyle that suits round and oval faces naturally is this one. Although it is age-appropriate, it is in no way dated or old-fashioned. You actually only have limitations that you impose on yourself, so don't be scared to experiment with hues and dirty blonde tones.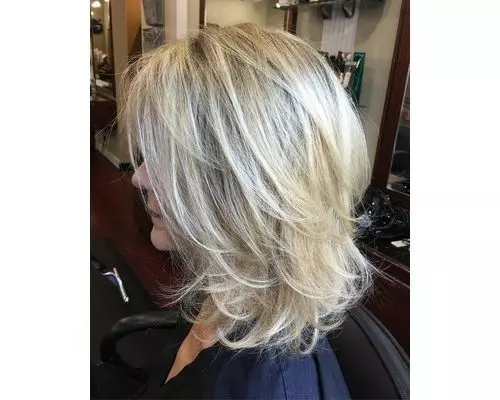 28. Blonde-Feathered, Medium-Length Bob
 The naturally flowing locks, observable bottom layers, and statement bang are all possible with this medium-length haircut. While the ashy blonde version of this look is lovely, it would look great with any hair color and has an unmistakably youthful cut thanks to its fashion-forward attitude.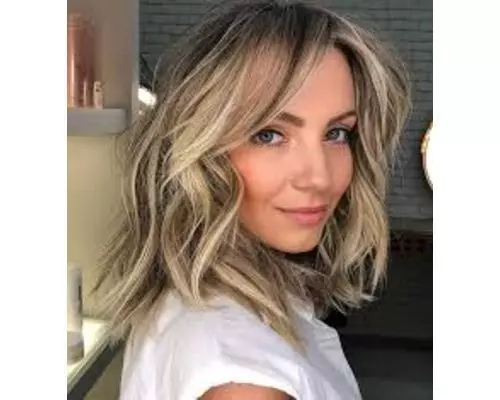 29. Low Maintenance Medium Length Haircut
 For older women, we adore this lived-in shaggy style, and going gray has never been more socially acceptable. The look is really gentle and feminine thanks to the flowy framing bangs.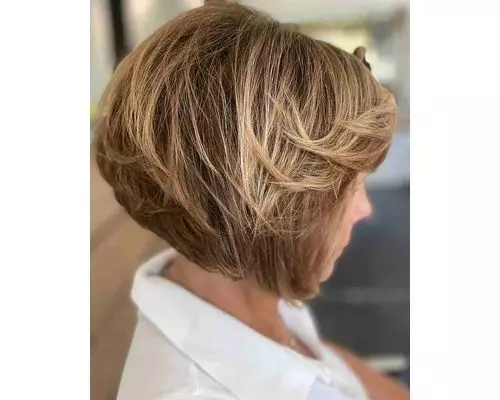 30. Voluminous Feathered Bob
The shoulder-length cut looks best on straight hair and can add lightness and outstanding texture. much more so if you use a round brush to blow dry it. You could also want to use a flat iron if your hair has any unruly bends and curls to ensure that each layer goes in the right direction.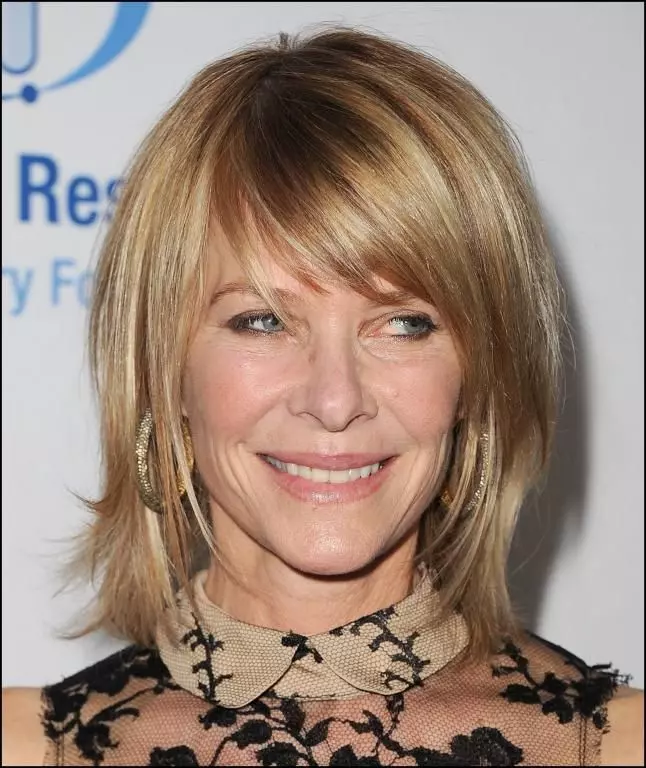 31. Mid-Length Cut With Side Bangs
Another highly organic look, this one is ideal for cutting off long hair. Basically, by removing the mass, you may maintain your hair more easily and create the appearance of extra volume without actually cutting your hair short.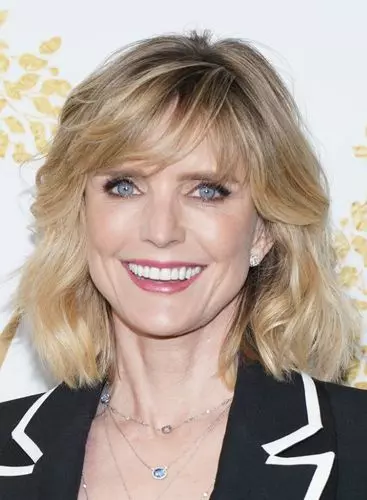 32. Blunt Cut with Wispy Bangs
This darker blonde base with platinum highlights is an excellent example of integrating gray hair, which makes the regrowth much less obvious. You can style them as curtain bangs thanks to the layers of face-framing wispy fringe. Use texture spray to style your cut for a casual, youthful look.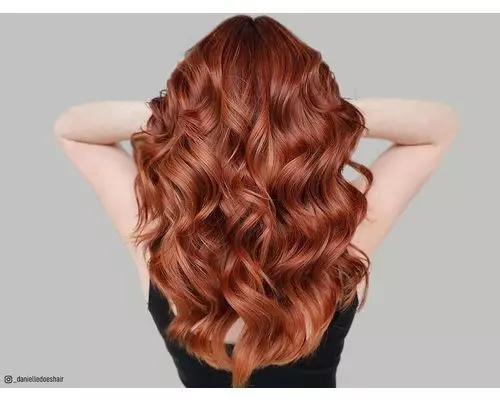 33. Natural Mid-Length Red Hair Look
It is only logical that shoulder-length haircuts for women over 50 frequently include a color service, given that we all experience graying at some point in our lives. Rich, one-process colors are also very fashionable today, even though balayage highlights may help you blend your grays. On elderly women, calm crimson hues and warm chocolate tones look stunning.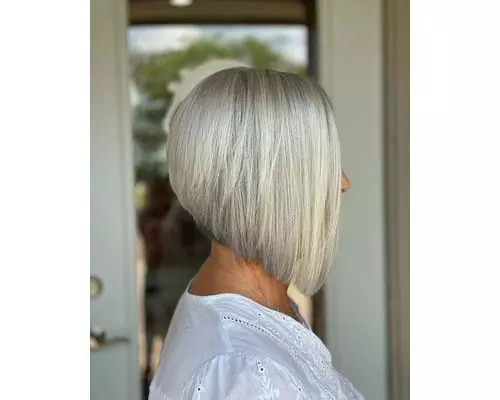 34. Grey Bob With Soft Layers
An excellent hairstyle for ladies with a sagging jawline is a shoulder-skimming bob with blunt ends and delicate layering in the upper stands that emphasizes the look of thick hair. To keep your gray hair bright and soft, keep in mind that deep conditioning and toning are occasionally necessary.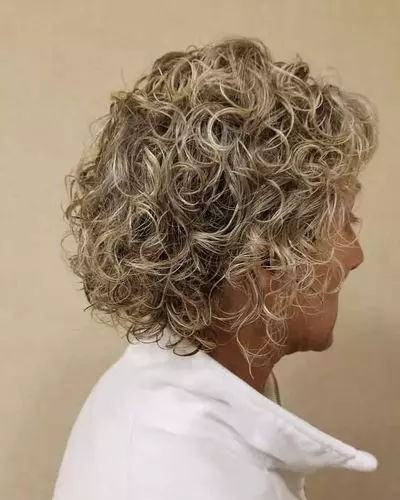 35. Permed Layered Cut
A contemporary beach wave perm might be the answer if you enjoy the thicker hair appearance that beachy waves give but are frustrated by the need to use hot equipment to achieve them. With the appropriate styling, you are guaranteed to see your thin hair pop. The greatest choice for the style is a medium-length haircut since it has just the right amount of length to highlight your waves without weighing down the curl pattern.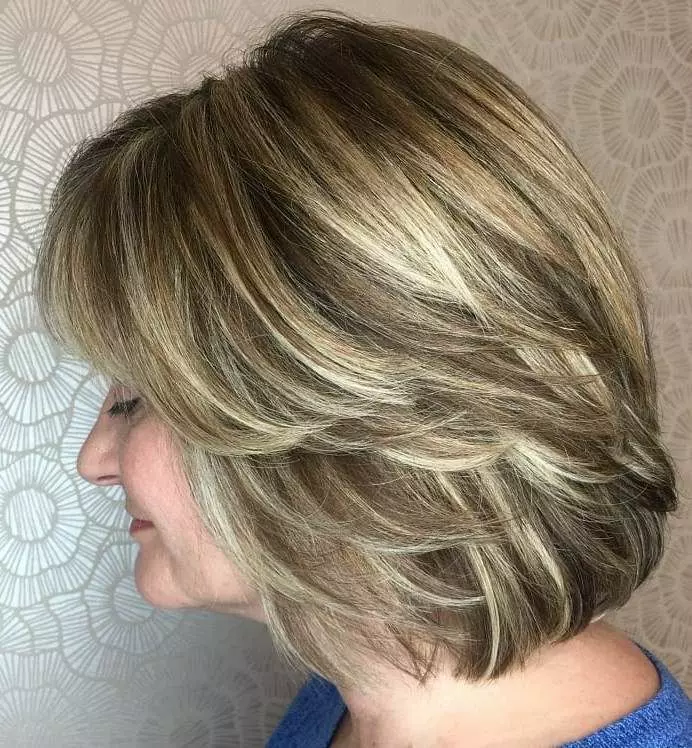 36. Medium Length Playful Jagged Layered Hair
This season, Wolf Cut has generated a lot of buzz, and it is understandable why. It appears easy and young, with a focus on the crown volume and playful jagged layers. Use a little sea salt spray or curl-enhancing serum to style the cut.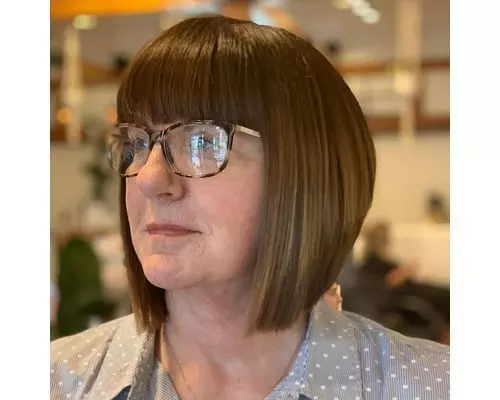 37. Stacked Angled Bob
Straight hair is simply ideal for the rounder variation of the straight bob. Longer layers in the front attractively frame the face, while the hidden nape undercut gives the back a wonderful lift.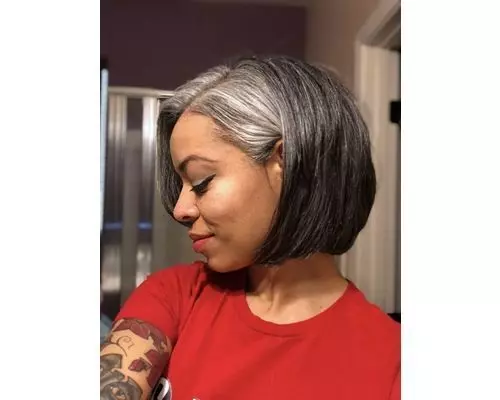 38. Salt and Pepper Bob
One of the most popular shoulder-length haircuts is the straight bob. Feel free to rock your natural salt and pepper hairstyle! It is preferable to concentrate on the condition of your hair rather than concealing any natural silver highlights. The best technique to control thick strands and customize the cut to your face shape is by adding layers.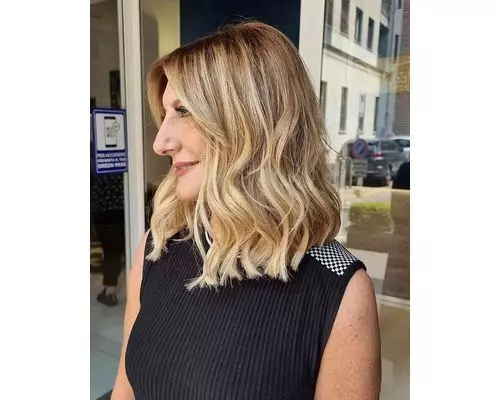 39. Mature Medium Length Hairstyles for Women Over 50
Compared to short haircuts, medium-length cuts are easier to handle and offer a much wider range of styling options. Both hairstyles will give off the mature elegance and style that self-assured ladies over 50 can boast of. Put in some volumizing spray and go with sloppy waves, or match sassy side fringe with a modest low bun.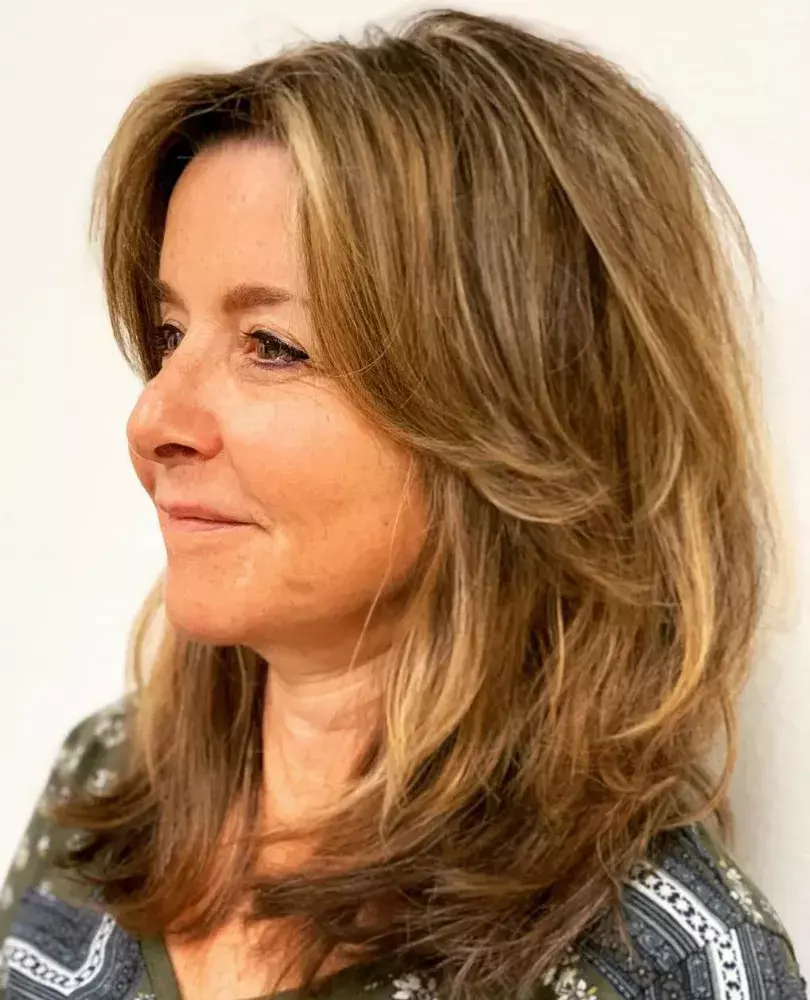 40. Medium Length Brown Balayage Highlights
Dimensional highlights complement this haircut. For as long as anybody can remember, balayage has been one of the most popular hair coloring trends, and it doesn't seem to be going anywhere any time soon. In short hair, balayage can be more striking and attention-grabbing than on long hair.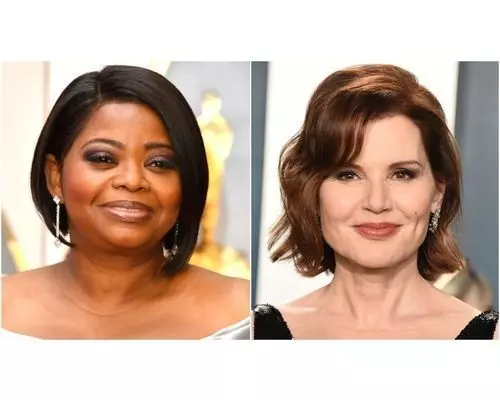 41. Shoulder Length Cut for Women Over 50
You might only require medium hairstyles for older women, like this long bob, to acquire a new look. With gentle curls, layers, and even a variety of hair colors, this mid-length style's straightforward yet elegant approach can be explored by ladies over 50.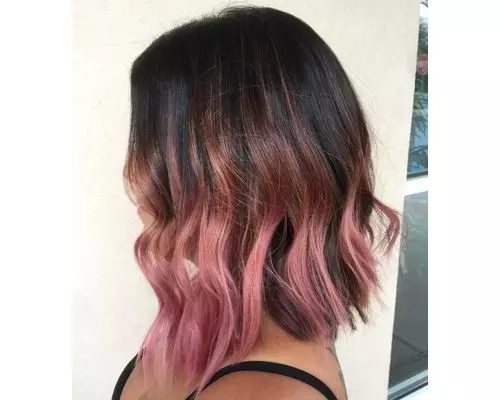 42. Medium-Length Pink Balayage
Choose light pink if you want to use a more daring yet refined color. If you have a lot of greys, you can do a vivid right on top and avoid having to pre-lighten. Doing some pre-lightening around the face might be lovely if you want more things to pop.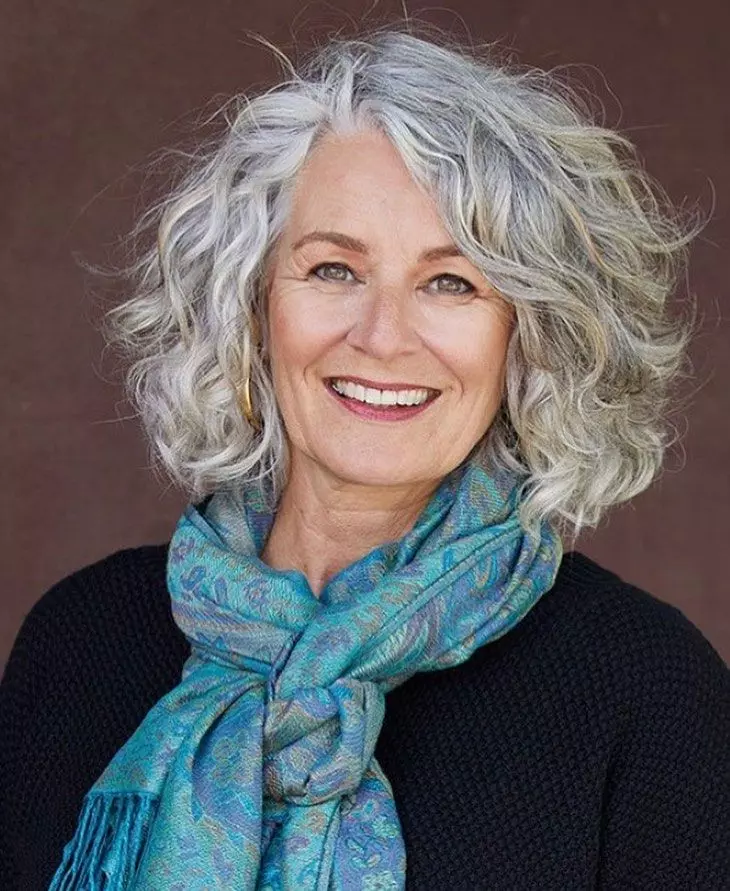 43. Natural-looking mid-length thick curls
This hairstyle strikes the ideal mix between length and fullness with its bouncy, voluminous curls that end just below the shoulders. This hairstyle is perfect for people who desire a low-maintenance yet attractive look because it is adaptable and can be dressed up or down for different situations.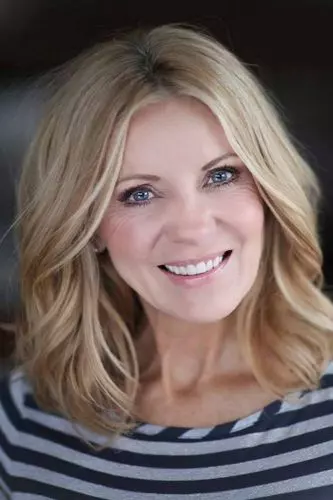 44. Mid-length Cut With Off-Center Part
In recent years, a fashionable and contemporary haircut that has been gaining favor is a mid-length cut with an off-center part. This hairdo often has a deep side part that is slightly off-center and hair that hangs just above or below the shoulders. This adaptable cut is a great choice for anyone seeking a stylish and contemporary haircut because it can be styled in a variety of ways, from sleek and straight to tousled and textured.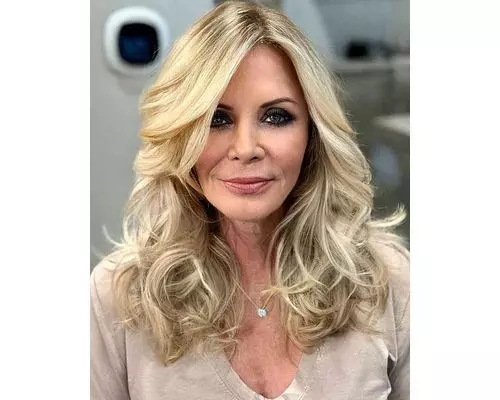 45. Gorgeously curled ends
A haircut with beautifully curled ends is a timeless classic that can add a touch of glamour and elegance to any dress or setting. To create the soft, bouncy curls at the ends of the hair for this hairstyle, use a curling iron or hot rollers. The curls can be worn in a variety of styles, including cascading down the shoulders, swept to one side, and stylish updos. This hairstyle looks great on all hair types and textures and is ideal for people with medium-length hair.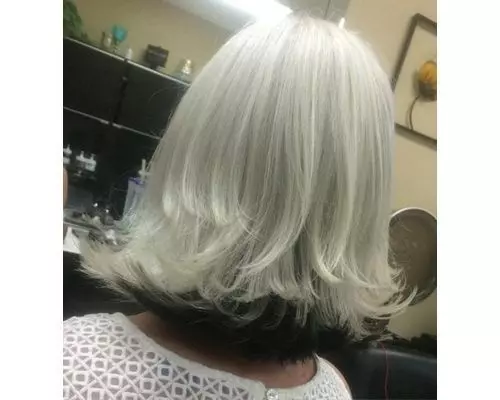 46. Softly layered silver long bob
A contemporary haircut that combines soft layers, silver hair color, and length that lands between the chin and the shoulders is known as a soft layered silver long bob. To create texture and movement in the hair, this style involves cutting the hair into various lengths and layers. The silvery hair color gives the entire ensemble a dash of glitz and refinement.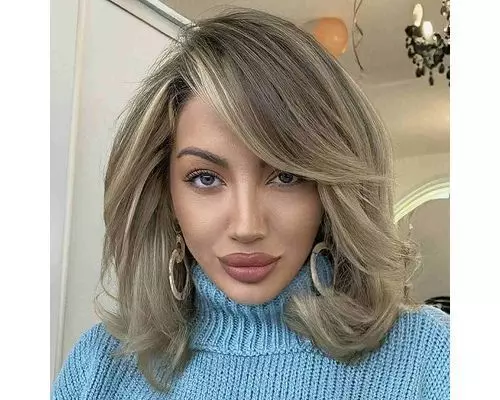 47. Mid-Length Hairstyle With A Sweeping Part
A traditional and chic hairstyle that features a part that sweeps to one side and gives you a polished appearance is a mid-length hairstyle with a sweeping part. In order to give the hair structure and movement, this style frequently has soft waves or curls that fall just above or below the shoulders. Use a comb or brush to make a defined part, then sweep the hair to one side to create the sweeping part.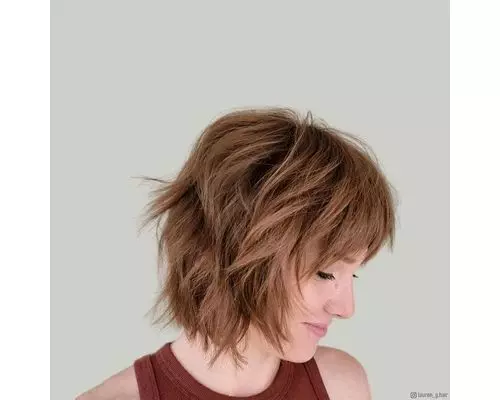 48. Razor Cut Shag With Fringe
A layered, textured cut with a wispy fringe that drapes across the forehead characterizes the stylish and edgy razor-cut shag hairstyle. The hair is trimmed into various lengths and layers for this hairstyle, giving it a jagged and untidy appearance. The fringe is shaped to frame the face and bring some fun to the overall look.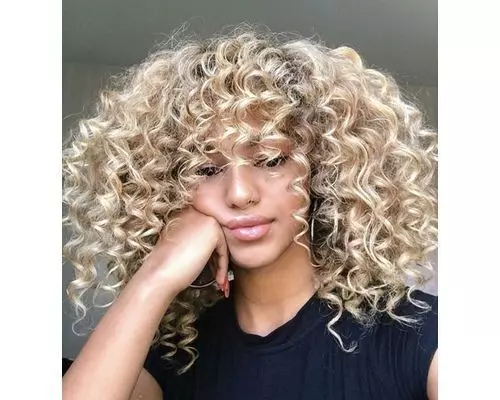 49. Thick blonde curls
A gorgeous hairstyle that combines thick, bouncy curls with a brilliant golden color is thick blonde curls. Defining curls that flow over the shoulders with a curling iron or hot rollers is how to accomplish this look. The bold blonde color of the hair gives the entire ensemble a dash of glitz and refinement. For individuals who seek a stylish and versatile look, thick blonde curls are a classic hairstyle that can be dressed up or down for any occasion.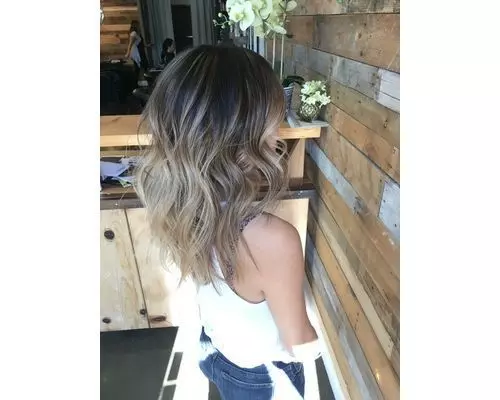 50. Medium Fluffy Balayage Hair
A medium-length cut with a soft and fluffy texture and the balayage coloring procedure are the key components of the fashionable and stylish haircut known as medium fluffy balayage. With the balayage hair coloring procedure, highlights that are placed purposefully to frame the face and give the overall appearance a hint of warmth give the hair character and depth. For individuals who seek a low-maintenance yet trendy look that can be dressed up or down, this haircut is ideal.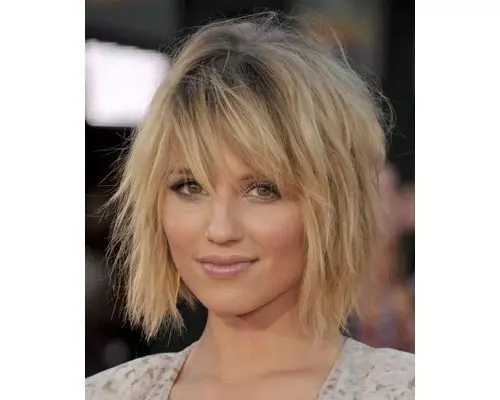 51. Short Shag With Choppy Fringe Bangs
A short cut with layers and choppy bangs that span the forehead characterizes the edgy and contemporary hairstyle known as the short shag. This hairstyle is created by cutting the hair into various lengths and layers using a razor or pair of scissors, giving it a textured and untidy appearance. The choppy fringe adds a humorous aspect to the overall design and can be styled in a variety of ways to produce various looks.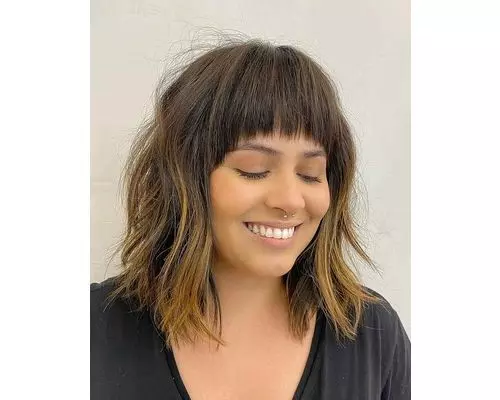 52. Mid-length Hair With Face Framing Bangs
A classic and attractive hairstyle for women is mid-length hair with face-framing bangs, which features hair that falls just above or below the shoulders. It is possible to style this haircut in a variety of ways, from sleek and straight to gentle waves or curls. It's a fantastic choice for individuals who want a stylish appearance that is simple to pull off and appropriate for any setting.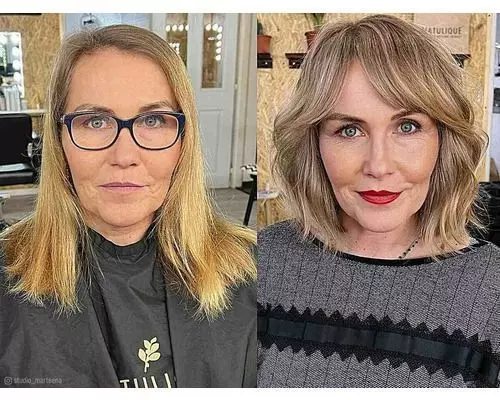 53. Textured cut for thin hair
For people with thin hair, a textured cut is fantastic because it gives the hair movement and volume. This hairstyle is created by cutting the hair into various lengths and layers, giving it a jagged and untidy appearance that gives it structure and fullness. In order to create the appearance of thicker and fuller hair, the layers are carefully positioned to add volume to the crown and sides of the head.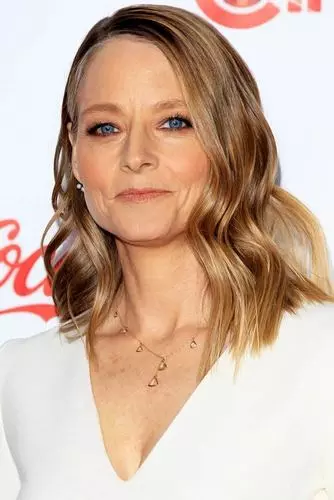 54. Collarbone Length Side Part
A deep side part and hair that falls just above or below the collarbone define the timeless and fashionable collarbone-length side part. The hair is trimmed into a blunt or layered cut for this look, giving the face a polished and sleek appearance. The deep side part can be fashioned in a variety of ways, from sleek and straight to gentle waves or curls, adding sophistication to the overall appearance.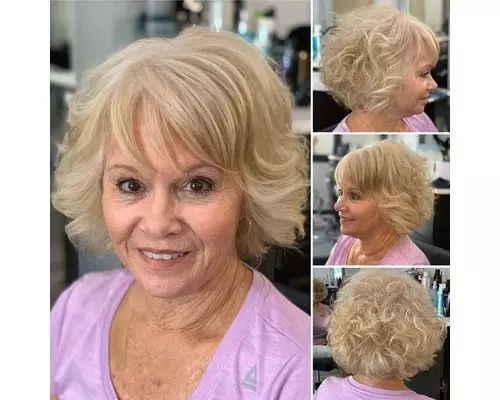 55. Wash and Wear Haircuts for Women Over 50
These haircuts are designed to be easy to maintain and require minimal grooming, making them excellent for individuals with hectic lifestyles. Shorter hair lengths, layered cuts, and textured designs that give the hair volume and movement are frequently found in wash and wear haircuts for women over 50. These looks may be fashioned in a variety of ways, from sleek and straight to gentle waves or curls, to suit various facial shapes and hair types.