55 Best High Fade Haircuts And Hairstyles For 2023
KRITIKA GUPTA
Updated At 12 Nov 23
Men's hairstyles that blend modernism and classics are available. Undoubtedly, one of those cuts is a high fade. The problem is that while a fade off always looks really elegant, a high fade makes a whole other impression. There's still plenty of space for experimentation while keeping a fairly tidy appearance. As you might have guessed, we're going to talk about all the ins and outs of the high fade haircut for men today, but in addition, we'll give you some chic and original ideas to try out in case the cut suits you! This article will also clear your doubts about the question of High fade vs mid fade and High fade vs low fade.
A high fade haircut is one in which the hair gradually goes from its highest point to its lowest, leaving the majority of the hair free to play with, while the sides and back are either closely cropped or occasionally even shaved.
55 Best High Fade Haircuts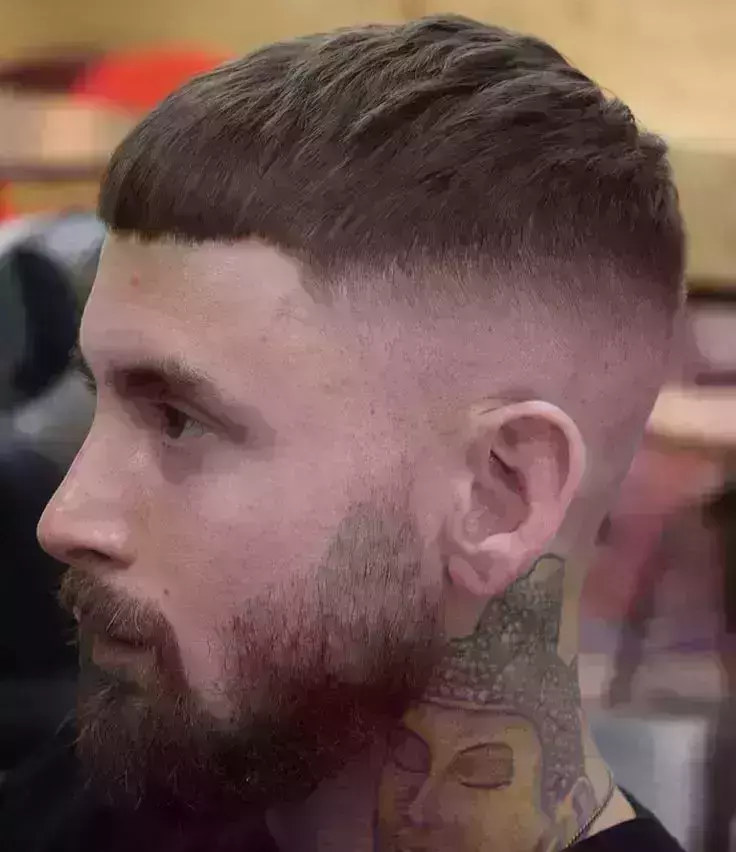 1) Cropped Textured Top
The fact that fade can be worn with nearly any length of hair on top is one of its main advantages. There's no better way to achieve a clean-cut thatch look than to combine it with a High fade haircut. If you dont want to go extreme, you can also opt for a low fade haircut.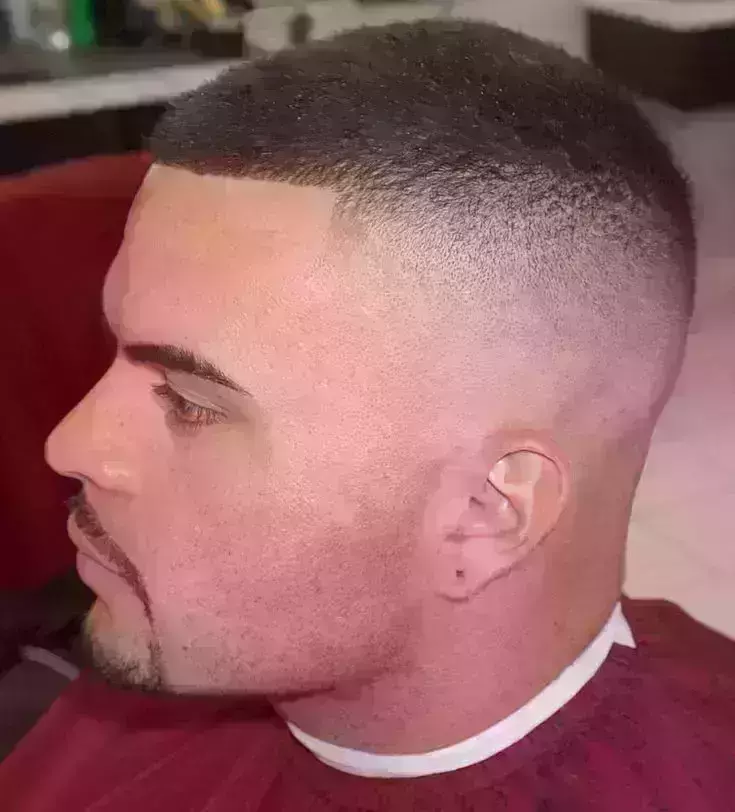 2) Buzz Cut High Fade
You can go with any length of hair at the top when getting a fade. A fade can work well with even very short men's haircuts like buzz cuts. Your look is further defined by a line drawn up along your forehead, temple, and cheekbones. This High fade buzz cut is the most liked haircut by men however, if you do not want to go extreme, then you can opt for a mid fade haircut as well.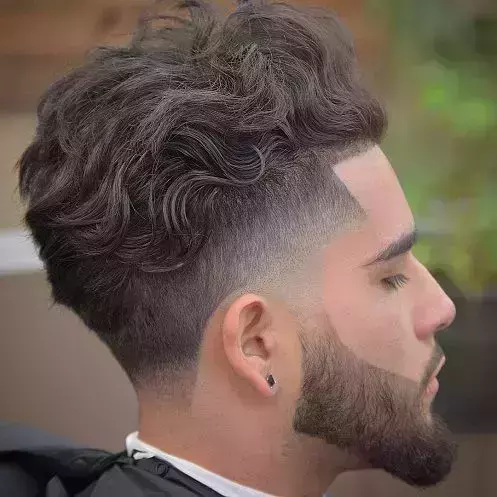 3) Wavy Top High Fade
Any type of fade works wonders for wavy or curly hair structures because it keeps unruly locks under control while allowing attention to be focused on your top hair. You can dye your hairst tostand out against your skin tone for an extra bold and striking look. Furthermore, this haircut can be used to complement any hairstyle on top, from a crew cut to box braids.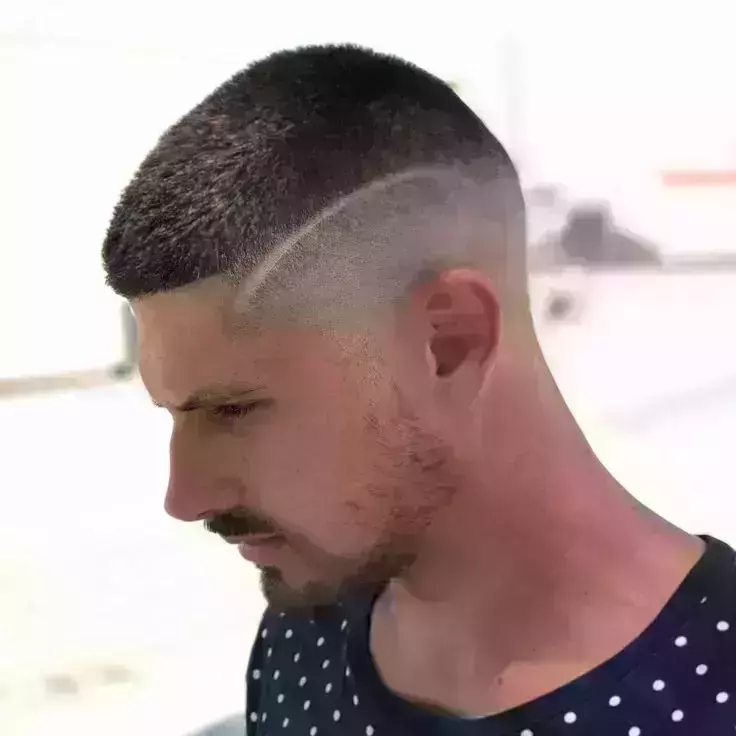 4) High Fade With Line Up
When the question of High fade vs low fade arises there may appear to be a great difference. Nonetheless, their shared appreciation of different embellishments is one of their greatest commonalities. Because it adds to the sharpness of the cut and defines the outline, a line up is meant to be displayed with a fade.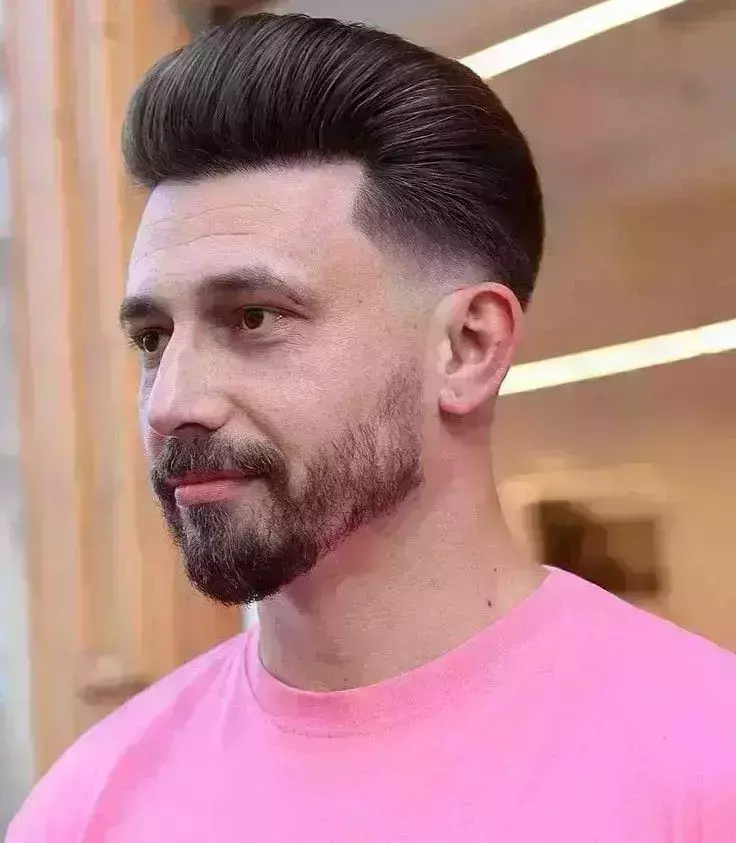 5) High Fade Pompadour
The return of the 1950s hairstyle customs that men were accustomed to is known as the pompadour fade. The pompadour hairstyle will, in fact, take some time and effort to style, but the results will be well worth it! A pompadour with a taper fade is another excellent haircut option as it looks stylish and elegant.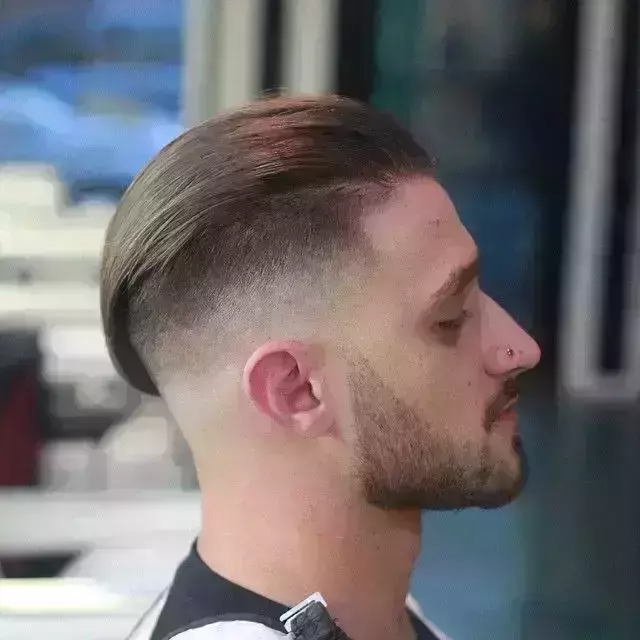 6) Slicked Back Undercut
There is really nothing that compares to a high fade undercut if you want to achieve a really contrasty haircut. You can style your top anyway you want, from a high fade undercut pompadour to a fohawk, because the sides and back are short enough to create a clean cut and pronounced silhouette.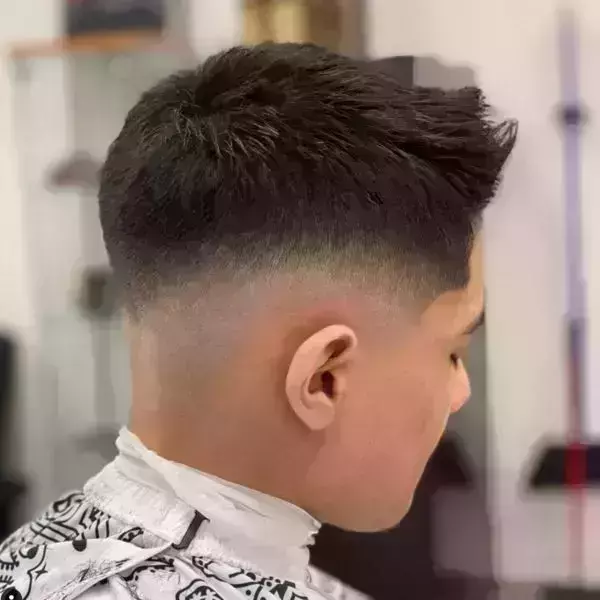 7) High Top
Although it was popular a while back, high top fade appears to be making a comeback these days. The only distinction is that, in order to look extremely fashionable these days, it is combined with a fade. Go for it, boy, if this seems like your kind of thing!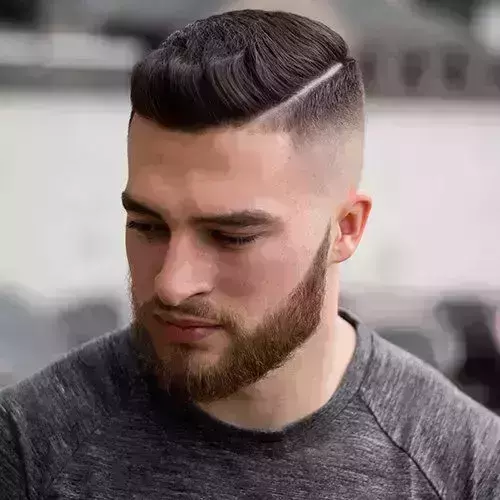 8) Comb Over High Fade
Those of you with thinning hair will really like the high fade comb over. The thing is, a comb over gives your hair the volume it needs, and a shaved back and sides give you a put together, fashionable appearance. A comb over burst fade can another excellent option for a stylish haircut.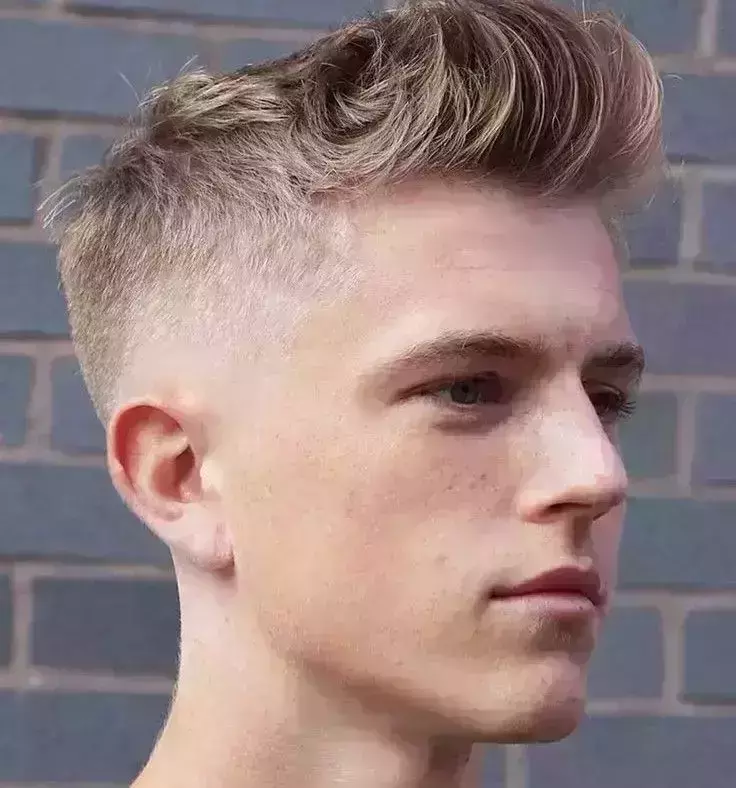 9) Messy Blonde Fade Haircut
Even though a pompadour with longer hair and a high fade haircut is the most popular look, this trend is swiftly expanding to include edgy styles akin to mohawks. For the ultimate blonde fade haircut, apply an ample amount of texturizing pomade to maintain a disheveled yet manageable look.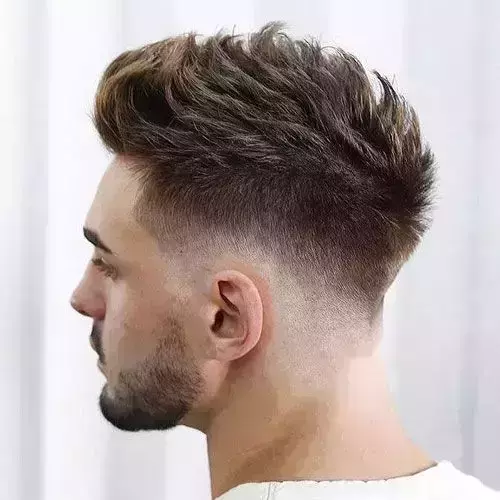 10) Fauxhawk with Side Part
A little balding, no patterns, and lots of hair on top of the head that you can brush forward, sleek backward, or spike up into a fauxhawk are some of the greatest beginner styles for this kind of look. If you check Zayn Malik hairstyles, you would find multiple hairstyles for inspiration. His faded cuts and hairstyles with spikes are very popular.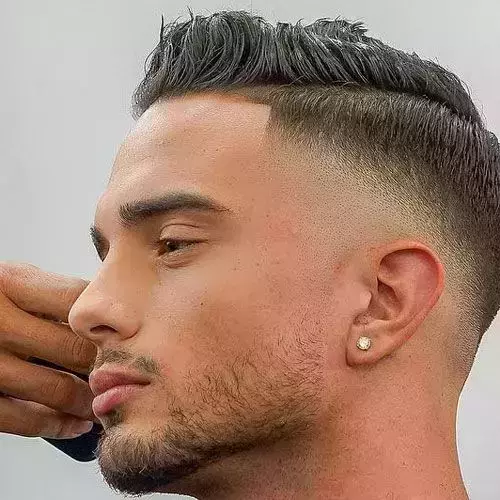 11) Blurry Skin Fade Haircut 
The hair appears to move smoothly from thick to thin with a line up perfecting the edges, making this high skin fade haircut the pinnacle of coolness. If your hair doesn't hold a pouf well, spritz it with hairspray and slick back your hair into a puffed-up pompadour using texturizing pomade.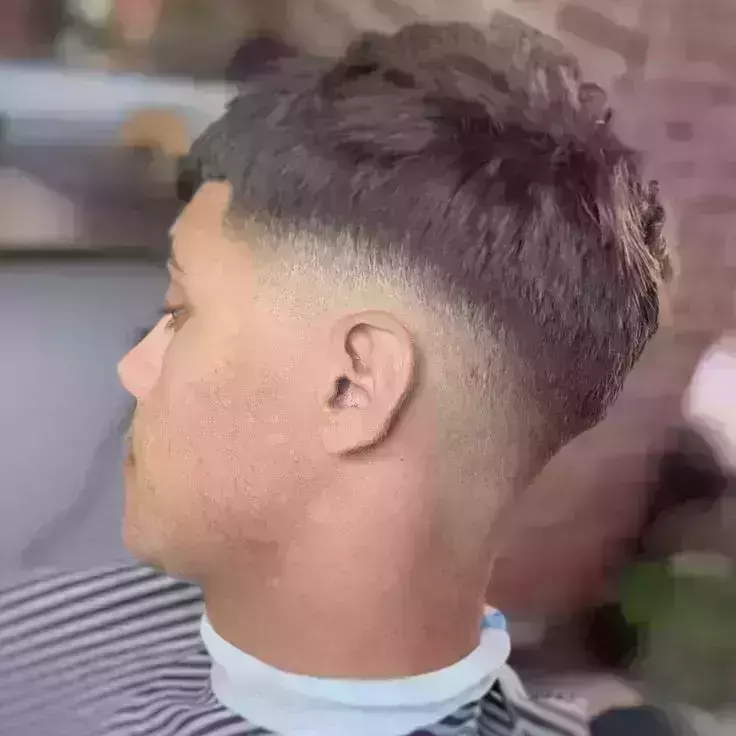 12) Soft Blended Fade
The blended fade, one of the most fashionable short hairstyles for men right now, emphasizes a smooth transition between hair lengths rather than a sharp, abrupt change in texture. A skilled barber with a sharp razor (and steady hand) can accomplish this.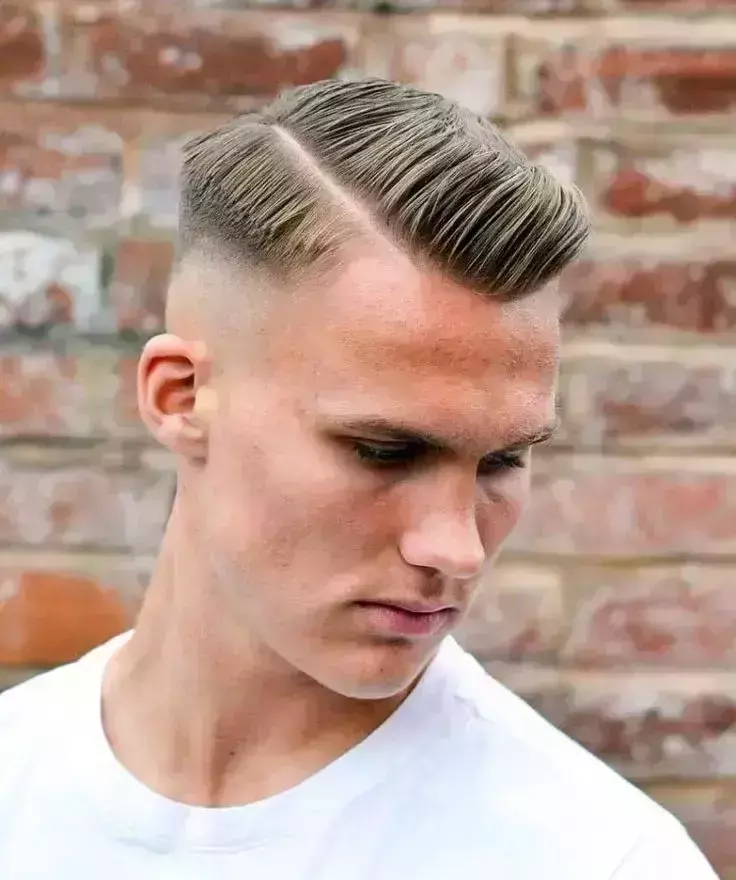 13) Side Part Fade Haircut
You can still look great with a side part even if you're sporting a fade haircut. As a matter of fact, a side parting can give a distinctive twist to the popular "pomp" style.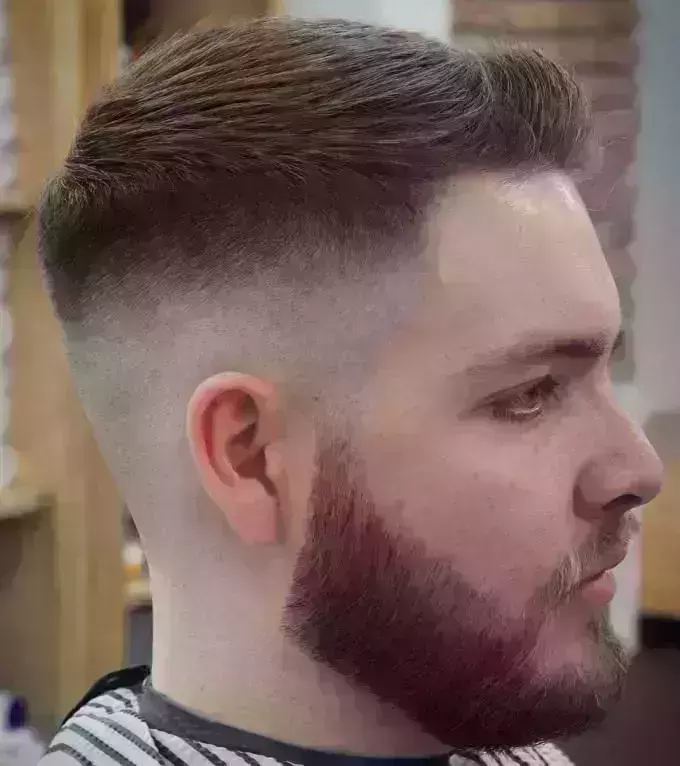 14) Flipped Up Buzz
There are far too many options available when it comes to faded hairstyles. One of the most popular styles is a short cut crop with the ends flipped up above the forehead and combed forward. This gives an otherwise neat and straightforward cut a little edge.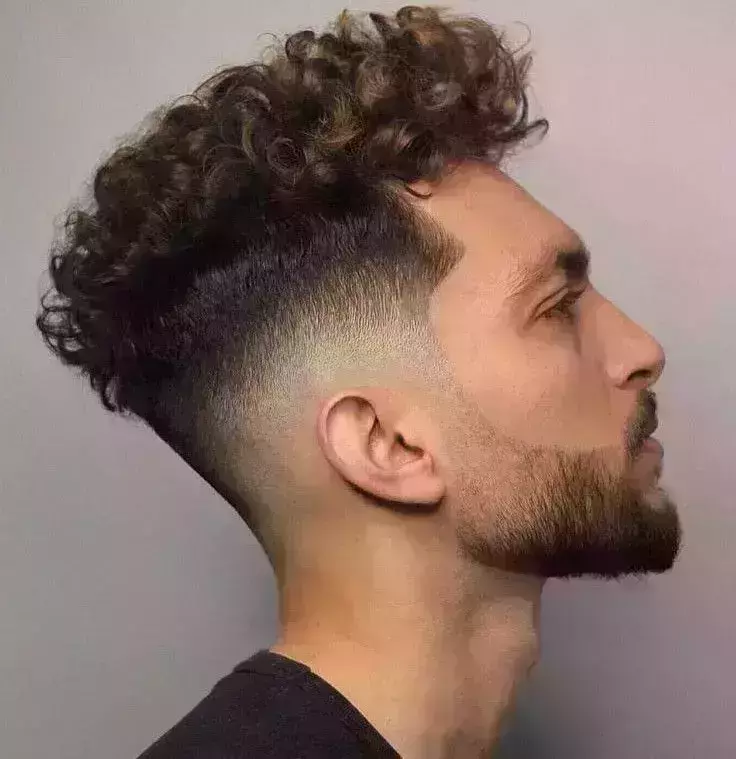 15) Fade with Curls
This short curly haircut has been seen on NBA players. Curly hair fades with an afro top combine clean sides and edges with naturally occurring black coils to create a very fashionable look right now.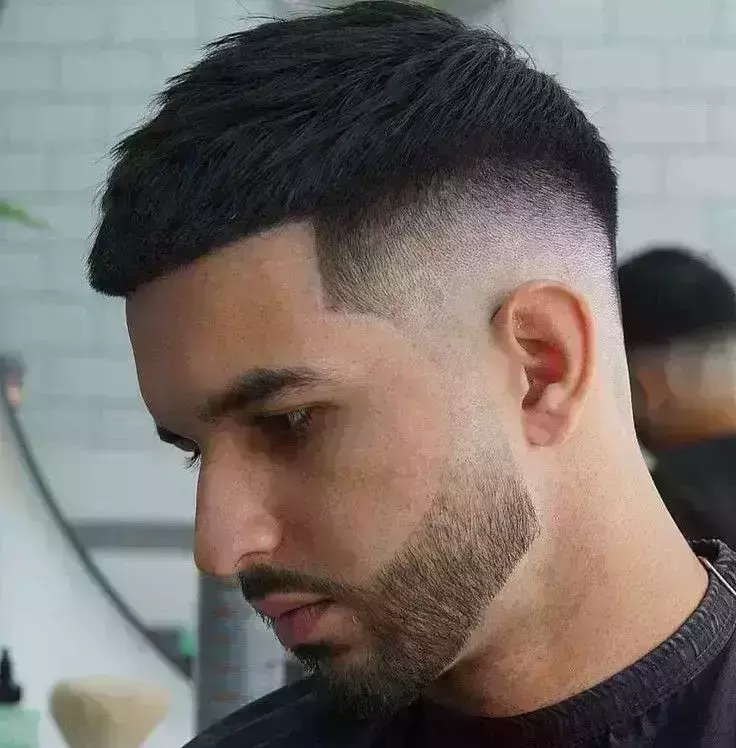 16) Scissor Fade Cut
According to what was previously said, scissors fade is the method of choice when a client wants a unique cut shape. Any kind of fade cut can be made, but scissors, not clippers, are used to create it. How does a client benefit? Although the sides of the cut have longer hair, the tapered faded effect is still present. Do make sure to find out taper vs fade difference before you finalize the hairstyle.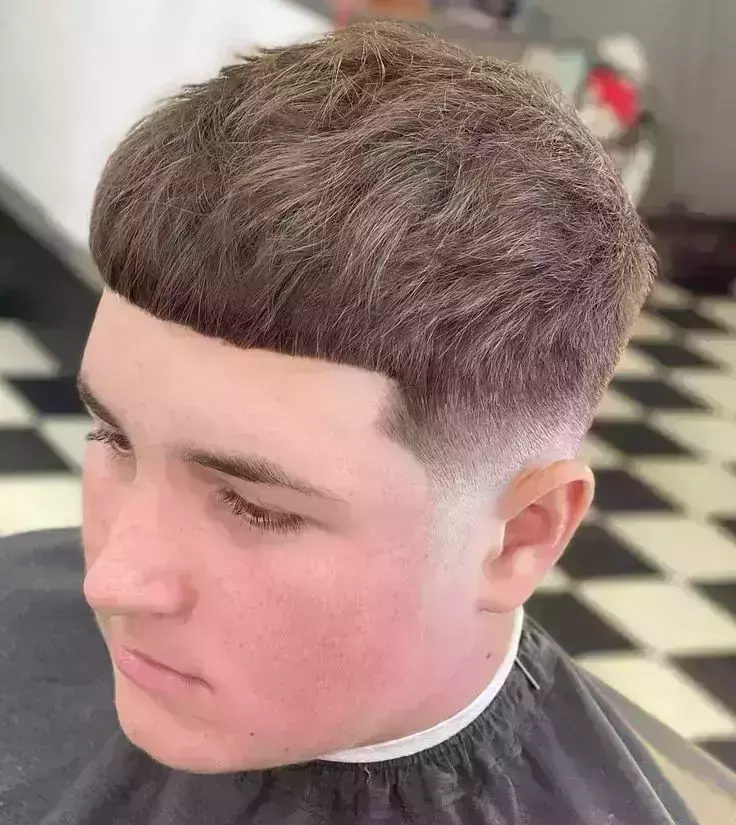 17) Edgar Cut with a High Fade
Strong hairlines look good on people with the popular high-fade Edgar cut. The skin surrounding the ears is bare of hair. The blend transition and the fringe line up nicely at the temples. First, use sea salt spray to dry your hair before wearing it forward. Then, use a respectable styling powder to complete it.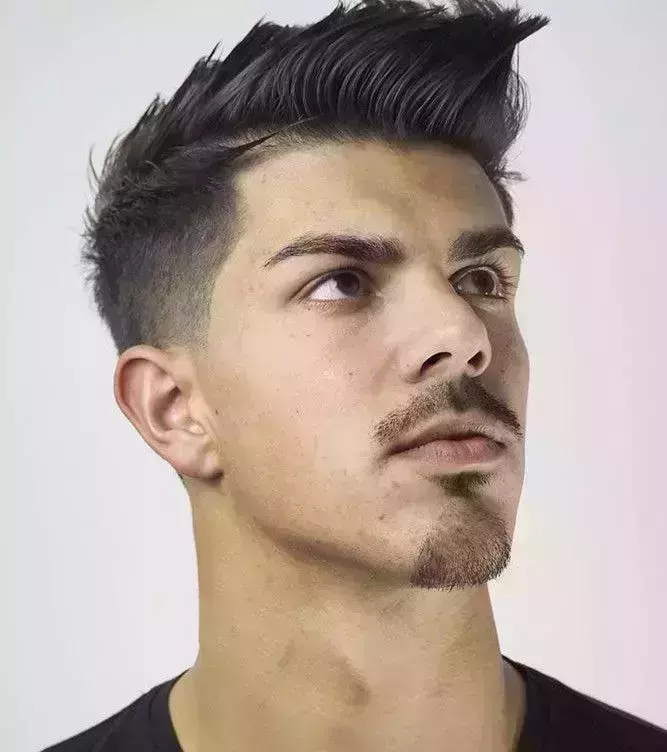 18) High Fade with Spiked Hair
If you're in need of a warm-weather haircut, request this high fade with spiked hair. This hairstyle has clean-cut barbered sides and a short textured top. Inquire about a styling product like matte clay to keep the top portion in place and functional. Have fun putting this look together! If you check David Beckham hairstyles for inspiration, he provides a lot of inspiration for short haircuts with spiked hair and fade cut.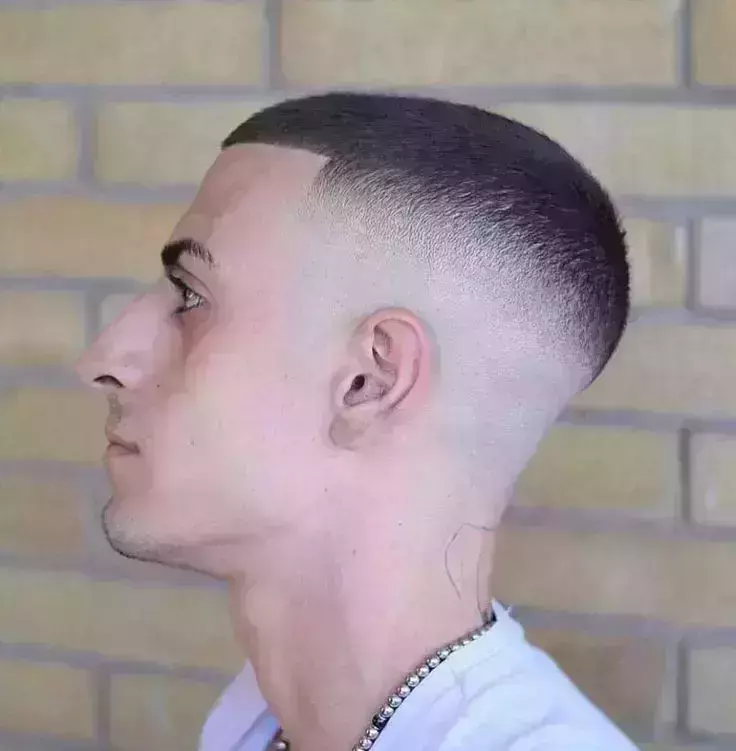 19) High and Tight Fade
A skin-bound high and tight haircut like this creates a bald-like appearance that makes everything look well-put-together. When worn with a sharp line-up around the hairline, a high and tight fade like this adds contrast. If you prefer a low fade, this cool cropped cut will look great on you. A low-maintenance look is always a good choice, especially for military men.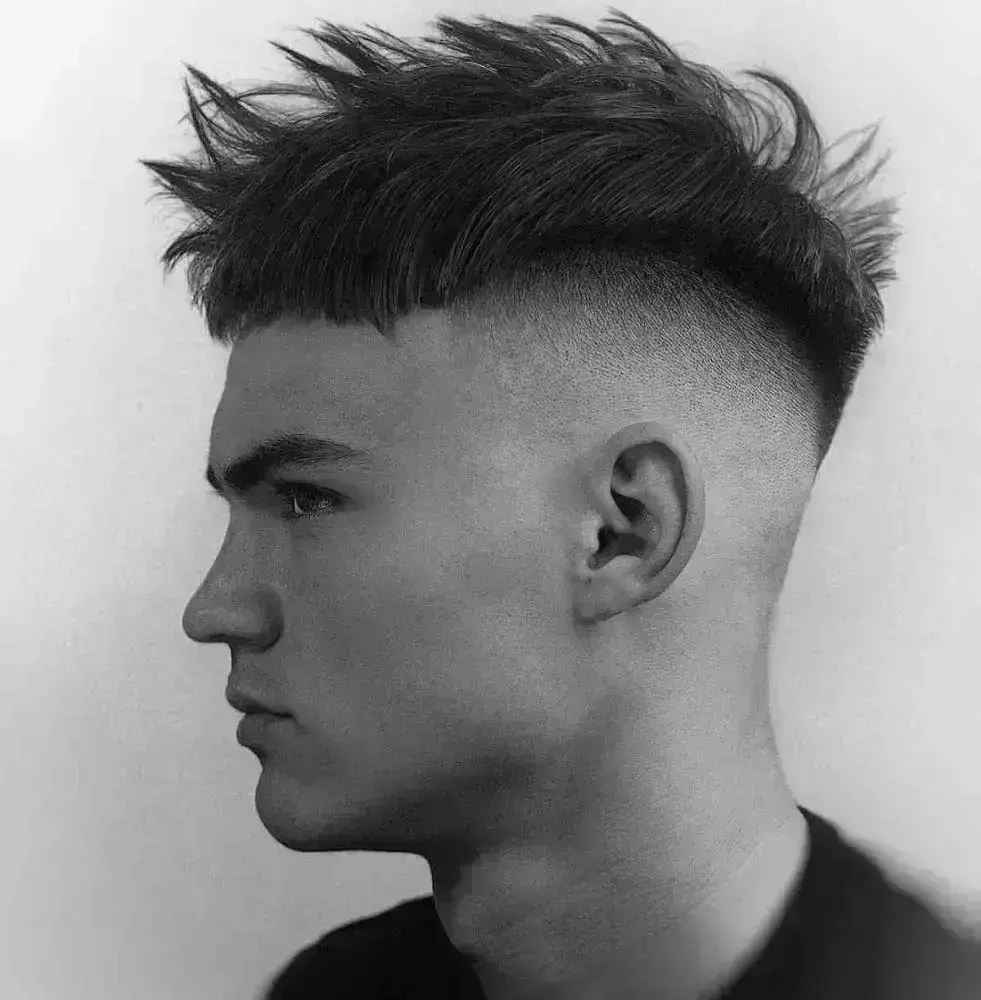 20) Dapper Sharp High Fade
More men are opting for a nongreasy finish and slick sides, as evidenced by this dapper sharp, high fade. It has been heavily blended into the top and faded high to leave weight and length to carry off the sharp finish. One of the simplest ways to add volume is to dry some volume spray from the root up. If you know how to use a hair dryer properly, you can achieve the finished look.
If you are looking for inspiration for fade haircuts, then do check out Brad Pitt hairstyles as well as he provides amazing inspiration for fade cuts and short hairstyles.
21) Brunette Combover and High Fade
If you want a men's haircut that is short on the sides and long on top, this is the one for you! For a crisp, clean look, a high skin fade is always the way to go. If you prefer a wet look, inquire about a shine pomade from your stylist or barber. You'll need one with a lot of hold to keep the long hair on top in place.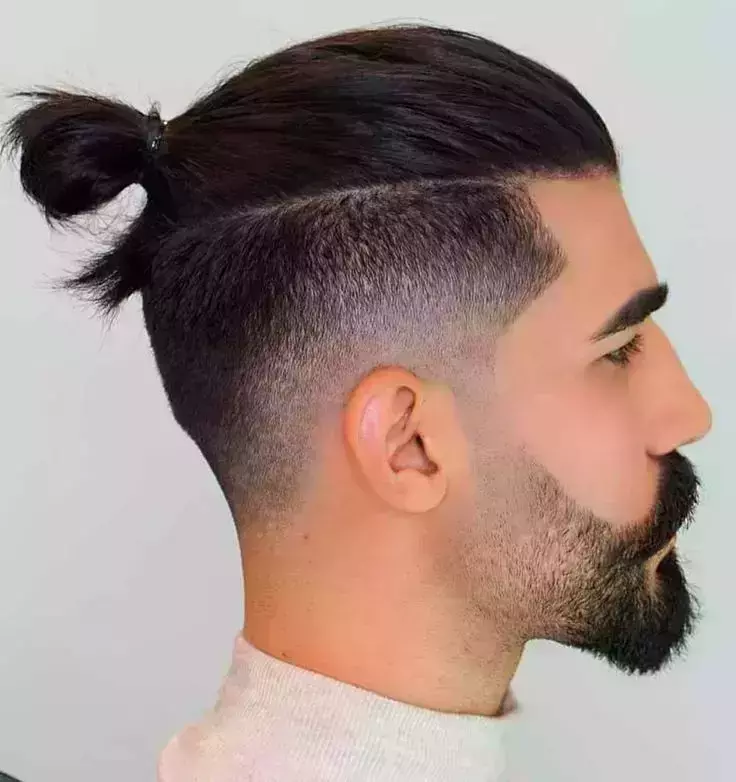 22) High Fade with a Man Bun
The high fade with a man bun is the ultimate cool guy haircut. By keeping the sides short and clean, you get the best of both worlds, with the option of wearing your long locks up or down.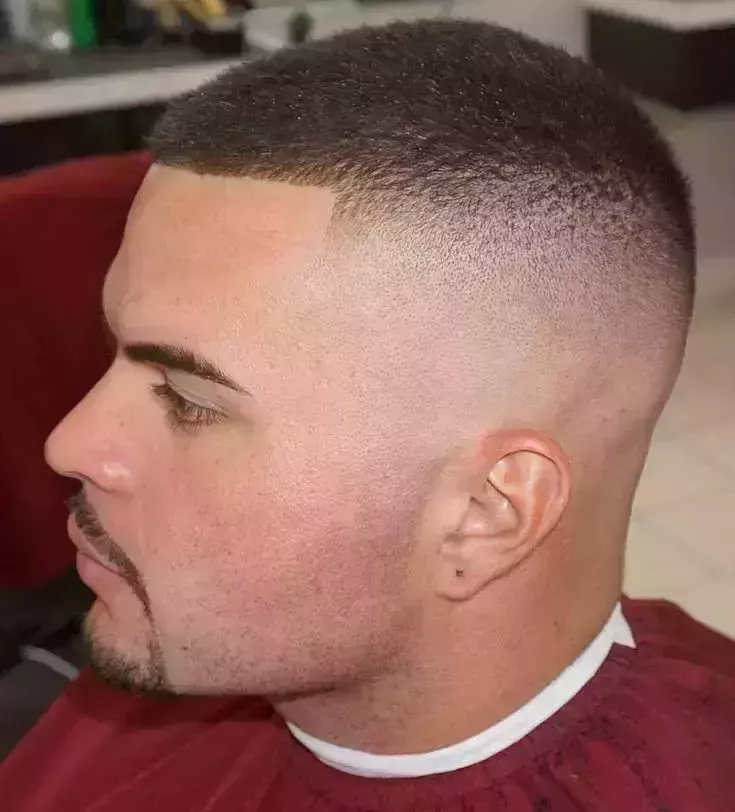 23) High Fade Buzz Cut
A high fade buzz cut is a great look for any occasion. A high fade is a go-to regardless of age or lifestyle. Low-maintenance and appealing to any man, regardless of hair type or texture. Remember to have your barber create a sharp hairline to tie the hairstyle together.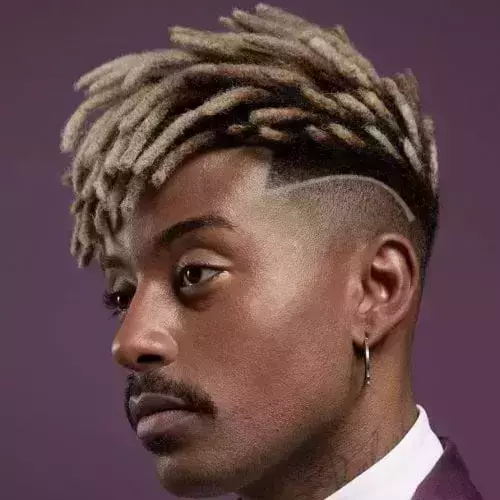 24) High Fade with Dreads
A high fade with dreads is a modern take on the dreadlock look. This cut is for men who have problems with their dreads falling on their necks or who have too much hair but don't want to cut it too short. It has everything you're looking for and looks great with dreadlocks. If you are looking for a hairstyle for black guys, then this can be an amazing option.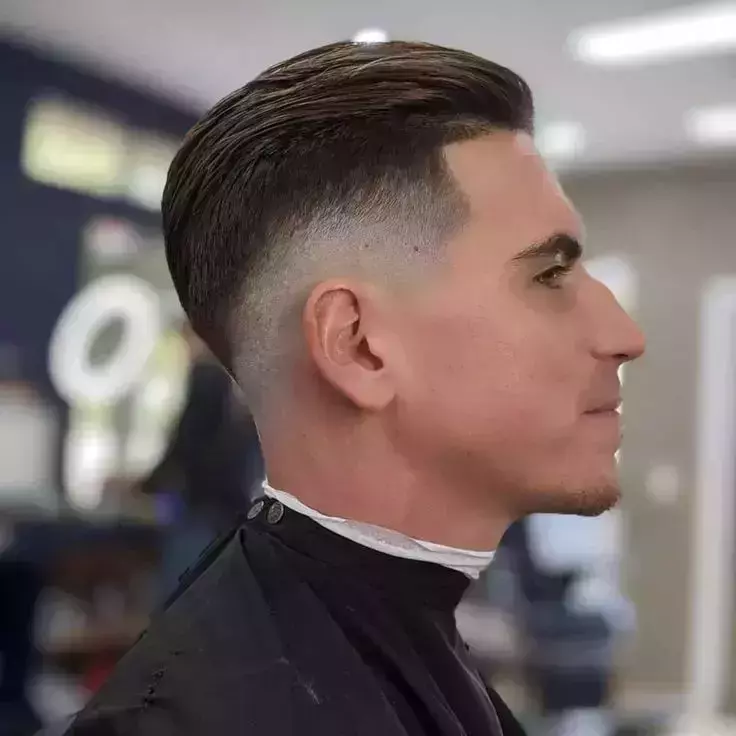 25) High Fade With Slick Back
A high fade with a slick back style complements the head and face shape well for men with long faces. It's also quick and simple to style. This slick back has skin taken high into the sleek top faded at the sides. This style requires little maintenance.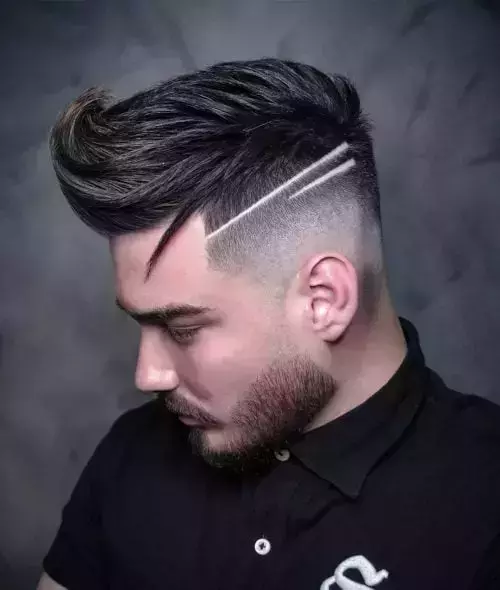 26) Quiff with High Faded Line
Cool haircuts like this high fade with quiff are only for some guys. What more can you add to a seemingly normal fade? A stylish, geometric razor cut line and a combed-up faux hawk fade!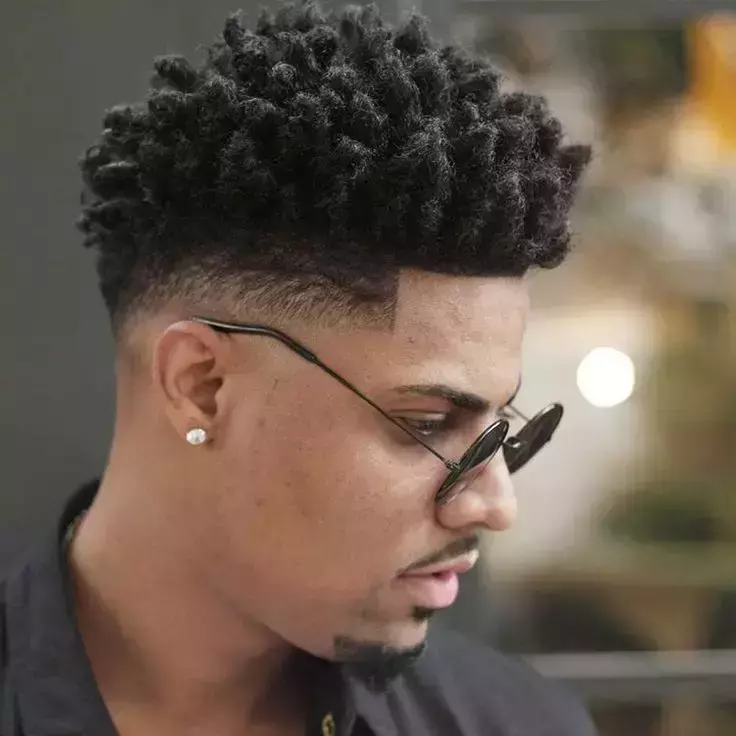 27) Sponge Twists
Sponge twists can make curly hair even more appealing. Sponge twists, a staple of African American hairstyles, are ideal for styling the tops of high fade haircuts. This cool technique will appeal to any guy with textured hair.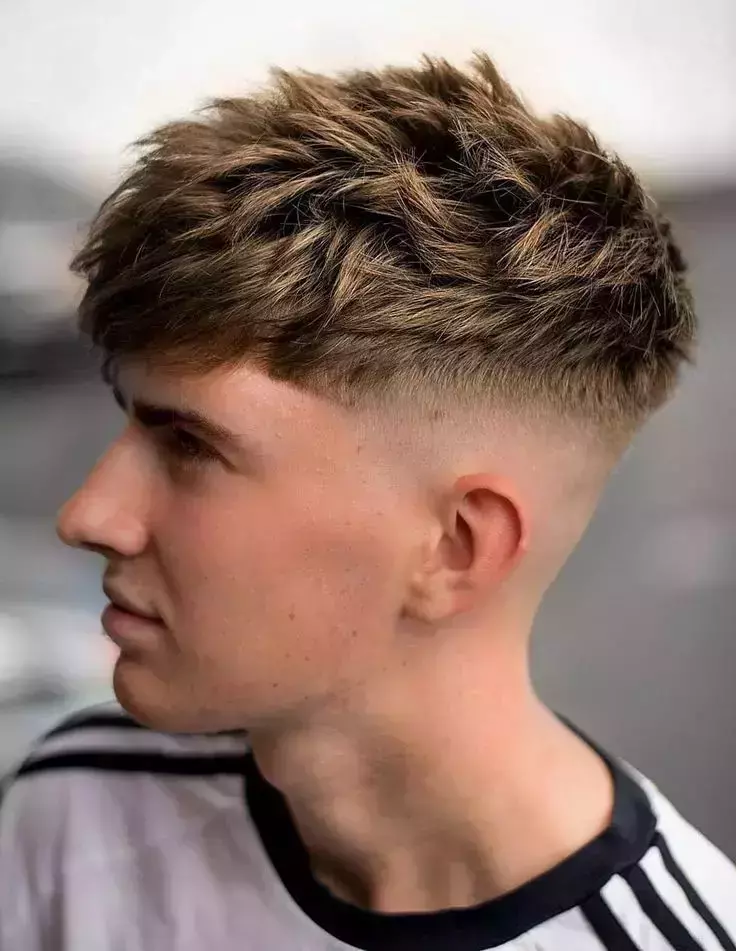 28) The French Crop Style
For obvious reasons, the French crop has been trending for a couple of years now. It has a charming hipster vibe to it, which is complemented by mysterious and romantic European vibes. A French crop provides a dreamy backdrop for a high fade haircut. Do check Justin Bieber hairstyles for more inspiration for fade, crop and buzz cuts.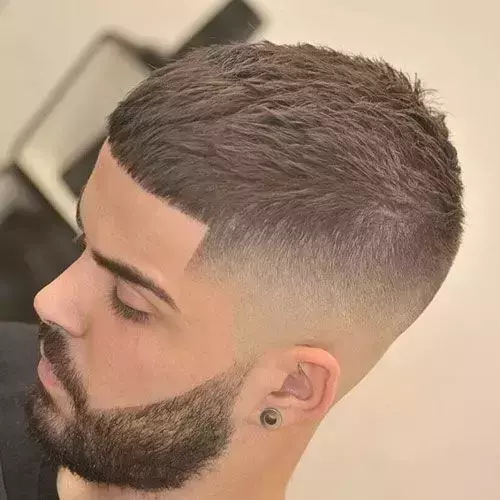 29) The Caesar Cut
There was the Caesar haircut before the French crop became popular. While not less fashionable than longer hairstyles, the Caesar cut is better suited to the practical man. The top will be shorter and easier to style, with a high fade as the perfect finishing touch.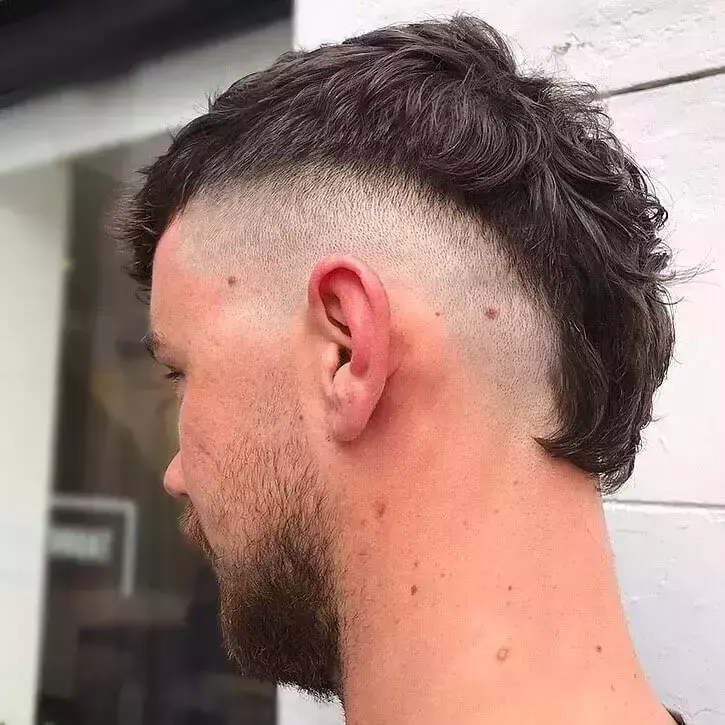 30) High Fade Mohawk
When it comes to the potential of your hairstyle, there are no limits. If you were born to be a rebel, an iconic mohawk could be the perfect complement to your high fade. The well-kept beard is also a flattering addition to the edgy ensemble.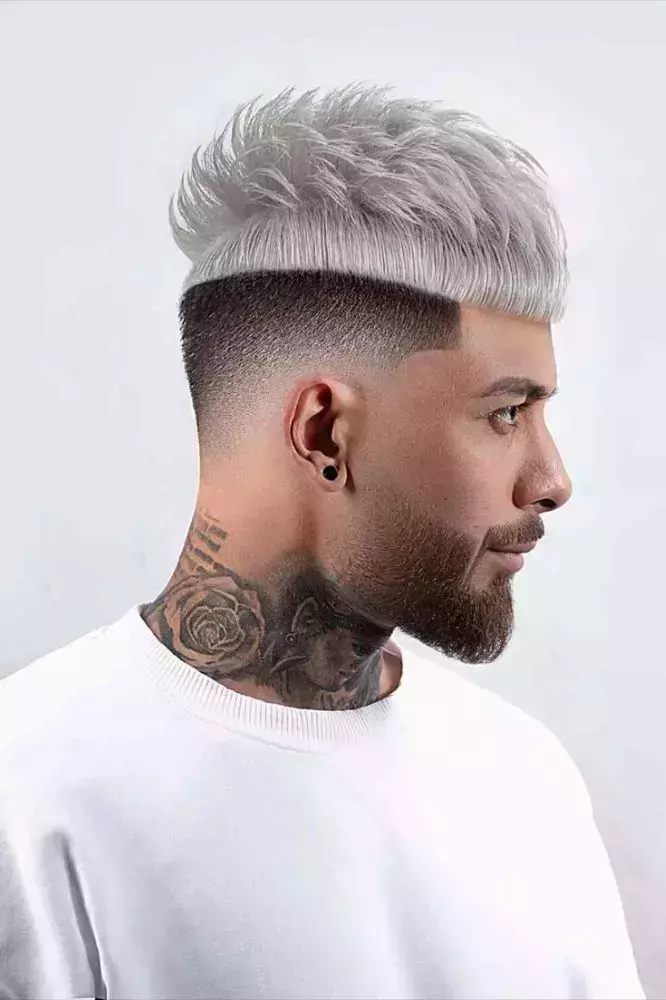 31) The Two-Tone High Fade
Colors, on the other hand, can put your imagination to the test. Changing the tone of your upper hair is one of the most effective ways to highlight a clean high fade. Whether you go with a neutral or a bright color, the results will be stunning.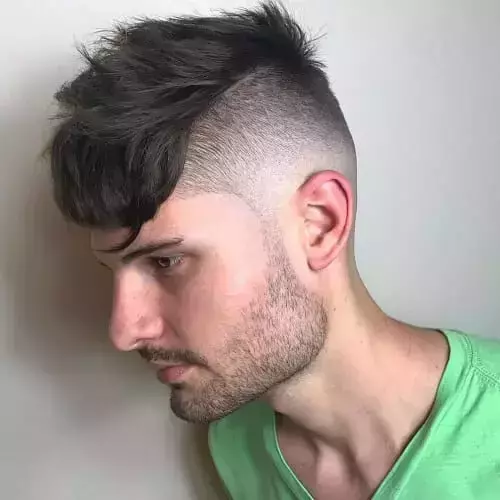 32) High Fade with Long Bangs
If you're looking for new ways to experiment with your hairstyle, keep bangs in mind. With almost any type of fade, you can easily wear long or short bangs. Actually, a pair of edgy bangs is sure to elevate your overall look. Looking for more inspiration? Do check out Thomas shelby haircut in peaky blinders.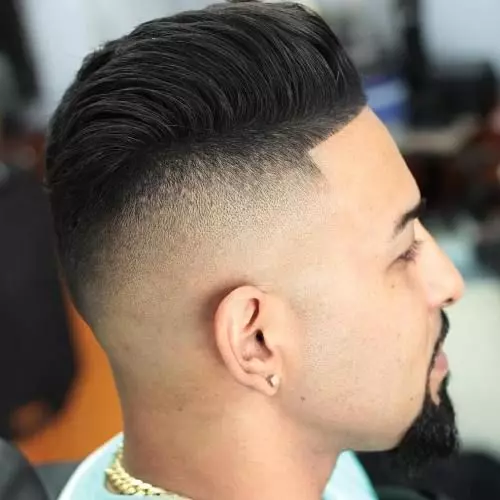 33) Shadow Fade Haircut
The shadow fade haircut is a softer version of the standard fade; it is more subtle and creates a more natural contrast between hair lengths. This type of fade is sometimes described as being suitable for curly hair. Yes, but men with straight hair can also try it. In general, it is an excellent choice for any man, particularly those with sensitive skin who want to avoid weekly trims.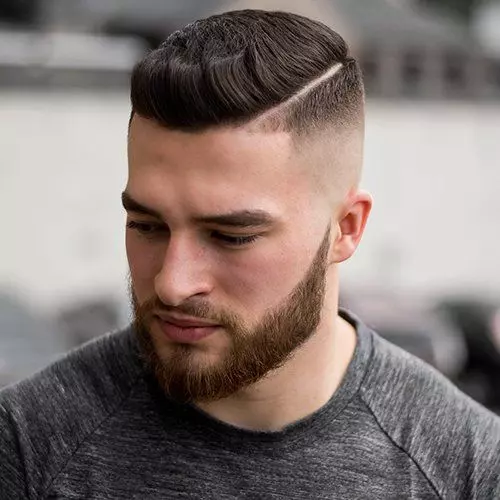 34) Forward-Combed Style
Of course, not all faded looks must be combed backwards (the most common). Rather, some of the most fashionable men's haircuts are now combed forward on the forehead, almost in a Caesar-like fashion. One of the top haircuts for receding hairline, this combed style looks stunning.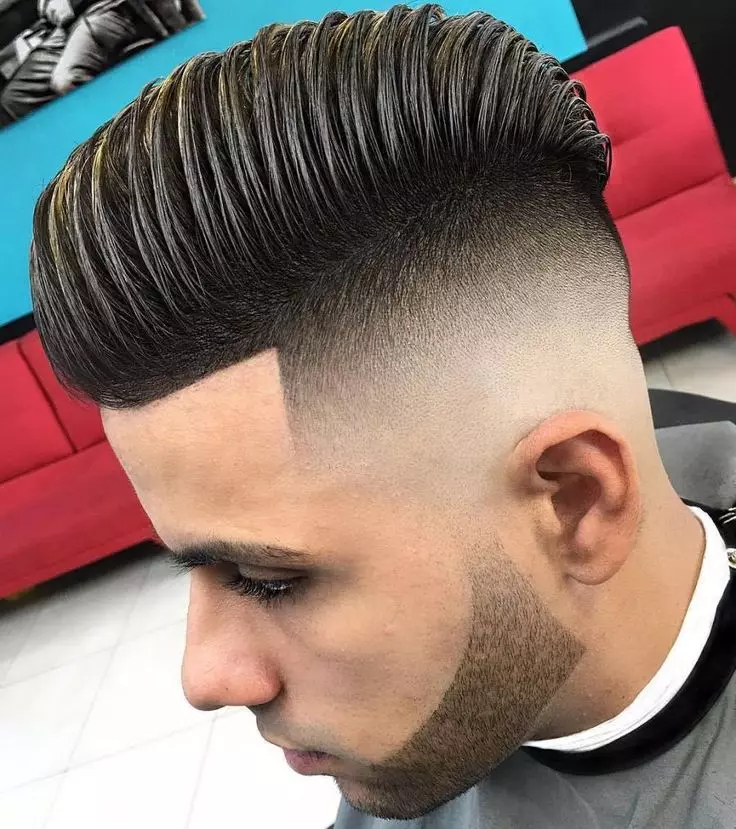 35) Wild Pompadour Fade Cut
Assume that all high fade haircut styles look the same? Consider again. This style pushes the boundaries of traditional hairstyles, relying on a sky-high pompadour and precise line up to add drama. For added security, apply a strong hold gel.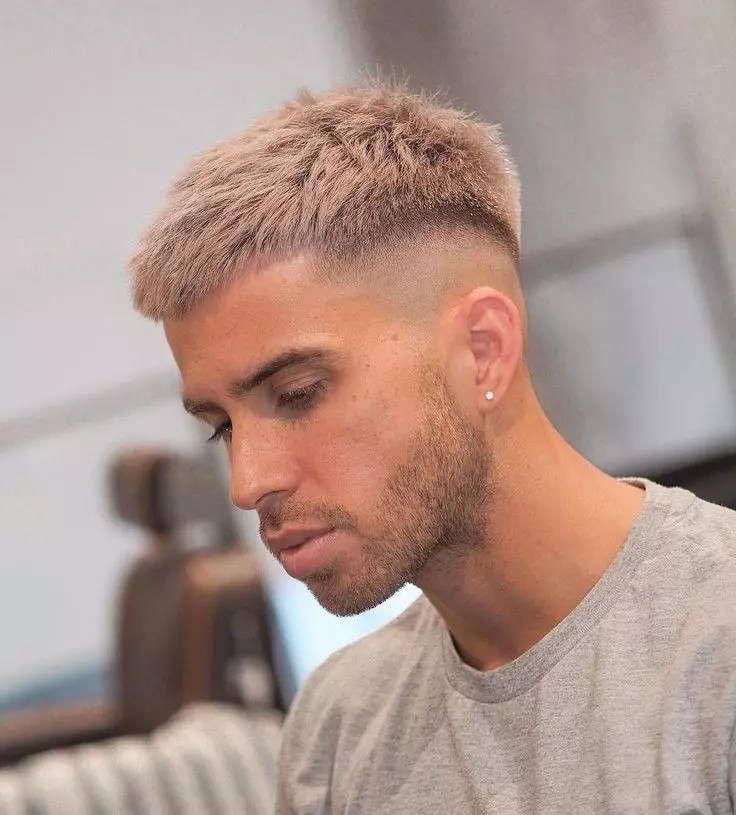 36) Disconnected Fade Cut
The disconnected fade is the most daring of fade haircuts. The definition is straightforward. "Disconnected" refers to any haircut with dramatic length changes in the hair.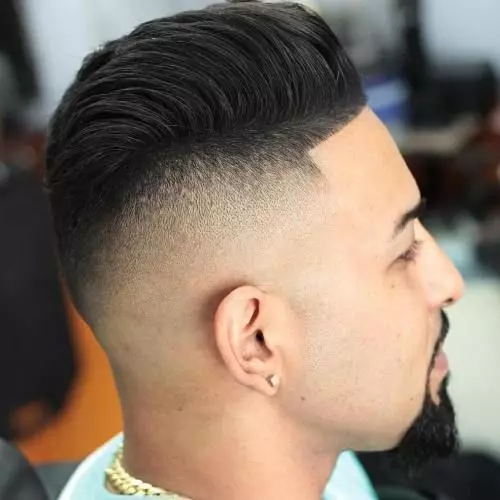 37) Blurry Skin Fade
This simple haircut appears to move seamlessly from thick to thin with a line up perfecting the edges in this high skin fade. If your hair doesn't hold a pouf well, slick it back into a puffed-up pompadour with texturizing pomade and spritz with hairspray.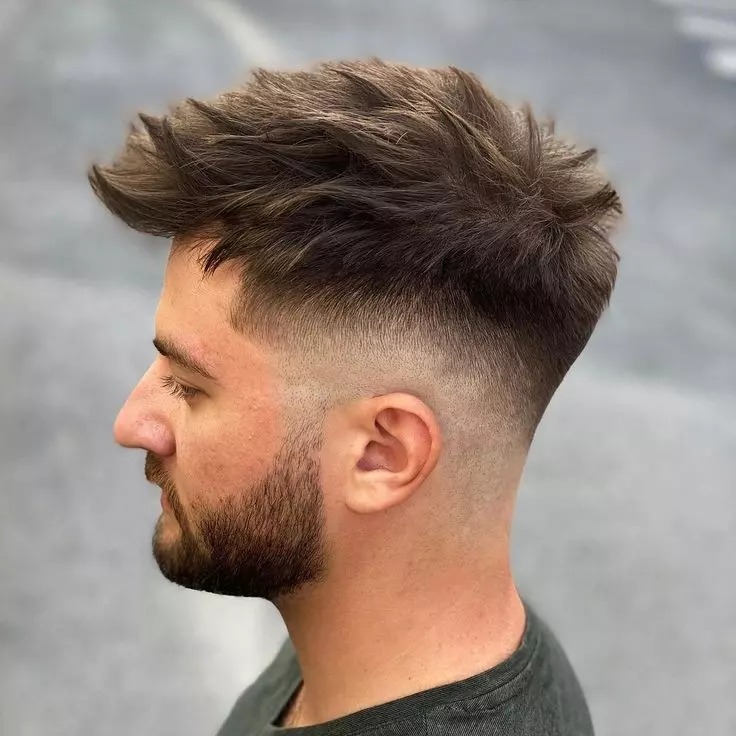 38) Long Hair Fade Cut
Long hair fade means your sides will be extremely short and your top section will be extremely long. Wear your hair in a bun, ponytail, or half pony to keep it in place. It's also a good idea to practice braiding.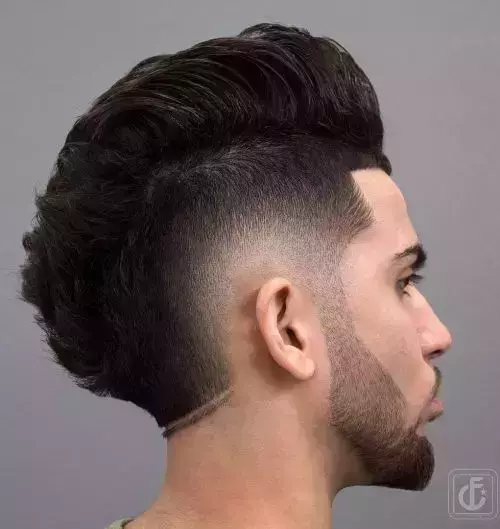 39) Retro High Top Taper Fade
Here is yet another long hair tapered haircut. Ask your barber to smooth out the entire shape of your haircut and create a low fade to the skin only in the back for a suave look. A mock side part design adds a cool element to the hairstyle and completes it. 
40) Widow's Peak
An ideal High fade haircut for short hair is this widow's peak. When the sides are shaved short, the dark hair really stands out.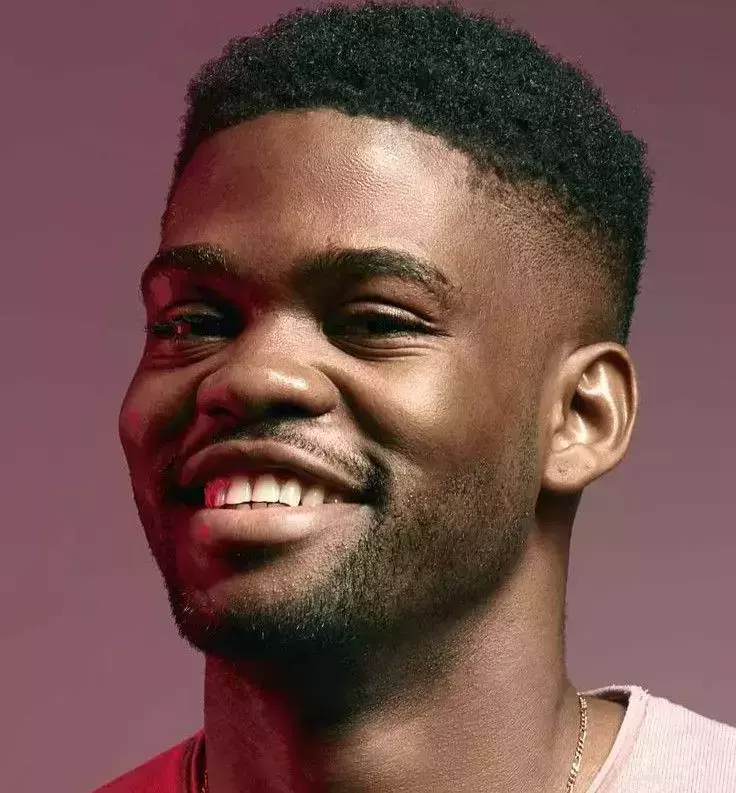 41) High Fade Black with Afro
If not cared for on a regular basis, afros can become unruly. If you want to get ahead of the game, try a high temp fade to keep your curls in place. A shape up can also help you maintain your look between cuts.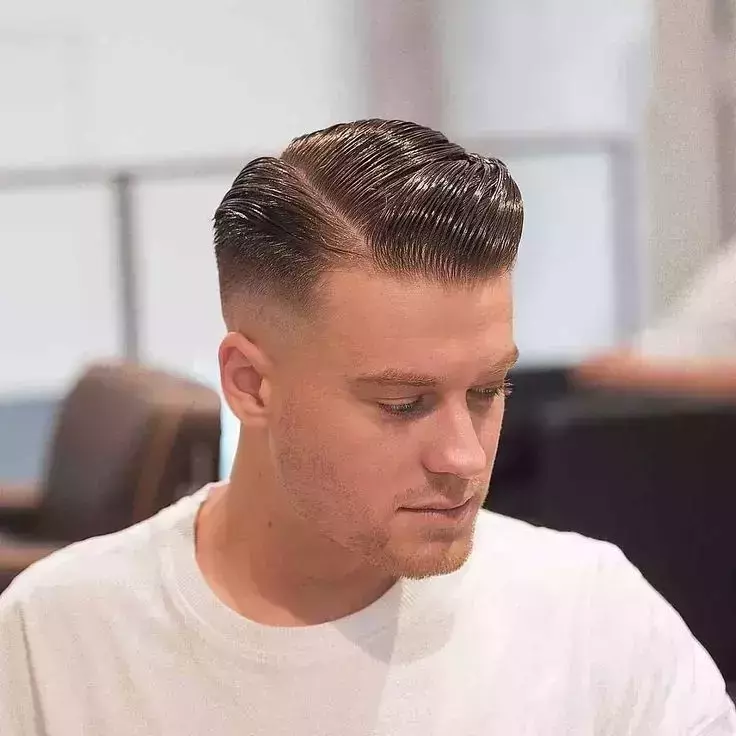 42) High Fade for Thick Hair
If you have thick blonde hair, a high fade Black cut will look great on you. Taking it high and tightly working it into the top creates a nice color contrast illusion. The back of the hair has been dried in the direction of the crown, which is necessary to prevent any of it from sticking up. The front has been scrunched dried to form the wave and finished with a tiger scratches design.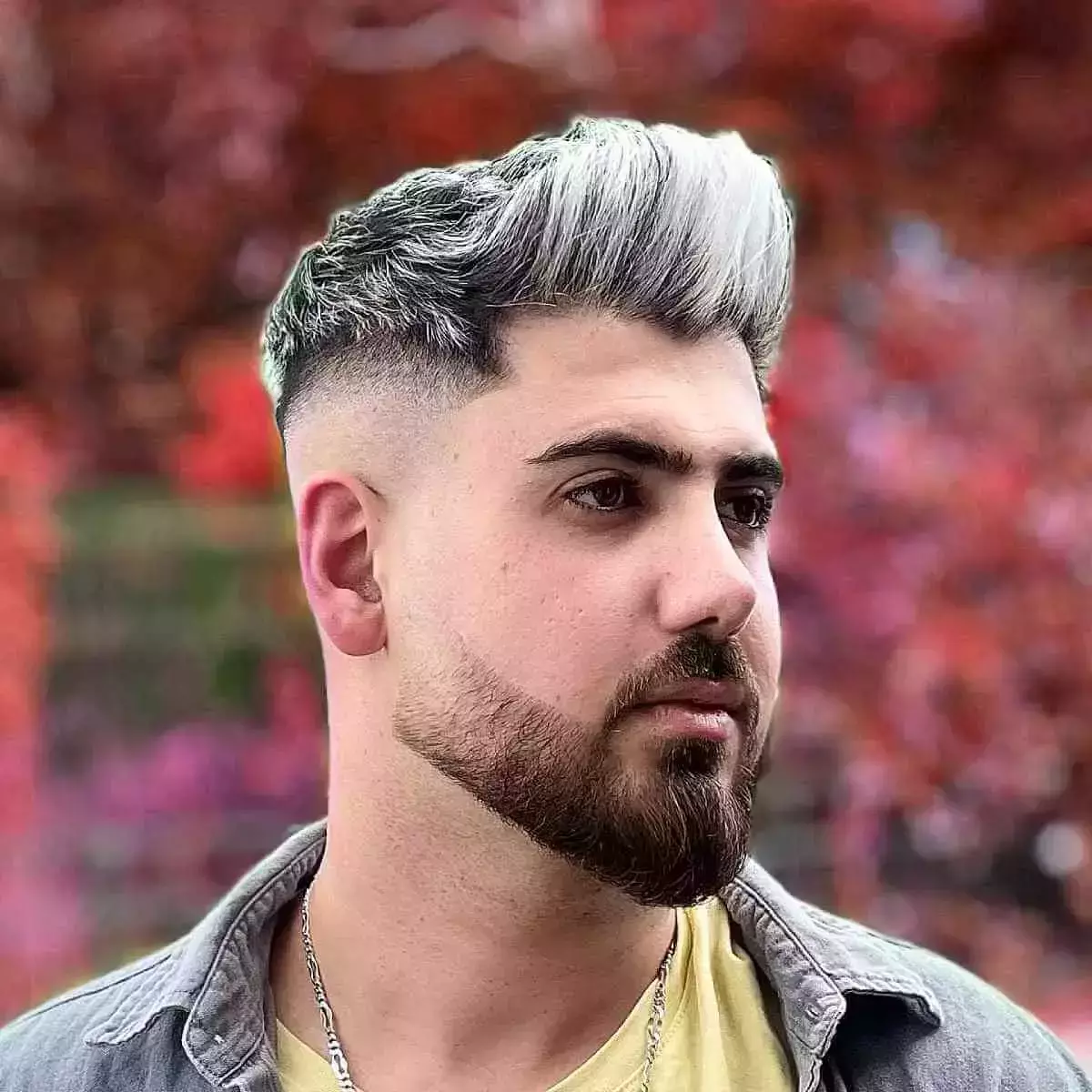 43) High Fade with Platinum Frosted Tips
Men's hair color is becoming more popular, with blondes and greys being the most popular. The color has grown slightly, resulting in platinum-frosted tips that contrast brilliantly with the high fade and dark roots. To keep the platinum look, proper aftercare is required.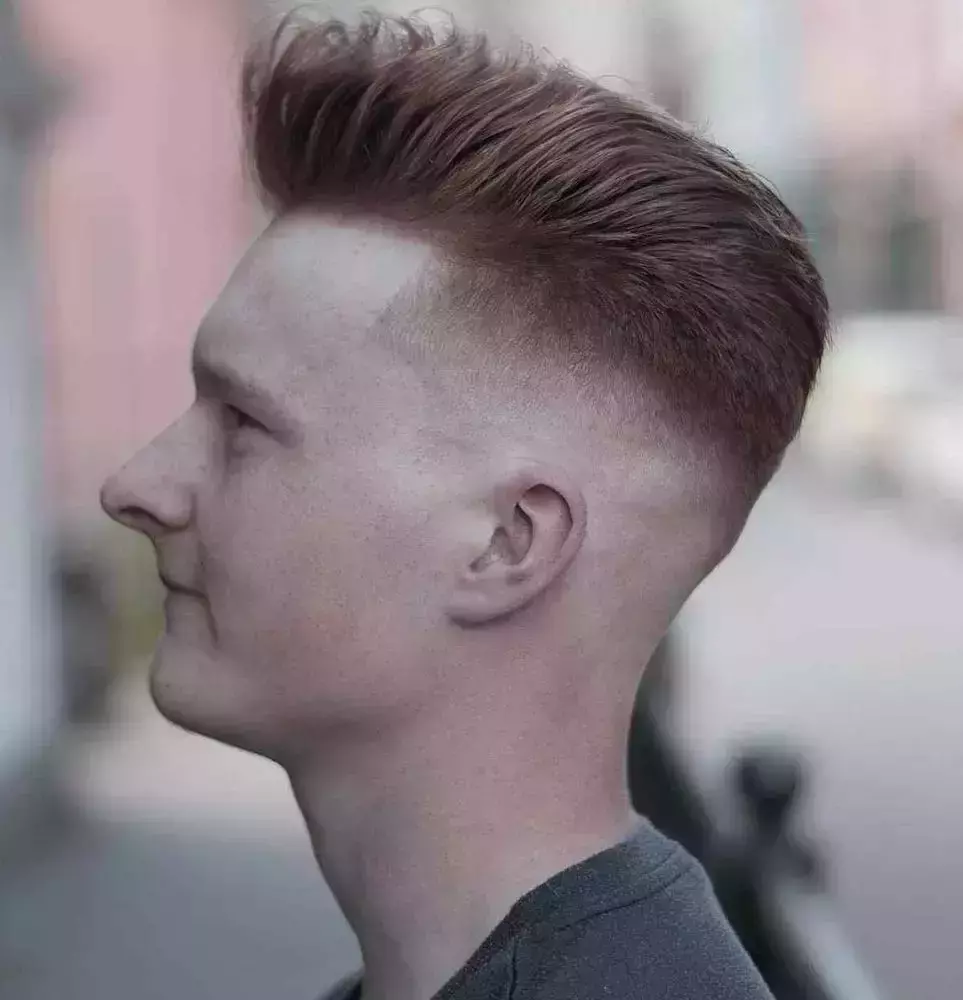 44) High Skin Fade with Brushed Up Top
The skin fade is a timeless look that will be popular for many years to come. This high skin fade with a brushed-up top has a modern twist. It's been cut down to the skin and blended into the scissor work, with just enough left over to line the sides.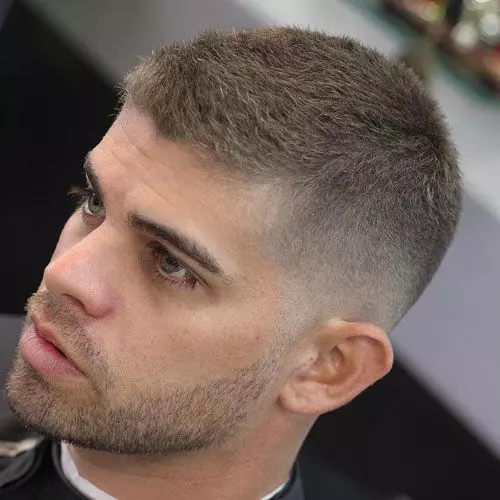 45) Military High And Tight Haircut
It's no surprise that the military prefers the high and tight cut because it's fuss-free, easy to maintain, and masculine. The traditional method for achieving this trim is to place a hand on top of the head and shave any remaining hair. Fortunately, your barber will be far more careful than a drill sergeant.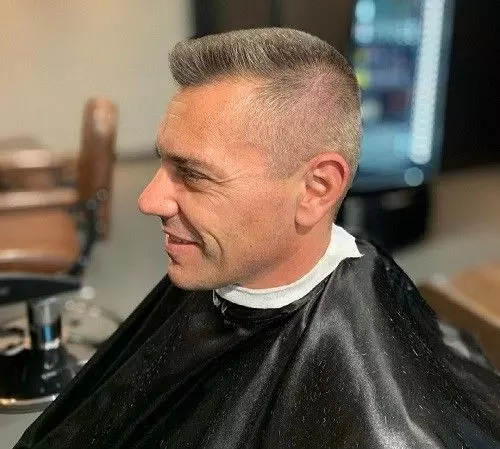 46) High Fade For Thin Hair
If you've ever seen the TV show The A-Team, you'll recognize this high and tight haircut on the infamous Mr.T. To achieve this retro look, shave or clip the sides and leave a landing strip of hair on top. This balding men hairstyle is also ideal for men with curly hair.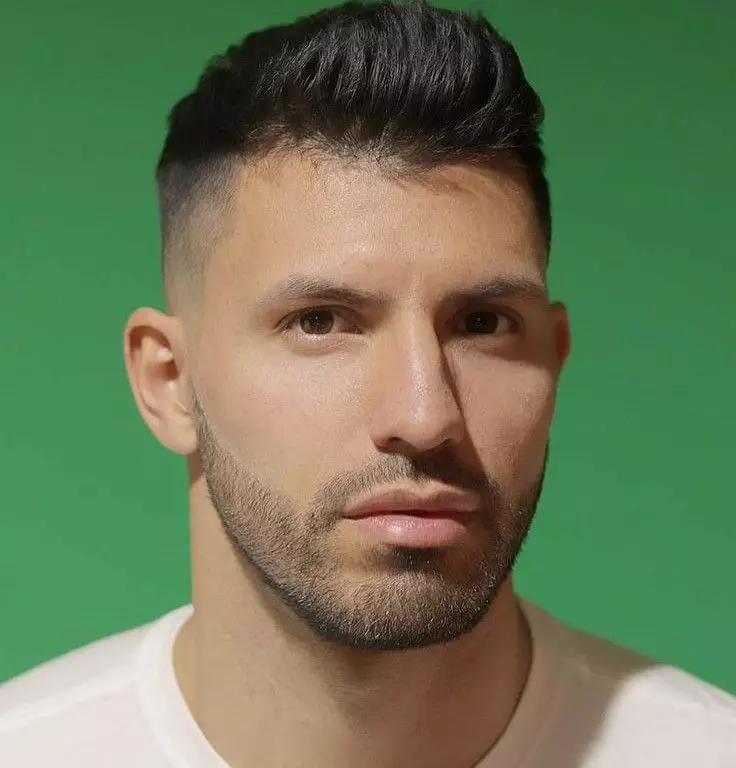 47) High Skin Fade Faux Hawk
To achieve this high skin fade around the sides while having a short, dense trim at the top, ask for zero on the razor. Shaved hair designs on a high fade with faux hawks, like this one, can make the casual look stand out. This is one of the most opted design for long hair High fade.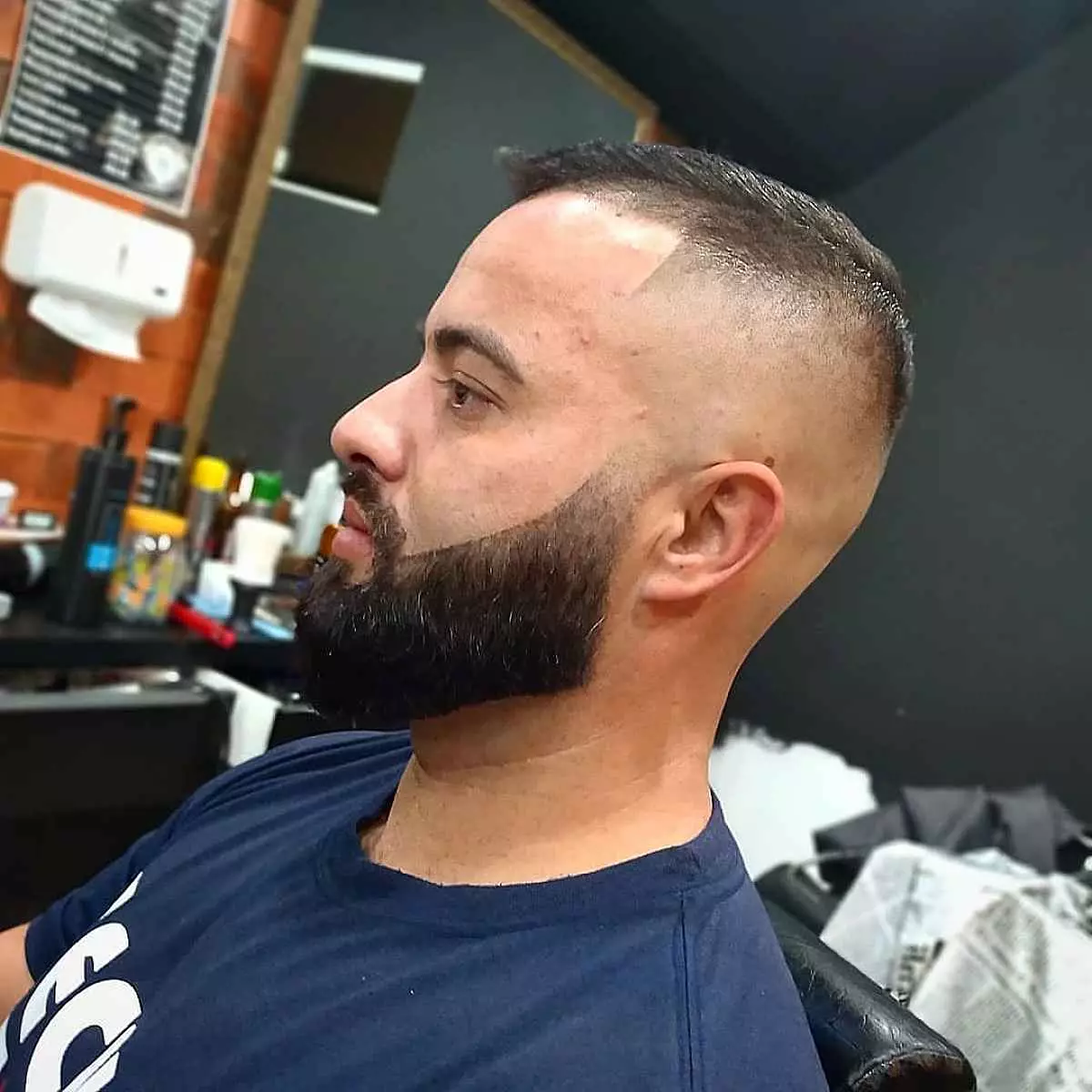 48) Super High Fade Haircut
A super high fade haircut is ideal for men who prefer a low-maintenance look. Super high fades allow anyone to go 3 weeks to a month between visits while maintaining a clean appearance. This style is mostly worn by military personnel, but it's a great look for any guy.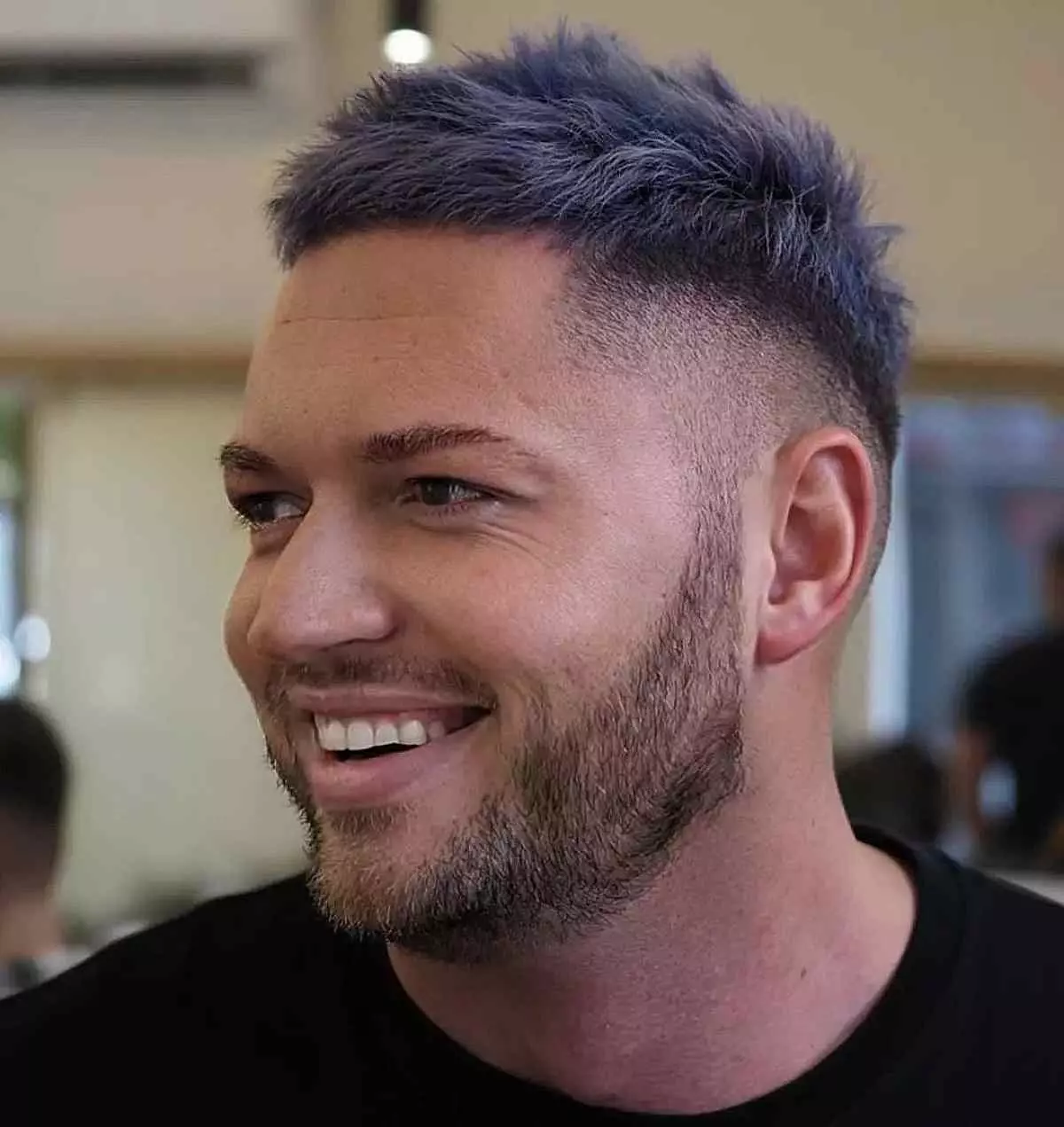 49) Purple Top With High Fade
Men's coloring is becoming increasingly popular, as evidenced by this purple top. It looks great with the high fade and beard, and it's been faded high and tight to create a disconnect with the color. Maintaining the fade and color will necessitate some upkeep, such as a fade-up every 2-3 weeks. This is an extremely hot high fade design
50) High Fade for Thick Coarse Hair
The crown area of this high fade men's haircut for thick coarse hair has been kept quite tight, with more weight at the front. This allows you to create curls in your hair. It's beneficial to have a high fade because it allows your hair to grow out without leaving you with too much weight on the sides.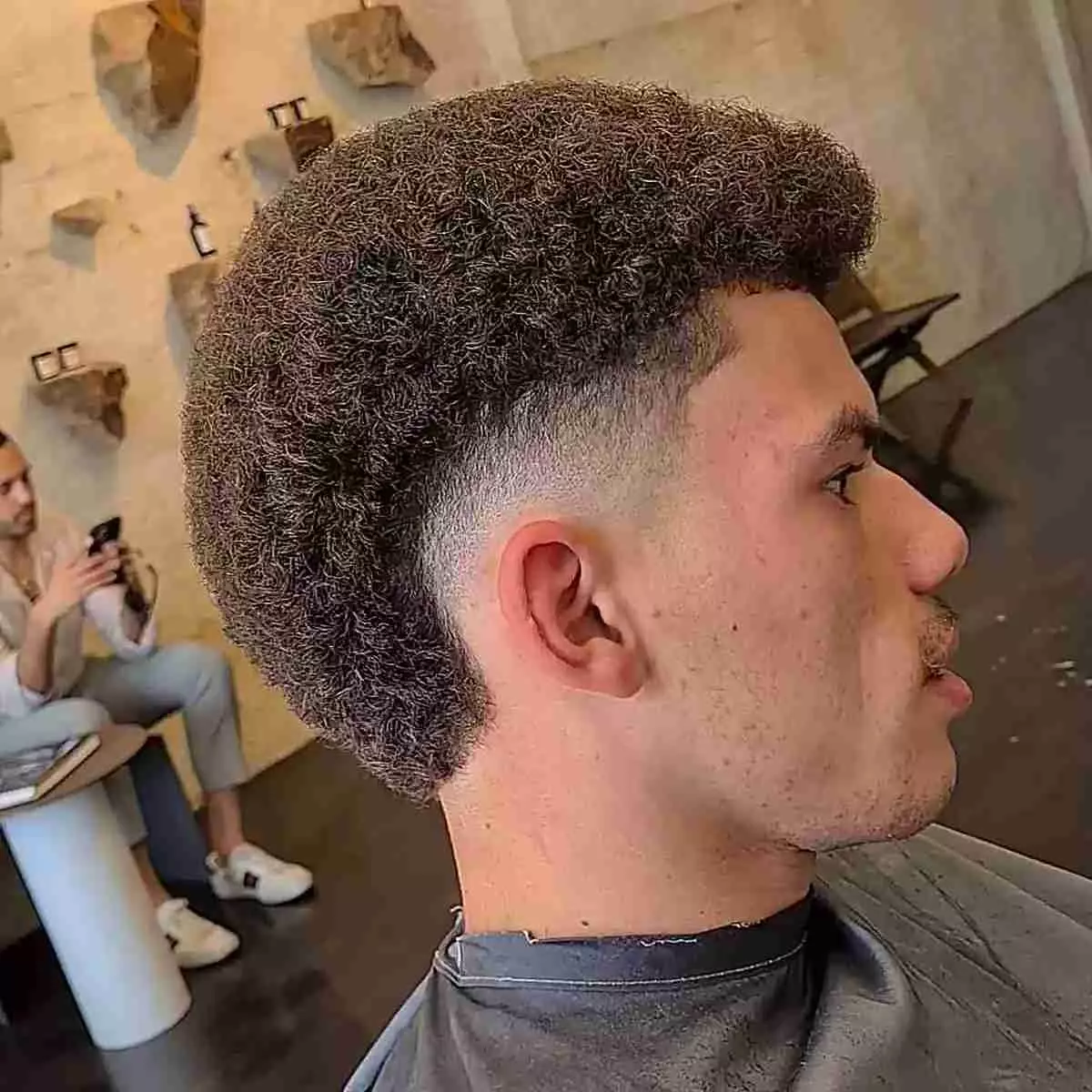 51) Frohawk High Fade Haircut
This frohawk with a fade gives you a tropical fun look! The top texture continues down the back of the head with the natural curls, which we adore!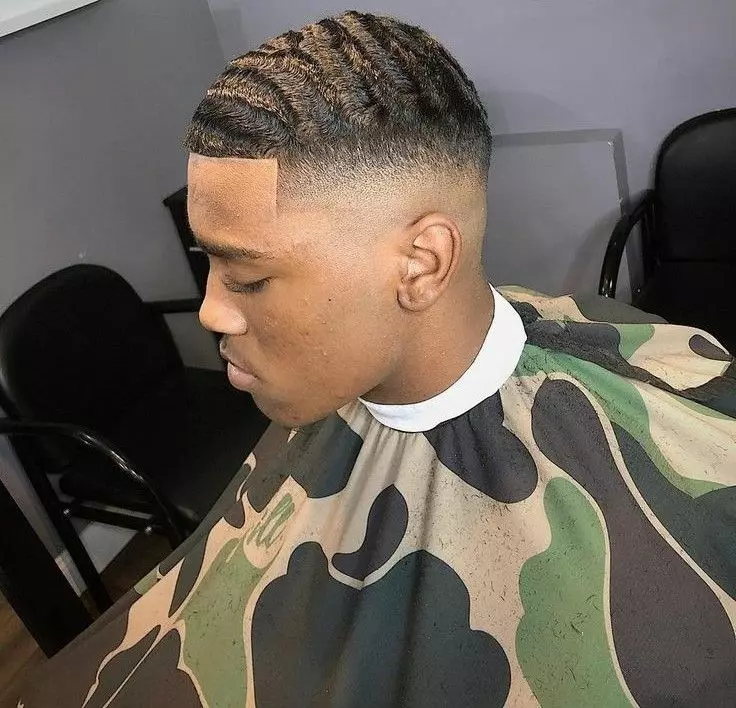 52) Old School High Faded Sides with Black Waves
These natural-looking waves with a fade look best on black men. So, when you've got this much flavor, let the world see your faded waves.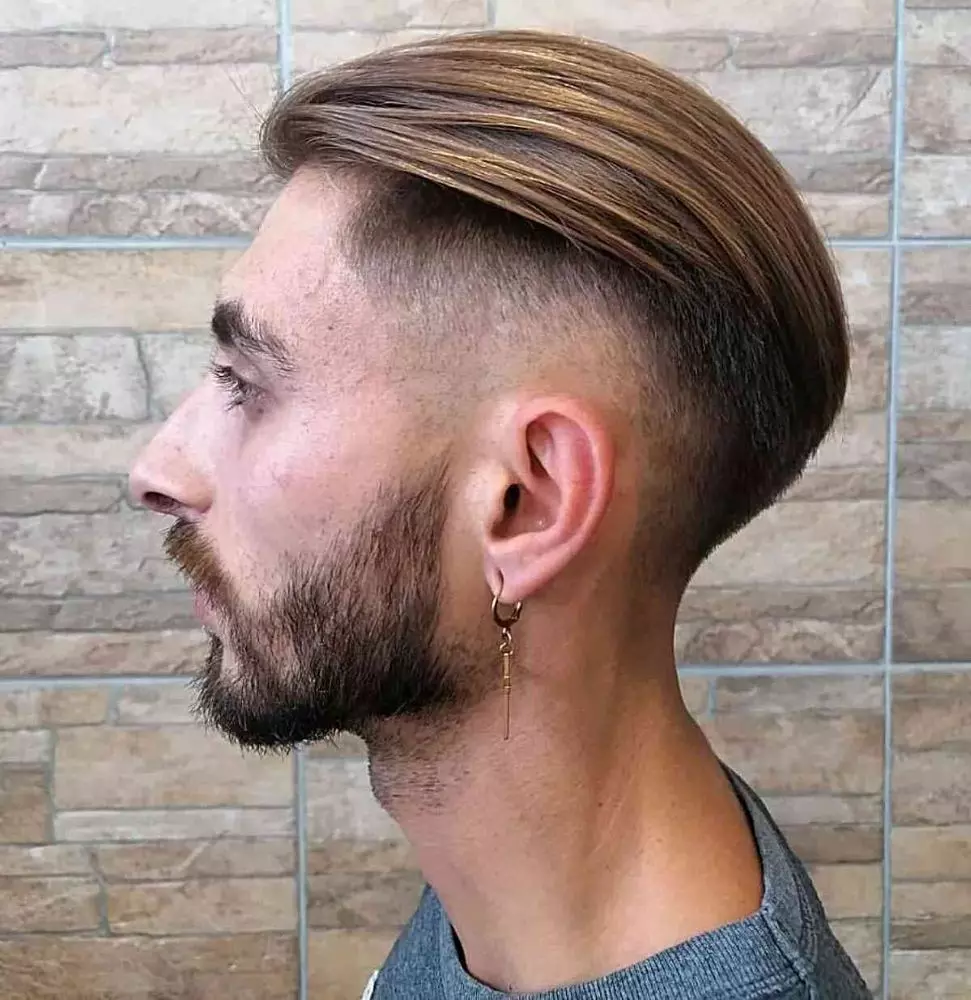 53) Hot High Fade
This is a high, tight fade. To bring out texture and remove weight, the top was cut with a straight razor. The contrast between the clean and tight sides and the soft top with lots of movement in this faded cut. Fades can be used on most hair types to reveal a natural head shape. Men who want this faded cut should be prepared to have the sides and back cleaned up on a monthly basis.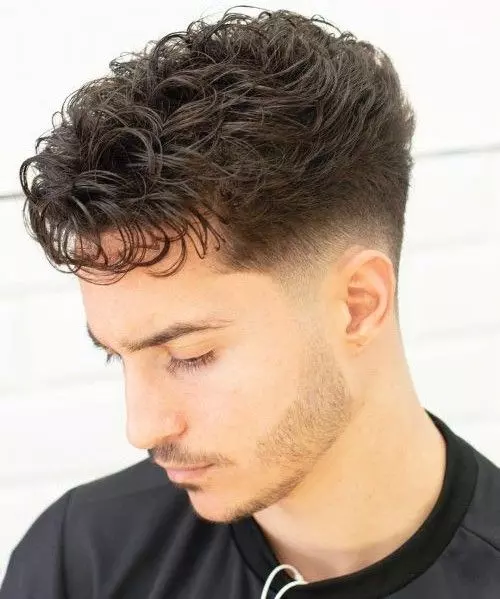 54) Low Fade Haircut
Not for nothing is a low fade haircut, one of the most popular men's haircuts. It is suitable for all hair types and most face shapes. Furthermore, it can be used to complement any hairstyle on top, from a crew cut to box braids. When answering the question of High fade vs low fade, the difference is quite clear.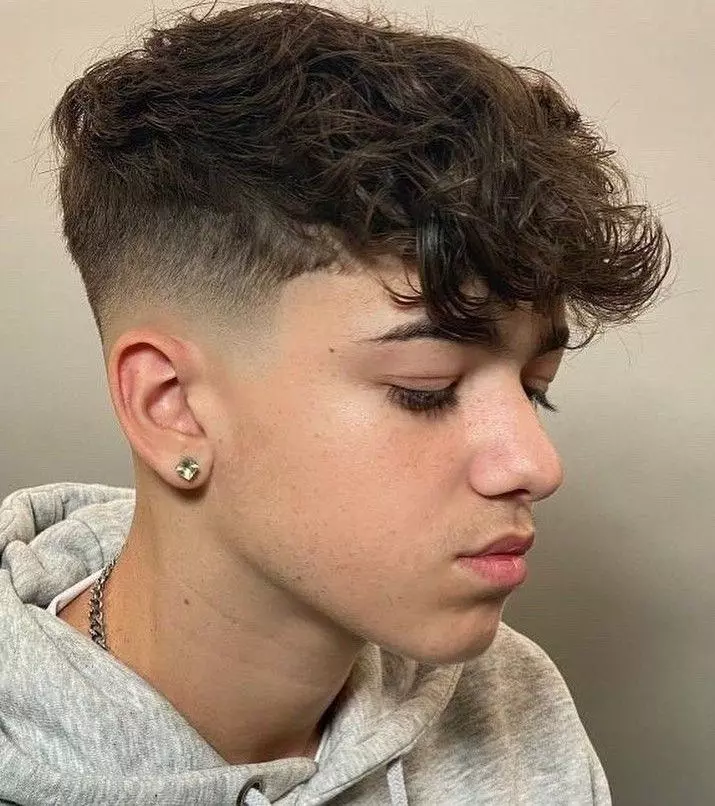 55) Mid Fade Haircut 
A mid fade haircut also known as a medium fade, provides a middle ground between a low and high faded cut. It's still daring and edgy, but it could work even in a more formal setting. The hair on the sides and back is tapered starting from the top of the ears to achieve the mid fade hair cut.