25 Best Viking Hairstyles For Men
Olivia
Updated At 31 Jan 23
Long hair has been in trend amongst men for quite some time now. Nowadays, people are looking for new ways to style their hair. Undoubtedly, the best inspiration comes from past cultures and their roots. Viking Hairstyles for men have gained a lot of popularity since many celebrities were seen sporting this hairstyle at various events. Vikings is a name given to the seafaring people of Scandinavia, which is now more categorized as Denmark, Norway and Sweden. The Vikings were popular for raiding, pirating and later settling in various parts of Europe between the eighth and eleventh centuries.
Viking hairstyles are back and better than ever! If you're looking for a new style that's both stylish and rugged, these 25 best Viking hairstyles for men are perfect for you. From shaggy to curly, these styles will have your hair looking its best. And if you're feeling extra adventurous, we've included a few beard styles that will let you embrace the Viking lifestyle full-on! Let's check the 25 Viking Hairstyles For Men.
25 Best Viking Hairstyles For Men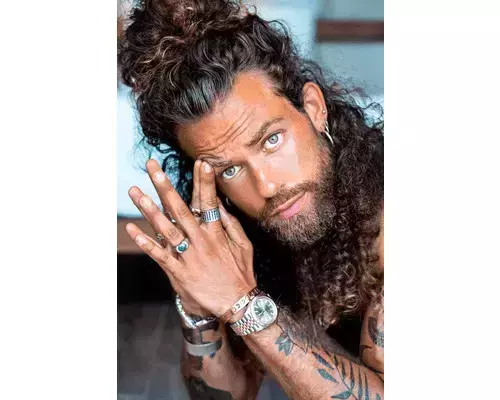 1. Curly Hair Viking Style
Viking hairstyles look wonderful on every face shape regardless of gender. The texture of the hair, however, does affect the way a particular hairstyle looks on you. The Viking hairstyles for men look perfect on curly hair. The texture of these styles makes them look perfect on curly hair since they add a lot of volume and bounce to your hair. One of the best long curly haircuts for men, viking hairstyle can be a gamechanger.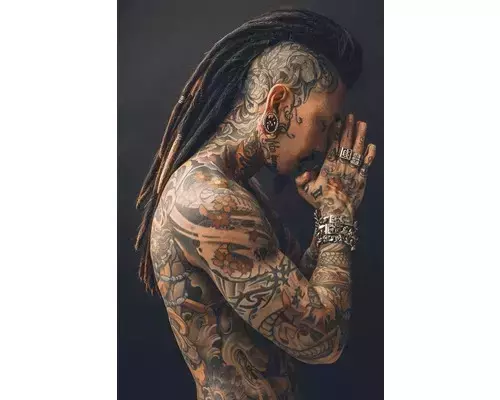 2. Dreadlocks Viking Hairstyles
Viking hairstyles are characterized by the long locks of hair that hang down past your shoulders. Dreadlocks are a hairstyle that is characterized by rope-like strands of hair which is achieved by braiding hair or rolling them in a particular way and tying them together. Many celebrities have rocked dreadlocks till now but this Viking hairstyle for men is usually sported with an undercut which distinguishes it from the basic dreadlock style.
Also check out our guide to find the stunning low fade haircuts for men which include short hair with low fade, curly low fade and many more popular hairstyles.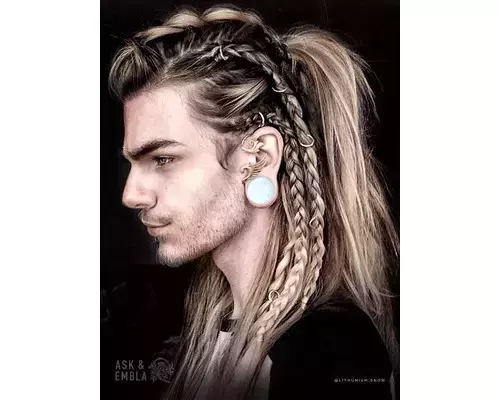 3. Viking Braids And Pony
This Viking Hairstyle for Men is a combination of the three basic ways to tie your hair. Small portions of the hair can be tied into little braids, the middle hair can be tied into a thick braid and continuing it into a larger ponytail. Adding accessories may help in creating an extraordinary look that will help you stand out.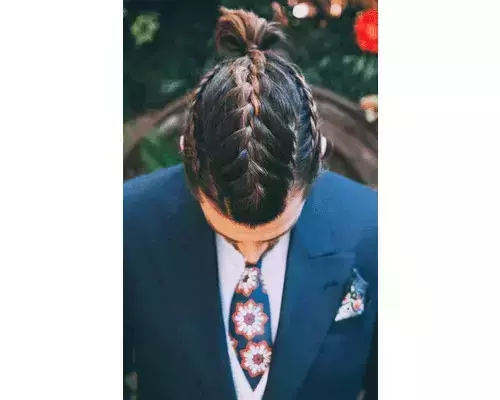 4. French Braid Viking Hairstyles
French Hairstyle is in itself a complete package. The French Viking Braids are the modern way of wearing braids for long hair. There are a few reasons why the French Viking Braid is such a popular choice among hairstylists. For one, it's very versatile – you can style it in any way that suits your taste or look. Additionally, its complexity makes it stand out from other styles of braiding.
Also check out our guide to find the best haircuts for receding hairline as we capture 25 trending haircuts of this year.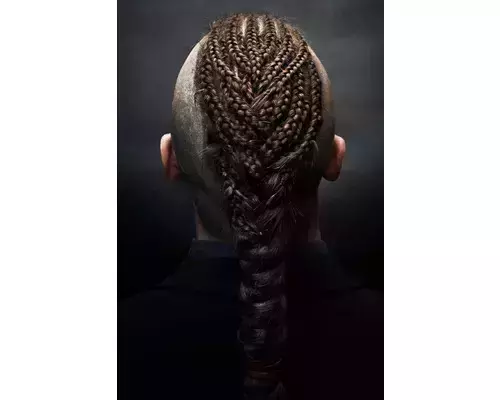 5. Cornrows Viking Hairstyle For Men
Cornrow's style of braiding is a traditional style that involves tightly braiding the hair near the scalp. Cornrows are not new to the hairstyle domain. Women have been carrying cornrows for a long time now, but even before that, The Vikings have been wearing their hair this way for centuries ago. Men nowadays have again taken upon the style and sport the cornrows with an undercut.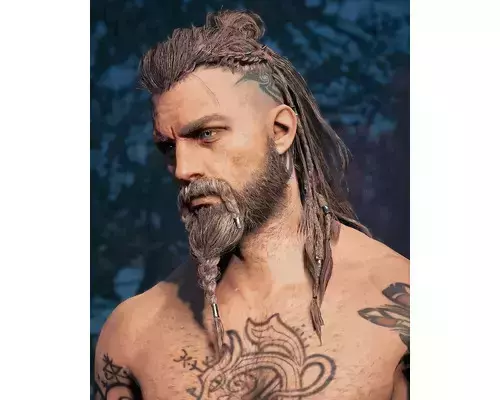 6. Traditional Viking Hairstyle With Beard
If you're looking for a stylish and timeless hairstyle that will make your traditional Viking look even more authentic, then you need to try the Viking updo style. This Viking Hairstyle can be created by tying the upper part of the hair into an updo and tying the rest into a braid, r just simply leaving the rest as it is. Many Viking Hairstyles look great with a beard. To stand out, even more, you can also try braiding your beard into plaits.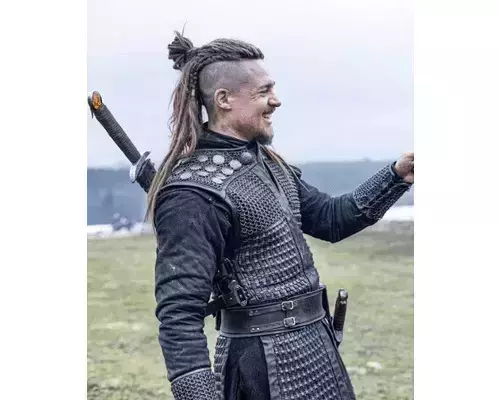 7. Ragnar Lothbrok Viking
If you are a fan of the Viking series, you already know what you want your hair to look like. The famous "Ragnar Lothbrok" Viking Hairstyle for men is everybody's dream Viking Hairstyle. The immense popularity of this series has resulted in a rise in the demand for Viking Hairstyles ever since. Inspired by this series, women are also opting for Viking Hairstyles. Beard or no beard, this hairstyle with braids and a bun looks great on all.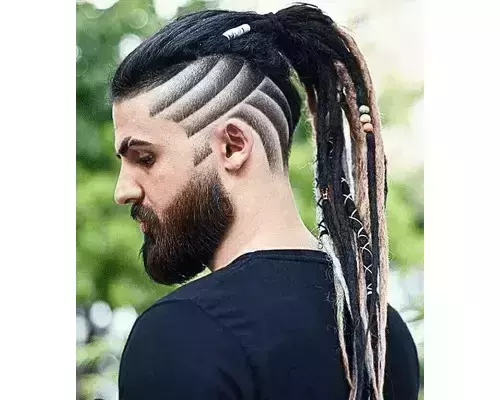 8. Modern Viking Undercut
As we can see, the Viking hairstyle is the new trend, but what else can be done to stand out even more- looking modern and sporting Viking Hairstyles at the same time? You can always go for different undercut designs. Experimenting with different patterns for your undercut can be both- bold and classy. It takes some time however to figure out what kind of design and pattern will suit our face but in the end, it's worth it. Similar to undercuts, crew cut hairstyles have been growing in popularity over the years.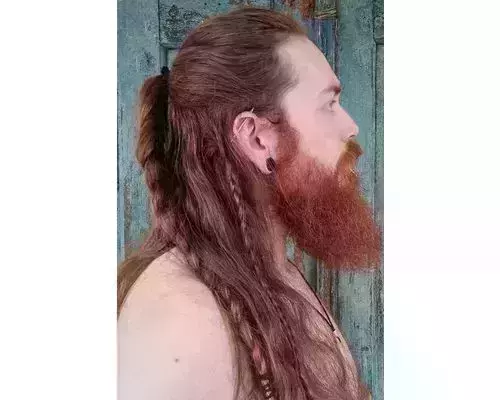 9. The "Viking" Braids
Here we are with another Viking Hairstyle from the "Viking" series. The Vikings in the earlier centuries usually sport hair with beards. If you're a fan of beards, this one is for you. The beard can be kept long enough to tie into a single braid or multiple braids. You can also choose to leave your beard as it is while experimenting with the hair on your head. Tying the head hair into braids or rolling them, both styles look great with beards.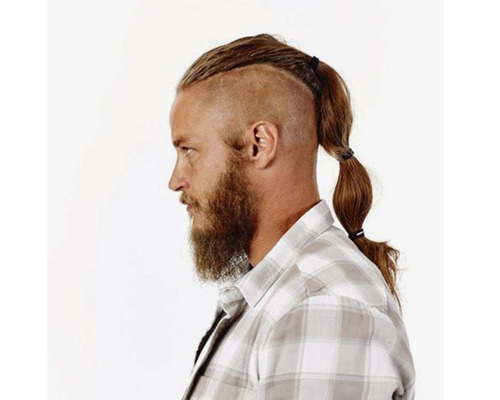 10. Viking Rugged Ponytail
Ponytails are easy and simple to sport for any occasion. To keep the ponytail from getting messed up or just to keep the hairstyle a little extra stylish, you can add extra bands and tie them in small sections. You can even customize the look by choosing different colours, styles, or materials for your bands and ties. Plus, they make it easy to switch up your look every once in a while. Bands can be easily added or removed without having to spend time getting them styled in a professional salon.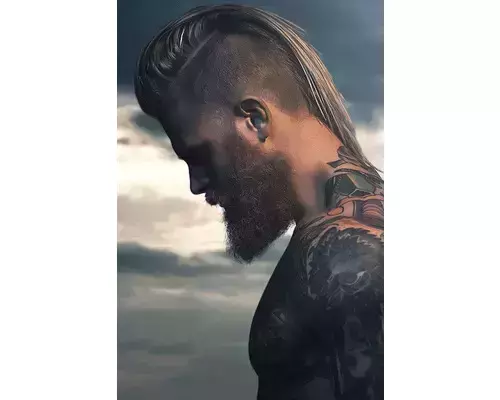 11. Viking Hairstyles For Thin Hair
Slick back hairstyle is perfect for all events be they formal or informal. Another perk of the slick-back Viking Hairstyle for men is that it does not require your hair to be particularly long. Thin hair doesn't have to mean boring haircuts! There are several cool and trendy slick back Vikings for thin hair without having to worry about it falling or looking frizzy.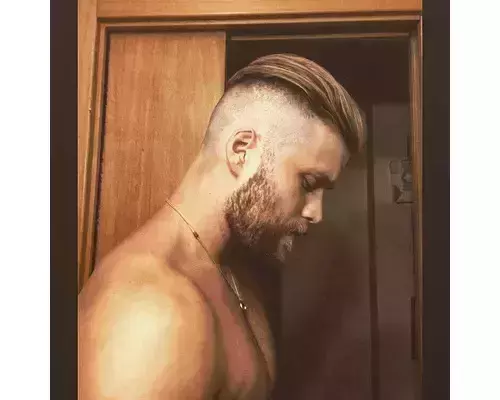 12. Rugged Short Viking Hairstyle
The Viking hairstyle looks great on short hair as well. If you want to keep your shorts but still sport the cool Viking hairstyle, this one is for you. It's perfect if you want to keep your short hair stylish and on-trend, but still love the rugged look of Vikings. The key to pulling off this look successfully is using good styling products and knowing how to make it work with your natural hair texture.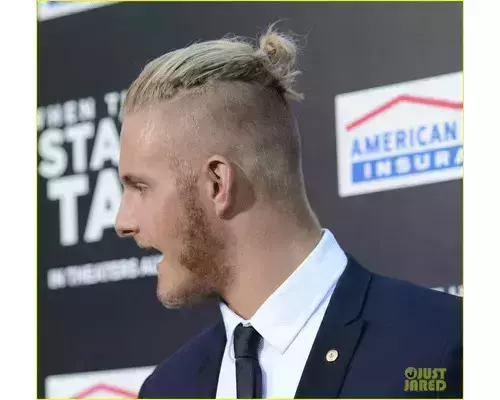 13. Viking Little Bun
Tiny buns are becoming increasingly popular and for good reason. Tiny buns look great and are a great option for medium-length hair. You can as well opt for an undercut and leave the hair on the middle part considerably long. Tying the hair into a rugged little bun is both cool and classy. This Viking Hairstyle for men also looks great when left loose around the sides or pulled back into a ponytail or Bun.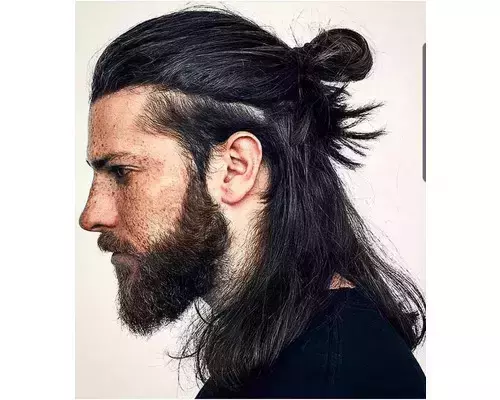 14. Viking Updo Hairstyle
Updo is becoming particularly popular amongst young men as they are simple to style and extremely stylish. If you are concerned about what type of hairstyle will suit you and if you have particularly thin hair, we have you covered. You can easily tie your hair into an updo and get that Viking Hairstyle for thin hair without compromising your hair quality.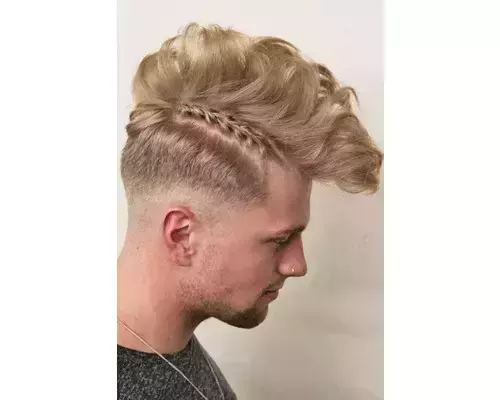 15. Braided Viking Mohawk
There are different ways in which you can style your short hair, but did you ever wonder if you can also style shirt hair into a braided Viking Mohawk? This trendy hairstyle is perfect for those who love the look of punk rock and metal music. It's easy to do and requires very little time. This trendy hairstyle is perfect for those who want to add some personality to their look, and it's sure to turn heads when you walk down the street.
You can also check out our guide on fohawk fade haircuts as we cover 50 stunning haircuts which have been trending this year.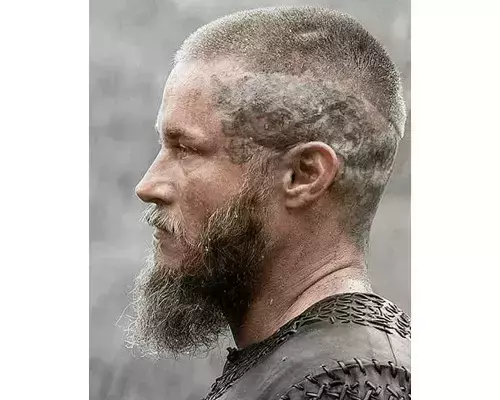 16. Viking Buzz Cut
If you are a fan of buzz cuts or you like to keep your hair extremely short, this short Viking hairstyle is for you. All the effort required to style this Viking Buzz Cut will be that of your hairstylist. It will give your hair a rugged and cool look. After the haircut, very little to no effort will be required for this buzz-cut hairstyle. It will give you the trending Viking hairstyle without asking you to compromise with your preferences.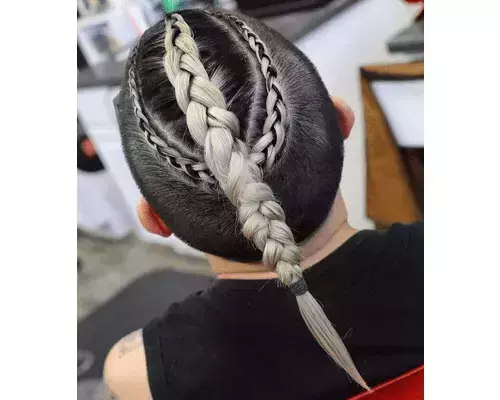 17. Crown Viking Braids
It is always a great idea to add a little style to your braids. Making braids that can mimic natural crowns in a circle or semi-circle might look good on your face. This is accomplished by tying the hair in a semi-circle or circle around your head and pinning them together. You can even add additional braid styles around this main Crown Braid to complete the look.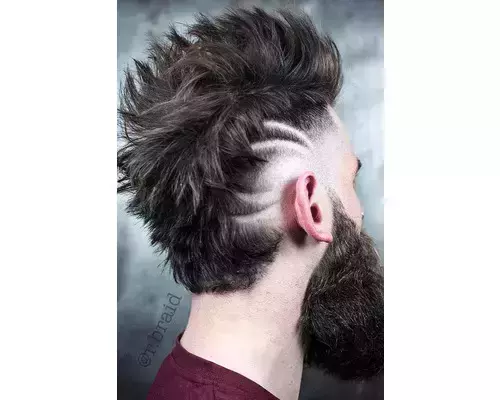 18. Petal Effect Mohawk Viking
This high-intensity look is perfect for men who want to express their personalities creatively. This petal effect Mohawk Viking hairstyle can be achieved in long hair and short hair, however extremely long or short hair might not give the perfect and desired look. This style has a modern look that can be dressed up or down, and it's suitable for any occasion.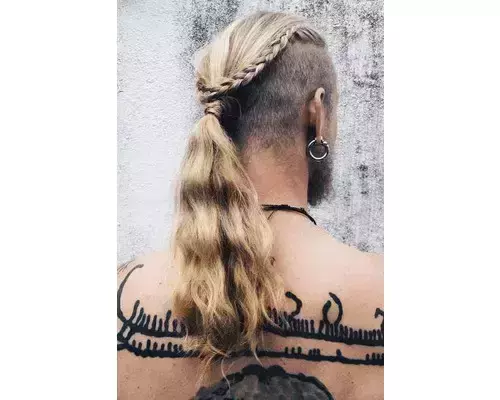 19. Undercut Viking Ponytail
Ponytails, as we have seen earlier, are the easiest and simplest way to tie your hair without disturbing the rest of your look. To add even more to the look, you can always add a Viking braid, which can either fall directly from the temple or can be curved and tied above the ponytail. A Viking Ponytail goes best with an undercut as an undercut gives the hairstyle a rugged yet polished look.
20. Short Viking Mohawk Hairstyle
Short-hair Viking hairstyles are back in style, and there's no better way to show your allegiance to the Vikings than with this all-time classic look. The hair on the temple can be styled into a Mohawk for an extra badass look. This hairstyle is perfect for those who want to create an air of rebellion and intensity. You can also add some colour to your hair and go wild with this iconic Viking hairstyle! Beard or No beard this short Viking Hairstyle will rock with either.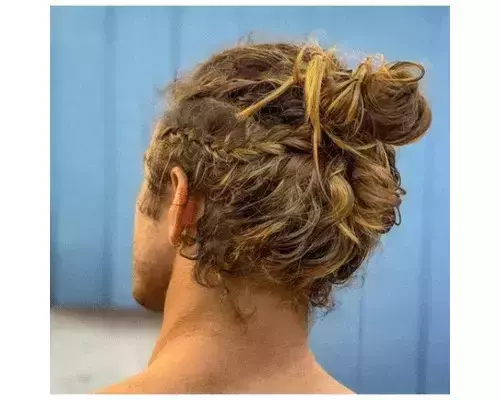 21. Messy Viking Bun
We can see some celebrity every other day sporting that messy hair look. But we never thought messy hair can look so good when sported in the Viking style. If you do not have enough time to put in the effort to get the perfect hairstyle at home, you can go for this Messy Viking bun. All you need to do is just tie your hair in a backward bun. If you want, you can also style your messy hair bun by adding some Viking braids in.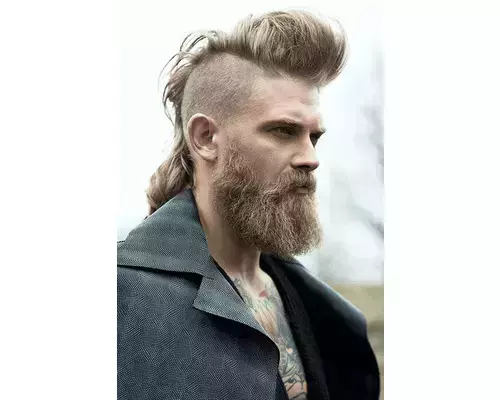 22. Viking Mohawk With Beard
If you're looking for a simple and versatile hairstyle that can look great at any time, try a Mohawk. The Viking style is perfect for those who want to experiment with their hair without feeling restricted or constrained. You can easily create this style by cutting your hair short on the side and then flipping the rest of the hair up in a Mohawk-like shape. To complete the look, add some beard stubble to give your face a rugged appearance.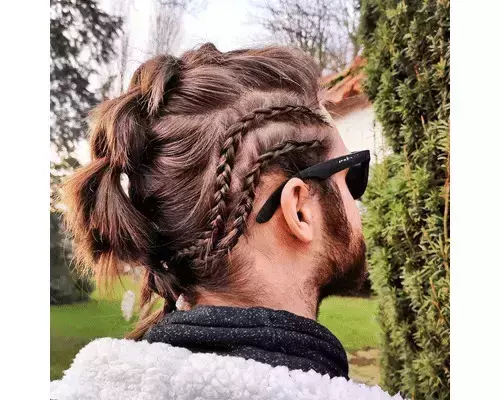 23. Loose Viking Braids
The Viking hairstyle is a great way to add some excitement and character to short to medium hair. It requires you to tie your hair into a tight braid on the side, but leave it loose in the middle. This allows you to rock this style in any direction you want. You can also add some colourful beads and ornaments if desired. You can also experiment with different colours and styles for added dimension and visual interest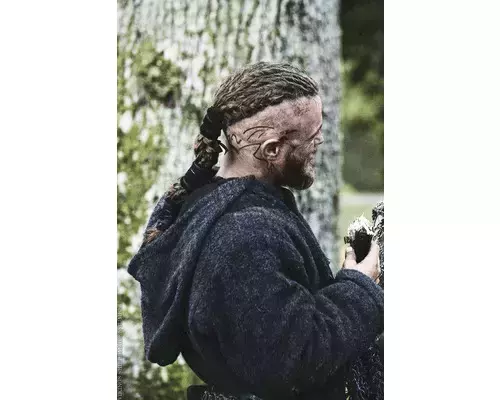 24. Multiple Cornrows Viking Braids
Multiple cornrows Viking Braids can be a beautiful way to add some extra flair to your hairstyle. By wrapping the hair in several rows, you create an intricate look that is both stylish and versatile. These Viking braids are now becoming popular amongst women as well. The process remains the same for both, making multiple braids close to the scalp-rugged and connected and then tying all the braids into a single braid. You may also opt for an undercut or just tie all the hair into multiple braids directly.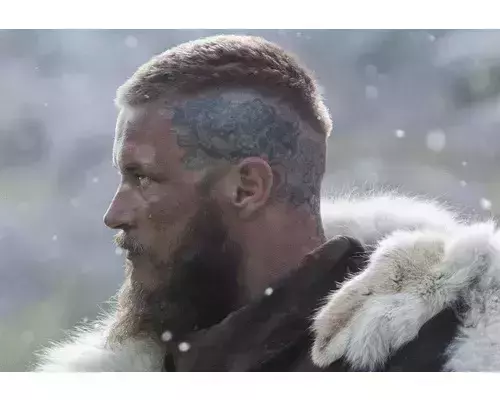 25. Short Viking Hairstyle For Men
Do you want to look like a Viking warrior? If so, there is no need to go too far - a short hairstyle will do the trick! Short Viking hairstyles are perfect for men who want something that is both stylish and functional. They can be worn in any situation - at work, during leisure time, or even when travelling. Hair colours like browns and dark browns work best with most people, but black also looks great on a short Viking hairstyle.