25 Beautiful Angel Tattoo Designs With Meaning - 2023
Olivia
Updated At 05 Nov 23
Angel tattoos are very gorgeous and reveal your angelic side to the world. These tattoos can have different meanings and connotations depending on the wearer. These angel tattoos can be both simple and intricate for some people. Angel tattoos symbolise strength, freedom, prosperity, or devotion. These tattoo designs of angels have multiple facets.

Angel tattoos can be made on any part of the body and look great in both bright colours and black ink and represent strength and beliefs for some people, as well as love and gratitude for others.
25 Best Angel Tattoo Designs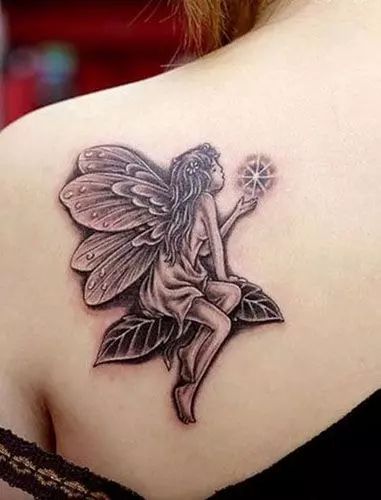 1. Beautiful Angel Tattoo
The process of creating or choosing an exquisite angel tattoo combines art and beauty. Angel tattoos can be selected based solely on their aesthetic value. It is a popular choice for tattoo art because many people find it to be elegant and beautiful. If you are looking for top tattoo ideas for women, then this angel tattoo can be an amazing option.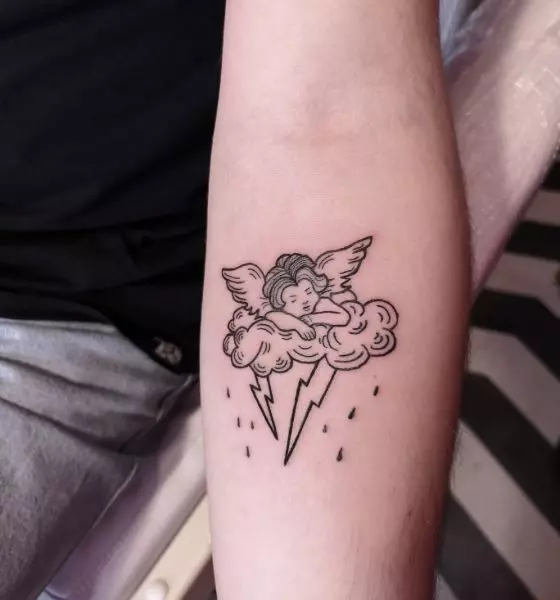 2. Cute Angel Tattoo
Cute Angel tattoos that have a baby structure are thought to be adorable and enhance the design. Power is reflected by the baby angel and the thunderous sparks. One of the best tattoos for women, this cute angel tattoo represents immense strength.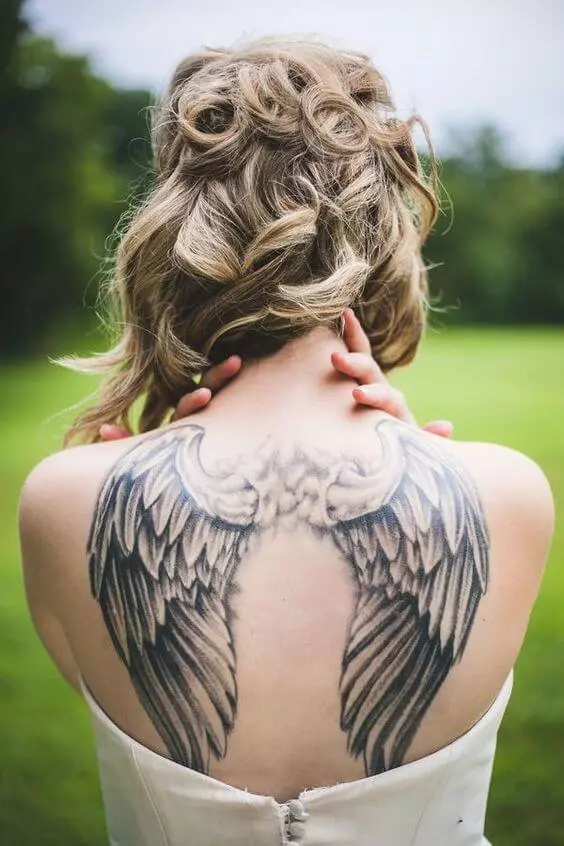 3. Angel Tattoo On Back
This amazing Angel wings back tattoo is really captivating. The enormous angel wings are beautifully inked and cover the entire back. This tattoo of black ink appears striking and lovely. One of the most popular tattoo designs has a profoundly positive meaning.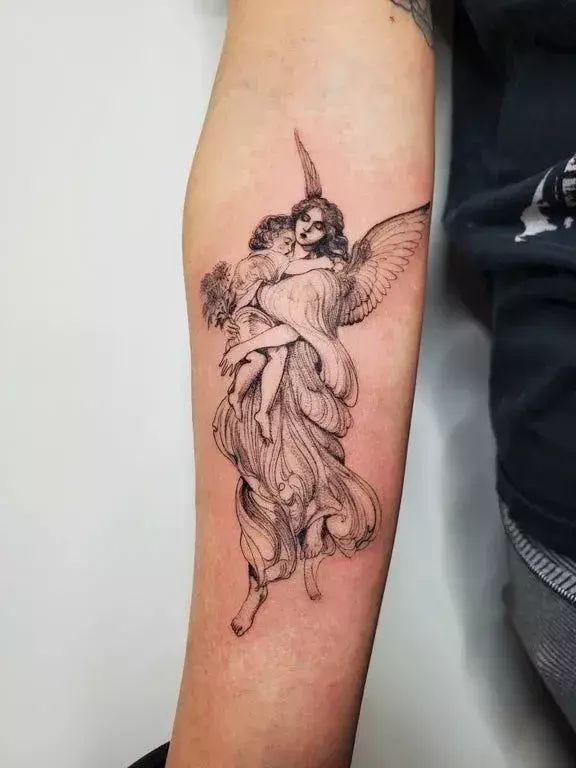 4. Angel Tattoo on Hand
An amazing full-figure angel with a baby is an example of love and affection. This full-size angel tattoo or called an angel guardian tattoo.  A unique choice to go with depicts an angel with outstretched wings, embracing love to a baby and often in a protective or nurturing pose. One can also go for a dove tattoo on hand as it also has a deep meaning and looks stunning.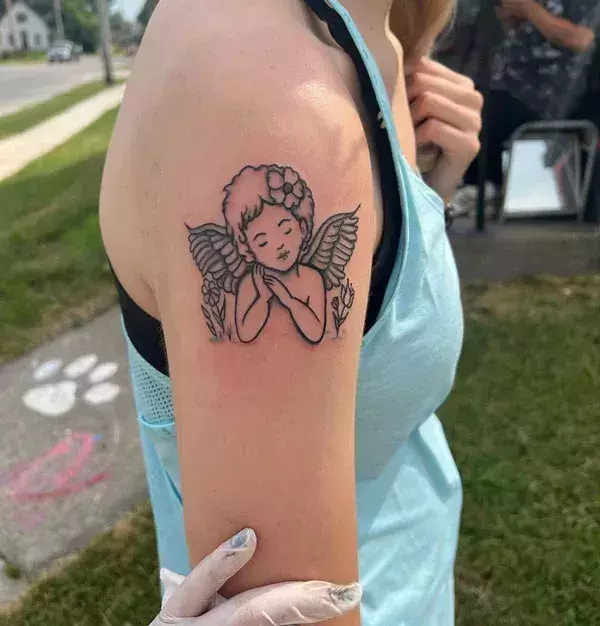 5. Baby Angel Tattoo
Cherubs are a common choice for tattoo design and are the most typical baby angel tattoo. Typically, cherubs are portrayed as adorable, plump, and naive baby angels. These tattoos frequently evoke feelings of innocence, purity, and spirituality.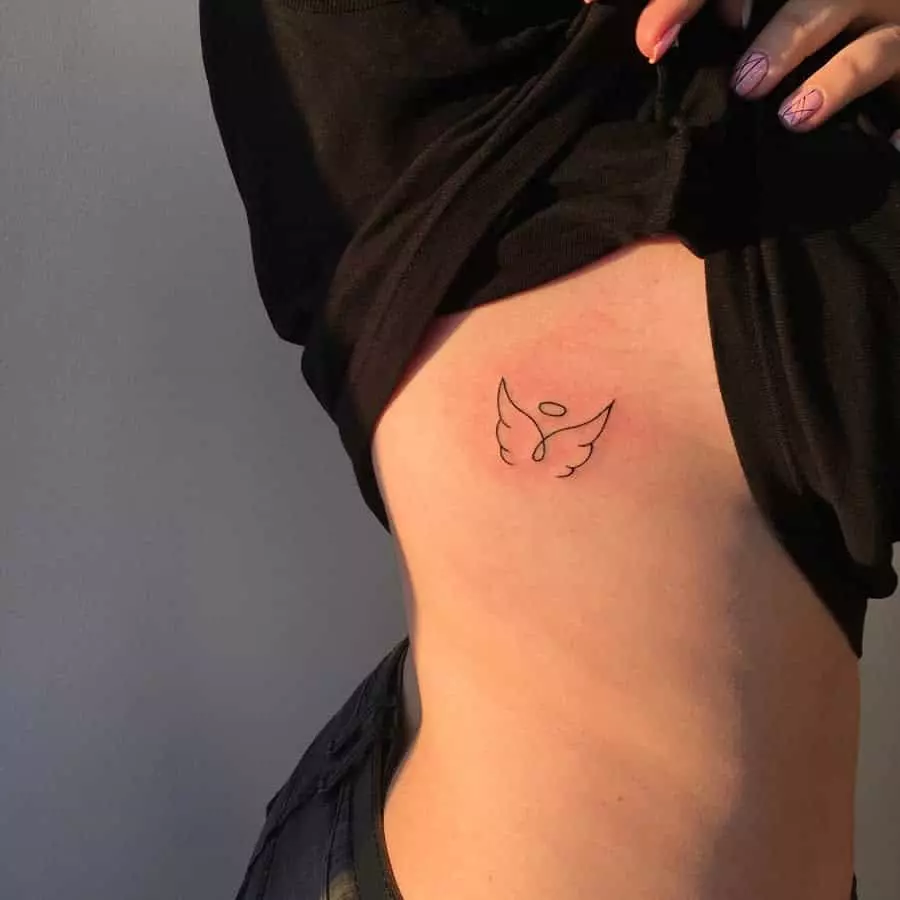 6. Minimalist Angel Tattoo 
This joined wings tattoo with an angelic touch is a sweet little minimalist angel tattoo. This tattoo would look fantastic if it were applied to any part of your body. Angelic wing tattoos symbolise spreading positivity and realising dreams.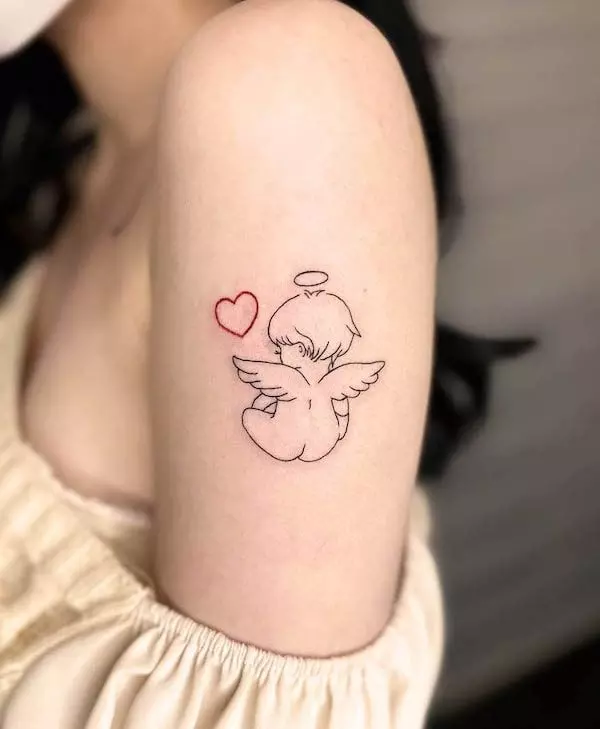 7. Simple Angel Tattoo
How about this cute little baby angel tattoo inked in black and a red heart reflecting love? Baby Angel tattoos can depict a variety of emotions and stances. They could be seen holding flowers, humming tunes, or striking contemplating or playful poses. This tattoo features a carefree infant in a lighthearted state.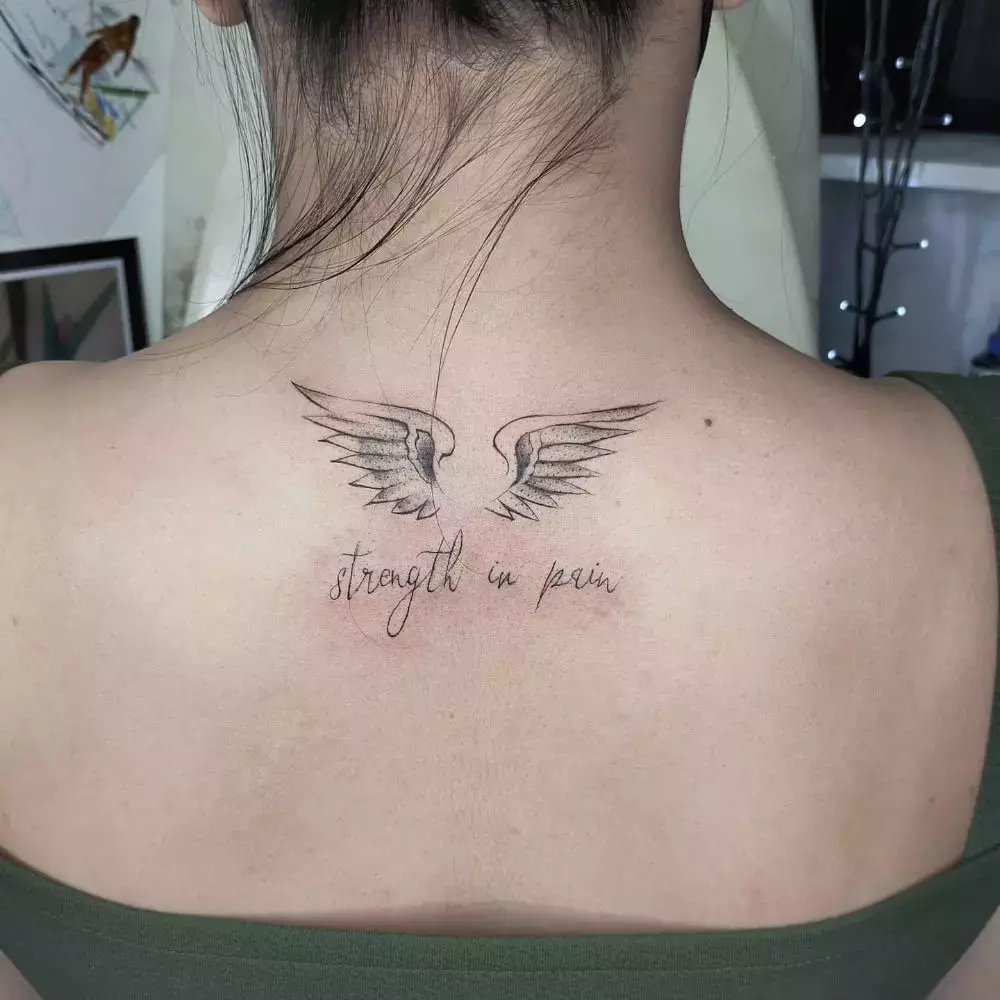 8.  Angel Tattoo With Quote
This Angel Tattoo is made with artistic effects and the tattoo wings are given a unique fancy design. This angel tattoo is personalised with a special quote mentioned on it, which reflects strength and positivity. This can also be used as a underboob tattoo as it looks stunning and fills up the space completely. Angel wings represent faith, protection, and courage.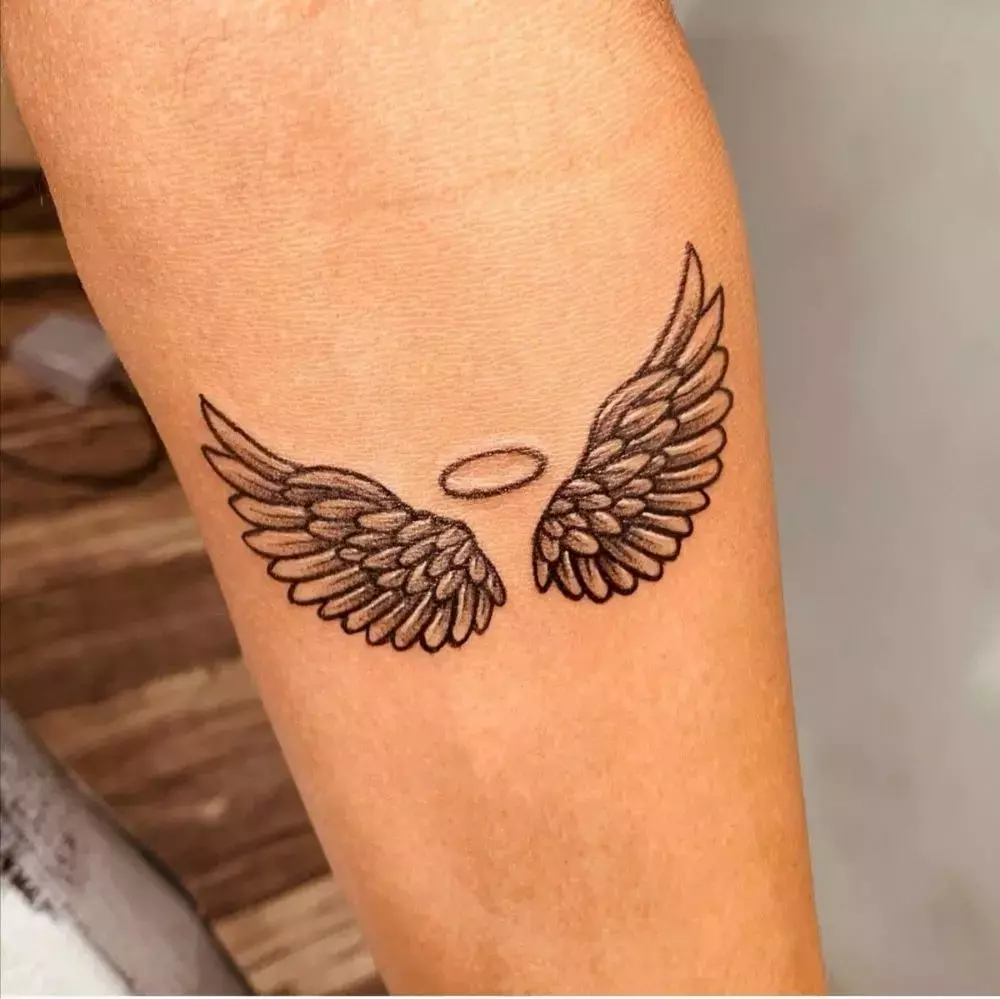 9. Angel Tattoo With Wings
A timeless and fashionable angel tattoo on the hand is enchanting. These wings stand for the angel's presence and defence. The wings can have a realistic, more abstract, or stylized appearance. This gorgeous angel tattoo with wings is enhanced by the shading of the wings.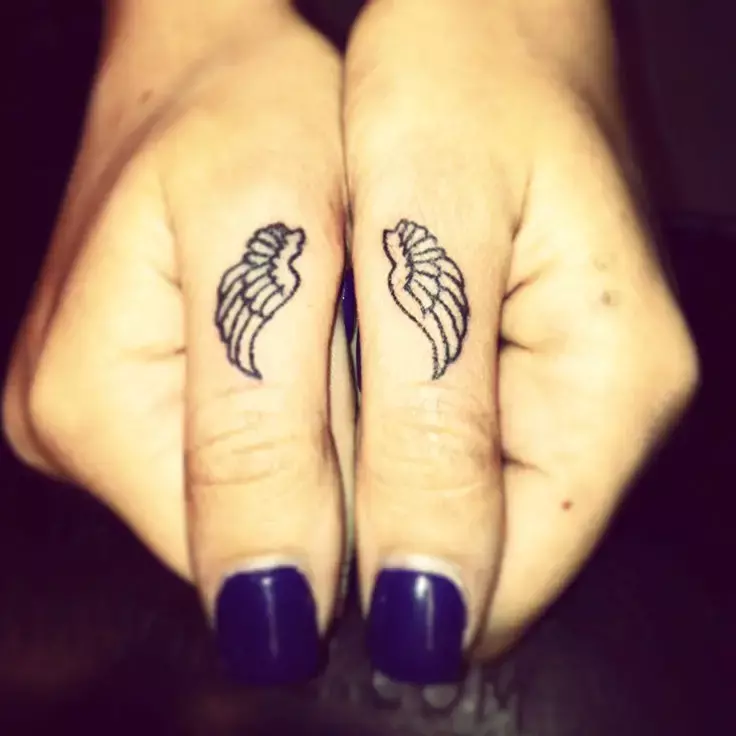 10. Dual Angel Tattoo
Angel wings don't have to be made in one spot. The fashionable technique of using the thumb fingers to form two separate wings is elegant. An angel tattoo with wings is created when both fingers are joined. It's a great idea to get this little angelic tattoo on your fingers.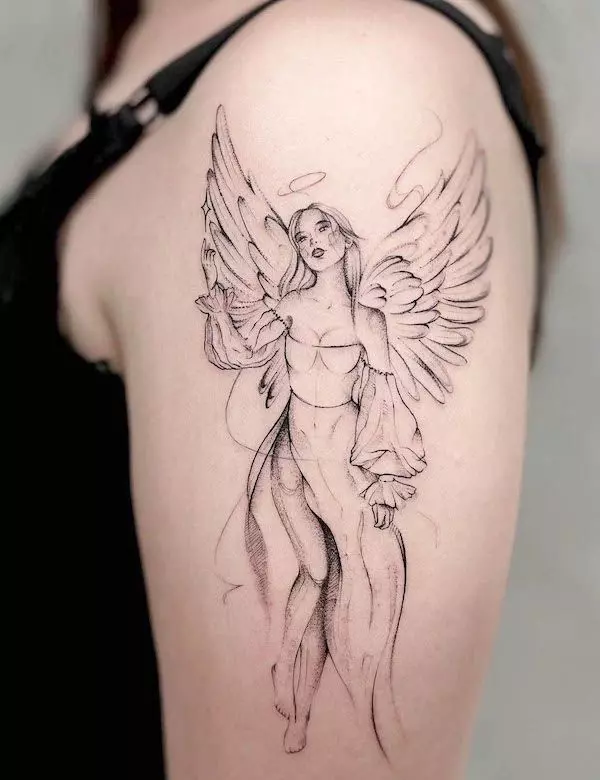 11. Angel Sketch Tattoo
An excellent instance of a fine tattoo that resembles a sketch is a feminine angel sleeve tattoo. The tattoo of an angel on the sleeves depicts the angel embracing you with its wings outstretched, beaming with love and affection. This tattoo symbolises a union of tenderness and affection. If you are looking for thigh tattoos for women, then this design can be an amazing option.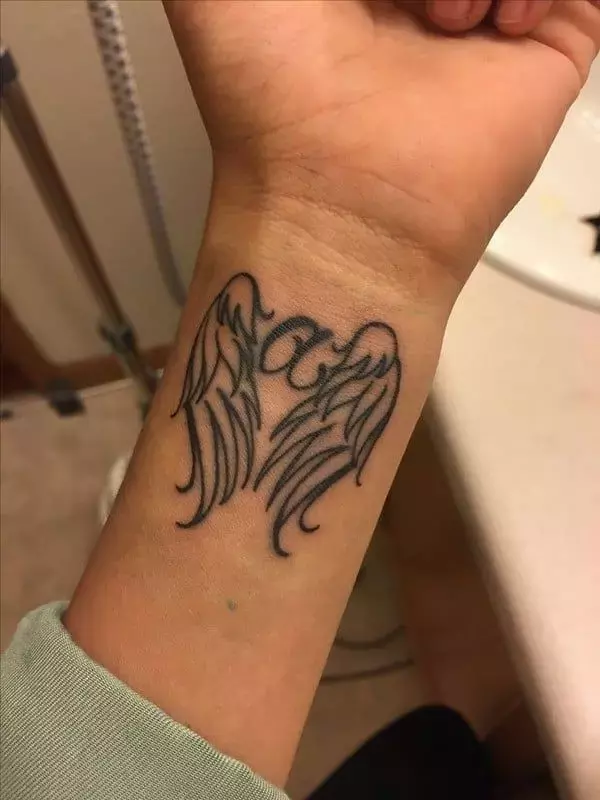 12. Name Angel Tattoo
To make the angel tattoo distinctive, it's a good idea to include a name or corporate initial. You can inscribe your name, initials, or the name of a loved one in the centre of the angel wings on your wrist, symbolising constant protection, love and attention.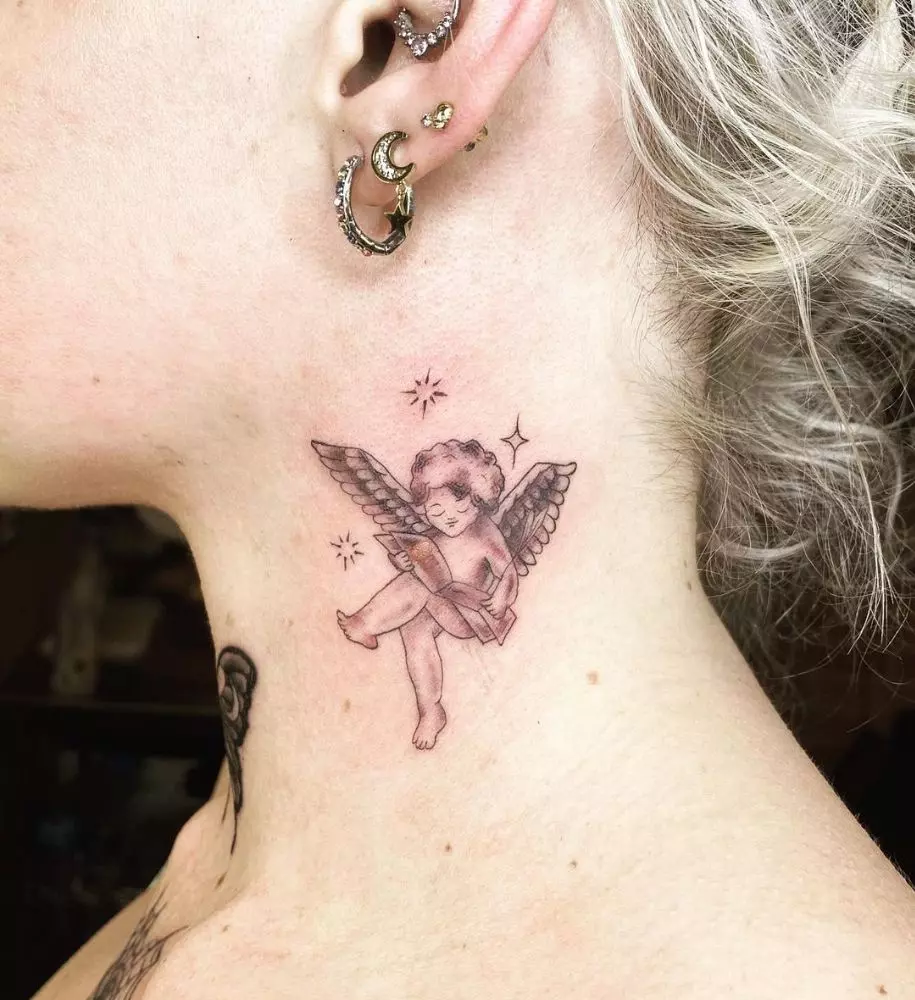 13. Angel Neck Tattoo
On the neck, a little tattoo of an angel could be designed. This adorable and enchanting baby angel tattoo is a great option if you're searching for an angel neck tattoo. The infant angel can be seen spreading love while reading a book.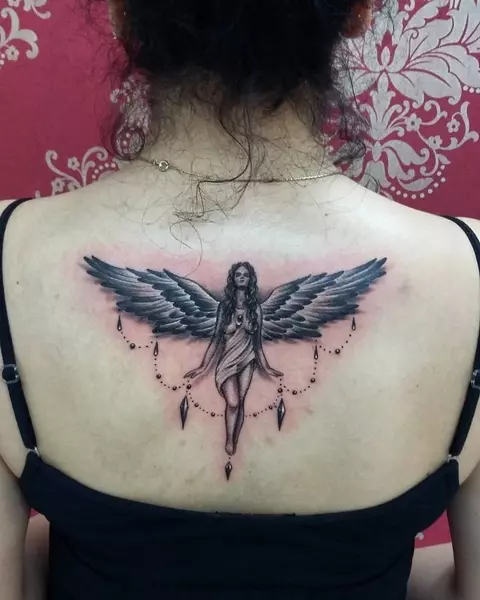 14. Guardian Angel Tattoo On Back
In terms of design and size, the placement of the Guardian Angel tattoo on the back is ideal. Angel wings or an angelic figure in a guarded or vigilant pose are the most common features of these tattoos. This guardian angel's broad, shaded wings convey strength and compassion.
Looking for more inspiration? Check out hawaiian tattoos for females as we list 51 stunning designs which have been trending this year.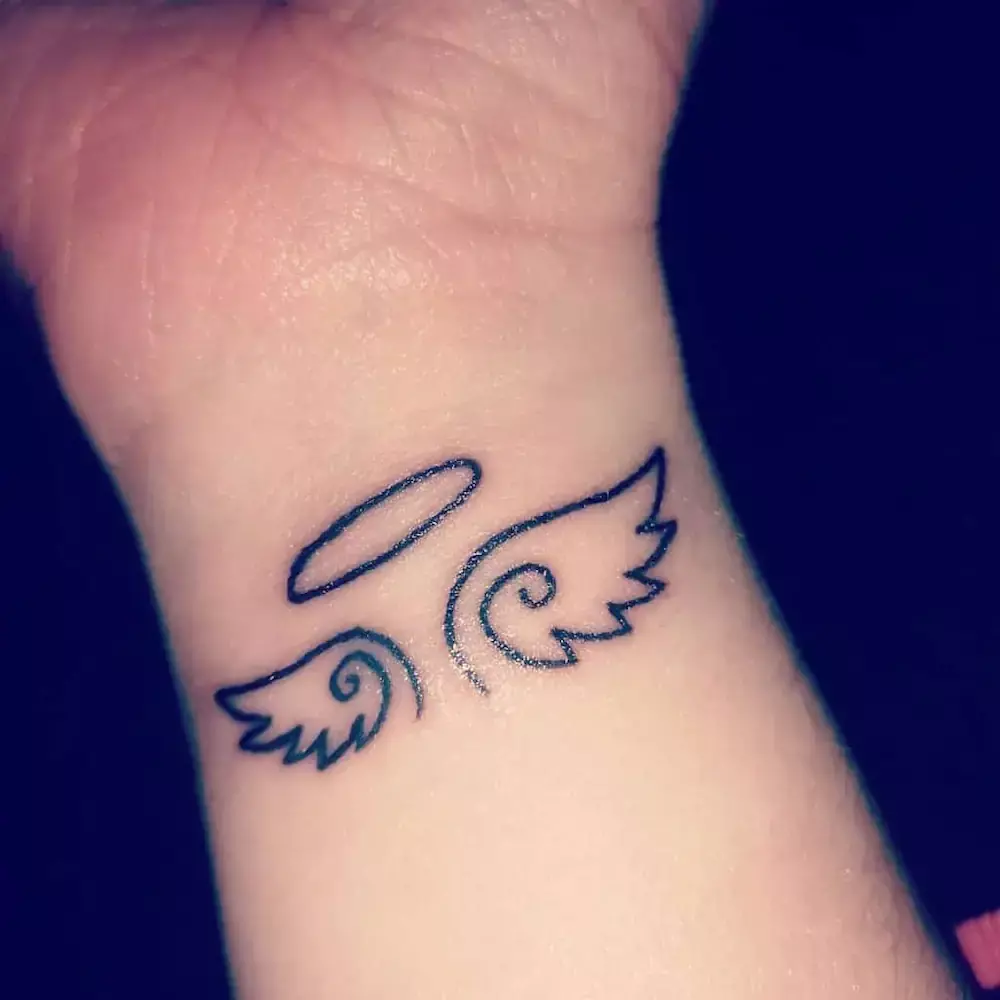 15. Wrist Angel Tattoo
A popular option for those seeking a smaller, more understated tattoo design is a wrist angel tattoo. Angel tattoos on the wrist can be very eye-catching and represent a variety of concepts, including spirituality, protection, and guidance.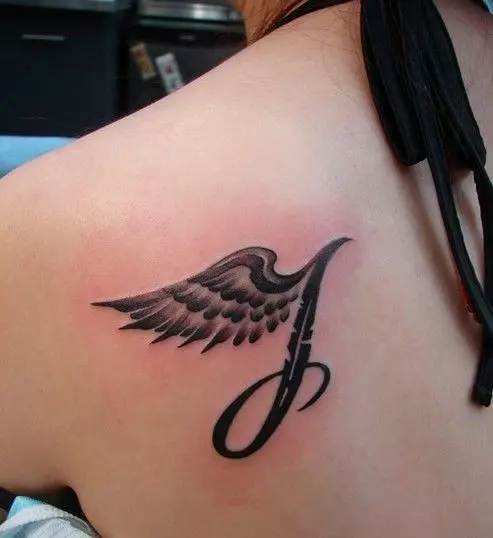 16. Fancy Angel Tattoo
Usually, the intricate and detailed design of this fancy angel tattoo surpasses that of the basic and conventional angel tattoos. This tattoo features an elaborate design of angel wings that are boldly shaded and incorporated with the stylish letter Y.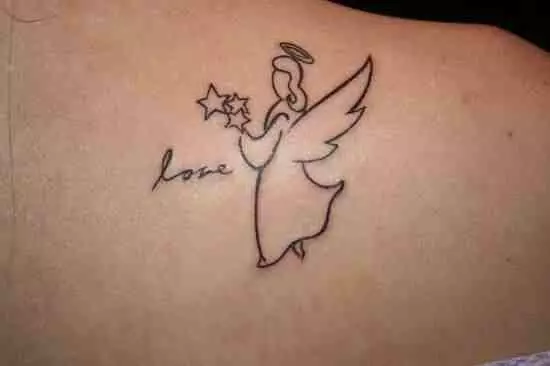 17.  Angel Love 
Typically, an "Angel Love" tattoo combines love symbolism and angelic elements to express devotion, affection, or a strong emotional bond. The angel tattoo with wings and stars in hand is magnificent. The tattoo is combined with a small personalised word  "love" which makes this tattoo more special.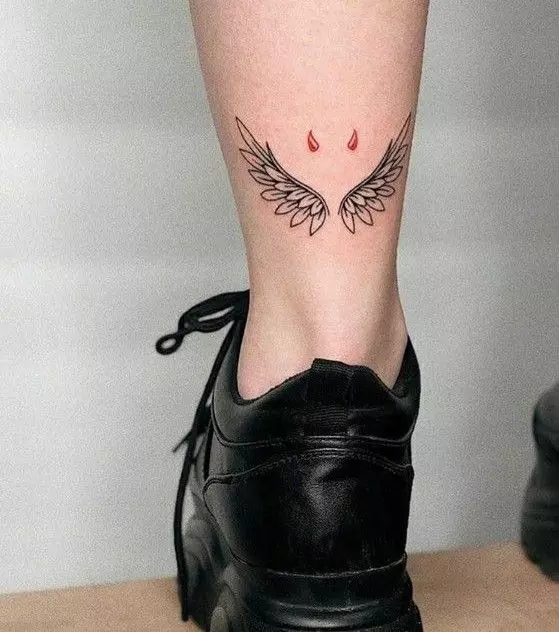 18. Angel Tattoo On Legs
This powerful angel tattoo is placed on the legs. When one looks at this tattoo, strength and power are immediately apparent. The red wings, which are combined with the exquisitely detailed wings, merely represent superpowers.
Looking for more inspiration? Do check out Scarlett Johansson tattoos as she has multiple tattoos on her legs and body. Additionally, every tattoo has a deep meaning as well.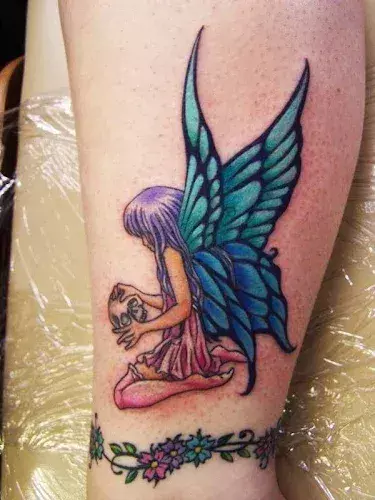 19. Pretty Colored Angel Tattoo
This pretty angel tattoo is colourful and lovely. In order to create this striking and eye-catching tattoo, the artist used vivid colours like blue, purple, or iridescent shades to accentuate the angel's wings. A gorgeous multicoloured flower bracelet tattoo complements the tattoo.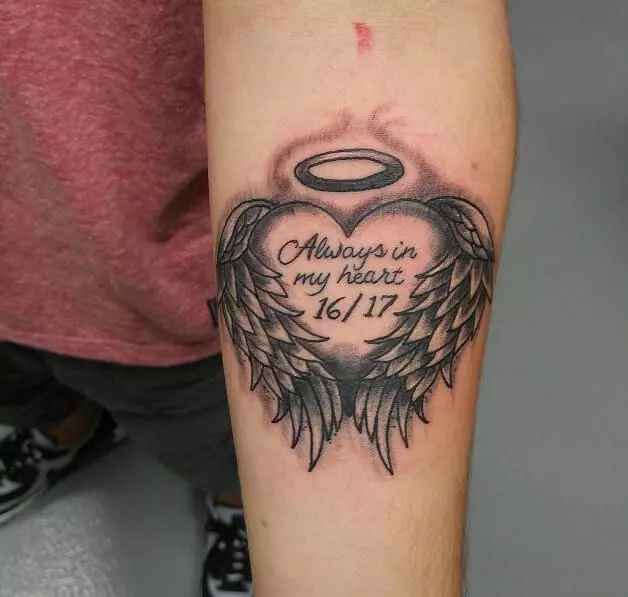 20. Angel With Heart 
"Always in my heart" - This angel tattoo with a personalised quote is incredibly adorable and unique. The tattoo of angel wings is connected to form a heart. This tattoo is personalised with love and has a magical appearance. The tattoo appears to be a loving, angelic tattoo when viewed in that light.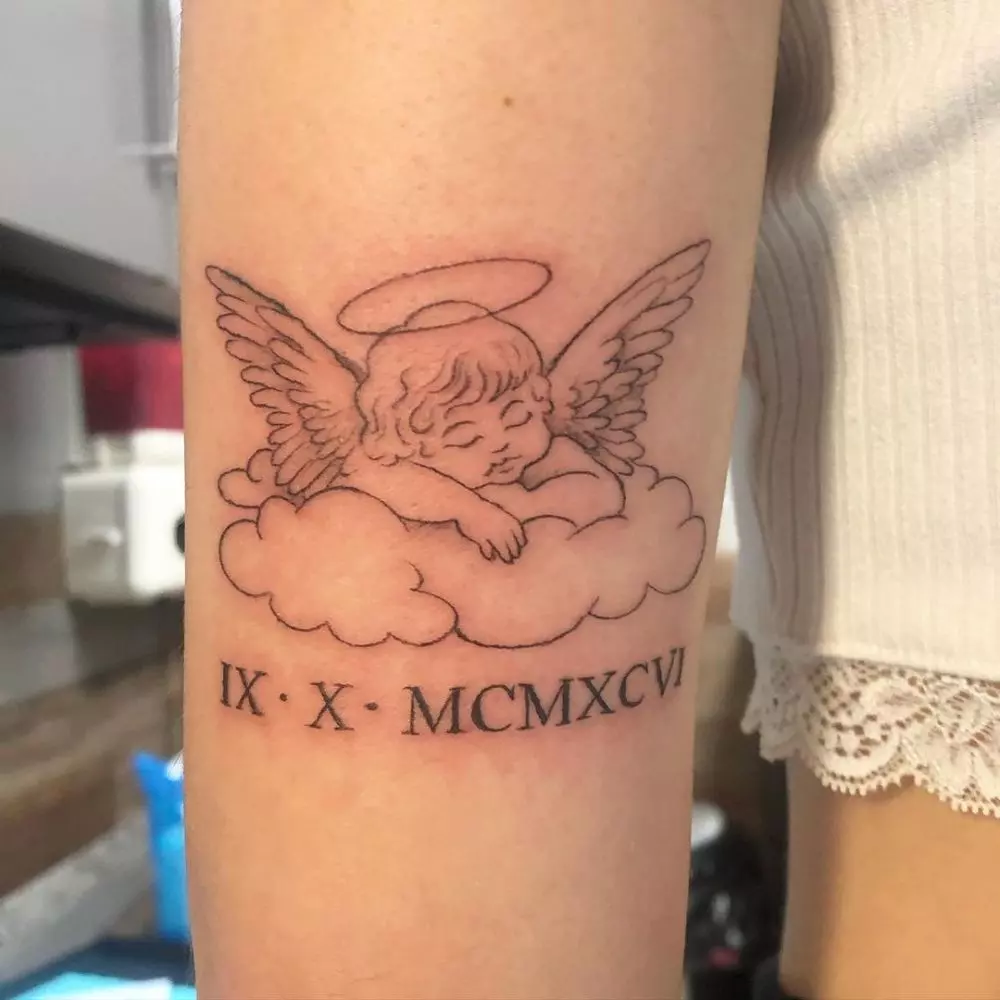 21. Roman Numeric Angel Tattoo
An original and innovative way to add significant dates, numbers, or other symbolic elements to an angelic design is with a Roman numeral angel tattoo. Roman numerals are frequently used to symbolise important dates, like anniversaries, birthdays, and other noteworthy occasions.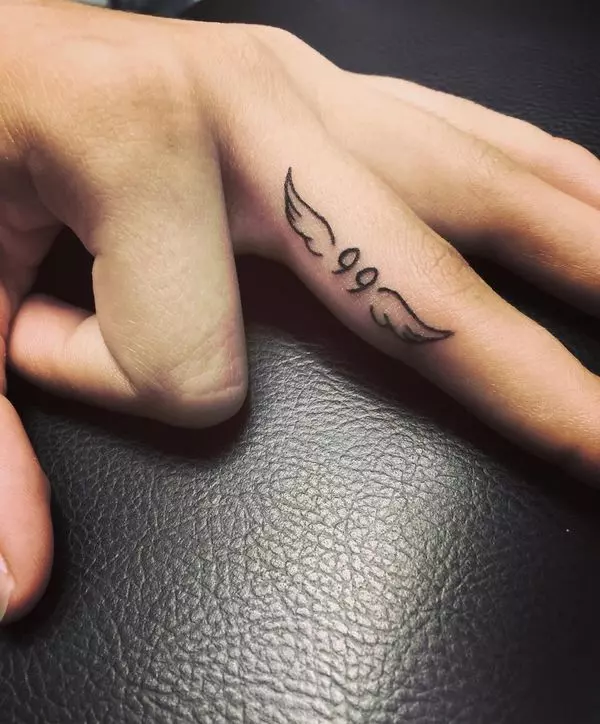 22. Angel Tattoo On Fingers
A sweet little angel wings tattoo on the side of the middle finger is trending. The idea of open wings and being fearless is the main symbolisation of this angel tattoo on the finger. Youngsters love to create this fascinating tattoo which is minimalistic.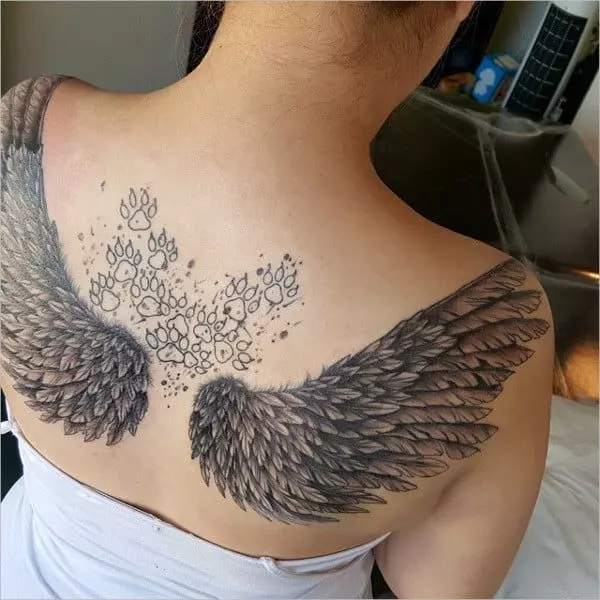 23. Stunning Angel Tattoo
An incredible tattoo idea for creativity is angel wings with a 3D effect. One way to personalise the tattoo is to get bold, fearless wings on the back and animal paws in the middle. This tattoo symbolises strength, power, and freedom.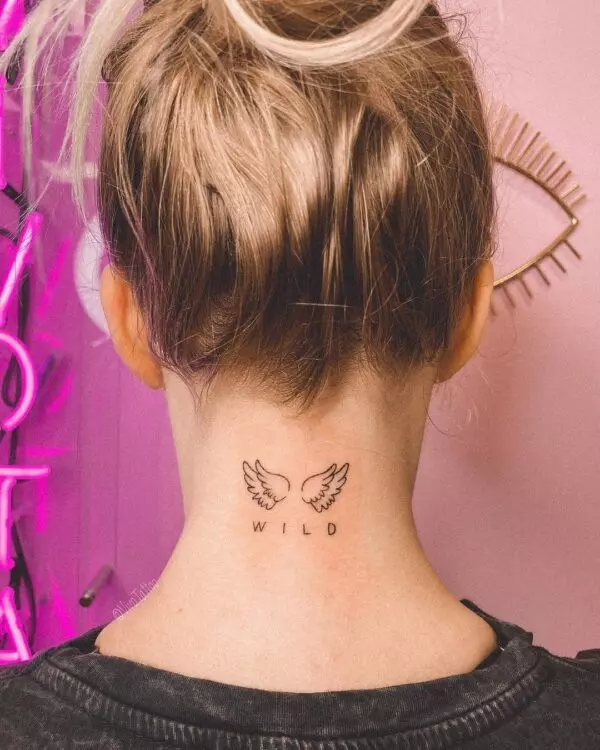 24. Neck Tattoo
The elegant tattoo on the back of the neck features an angel with double wings and a well-separated letter that spells the word WILD. The angel tattoo is subtle, yet effective. The placement of the angel tattoo fits the design exactly.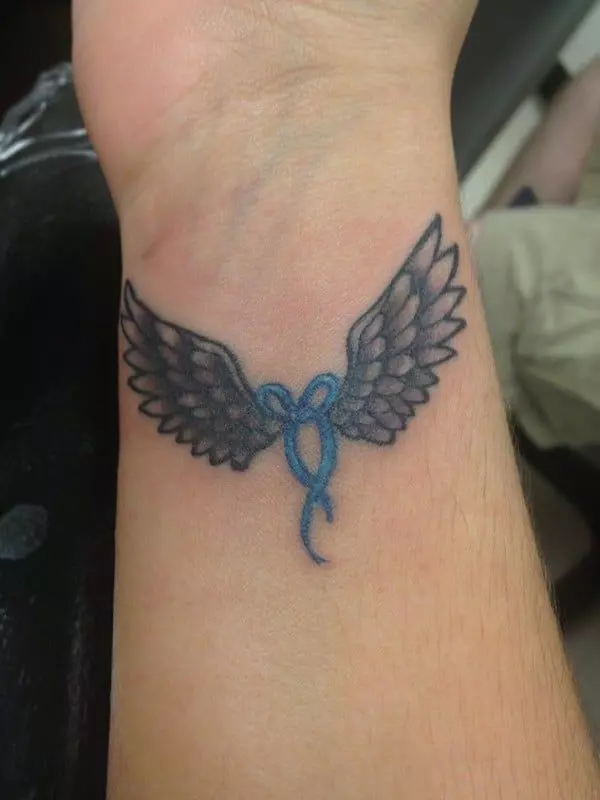 25. Ribbon And Angel Tattoo
An angel and ribbon tattoo is a design that blends ribbon with angelic meaning. This kind of tattoo can symbolise many things, including support, remembrance, or spreading awareness of a specific cause.