All 8 Tattoos Of Scarlett Johansson's With Meanings
Ankita Ghoshal
Updated At 25 Aug 23
Who does not love Scarlett Johansson? Be it her incredible acting skills, immaculate choice of movies, or her overall stellar appearance- we are swooned by the powerhouse of brilliance that this actress is. She is among the highest-paid actresses of the world and rightfully so. She is also famous for her intriguing tattoos that we get glimpses of at several occasions. Let's look at all the Scarlett Johansson tattoos and find out the meaning behind each of them:
8 Scarlett Johansson Tattoo's With Their Meaning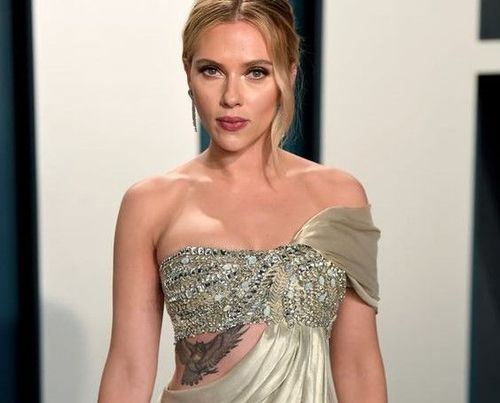 1. The Tattoo Of A Flying Owl
It turns out that Johansson has not one, not two but three tattoos on her rib cage. She has a flying owl tattooed on her ribcage which is regarded as a symbol of knowledge, transition, and wisdom. One thing which we can all agree to is that all of Scarlett Johansson's tattoos look stunning and hold deep meanings respectively.
Read More: Selena Gomez Tattoos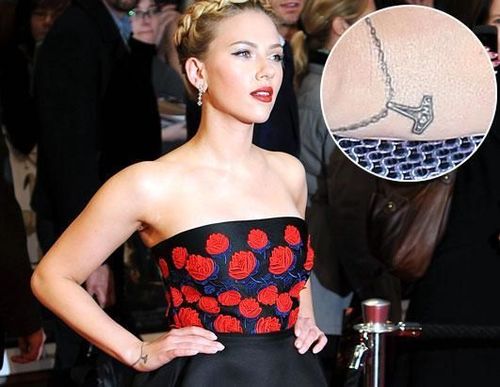 2. The Tattoo of the Hammer
Among all the Scarlett Johansson's tattoos, the one on her wrist is among the prettiest. The tattoo is on her right hand and is a pendant of the Thor Hammer with "I ❤ NY" inscribed on it. It was in 2002 that Scarlett Johansson Avengers tattoo came to public's attention for the first time and at the premiere event of The Avengers.
Read More: Ariana Grande Tattoos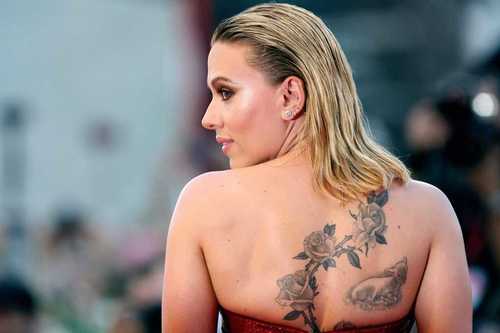 3. Scarlett johansson back tattoo - The One With A Lamb & A Huge Floral Design
If you look at Scarlett Johansson's tattoos images, you will be mesmerized by the massive tattoo that she has on her back. Scarlett johansson back tattoo is a combination of a beautiful floral print design and has a sitting lamb which is inked between the blades of her shoulders. Her upper back is almost entirely covered with this huge tattoo and it definitely adds a lot of elegance to the collection of Scarlett Johansson's tattoos.
Read More: Demi Lovato Tattoos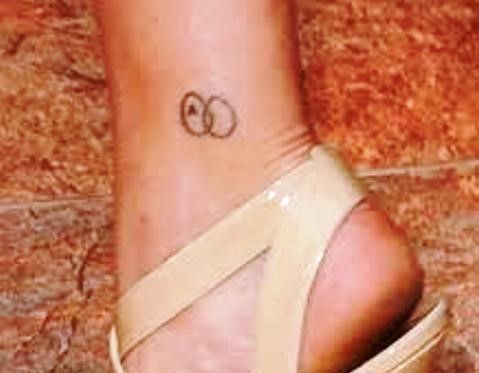 4. The Tattoo of Two Interlocked Circle with the Alphabet A
One of the most talked about Scarlett Johansson's tattoos is the one on her ankle with two circles interlocking each other with the alphabet A inside one of the circles. While the interlocking pattern resembles the infinity sign, the alphabet A continues to remain a mystery. The superstar is yet to reveal who or what does that stand for. This cute small tattoo looks stunning and gorgeous on Scarlett Johansson.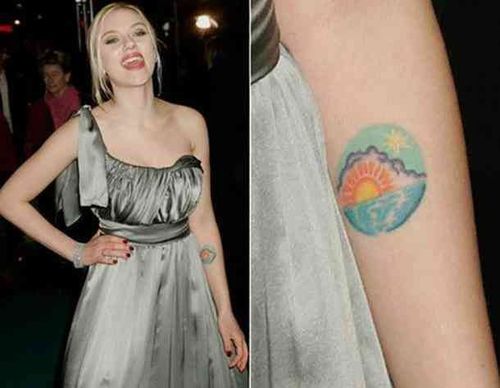 5. The Tattoo of a Sunrise
We have all seen Scarlett Johansson arm tattoo which looks pretty calming and colourful. It is a tattoo of a sunrise made in colours and is on the inside of Johansson's left forearm. She says that the tattoo makes her really happy as not a lot of people know that sunrises are a symbol of faith, novelty, as well as optimism.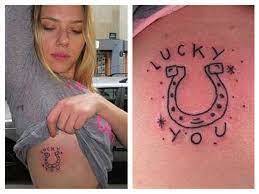 6. The LUCKY YOU with a Horseshoe Tattoo
Did you know about Scarlett Johansson ribs tattoo? Well, the actress has the tattoo of an inverted horseshoe along with the words 'LUCKY YOU' inscribed on her right rib cage. A lot of people believe the tattoo to bring in good fortune as well as success in all the aspects of life. It was Fuzi Uvtpk, a French graffiti artist and tattooist, who inked the tattoo on the body of Johansson.
Read More: Kylie Jenner Tattoos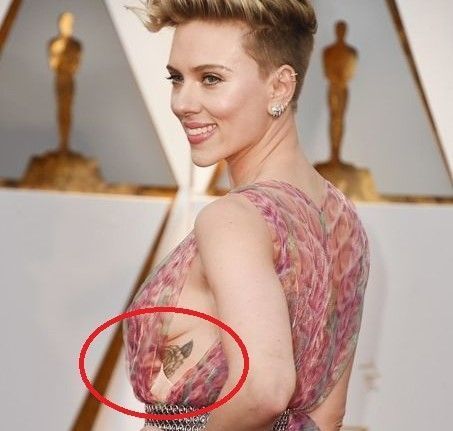 7. The Tattoo of a Rose
Apart from the horseshoe tattoos, there is another gorgeous Scarlett Johansson rib tattoo which looks very dainty and nice. It is a rose-like pattern that the actress got inked over her left rib cage. Even though she is yet to revel the entire tattoo to the world, it appears to be a rose that as leaves all around it. It is quite known that a tattoo of a rose symbolizes love, passion, emotions, as well as feelings. It is also believed to denote a mature love and protection from any envious lovers as well.
Read More: Wedding Ring Tattoos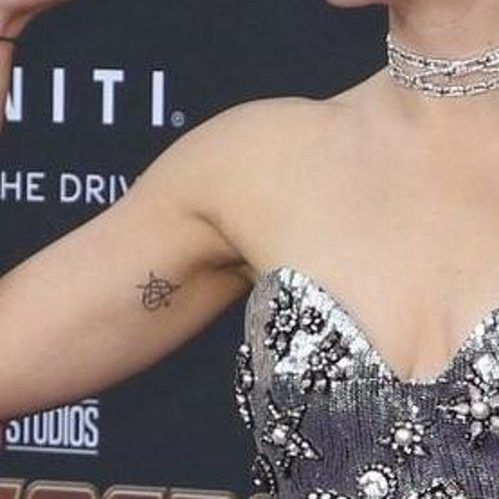 8. The Tattoo of the Avengers Logo
Interestingly, You will be surprised to know that every member of the Avengers movie has the same tattoo on their bodies. They all have a matching tattoo of the Avengers logo. In one of his interviews, Robert Downey Jr. said that out of the six original Avengers, five of them got matching tattoos. Mark Ruffalo was the one to opt out and Josh Lord, the tattoo artist proceeded with inking the rest of the five. It was actually Johansson's idea as she got it done with Evans in New York and this is where they discovered Josh Lord who got them inked.
Then, Josh came to Los Angeles to ink similar tattoos on Downey Jr., Hemsworth, as well as Renner. Downey Jr. also mentioned that Hemsworth was actually bullied by the team into getting it. So, he eventually got it done. Scarlett Johansson Avengers tattoo is actually two in number and Johansson aced the role of the 'Black Widow' in the movie.
Scarlett Johansson's tattoos are as innovative and beautiful as the actress herself. Be it the flying owl or the dainty rose, the Avengers logo or the Thor hammer, every tattoo holds a special meaning and is dear to her. While she does not reveal the hidden symbols and meanings behind some of them, others like the Avengers ones and the horseshoe are pretty easy to decipher.
Read More: Hawaiian Tattoo Designs For Females
FAQs On Scarlett Johansson's Tattoos
Q- Does Scarlett Johansson has tattoos on her back?
Scarlett Johansson has a very big tattoo on her back. It is a lamb sitting near huge flowers. The big floral design with the lamb looks very nice.
Q- Does Scarlett Johansson have Avengers tattoo?
Yes, Scarlett Johansson has two Avengers tattoos. One is on her right wrist which is the hammer of Thor on a pendant and it reads "I ❤ NY. The other one is of the logo of The Avengers which she and all other members of the movie got inked on their bodies.
Q- What is Scarlett Johansson's wrist tattoo?
Scarlett Johansson has the tattoo of a pendant on her wrist. It shows the hammer of Thor with the inscription "I ❤ NY" on it.
Q- How many tattoos does Scarlett Johansson have?
Scarlett Johansson has eight tattoos on her body and each has a different and unique meaning to it.
Q- Does Scarlett Johansson have an arm tattoo?
Yes, Scarlett Johansson has a tattoo on her arm which is the tattoo of a sunrise in colours. It represents optimism, novelty, and faith.
Q- Where does Scarlett Johansson have her Avengers tattoo?
Scarleet Johansson got the logo of Avengers tattooed on her upper inner arm.
Q- Does Scarlett Johansson have a lucky you tattoo?
Yes, Scarlett Johansson has a "lucky you" tattoo along with a horseshoe which is supposed to bring in good luck and success.
Related Articles