21 Ariana Grande Iconic Looks Of All Time
Sahiba Tandon
Updated At 10 Nov 23
Ariana Grande dress style has always been a trending fashion statement whenever the popstar has been. From hoodies and booties to dresses and gowns, Ariana Grande iconic looks are beautiful, vibrant, and eye-catching.
21 Best Ariana Grande Iconic Looks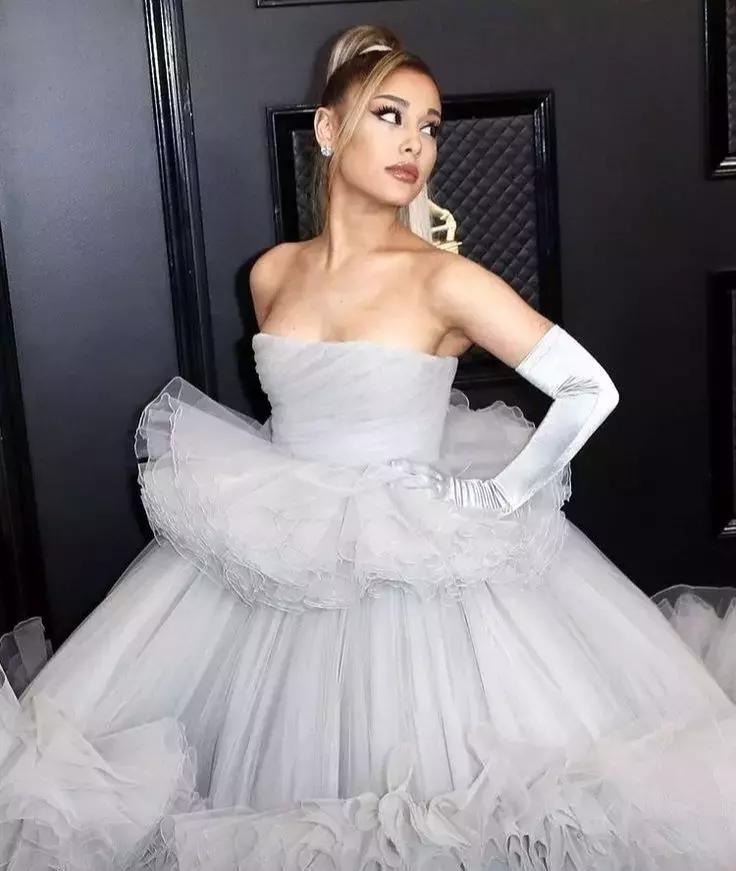 1. Ariana Grande Grammy Awards Outfit
This grey gown was an instant hit and came to the top of Ariana Grande iconic looks immediately, as paparazzi and fans just couldn't stop staring at the beautiful fairy tale gown paired up with shiny silver gloves and Ari's iconic ponytail with blonde highlights. Made by Giambattista Valli, this look is for everyone who wants to feel like a princess! If you check Ariana no makeup looks, her natural beauty is pretty evident.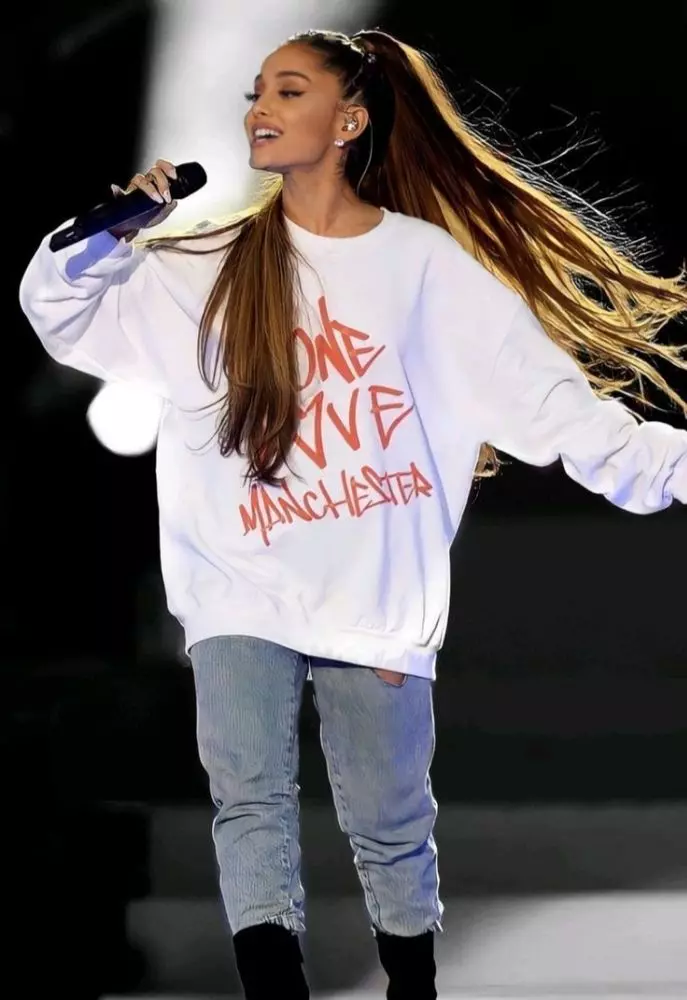 2. Ariana Grande One Love Manchester Concert Outfit
Going with the forever pairing of big ponytail oversized sweatshirts and long black boots, this Ariana Grande dress style saw an addition of ripped denim jeans. This was truly a special memory for Ari, as she was performing to raise funds for Manchester, and she went for comfort rather than glamour.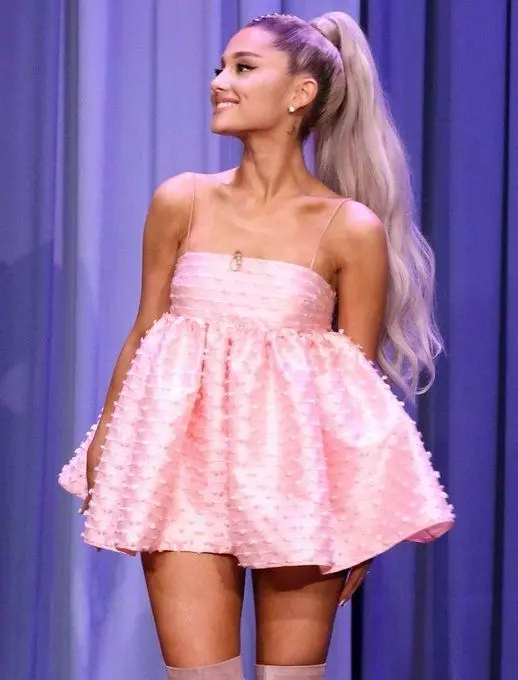 3. Ariana Grande's Tonight Show Outfit
This became a popular look when girls who liked a certain aesthetic started to copy it! The short pink dress with the knee-length ash-colored boots makes this one of Ariana Grande iconic looks. This Tonight Show starring Jimmy Kimmel dress was even worn by Kourtney Kardashian for one of her Halloween parties! It is also rumored that Ariana's plastic surgery has been one of the main reasons for her beauty and changing appearances but the singer has vehemently denied the same.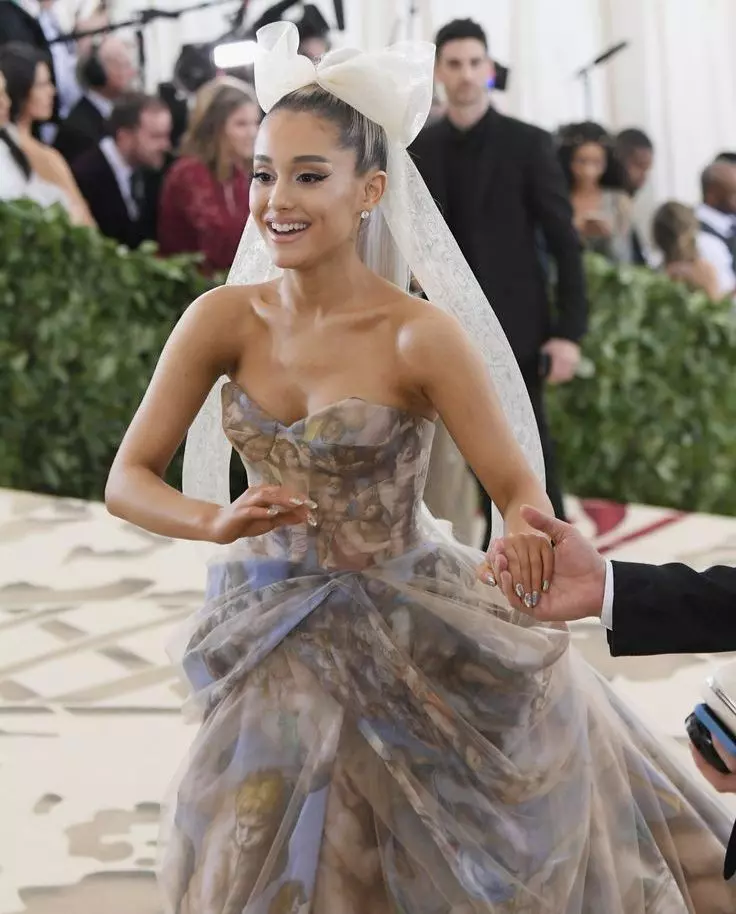 4. Ariana Grande's 2020 Met Gala Outfit
Ariana Grande's first Met Gala was in 2020 when she wrote this Vera Wang tulle gown for the theme "Heavenly Bodies". If you look closely, you will find a scene from "Sistine Chapel" going on in the gown. The big white bow on the top of the head adds to the beautiful effect of the outfit. Without any neck or hand jewelry, the singer only went with simple diamond studs.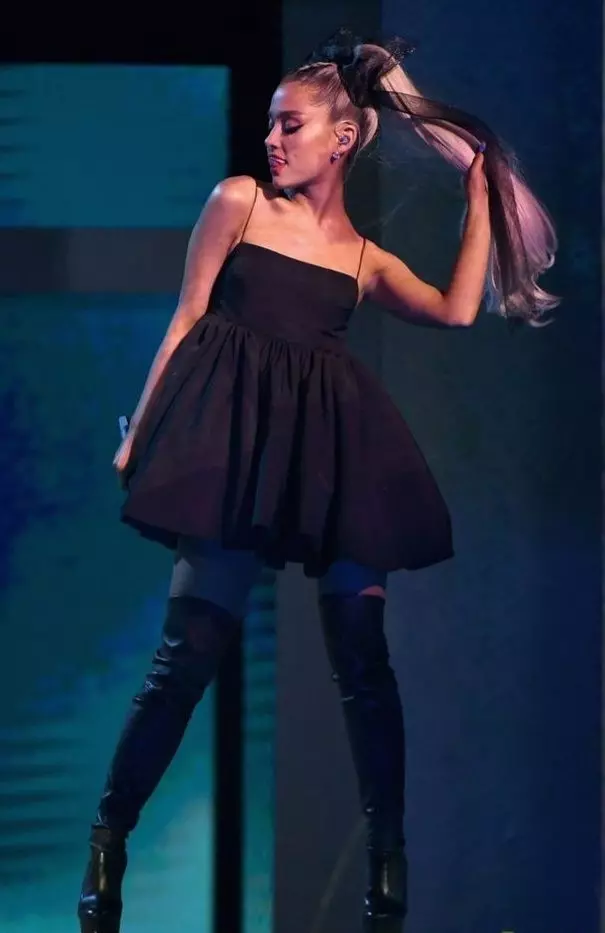 5. Billboards Awards Outfit
Like the Tonight Show pink short dress and boots, Ariana wore another similar dress around her "No Tears Left to Cry" era. Totally different in colors but similar in styling, the look saw a nice change when Ariana added a black bow to the LBD and black leather thigh-high boots. Ariana's weight loss has been a topic of discussion as well since the singer has lost more than 25 pounds through diet and exercise.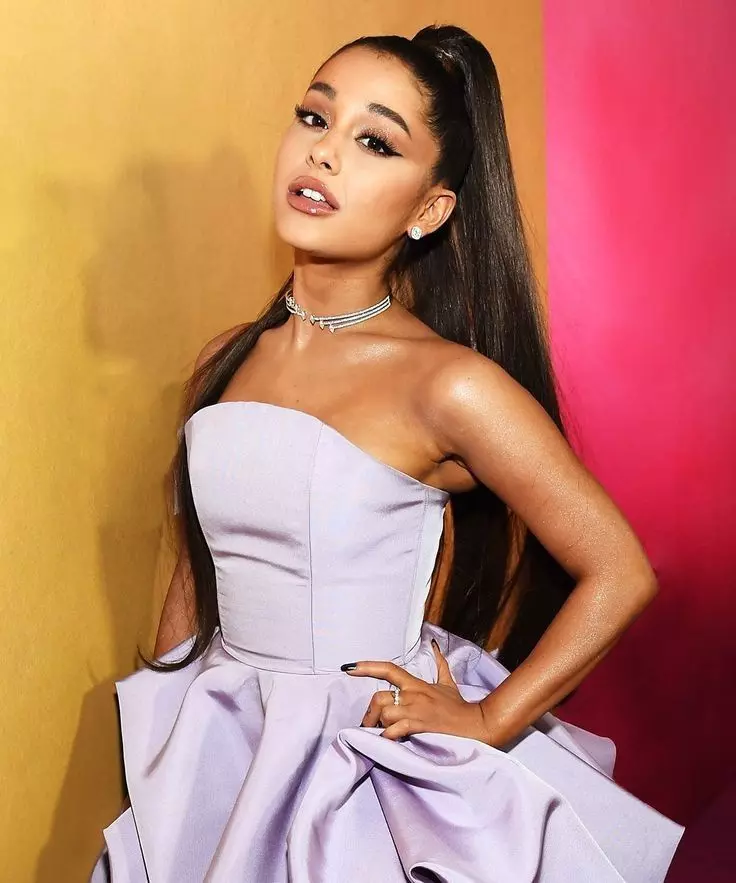 6. Ariana Grande Billboard Outfit
During the Women in Music Billboard Awards, Aria gave us another gorgeous look to appreciate! The gorgeous lavender Christian Siriano dress was complemented by a diamond necklace, studs, and chocker.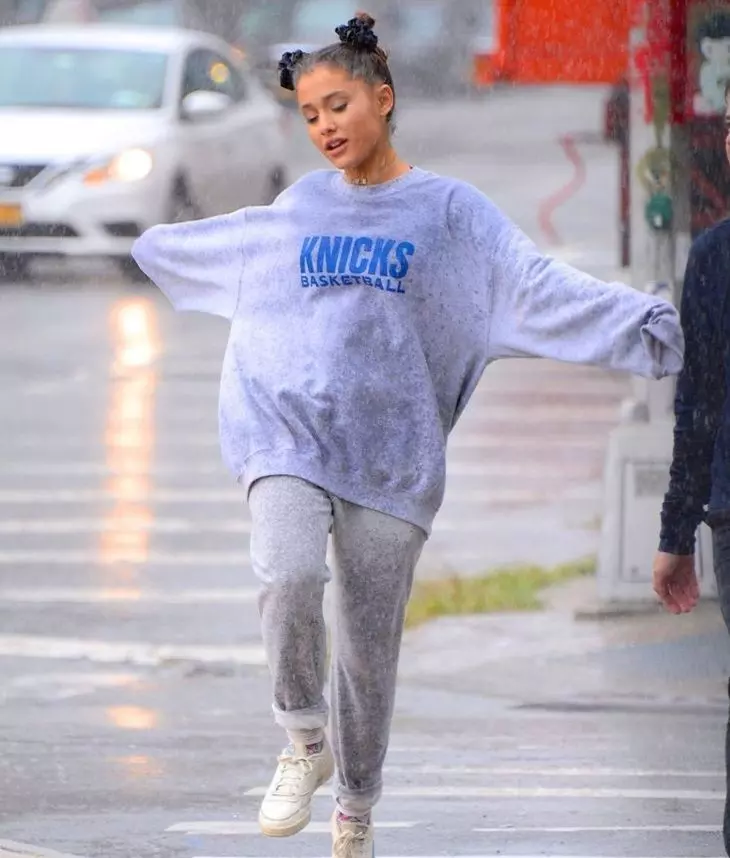 7. Ariana Grande in Knicks Basketball Sweatshirt 
The grey sweatpants and sweatpants with white sneakers are a daily outfit for many already! These comfortable Ariana Grande outfits ideas have become an inspiration for many. It shows us that even superstars want to be in comfortable clothing. We don't lose our style and glamour! Just goes to show Ariana can rock any outfit!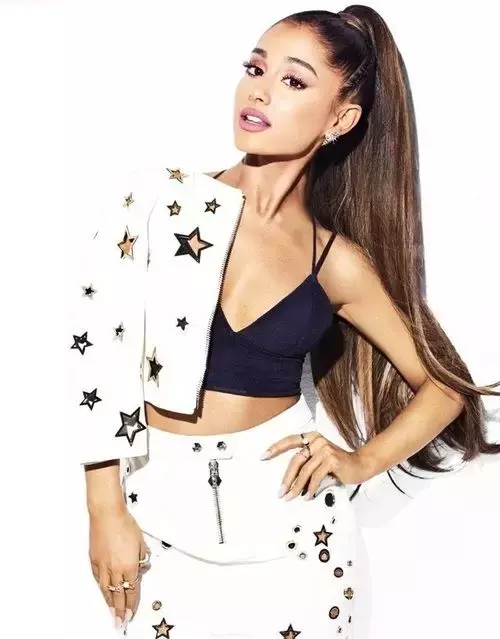 8. Ariana Grande Cosmopolitan Magazine Cover
This matching duo of short-cut stars jacket and skirt by Philipp Plein with a sexy black double strap crop top screamed to come on a fashion magazine, and it did when Ari glammed up for the shoot. For accessories, she went with Sainte Jewelry rings and H. Stern Genesis earrings.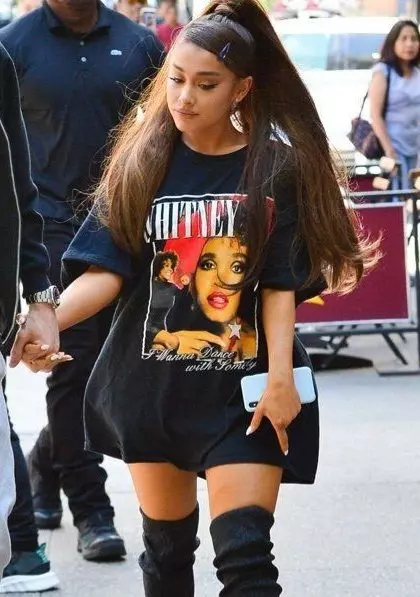 9. Ariana Grande Street Style 
Most comfortable Ariana Grande iconic looks ever for girls who just have a long black t-shirt and the perfect boots to go with that! The look is vast, and even though comfortable and fun, it is very fashion-forward! Ariana's tattoos add a charm to her look. She had more than 50 tattoos and many of them have a deep meaning.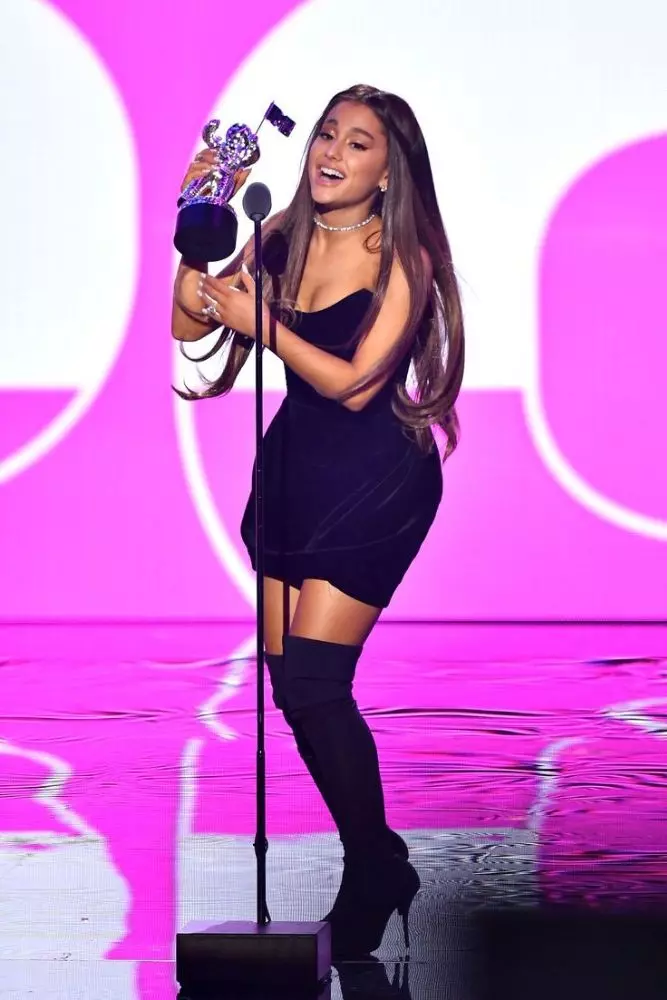 10. Ariana Grande MTV VMS Awards Outfit 
Ariana Grandes dress style for black outfits is always on point, as she combines her dresses with high-heeled knee-length velvet boots. This particular strapless piece is by Ester Abner. To add to the whole occasion, she also decided to go with a diamond choker necklace with matching diamond studs. Also, we saw a rarity when she wore a two-finger ring!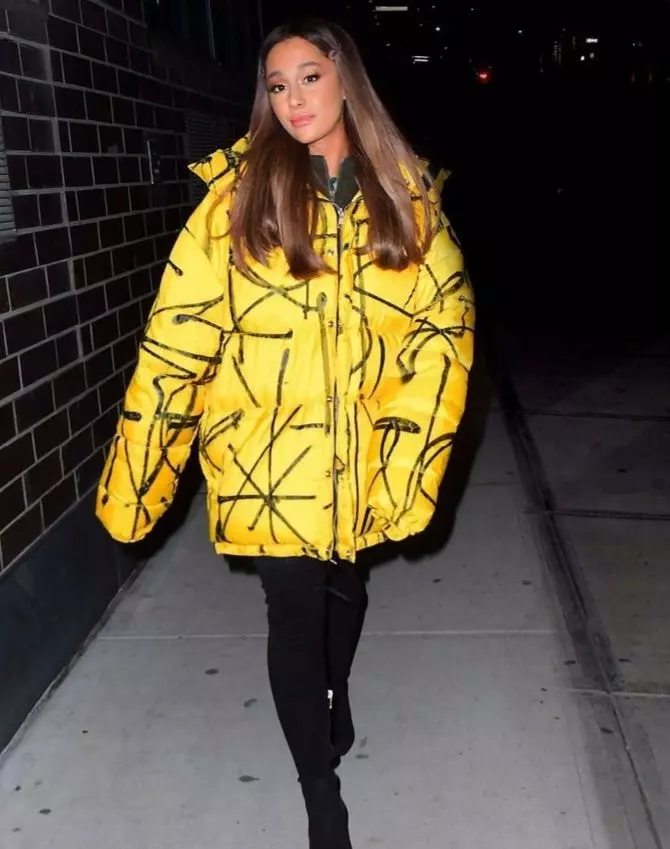 11. Ariana Grande Yellow Puffer Jacket
We have seen Ariana rocking a sweatshirt with boots a lot of times, but she tried something new when she wore a bright yellow puffer jacket, making an entry into the Ariana Grande iconic looks! The clipped hair and the simple black boots just go with the bright yellow color demanding attention.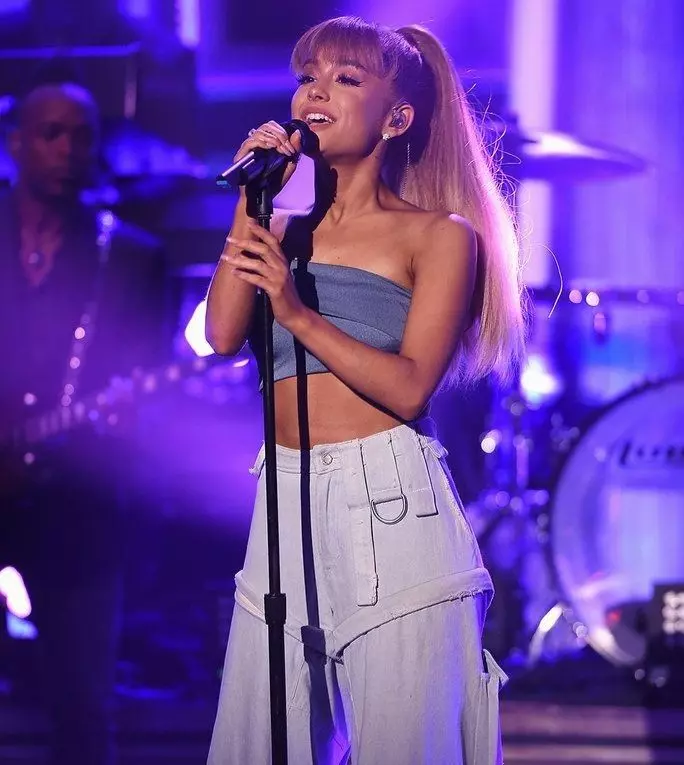 12. Ariana Grande Late Night Show Performance Outfit 
These Late Night Show performance pictures always make a trend in Ariana Grande Instagram looks. Just a grey crop top and white studs alongside the white cargo pants are beautiful and comfortable as well, so the singer can give her performance nicely without any directions. Her perfect body with a flat stomach is gorgeous and many attribute the same to her strict diet and workout routine.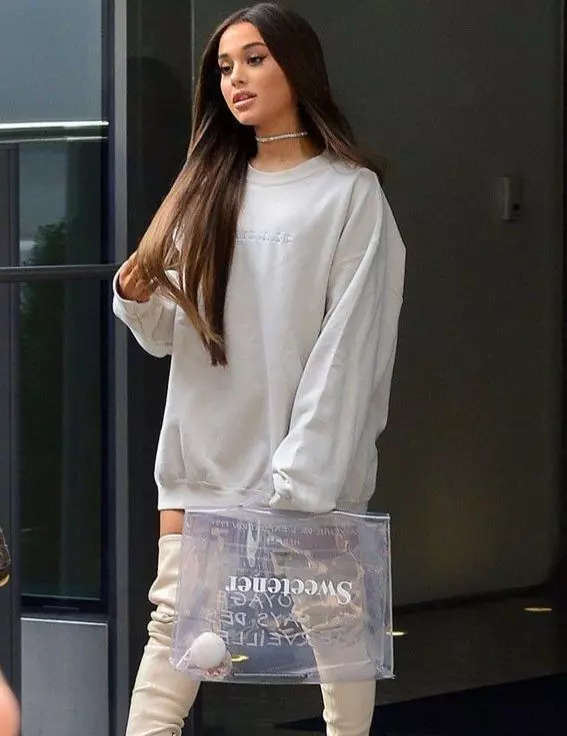 13. Ariana Grande Simple Street Style Outfit
Only Ariana Grande can make wearing a long, oversized sweatshirt elegant! A lot of compliments for this go to the way she has straightened her hair and the transparent Sweetener bag of her album. She also added a simple choker to the comfortable outfit to make it sparkle!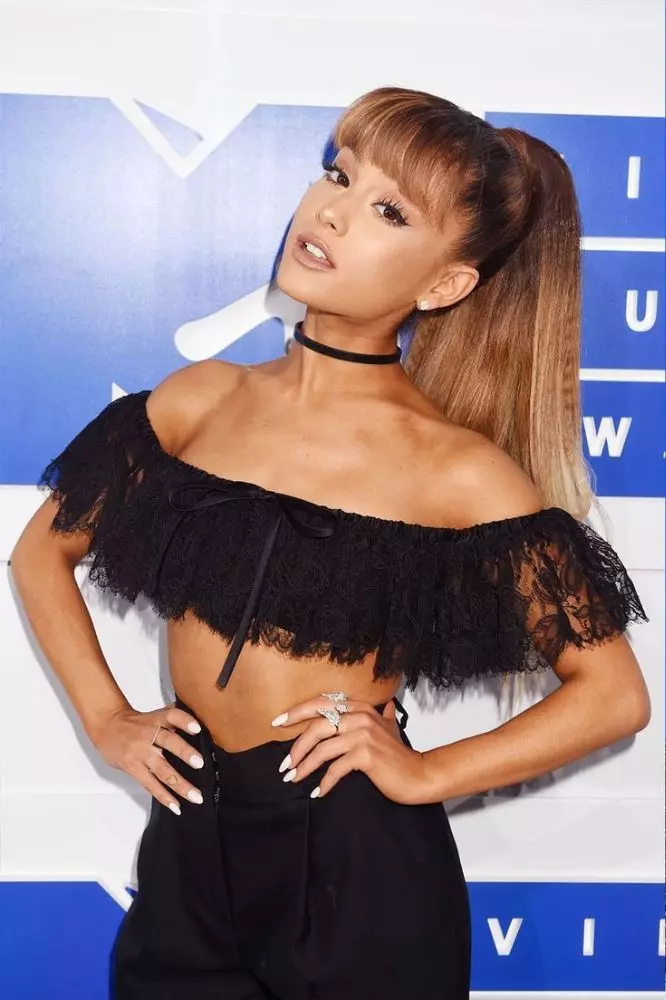 14. Ariana Grande MTV Music Awards Outfit 
During the award ceremony of the MTV Awards, Ariana Grande pictures of this black attire made headlines! The high-waisted black pants with the small lace bandeau that is accessorized, with a simple but effective plain choker make this outfit perfect for a music award function! It was styled by Alexander Wang.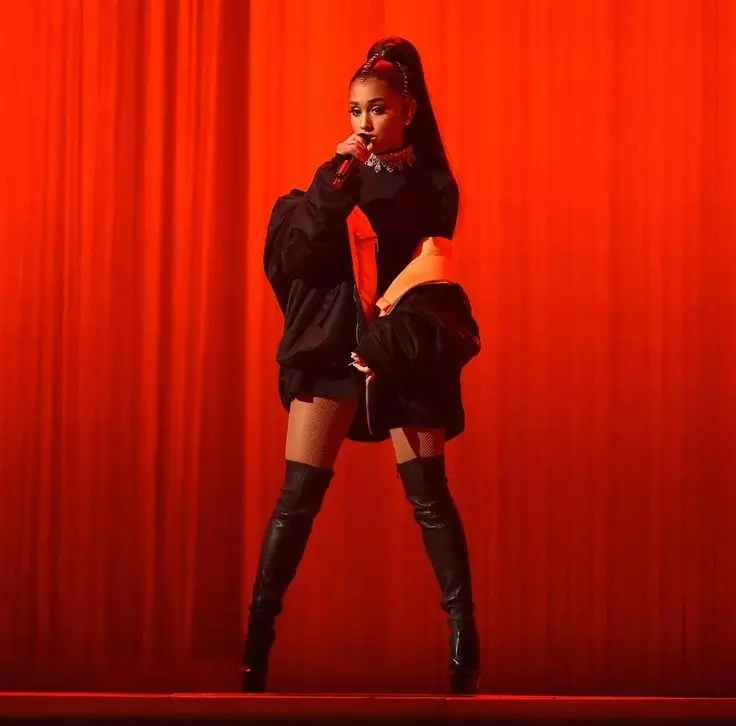 15. Ariana Grande's Dangerous Woman Tour
The black coat with the orange outlining, along with the black boots and LBD, makes this outstanding and something new. You will not see many celebrities going with the combination of a little black dress and a black oversized jacket, but not our experimental Ari!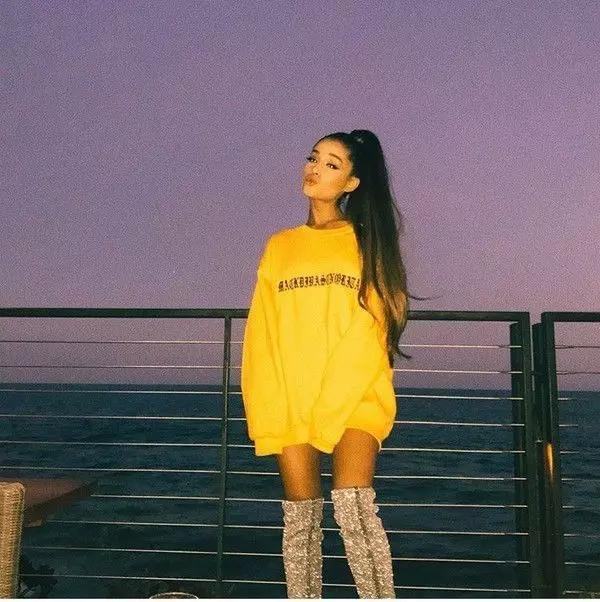 16. Ariana Grande Yellow Sweatshirt and Sparkle Boots
This Ariana Grande Instagram post got a lot of love when the actress posted this photo on her handle. This was her 24th birthday outfit, and though she was pantless, this is a common look for the singer to combine knee-high boots and a sweatshirt.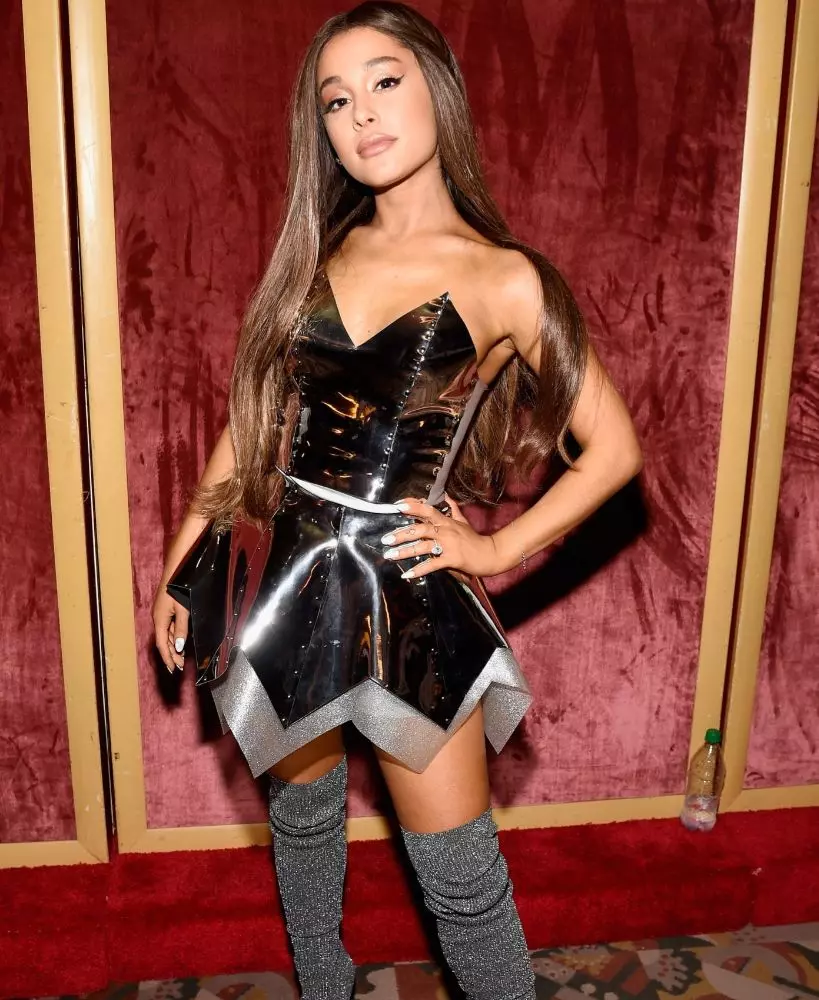 17. Ariana Grande MTV Awards Outfit 
Ariana left her hair loose for these music awards. She wore black and silver glittery knee-high boots, and of course, the eye-catching metallic dress! The white nail pain is paired with a simple chain bracelet and ring.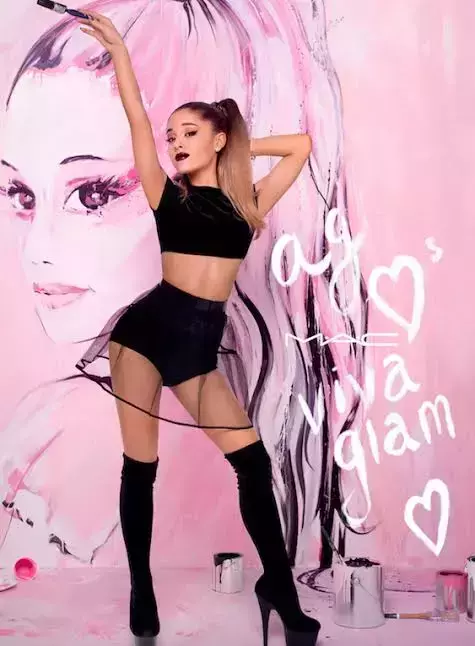 18. Ariana Grande MAC Advertisement Outfit 
Before Rem Cosmetics by Ariana Grande, she was the spokesperson for another beauty company, M.A.C. Her all-black promotional Mac outfit includes a black crop, black shorts with a net tulle, and black knee-high boots. It is one of the best dark-tone Ariana Grande outfits ideas. Definitely one of Ariana Grande iconic looks!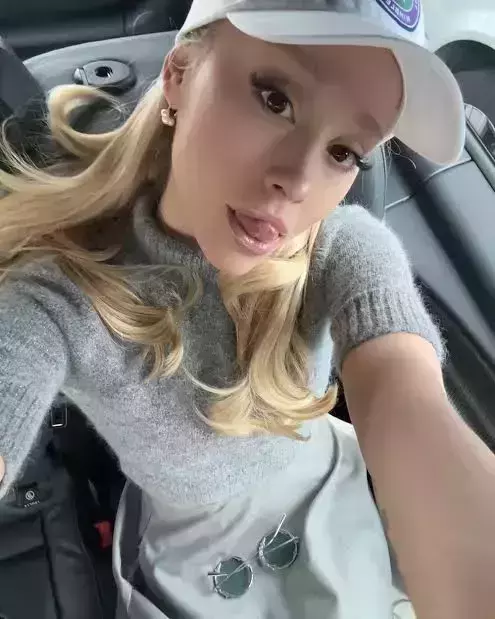 19. Ariana Grande 2023 Wimbledon Outfit 
This grey outfit was another hit by the pop star as it went viral. It became an iconic Ariana Grande sports match look. She was wearing a grey crop sweater and a long skirt. She wore a Wimbledon-branded baseball hat to complete the ensemble. This was all by Ralph Lauren. In addition, she wore glasses by Tiffany & Co., Mejuri pearl earrings, and circular sunglasses by Tiffany & Co. She became one of the best-dressed celebrities at Wimbledon!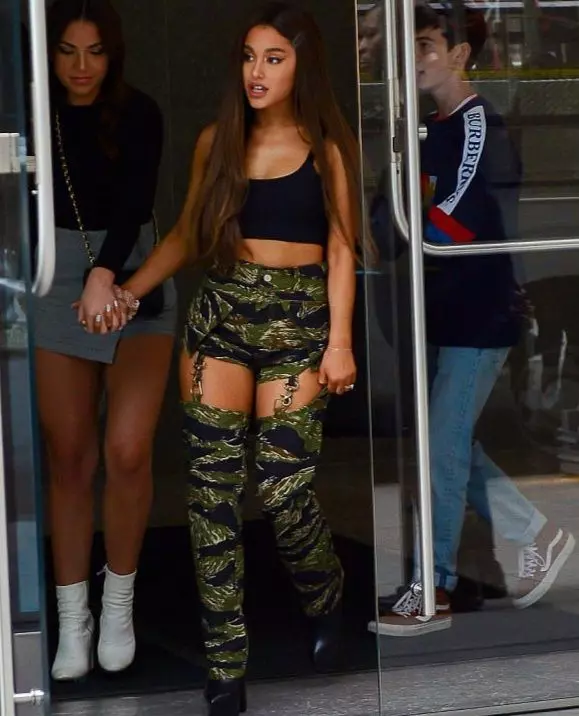 20. Ariana Grande Camouflaged Outfit 
Before her oversized sweatshirt era, the songstress also wore a lot of crop tops. In this particular fashion look, we see her wearing a black crop top by Ilaria Nistri. The camouflaged design comes from the camouflaged shorts and the similar print of the thigh-high boots. These are connected with the use of silver garter belts. An Ariana Grande iconic street-style look! For accessories, we can see that she is wearing a diamond bracelet and her engagement ring from her then-fiance Pete Davidson.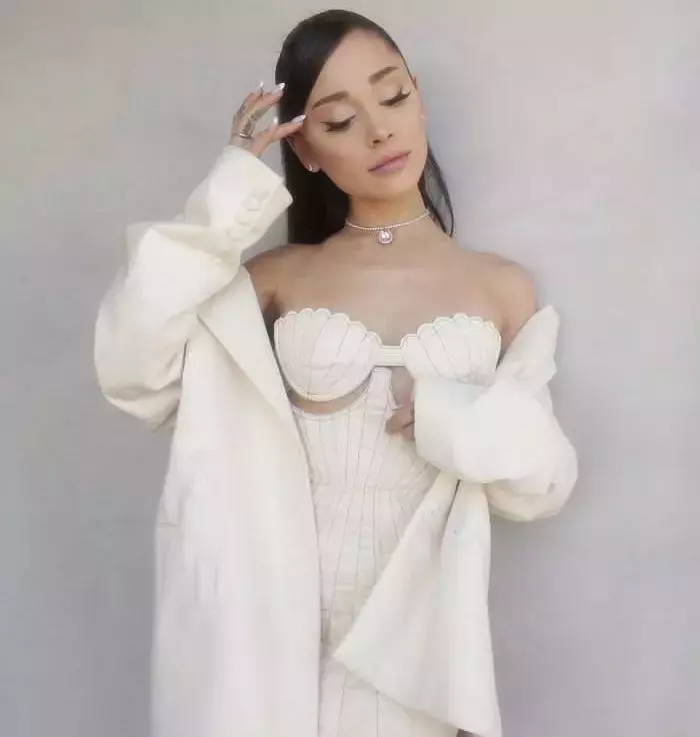 21. Ariana Grande White Outfit
This Ariana Grande Instagram post of 2023 received a lot of love from friends as we have seen Ariana pulling off more bright and dark colors than lighter ones. This whole outfit includes the shell-inspired dress and white cream-colored jacket along with the pink necklace. Ariana Grande pictures of this white outfit have created their own subtle aesthetic!

These were the top Ariana Grande iconic looks that the entertainer has been seen wearing in her fabulous journey since she became sensational. Her style shows sophistication and matches the event she is going for.