How Ariana Grande Lost 25 Pounds And Her Response To Body Shamers
Shalu Bhati
Updated At 05 Oct 23
Wish to know how the Ariana Grande weight loss happened? Then, stay and read further!
Ariana Grande is an American singer and actress. You can easily recognize her from her sleek ponytail, winged liner, and ability to belt super high notes effortlessly. She began her career with Nickelodeon's Victorious in 2009. From there she went on to become a world-known singer with her debut album, Yours Truly in 2013 and hasn't looked back ever since.
Ariana Grande Weight loss has been under a lot of discussion and she released a video as well to clarify her perspective on weight loss.
Table of Contents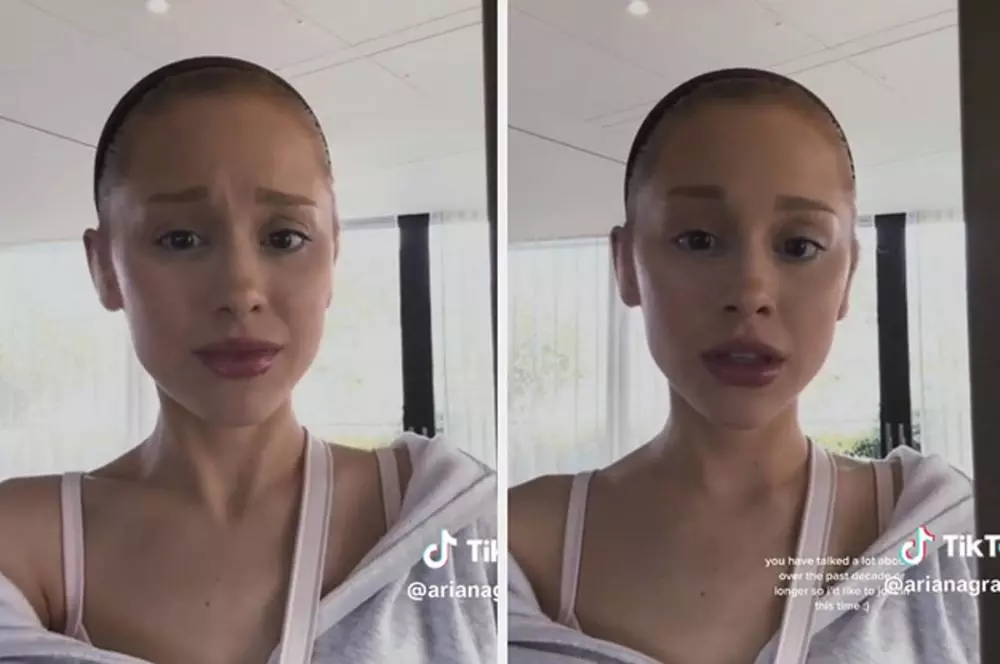 Ariana Grande's Breaks Silence On Recent Weight Loss
Ariana clarified through the video that the comments from people on body shaming and relationships do affect celebs as well. She wanted to address concerns of the fans about her recent weight loss and hence she has created the TikTok video.
She mentioned, 
'I think we should be gentler and less comfortable commenting on people's bodies, no matter what. If you think you're saying something good or well intentioned, whatever it is. healthy or unhealthy, big, small...we should really work towards not doing that as much.'
'You never know what someone is going through, so be gentle with each other and with yourselves.'
Ariana also mentioned that she was unhealthy earlier and was taking antridepressants.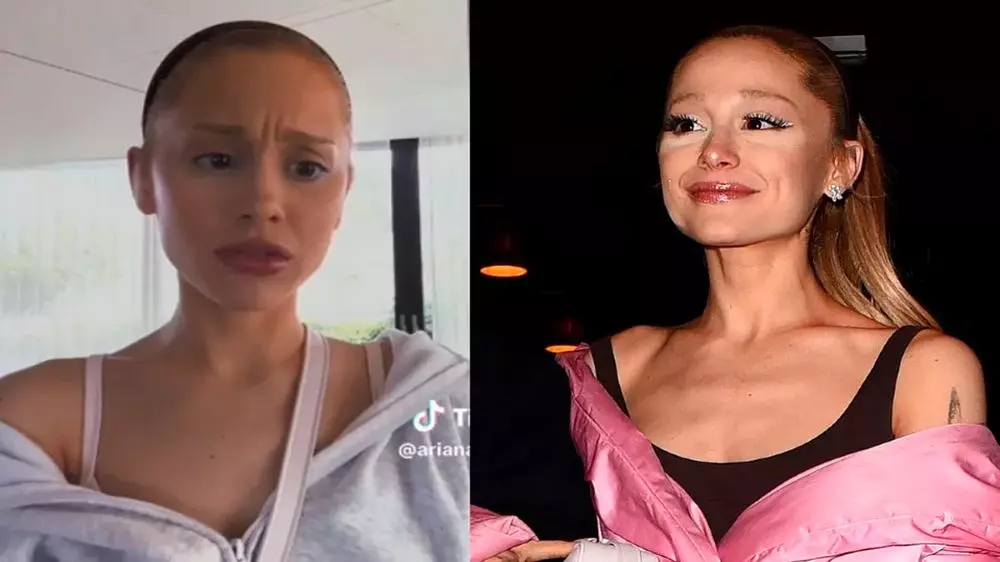 Ariana also said,
For me, the body that you've been comparing my current body to was the unhealthiest version of my body.'
'I was on a lot of antidepressants and drinking on them and eating poorly and at the lowest point of my life when I looked the way you consider my healthy, but that, in fact, wasn't my healthy.'
She kindly urged her fans to show compassion towards one another, discouraging hurtful comments that could harm someone's well-being. Ariana emphasized that everyone possesses beauty, regardless of the amount of makeup they wear or their mental state. She also asked her fans not to engage in speculative discussions about women's changing bodies, recognizing the complex factors involved in such changes.
Ariana's no makeup photos showcase her natural beauty and she still looks stunning. She openly embraces her imperfections, conveying a positive message to her fans.
What is Ariana Grande currently doing?
Ariana Grande, who was cast as Glinda the Good Witch in the film adaptation of the Broadway musical Wicked in 2021, is currently taking a brief break from the production. During this hiatus, she is making a return to her music career with a special project. As her debut album, "Yours Truly," approaches its 10th anniversary, Grande has unveiled plans for a week-long celebration. This comes as the Wicked movie's production is temporarily halted due to the SAG-AFTRA strike.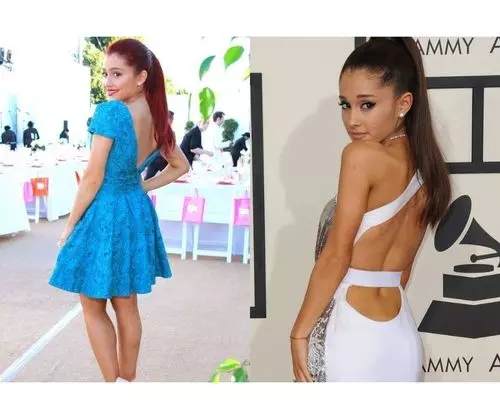 How Ariana Lost 25 Pounds?
Ariana Grande is a beautiful woman with an incredible voice. She can sing super high notes with incredible ease. She has proven her capabilities time and again. From concerts to her appearances on Saturday Night Live (SNL), her performances always leave her fans wonderstruck. She has a loyal fan base who love her, support her, and also notice even the smallest of changes about her.
It was not surprising when Ariana's fans noticed her weight loss. They were concerned amidst the rumors of Ariana having an eating disorder. But that's all that it was. Just a rumor. And Ariana had to clarify the reasons behind her weight loss. She said:
This is about making sure the foods you put in your body will nourish you and be put to good use. The reason why I lost as much weight as I did is because I used to live on junk food. Like around the clock. So drastically changed my eating habits, started exercising daily, and I'm all-around a healthier me. I'm eating as much as I was before, just the content has changed.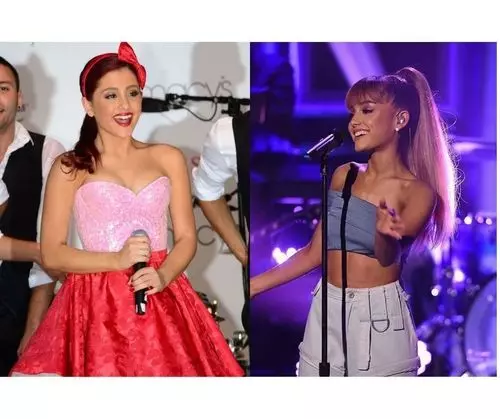 The God is a Woman singer gave up all the junk food she was so fond of eating and made a switch to a vegan diet. Ariana's aim was never weight loss or being skinny. She wanted to feel good. And the Ariana Grande weight loss has just been a consequence of healthy eating habits, something that was not intended but just happened naturally. Ariana has been dealing with hypoglycemia almost all her life and her dietary changes helped her cope better.
Ariana Grande's plastic surgery has always been in the news similar to weight loss. Many speculate that her changing appearance has a lot to do with cosmetic surgery procedures. Do find out the details.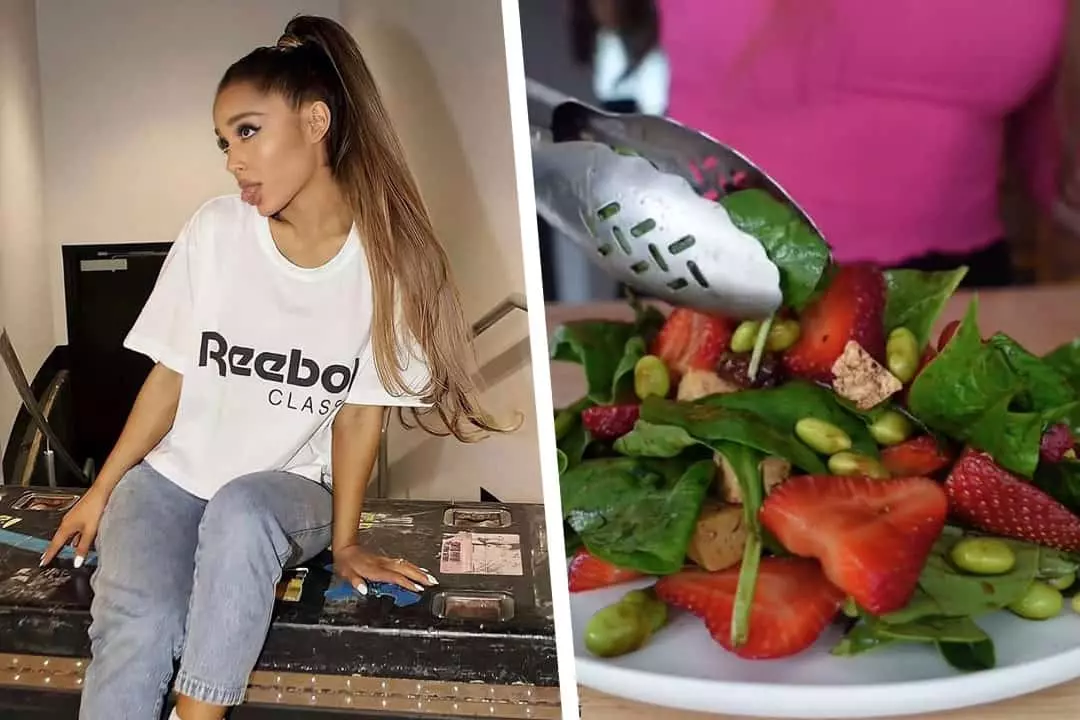 Ariana Grande Diet
The Ariana Grande diet saw a huge change when she decided to become 100% vegan. This change in her diet came after watching a vegan documentary, Forks over Knives. On this matter, Ariana said:
I love animals more than I love people, not kidding. But I am a firm believer in eating a full plant-based, whole food diet that can expand your life length and make you an all-around happier person.
Ariana comes from an Italian family despite what her spray tan would have you believe. You would expect her to eat Italian cuisines but she doesn't. Shocking, right? Instead, Ariana prefers to eat Japanese foods such as daikon, lotus, and adzuki beans. This Japanese cuisine offers a wide variety of options for vegans to eat. She loves eating hijiki, edamame, and vegan okonomiyaki.
As for the Ariana Grande weight loss diet, hers is a macrobiotic diet. This kind of diet is focused on nutrient-dense foods. This means Ariana has a Japanese macrobiotic diet.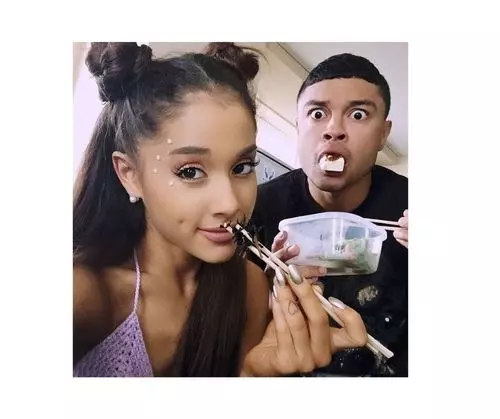 Earlier, she ate an overall healthy diet but her trainer Harley Pasternak moved her towards a more balanced diet. So, now her diet includes whole grains, brown rice, barley, millet along with fresh vegetables, sea vegetables, and miso.
The Ariana Grande diet eating while being mindful of what really goes inside your body. She doesn't believe in following fad diets but prefers a healthier approach that works in the long run. She monitors her sugar intake and ensures that she is having enough protein, fiber, and fat in her diet.
It might sound tough but the Ariana Grande weight loss diet is nothing like that. Ariana does not believe in restricting her diet. If she loves to gorge on berries, then there are also times when she loves to indulge a bit. Her focus is not weight loss but being healthy.
One of Ariana's beauty secrets is that she ensures her liquid intake is enough throughout the day.  She stays hydrated by drinking coconut water, smoothies, and dandelion tea. You might be surprised to find out Ariana Grande's makeup routine as she uses minimal products.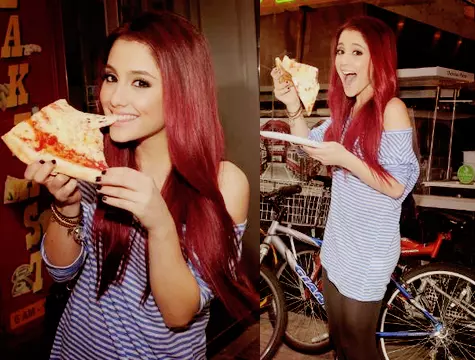 Ariana Grande Daily Diet Plan
The Ariana Grande diet typically looks like the following:
Breakfast: Whole oats with almond milk topped with blueberries and almonds or smoothies with strawberries, bananas, blueberries, pears, and almond milk
Lunch: Salad with kale, cashews, avocado, and teriyaki sauce
Dinner: Rice bowl with whole grains, tofu, and nori with stirred fried vegetables
Snacks: Baked sweet potatoes sprinkled with cinnamon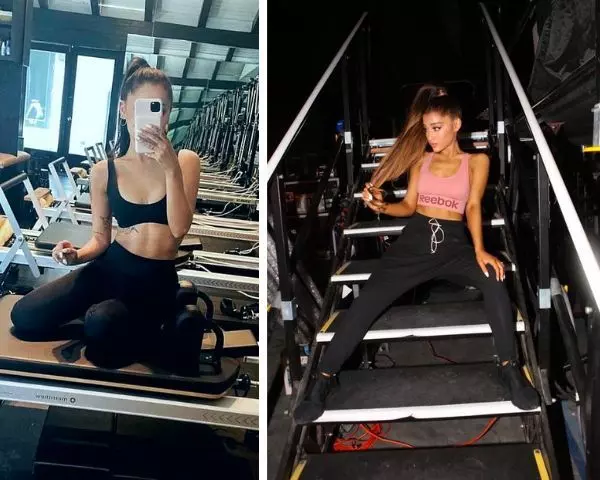 Ariana Grande Weight Loss Exercise Routine
Ariana has a busy schedule and her trainer, Harley makes sure that she stays active no matter what her day looks like. His favorite thing is to give a steps goal to all his clients. He gives Ariana a step goal and she can get to it in her own way. She can walk, run, or even dance. This way she gets at least 12,000 to 14,000 steps per day.
Ari's workout routine is easy and quick so that it can fit with her schedule. She is not very fond of the gym but loves doing Pilates. She also has two favorite workouts: lunges and glute bridges.
When she can't find a gym at her concert venue, she walks down the hallway doing lunges.
If she ever goes to the gym, she can often be found on the treadmill as it brings clarity to her thoughts. Or she works on the elliptical machine. She also does meditation regularly to alleviate stress.
Ariana likes to have fun while staying active. Running after her puppy around the yard gives her good exercise and so does dancing in 5-inch heels.
Following is her exact workout routine:
Reverse lunge: 30 reps × 5 sets
Walking lunge: 30 reps × 5 sets
Skater lunge: 30 reps × 5 sets
Plié plank: 30 reps × 5 sets
Superman: 30 reps × 5 sets
Glute bridge: As many as in 2 minutes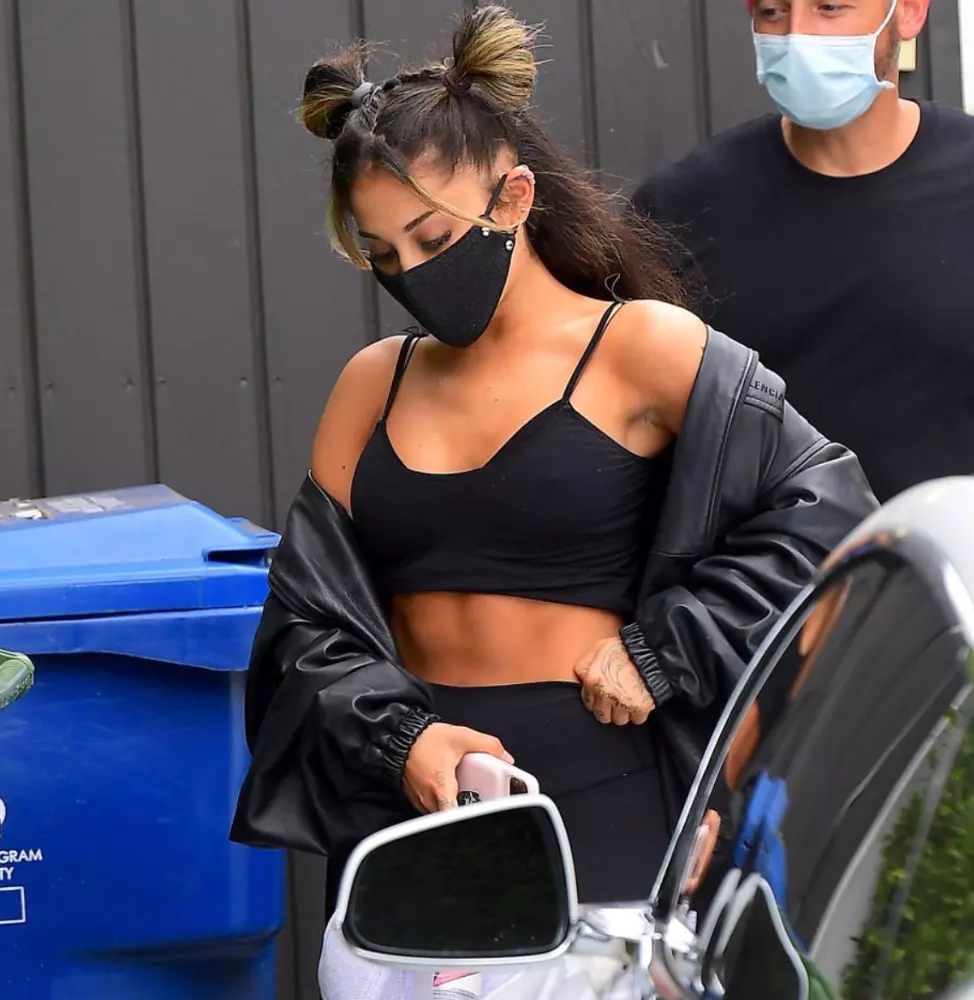 4 Weight Loss Tips Ariana Follows
Following are some of the top Ariana Grande weight loss tips:
With so many people suffering from eating disorders, it is not wise to make weight loss and being skinny your ultimate aim. The important thing is that you eat healthily and live an active life that ultimately makes you feel good and brings you better health
Eating healthy doesn't have to transform into dietary restrictions. You must allow yourself to indulge yourself now and then
Listen to your body and its needs rather than following fad diets blindly
The workout routine must fit your schedule. You can customize as per your needs and the amount of time you can devote
Eating healthy should be your number 1 priority. It allows for a healthy, happy, and longer life. Comparisons with others often lead to body image issues. But you must remember that it is your body that sustains you through thick and thin. There is no perfect body structure. You must learn to love and respect your body. Even Ariana has been trying to give this message. Her diet and workout routine is based on this philosophy. While talking to SHAPE, she said:
"Too many young girls have eating disorders due to low self-esteem and a distorted body image. I think it's so important for girls to love themselves and to treat their bodies respectfully."
Ariana has always motivated her fans and we hope you feel inspired and motivated too.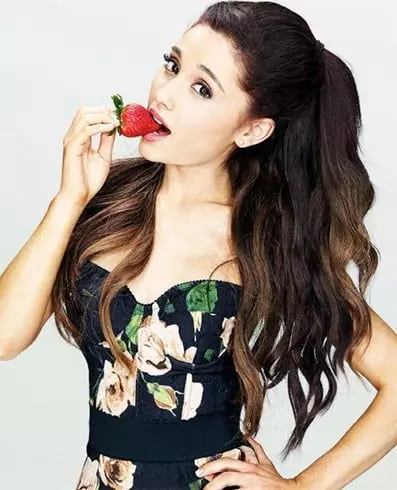 Frequently Asked Questions
Q. Is Ariana Grande still vegan?
Ariana Grande made a switch to a vegan diet in 2013 and has been very vocal about it ever since on social media. But her recent engagement with Starbucks over a drink with egg white powder and dairy has given rise to speculations that the singer might not be vegan anymore. She is yet to say anything on the matter.
Q. How much does Ariana Grande weigh?
Ariana Grande weighs about 104 lbs.
Q. What is Ariana Grande's workout schedule?
Ariana Grande's workout includes lunges, planks, running on a treadmill, Pilates, and lots of walking.
Q. What is Ariana Grande's daily routine?
Ariana Grande's daily routine does not stay the same and heavily depends on how busy she is that day. But there is always a place for healthy eating and an exercise schedule in her daily routine.