25 Stunning Black French Tip Nails - 2023
Olivia
Updated At 28 Oct 23
The ultimate French nail design is popular and one of the most recommended nail art designs for an elegant subtle style. The French manicure nail design is mostly created with a nude base and white tips on the nails. How about creating variations in this style? Maybe, Black, fall-season colour nails for French nail designs. Yes, you heard it right, black French Tip nail designs are becoming trendy and loved by all. These cute nail designs can completely transform your look. The twist of these classic French nails with a pinch of black tips is all over the gram! Let's explore 25 such Stunning Black French Tip Nails.
25 Best Black French Tip Nails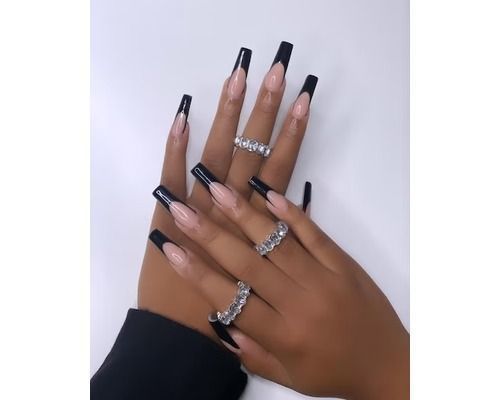 1. Black French Tip Nails
The black French tip nails beauty is that they can be created on any nail shape and size. These long tapered French nails with black tips are amazing to carry. This design is accompanied by a classic French manicure and square shape black tip nails.
Read More: Types Of Nail Shapes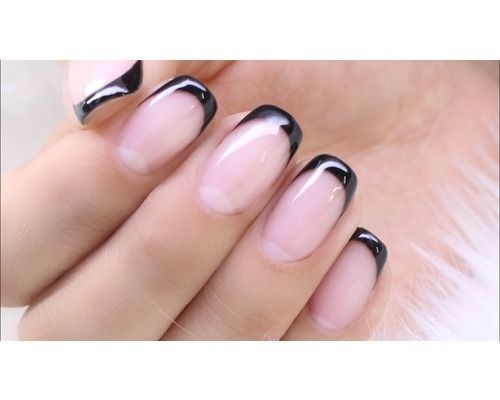 2. Short Black Tip Nails
This short black tip nail design is simple and can have a classic look. A quick design suitable for any occasion is a must-try design. The classic french manicure with white nail tips is replaced with black nail tips.
Read More: Coffin Nails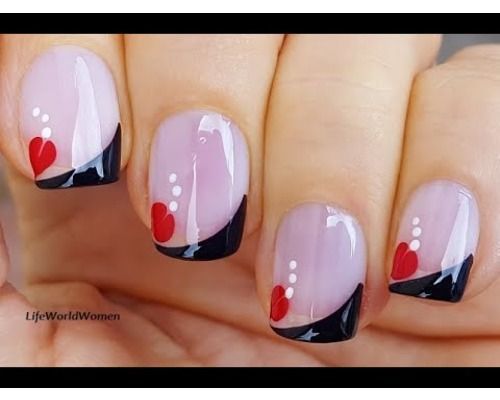 3. Short Black Tip Nails With Heart
Combining a heart element in the nails on a french manicure will do wonders! This design with French short black tip nails with wave-created tips and red colour heart and three dots is a simple everyday basic design.  
Read More: Yellow Nail Designs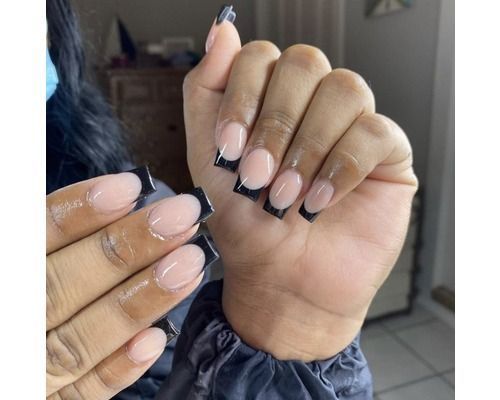 4. Black French Tip Square Nails
Flat on the top with sharp corners is the beauty of square nails. The top filled with black nail colour gives a boost to this simple design. This design is also a simple and quick creation of art!
Read More: Solar Nails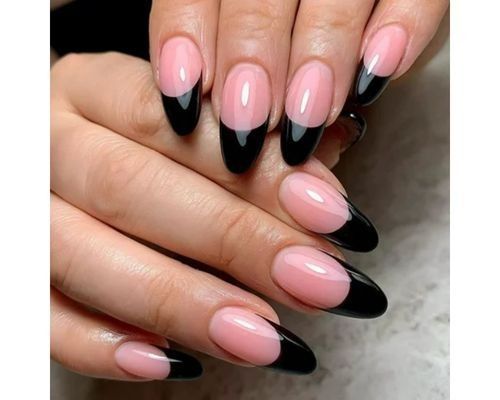 5. Black French Tip Almond Nails 
Very similar to an oval shape, this black French tip in Almond nail shape is elegant and classy. These nails are wide at the base with nude colour and black oval outline filling along the slides. Believe it or not, the shape looks like almonds.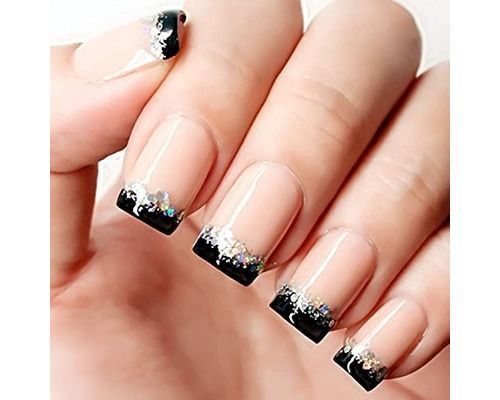 6. Black French Tip With Glitter
Glitter Black! The pinch line of glitter between the base of the nude and black tips is amazing. This black French tip nail design with glitter is perfect for an evening party look.
Read More: White Nail Ideas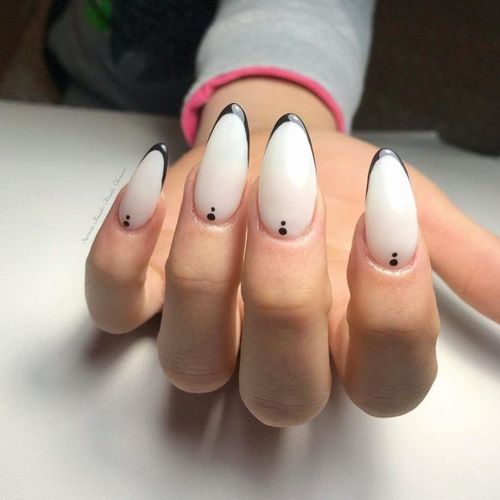 7. Black And White French Tip Nails
How about reversing the French manicure with two diversified colour shades? The French manicure tips are usually white with a nude base, which looks naturally pink, but this reverse option plays the game with black tips and a white base and dots.
Read More: Almond Nail Designs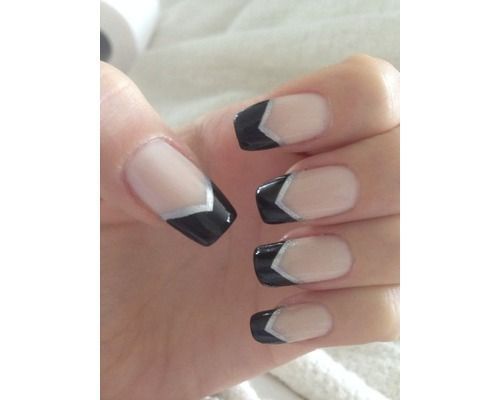 8. Black French Tips With Silver 
This is a subtle version of the black French nail designs. Following the same shaping technique and the silver coating to the inside V shape black tips and the nude base looks classic.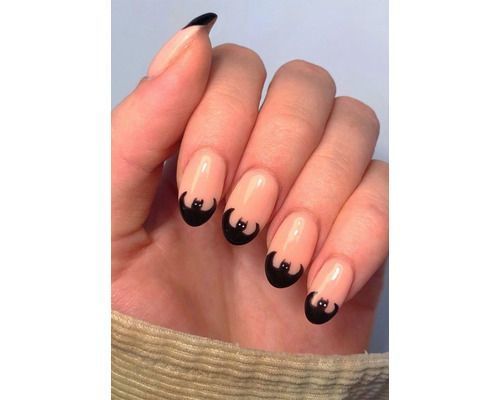 9. Spooky Black Nails
A spooky black nail design is best for Halloween. The black tips of this design are in the form of a bat. This design looks cute and goes well with a nude base.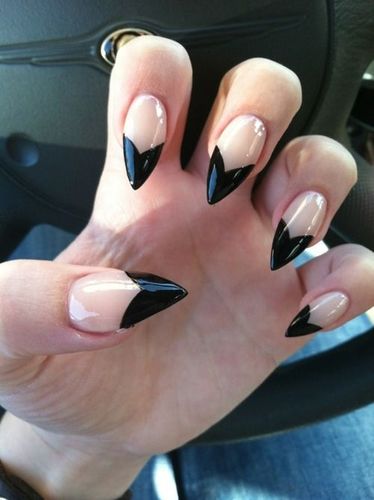 10. Stiletto Black French Tips
The dram fashion look is created with these super stylish stiletto black french tips. The beauty of this design is the formation of a heart shape with black nail tips. How much love is for these black hearts?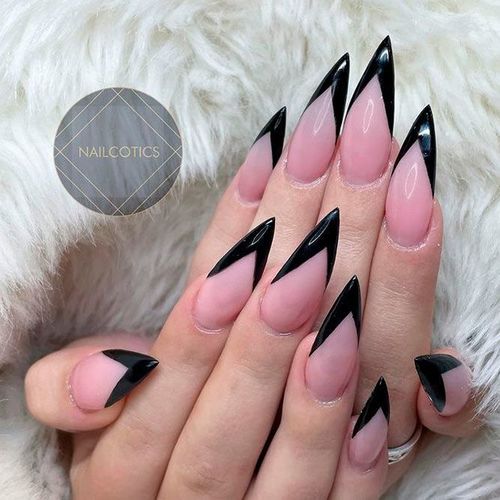 11. Fantastic Black Nail Tips
These natural fantastic nail design with sharp and pointed black nails is fancy. The black tips are filed in such a manner that the tips are perfectly managed. This design is much suitable for people with long fingers.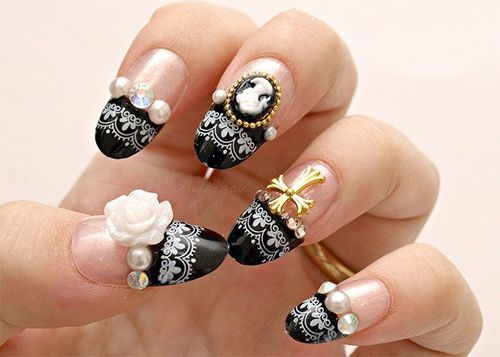 12. Decorative French Black Tip Nails 
The nude base and black French tip are simple and subtle, but making it more decorative, this design with decorative pearls, flowers and other elements on each finger with different creations is an art. Different elements can be stuck with help of nail glue. Use elements which are matching to your occasion or your dressing style.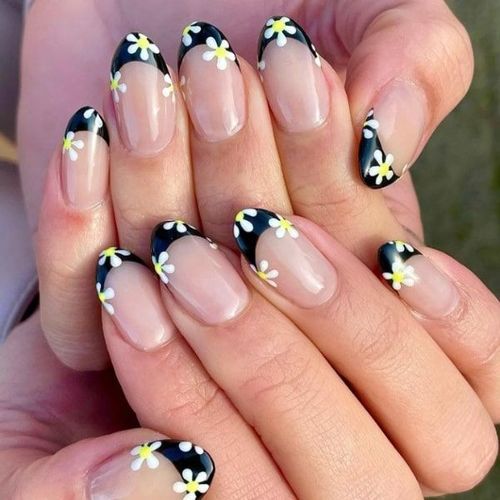 13. Summer Black French Tips 
Who doesn't loves flowers? This gorgeous nail art design is perennial. The floral art is done freehand with white and minimal yellow is the summer trend with black French tips. The floral effect is surprisingly easy and always looks lovely.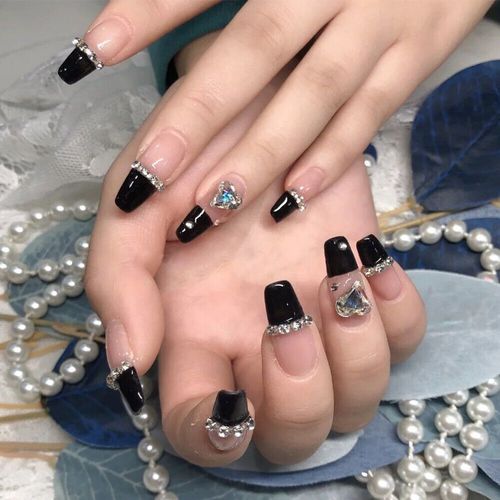 14. Rhinestone Black French Tip Nails
Rhinestone black tip nails are in very much trend. Whether you're attending any family occasion, festival or a casual party, this design will give a perfect appearance. This design is as gorgeous as glittery stones.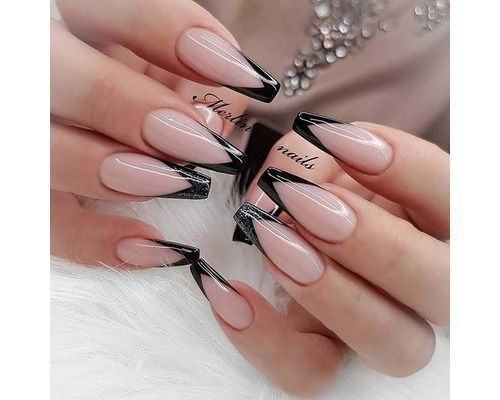 15. Black French Tip Coffin Nails 
Talk about pretty coffin nails! The black tip of these coffin nails is gorgeous and subtle. Also adding a glittering spark to the middle finger is enhancing the overall look of these coffin nails.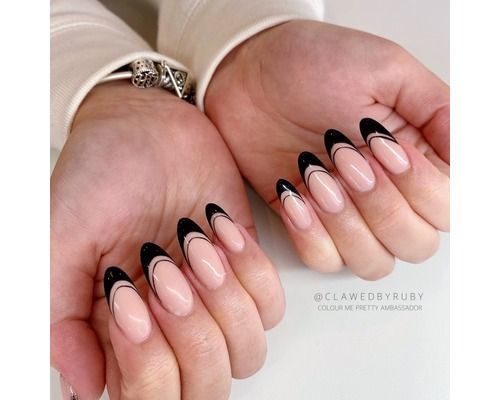 16. Spring Black French Tip  
This almond-shaped nails are mesmerising. This simple and cute beginner design can be made at home very easily. The curve line and the black tip with base shade are happy-go-lucky designs.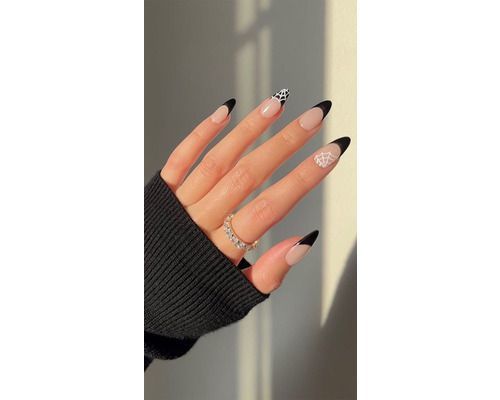 17. Spider Web Black French Nails
A quick nail art, in which a spider web element is drawn in a white colour shade above the nail tips or on the corner base is manageable. This is an effortless design and is also a Halloween nail design.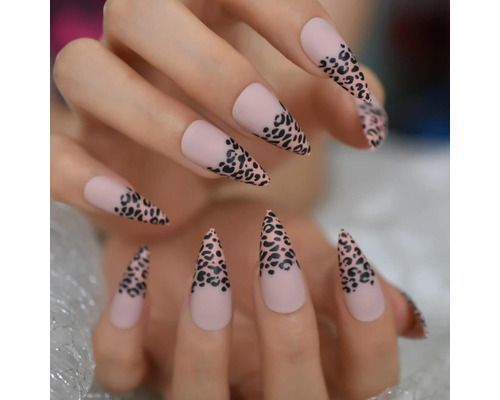 18. Patterned Black French Nail Tips 
This patterned French nail design is about going with a base of nude and demonstrating the pattern on the tip. The tip can be replaced with any black design you love.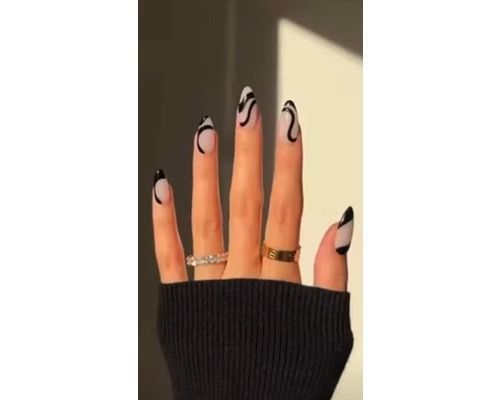 Remixed classic nail black tips, in a swirl design, steal the show! This would go perfectly with a white summery outfit. make the design pop up with a nude base beneath.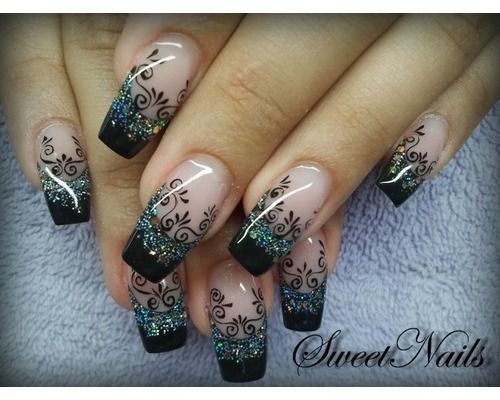 20. Floral And Glitter Black French Nails
A party design and perfect glitter make it perfect for a dazzling night. The long nails, which are looking elegant with the black tip, blueish glitter and thin floral design are impressive. A final touch is given with a top transparent coat which shines beautifully.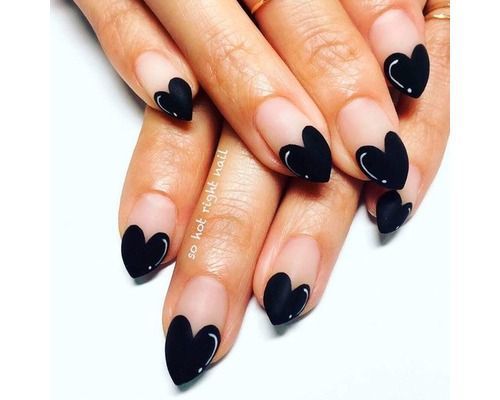 21. Black French Nail Tip Heart Shaped
For a romantic date or a casual date out, this heart-shaped black French nail tip design is phenomenal. One can easily create heart shapes on the tip with black nail colour on a nude base coat.
22. Eye Of Horus Design
The Eye of Horus is an ancient symbol and concept and symbol in Egyptian religion that represents well-being, healing, and protection. This positive design on black French nails is a gotta-go design.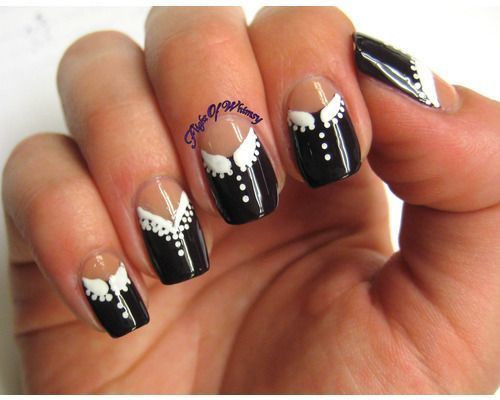 23. Collar And Button Black French Design
Want to create a professional element design, this long tip black design is very nicely crafted with a collar and button with white. The top coat is making the design perfect.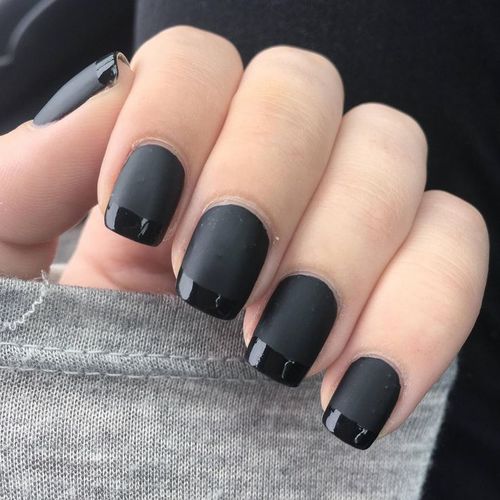 24. Matt Black With Gloss Tips
If you enjoy the matte nails trend, then you should try this fun design for short nails. The colour black is common on the base and tip but the base carries a matt finish coat and the tips a glossy one.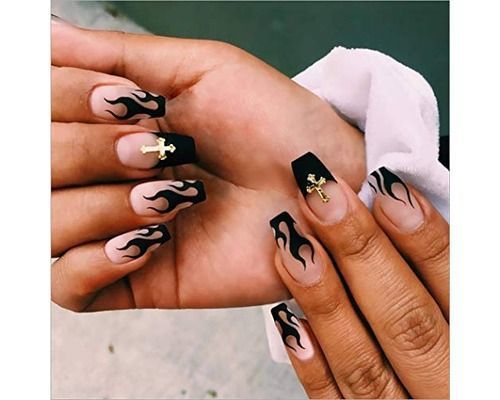 25. Power Black Design
A great way to spice up your nail look and to always keep up with all the fashion trends. This design is startling design, perfect for just about any event you have coming up.