51 Amazing Cute Nail Designs And Nail Art Ideas - 2023
Ankita Ghoshal
Updated At 02 Nov 23
Are you looking for cute nail designs to get beautiful nails? Are you tired of staring at your nail paints and failing to pick a color? Are you searching for colorful nail designs to get cute nails?
Trendy nail designs can surely help as beautiful nails are always attractive. Cute and simple nail designs can come handy if you are aspiring for a nail makeover as they are easy as well. Our guide on nail design ideas list 51 cute nail designs and ideas to level up your manicure game. Getting cute nails is easy by getting the apt manicure once you check all the nail color ideas.
51 Amazing Cute Nail Designs And Easy Nail Art Ideas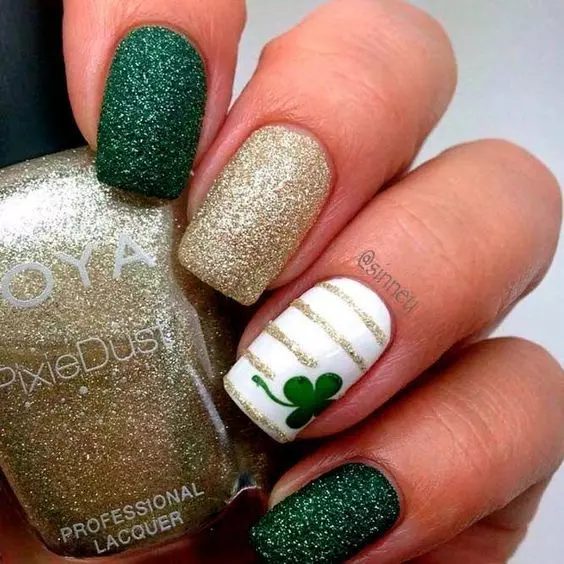 1. Sparkly Nails
When it comes to glamorous yet easy nail art, shimmering cute nail design ideas never disappoint! Sparkling nail polishes are great for creating amazing nails designs. Be it gold or sparkling emerald hue, shimmery nail art and fashion nails never goes out of trend. One of the easy nail designs, this nail art gives you the perfect glamorous look.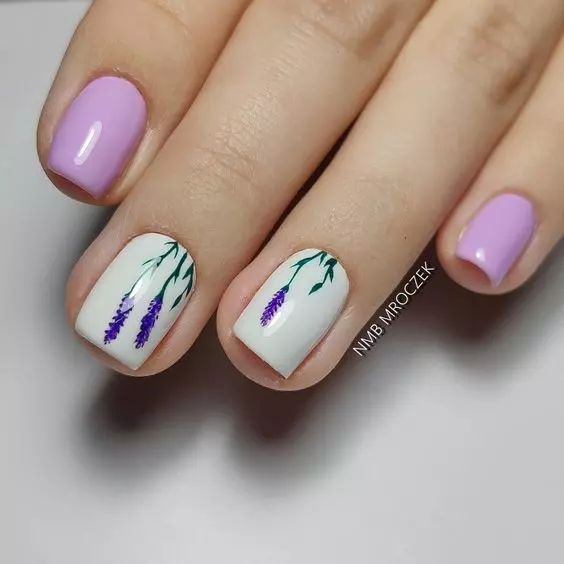 2. Floral Cute Nail Designs
If you are looking for easy nail designs, floral nail art can be for you. Talking of flowers, how can we forget floral prints? Lavender prints make for very cute designs for nails and are totally spring appropriate. Go for a pale, light purple base and then go with the lavender pattern on your finger tips. Voila! Your cute nail art is ready! You can also try it with other flower designs like roses and sunflowers to get pretty nails.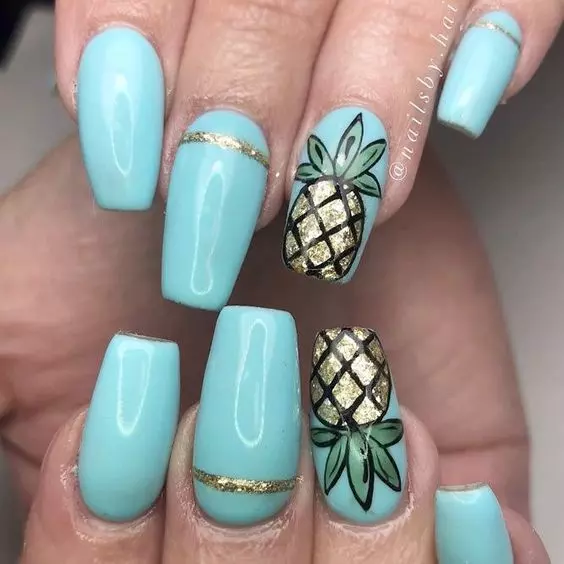 3. Pineapple Splash Nail Design
If you are looking for cute nail designs, then this one of the trendy nail designs you must try. Tropical prints are all in this summer and ladies are raving about pineapple prints on their nails. The combination of sky blue and pineapples make for a cute nail design especially if you want to switch on the vacation mode with your nails. One of the cute nail designs for summer, this is amongst the nail color ideas which is trending this year.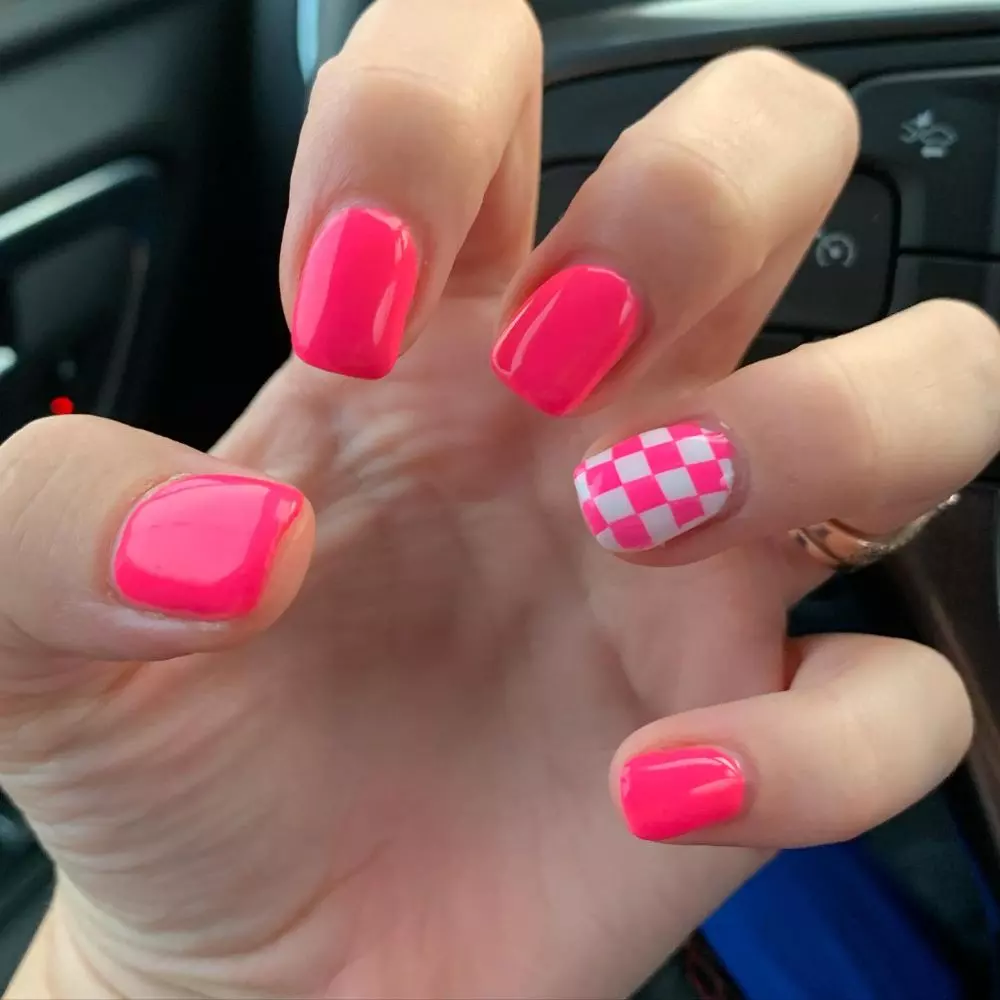 4. Checker Board Cute Nails
If you are bored of the chess board manicure, we have some really cute nail ideas for you. This is one of the better pink nail designs which is also amongst the trendy nail designs for this year. Give the checker board a fresher and cooler look by replacing the white with a pale pink base topped with black and crystal squares. Isn't it super pretty? Use this nail design to get beautiful nails in no time.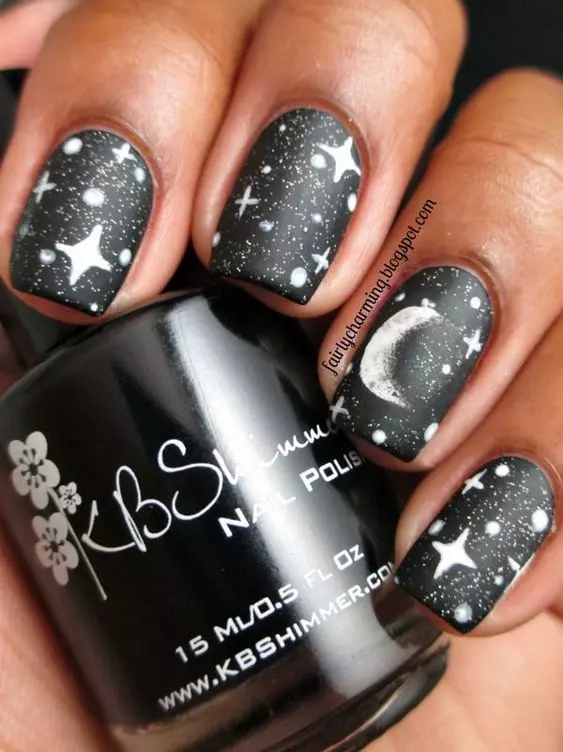 5. The Night Sky - Cute Nail Design
Looking for cute designs for nails, then try this cute nail art which shows the night sky. You would love the new style nails, If you are in love of constellations and moon. For this you would need to paint delicate stars to get a celestial inspired cute nail. Match it with a half-moon on a pastel nail and you'd be the queen of the night for sure as you would end up with cute nails. Who wouldn't like the entire night sky beaming at the tip of your fingers? You can also check out solar nails if you want to try out something new.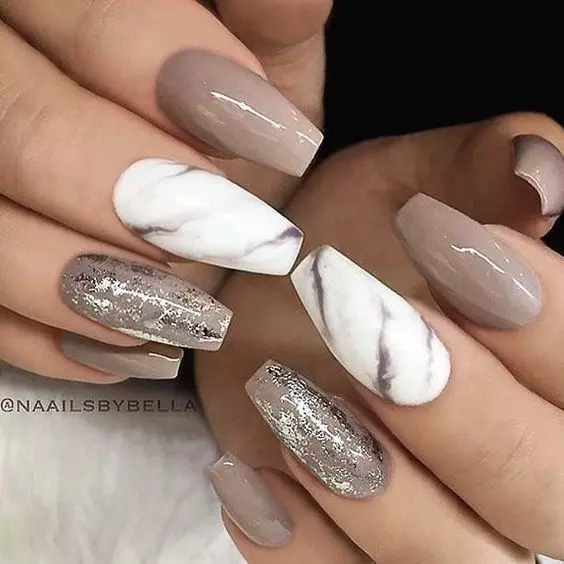 6. Glitter Nails Mismatched With Marble Nails
If you are looking for cute nail designs for short nails, glitter nails mixed with marble nails can be the perfect nail art for you. Although it looks tricky, marble nail art is actually pretty simple and is easy to get cute nails. You just need a dotting tool and two contrasting colors. Once you get the hold of it, you'd create the marble patterns like no one's business. One of the best nail designs pictures, glitter nails are evergreen and provide the new style nails.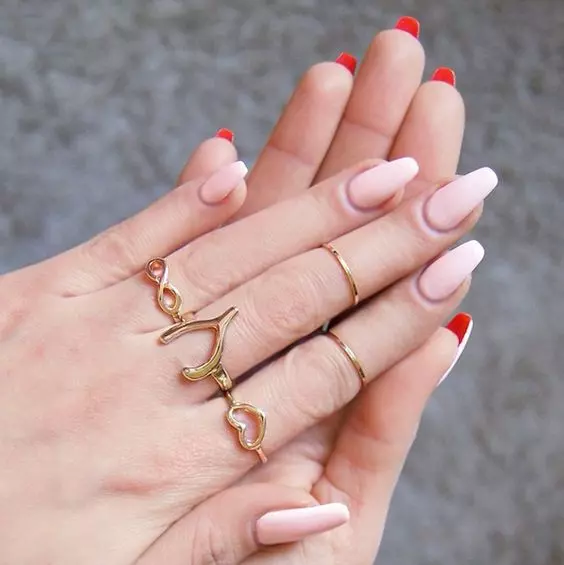 7. Painting The Undersides
If you are looking for elegant yet easy nail designs to get cute nails, you can play it cool by painting the undersides of your nails. Amongst the top nail color ideas, this gives a unique way of making a statement without putting in much effort. Keeping it simple on the top and funky on the underside looks amazing too. For instance, you can go for neutral nude nail paint on the tip and kick in a bright shade of tangerine on your undersides.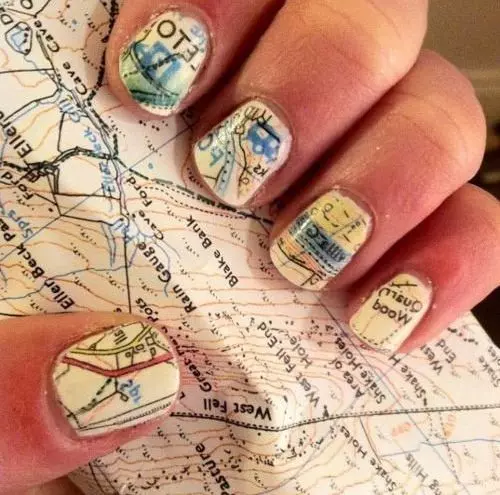 8. Pleasing Your Inner Traveler
Now, you can flaunt your love for travel by sporting vintage road maps on your cute nails. Amongst the trendy nail designs, even though it looks complicated, it's not a freehand design. To get this colorful yellow nail design, all you need are clear polish, rubbing alcohol, white polish and a map!
9. Pressed Flowers Nails
Nothing screams vintage better than pressed wildflowers on your nails. The '90s trend is back and to create your own pressed flower nails, you'll require tiny flowers and a strong top coat. Before starting with the manicure, make sure to press the flowers between a book's pages to flatten them. Now, all you have to do is place the flowers on your nails and secure them with your top coat to get pretty nails this season. Pressed flower nail art provides you the new style nails to get the perfect nail makeover.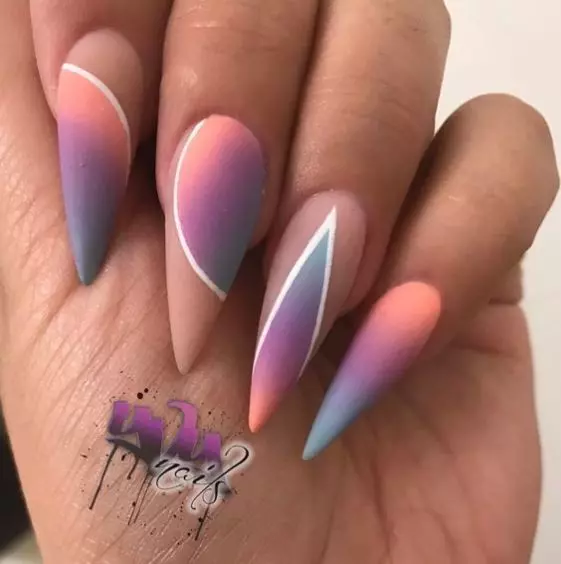 10. Graphic Pastels Cute Nail Design
If you are in a hunt for cute nail design ideas, graphic pastels might be for you. One needs to have acrylic nails for this blend of pastel graphic and metallic stripes. It's one of the cute nail ideas for people who cannot pick just one colour and just want them all! Amongst the best colorful nail designs that one can get for all seasons, graphic pastels nail art can give you attractive nails in no time.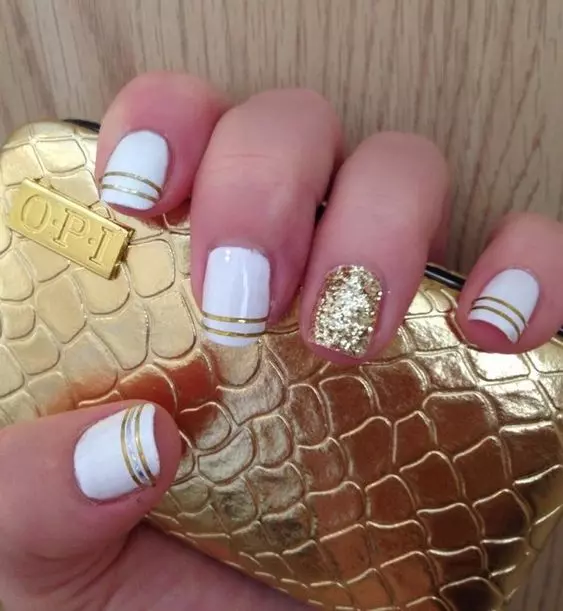 11. Stripes And Sparkles
If you are bored of your usual neutral polishes, just make a sleek line of glitter running from the center of your nails to transform your nails from drab to fab instantly. Stripes and sparkles make a ravishing combo for cute nail designs for summer as the glitter looks amazing under the sun. 2023 is definitely going to see a lot of stripes and sparkles.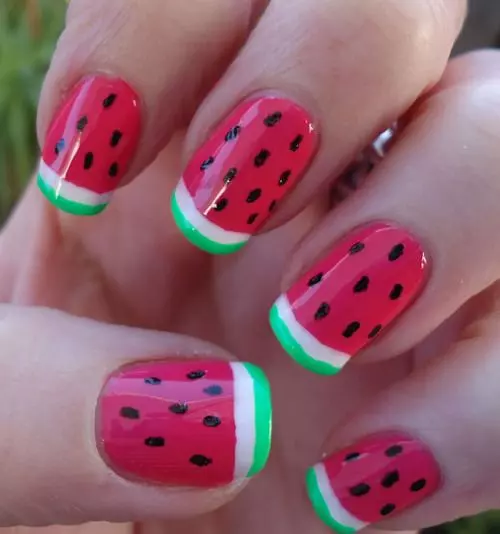 12. Cute Nail Design Using Sliced Melons
If you are looking for cute nail designs for summer, then the sliced melons nail art is for you.Nothing can look cooler than slices of watermelons on your nails this summer. Amongst the popular cute nail design ideas, these cute nail ideas don't just look cute but also make for great conversation starters as they look super quirky and eye-catching.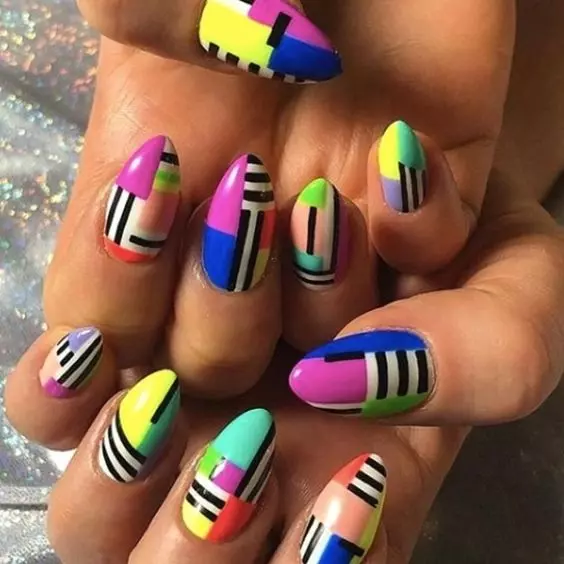 13. Color Blocks Nail Art
Color blocked designs for nails are all the rage these days as these cute nail designs work for day and night and give great scope for experimenting. If you want a splash of vibrant summery colors, go for fuchsia pink, orange and yellow. If you want to keep it down, choose colors of the same family, like, navy, cerulean and baby blue.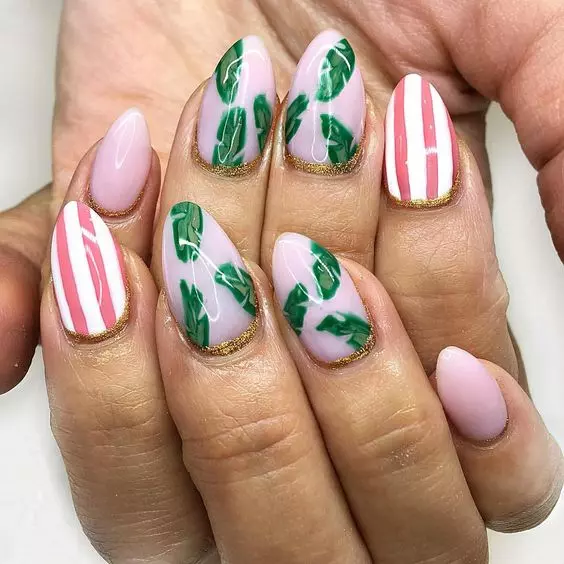 14. Leafs and Stripes
One of the trending pink nail designs, this is the manicure you would love to get. Let your nails scream 'Beach Ready!' by painting three nails of yours in stripes, matching your striped beach towel. To add to the sea vibe, paint the other two nails with leaf accents and you'd be sorted for your beach vacation.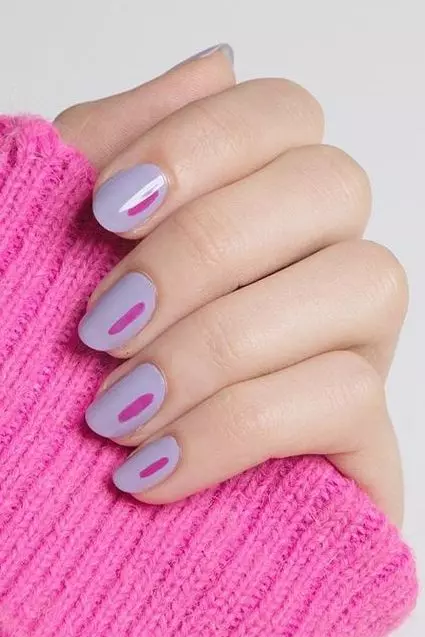 15. Cute Nail Design Using Off Center Accents
If you want some cute nail ideas for painting your talons, go for an easy-peasy off-center accented manicure which looks super elegant. You just have to add one stroke of contrasting or complementing color on one side of each fully-painted nail. You can play with colors and the combinations that you can come up with are just endless.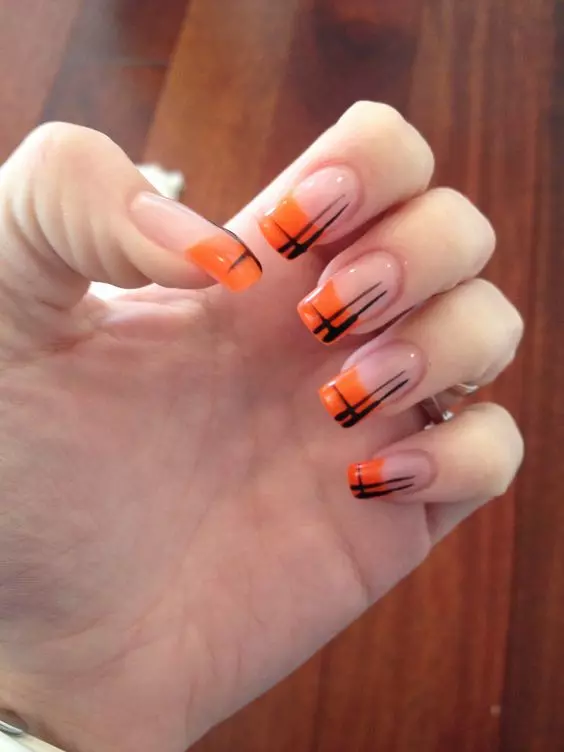 16. Fashion Nails - Neon Orange Tips
If you want to give your mattes a break and go for some cute nail designs for winters, go for French tips with a twist. Painting your tips in neon orange instead of the boring French mani would be a very cute nail art for you. Just a sleek stroke of fluorescent orange would give a very fresh look apt for spring and the winters alike.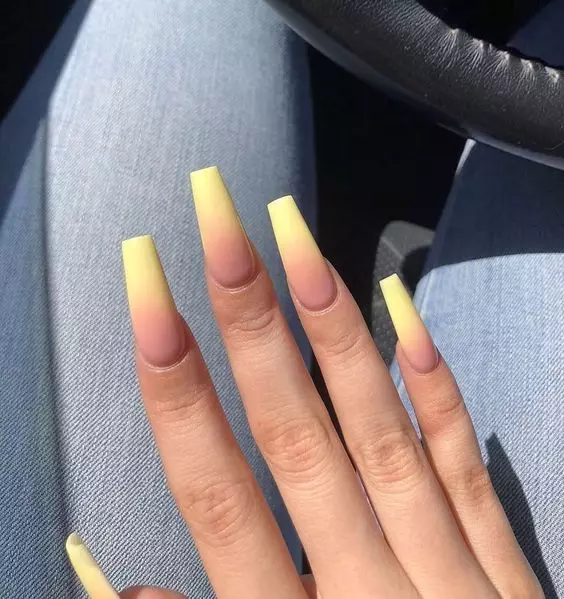 17. Yellow Ombre Nail Art
Sporting ombre nails is not easy for everyone. But when yellow is teamed with neutral pinks, it makes for a very cute nail art. This combination of yellow and pink used to create ombre nails gives a very happy and warm feel. The yellow doesn't look loud and the neutral pink just adds the perfect simplicity to it. Go for it if you are looking for cute nail designs which are trending.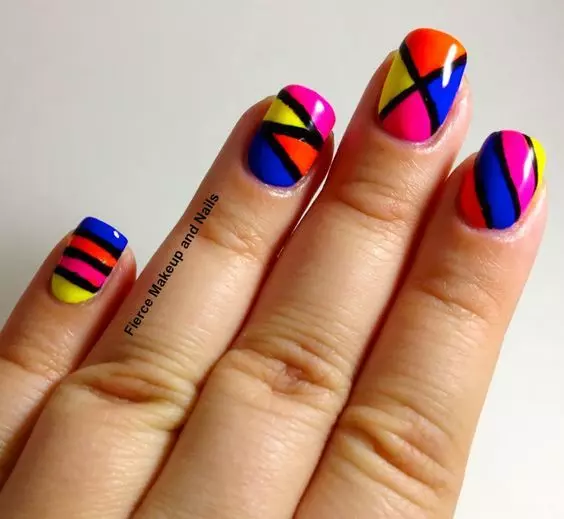 18. Modern Art Manicure
Looking for innovative pink nail designs then check out this nail art. This is one of the simplest and cute nail designs and makes your nails aesthetically pleasing. Just mix all your primary colors like cobalt blue and bright yellow to form various geometric designs to create the perfect modern art on your nails.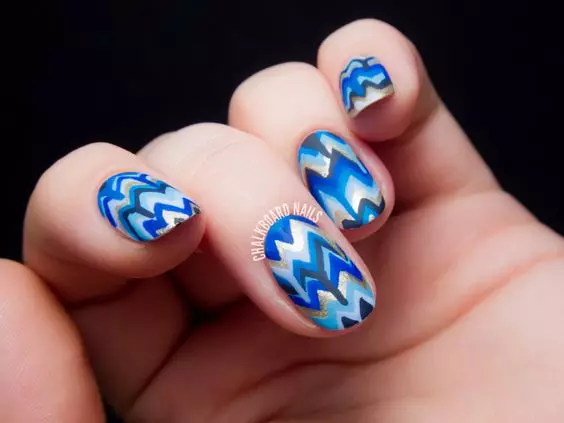 19. Fishtail Manicure
If you are looking for cute nail ideas, try the unique fishtail art on your nails. Use an aqua nail polish for painting your nails and then highlight your ring and middle finger with a cross-hatched colorful pattern to add the coolest twist to your mani.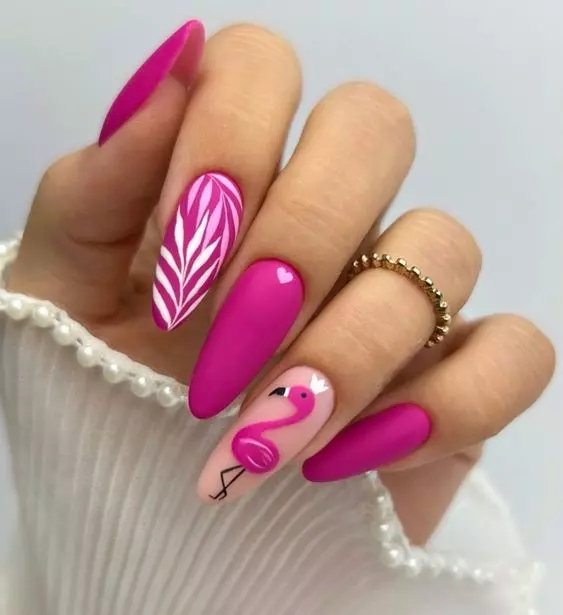 20. Flapping Flamingos
Leaves, cacti and flamingos- what else do you need for creating refreshing and cute nail designs? Enter the spring with a splash with this eclectic combination which looks good on everything –from t-shirt prints to of course, your nails.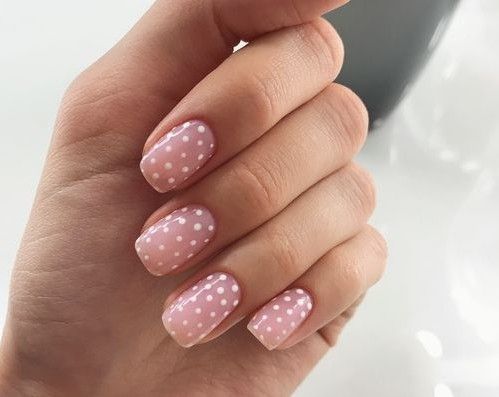 21. Pretty Little Dots
One of the easy nail designs, nothing can beat the classic delicate dots on the nails. You don't need bright summer talons to make a lasting impression. Try blush colored nail paint topped with white dots at the edges to make the colors pop and look super cute.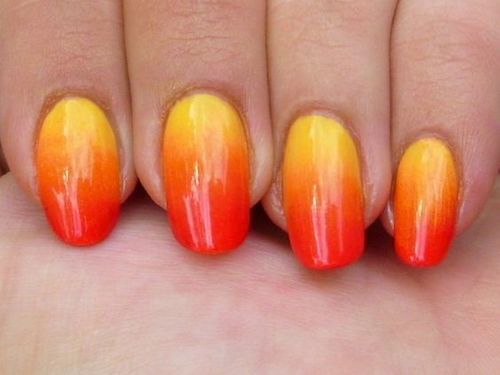 22. Sunset Ombré
Ombrés always make for very cute nail designs and what can be prettier than little sunsets dancing on your finger tips? Be it dusk or dawn, you can sit back and have a good time looking at your very own sunset whenever you want.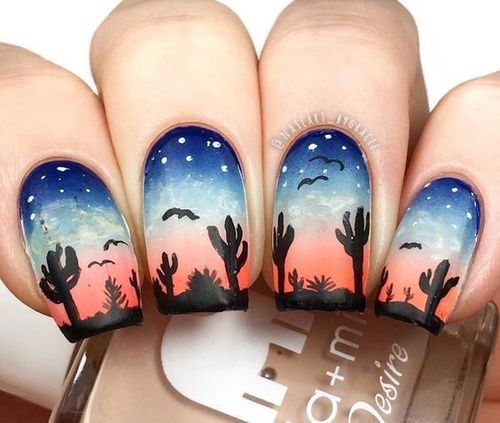 23. Sunset At The Beach
If a plain sunset isn't enough for you, add the soft, ethereal shades of the sun touching the ocean and bingo! You have your very own horizon at your fingertips!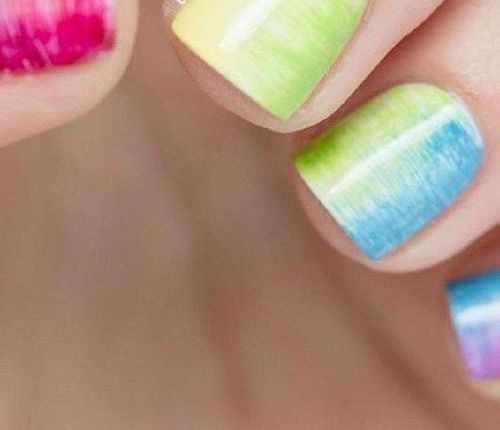 24. Blurry Rainbows Nail Design
For this cute nail art, you'd require a flat, skinny brush for achieving the rainbow blur. Move your brush horizontally on your nail to push two nail colors in each other and let them blend seamlessly. This easy yet pretty nail art looks so vibrant and cool that all eyes would be set on your fingers.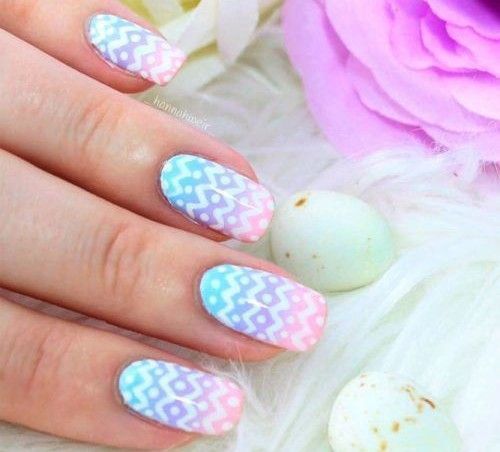 25. Pieces Of Pastels
Pastels are the new black and everyone seems to love the variety of hues they come in. If you want that subtlety on your nails, paint them in modern geometric designs and use muted shades for keeping it from looking too loud or over the top.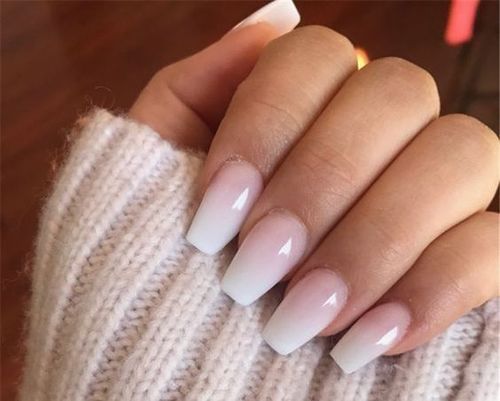 26. Classic Nails – The Evergreen French Manicure
French manicure has made its comeback this year and we cannot be more thankful. Put in your cute nail ideas to transform the classic French tips into something more elegant with a white and nude combo on almond-shaped nails topped with high-gloss finish.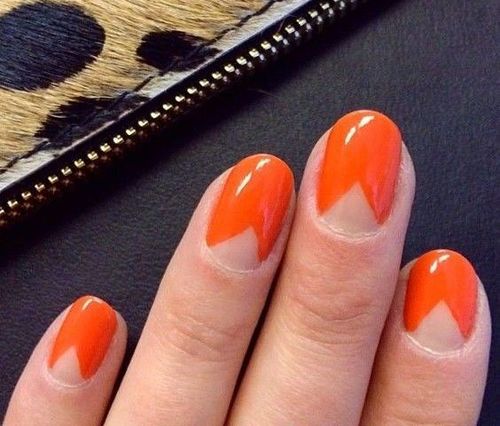 27. Triangle Trio Nail Design
Talking of French manicure with a twist, reverse French tips are also in vogue these days. Be a cut above the rest by ditching the circles and ovals by going for triangular designs instead. Use gorgeous shades to suit the summers and you are good to go.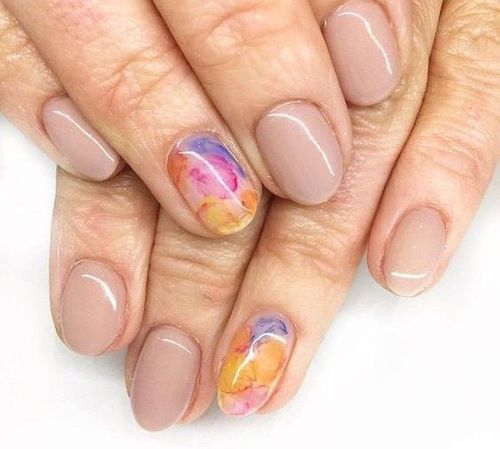 28. Fading Florals Nail Art
If you are a crafts lover, this would be the perfect nail art for you. Dilute 2-3 colors in water for creating that water color impact. Paint your nails in white and then create rough blobs of different colors. Let it dry and then secure it with a top coat. Yes, it's as easy as it sounds!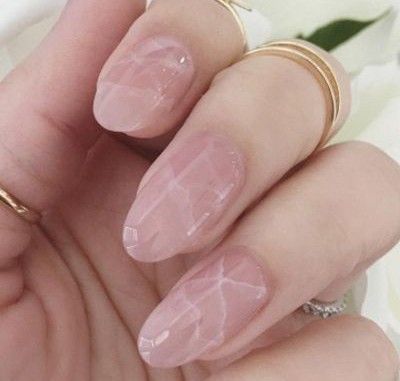 29. Rose Quartz Marble Nails
People are going gaga over marble nails this year and you can pair it up with rose quartz for that dainty crackled effect. It looks so sophisticated and stylish that it'd instantly make you embrace your inner goddess and make you feel like the queen that you are.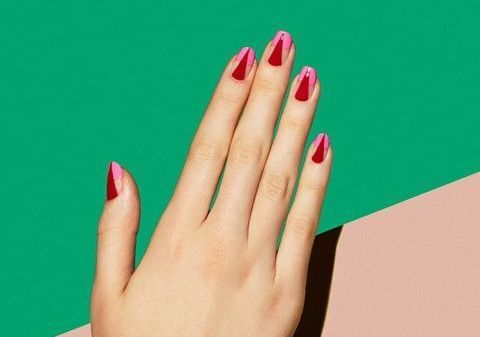 30. Graphic Red On Pink
Hot pink is the color of the summer and all you have to do is just add a graphic red touch to your feminine manicure to make it more interesting and unique.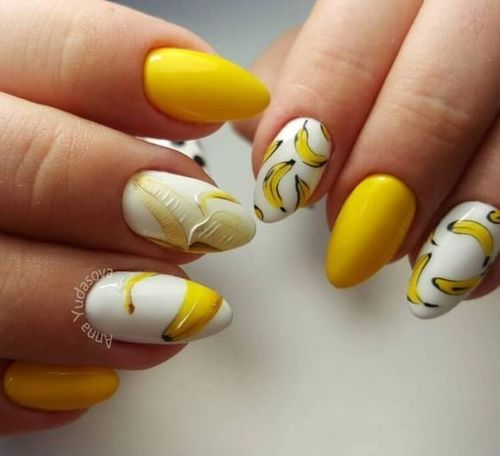 31. Cute Nail Design With Bananas
Bold pop art is the talk of the town this year and it makes for some really cute nail ideas. Make Curious George and Andy Warhol proud by painting bananas on Barbie-pink nails to get the coolest pop art inspiration on your nails. Go bananas or go home!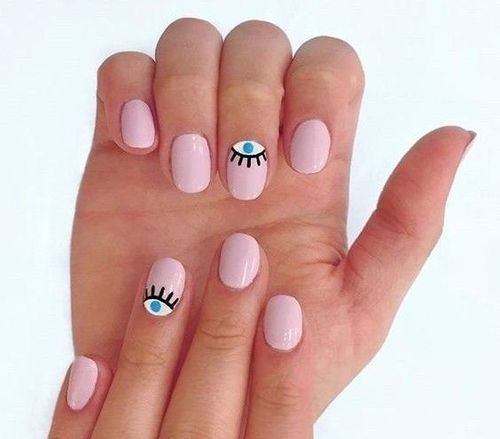 32. All Woken Up
This is one of those cute nail designs which nobody would see coming but everyone would love it. This funky idea may be way different from your typical nail art but the simple design and the negative space give it an uber modern and mature way of flaunting fun colors.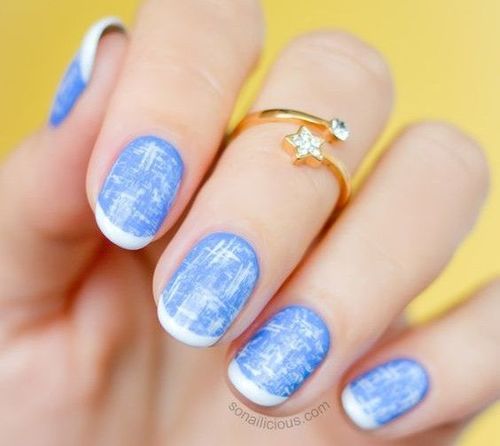 33. Tweed Manicure
Just like tweed jackets which are the best transition wear from winters to the spring, tweed nail art is also an amazing way to welcome the warm weather. Choose a light color for the base such as pale pink or sky blue and let the tweed speak volumes of your amazing sense of fashion.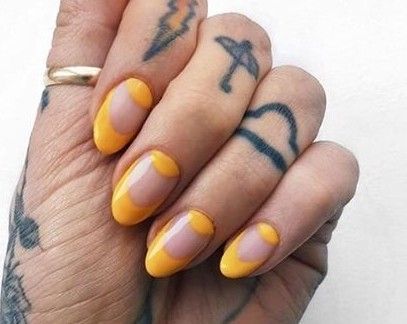 34. Sunny Yellows
Loud yellow may not always be the nail paint you reach out to for a manicure but a quirky negative space nail art would look super cool on a sunny summer day. After all, warming up to a canary shade is just what you need this season.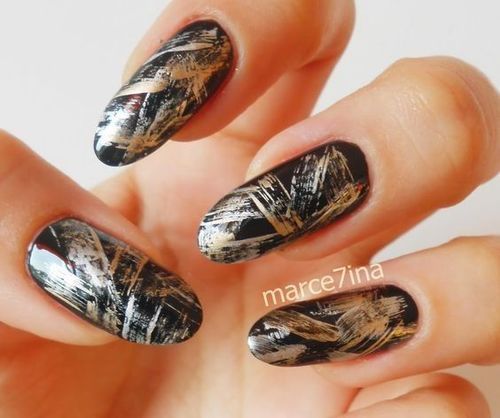 35. Graffiti Nail Art
Simplicity speaks. This black and gold dual toned manicure doesn't require many tools and is super easy to do. For creating the graffiti effect, wipe the excess nail paint off the brush and then swipe on stripes randomly on your black nails. That's it!

36. Poppy Field Manicure
Who says green and red polishes are just for Christmas? Take 'em out right away and go for a gorgeous poppy look that would make your nails thank you.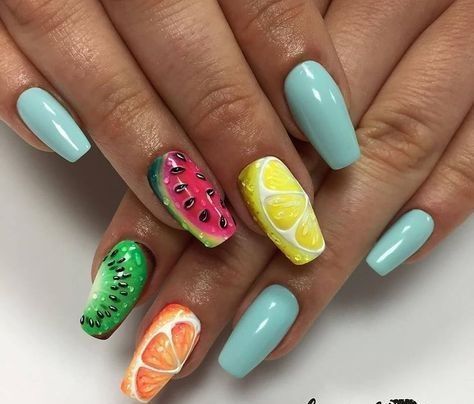 37. Cute Nail Design With Fruit Bowl
You not only need fruits in your diet but also in your style. Paint each nail with a different fruit to enter the summers with the right vibe. Let your cute nail designs do the talking this season!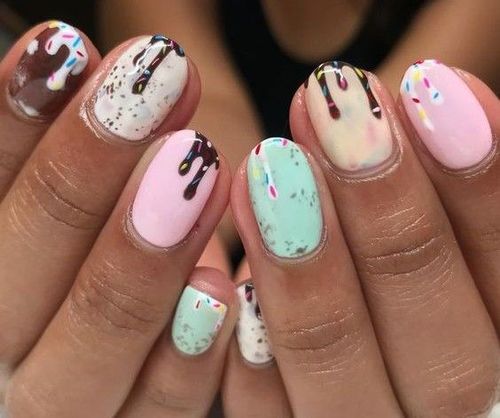 38. Ice Cream Manicure
If you are looking for cute nail designs for summer, then you would certainly like this one. Isn't every summer incomplete without a scoop of ice cream? When the season starts getting warm, pick any of the ice cream-inspired cute nail designs that look delectable. What can be more drool worthy than ice creams dripping off your nail tips?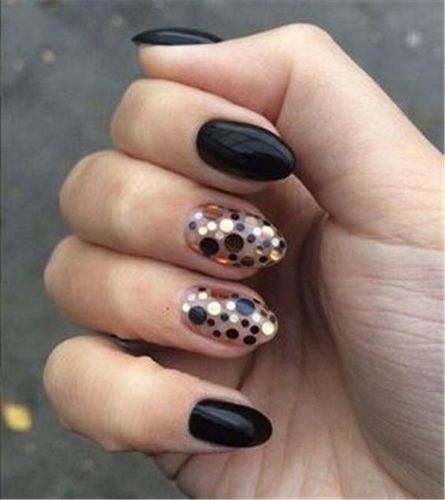 39. 3D Dotted And Glitter Nails
Take your polka dot manicure to a whole new level with the help of just one nail paint. For the eye-catching nail art, apply large chunk of holographic and painted nail glitter on top of your beige-painted nails to give your fingers a glamorous avatar.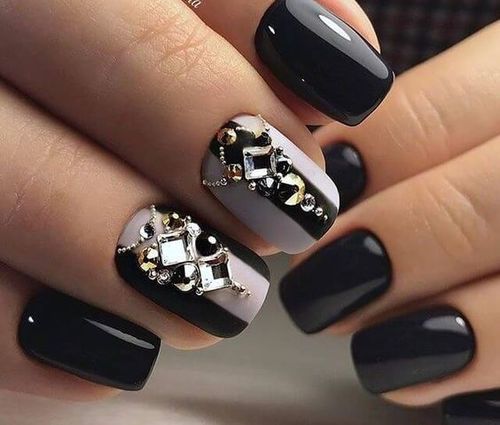 40. 3D Accents
We all love glitter and confetti when it comes to the holiday season. Add a twist to all the shimmers with three dimensional accents such as crowned jewels and gems that look so royal and stunning that you'd feel no less than a princess wearing the cute nail art.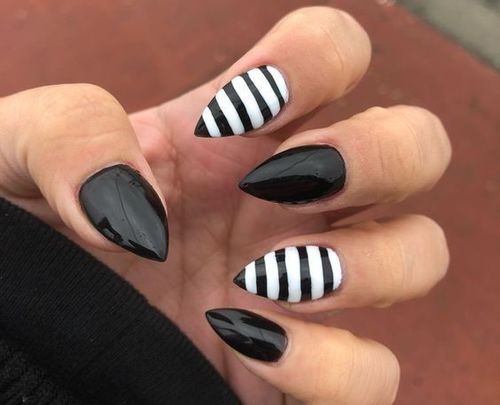 41. Moody Stripes Cute Nail Design
What looks really complicated just takes a steady hand, striping tape and some patience. You can actually match your nail with your outfits by changing the colors and shades throughout the year. Once you get the hang of it, the mani becomes super easy and fun to do. You can even swap the shades according to the festivals and occasions you'd be attending.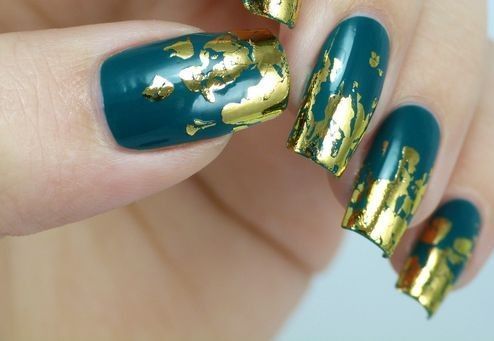 42. Foil Detailing
If you want to add a subtle and mesmerizing shine to your nail paint, go for an oil-spill foil pattern that looks ravishing and makes for an aesthetic delight.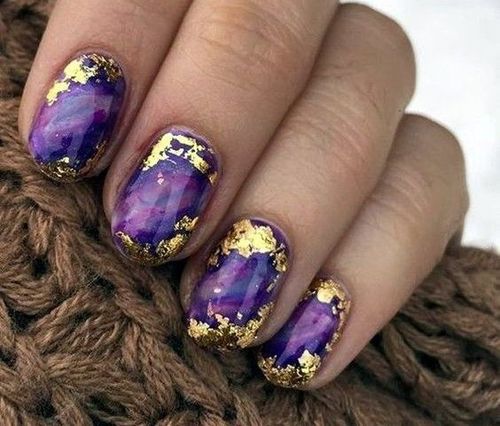 43. Gold Nail Design
This manicure would give you the look of beautiful gold and purple stones right on your nails. You just need a plastic wrap, a gold polish and a purple polish. Apply the purple paint and then put some gold paint on the crushed plastic. Dab it on your nail for creating whatever effect you desire, and you are done!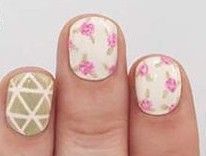 44. Roses And Geometry
Appropriate for the summer and spring, this nail design just needs precision and patience. Use white base and then make soft circles of pink on top of it. Use a striping tape for creating random lines on the other nails and then use olive nail paint for making geometric patterns. You are done!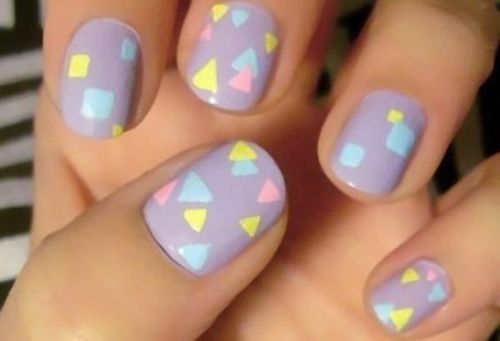 45. Cute Nail Design With Lavender Triangles
Give your pretty lavender nail a touch of geometry with little triangles painted in all colorful shades. This is one of the easiest and cute nail designs which add so much character to your overall appearance and make you look like an ultimate diva.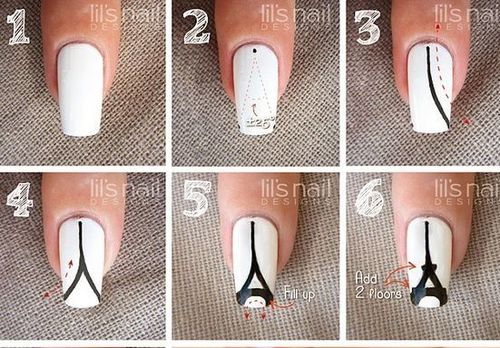 46. Parisian Manicure
For creating a cute Paris-inspired nail art, just paint all your nails in pastel peach except your accent nail which is to be painted black. Now, use the peach color for creating polka dots over the black accent nail. Use a black paint over a nail stencil for making the Eiffel Tower and there you go! Your Parisian nails are ready!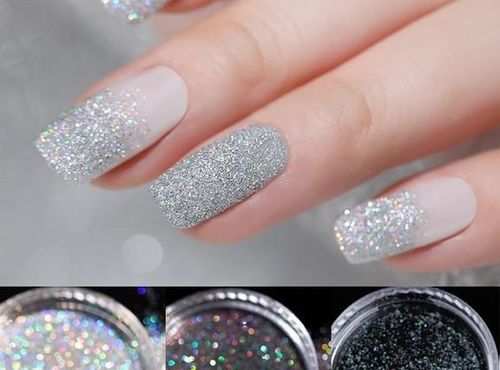 47. Glitter Nails With Gradient
This gorgeous nail art will instantly catch attention of everyone. Just paint your nails in light blue and while your nails are still wet, sprinkle blue glitter on it, creating an ombré effect. Seal the deal with your top coat and you are sorted!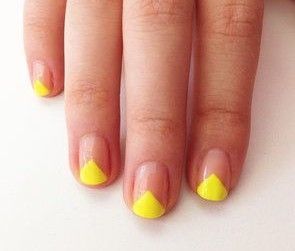 48. Flaming Triangles
Set your nail on fire (not literally!) with this yellow nail art. Paint your nails with a white coat and then paint little yellow triangles over it.  This would make your yellow nails look the way you are - smoking hot!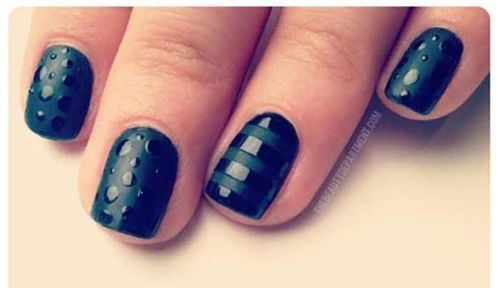 49. Black Nails - Cute Nail Design
This nail art would be loved by all those who swear by the color black. This sexy nail idea uses gloss and matte to create something that looks very confident and powerful. Just set free your inner artist and play with all the black nail paints that you have. Once you are done, finish it off with a matte top finish and get ready to black out everyone!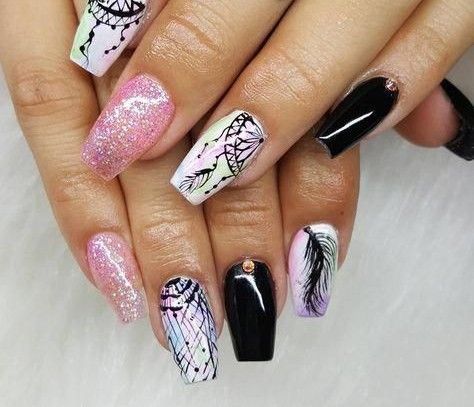 50. Dreamcatching Nails
You know what's better than a dreamcatcher? Having a dreamcatcher on your nails! The dreamcatcher manicure would need you to be a little crafty as it demands precision. Paint your nails in a periwinkle color, except your accent nail. Use a light brown on your accent nail. Place a lace on this nail and use a black string to go around it. Stick more string to the bottom. Put pastel nail polishes in use to decorate your dreamcatcher. Sweet dreams!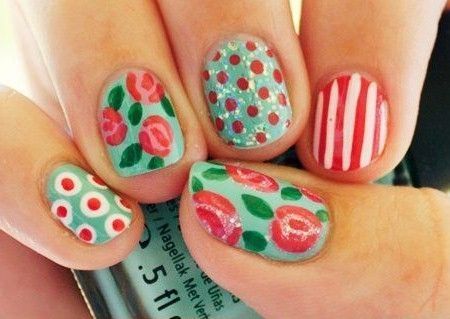 51. The Perfect Mismatch
Life is all about aesthetics these days and your nails deserve some of that too. This heartwarming and cult favourite nail art is very simple to achieve. Use pastel colors for creating floral designs and stripes on your accent finger. You may need to use dotting tools and nail stripers for this. Use glitter paints on the other two nails and you are all set to rock the fashion world with your talons.
These were some of the super cute nail designs that are appropriate for all seasons- be it summers, spring or winters. These nail designs pictures list the super easy-to-make nail designs which will give you salon like manicure without burning a hole in your pocket. Go get your paints ready!
Related Articles