25 Stunning Almond Nail Designs And Ideas - 2023
Ana Campbell
Updated At 15 Aug 23
Looking for the best almond nail designs? If yes, then we have got you covered as we list all the new and trending designs for this year.
It's understandable why the almond is one of the most popular nail shapes right now. The form, which is reminiscent of the same-named nut, is exquisite, refined, and absolutely fashionable. As a result, it's understandable why an increasing number of women are picking the shape for their fingers. So, if you chose an almond shape for your nails, now is the time to flaunt it, and we have the designs to do so. These almond shaped nail designs will put fashion at your fingertips, ranging from vibrant and daring patterns to subtle and understated hues.
What Are Almond Nails?
One of the popular nail shapes, almond nails can keep your nails strong. The tips of almond nails are blunt and they are not particularly lengthy. These have somewhat rounded nail edges and are widest near the base. Your fingers will look neat and uncomplicated as a result.
25 Best Almond Nail Desings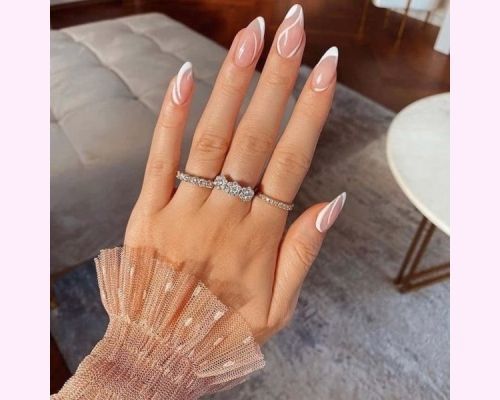 1. Almond French Nails
One of the best nail design ideas, this almond form is lovelly. Though this is made with straightforward nail art, but this is adaptable, feminine and flattering. For individuals who favour a more understated and conventional style, consider French manicures. Although you may have them manufactured in any colour you like, going with white tips on a nude or light pink base is a classic choice.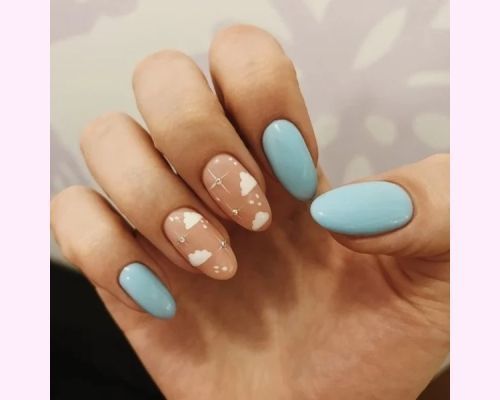 2. Short Almond Nails With Feature Nail
Short nails are useful, frequently stronger, and less likely to break. Although they can be made with a shorter length, almond nails are frequently made long to show the shape. Shorter or wider fingers will appear longer due to the shape. Short almond nails with little nail art that emphasises a feature nail.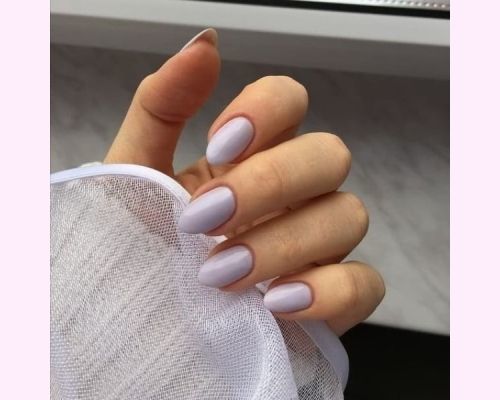 3. Round Almond Nails
Similar to the oval nail shape, almond nails have their sides filed and are tapered to form a rounded top. You can play around with slightly various almond nail shapes, such as choosing ones with more rounded tips. They are highly feminine and flattering and can be worn long or short.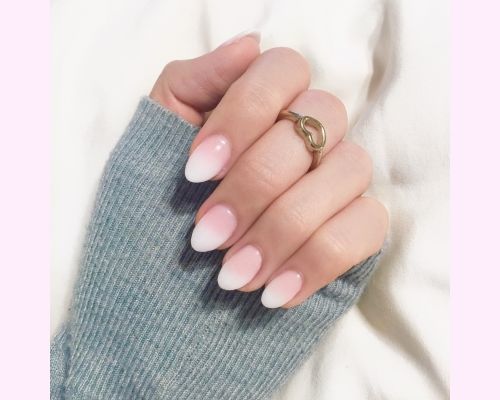 4. Short Almond Nails
Although some shapes benefit from the length, the almond shape is one of the most versatile because of its ability to be made long or short. It has a softly tapered finish and is highly flattering. Choose nude polish or a French tip manicure to highlight the form for a timeless appearance.
Check out our guide on acrylic nails as we list everything about them which include pros, cons, how to get acrylic nails, side effects, precautions one needs to take, FAQs and much more.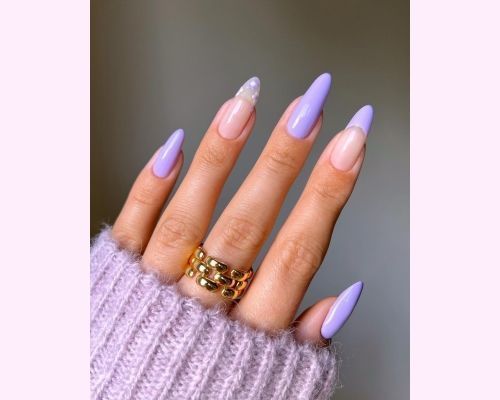 5. Long Almond Nails
Long nails are fun and feminine. They make a statement and bring focus to your hands right away. Long nails can elongate the fingers and are highly attractive. Long almond nails display the shape beautifully and provide variety in nail art ideas.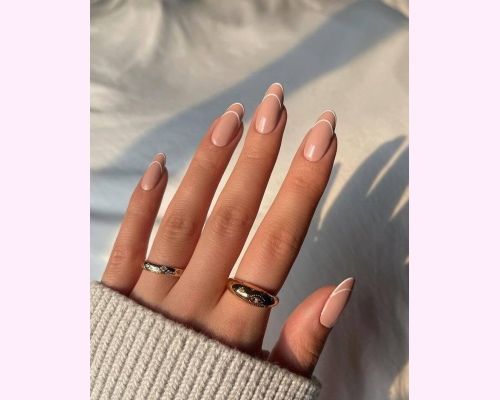 6. New Almond Nails
One of the most adaptable and stylish options for your next manicure is bare nails. Every skin tone may wear it, and there is a shade for every occasion, including business meetings and formal gatherings. It is the ideal choice for everyday wear. On longer nails, the nude polish's simplicity and almond-shape complement each other beautifully.
Solar nails are trending this year so you can also try them out to get a nail makeover. Check out our guide as we list in detail - what are solar nails, pros, cons and side effects of getting solar nails, precautions one needs to take alongwith the popular FAQs to resolve all your queries.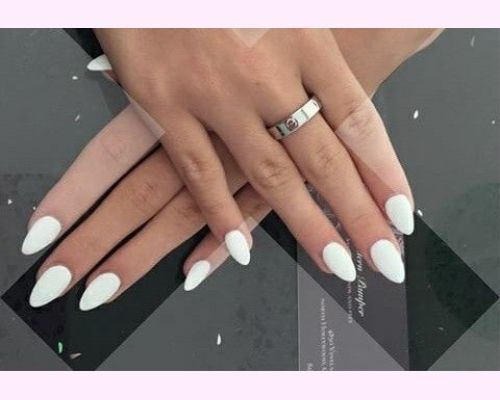 7. White Almond Nails
White nails have a fresh, modern appearance. For those who prefer a subtle manicure that nevertheless commands attention, this is the ideal choice. All skin tones look beautiful with the white lacquer on long or short almond nails. Additionally, it is a colour linked to fresh starts and hope, allowing you to subtly express yourself through your manicure.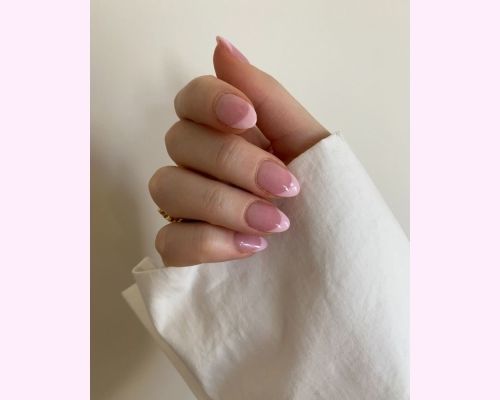 8. Pink Almond Nails
Pink almond-shaped nails are ideal for a girly and adorably adorable manicure. Pink comes in a wide range of colours, from subdued, romantic tones to intense, attention-grabbing hues like neon. Find your favourite colour and have fun playing with various nail art patterns.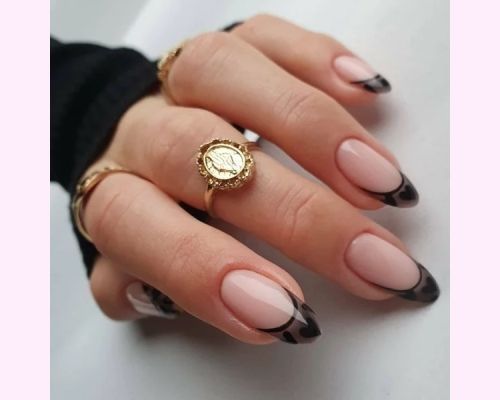 9. Black French Tip Almond Nails
A strip of white lacquer is applied to the tip of the nail to produce the traditional French manicure. It is a chic, classic aesthetic that is appropriate for ladies of all ages and is timeless. However, you can replace the white lacquer with black if you like something more cutting-edge and contemporary. The almond shape will be enhanced by the dark colour, which will attract emphasis to the points.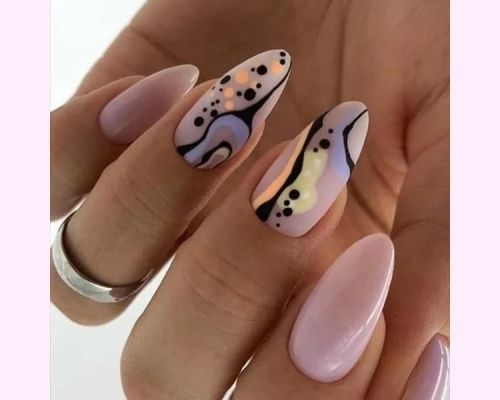 10. Edgy Almond Nails
The almond nail is the ideal blank canvas on which to express yourself and have fun with nail art. Although it may be sculpted on short nails, long nails give it the greatest appearance. Why not try black ombre nails if you want an effortlessly cool and edgy look? A feature nail design with black or dark red paint on the remaining nails is another option.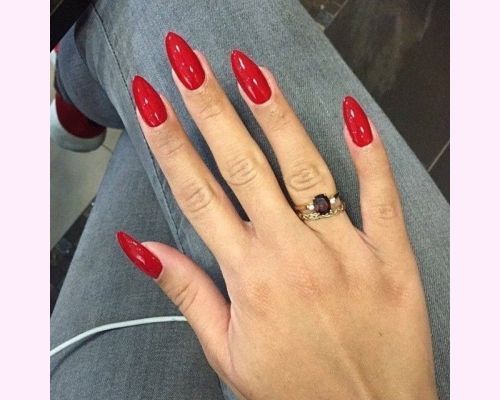 11. Red Almond Nails
Red is an attention-grabbing colour that should be worn with confidence. Red nails are ideal if you want to draw attention to your hands. You can use heart-shaped nail art to reflect the colour's associations with passion, seduction, and love. You can also choose an edgy vampy appearance or modern French fashion advice.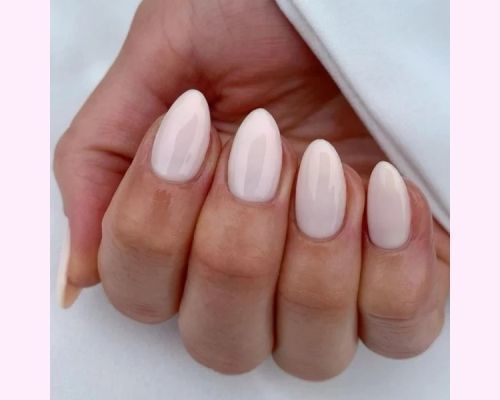 12. Natural Almond Nails
A versatile and highly feminine choice are nails that appear natural and are shaped like almonds. This is a fantastic choice if you work in a conservative setting and prefer a more simplistic approach to nail art. The unconventional shape of almond nails sets them apart from the traditional oval, square, and round designs, making them a fun option.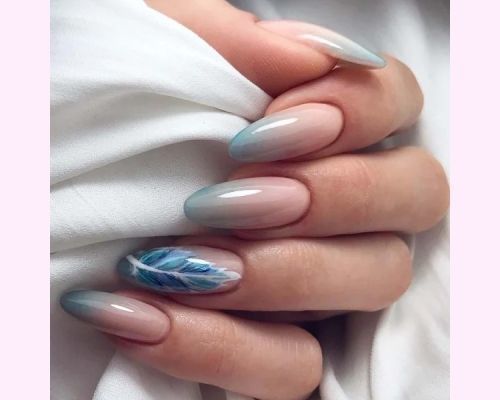 13. Ombre Almond Nails
Ombre manicures are a terrific way to play with colour because you can make them as vivid or subdued as you like. With this method, two shades—one light and the other darker—are masterfully blended to create a stunning gradient effect that is both interesting to look at and reasonably easy to create.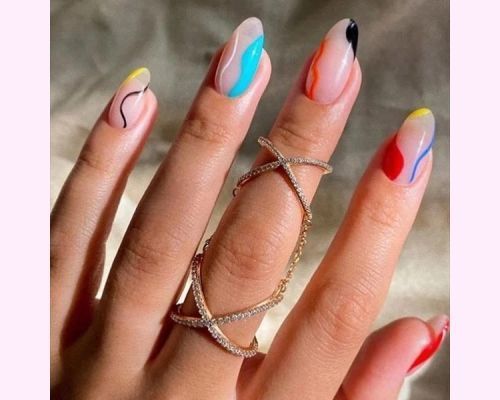 14. Summer Almond Nails
You'll have lots of opportunities to play around with your nail art over the summer because it's the season for vibrant hues and exciting patterns. Summer nails are a chance to express yourself, from eye-catching brilliant hues that draw attention and will showcase your nail shape to adorable fruits and striking patterns. The almond shape will lengthen the finger and is highly attractive.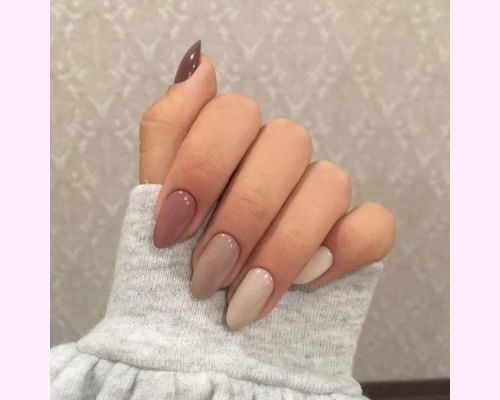 15. Brown Almond Nails
There is a brown nail colour to fit every taste and skin tone because they come in a variety of tints, from warm caramels to dark chocolate hues. Choose a single brown tone and paint each of your nails with that, or experiment with a different brown colour on each finger. The versatility, durability, and resistance to breakage of almond nails are superior to those of other shapes.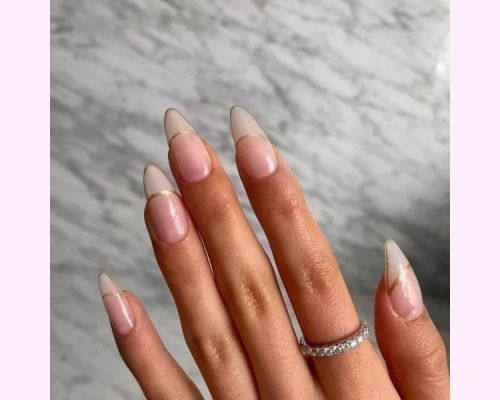 16. Elegant Almond Nails
Keep your nail art simple if you want classy nails that exude refinement, can be worn to formal gatherings, and will make you appear and feel beautiful. You may achieve a feminine, universally wearable manicure by choosing a timeless, subdued hue and modest nail art that can be worn everywhere, especially on special occasions.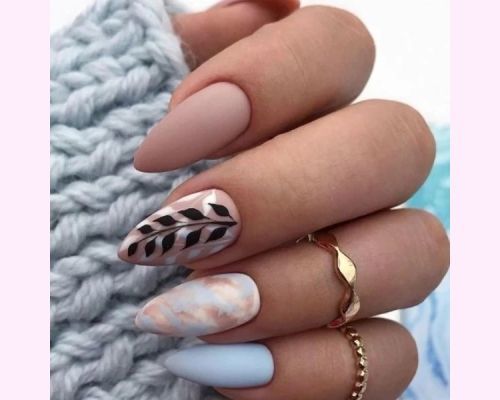 17. Medium Almond Nails
Although almond nails may be styled either short or long, why not choose a middle length for the best of both worlds? Medium-length nails are practical and manageable, and they are less likely to break than longer nails since they are long enough to give you some flexibility with the nail art you pick.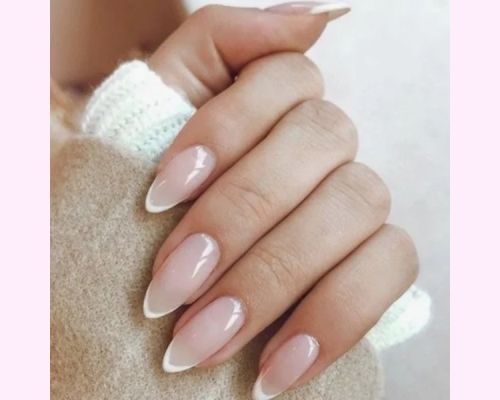 18. Classy Almond Nails
You need classy nails to represent this if you have a particular event or business function coming up and want to project the image of a sophisticated and classy woman. Less is more is the guiding principle behind this kind of nail art, which emphasises straightforward patterns and a restrained colour scheme. Additionally, avoid having almond nails that are excessively long; instead, keep them at a medium length.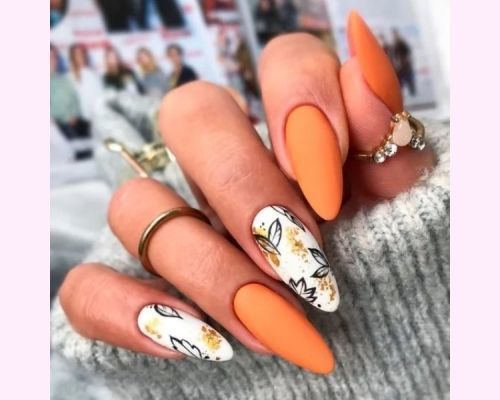 19. Fall Almond Nails
Dark greens, oranges, and browns are just a few of the many colours you may choose from when it comes to the changing colours of the leaves in the fall. All nail shapes and lengths will look great with a manicure that incorporates one or more of these colours into your fall nail art.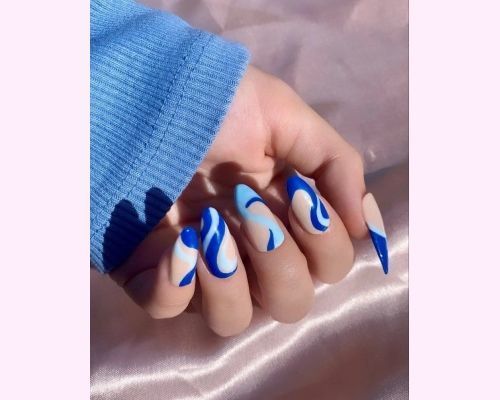 20. Blue Almond Nails
Because they are beautiful and significant, blue nails have been popular in recent years. When you look at your hands, the hue may make you feel at rest because it is said to signify relaxation and tranquillity. Additionally, because it comes in a variety of hues, you can choose the one that best matches you and enhances your complexion. Simple or intricate, focusing on a single colour or a range of hues, blue almond nails can be created.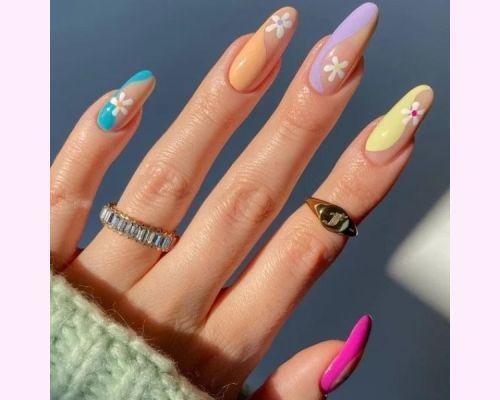 21. Cute Almond Nails
Let your nail art express your girly side if you're seeking for a cute manicure. There are numerous methods to achieve this, such as experimenting with vibrant hues, cute patterns and prints, and even tiny stickers of your favourite plant or animal. The almond shape is adaptable and attractive, and it works well for nail art, particularly when it is applied to longer nails.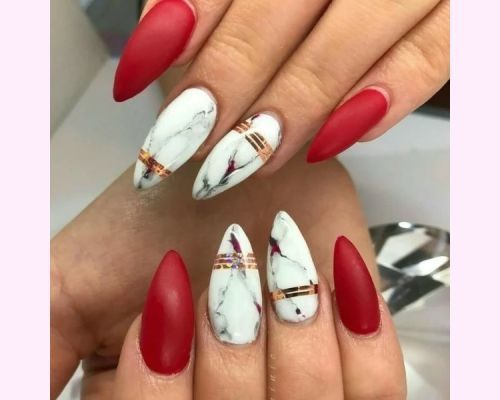 22. Almond Christmas Nails
One of the happiest times of the year is Christmas, and your manicure may express this. Christmas nails are a terrific opportunity to get creative with your nail art and may be anything from a brilliant combination of green, red, and white colours to candy cane stripes or images of Rudolph the Reindeer or Santa Claus.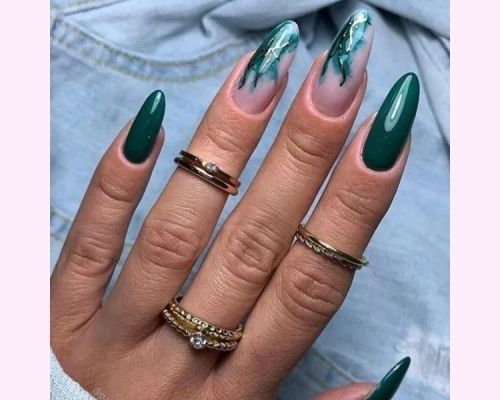 23. Green Almond Nails
Green nails are linked to nature and stand for growth and beauty. There are numerous options, such as emerald or deeper tones like pastel green. The flexible green nail colour will look great in the almond nail form. You can wear long nails to draw attention or short nails for a perfect everyday look.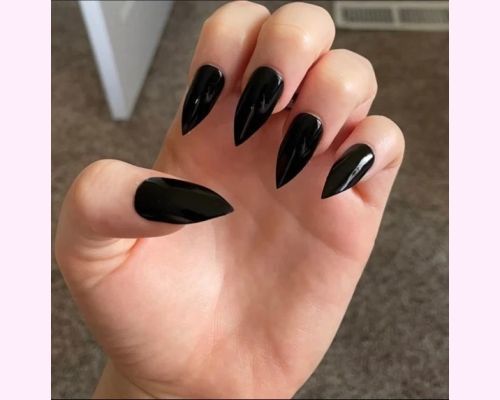 24. Black Almond Nails
The top of an almond-shaped nail is rounded and tapering on the sides. To create a more distinctive appearance, you can play with this shape's design, such as making the point sharper. You can choose nail art that emphasises the tip, such as a contemporary take on the French tip manicure, to draw attention to the form.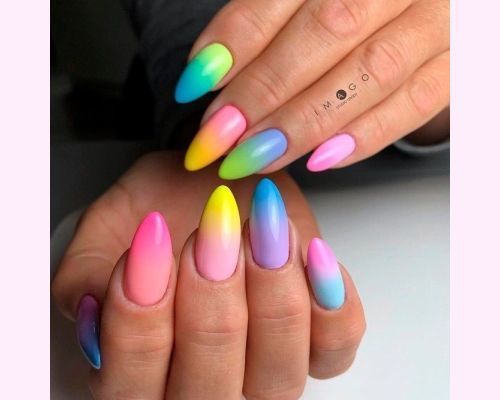 25. Almond Rainbow Nails
If you want to play around with colour and design happy, upbeat nails, rainbow colours are a great option. Your manicure will be lovely and symbolic because rainbows are connected to luck and positivity. The almond nail form also complements the arc of the rainbow wonderfully.