55 Stunning Yellow Nail Designs You Will Adore - 2023
Olivia
Updated At 19 Oct 23
Looking for the best yellow nail designs and ideas for inspiration? If yes, we have got you covered!    
Imagine it. With a splash of yellow and sparkling stones, your nails are beautifully decorated. And you do it all while holding a cool cocktail to show off your brilliant yellow nail art. Will it not put the party right at your fingertips? Oh, yeah. Who can resist the allure of perfectly coiffed nails that complement your attire? No one!
55 Stunning Yellow Nail Design Ideas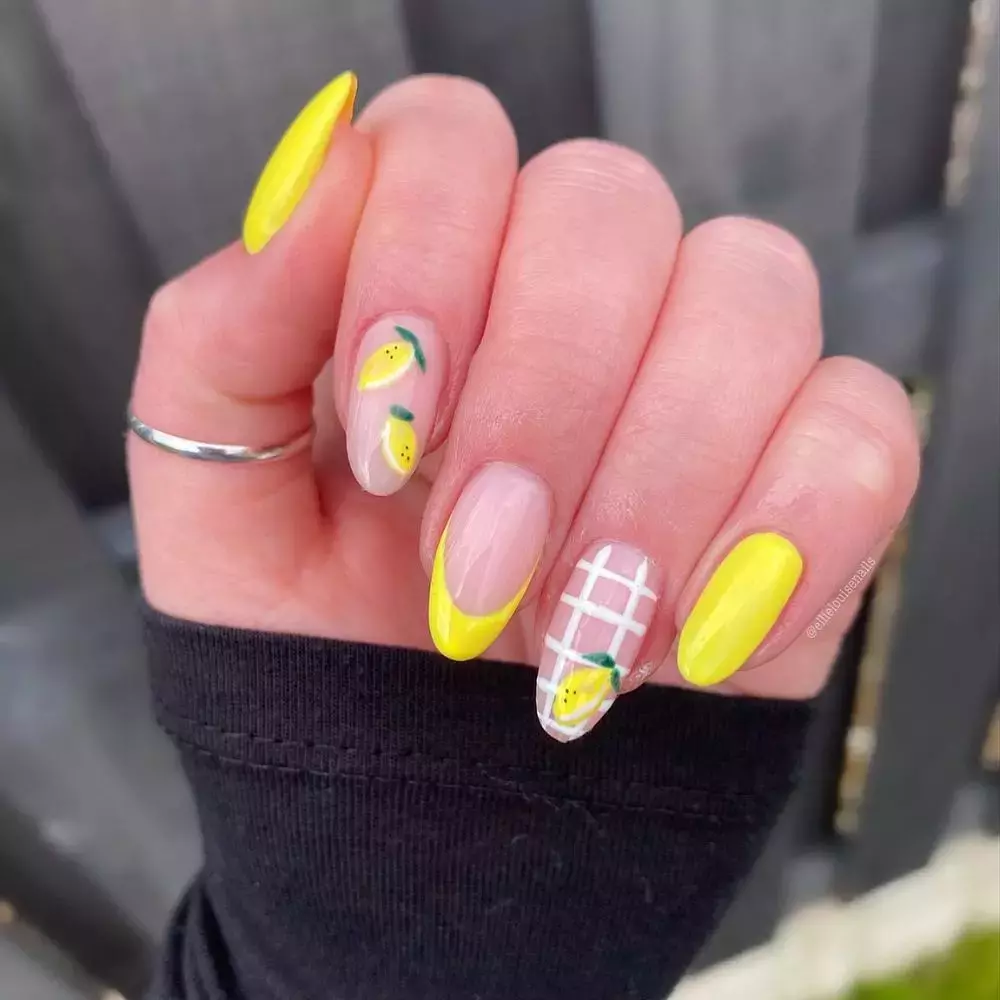 1. Zesty Yellow Nail Designs
Everyone's taste is represented here, from vivacious yellow tones to spicy nail art patterns. A night out with your girls, the office, or the beach—newly painted yellow nails go with anything. If you're seeking a fun and creative method to update your appearance, get motivated by these 8 stunning yellow nail art designs—they're guaranteed to make you smile! And in case you need more inspiration, do check out our guide on nail designs to find out 50+ additional nail art ideas for inspiration.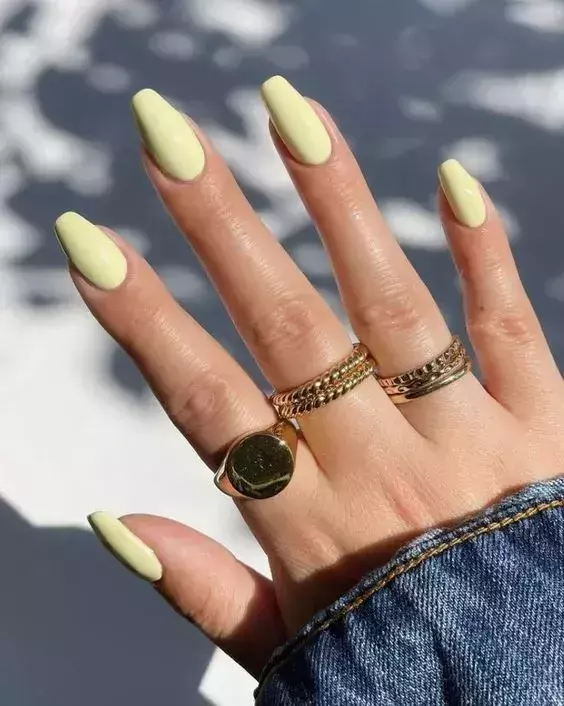 2. Pastel Yellow Nails
For a playful and youthful manicure, why not try the typical yellow shade with a matte finish? What more could one ask for? This vibrant colour instantly improves your attitude and makes your clothes pop. Regardless of the length or shape of your nails, this summer-approved design may liven up your daily routine.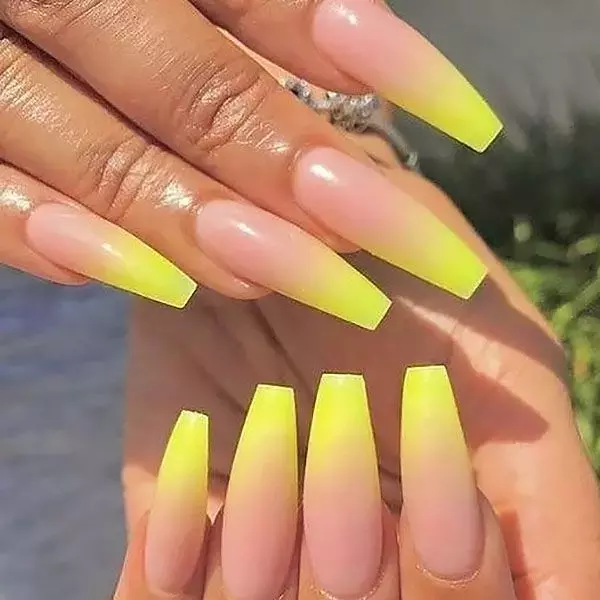 3. Ombre Yellow Nails
Your day will instantly become more cheerful thanks to the colour and style of this yellow ombre nails. The soft and energising lemon colour is a suitable contrast to the trendy design's more bare-chested or brightly coloured variations. Any of the nail shapes will work for this style, but longer tips make the gradient pop.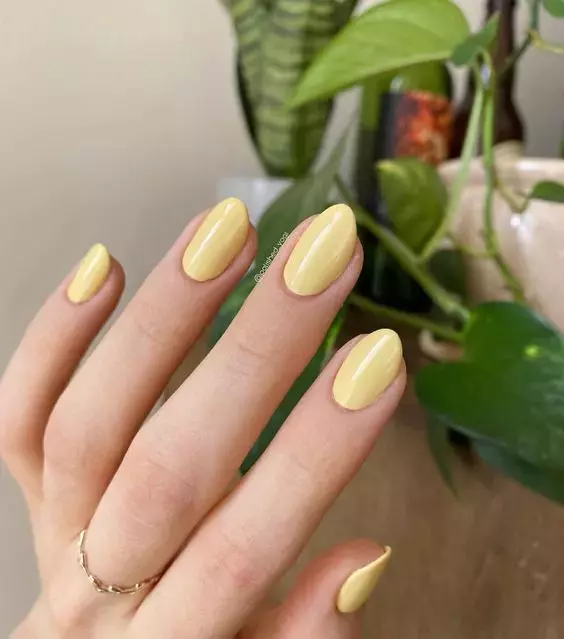 4. Lemonade Pastel Yellow Nails
This pastel colour will steal looks at every party or occasion. Take the yellow colour and paint the nails from the root to the tips and apply an overcoat of transparent polish to give it a glossy finish. Otherwise, you can keep it matte like the normal nail paint colour. The pastel color on these coffin nails look amazing and can transform your look.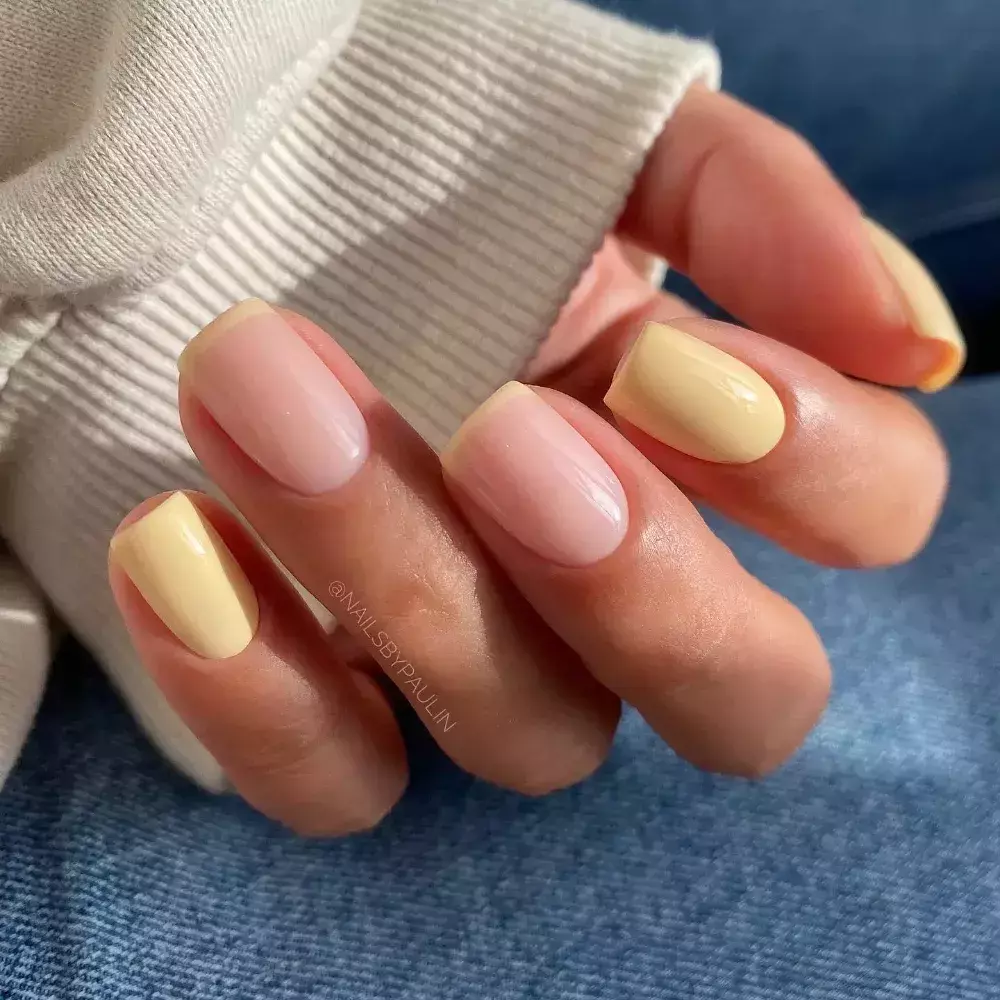 5. Pastel Yellow Nail Designs
When fashion is all about trying new things and experimenting, why stop with your wardrobe selections? This well-liked manicure has already been called into question because of the yellow accent. While this variation is identical to the traditional French manicure, the white tips are replaced with a lemon colour. It's a fantastic option for a day at the office or a night at the beach.
Do note yellow nails are different from solar nails. Do check out our guide to find out all the differences between the two.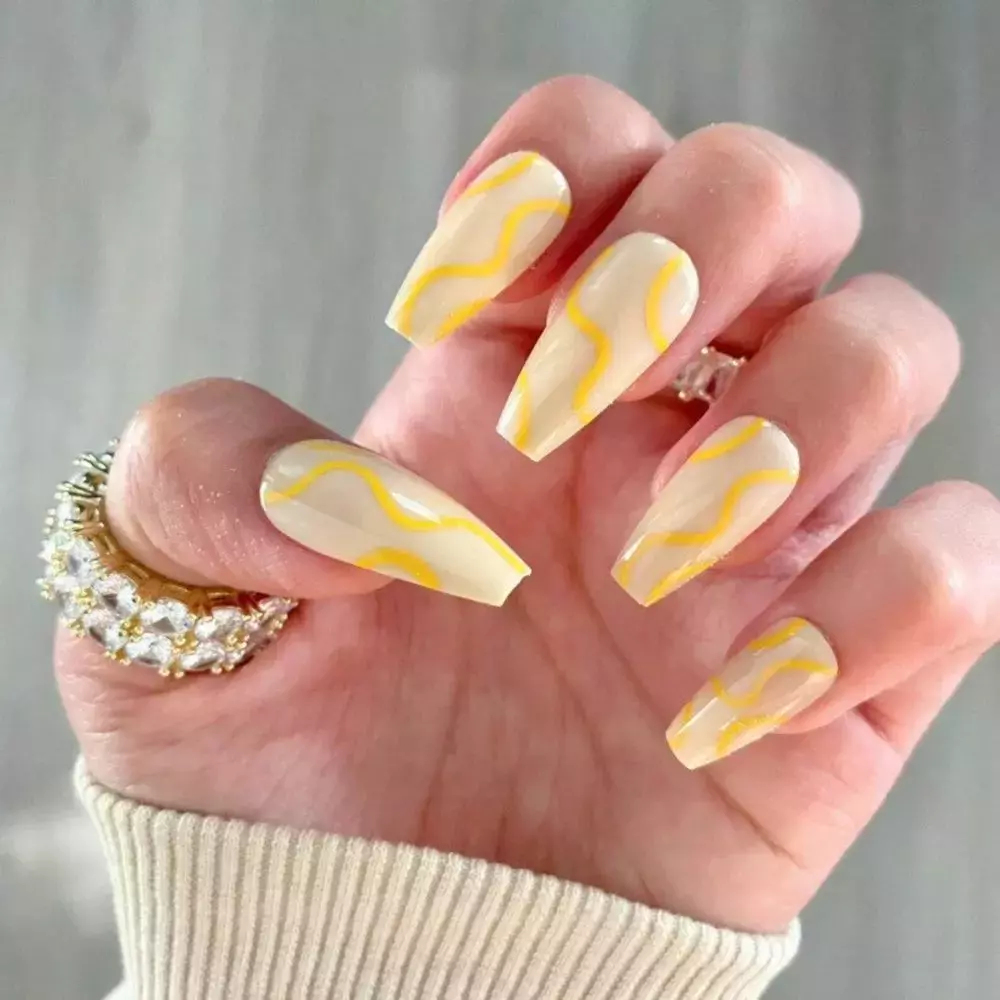 6. Yellow Nail Ideas With Abstract Art
This year, abstract nails have been by far the most widely used nail art trend. Even though these abstract swirls look amazing in all colours, I don't often see them in yellow, which is disappointing. Every time you look down at your manicure, you'll grin thanks to these vibrant yellow swirls on pastel yellow nails.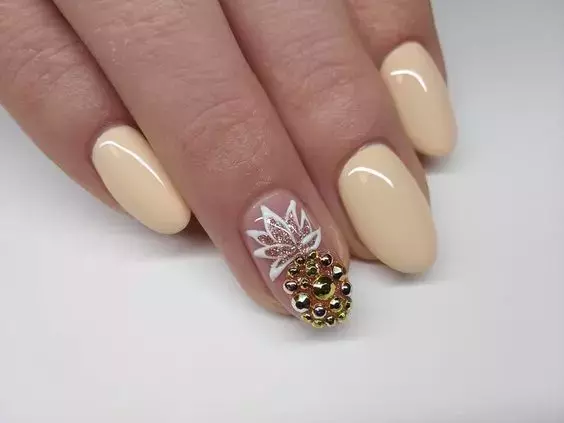 7. Yellow Nail Art
We have the ideal nail art for you if you like Pina Coladas and girly manicures. The "pièce de résistance" is the eye-catching pineapple on the thumb, which steals the show from the simple two-tone nude and yellow lacquer on each nail. It's not just cute; it's also a beautiful way to convey how much you adore summer. One can also try out diamond nail designs to highlight specific nails and transform your look.
If you are looking for inspiration for round nails, do check out our guide as we cover 25+ trending round nail designs.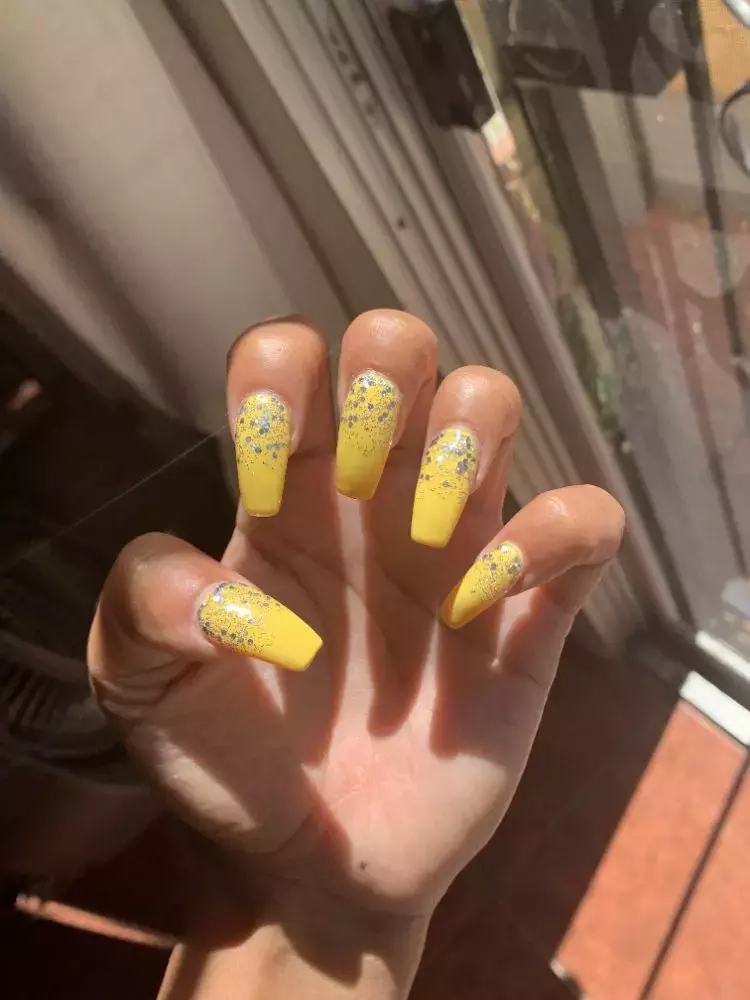 8. Pastel Yellow Nails With Glitter
You will shine as brightly as the sun if you have these yellow glittering nails. It is perfect for a picnic date, a night out, or a fun night with friends since it combines light-catching glimmers with a lemon shade that lengthens nails. Whether you have long or short nails, you'll want to flaunt your manicure to everyone you pass.
Read More: Diamond Nail Designs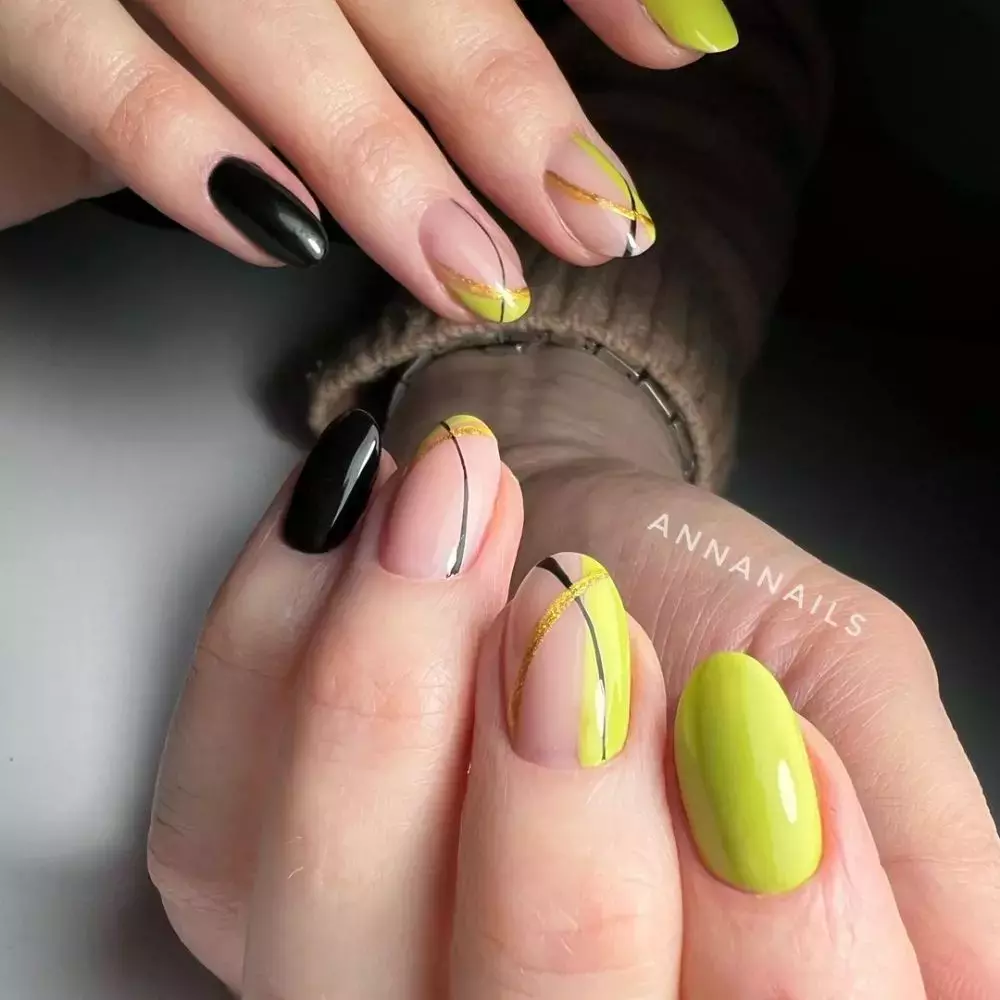 9. Black And Yellow Nail Designs
Two of the most striking colour combinations are yellow and black, and they unquestionably make a statement. A little silver and you have a stunning manicure. Make an animal print with the darker colours, or let them splatter across your almond nails. It adds style to every ensemble, day or night.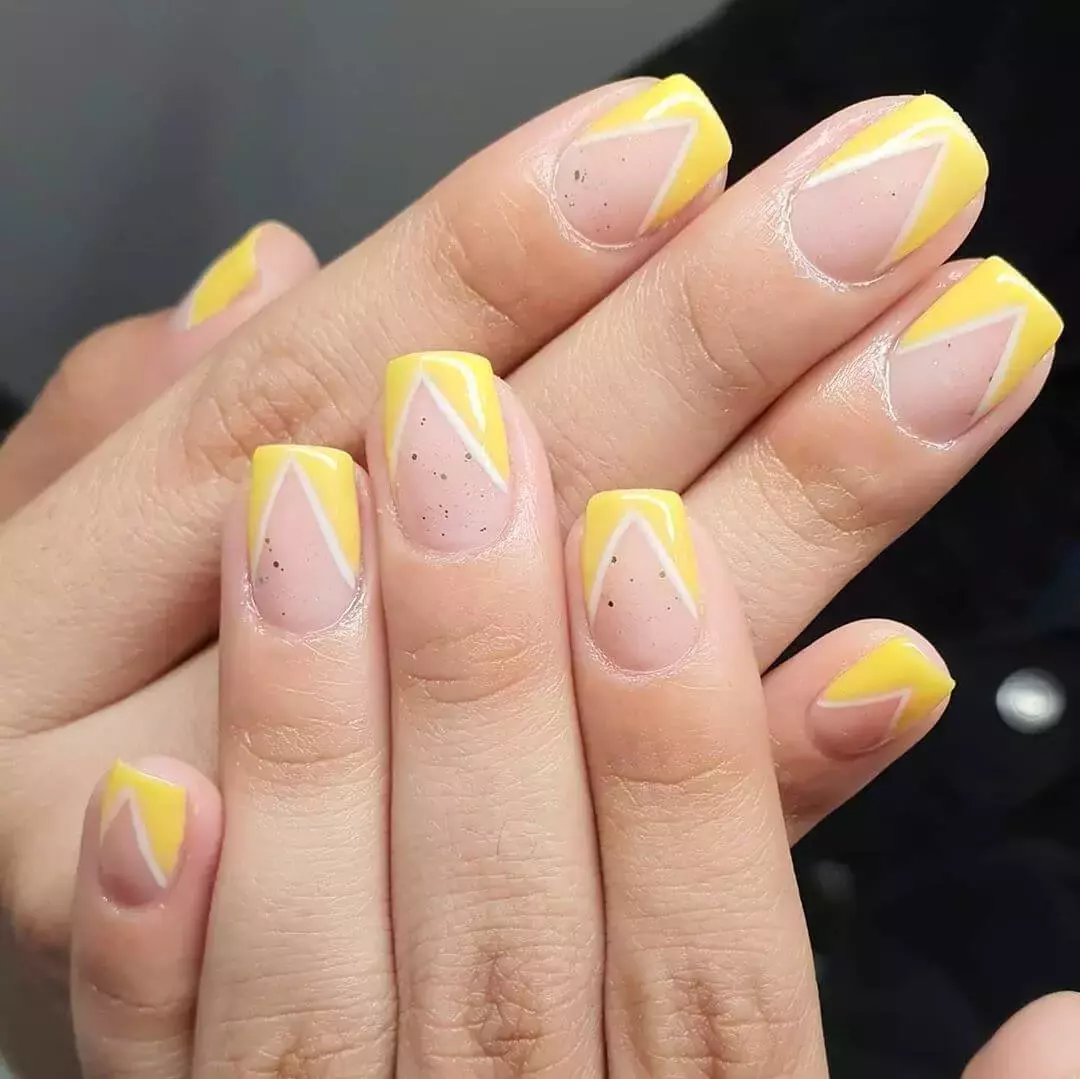 10. Minimalist Yellow Nail Designs
This year's most popular manicure is the simple yellow and bare nail. It looks good, is simple to build yourself, and sends a strong message. As an alternative, you may recreate this look on your natural nails. Start by giving your nails a nude colour, then add a triangle tip using scotch tape and neon yellow varnish. You can also combine yellow with white acrylic nail designs to get a new look. The combination of white and yellow looks stunning and can go well for all occasions.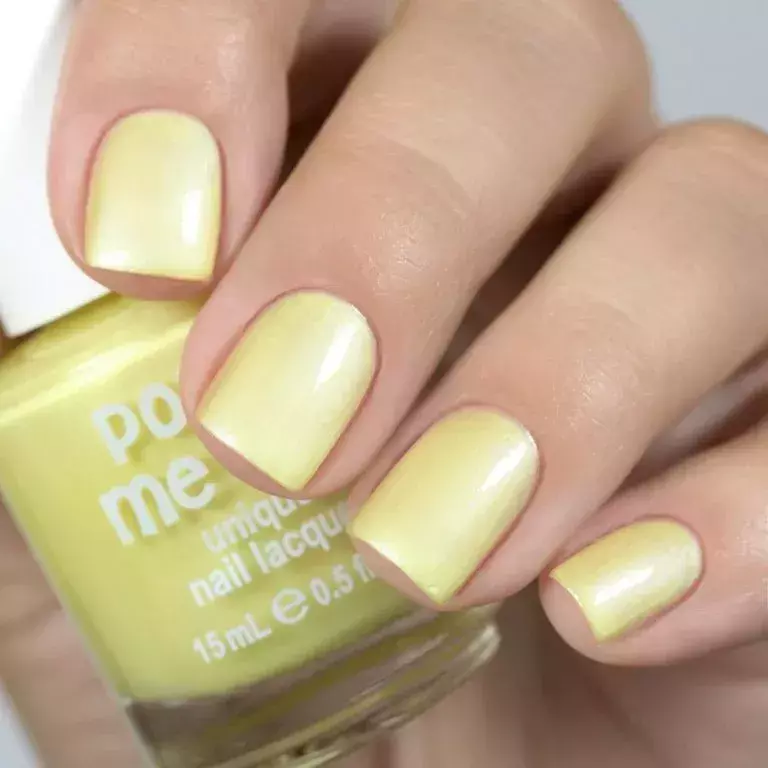 11. Classic Pastel Yellow Nails
Leave the pastel yellow manicure off our list because it's one of the hottest nail colour trends this spring. It's called "Going Bananas" by the polish company Polish Me Silly, and it gives the gorgeous pale yellow a touch of iridescent shine.
If you are interested in pastel shades and want to try out a new color like Olive or green, do check out our guide to find 25 best olive nail designs.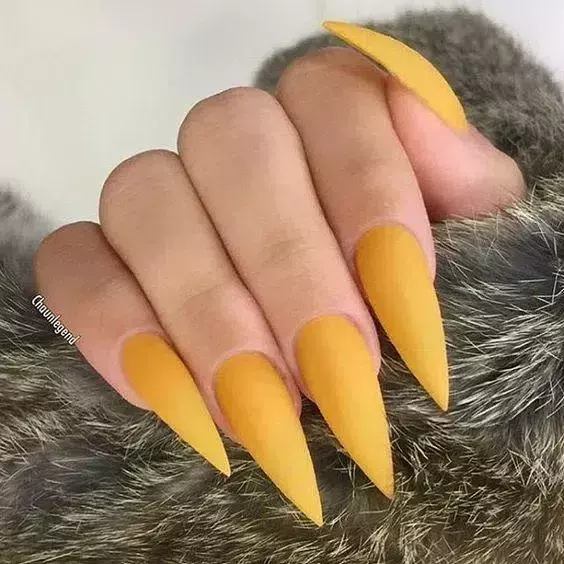 12. Haze Stiletto Yellow Nails
For 2023, stiletto nails are becoming very popular, and I love how they look in yellow! These nails have a distinctive combination of two yellow and transparent "haze" nails on each hand and three solid yellow nails. It's a hip, modern spin on the statement nail that would be great for vacations or parties.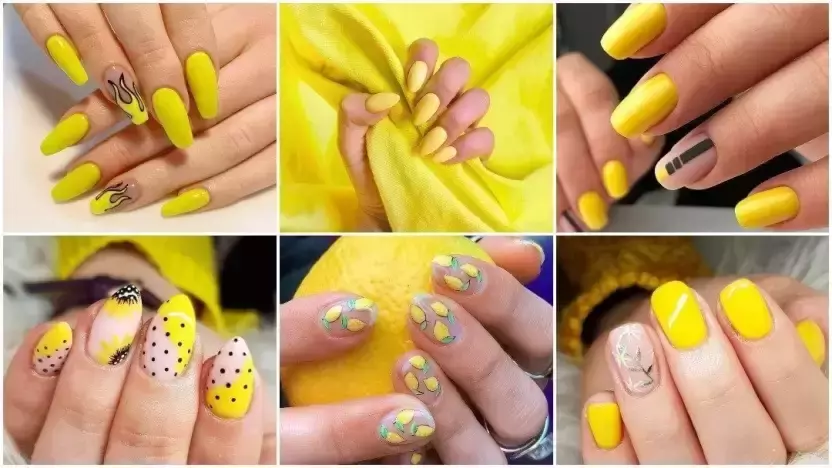 13.  Yellow Nail Art
There are countless possibilities when it comes to yellow nail art. However, this very adorable yellow egg manicure is one of my favourite yellow nail art ideas. For a unique and lovely mani, this super-cute combination mixes polka dots, stripes, and a cute egg nail art design.
Read More: Almond Nails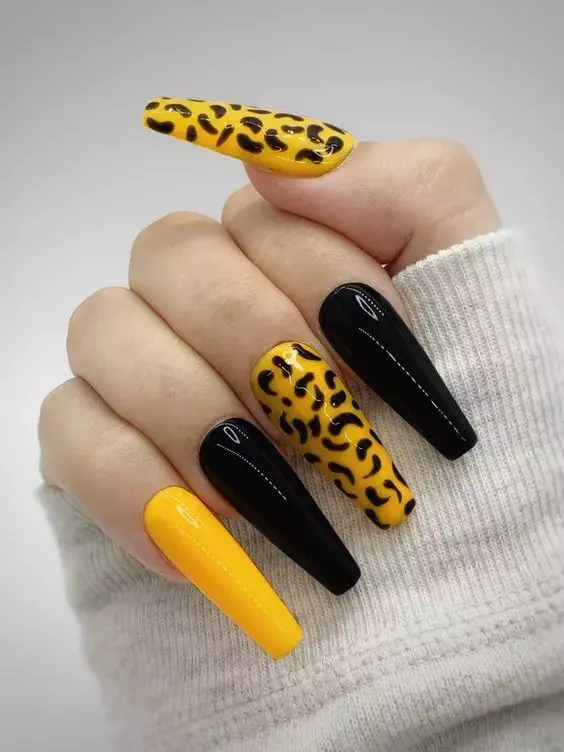 14.  Leopard Print Yellow Nails
These yellow leopard pattern nails are very cool! Animal print manicures are always in style. The animal print on these nails is limited to the tips for a more wearing appearance and is adorable.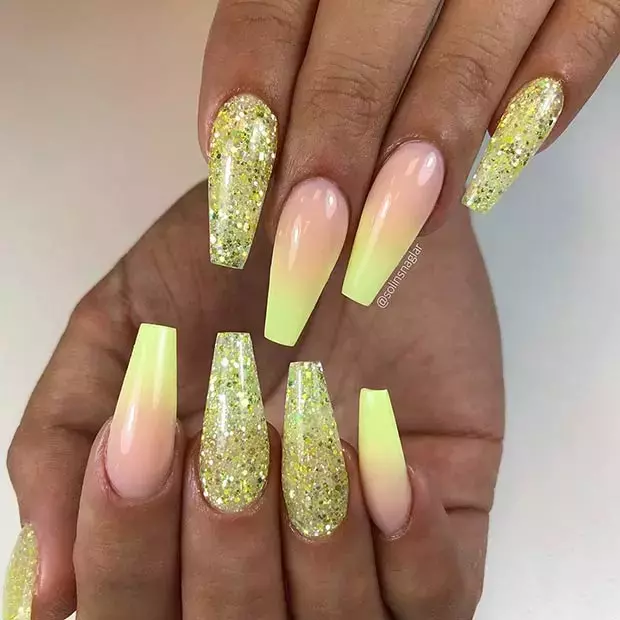 15. Pastel Yellow Nails With Glitter
Look no further than these neon yellow, naked, and gold glitter nails if you want a vibrant yellow manicure design that will capture everyone's attention. Three nail styles are combined in this manicure to create a stunning appearance. For a girls' getaway or birthday party, this one would be fantastic.
Read More: Simple Nail Designs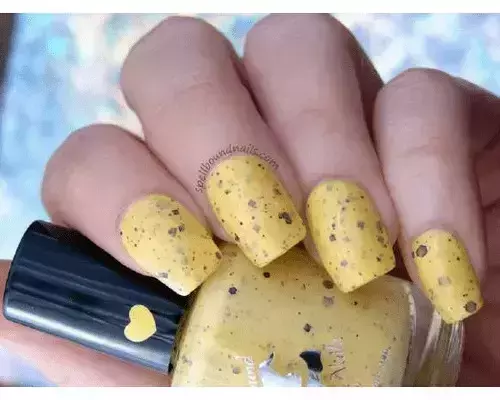 16. Yellow Nail Designs With Black Speckles
Here is a less skilled approach to yellow nails that is more novel. It's a Spellbound Nails polish that is yellow with black glitter specks. So original and cool!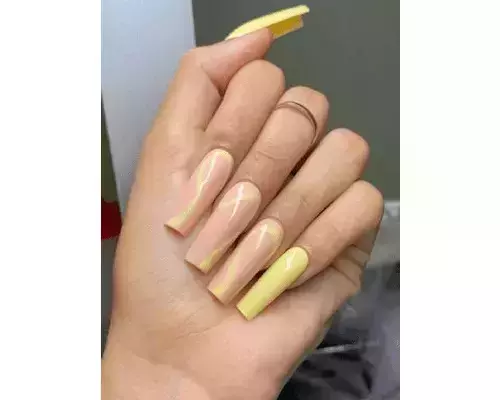 17. Nude Swirls On Yellow Nails Art
Two solid yellow accent nails are used to add some contrast to the long, naked, coffin-shaped nails that are used to create the effect. The exact press-ons may be purchased on Etsy for a quicker and less expensive alternative to getting these done at a manicure salon.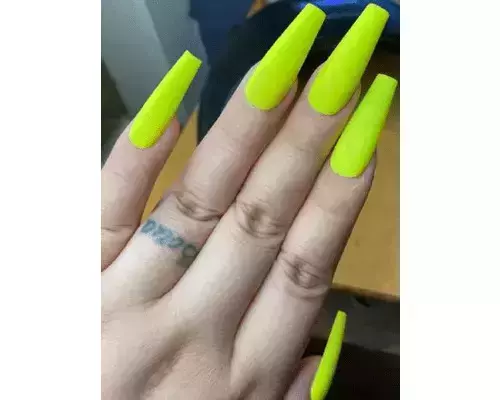 18. Neon Yellow Long Nails
This year, neon nails are once again in style, and a bright yellow manicure is an ideal choice if you want something bold and eye-catching. These coffin-shaped nails in highlighter yellow are truly lovely, but not for the timid!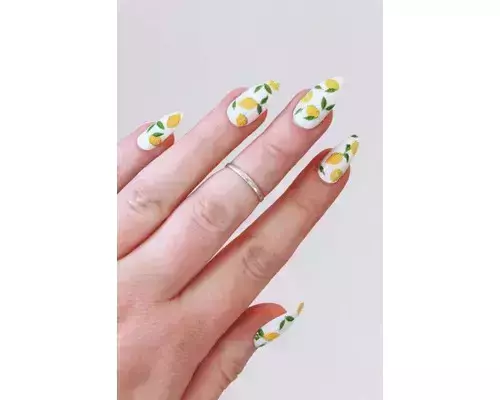 19. Lemon Yellow Nail Art
Wear lemons on your nails when life brings you lemons. These lemon-themed nail wraps in yellow and white are just wonderful for summer. Since they are nail wraps, you may wear them with any type of nail, but, as you can see above, they look particularly great on short stiletto nails. One can also try portrait nail art to get a nail makeover as these look different and are unique.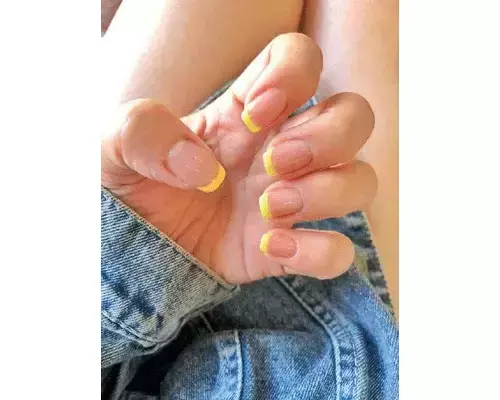 20. Yellow French Tips
French tips with colour have been hugely trendy for the past 18 months, and yellow ones are so much fun! They are done here in a pale, mid-tone lemon colour, but they would also look fantastic in pastel or highlighter yellow.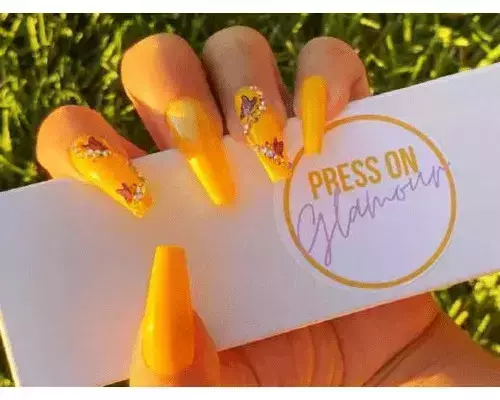 21. Yellow Nail Ideas With Butterfly
Another popular trend for 2023 is butterfly nails, and this style is only going to get more popular! It's no wonder that butterfly nails are the hottest trend right now because the 2000s are officially back. With the rhinestone accenting around the butterflies, they are especially lovely. The ideal Y2K nail for the season!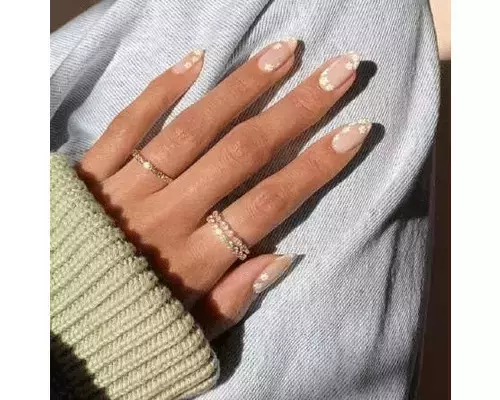 22. Pastel Yellow Nails With Flower
It's so cute, feminine, and understated. It is merely a plain, almond-shaped nude nail that has yellow flowers on it. Since they are neutral and understated, these nails would go with every clothing and for any event, making them ideal for spring.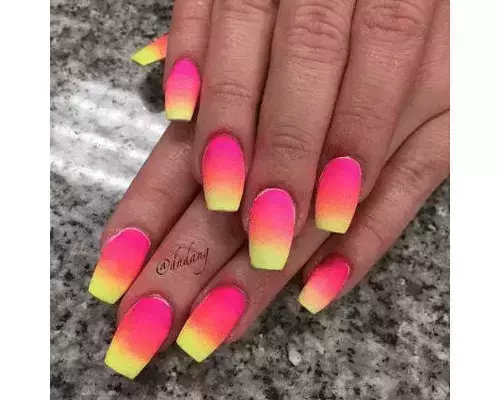 23. Bright Yellow And Pink Ombre Nails
Because pink and yellow go along so well, it is one the most favourite yellow ombre nail designs preferred by the youth. You don't need to battle with any DIY techniques because these vivid yellow and pink ombre manicures can be processed with just the two nail paints and can be blended easily with a sponge.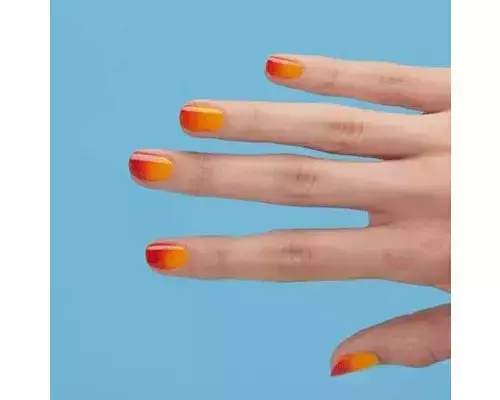 24. Red And Yellow Ombre Tequila Sunrise Nails
These "tequila sunrise" nails in yellow and red appear to be your typical ombre manicure, but they were made with just one colour-changing nail pain. The Cirque Colors thermal paint will appear red at the tips of your nails because it turns yellow in the heat and red in the cold.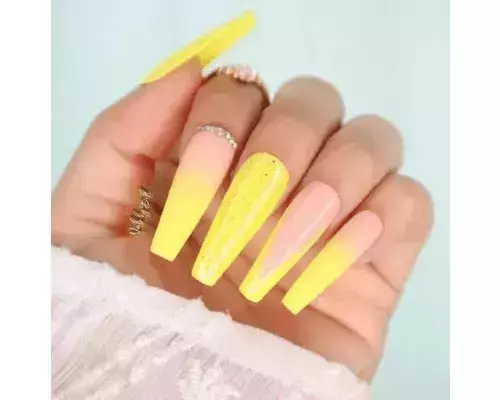 25. Yellow Ombre Coffin Nails
These chic coffin-shaped nails combine a variety of yellow manicure designs into one daring mani. This mani includes nude and yellow ombre matte nails for a playful nod to this trend, in addition to a v-shaped french manicure nail and two yellow glitter nails.
Read More: Star Nail Art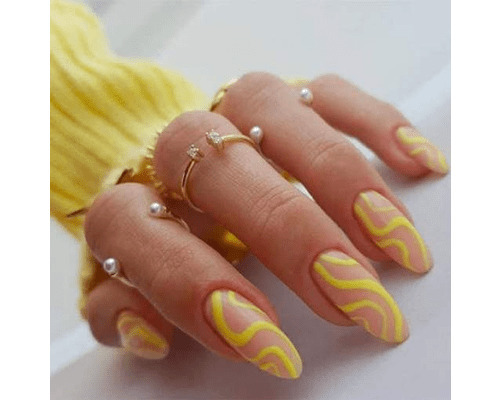 26. Wavy Yellow Nail Designs
We are smitten with wavy and swirly yellow nails. Your attitude will be lifted by these wacky, colourful graphics this spring and summer (or any season). If you want to wear this style, you have lots of possibilities. Here are some of our favourites.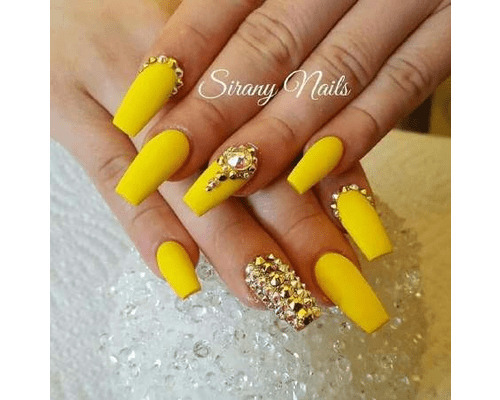 27. Glamorous Pastel Yellow Nails
A stunning nail design for a special occasion or whenever you want to feel extra opulent. These nails are mostly pastel yellow, with statement gems on the middle finger and a glittery nail on the ring finger.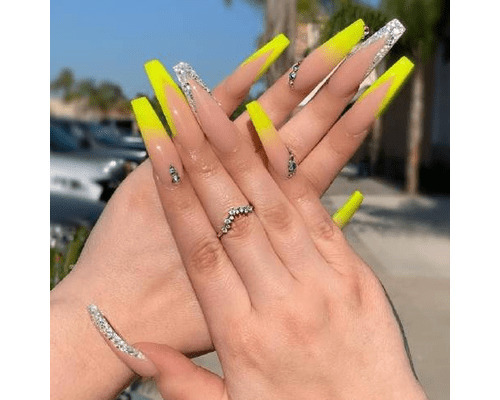 28. Yellow V Tips With Statement Jewels
These nails use a lot of white space and have gems on each finger. This is another opulent nail design that is ideal for any special occasion. To brighten the design, two nails on each hand also have yellow v-tips.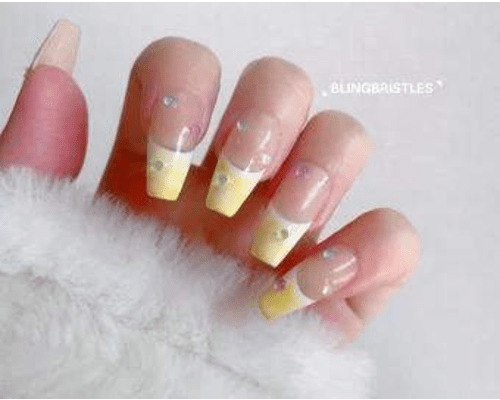 29. Pastel Yellow Tips With Pearls
On each nail, these extra-long tips offer 4-5 lovely little pearl ornaments. Additionally, the playful flame-inspired design on the ring finger adds to the impact.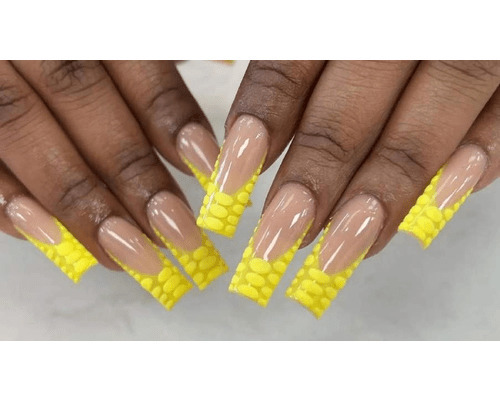 30. Textured Yellow Nail Tips
Try these nails for French tips that have an extra touch. They have a traditional French tip in a yellow tint with an added brighter yellow dot design for texture.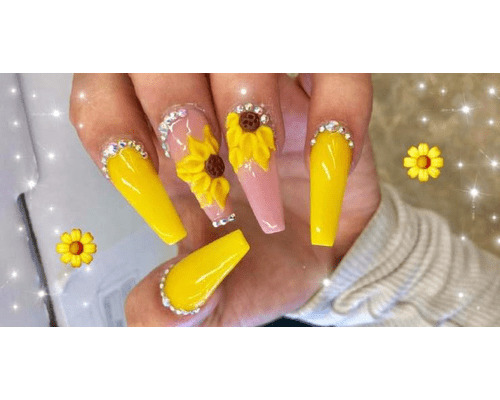 31. Glam Flower Yellow Nail Designs
These lovely nails have a pastel yellow foundation with tiny pearl decorations and a larger white flower on each nail to make a statement. They are the perfect design for spring or summer.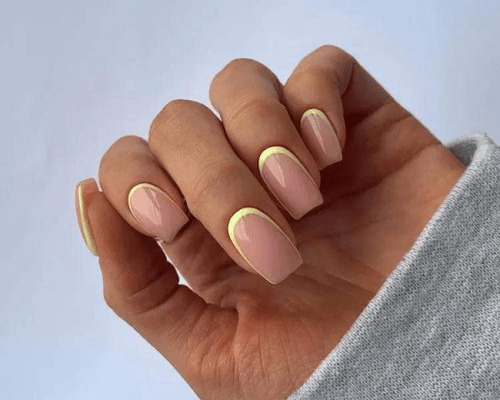 32. Subtle Yellow Reverse Tips
These nails, however, have a thin line at the base of the nail rather than the typical thin line at the nail's tip. This understated pattern nonetheless manages to stand out while giving your natural nails a dash of colour.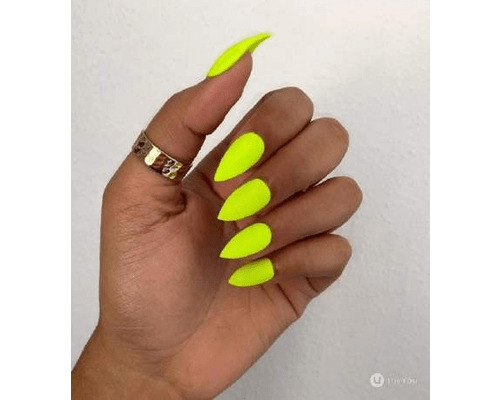 33. Neon Yellow Nail Designs
We adore the vibrant neon yellow used in this playful design. The middle finger and pointer finger have French tips, and the other nails have a straightforward application of neon yellow polish.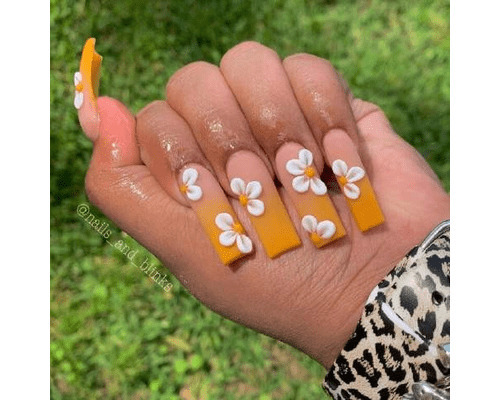 34. Yellow Ombre Nails With 3D Flowers
In particular, bright yellow makes a significant comeback for the spring season and continues through the summer before saying farewell to the following two weather stages. Here is a yellow spring manicure design with 3-D flowers if you're looking for ideas.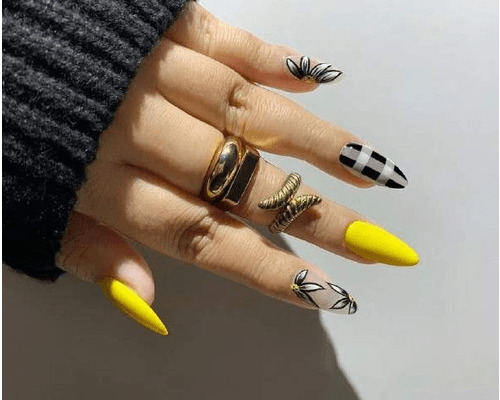 35. Black And Yellow Nail Designs
The colour scheme of this spring nail art is well-balanced by combining the vivid yellow shade with the striking black colour. For a unique and expressive manicure, the other three nails have black geometric patterns on them, while the other two nails are painted a wonderful shade of yellow.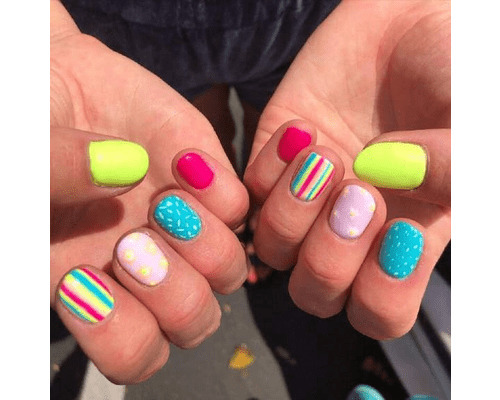 36. Multicolour Combined With Yellow Nail Designs
People frequently choose vivid, lively, and strong colours to emphasise vitality and positivity, which is reflected in the spring nail designs of 2023. Except for the matte purple design, which uses pastel colours, the next featured nail art features bright shades in every shade.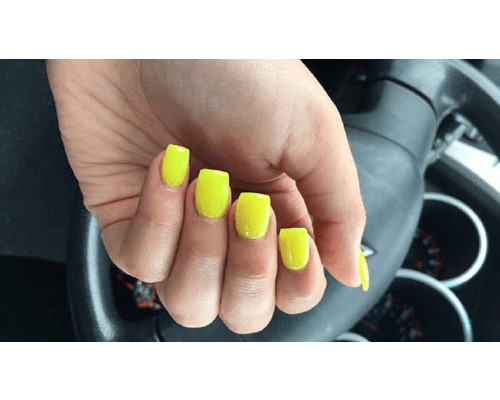 37. Short Yellow Nail Ideas
This season, short square nails are in style. In addition to having a simple, everyday style, they are also simple to maintain and less likely to break. They do, however, limit your creative design options, but if you have a preference for these simple patterns, they are simply great for you!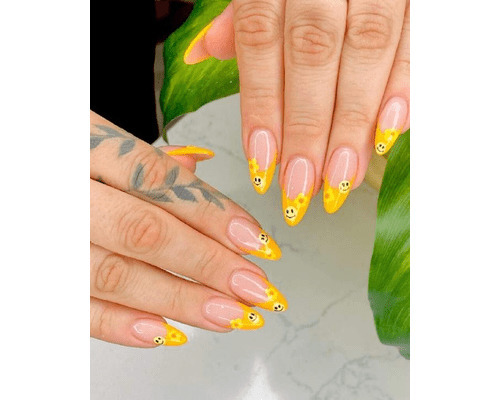 38. Spring Yellow Nail Designs
Given that the colour is associated with the joy and happiness of spring, yellow is a large part of nail designs for the season. Here, yellow is simply used on the tips, and to add more detail to the manicure, cheerful faces and flowers are added.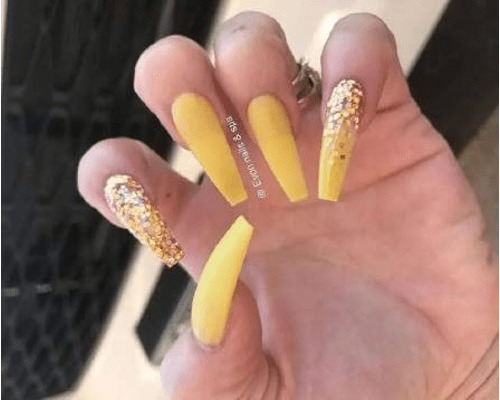 39. Sassy Yellow Acrylic Nails With Bold Glitter
You can't go wrong with these matte-coloured acrylic nails with a long, square tip to flaunt your sassy style, especially if you have dark brown hair. On two nails, large glitter decorations contrast the simple colour.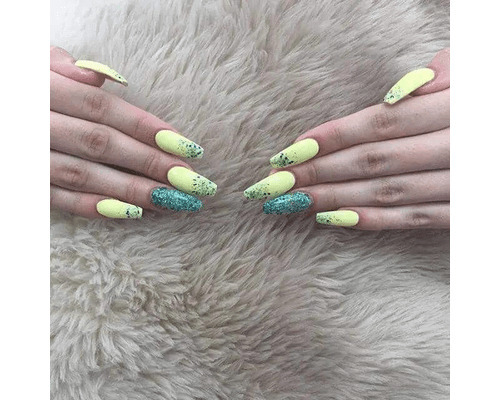 40. Mermaid Style Acrylic Yellow Nail Designs
These chartreuse nails will make you feel upbeat whether you are going to the beach or are just daydreaming about a tropical locale. Simple chartreuse glitter adds shine to a base for a look that is reminiscent of the current mermaid trend. These nails are trendy for the season.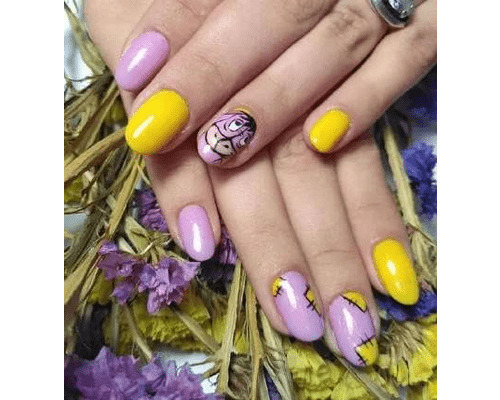 41. Lilac And Yellow Eeyore Nails
These charming nails portraying everyone's favourite pessimistic donkey, Eeyore, are a great way to spread the word about one of your favourite Disney characters. The combination of purple and yellow is stunning, and the cute patchwork accents give the design a whimsical feel. If you're planning a trip to Disney World or just want to get into the Disney spirit, try these nails!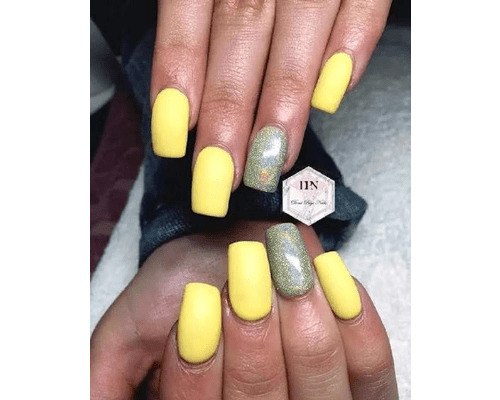 42. Yellow Nail Designs With Opalescent Accent
These charming nails portraying everyone's favourite pessimistic donkey, Eeyore, are a great way to spread the word about one of your favourite Disney characters. The combination of purple and yellow is stunning, and the cute patchwork accents give the design a whimsical feel.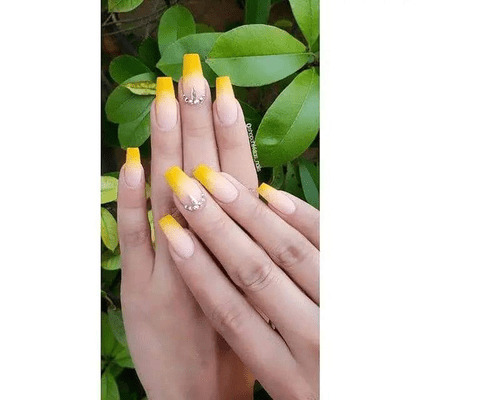 43. Formal Yellow Nail Art
These yellow nails will provide a classy touch to your special night if you're looking for the ideal stylish manicure for your upcoming formal occasion. Lemon matte colours take the ombre style a step further. The ring fingers' sparkling rhinestone embellishments provide an added touch of sparkle.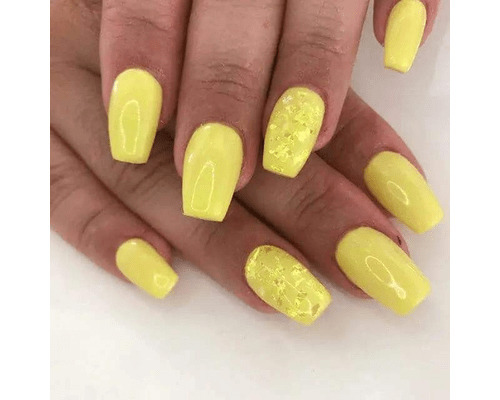 44. Yellow On Yellow Glitter Nails
These acrylic nails in bright yellow with a square cut perfectly capture the current colour trend. Yellow glitter is applied to the ring fingers to add a slight sparkle. These nails look wonderful whether you are having drinks or going out dancing on summer nights and blend perfectly with your summer wardrobe.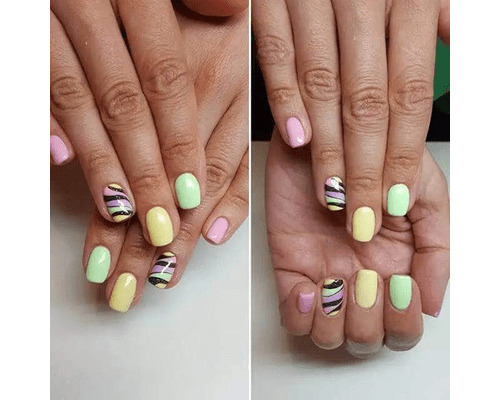 45. Short Yellow Nails With Candy Designs
These short yellow nails with cute candy designs look gorgeous. You can combine various pastel shades on the nails and can also try out a new color combination for one of the fingers as shown.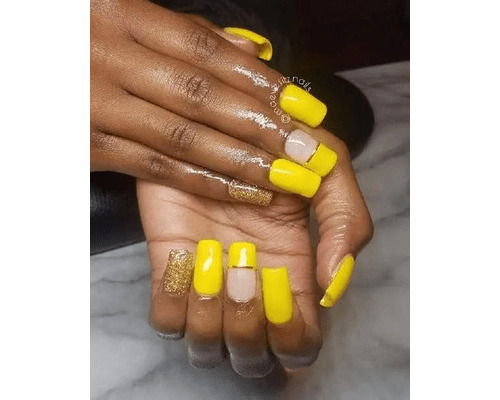 46. Yellow Acrylic Nails With Gold Glitter
These acrylic nails in bright yellow puts the focus on the nails. Yellow glitter is applied to one of the fingers to add sparkle. These nails look wonderful and complement any look.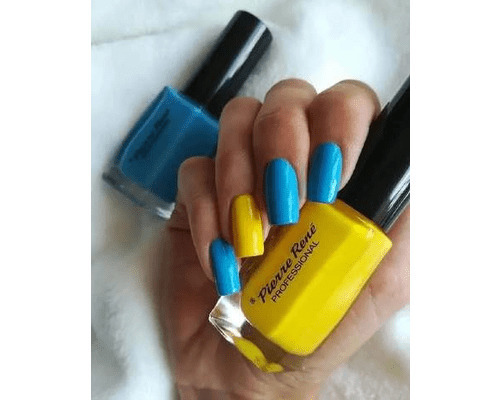 47. Square Nails In Bright Yellows And Blues
These turquoise and vivid lemon nails make me think of a day at the beach because summer is all about having fun in the sun. These have a longer, square shape and a bold appearance. The boldness of these nails allows them to go with a simple summer outfit. To amp up the summery vibes, add your favourite silver jewellery.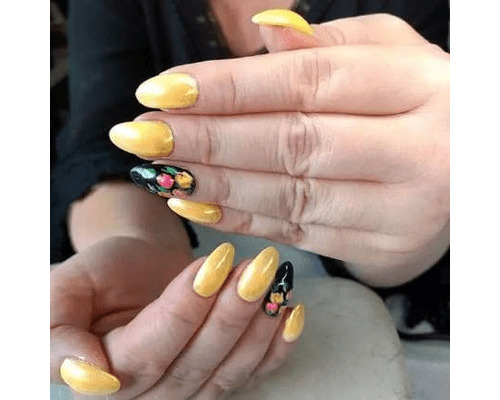 48. Elegant Golden Yellow Nails With Aquatic Details
This stunning look includes a stunning golden nail colour that is sure to impress. One nail on each hand is painted with a tropical fish scene and a black background that exactly matches the colour for extra fun and flair. These nails can showcase your individuality and are ideal for after-work drinks with friends.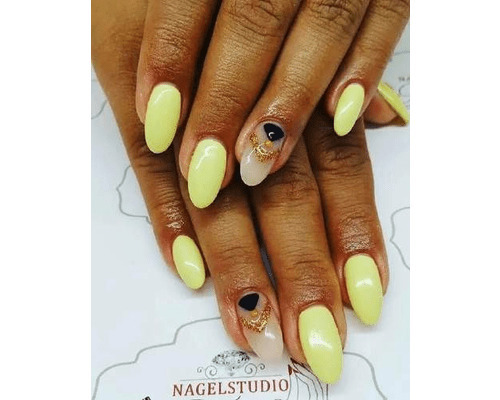 49. Yellow Nail Designs With Geometric Accents
These acrylics add a cool twist to the colour with a chartreuse hue that is currently very popular for a look that is both playful and chic. These nails are ideal for an evening out or a classy cocktail party because of the distinctive flair provided by the art deco geometric designs on the ring fingers.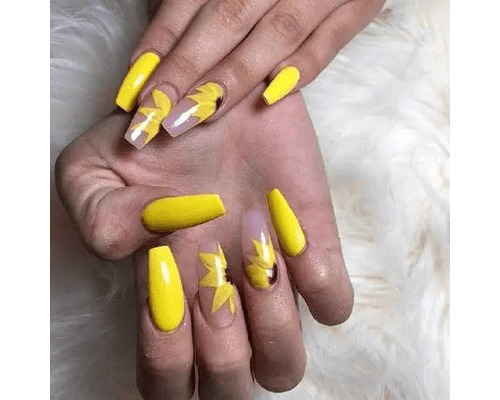 50. Yellow Nail Designs With Sunflowers
The sunflower is the object most associated with the hue. With charming hand-painted sunflowers, these cheery and vibrant nails are ready for spring and summer. These nails will highlight your upbeat personality. For a trip to the farmers market, you can wear this pattern with a darling sundress or your favourite pair of jeans.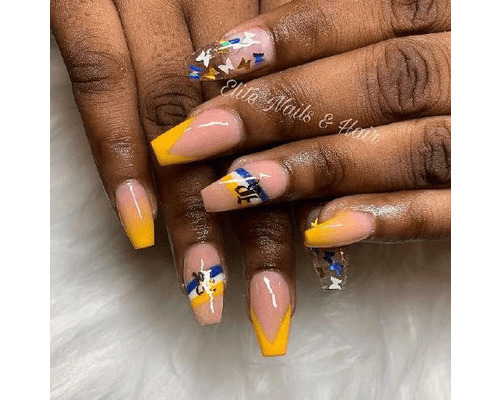 51. Sporty Blue And Yellow Nail Designs
Nude foundations, yellow and blue stripes, yellow gradients, V-shaped French tips, and butterfly accents are all features of these cropped coffin nails. Over a glossy nude nail foundation, the eccentric collection of decorative accents appears stylish.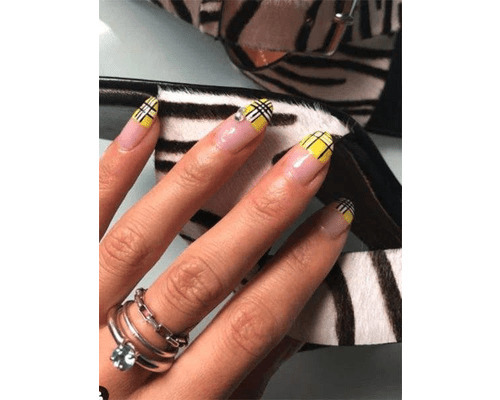 52. Tartan Yellow Nail Designs
Try this yellow tartan manicure to transport yourself back to the 1990s. With a manicure this stylish, which draws inspiration from the classic adolescent movie Clueless, you'll be the coolest person in the room. By adding vibrant colours to the end of your fingertip, you may give the conventional French tips a contemporary twist.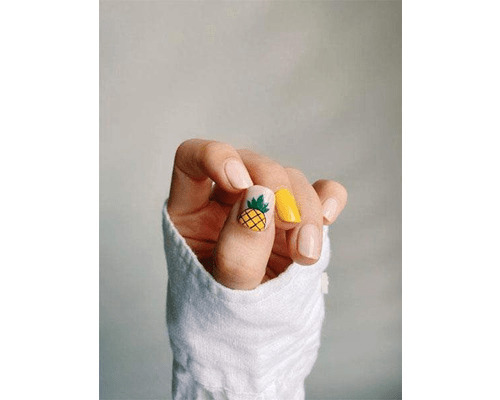 53. Pineapple Yellow Nail Art
If you enjoy Pina Coladas and sporting adorable manicures, then our nail art is ideal for you. Although the conventional two-tone nude and yellow lacquer on each nail is a fun twist for every day, the pineapple on the thumb is the real show-stopper. It's not just adorable; it's also a lovely way to express your love of summer.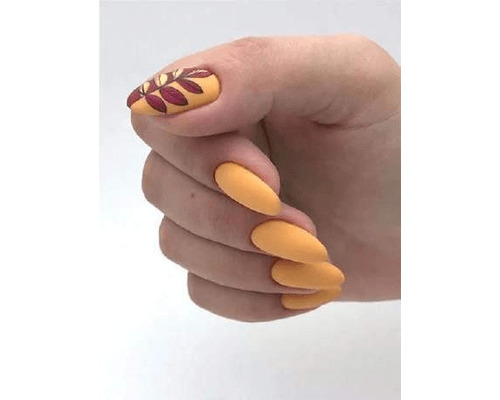 54. Yellow Manicure Nails With Leaves
This mustard-yellow has orange undertones and complements red colours beautifully. Utilize the colour wheel to your advantage by selecting hues that fall within the same warm- or cool-temperature range. The trendy manicure right now is to paint a series of contrasting leaves on the thumb as a showcase nail.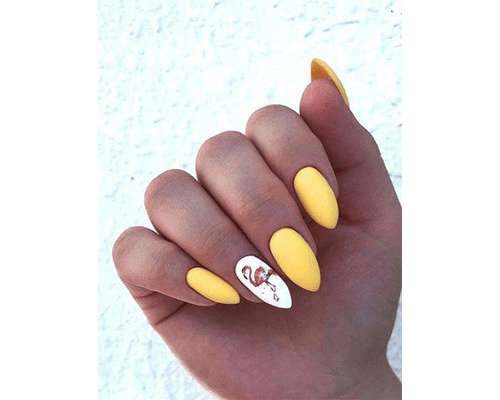 55. Flamingo Yellow Nail Art
This gorgeous manicure gives the impression of flamingos against a sunset. The majority of the nails are painted in vivid yellow colours that are daring and fashionable, and the pattern of the adorable pink bird adds a wild touch. Allow the pink to sit over a white background to make it stand out more; this will draw attention to the beautiful artwork.