25 Stunning French Tip Nail Designs For 2023
Ashwini
Updated At 02 Nov 23
French manicure tips, sometimes referred to as French tip nails, are a class of manicure or nail art that has a classic, natural, and subtle appearance. They are a sophisticated and timeless option for nail art. You can try various and different stunning French Tip nails as per your choice and occasion. From casual basic design to trending fashionable design we cover these Stunning French Tip Nails Designs here. 
Getting a straight, clean line between the nail tip and the remainder of the nail is essential to a flawless French tip nails.
French nail tips are a popular option and They go well with many different types of clothing and provide the appearance of longer, more slender nails. 
25 Stunning French Tip Nail Designs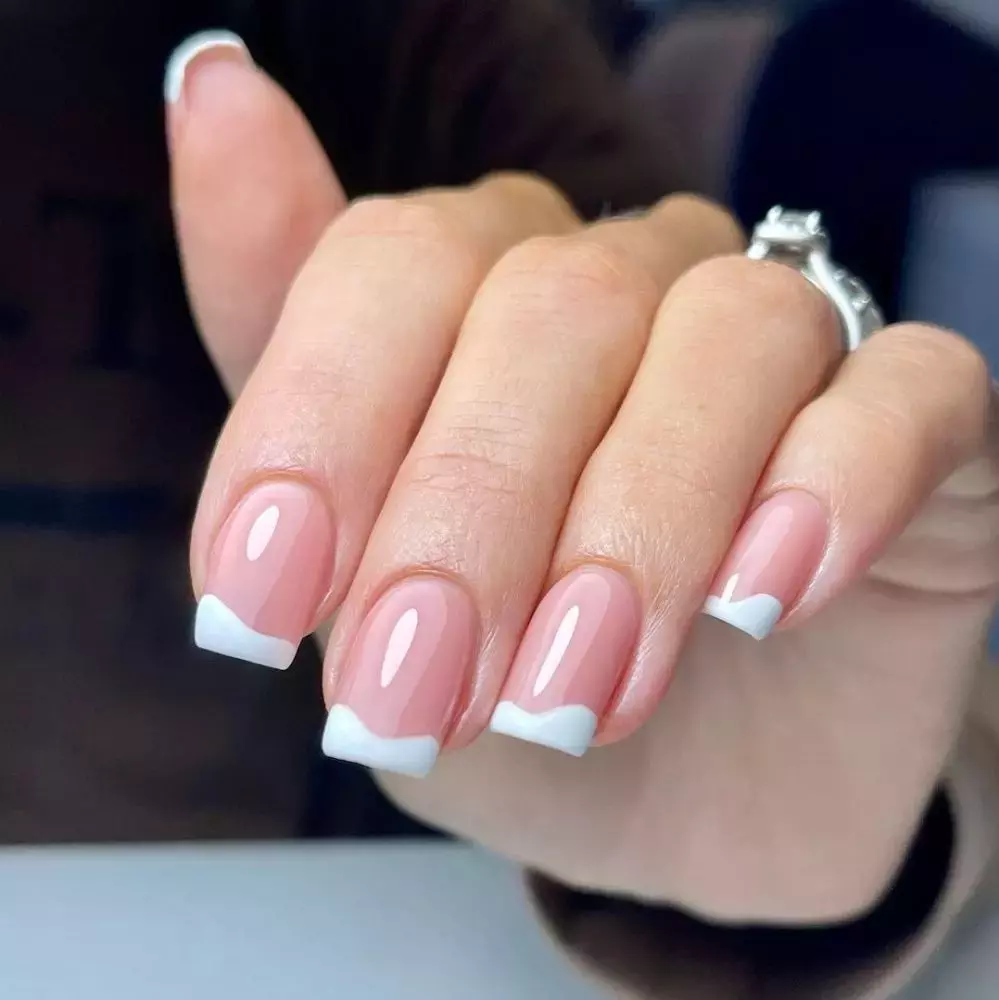 1. Minimalist French Manicure Nail 
A French manicure can incorporate any kind of nail tips, as well as any length or form, however square shapes work best. The other side can have a wavy white effect on the tips, however the remember that the tips have straight edges. These minimalist french manicure nail designs are easy and can be used for any formal or informal event. The base of the nail can be skin or light pink glossy shade and nail tips can be covered with white base.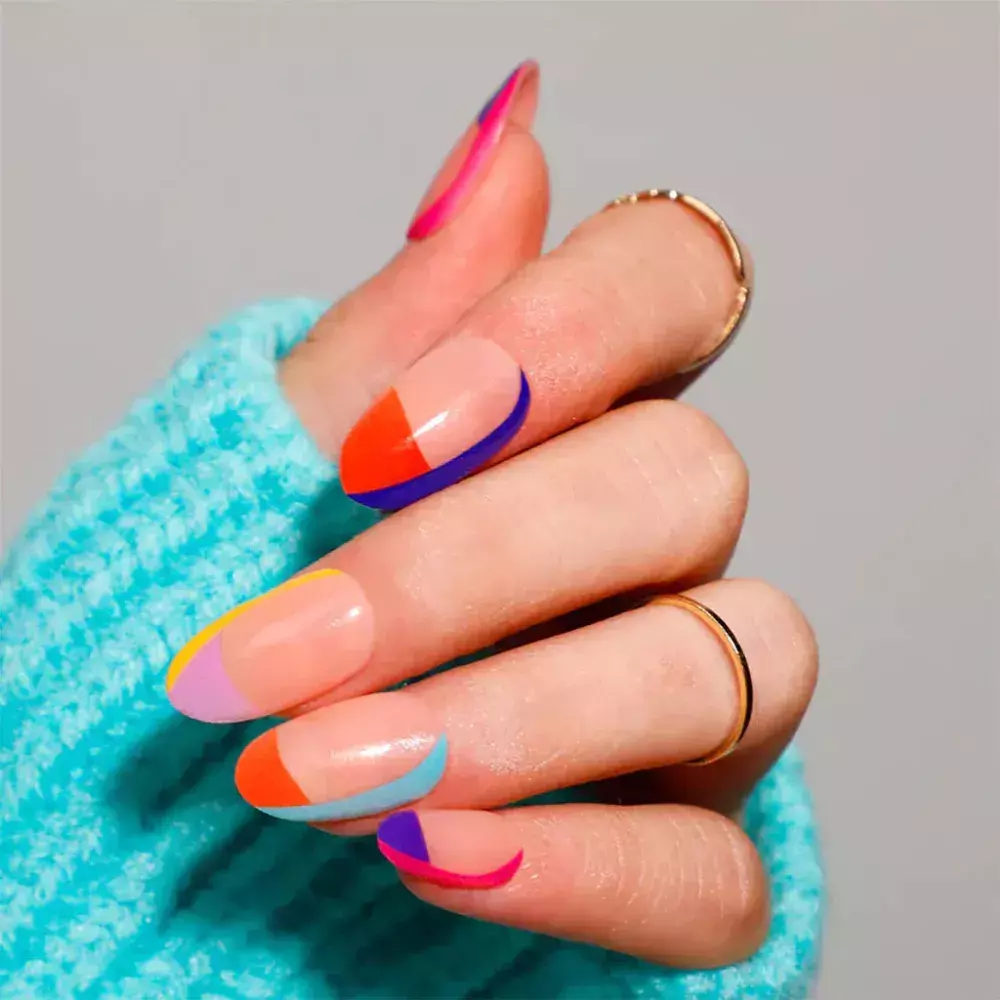 2. Nail Designs With Color
This French tip nails design with variations of super stunning color is amazing. One can opt for this tip nail color to give a vibrant effect to your nails and pop up this fancy look. The tips of the nails can be made oval shape with applying different shots of colours with a side swipe effect. This multicolor french nails tip would go best with short nail designs and long french nails designs too. Also find out everything about solar nails by checking our guide as these have been trending this year.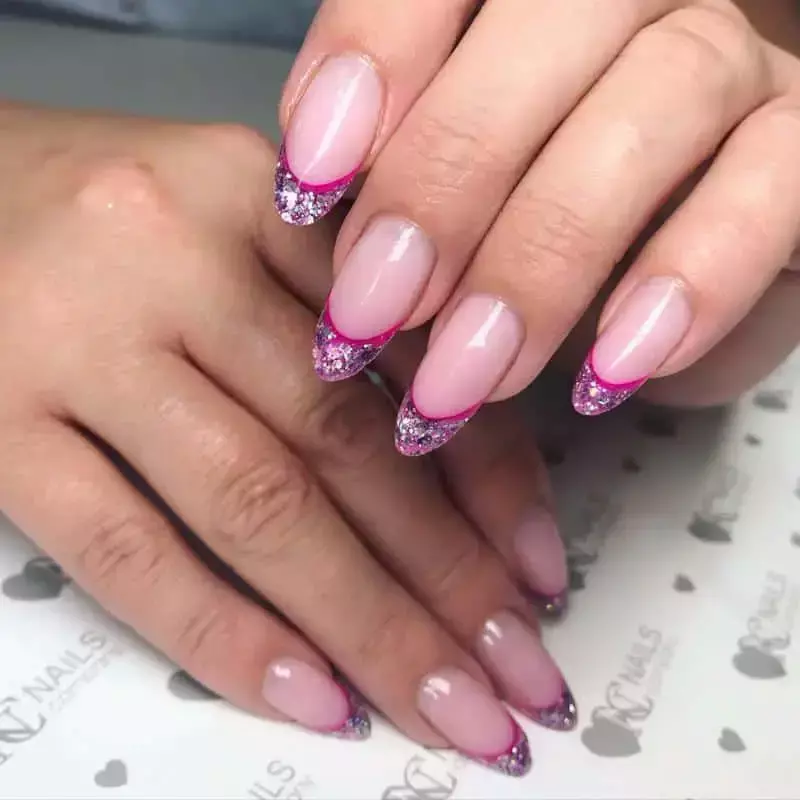 3. French Tip Design With Glitter 
A French tip nail design can be made more dazzling and sparkle-filled by adding glitter to it. The vibrantly coloured almond nails with glitter added to the French long tips are amazing. Base coat and purple glitter work well together to produce a stunning French tip nail design with glitter that's appropriate for special parties and occasions. Try a variety of glitter hues and designs to complement your attire and personal style.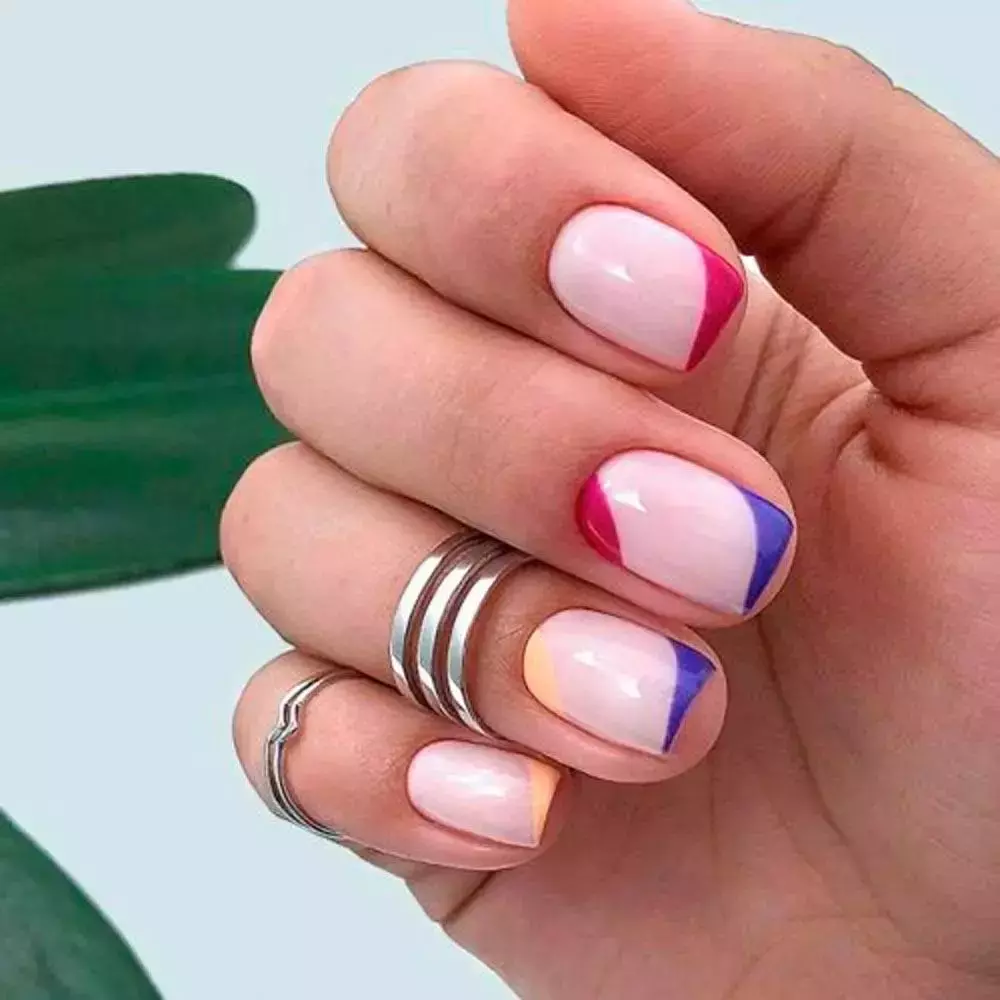 4. French Tip For Short Nails
For short nails, a French tip design can give the impression of longer, more refined nails. It's crucial to maintain the illusion of length when designing a French tip design on short nails by keeping the tip delicate and small. While a traditional French tip works great, you can also try out various designs, including diagonal tips or reverse French tips, to give your short nail look some personality and originality.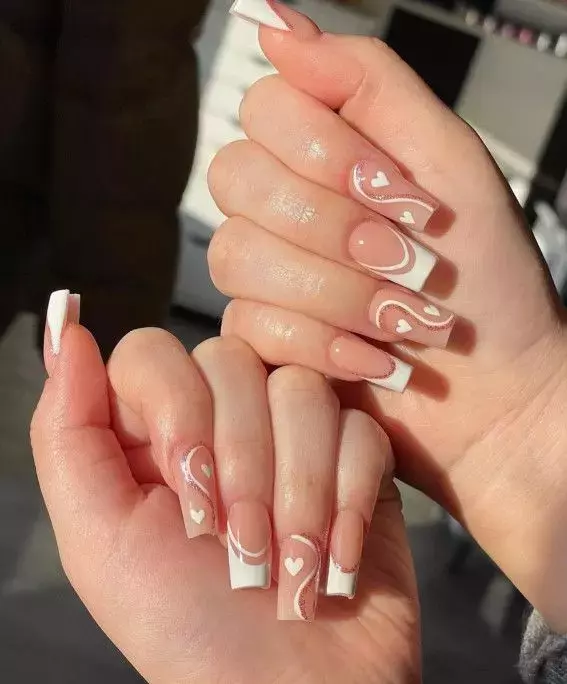 5. Acryclic French Tip
For short nails, a French tip design can give the impression of longer, more refined nails. It's crucial to maintain the illusion of length when designing a French tip design on short nails by keeping the tip delicate and small. While a traditional French tip works great, you can also try out various designs, including diagonal tips or reverse French tips, to give your short nail look some personality and originality. The pink and white acrylic nails can be alternatively decorated with some decorative lines and hearts, which makes this Acrylic French tips looks beautiful.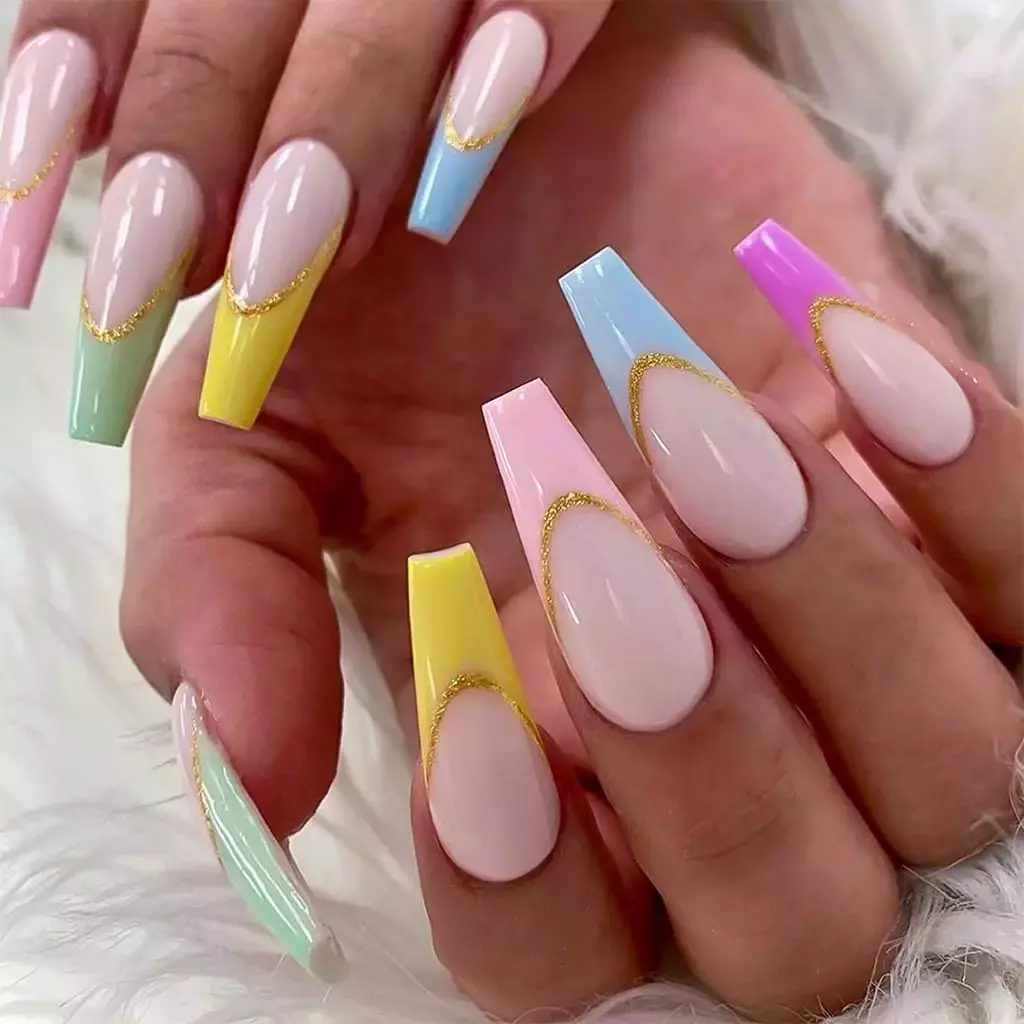 6. Long French Nails Tips
Long French Nail Tips are referred as French Manicure nail designs which are applied to long, extended nails or nail extensions. A timeless and classic option for nail art is the French tip style, which is defined by a natural, pale pink or nude base with a white tip or any coloured nail tip. It can give long nails an exquisite and sophisticated appearance when applied. You can replicate these nails by painting the tips in a variety of vivid hues and encircling them with a decorative golden border. You can also go for pink or yellow nails as a standalone color to make this look more stylish.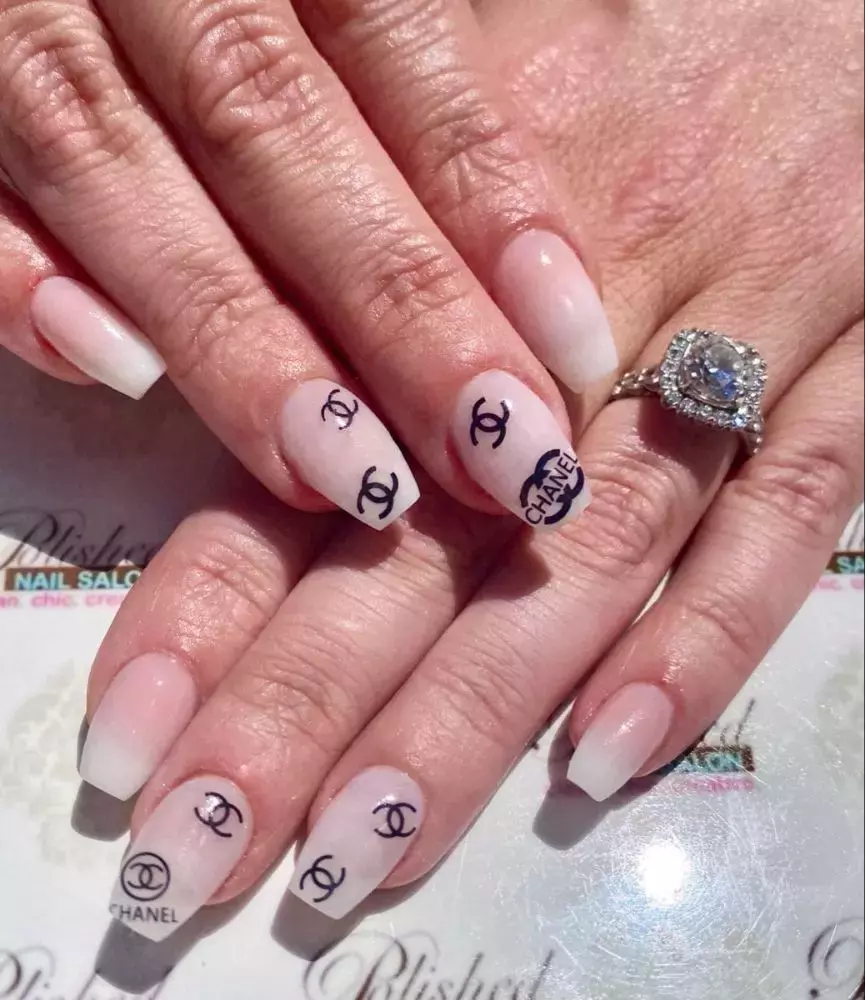 7. Trending French Nails Tips
How about trying this trending unique Ombre French nails designs which is styled with elegant white tip and symbols or logos. This classic ombre French nails are well decorated with drawings and square shaped tips.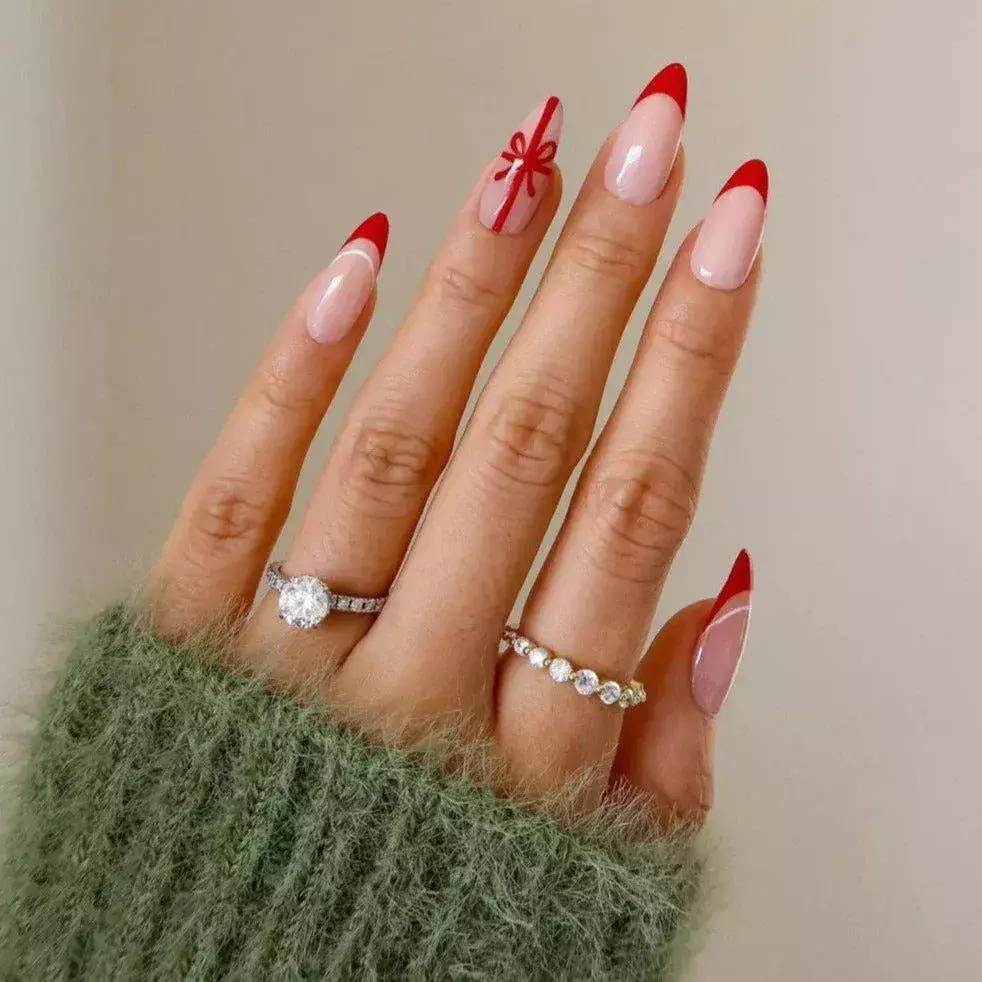 8. French Tip Nails Almond Shape
A Christmas ready French tip nail design which is made using minimal colors is celebration. You can try this elegant French nail art with beige or pink color base and red tips. You can also make a bow on the ring finger nails and shape the nails in Almond shape.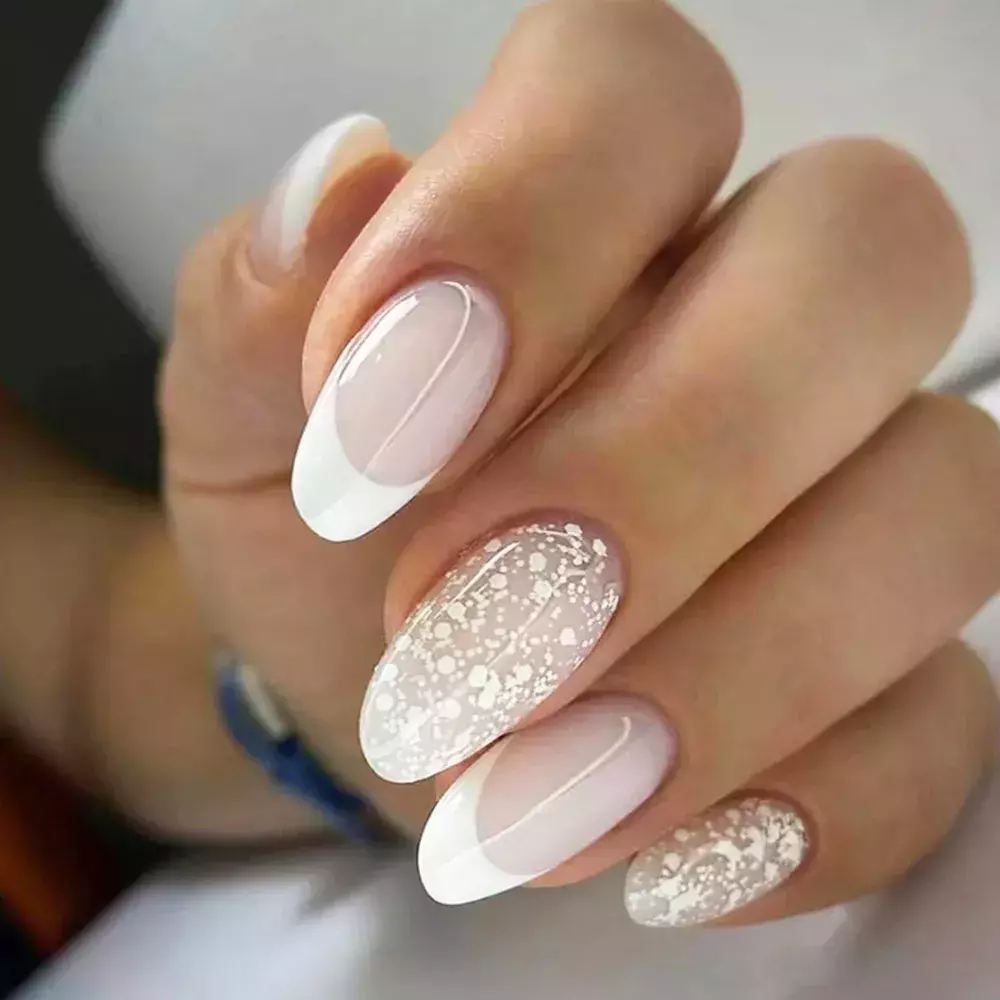 9. French Tip Nails White
Oval-shaped tips look fantastic in white, and these French tip nails painted in white are both conventional and fashionable. The entire nail arrangement has a polished appearance when certain nails are adorned with white dots or bubbles. These cute nails looks tylish and are perfect for any important occasion.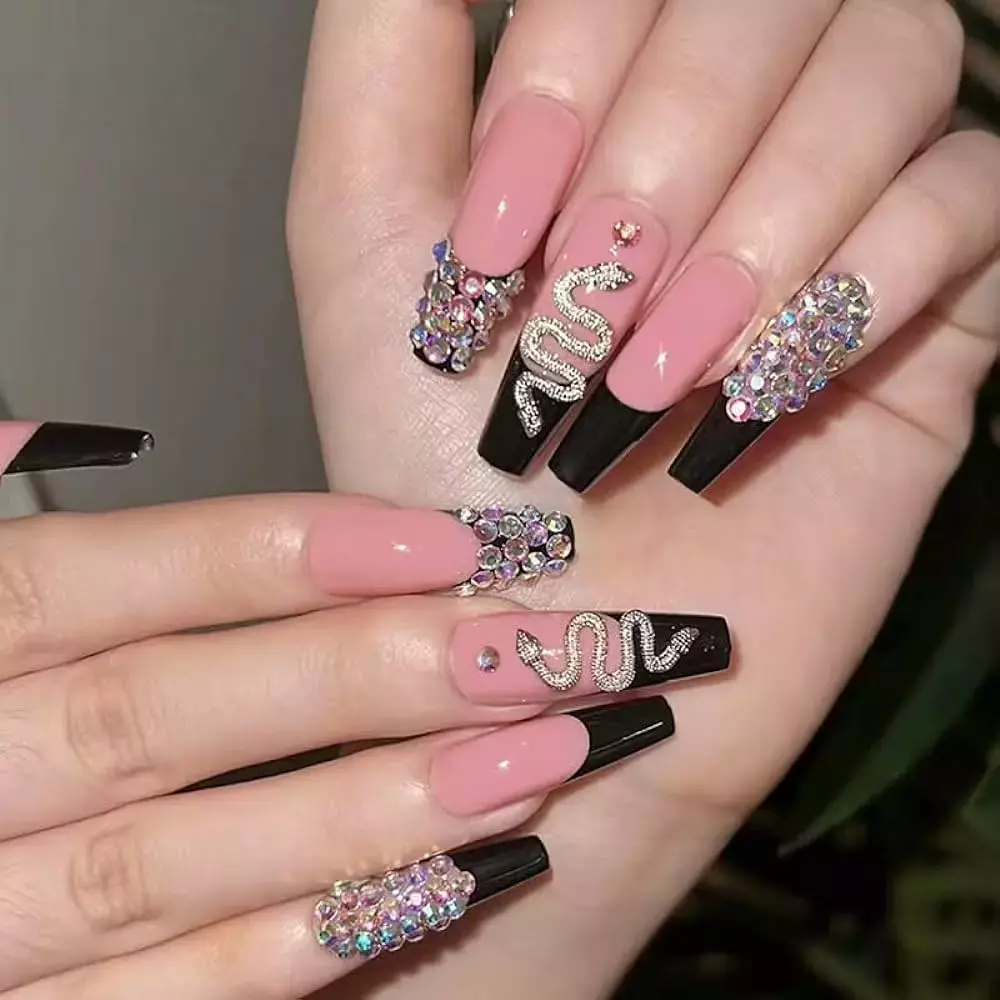 10. Studded Nail Tips
Coffin nail shaped tips are long French nails with long tips which can be decorated with variety of decorative. These French nails tips are colored in black and decorated with studs and stones. These black nail designs do look elegant and stylish.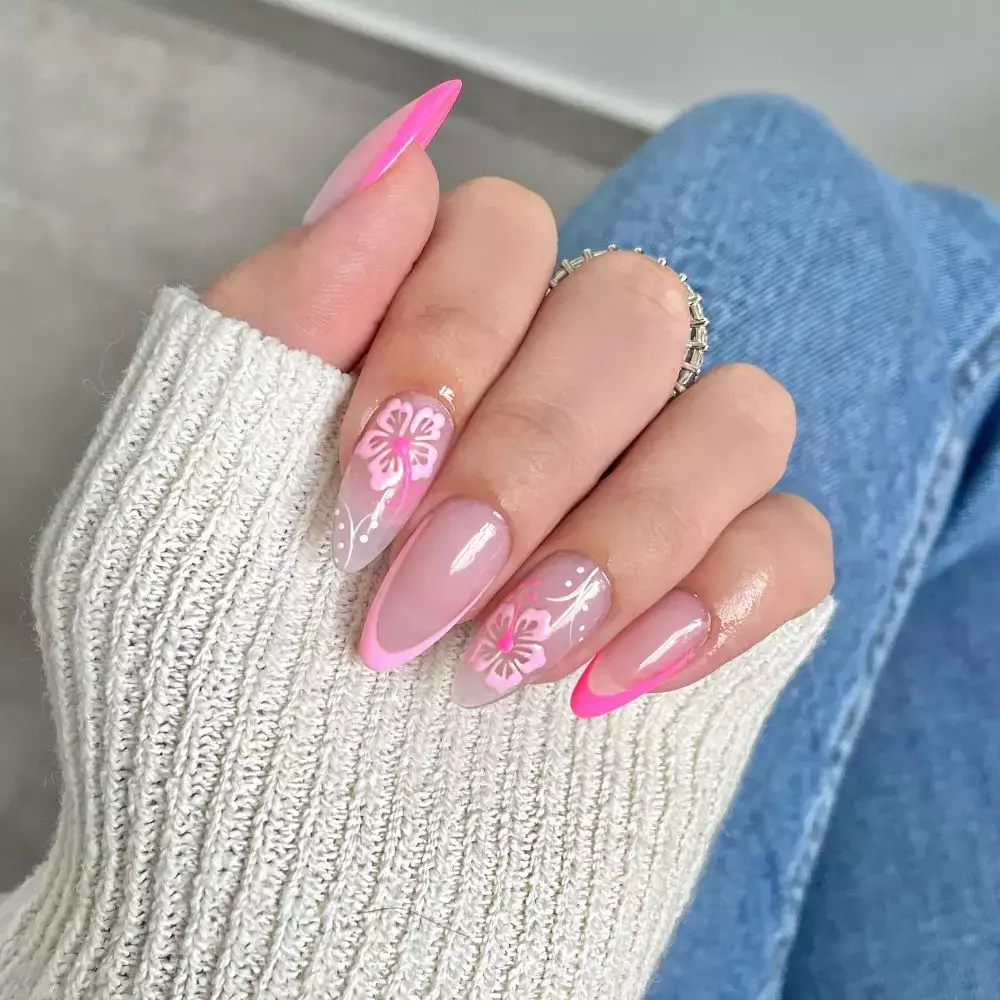 11. Manicure Nail Tips
Opting for a simple nail design with pink pastel color and floral patterns is also a very good option to get a trending nail art. This subtle and classy French tip nail art looks good on oval nail shape and can be made on long and short nails both.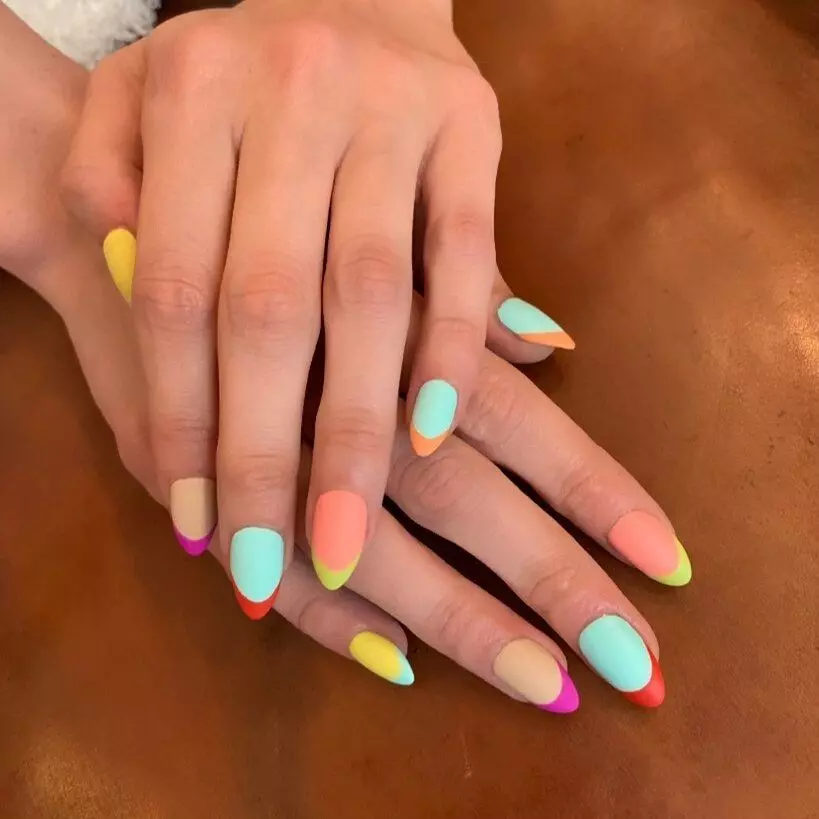 12. Summer French Nails
Summer French manicures combine elements of the traditional, refined French manicure style with beach-inspired, colourful, and seasonal elements to create a cool, contemporary look for the summer. Use pastel or bright colours for the tips to give the traditional French tip a summertime spin. Vibrant yellows, light pinks, corals, aqua blues, mint greens, and sunny yellows can reflect the summertime mood and add a pop of colour.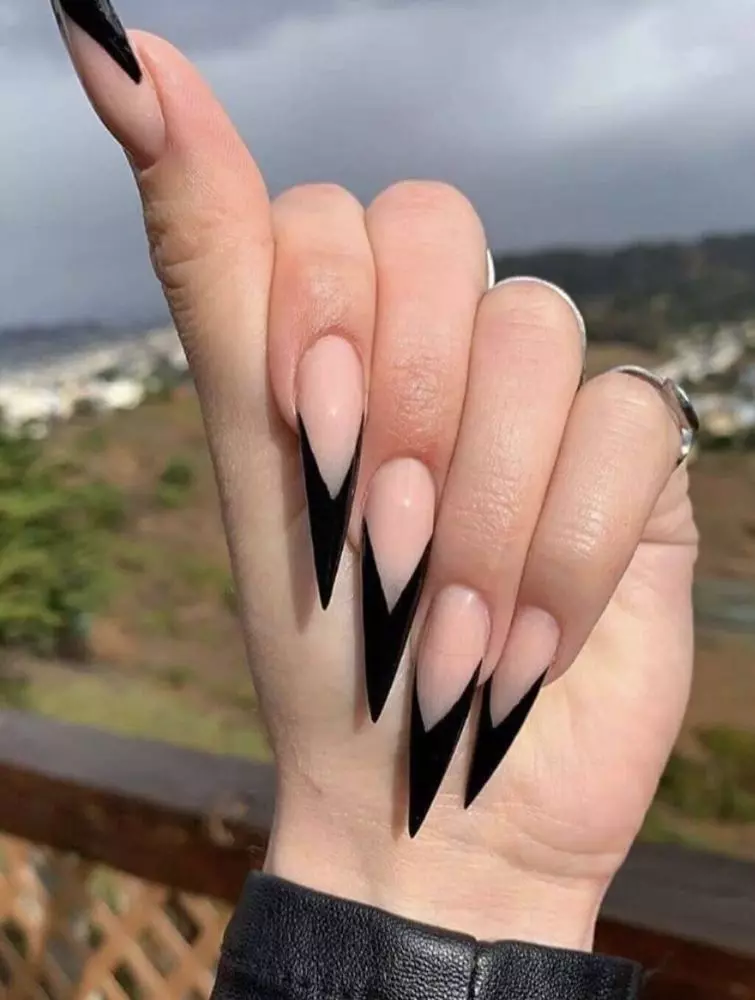 13. French Nail V Tip
With the addition of a characteristic V-shape or chevron pattern to the conventional white tips, the "French nail V-tip" is a novel and contemporary take on the traditional French manicure. This design produces a fashionable and striking appearance. This French nail art's main feature is the black nail colour on the long tips.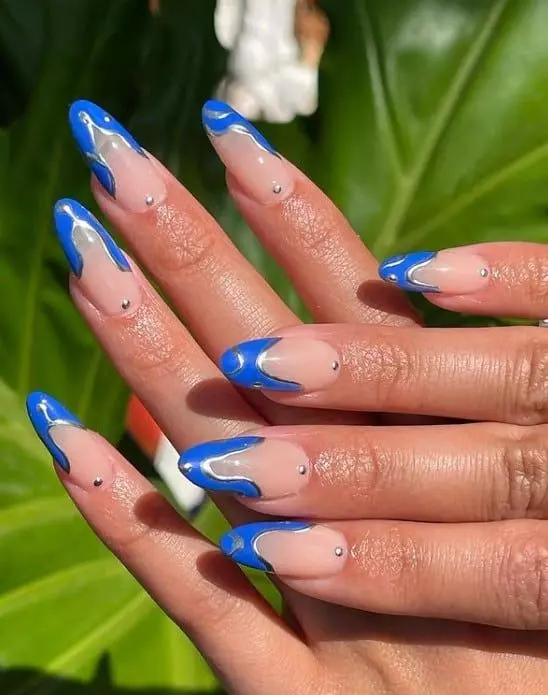 14. Gel French Nail Tip
Try this poppy and sassy nail color art on your nails. Try a blue or any vibrant color base on your finger tips to create these gel nails with blue tips. The long French nail tips look wonderful with silver decorative on the fingers and the outline of silver paint make it look attractive.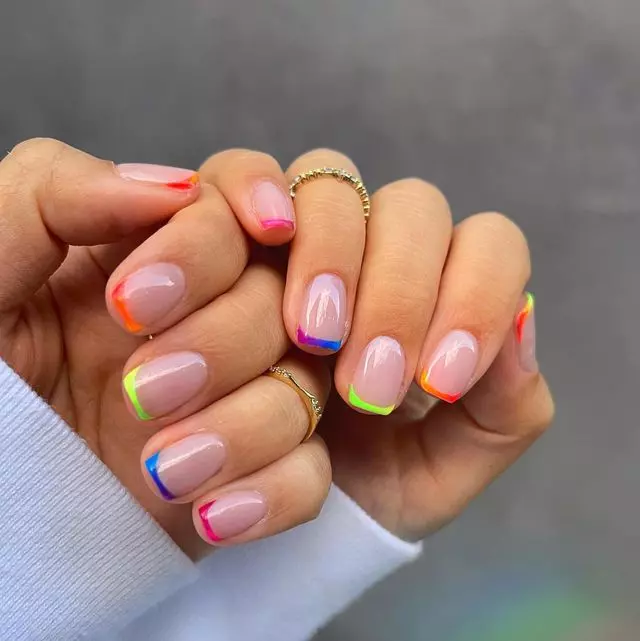 15. Classy French Nails
A simple and easy choice for you can be this classy French Nails Tips created with minute color tips. The bunch of different colors used on the nail tips make it look super elegant. This cute short nails design can be easily created at home with popping colors.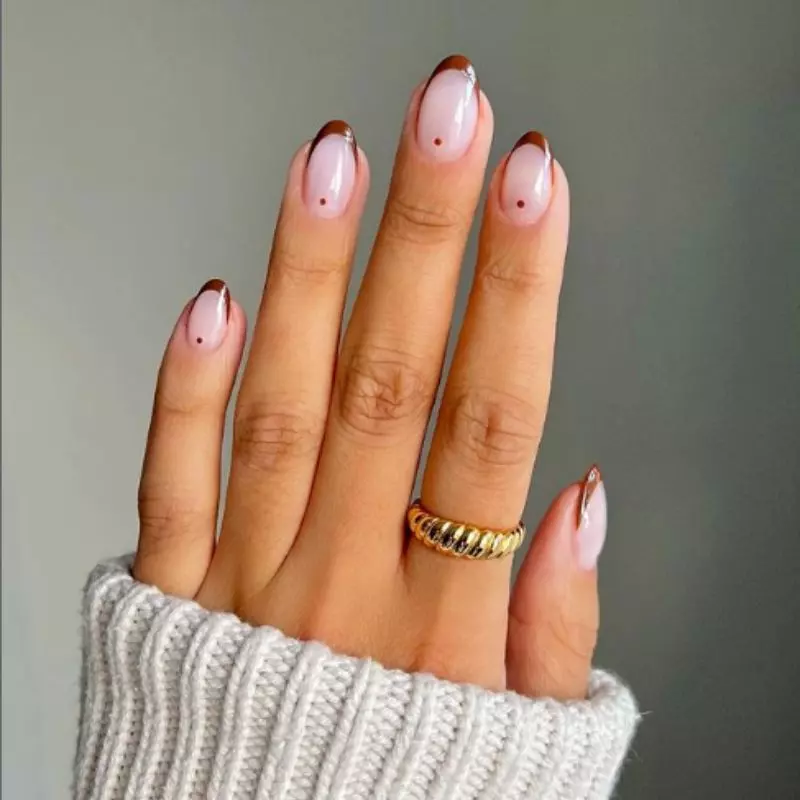 16. Baby French Nail Design
As the name suggests, a "baby French nail design" is a more delicate, subtle, and softer take on the traditional French manicure. By utilising muted, neutral colours and thinner lines for the  tip, this style seeks to produce a more refined and understated appearance. Another name for it is a "baby boomer" or "French fade" nail art. Decorating the tips with brown color is an creative way of having a baby French nail art.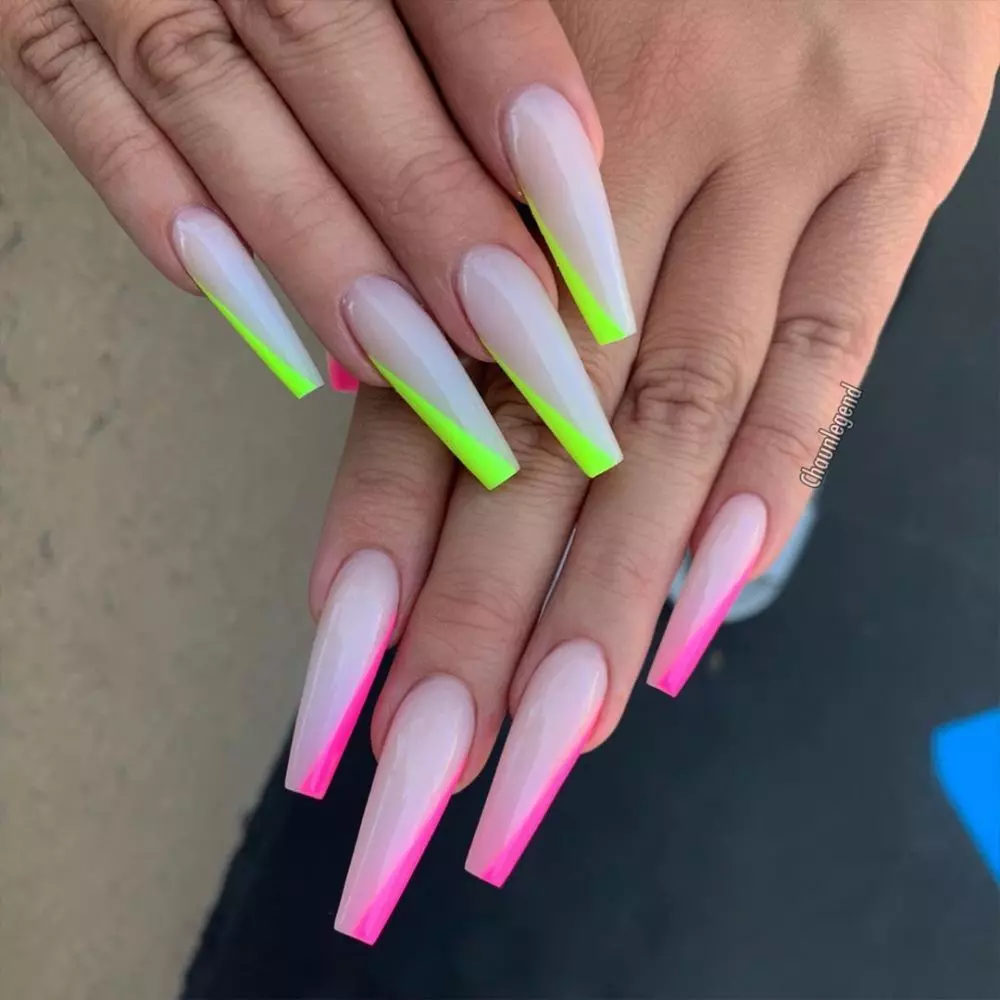 17. Side-Tip French Nails
Classic French nails or referred as manicure nails have tips colored in different colors than the base which differentiates with the nail tip which is painted straight forward. The Side-tip French nails is a creative way of designing your nail art. The tips which are colored in different ways, are placed side way. The neon and pink color used in the French nail art have side colored tips making it look trendy and subtle.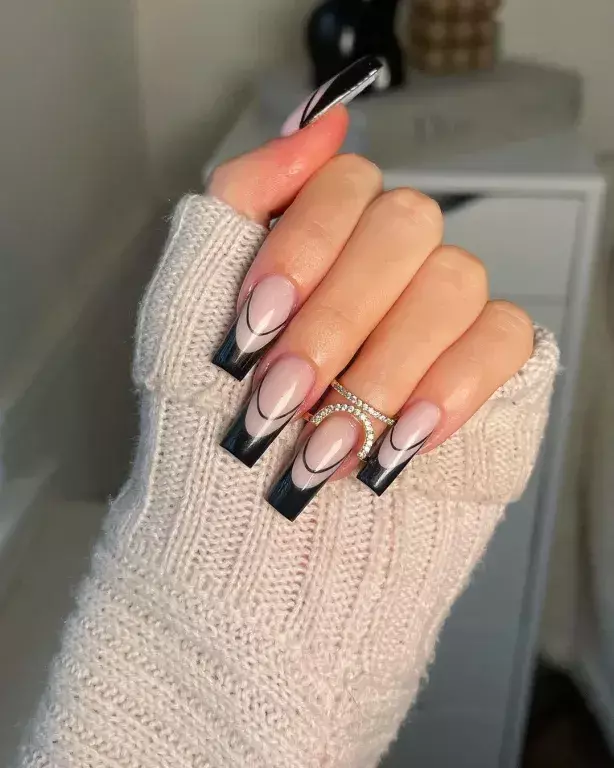 18. Double Lined French Nails
As referred, the double lined French nails are created with long squared shape nails which are painted black on the edge and the other doubled line is created keeping space in between. This type of doubled lined French tip is a creative way of having a cool nail art and works well with many nail shapes.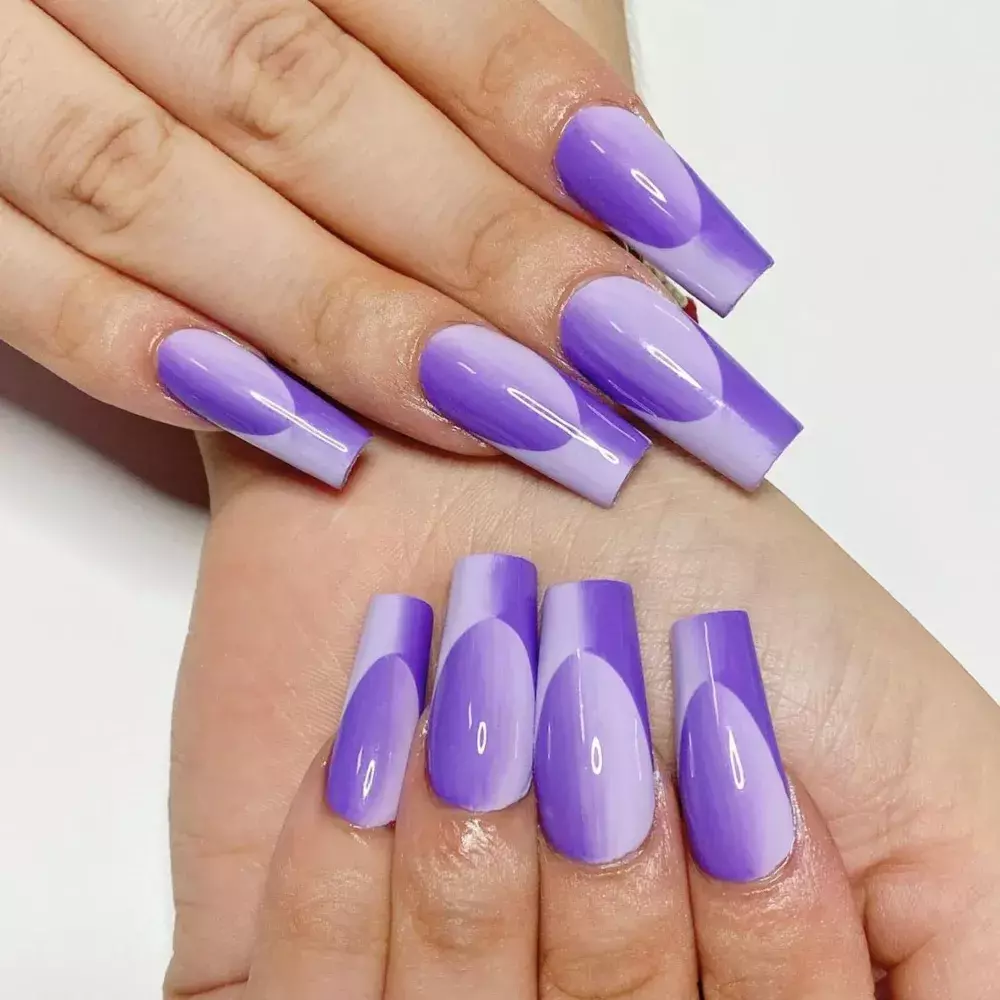 19. Two-Toned French Nails
To achieve the Two-toned French Nails look, also called double French nails or dual French manicures, entail applying two different or double-shaded nail polish colours. This look gives the classic French tips a contemporary and striking twist. Using a light and dark shade of purple color and two parted colors on the French nail tips, makes it look fashionable.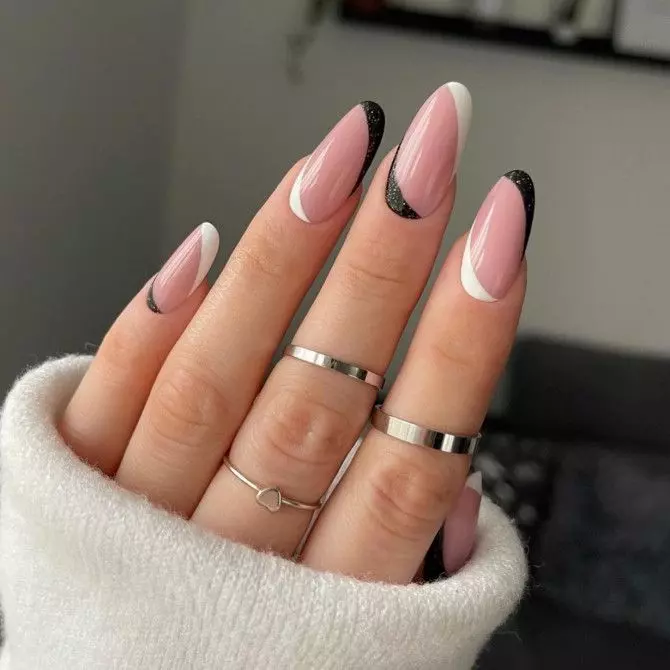 20. Reverse French Nails 
These reverse French nails tips or also called as inverted french nail art is a way of crating nail art with two shades used on the tip and bottom of the nail. The nail base is light pink and the tip is painted balck while the bottom is painted white.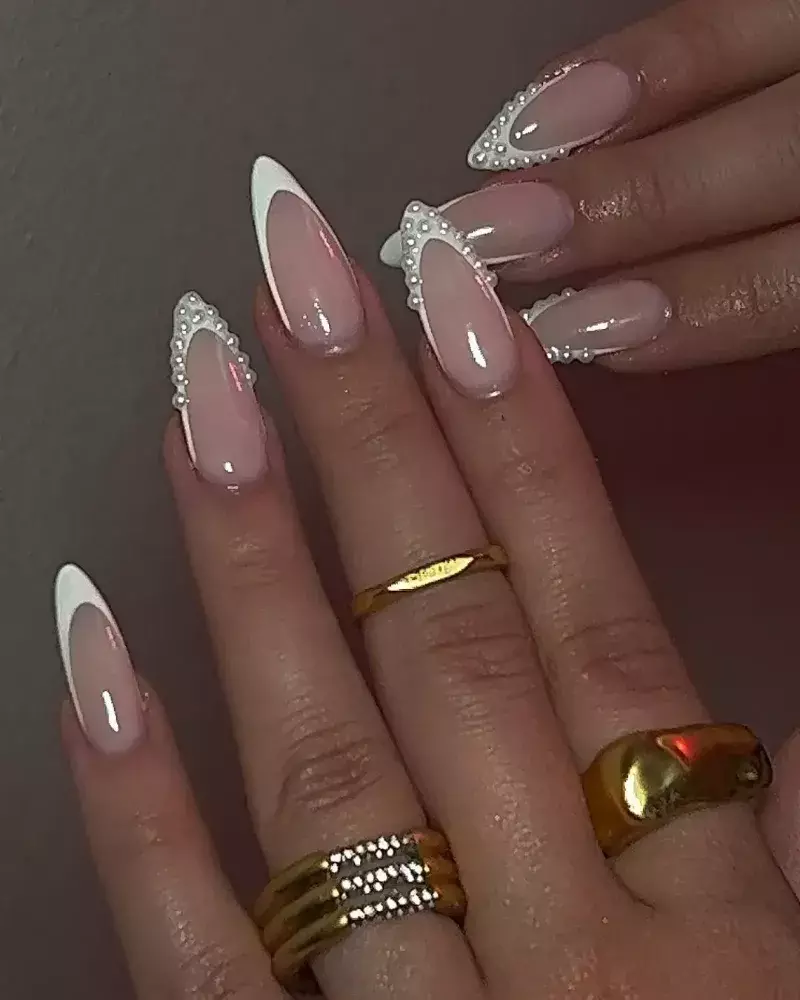 21. Pearly Finish French Tips
A simple French manicure nails or a nail art with pink base and white nail tips can be made much more beautiful while decorating the arrangement with some decorative or small pearls. small pearls are pasted on the white nail tips giving it a beautiful look.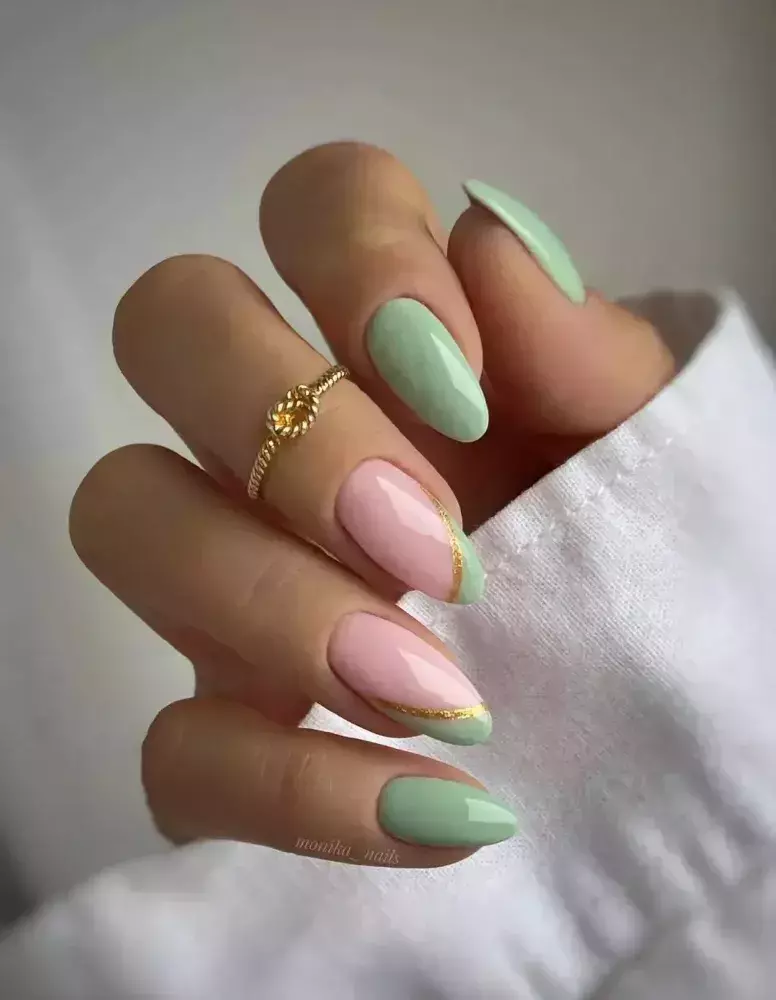 22. Dual Coloured French Nail Tips
One of our favourite and super elegant and classy Dual Coloured French Nail tips which is neat and tidy. These pink and olive green nails can go well with formal as well as informal events. The nails are painted with pink and the tip is colored in green with different colors on the other fingers.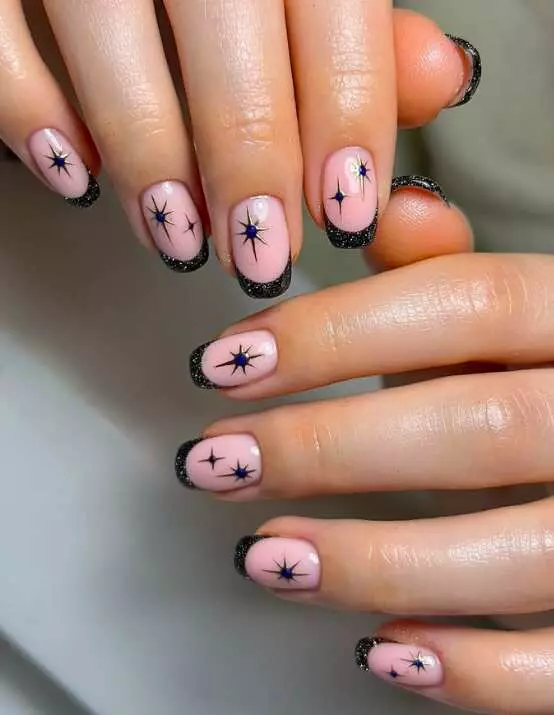 23. Black French Tip Nails
If not white French nail tips, then you can also go for this trendy Black French tip nails, which look outstanding and creative on these round nails. The bold look created due to black nail tips and stars drawn on the pink base of the nails are also stunning.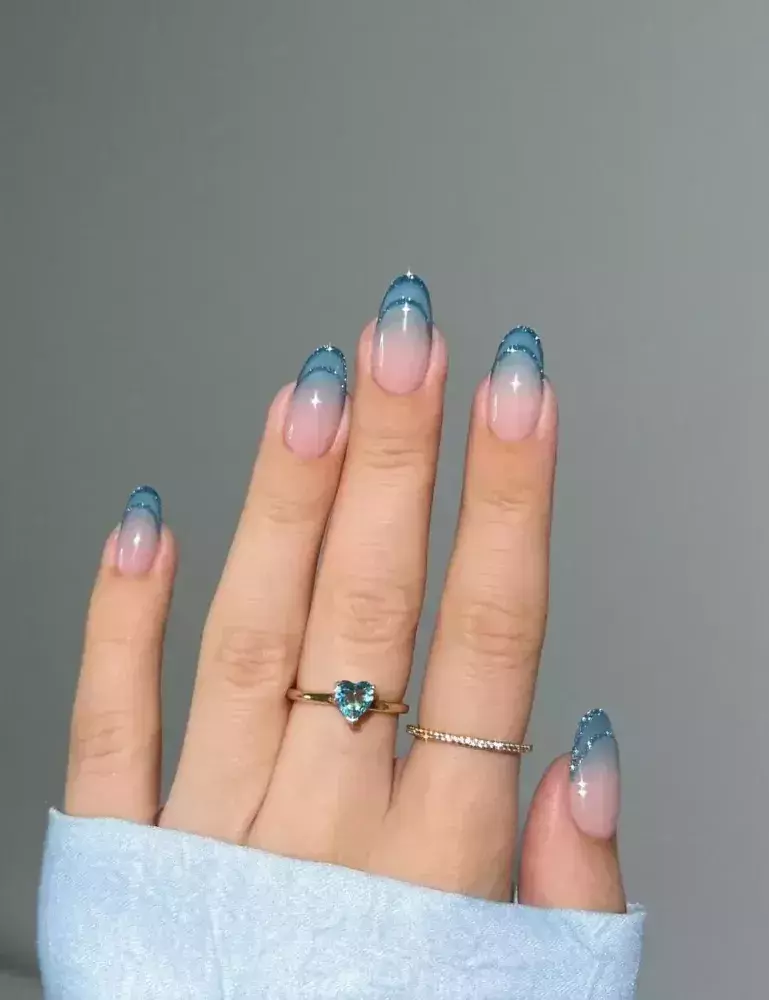 24. Ombre French Nails
Another, stunning and creative way of making your nails look fabulous is this Ombre French nail tips. This nail art is made with using ombre colors starting from pink and indulging with blue ombre tips with shining blue lines on the tips. The Ombre French nails can be tried with different pastel colors and nail shape.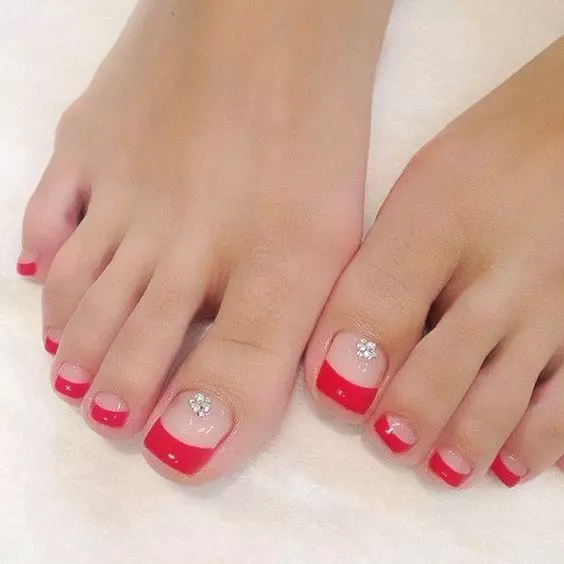 25. French Tip Nails On Toes
Attempting French nail art on your toes is another excellent method to express your creativity. Try these easy yet classy red French nail tips to make your toe nails look gorgeous if you enjoy painting and decorating them.