25 Cute White Acrylic Nail Designs And Ideas - 2023
Olivia
Updated At 13 Aug 23
Fashion is not just limited to outfits anymore, it now includes nails!
Different nail design ideas are used according to the latest trends and have become almost a routine for the youth. Out of all the colours, white is one of the most sophisticated shades, being very chic and is always in trend. White suits all skin tones and is very flexible to style. The same rule applies to nails!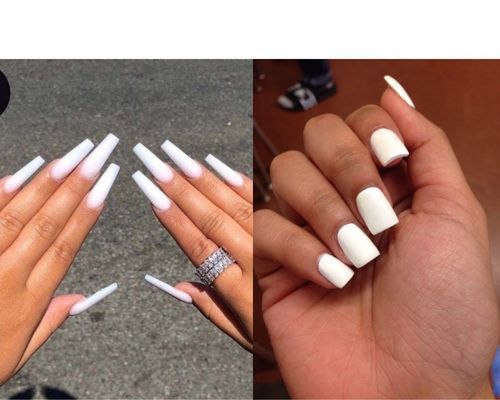 If you are into nail art and love getting your nails done regularly, you can choose to have classic white nails, add all sorts of cool designs on top of it, or even use the colour itself to draw designs on your natural nails. Gladly, the options are varied and the choice is yours! Here are 25 cute white acrylic nail designs that are a must-try. Before you check out the designs, do make sure to know about all the types of different nail shapes.
25 Cute White Acrylic Nail Designs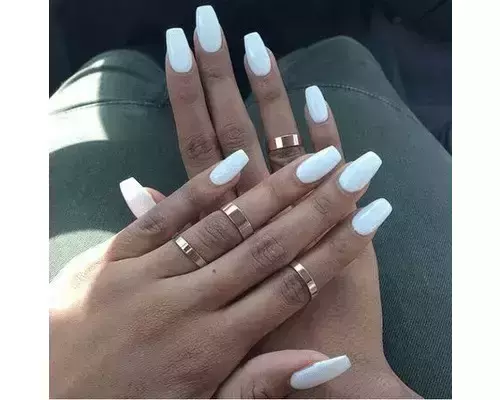 1. Milky White Acrylic Nails
Classic milky white acrylic nails are a must-try for their mainstream acrylic design that deserves attention! It also comes off as a clean and simple design that would complement your casual outfits! These are easily achieved, even at home!
Do check out our guide to find out everything about acrylic nails - as we cover in detail the pros, cons, process, FAQs, comparisons and much more!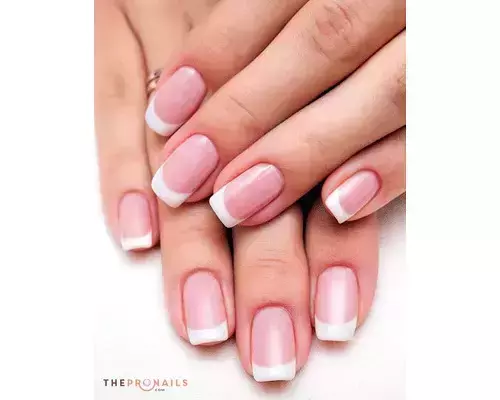 2. French White Acrylic Nails
Every woman loves French acrylic nail design! It is also one of the most perfect short white acrylic nails design, for the French tips make nails appear longer. This simple nail design defines the nails, adding elegance and charm.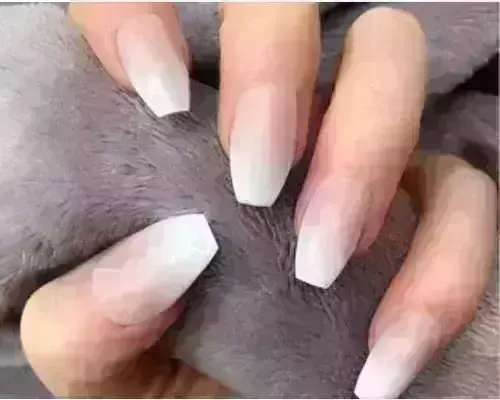 3. White And Nude Ombre
If you want something a bit more subtle, this nude and white acrylic nail blend will serve the purpose well. White and nude go well together for they are light, elegant, and airy and look quite effortless! They look more natural than other designs.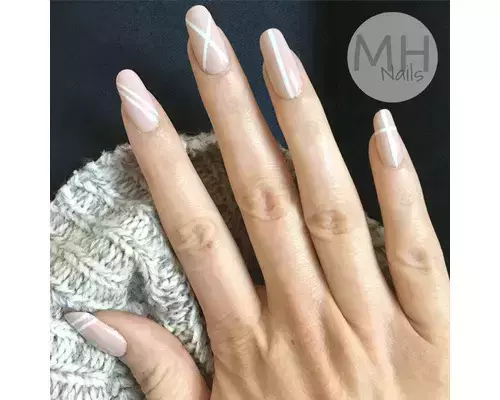 4. Short White Acrylic Nail Geometric Designs
Short white acrylic nails are manageable and chic as many are not comfortable with long nails for day-to-day activities. Geometric designs add funk, and fun and break the monotony of the classic white acrylic nail trend. You can also go for solar nail designs with geometric shape as these look stunning.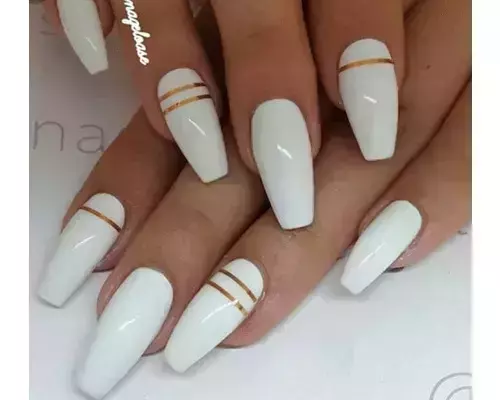 5. White Acrylic Nail With Gold Stripes
White acrylic nails serve as a versatile and solid base for many designs to be drawn on them. Likewise, the gold stripes resemble gold rings around the nails. It is one of the classy designs and is best for those who like it subtle with a bit of shimmer. One can also try out diamond nail designs as these look stunning on white nails and other colorful nails.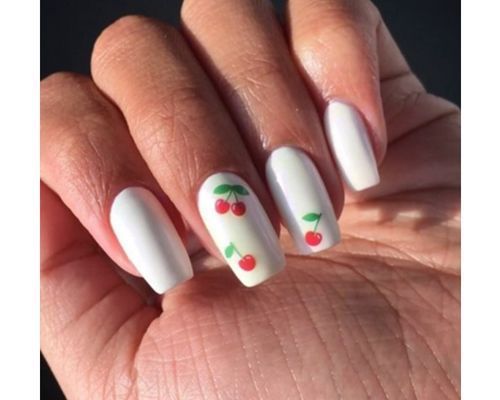 6. Glossy White Acrylic Nail With Cherries
If you love some cute red cherries, this cute white acrylic nail design would be perfect! This design is also fit for short white acrylic nails since it does not need much space! It is fairly easy to accomplish, other than the fact that it is quite youthful!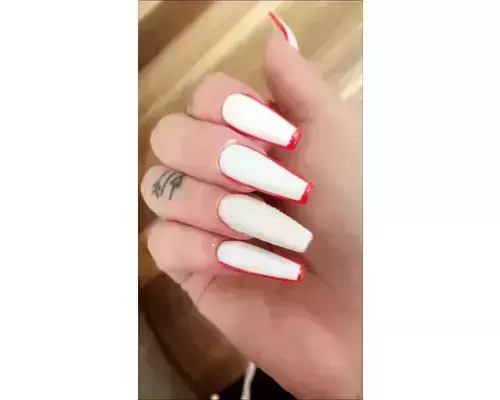 7. White And Red Rim French Nails
It does not necessarily have to be white rim French nails; the red rims look equally good! It is as much a classic combo. The glossy shade of red grabs attention from your nails, creating quite a unique look. These look similar to coffin nails and can go well with any look.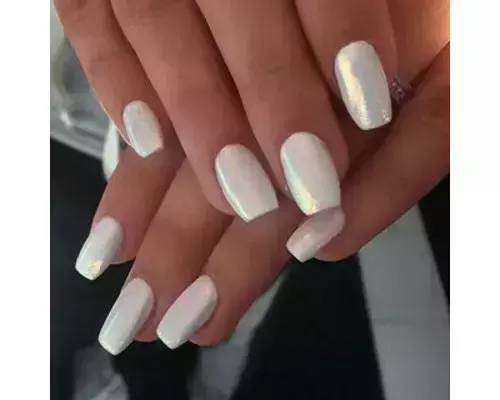 8. Icy White Metallic Nails
There is no better way to channel your enthusiastic energy than opting for metallic nails! Though it has just one tone, it sets the attitude of someone with authority. It is perfect for your bold side.
Check out our detailed guide on solar nails as we cover the process, pros, cons, faqs and all the details.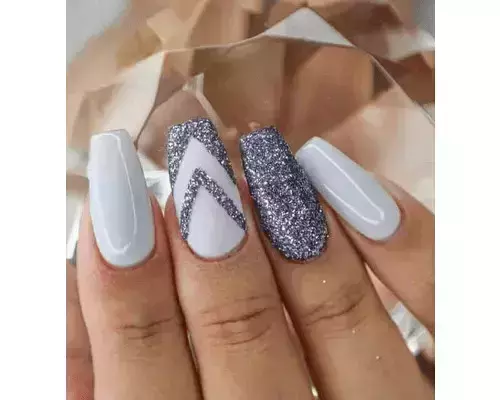 9. Long White Acrylic Nail With Glitter
White acrylic nails with glitter are a glam design idea that rocks on long nails. You might even go a little further by adding glitter to all nails and keeping the pinkie finger solid white. The mix and match serve the much-needed drama!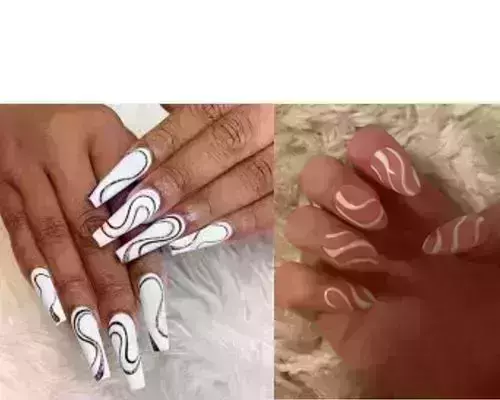 10. White Acrylic Nails With Swirls
Abstract swirls add dimension and flow to an otherwise boring nail design. You can either leave the base nude or draw white swirls, or add colours, a white base with coloured swirls would look fun too!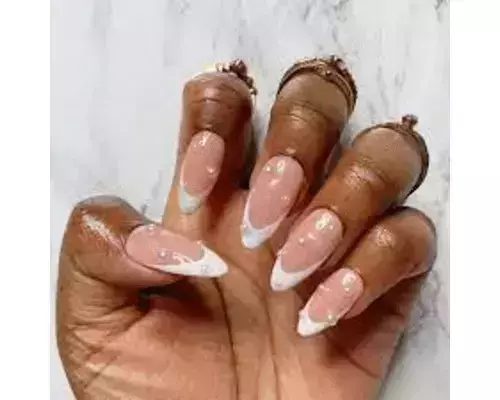 11. Almond Shaped White Acrylic Nails With Pearls
Pearls are known for their elegance, and when added to a nail design, the perception remains the same. On a French white acrylic nail, the classy look is doubled. These almond nails are quite easy to achieve and would look good with any outfit.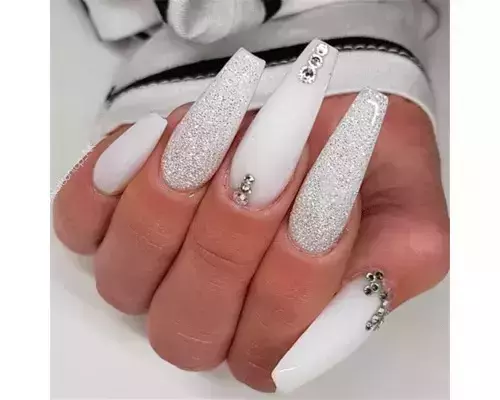 12. Rhinestones On White Acrylic Nail
A few rhinestones on acrylic nails to either outline the nails or be placed in any pattern, enhances the design beautifully. It is a low-key glam look, meant for a party or outing and would even suit everyday wear.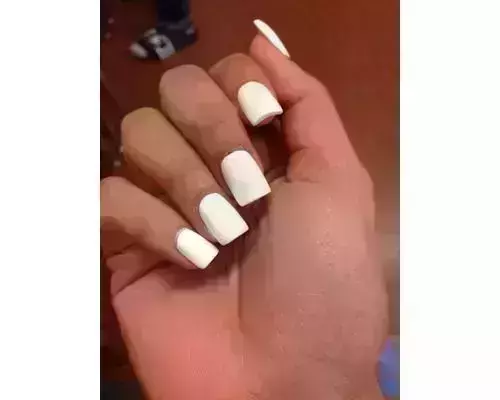 13. Square White Acrylic Nails
Square-shaped nails are quite trendy and one of the most preferred shapes by the youth. The solid square white acrylic nails are elegant, chic as well as classy! It looks good with any outfit, and catches the eye of a nail-design lover instantly!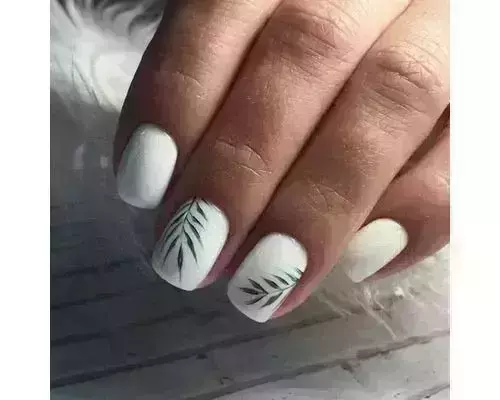 14. Green Leaf Designs On White Acrylic Nail
Adding green leaves with white acrylic nails brings a tone of environment and nature, lightening the mood and also serving as a fresh design. This one is best suited for the summer or spring, for it is relaxing in nature.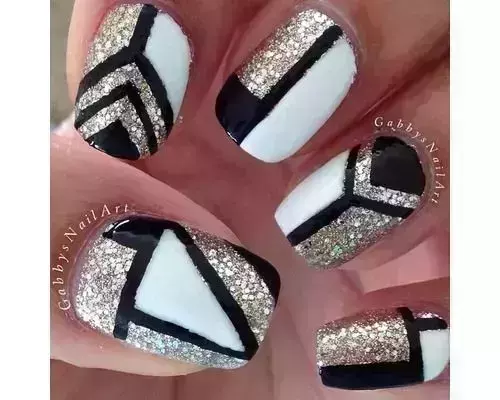 15. White Acrylic Nails With Glitter Of Black And Gold
White forms the base of this design, topped with black and gold glitters to add shimmer and drama to the look. It is quite sensational, adding much glamour to your hands. It would act as a contrast to any sophisticated look.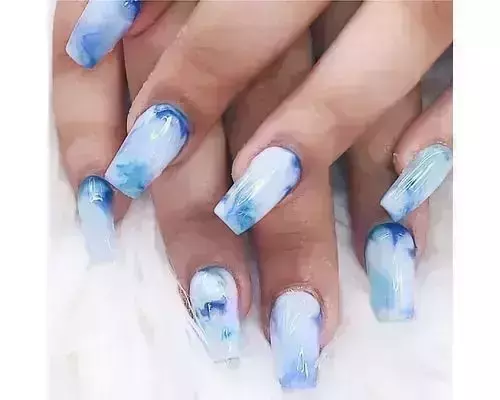 16. White And Blue Tie Dye Nails
Tie Dye is in trend, both in clothes as well as in designs of nails. This white and blue combination looks quite sombre, almost replication waves! To add a little extra fun, you might even add some rhinestones to it.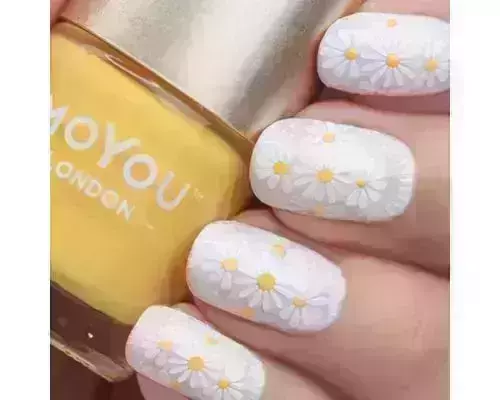 17. Daisy White Acrylic Nails
Another of the spring nail designs would be this daisy nail design. It is super cute and relaxes one's eyes! To let the daisies pop out, make sure to keep the base of the nails white and your perfect design is ready.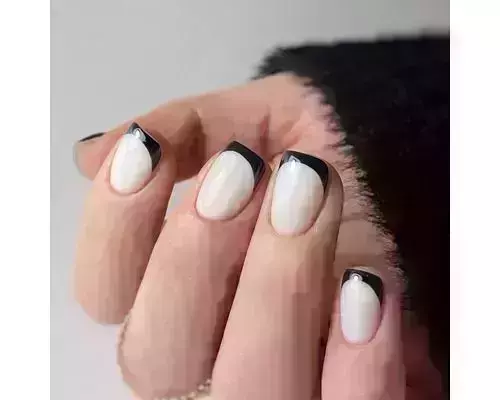 18. White French Nails With Black Tips
French Nails are always a favourite among ladies, but black tips might be an even better choice for black-colour lovers. It is quite stylish, yet is not predictable as the original French design. This one is a must-try.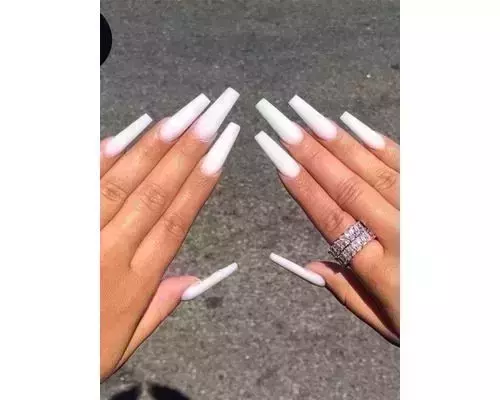 19. Long White Coffin Acrylic Nails
Long nails are not for messy ones. But for those who can manage them, this coffin shape adds so much style to it. You may even go with a different colour on one nail to add more style.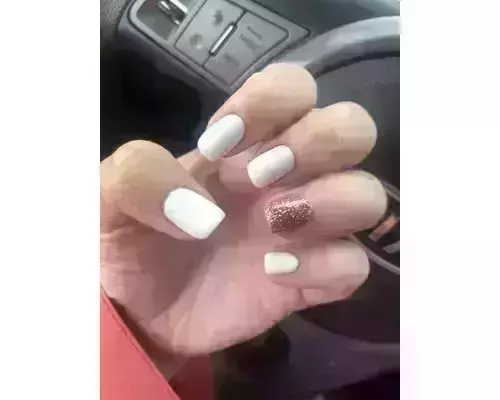 20. White Acrylic Nails With Gold
This rose gold shimmer on one nail while all the others are in solid white colour gives a subtle contrast to the classy design. It is adorable yet stylish, and flexible enough to go with any look you opt to rock!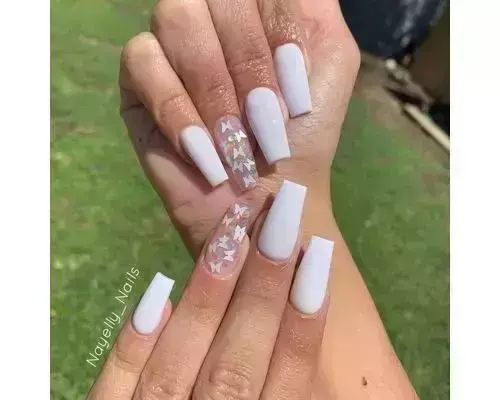 21. Butterflies On White Nails
Another youthful, cute nail design would be this butterfly pattern on one or all nails. It adds a tone of happiness, and the design looks fresh and relaxing. It is a must-try for nature lovers.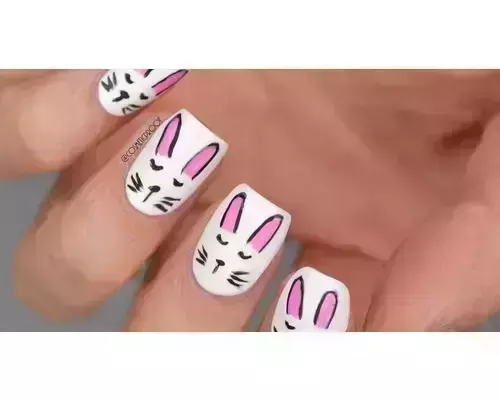 22. Short Bunny White Acrylic Nail Design
This might be just the design for Easter. The bunnies on a white base look super cute, and perfect for your girly side. It is quite simple, making others want to get the same design. It is easier to achieve as well.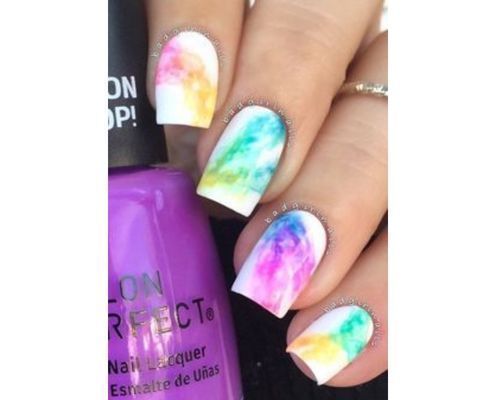 23. White Aquarelle Nails
These nails look as though they were dipped in a rainbow. The colourful design on the white nails makes it fun to carry. These would go with just any look. Make sure to customize it according to your need and liking.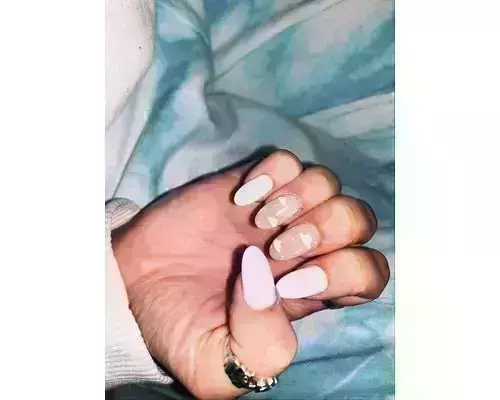 24. Clouds On White Acrylic Nails
White nails look amazing on their own but adding clouds to them gives them a dreamy and soft texture. Make sure the clouds are visible by drawing them over a nude base instead. You might even add a glossy top coat!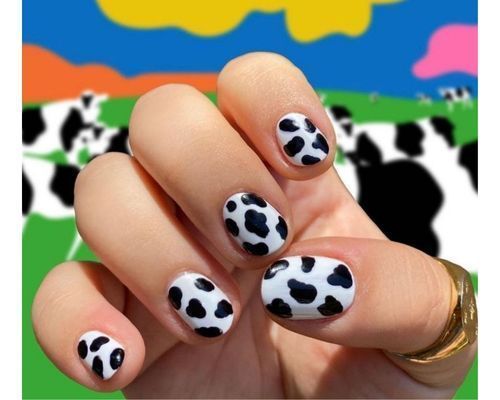 25. White Cow Print Nails
Cow prints are a unique and attention-grabbing design! As white proves to be the best base the cow print on it would require no extra effort. It is perfect if you are in the mood for a black-and-white nail design.