25 Box Braids Hairstyles For Black Women - 2023
Olivia
Updated At 01 Aug 23
Box braids are a hairstyle in which short, box-shaped portions of synthetic or natural hair extensions are braided together. Usually, the hair is neatly divided into square or rectangular portions before being braided in three-strand styles from the roots to the ends. Box braids are a common protective hairstyle for persons with natural hair or those searching for a low-maintenance appearance since they can be worn in a range of lengths, styles, and colours. Without touching up, your box braids should last four to six weeks overall.
25 Best Box Braids For Black Women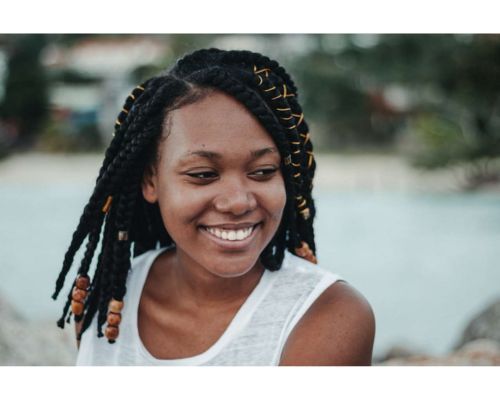 1. Box Braids With Beads
With variations on the conventional box braid, box braids with beads are a popular hairstyle for black women. Each box braid has beads attached to the ends, which adds a decorative touch and a very distinctive appearance. The beads may be tailored to your specific preferences and available in a variety of shapes, sizes, and colours.
2. Colourful Box Braids
Consider sporting a bright box braid this summer. A fun and trendy way to style your hair is with these vibrant box braids. This prominent box braid hairstyle for black women can give your hair a stylish look. Instead of using many different natural hair colours, these rainbow box braids may be created with vivid hair extensions in eye-catching hues including pink, green, blue, purple, and many more.
Looking for more inspiration? Do check out our guide on Senegalese twist hairstyles as these trending haircuts can you a new look altogether. We cover 50+ stunning options which have been trending this year.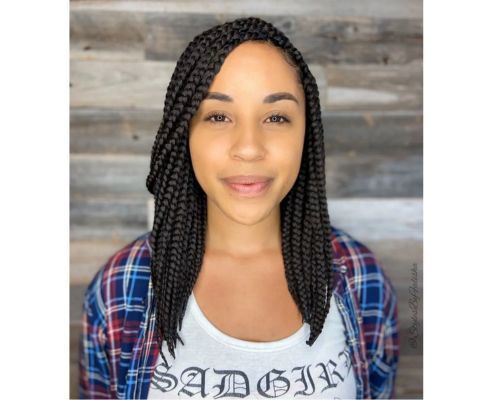 3. Medium Box Braids
Women with medium-length hair, between shoulder- and mid-back length, can go for medium box braids. Natural or synthetic hair extensions that have been elegantly groomed can be used to make medium box braids. A great deal is open box braids with a layer of controlled braids on one side.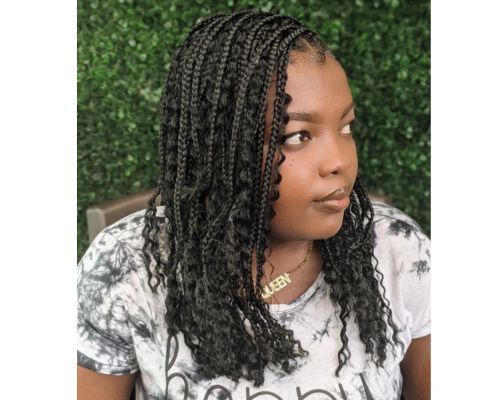 4. Box Braids With Hair Curls
Box braids with curls are also called Curly box braids or crochet box braids. These are variations of the classic box braids, which are combined with hair curls and small box braids. The hairstyle will have hair curls and braids together. This hairstyle includes braiding the hair and adding curly natural hair extensions to produce a textured, voluminous look. If you are looking for inspiration for curly hairstyles for black women then this haircut can look amazing. This style is versatile and can be worn in a variety of lengths and colours.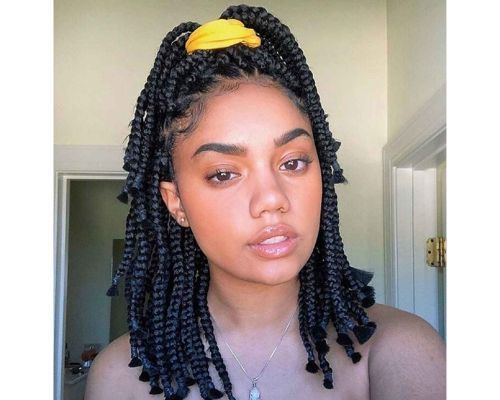 5. Ponytail Braid
This gorgeous hairdo gives off a sporty appearance. This box braid hairstyle has half-open hair and a dramatic high-raised ponytail that beautifully frames the face and gives off a youthful appearance. Short braids or shoulder length braids do look good and can transform your look completely.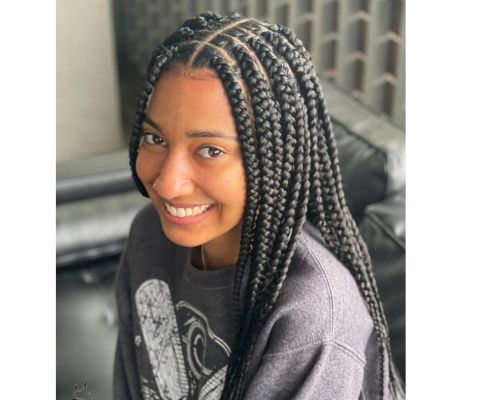 6. Knotless Box Braid
Knotless box braids are a popular protective hairstyle that involves braiding hair without creating a knot at the base. This approach is kinder to your scalp and lessens the strain and pulling that can harm and break your hair.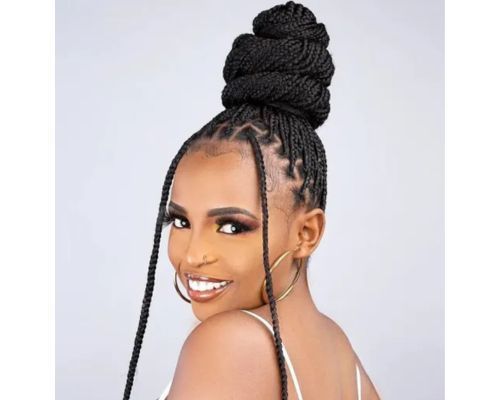 7. Small Box Braids
The small box braids resemble traditional box braids in miniature, securely braided portions of hair are used to make these small box braids. Such braids may be done in a variety of ways. This triple-layer bun, which is made from box braids and the two open strands of braids serve as side fringes, is one such box braid hairstyle for black women.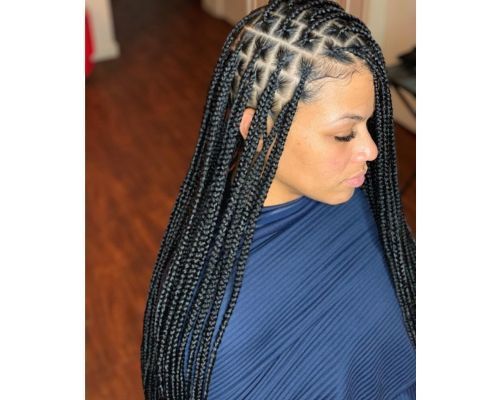 8. Square Box Braids
One of the most popular box braid hairstyles for black women, square box braids are fashionable and adaptable. The hair is divided into small, square-shaped portions, and each segment is then appropriately braided using hair extensions to provide length and the ideal amount of volume.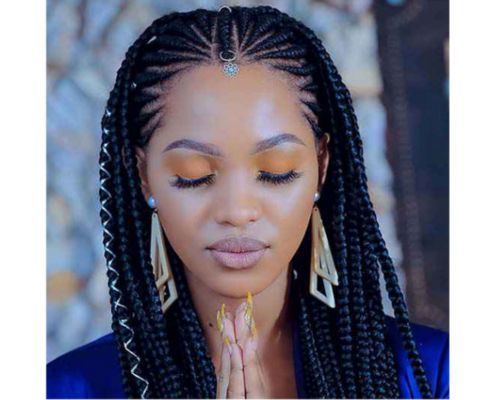 9. African Box Braid
A popular protective hairstyle is the African box braid, which involves braiding the natural hair with synthetic or human hair extensions to provide a lovely, long, supple appearance. This hairstyle is adaptable and may be accessorised with a variety of looks, interesting hair ornaments, or beaded with lovely flower rings. Knotless braids with beads are another type of braids which have been growing in popularity continuously. If you are looking to try out something new, then african box braid or knotless braids can work really well.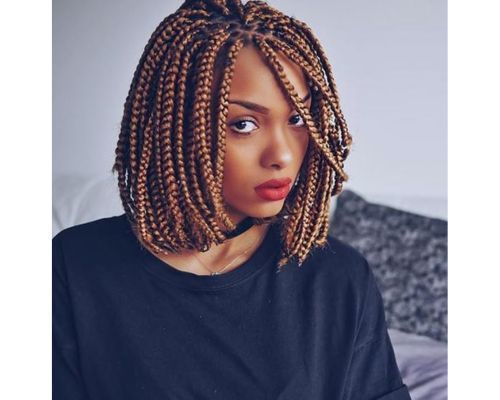 10. Shoulder Length Braid
A shoulder-length braid is a classic box braid, which is created with hair extensions or synthetic hair that are styled just above the shoulder and styled inside. The hair is styled with bronze hair extensions and braided across the hair.
If you are looking for inspiration to find the best pixie cut for black women then do check out our article as we cover 25+ stunning pixie hairstyles for black women which have been trending this year.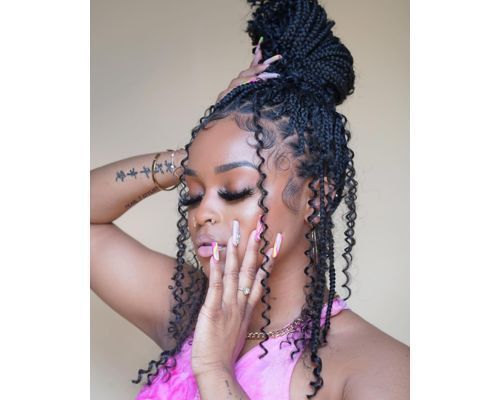 11. Topknot Box Braids
A topknot bun with comb-style ties is made from box braids, producing a polished and stylish appearance. The topknot bun might be a terrific choice if you're seeking a box-braid hairstyle for a black woman. Additionally, certain hair strands are curled with a curling iron while left open, which beautifully complements the overall haircut.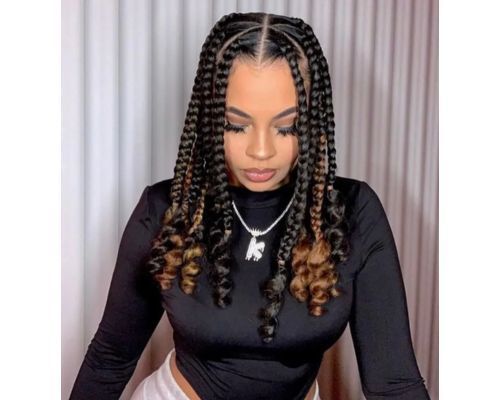 12. Big Box Braids
A clump of hair is braided into this box-braid hairstyle to give it a voluminous appearance. This hairstyle relies heavily on hair extensions since enormous strands are needed to make the massive box braids. The bottom of the hairdo is kept curly while dual-coloured braids are merged with it.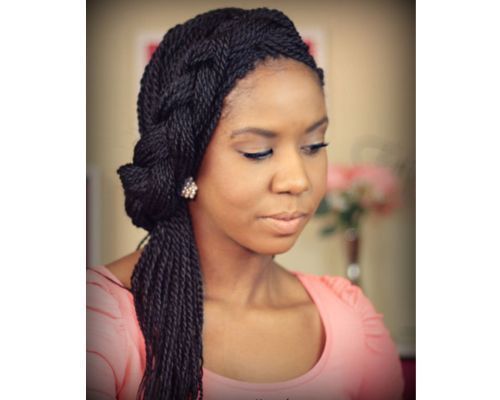 13. Front Knot Box Braid
A haircut that is fashionable and sophisticated, perfect for formal occasions like weddings. A gorgeous box braid hairstyle for black women that seems intriguing and stylish. The entire head of hair is first box braided, after which the braids are elegantly wrapped with a front knot from one side, and the remaining hair is pulled back into a ponytail below the shoulder.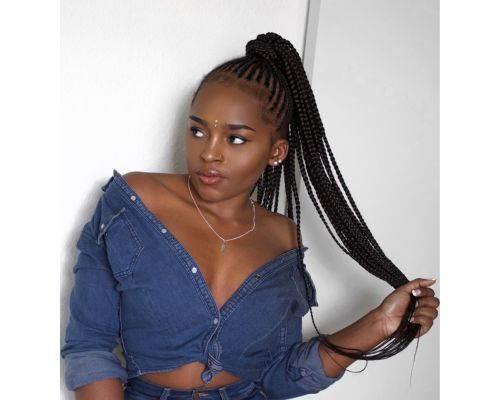 14. Ponytail Box Braids
This hairstyle is a popular box-braid hairstyle for black women. If you thinking to style your hair in a fashionable and high-raised method, then you may attempt this high-raised Ponytail with a box braid. At the top of your head, combine all the box braids into a ponytail, then braid it from the base of the ponytail to the ends. if you are looking for inspiration for long black hairstyles, then do check our guide as we list 25+ stunning new long and flattering haircuts which have been trending this year.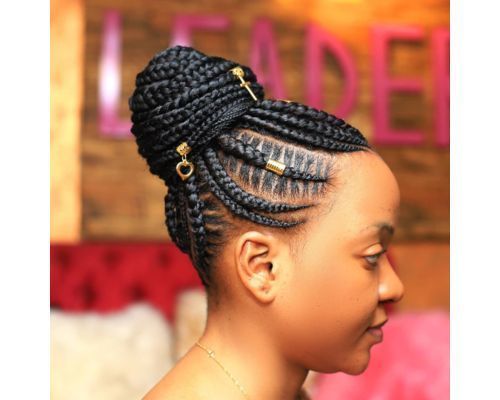 15. Box Braided Bun
An extremely amazing and refined box braided hairstyle for black women seeking a summer hairstyle. The complete box braids, which are woven vertically from the crown, are artfully gathered to form a bun. The complete braids are horizontally banded into a bun, and then beads and hair accessories are added for the ideal hairstyle. If you are looking for short black hairstyles then this can be an amazing option.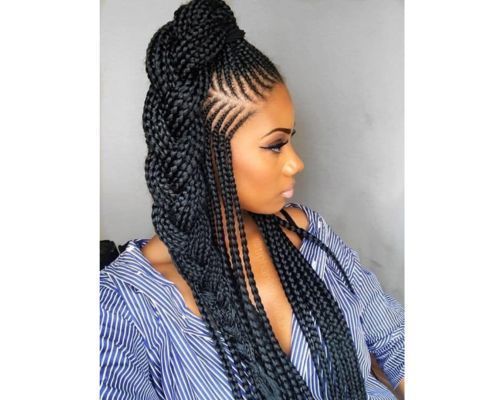 16. French Box Braid
French box braids are a stylish and magnificent hairstyle that features the techniques of French hairstyle and box braiding to create the most exquisite look. It's a unique hairstyle combining French style and some open braided strands which are long, sleek and divided into uniform curvy sections.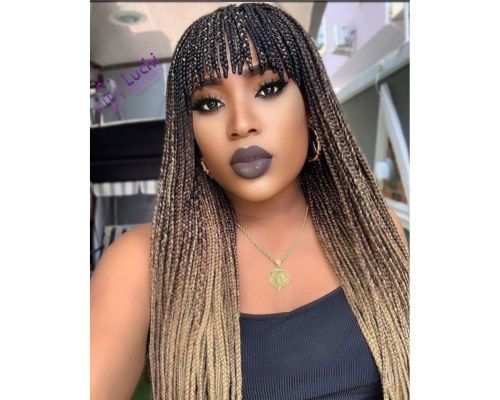 17. Box Braids With Bangs
Fantastic hairstyles include box braids and ombre hair. You may attempt this stunning box braid hairstyle. The complete hairdo is stunning because of the full box braid fringe, which covers the entire forehead.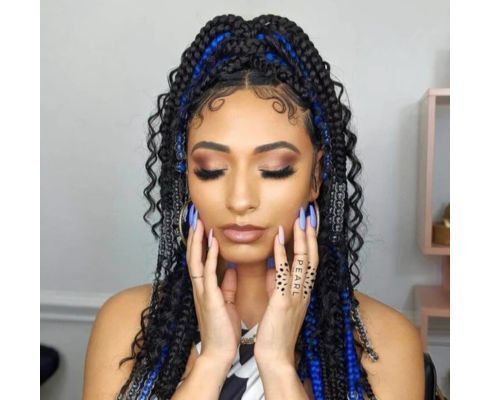 18. Boho Box Braid
These fashionable Boho box braids include braiding extensions into natural hair to provide a bohemian-inspired aesthetic. With the use of hair accessories, braided blue hair extensions, and soft curls, this cool box braid hairstyle for black women is stunning and well-finished.
19. Beautiful Long Braids
These elegant long box braids are both easy and beautiful. This hairdo can be kept open-flowing or styled with a central divide. This low-maintenance box braid hairstyle for black women black woman may be kept up for weeks.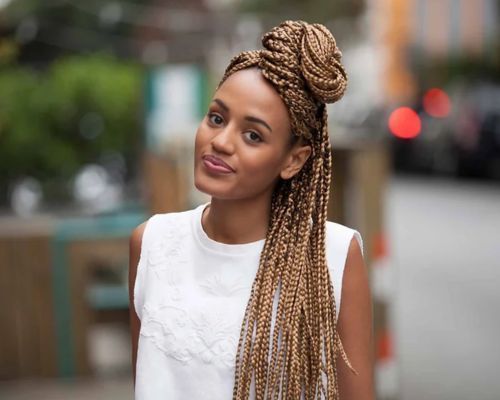 20. The Side Swept Box Braid Bun
This gorgeous dual-side swept bun may be created in a variety of ways with two layers of styling bun. The hair in the box braid is maintained open and side-swept in the hair bun. This haircut is elegant and fashionable.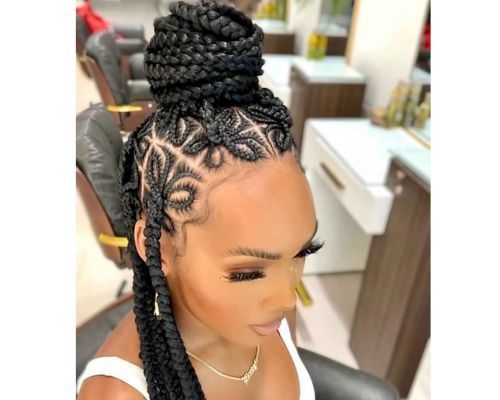 21. Flower Box Braid
The flower box braid is a method of box braiding that is used to fashion a flower-like shape on the crown of the head. The well-divided scalp forms a flower-like shape from which box braids are formed. The floral structure blends beautifully with the way the box bun is organised.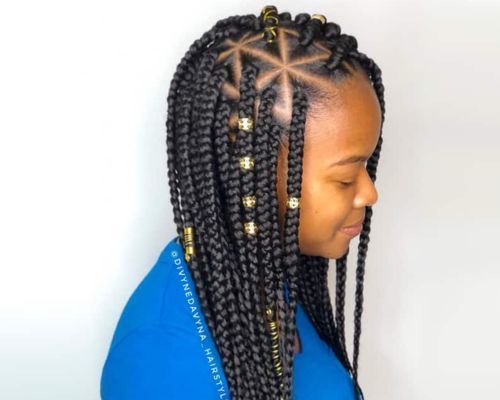 22. Triangle Box Braid
Another kind of triangular box braid is formed at the top of the head, leaving the other box braids uncovered. The scalp is shaped like a triangle, and each triangle forms a box braid. This is a fantastic way to display your gorgeous braids.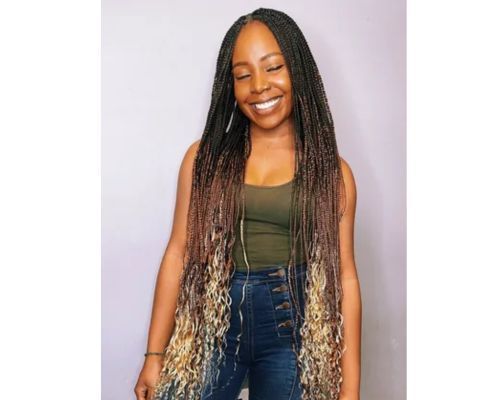 23. Box Braids For Long Hair
This long hair box braid hairdo is pretty distinctive. Three sections are commonly formed in the box braid with long hair. The box-braided hair is heavily braided from the crown to the shoulder, and the hair below it is well-painted. The curly hair extensions are at the base of the box braids.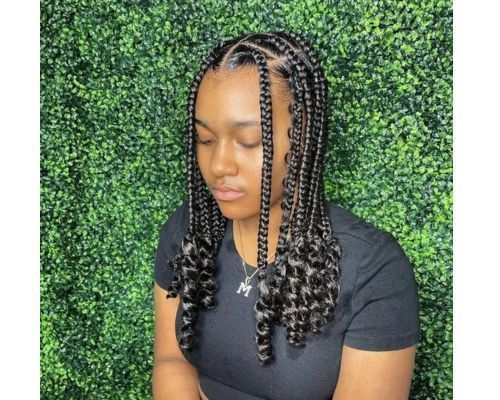 24. Box Braids With Curly Ends
Box braids may be given a conventional twist. The box braids may be fashioned in a variety of ways depending on the wearer's preferences. Try this middle-length bo braid with curls for a different look. It is a stylish hairdo because of the bottom curls and the exquisite box braids.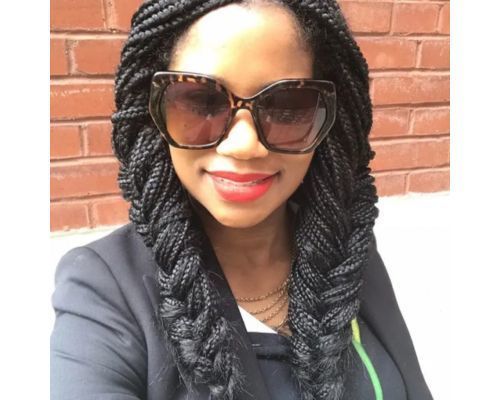 25. Fishtail Box Braid
A fishtail box braid hairstyle combines the fishtail braid with the box braid, which is two common braiding methods. It's a distinctive and fashionable braiding style that is ideal for individuals seeking an alternative to conventional box braids. This hairstyle may be created with two gorgeous fishtails.