55 Best Senegalese Twist Hairstyles For Women (2023)
KRITIKA GUPTA
Updated At 01 Aug 23
Senegalese twists is a protective hairstyle that is typically applied to afro hair using kinky hair extensions. Africa's Senegal is the home of the Senegalese twist. Other names for it are rope twist and crochet twist. This hair braiding method is a form of haircare technique for thick, natural black hair in addition to serving as a fashion and aesthetic statement in their culture. It shields your hair from harm brought on by heat styling, environmental factors, and coloring. This is why it's termed a protective hairstyle. Additionally, when your hair is braided in a Senegalese twist, it grows more quickly. Lets check out the best Senegalese twist hairstyles which are trending this year.
55 Best Senegalese Hairstyles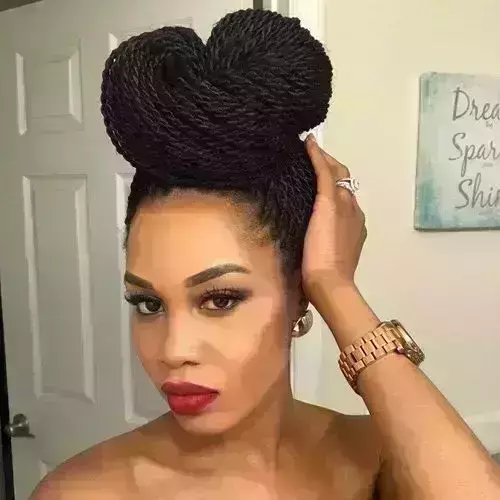 1) Braided Senegalese Updo
For special events, this gorgeous and elegant Braided Senegalese updo is ideal. Start by splitting your hair on the side you choose. Put your twist in a high ponytail and secure it with a rubber band or a small section of it. From the ponytail, braid a strand and fasten the ends. The braid should then be twisted into a bun and secured with a hairpin. Make sure everything is securely fastened. In order to answer the question of how to keep senegalese twists from unraveling, one should work with damp hair and while braiding the hair, they should be misted from time to time.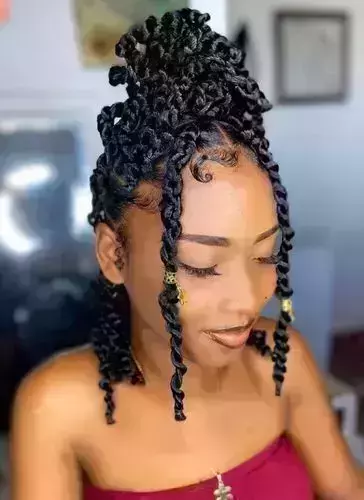 2) Short Passion Senegalese Twists
Short passion twist styles seem especially natural when they are created with hair extensions that are a natural colour. Short passion twists provide great movement and bounce and install very quickly. You can save time and money during installation because you will need to use less braiding hair. There are several fantastic reasons why you should attempt brief passion twists. Additionally, you can also check out box braids to find more inspiration.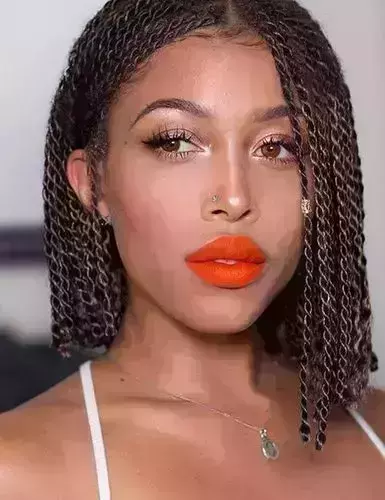 3) Senegalese Bob
It shouldn't come as a surprise to see super-chic short Senegalese haircuts everywhere given how popular short hair is right now. It's best to wear this Senegalese bob in warm weather or if you have trouble sitting still during lengthy hair appointments. One of the best hairstyles for black women, bob continues to remain popular and is preferred by many.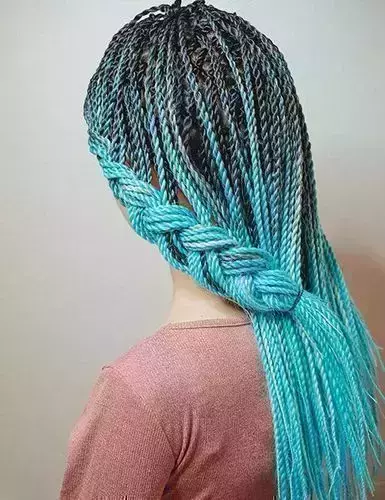 4) Double Braided Senegalese Twist Hairstyle
With its two simple lace braids, this beautiful hairstyle will turn heads. It's just what a woman who doesn't mind showing a little courage needs. To achieve this texture, use Kanekalon hair in little twists. One basic question that arises while doing Senegalese twists is that how to part hair for Senegalese twists? For solving that problem, except for a little section closest to your neck, bun all of your hair and split the part into two equal sections. After this is done, one can start twisting the hair into braids.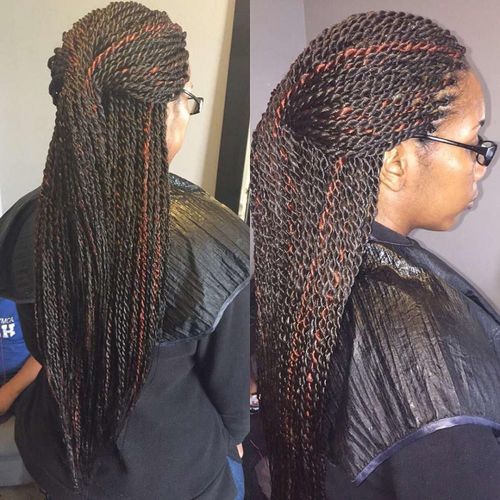 5) Gorgeous Micro Twists
Micro braided hairstyles can be completely fuss-free. In order to give your scalp time to acclimate, one of the finest things you can do with rope twists is to leave them down, especially just after you get them. Choose an uncomplicated low half-up pony if you want to experiment with a new look right away after having extensions. One of the popular afro hairstyles, this works both for long and short hair.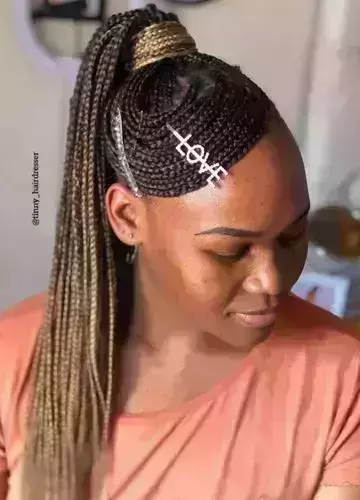 6) Ponytail Senegalese Twists
Not feeling like a difficult hairstyle? Combining twists from the left and right sides of your head will result in thae easiest updo. Then, pull them up into a thick ponytail by tying them at the top. The best thing is that only one hair elastic is required!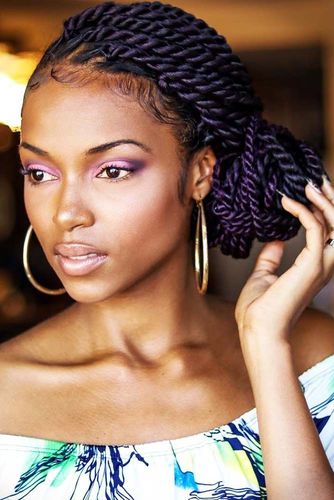 7) Senegalese Twist Low Bun
The greatest option for this hairdo is a small rope twist with color incorporated throughout for a dramatic look. Then, to get a refined and beautiful style, arrange your twists into a low bun.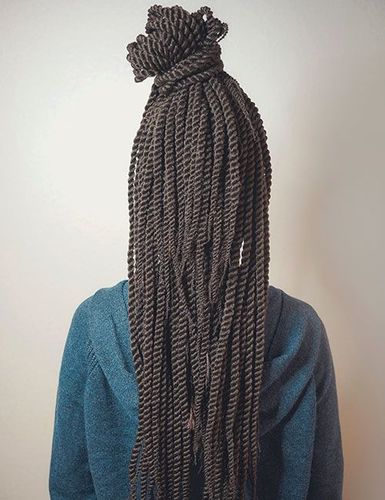 8) Back Braided Senegalese Bun
This quick and easy hairstyle has a loosely braided bun that is wrapped around itself or another object. Long Senegalese twists emphasize the elegant appearance and make it ideal for a first date. One of the top long hairstyles for black women, these lopng braids with bun look stunning.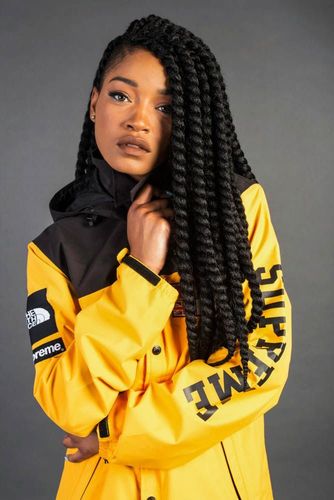 9) Jumbo Crochet Senegalese Twists
Jumbo crochet braids are just larger, thicker, and more hairy twists. These seem really laid-back. Try this style if you have a round face because it frames the face by giving your hair more volume.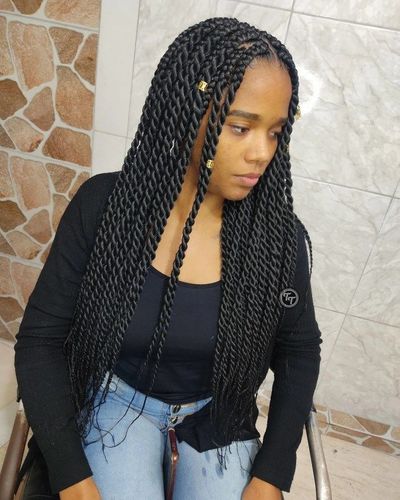 10) Long Senegalese Twists
Keep it basic and lengthy to wear! These lengthy Senegalese twists made of crochet are gorgeous. Since you use hair extensions, it doesn't matter if your hair is short. You can also go for beads as that will transform your hairstyle completely. Braids with beads make the hairstyles look gorgeous.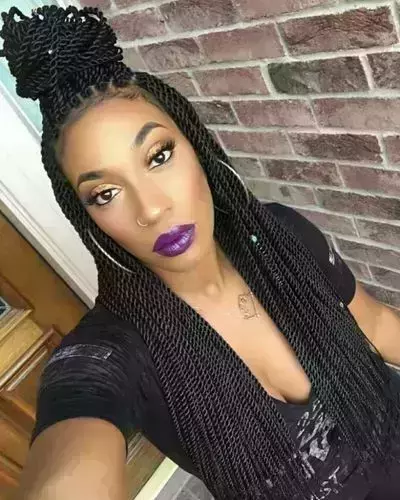 11) Half Top-knot Senegalese Twists
This hairstyle looks fantastic. Simply tie the top half of your Senegalese twists into a bun after you're done, leaving the remainder loose. Also check out lemonade braids for more inspiration as twisted lemonade braids can take your look to the next level.
12) Senegalese Twists With Hair Left Loose
Roll roughly two to three inches of your hair with a roller after you've finished twisting it. Next, seal the ends of your hair by dipping it in hot water. Take care when removing the rollers from your hair after it has been in hot water. Instead of blow drying your hair, let it air dry.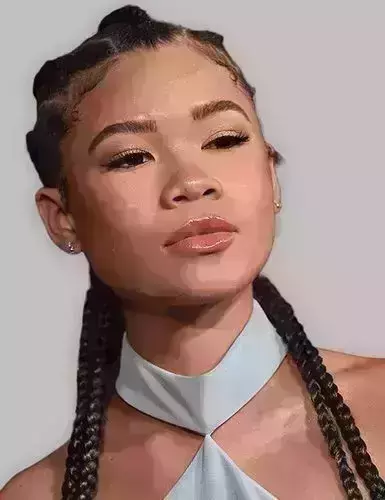 13) Senegalese Flat Twist Braids
This Senegalese flat twist hairstyle is the best summer appearance and is great for keeping hair out of your face when sunbathing. From the hairline to the nape, the hair is firmly knotted. Remember to leave your edges visible so you may gel them back into the pattern of your choice. If you are looking for braids which show no bulging of hair from the scalp, then do try out knotless braids with beads.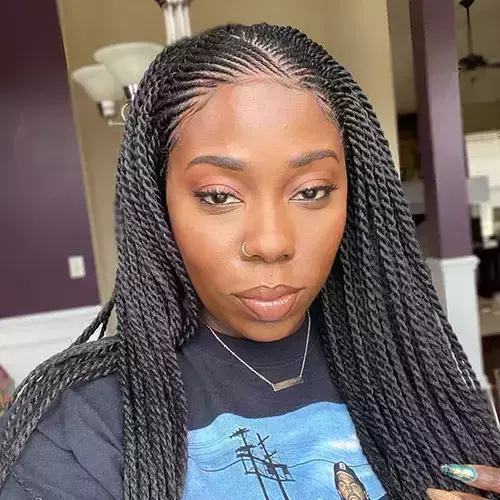 14) French Braid Senegalese Twists
With this amazing hairdo, you'll look really badass! You must use the French braid technique to achieve this style. After three inches of braiding along the scalp line, you transition to twisting your hair. As a result, additional hair is gradually added to each Senegalese twist until the twist is completed. Take two Senegalese twists, divide them in half, then twist them alongside one another to form the shape of a top crown.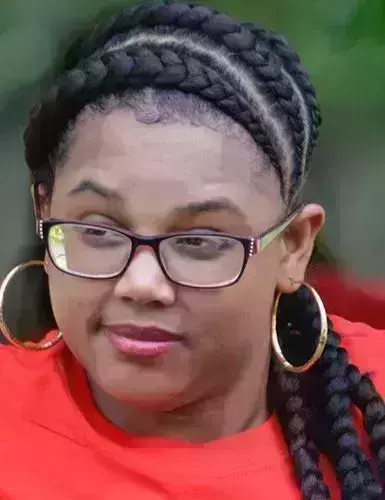 15) One-Sided Senegalese Twists
You've found it if you're looking for something innovative! If you don't want to shave your head, you can just French braid your twists so that they fall near to the scalp on the other side and only fall on one side.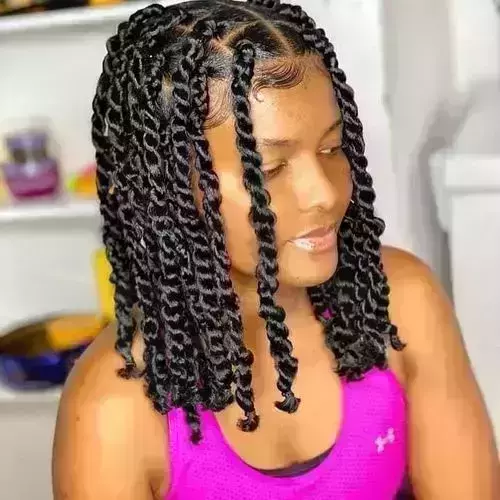 16) Rectangle Senegalese Twists Hairstyle
You have a great opportunity to display your ingenuity thanks to the twists in fashion. By mixing conventional designs with contemporary approaches, a variety of designs can be created. Simple rectangle sectioning can transform a typical Senegalese twists hairdo into something remarkable. To keep your uniqueness, try combining various strategies.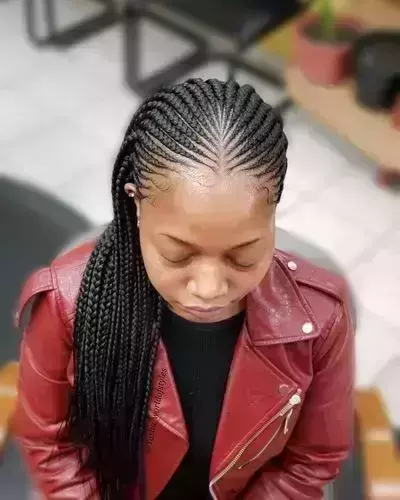 17) Fine Senegalese Cornrows
The cornerstone of all traditional Afro hairstyles are cornrows. It can produce astonishing outcomes when combined with Senegalese twists. How to do Senegalese twists has rather a simple answer to it. It can be done easily and precisely by following the steps properly and parting the hair neatly. The hair extensions used provide one with more precise and neat look.
If you have short hair, you can go for small cornrows hairstyles as well.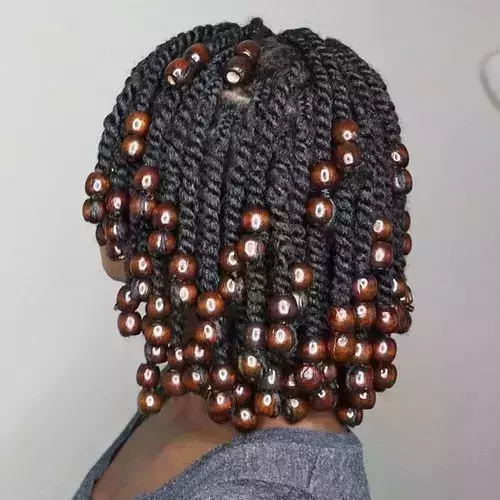 18) Senegalese Twists with Heavy Beads
A common approach to finish the twisted Senegalese hairstyle is by adding a large wooden bead. In a crowd, one may easily identify this hairdo even from a distance. Wooden beads are used to create an intriguing impression. Soft music is produced by the rhythmic movement, which is also a source of joy and satisfaction.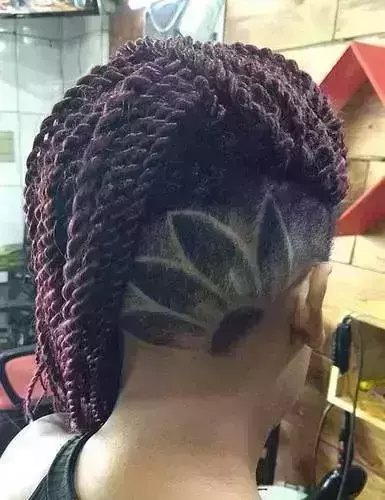 19) Head Pattern Senegalese Twists
If you love experimenting with bold hairstyles, then try this killer look. Most hair stylists will work with you to get the pattern you want, so it's not just the one flower hairdo. The Toyokalon hair are best recommended for this hairstyle.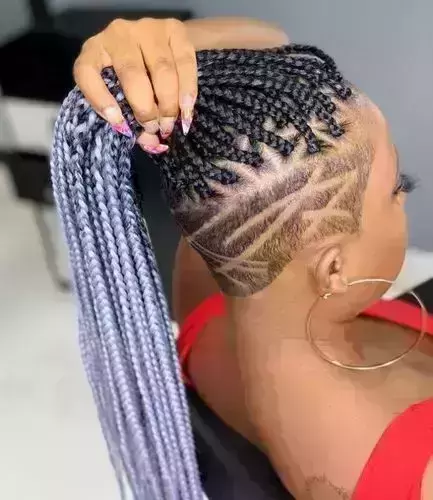 20) High Bun, Shaved Sides
This style calls to be noticed since it has medium Senegalese twists that are toned with golden beauty. This look is for a woman who wants to be edgy and features a high top knot and sides with stylish shaving. Do you see a few burgundy pieces scattered about? Your base hue can certainly be spiced up.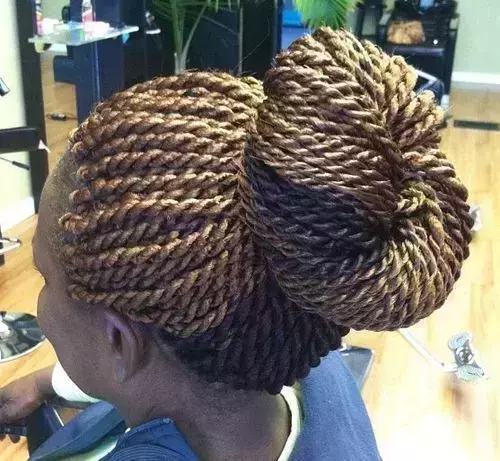 21) Thick Donut Bun
Here is a quick and adorable updo for a woman who prefers to keep her twists out of the way or who wants a casual look with style. The thick bun looks best with medium- to large-sized Senegalese twists and can be worn on the crown of the head.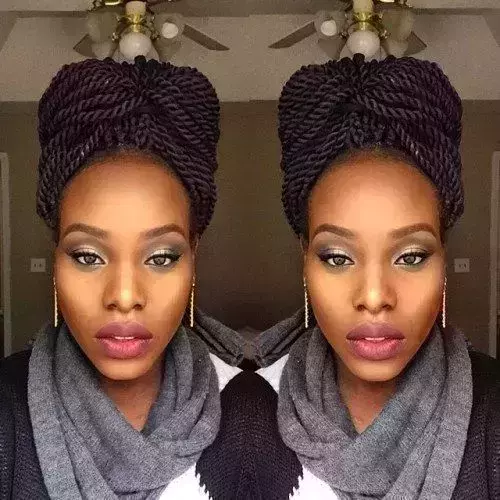 22) The Hi-Bun Bow
Any woman on the go can complement her hairstyle with a high bun that flows loosely into a girly bow. It's ideal for medium-sized to huge twists and great for individuals who desire a cutting-edge hairdo without the hassle.
If you are looking for inspiration for black wedding hairstyles, do check out our guide as we feature 55+ stunning options.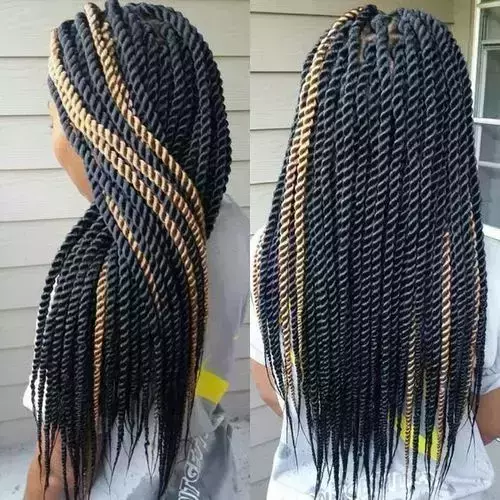 23) Long Auburn Ropes
Colored twists can be a great option for you if you want to change the color of your hair but are concerned about the health of your hair. Select colors that go well with your skin tone and eye color.
24) Curled Senegalese Twists
Happy girl! The most beautiful rope twists for curly hair we've ever seen are these kinky ones. The advantage of choosing short twists is that you avoid having long lengths of thread at the end. The thicknesses at the top and bottom are more evenly distributed. Simply choose a few twists at the temples and knot them together to attempt the adorable back headband.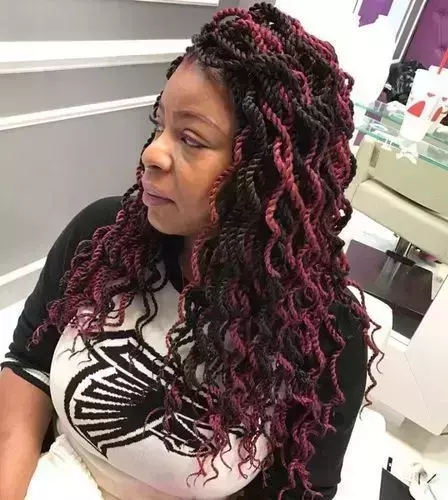 25) Long Curly Hairstyle
You're tired of the straight Senegalese twist? Curls will make it better! With flexi rods, you may make waves without endangering your extensions. To get a nice night's sleep, just wrap your twists around the poles and secure a silk scarf around your head for cover. Remove the rods in the morning to see gorgeous, bouncy curls!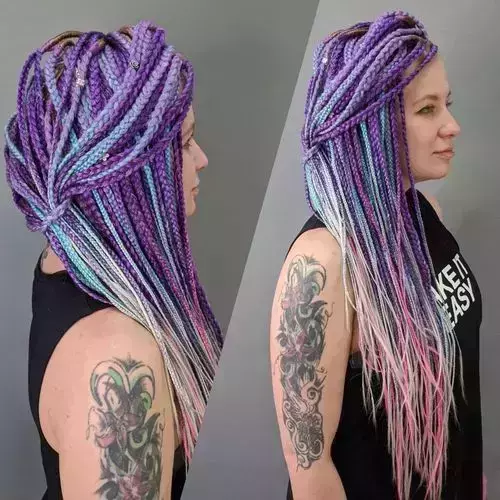 26) Bright Two-Tone Rope Braids
wo-toned hair? Please, yes! Bright blue eyeshadow adds a personality boost to a waist-length blonde hairstyle. It's fantastic for women who want long locks without a laborious morning regimen. Bid adieu to combing and blow-drying your hair!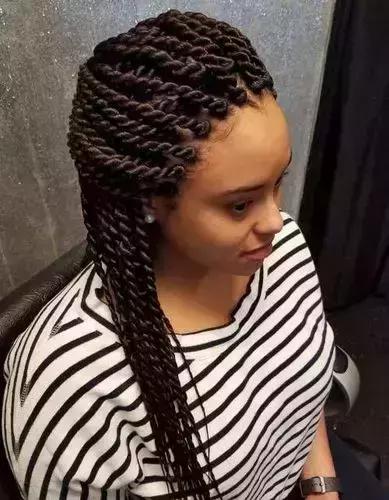 27) Low Slung Half Up Style
This simple Senegalese twist hairdo is quite desirable. More fascinating twists are those that are thick at the roots and gradually thinner toward the ends; these twists look amazing when your hair is pulled up in updos that highlight the varying twist thickness. Consider a discrete half ponytail for everyday wear. ideal for both work and play.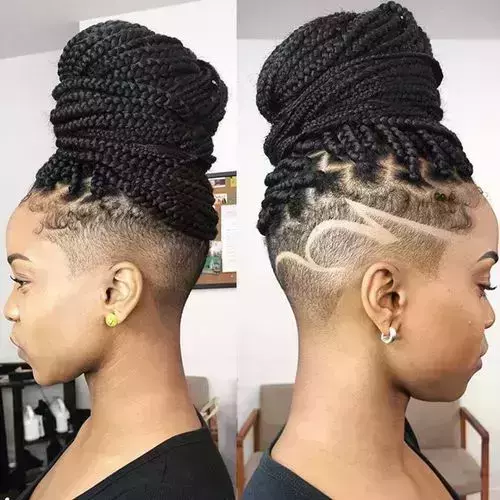 28) Bun with Undercut
Why not take the risk and get an undercut if you're bolder, braver, and more daring? Try a nape undercut if you like to be on the safe side. When hair is worn up, it can be easily hidden beneath long tresses or flaunted in all its splendor. The all-around undercut is for ladies with self-assurance. Ask your hairstylist to shave in a personalized pattern that is absolutely original and complements your face features.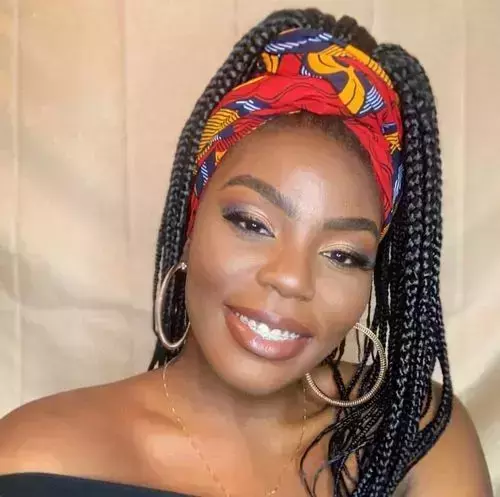 29) Large Rope Braids With Head Scarf
Nothing dresses up your Senegalese twist look like a nice accessory. African American women look beautiful wearing head scarves and silk wraps. To gain extra style points, try tying yours in a creative knot.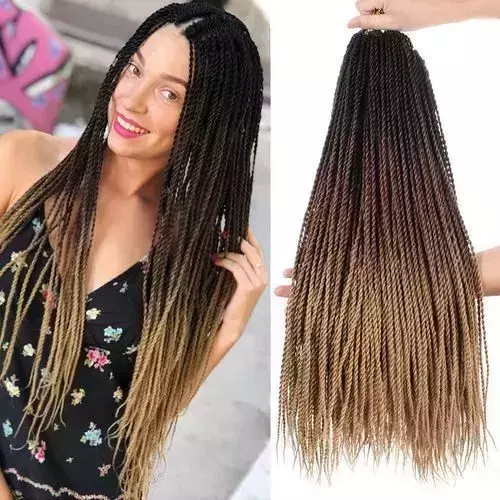 30) Colorful Ombre Plaits
Nothing dresses up your Senegalese twist look like a nice accessory. African American women look beautiful wearing head scarves and silk wraps. To gain extra style points, try tying yours in a creative knot.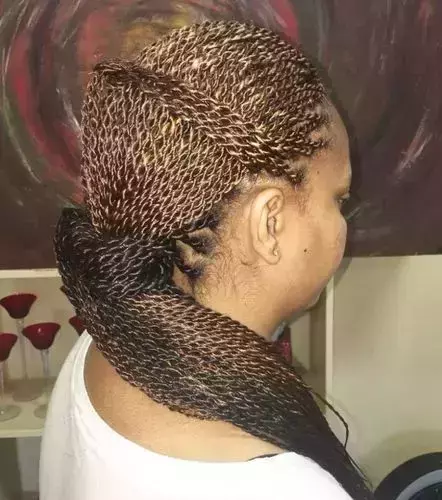 31) Intricate Pony
You don't absolutely need to visit a salon to style your twists in a straightforward but eye-catching way. Make the simplest half-updo by combining twists from your left and right sides of your head. Then, create a voluminous ponytail by tying all the remaining twists. You don't even need hair elastics when you have twists, which is a benefit. Your twists can simply be tied.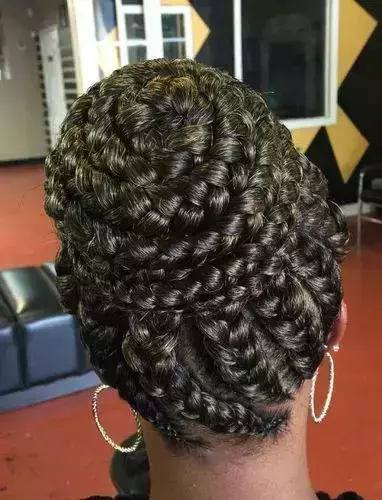 32) Tied Twist Updo
Senegalese twists make an excellent foundation for many different updos. Ask your hairdresser or braider to create a knotted updo like this for you if you have an upcoming occasion and want to attempt something sophisticated. Start with a ponytail, then tie a knot inside of it to give it a try.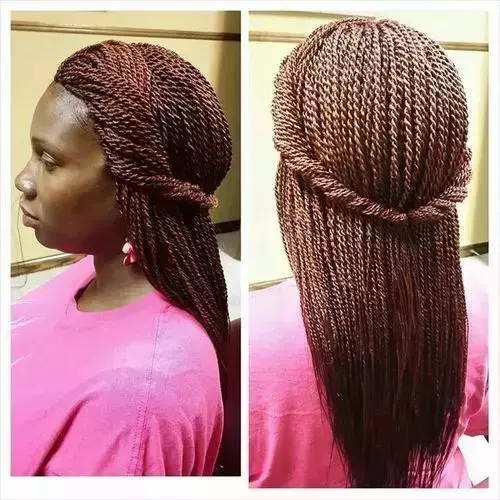 33) Senegalese Twists with Crown
The crown is unquestionably one of the several Senegalese twisting techniques you should master. Once you master it, you'll find yourself using it frequently, even for everyday attire. Begin by twisting the hair back and under on one side of the head, gradually tucking in new sections, and then tie the two sides together.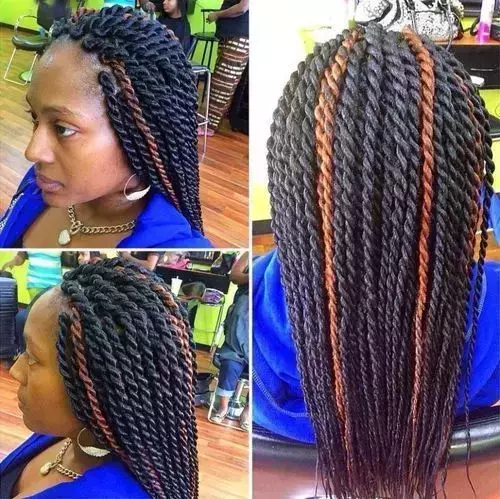 34) Twists with Brown Accents
Senegalese twist hairstyles are suitable for protection. The twists will give your everyday appearance a lot of personality while you let your natural hair develop. If you want to try a few accent pieces but aren't a fan of blonde, this version's streaks are a warm brown color.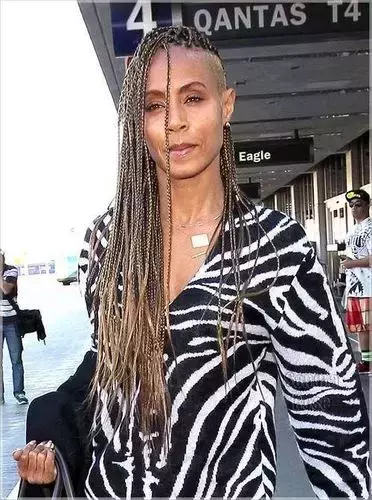 35) Senegalese Twists with Shaved Sides
You must adhere to your personal style, no matter what it is. Go for it if you don't mind standing out. This look combines Senegal twist braids in shades of black and caramel with shaved sides. It gains even more of a rocker edge when one color is overlaid on top of the other.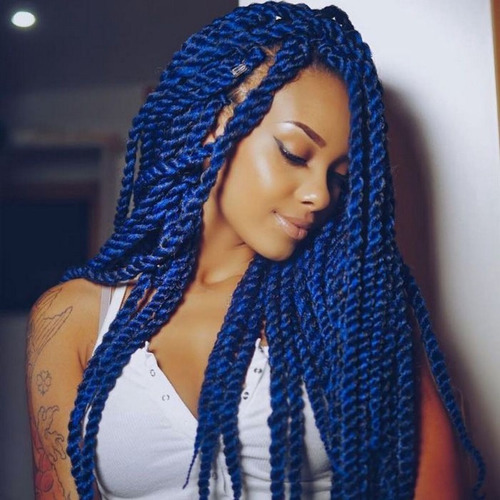 36) Blue Braids For Days
This striking indigo blue hairstyle will draw attention with its asymmetrical top knot and two straightforward braids. It's just what a woman who isn't afraid to be a little daring needs. Choose tiny twists with Kanekalon hair to get this texture.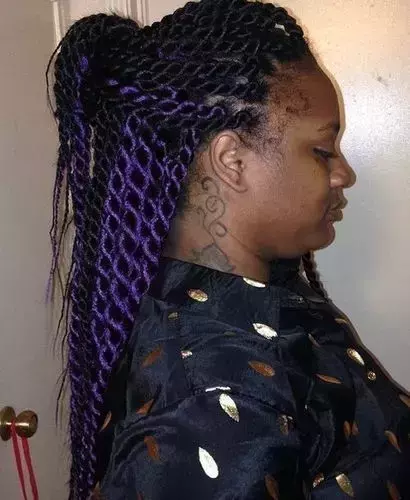 37) Chunky Purple Rain Twists
For those with little free time, try this half-up, half-down style with a back flip-knot and some lovely electric purple twists. The thick twists taper toward the bottom, giving the ends more manageability and providing body to the top and sides of the head.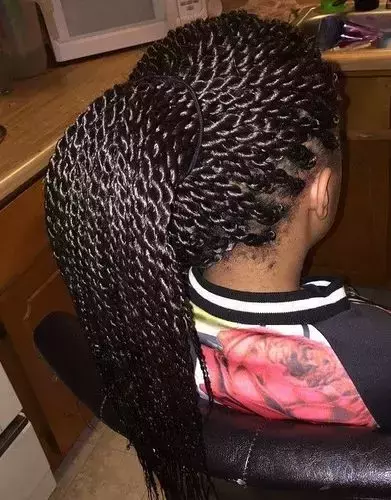 38) The Sleek Pony
When you want a no-stress style that can be done in seconds, opt for a sleek pony. How to style? Use colored hairbands or personalized accents to customize this classic look.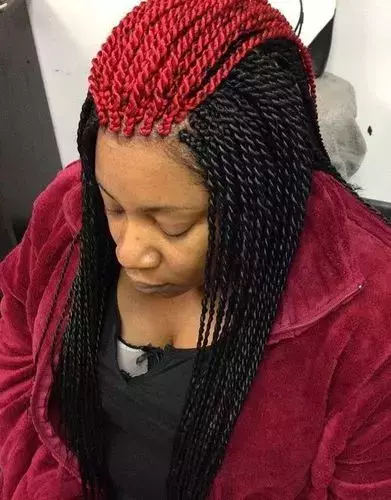 39) Sexy Red Slick-Back
Go for red and take a chance. While a headful of vibrant Senegalese twists can be gorgeous, try a colored area in the middle for a more contemporary look. Red symbolizes passion and drama, so be daring and tell everyone about it. Make a statement; any hue would be appealing.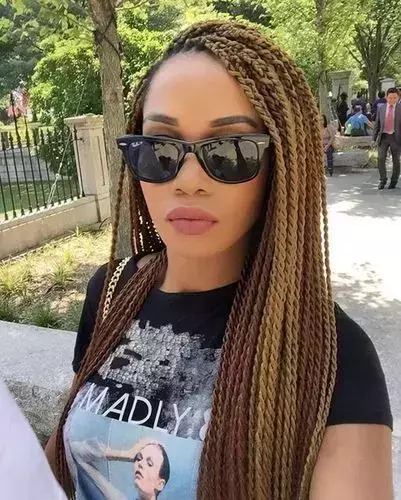 40) Crochet Ombre Twists
Adding ombre-dyed tresses to your hairstyle is another method to make it special. You can choose between vibrant colors with contrast and subtle color changes. Anyhow, this update will give your Senegalese twists a more intriguing and fashionable appearance. Try it out!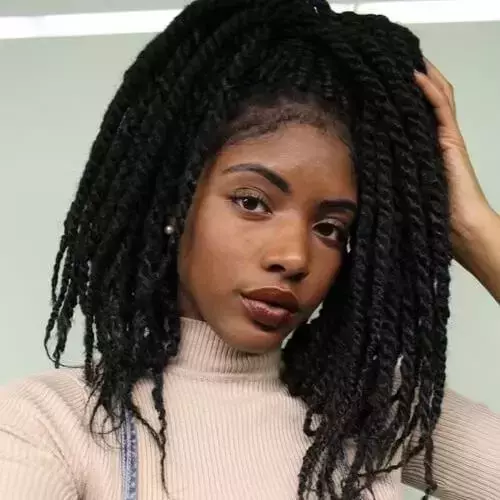 41) Palm Tree Ponytails
Ponytails are frequently an effortless way to style your Senegalese twists so they won't obstruct your vision. Your twists can fall beautifully on all sides with this high ponytail's palm tree-like look.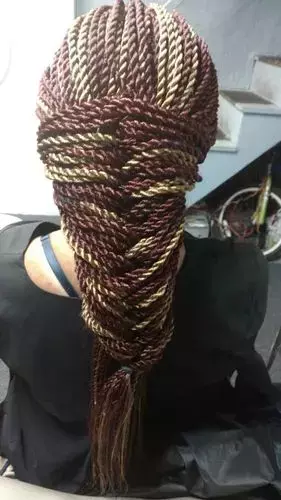 42) Fishtail Braids
Even if Senegalese twists already have braids, you can still braid them farther. The 'wow' factor is strong with this exquisite fishtail braid.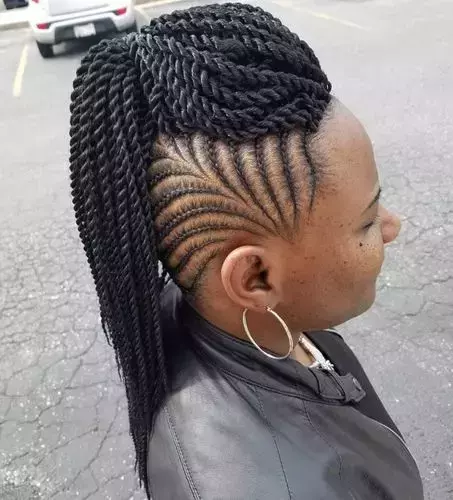 43) Senegalese Twist Mohawk
Even while this isn't a true mohawk, the cornrow sides give you a fantastic fake hawk to show off with. Consider this style if you want to take a walk on the wild side because, as you can see, the top portion is totally comprised of Senegalese twists.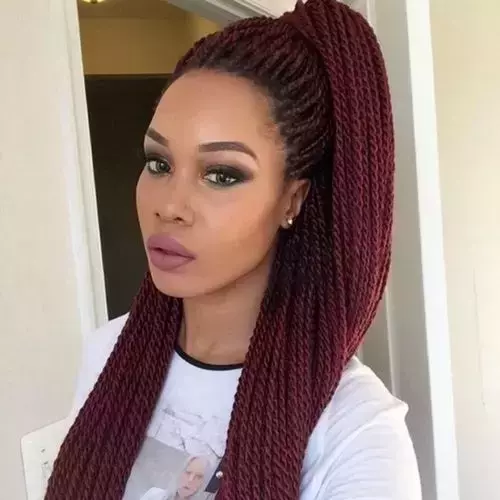 44) Burgundy Senegalese Twists
Fire up your twists with this hot burgundy shade. This is a subtle yet striking color that works best in dark hair to create a stunning contrast.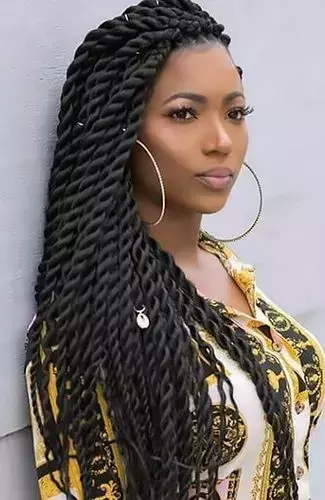 45) Senegalese Twists With Charms
Hair jewelry is a simple way to inject some boho flair into your look and show off your unique personality. Festivals and summer get-togethers call for this aesthetic.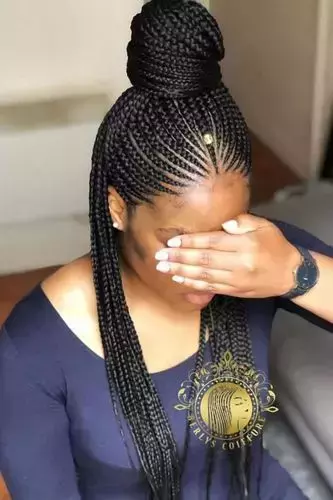 46) Fulani Senegalese braids
A hybrid of Fulani braids and twists, because normal is boring.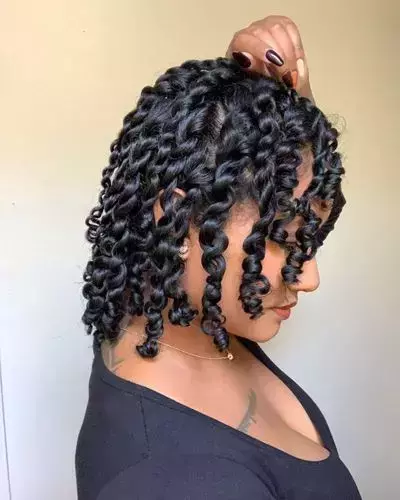 47) Bob-Length Chunky Coiled Twists
These twists are not only attractive and flatter any aesthetic, but they are also gentle on your scalp. They don't restrict your scalp's ability to breathe too much.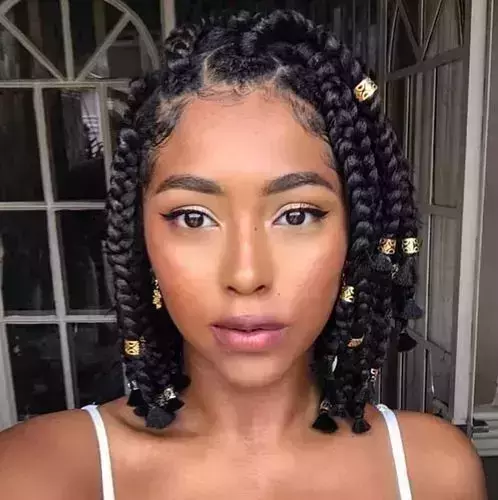 48) Side-Parted Chin-Length Kinky Twists
These chic, short kinky twist braids exude sophistication. To make your hairdo stand out more, add some beads and accents.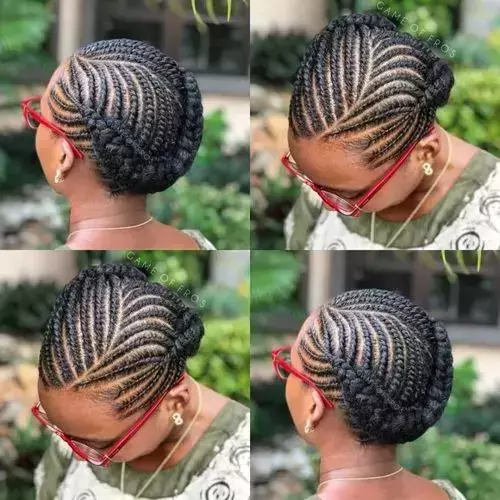 49) Wrapped Flat Twist Braids
Go bold with one of the most decorated twist braids hairstyles out there. Feel quirky and fun by adding cuffs and charms to your twists.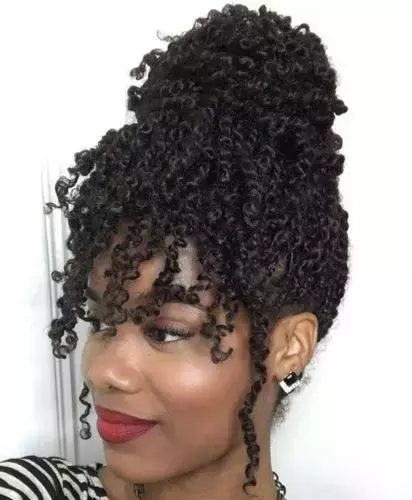 50) Kinky Twists Bun with Bangs
In this elegant look, wrap your extensions into a charming updo while still displaying your fringe!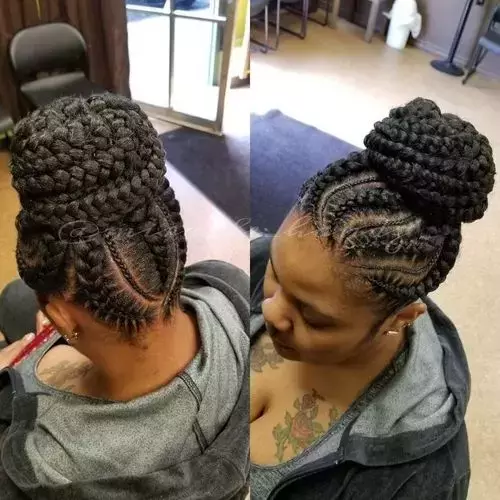 51) Jumbo Senegalese Twisted Bun
Put your twists in a high updo to keep the attention on your face but yet drawing attention to them. Amazing and low-maintenance!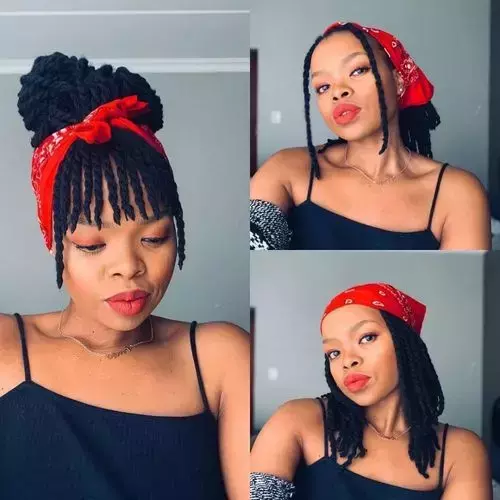 52) Yarn Twists in Bandana
Follow these three ways and style your twists with a bandana. Put them in a bun, bundle them in a low pony, or just let them down.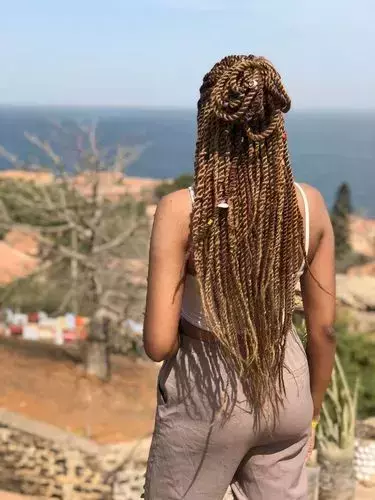 53) Textured Marley Braids
Long, lush, and never out of date. These braids use extra hair, which is reasonably priced. Even though it's synthetic, it still looks like real hair.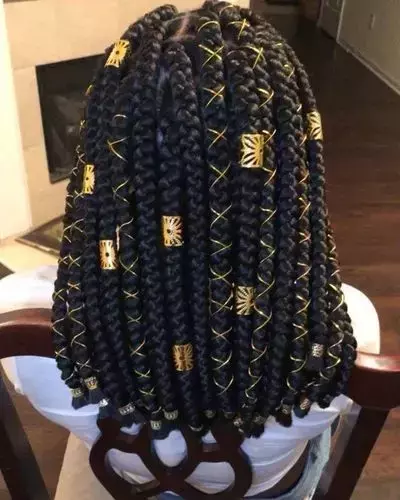 54) Senegalese Twists With Accessories
The correct accessories can make such a difference. This set of medium box braids serves as a good illustration. Before, they were just plain enormous box braids, but after the addition of some golden cuffs and thread, they were transformed into a look that may be considered befitting of the stunning Egyptian queen Cleopatra. This may be a really nice option if you're looking for braided hairstyles with beads.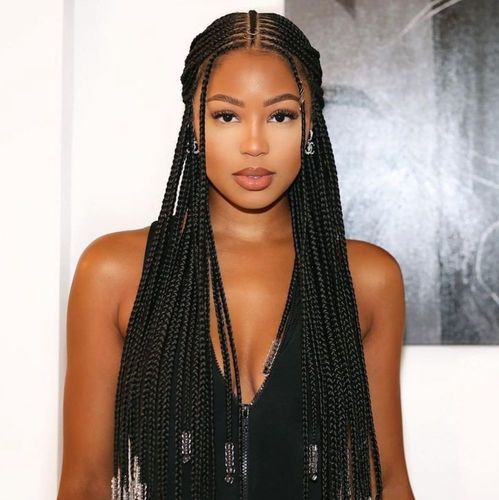 55) Symmetrical Braids
Up till now, you have observed triangle divisions. It's time you learned about these incredible rectangular hair divisions that create a symmetrical image. Even a straightforward pair of box braids is elevated by the crisp symmetry.