All 9 Chris Evans Tattoos And Their Meanings
Sreedarshini Mitra
Updated At 17 May 23

Do you believe Captain America has no tattoos like they do in the movies? Think again. Fans were astonished when "Avengers" actor Chris Evans shared an Instagram Story showing his tattooed chest while backflipping into a pool, but the actor has been concealing multiple tattoos since the start of his career.

In an interview with Hot Hits Live From LA, he stated, "I'm all for tattoos, but just wherever they can be hidden." Evans' real tattoos have made their screen debuts in other films including "Puncture" and "Cellular," albeit the majority of them are hidden by the iconic Captain America outfit in all of his Marvel movies.
By our current count, Chris Evans has nine tattoos. In interviews, he has stated that he is "all for tattoos, but wherever they can be hidden." When he was recently named People's Sexiest Man Alive for 2022, several of his tattoos were evident.
The Human Torch and Johnny Storm actor, 39, who plays Captain America, has appeared in plenty of sequences in movies including "Not Another Teen Movie," "Fantastic Four," and "Captain America: The First Avenger," but his numerous tattoos were concealed by makeup. However, a few of Evans' designs can be seen in some of his early Hollywood productions.
Chris Evans often wears fancy suits or casual long sleeve shirts during public engagements, it can be challenging to notice the tattoos on his body. However, keen-eyed admirers have spotted hints in the Marvel actor's press conferences, social media posts, and pictures taken by paparazzi.
All 9 Chris Evans Tattoos With Meanings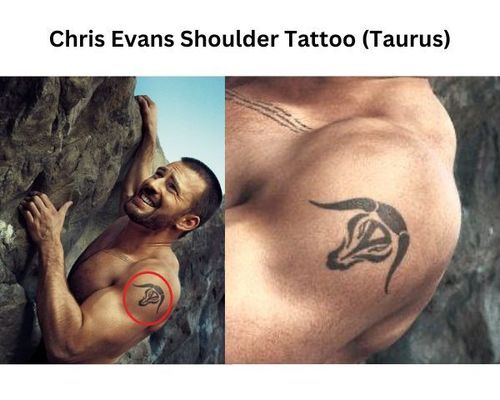 1. Chris Evans's Taurus Tattoo On The Left Upper Arm
The bull is the animal that represents the Taurus zodiac, and you can have a tattoo of one on your body. The bull represents tenacity and single-mindedness. It can be inked on your back or arm. This would make a really macho tattoo, especially for men.
Chris Evans has a meaningful tattoo on his left upper arm. The image shows a bull with horns, which corresponds to his mother's zodiac sign. The Avengers actor said in a September 2004 interview with USA Today that the tattoo is a tribute to his mother, Lisa Evans.
Also check out David Beckham tattoos who has angels and clouds on his shoulders. His 50+ tattoos simply look stunning.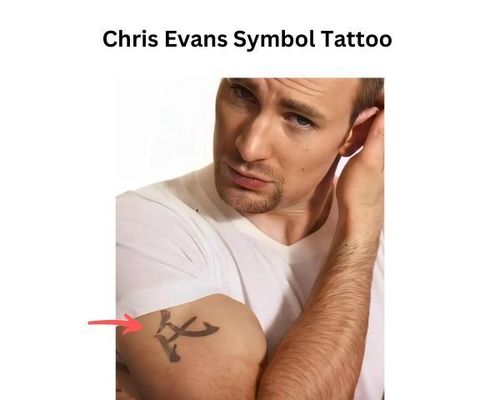 2. Symbol Tattoo On Chris Evans's Right Bicep
These heartfelt family tattoos stand for unwavering affection. Tattoos are a form of self-expression, but they can also be a method to demonstrate love and respect for a special bond. Family tattoos are ageless because of this.
According to an interview Chris Evans gave to USA Today, the Chinese character tattooed on his right bicep beneath the 'loyalty tattoo' represents his family. The reason the actor had this tattoo erased was probably because it could be seen when wearing a t-shirt. One of the best tattoos for men, symbol tattoos are very popular and can be used on arms, shoulders, back, chest and at multiple places.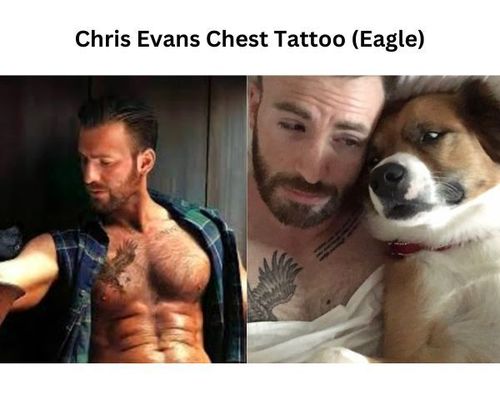 3. Chris Evans's Eagle Tattoo On His Chest
Many people associate freedom with the eagle, which they see soaring high in the sky. The need for safety and security in one's life's travels might be represented with an eagle tattoo. The eagle represents the ultimate goal of achieving independence through sacrifice in so many nations.
A majestic eagle soaring across the pecs is the newest tattoo Chris Evans has on his chest. While cuddling with his dog, he gave fans a sneak glimpse at this tattoo. Of all the tattoos on his chest, the eagle design is the one that stands out the most. Although it is unknown where Chris Evans got this tattoo, Josh Lord, Chris Evans' tattoo artist, appears to have done it according to the interview with the Revolver.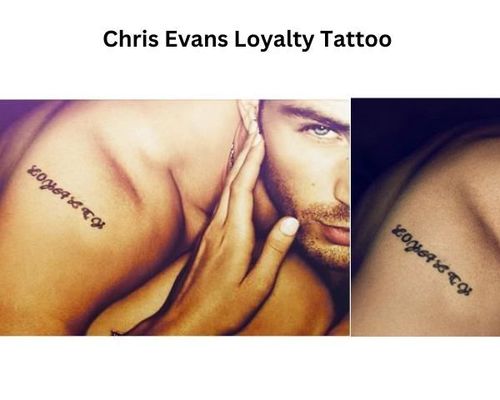 4. Chris Evans's Loyalty Tattoo On His Right Upper Arm
A wonderful method to demonstrate your commitment and loyalty is to get a tattoo. Additionally, it demonstrates your loyalty to the individuals that matter to you the most.
Chris Evans' right upper arm has a loyalty tattoo that is primarily focused on family. Fans first got a good look at this tattoo during Evan's campaign for Gucci's guilty fragrance with Evan Rachel Wood. Although he never clarified the tattoo's significance, he claimed that all of his ink was essentially for a family, therefore the message is obvious.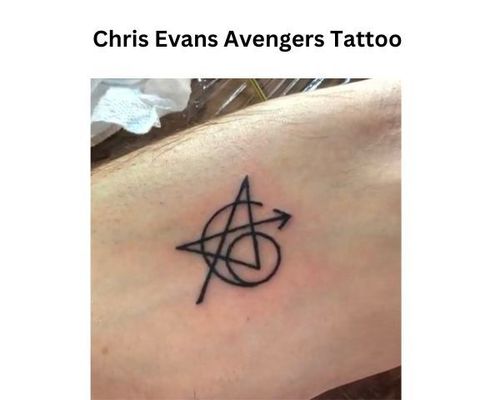 5. Chris Evans's Avenger Tattoo
The purpose of the Avengers' tattoos, like that of the Lord of the Rings ensemble and the Suicide Squad cast (yes, really) before them, is to mark the passing of a decade in their lives. The cast inked themselves in unison with the Avengers: Infinity War emblem and the number six to commemorate the film's premiere.
The six co-stars of the first Avengers film are represented by Chris Evans' Avengers tattoo. The same artist Josh Lord travelled to LA and etched Jeremy Renner, Robert Downey Jr., and Chris Hemsworth. Evans and Scarlet Johansson had it done in New York. In an interview with Entertainment Weekly, Robert Downey Jr. claimed that five of the original Avengers' six members had tattoos, while Mark Ruffalo chose not to. One of the best small tattoos for men, this looks amazing on the arm.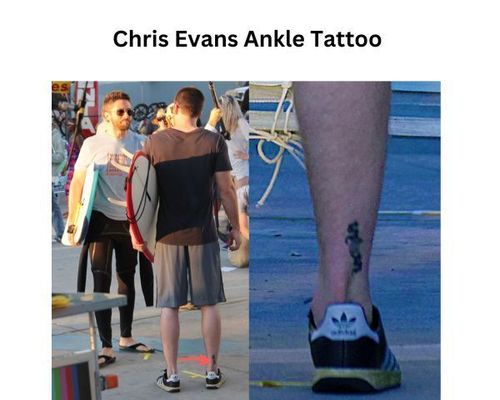 6. Chris Evans's SCS Tattoo On The Ankle:
The purpose of the Avengers' tattoos, like that of the Lord of the Rings ensemble and the Suicide Squad cast (yes, really) before them, is to mark the passing of a decade in their lives.
Chris Evans has several tattoos, but the one that says "SCS" on the back of his right ankle is the most difficult to see. The SCS stands for Scott, Carly, and Shanna, his three siblings, according to an interview he gave to USA Today. Fans could view this tattoo in conjunction with the photo shot while Michelle Monaghan and the rest of the cast were filming "A Many Splintered Thing."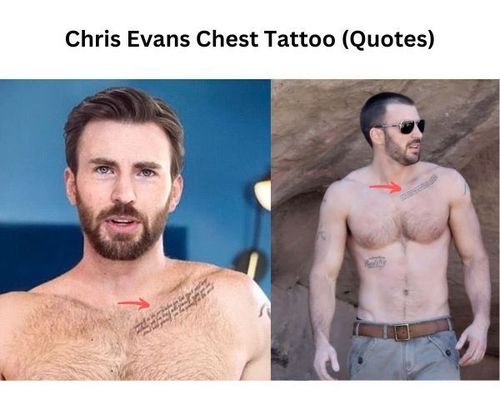 7. Chris Evans's Eckhart Tolle Quote Tattoo on the Chest
During a shirtless picture shoot for Details, Chris Evans' top left part of his chest Eckhart Tolle tattoo made headlines.
"When you lose contact with inner stillness, you lose touch with yourself ", Eckhart writes in his book 'Stillness Speaks'. When you lose touch with yourself, you lose yourself in the world. This remark struck a chord so deeply that he had it tattooed on his body. You lose yourself in the world when you lose touch with yourself. "And that simply made so much sense to me, and it still does "said Chris.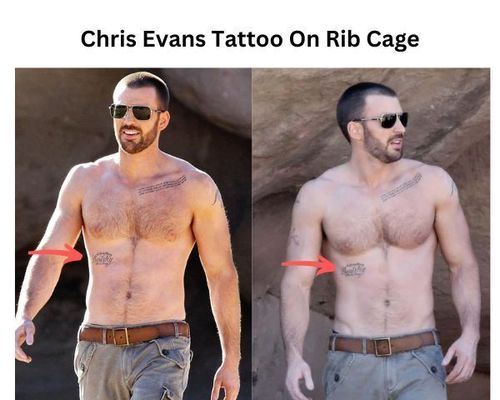 8. Chris Evans's Matt Bardsley Tattoo On The Rib Cage
In the movie Puncture, Chris Evans' ribcage tattoo, which reads "In Loving Memory, Bardsley, With Me Always," is clearly visible. The actor reportedly told The USA Today in an interview that he got this tattoo in honour of his friend Matt Bardsley, who passed away in an off-road accident.
Do check out our guide on American Traditional tattoos as e list 25+ most pop[ular tattoos trending this year.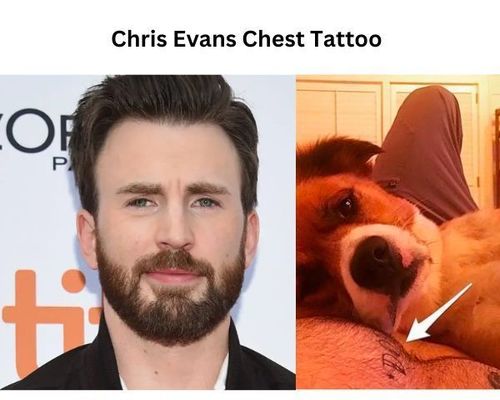 9. Chris Evans's Dodger Tattoo On The Chest
In addition to the Eagle and Eckhart Tolle tattoos, Chris Evans also got the name of his cherished rescue dog, Dodger, tattooed on his breast. Evans claims that Oliver and Company was one of his favourite films as a child, and he named his dog after a character from the film. Even though the actor believes his bond with his dog to be quite pure, he claimed that he regrets several other tattoos but not the name of his dog. Instead, after bringing his cat home, Chris Evans decided to honour him by getting a tattoo.