25 Beautiful Dandelion Tattoos With Meaning For 2023
Olivia
Updated At 03 Nov 23
Tattoos of dandelions are a popular and symbolic tattoo design that typically depicts a mature dandelion flower with the seeds being carried off by the wind. Usually, dandelions are portrayed as delicate, floating puffs of seeds floating in midair. These tattoo designs have a lot of symbolic connotations, and the person getting them may interpret them in a way that is unique to them.There are several meanings to these dandelion tattoos. We write below some common meanings of dandelion tattoos :
Dreams and Wishes:  Dandelions are frequently connected to wishing well. Blowing dandelion seeds off is a famous and ancient childhood custom and a way to wish good luck and happiness.  Dandelion tattoos show one's goals and aspirations.
Freedom and Independence: The desire for freedom and independence can be represented by dandelion seeds drifting off into the wind.
Transition: Dandelions go through several stages of development, from fully grown seeds to a vivid flowers. This metamorphosis may stand for personal development and evolution.
Letting Go: Blowing away the dandelion seeds is a metaphor for letting go of the past and lifting weights.
Finding out more about dandelion tattoos and the different designs you can choose from seems fascinating, doesn't it?
25 Beautiful Dandelion Tattoos With Meaning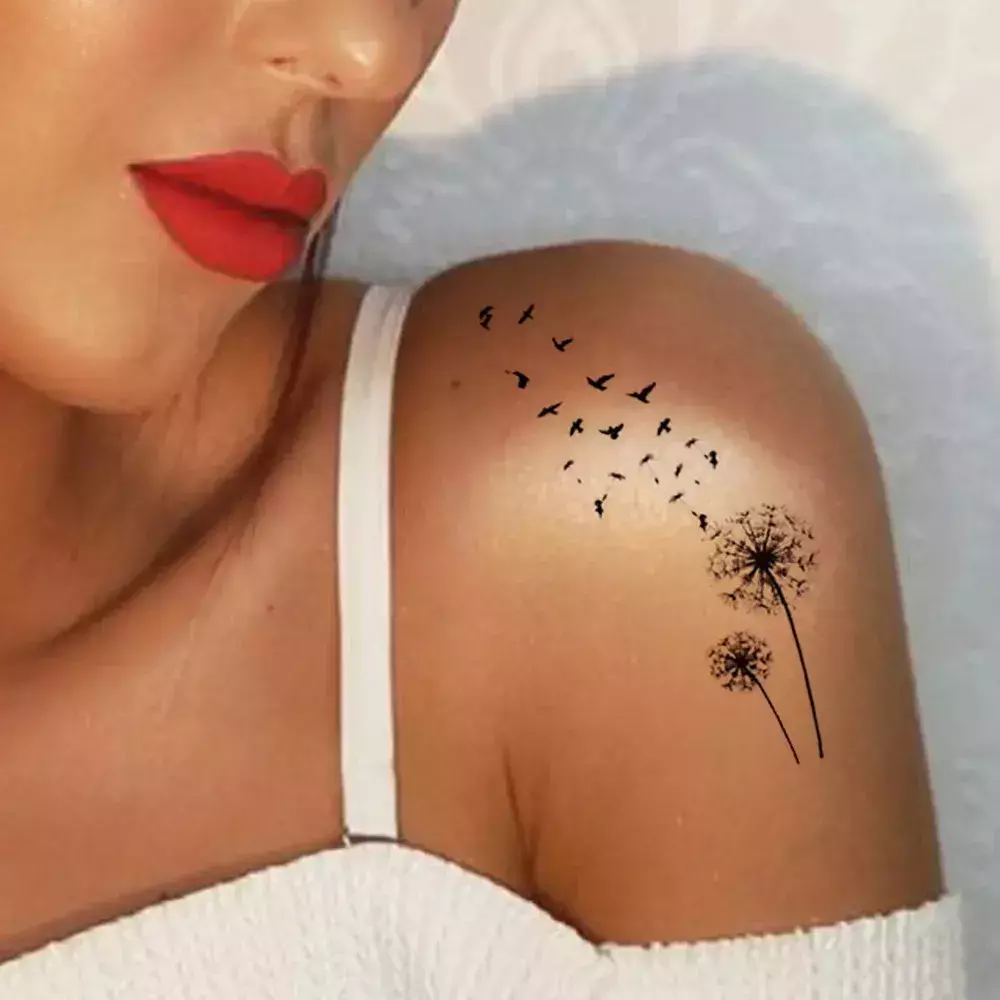 1. Liberty Blowing Dandelions with Flying Birds
This specific tattoo design has elements such as flying birds, dandelions, and liberty. This tattoo design is very detailed and significant. The addition of flying birds and dandelions blowing in the wind conveys several symbolic meanings, including freedom, independence, and pursuing one's dreams. To get the best result, make sure you get a professional tattoo artist to apply this design.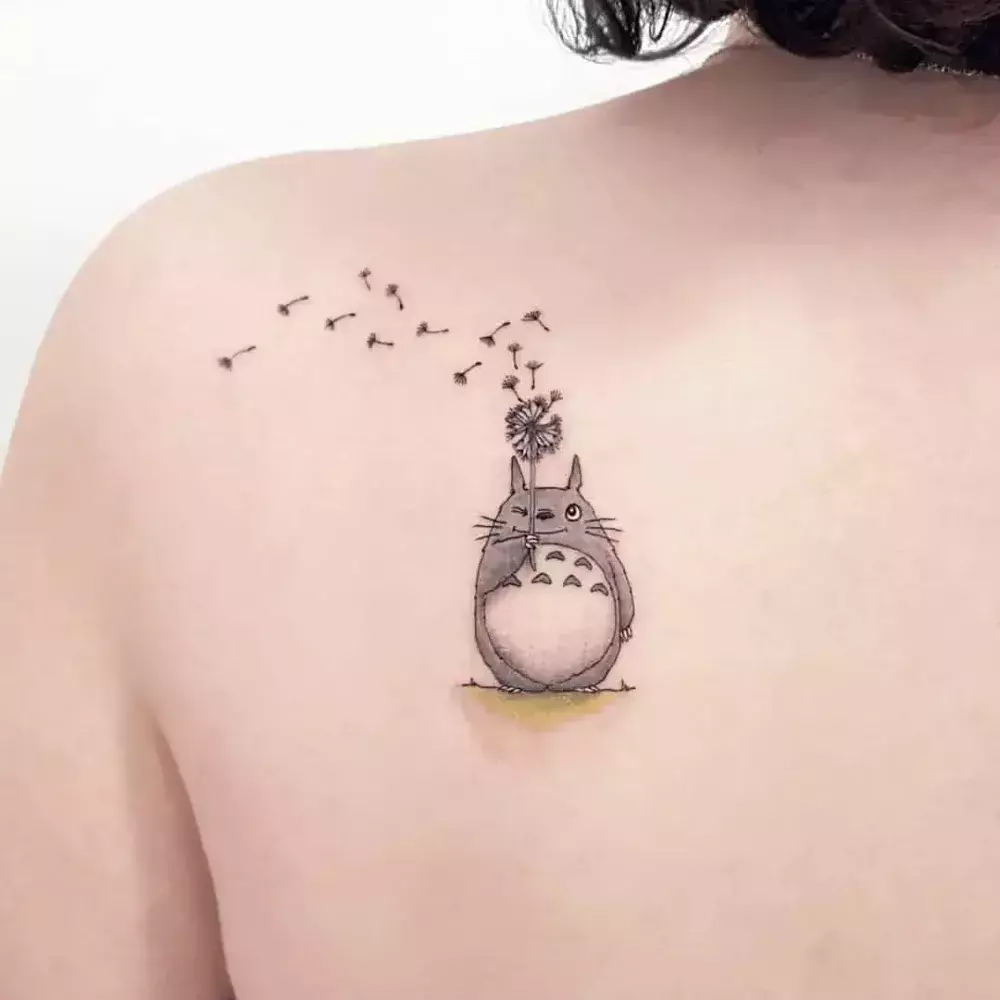 2. Totoro Dandelion Tattoo
This cute light Dandelion tattoo at the back is featured with a cute Totoro character who is holding a dandelion flower and the seeds are carried off with the air. If you love cartoons then this design can be inked beautifully.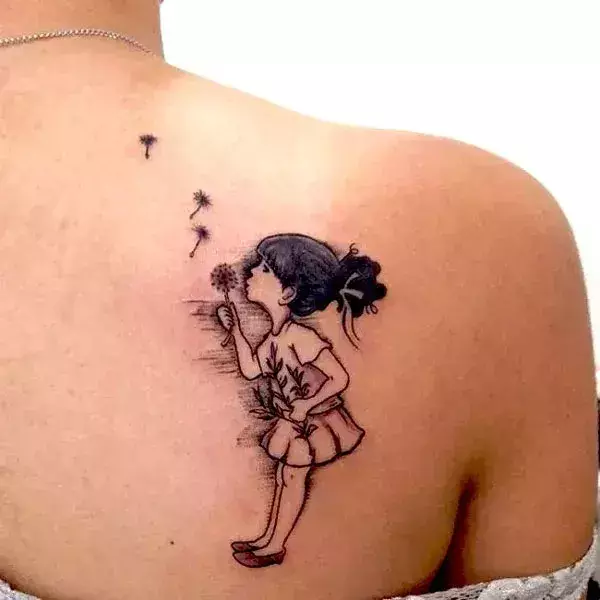 3. Cute Girl Dandelion Tattoo
An adorable dandelion tattoo combined with a cute girl design is a lovely way to finish off your lovely tattoo. The artwork features a charming young child blowing dandelion flowers and depicts flower weeds swaying in the wind.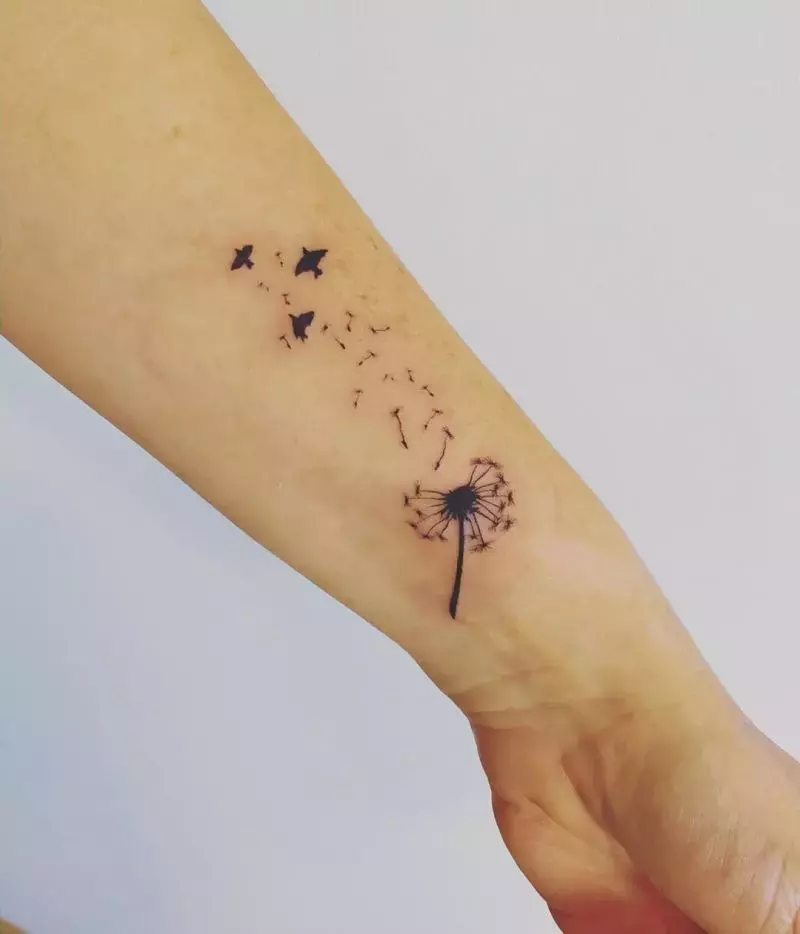 4. Fly High Dandelion Tattoo :
These dandelion tattoos with meaning are an inspiration. The design has three birds which are flying high in the air depicting an inspiration to achieve your goals in life, while a single dandelion flower with its seeds blowing in the breeze symbolises going with the flow.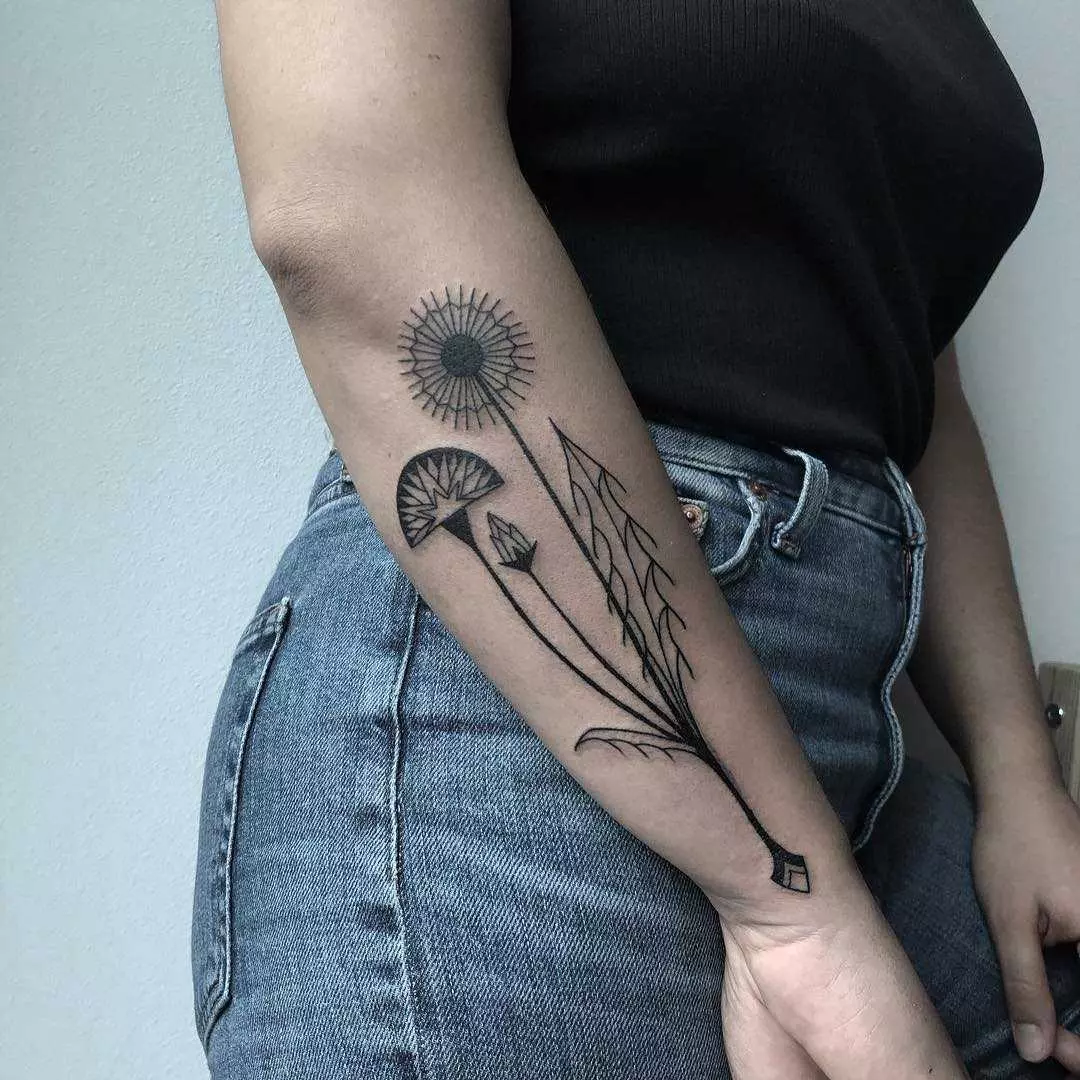 5. Artistic Dandelion Tattoo
This forearm tattoo of a dandelion is artistic. There is a distinct touch to the dandelion flower made on the hand. The dandelions, which represent freedom and independence, are blooming and rising high in the sky.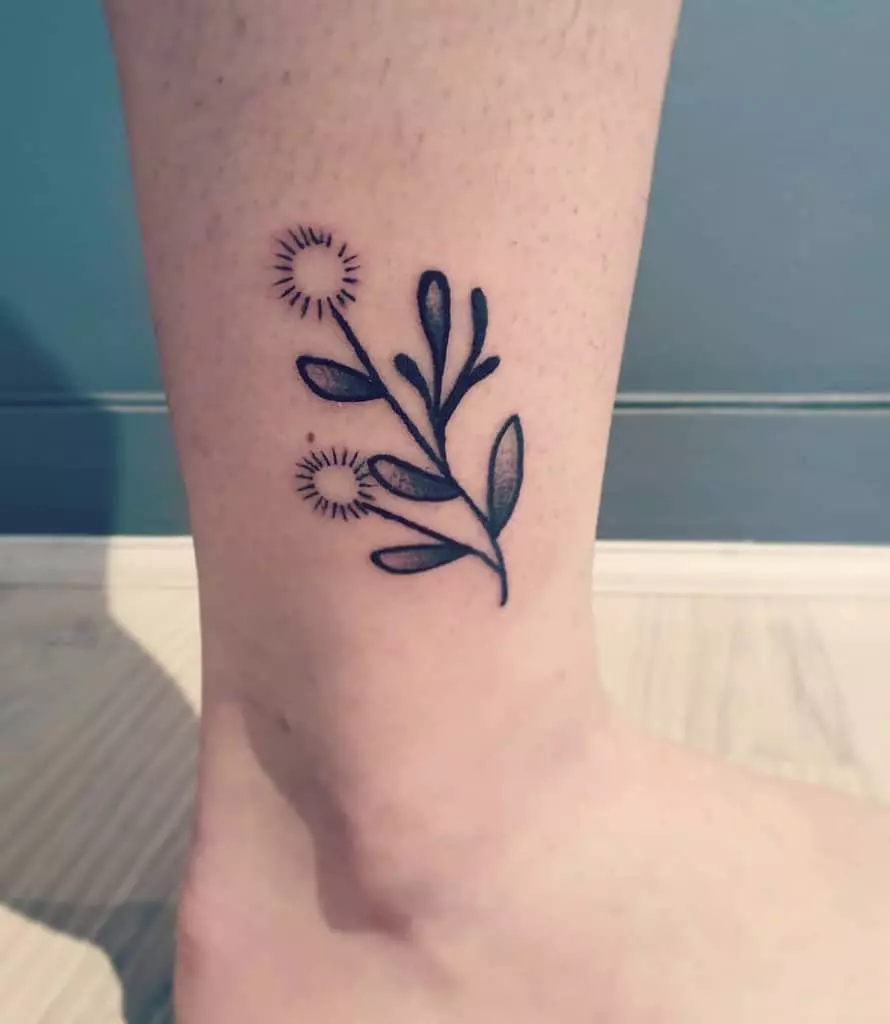 6. Dandelion Tattoo On Leg
For your next tattoo inking, consider a stunning design of shining dandelion flowers with leaves. The blossom of the dandelion resembles a sun shimmering and some shaded leaves.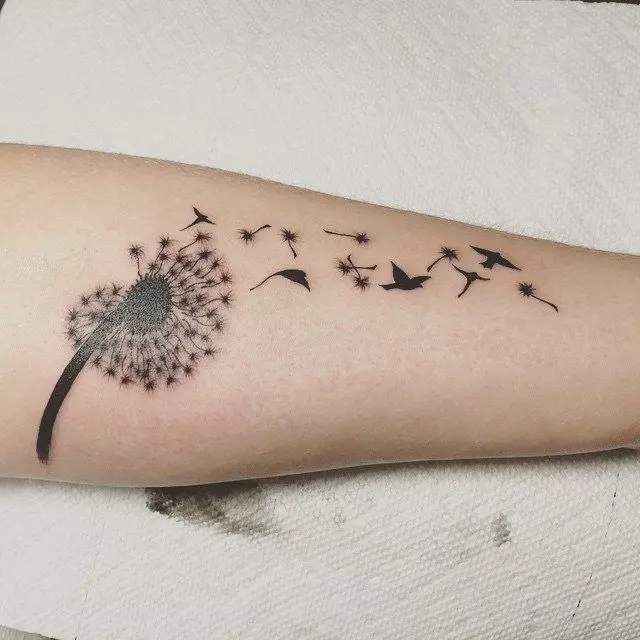 7. Delightful Dandelion Tattoo
A delightful dandelion tattoo attracts good luck and dandelion seeds bring good fortune and luck. Rubbing these flowers on one's body is said to bring good fortune by attracting attention and making one's presence felt wherever one goes.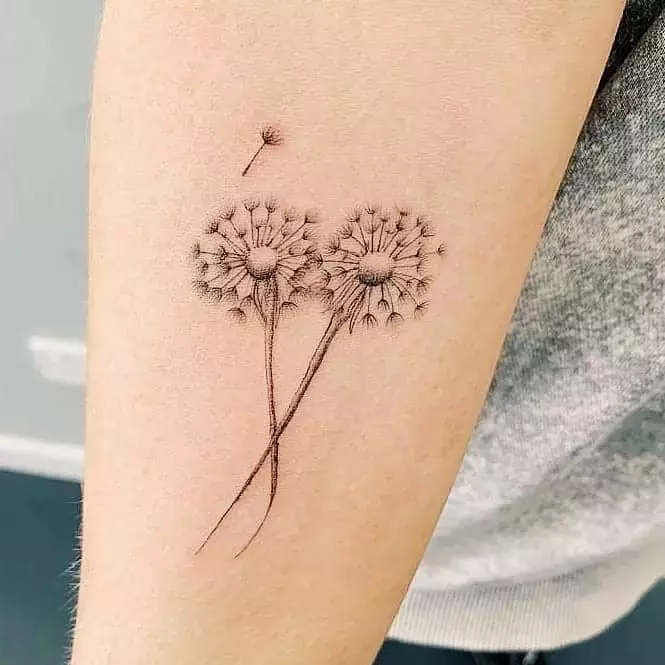 8. Simple Couple Dandelions
Another element common to these tattoos is the inclusion of seeds blowing in the wind, giving the small flowers a realistic look. The placement of this tattoo of two dandelions on the hand is very effective, as the entire design blossoms.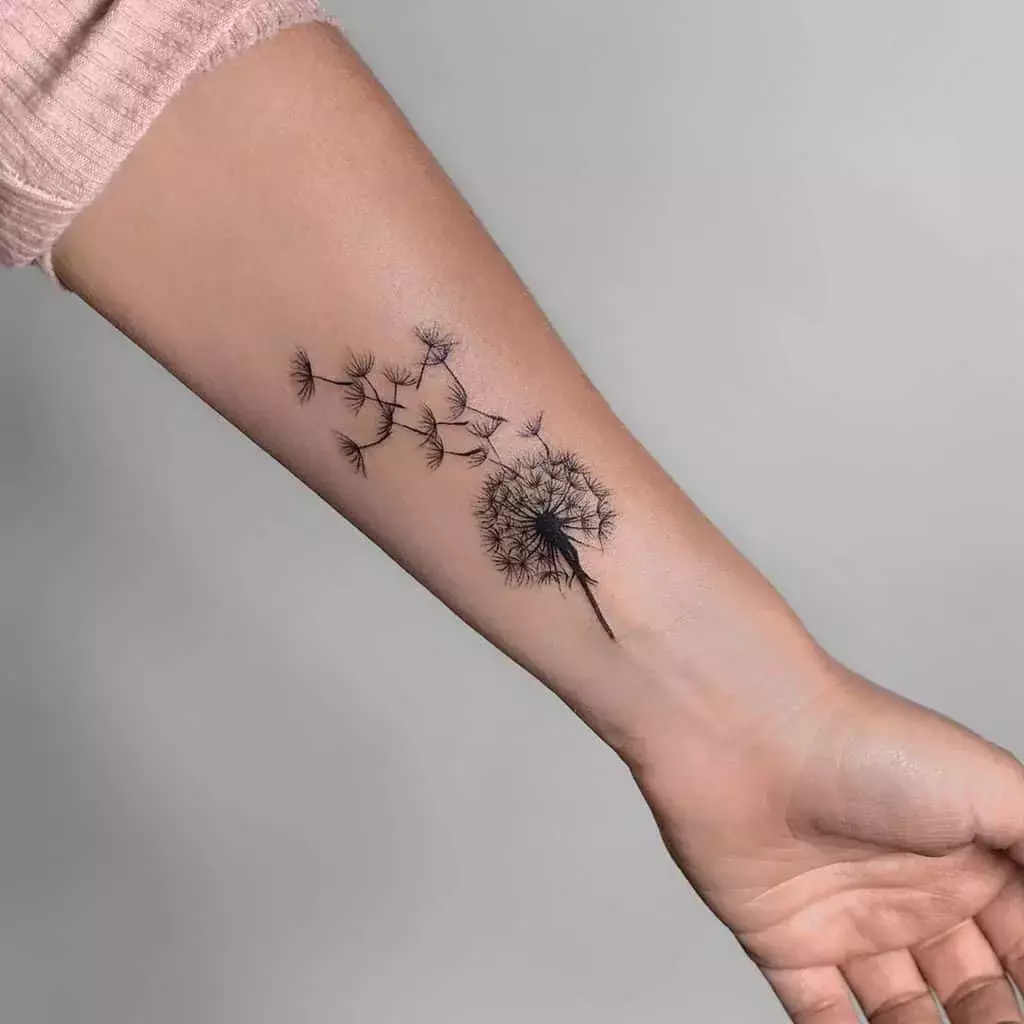 9. Bright Dandelion Tattoo
All you need is a tattoo in the ideal placement with an ideal design. Most of us have childhood memories of blowing the seeds away from dandelion flowers when we think of dandelions. Children will love and, enjoy blowing the plant's dry seeds into the air. It is meant to bring luck and good fortune.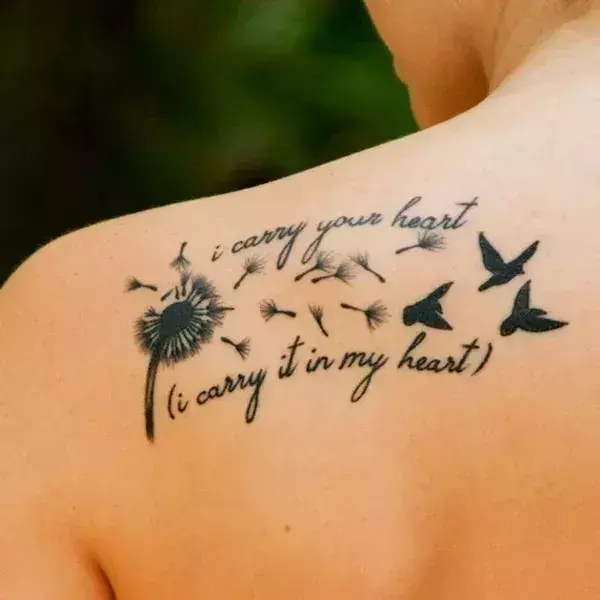 10. Dandelion Tattoo With Quotes
A tattoo of a dandelion with a quote on it can be a strong and significant design. Your tattoo can gain depth and meaning from the quote you choose. You can easily personalise the quote to suit your preferences. This tattoo mentions love quotes, such as " I carry your heart " and "I carry it in my heart".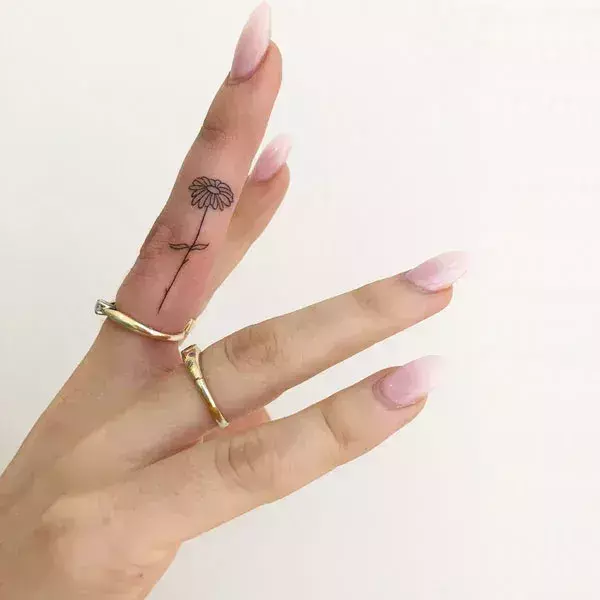 11. Minimalist Dandelion Tattoos
A subtle and classy option would be a finger tattoo of a minimalist dandelion. It will look gorgeous to wear a single flowering dandelion seed on your finger with its delicate stem. This design's simplicity offers a hint of symbolism.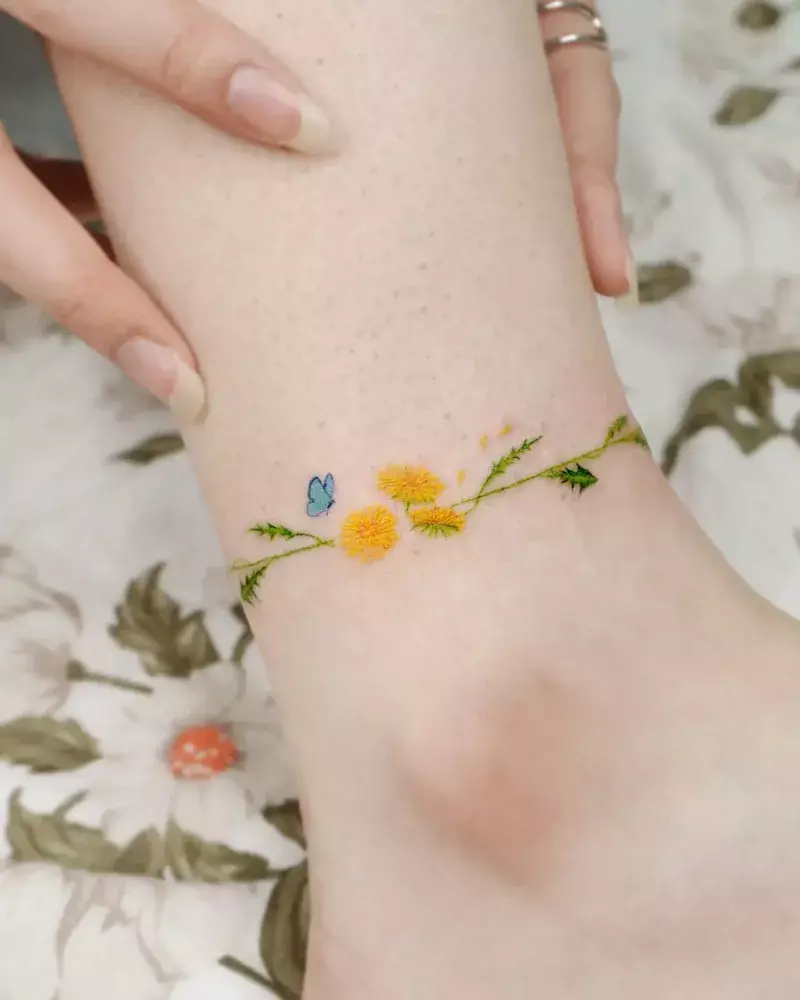 12. Yellow Dandelion Tattoo With Butterfly
In addition to the fact that yellow dandelions are so adorable, bracelet tattoos are becoming more and more popular. This tattoo appears to be an authentic anklet, crafted from yellow dandelions. The tattoo design is exquisite.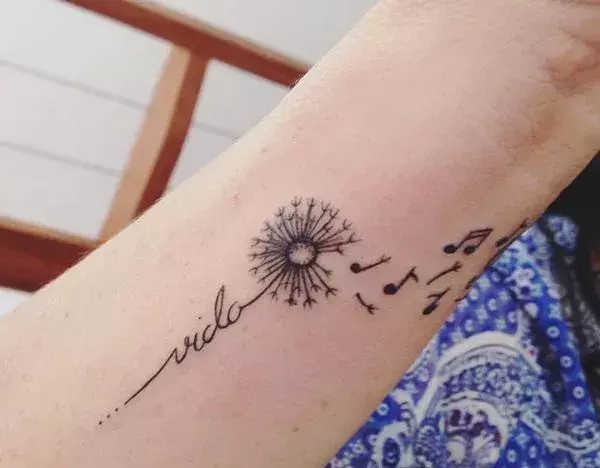 13. Dandelion Tattoo With Name
To add a special touch to your dandelion tattoo, consider getting a personalised dandelion tattoo with your name or initials. Additionally, you can choose to add elements to the tattoo. The dandelion seeds in this tattoo are flowing across in the shape of music. Seems like a lover of music.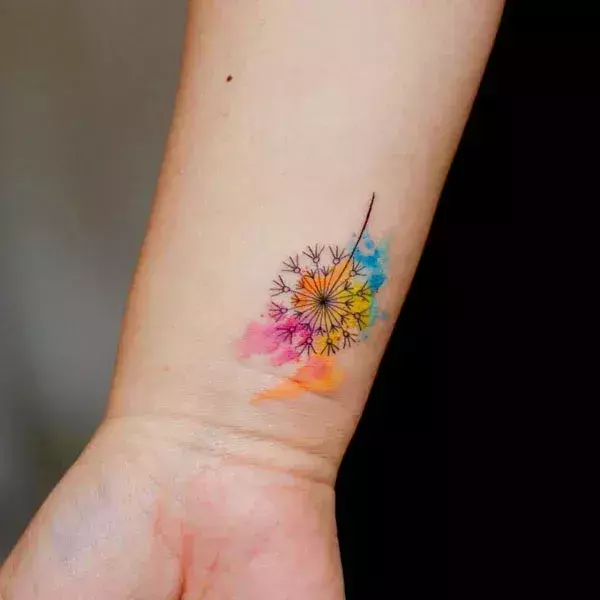 14. Dandelion Tattoo With Color
A dandelion tattoo can be made more visually arresting and have a better overall design by using colour. You can think of a few different ways to add colour to your dandelion tattoo design. The dandelion itself can be given a realistic appearance and made to stand out by colouring it bright with summer colours.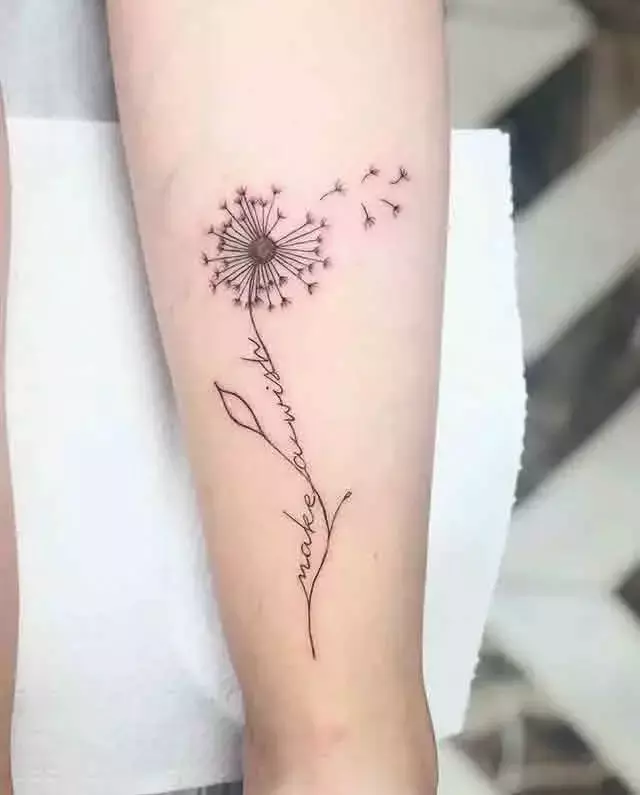 15. Make A Wish Tattoo
Popular and symbolic, "make a wish" dandelion tattoos usually include a dandelion with its seeds floating away, along with the words "make a wish." A mature dandelion that is releasing its seeds is the main subject of the tattoo. Each seed on the exquisitely detailed dandelion seems to be floating in midair.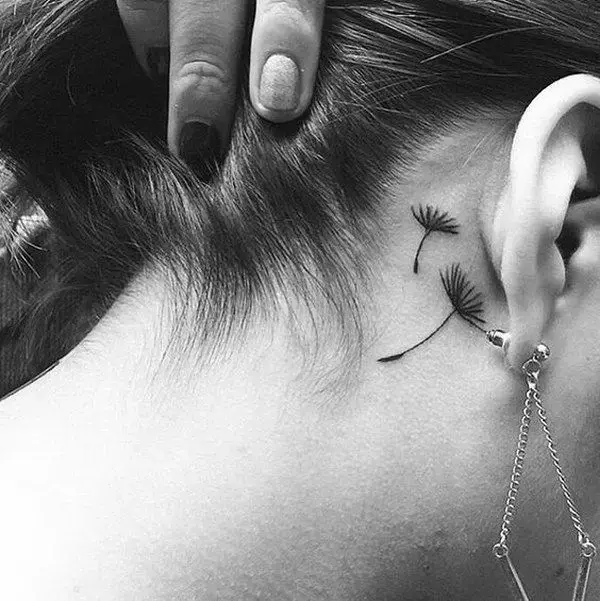 16. Small Tattoo
A small dandelion tattoo on the back of the ear can be a sophisticated and subtle option. This area has limited space, so a simple, minimalistic design is appropriate. It looks amazing because the tattoo design has two small dandelions placed efficiently.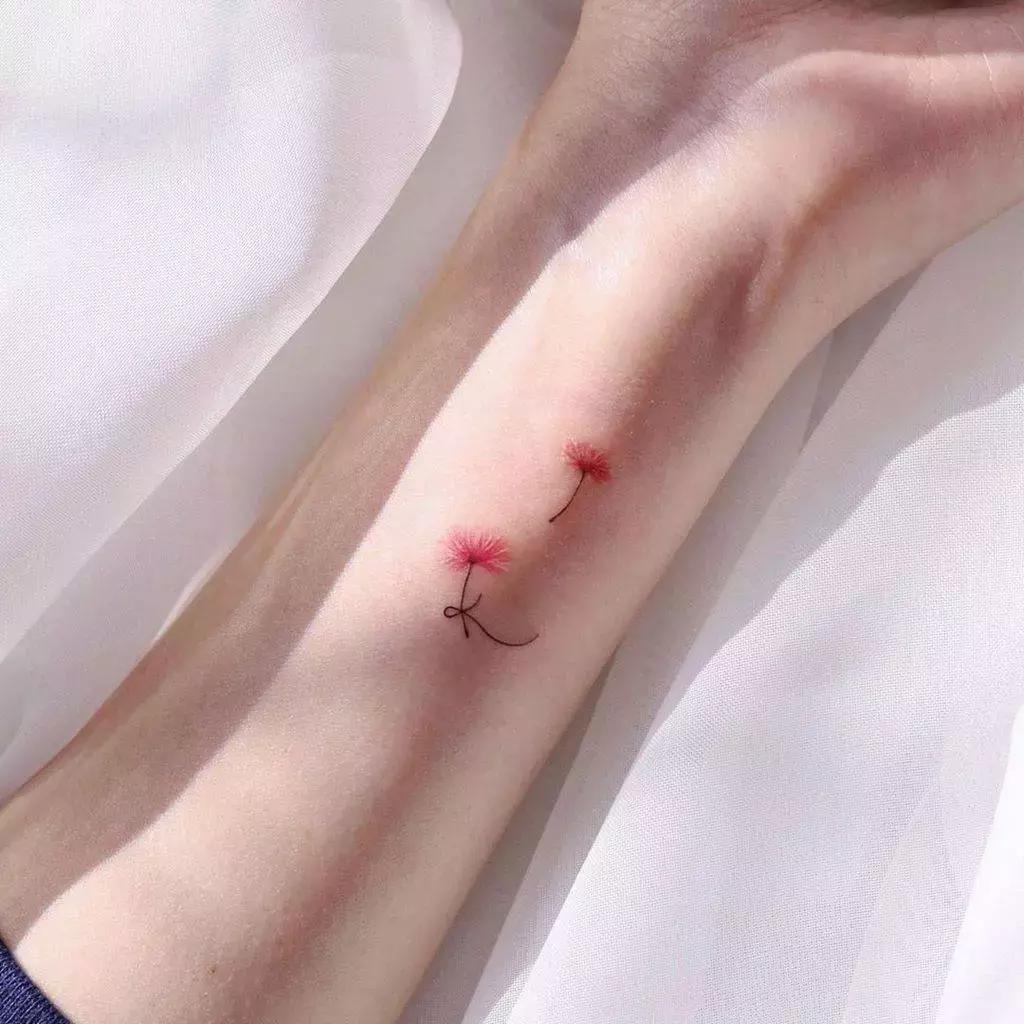 17. Cute Dandelion Tattoo With Color
Simple, fine line work is preserved in this dandelion tattoo design, but splashes of red colour add creativity. This tattoo looks delicate and has been placed correctly on the inside wrist giving a feminine touch.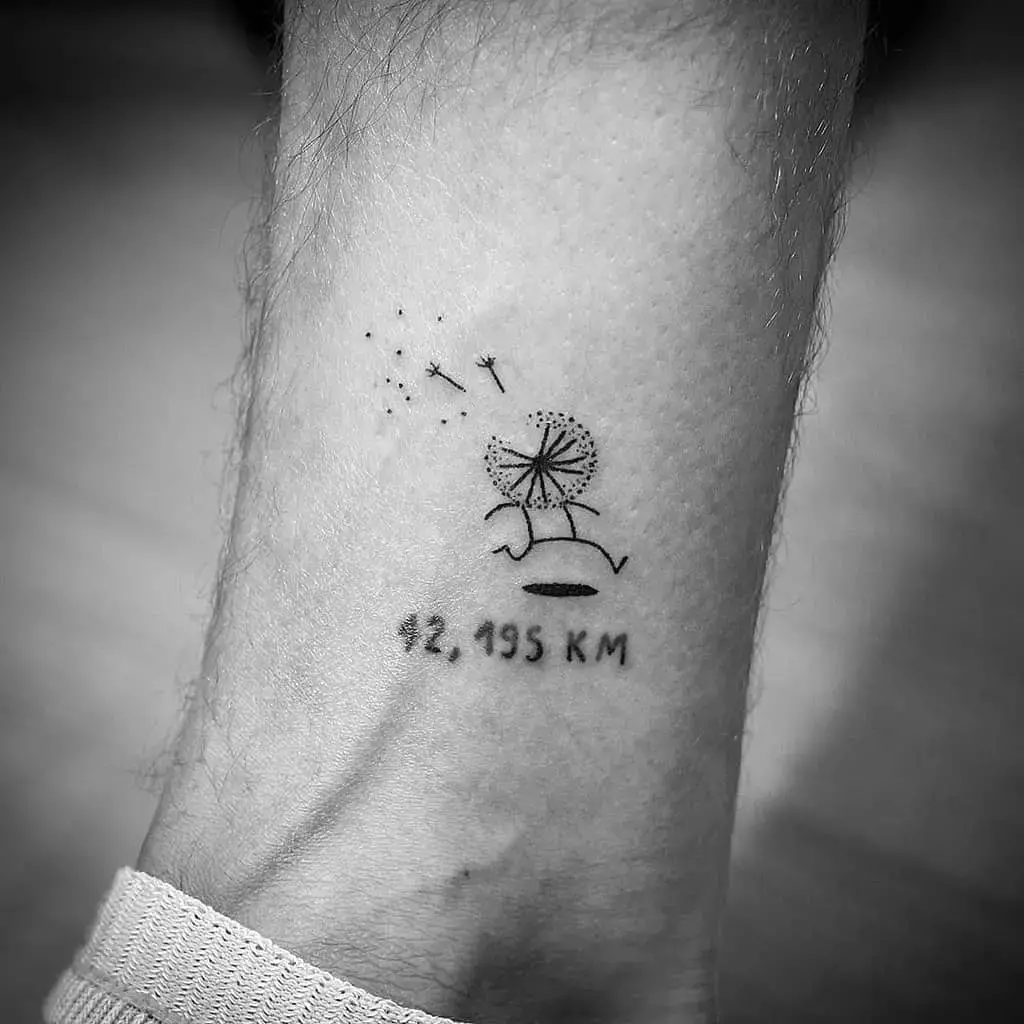 18. Unique Dandelion Tattoo
This unique and adorable dandelion tattoo is a fantastic idea. This tattoo of a hopping dandelion man is fun and interesting because it has interesting details like the shadow beneath the figure and the seeds trailing behind. A tattoo can also serve as a permanent way to mark a noteworthy date, kilometre, or other note.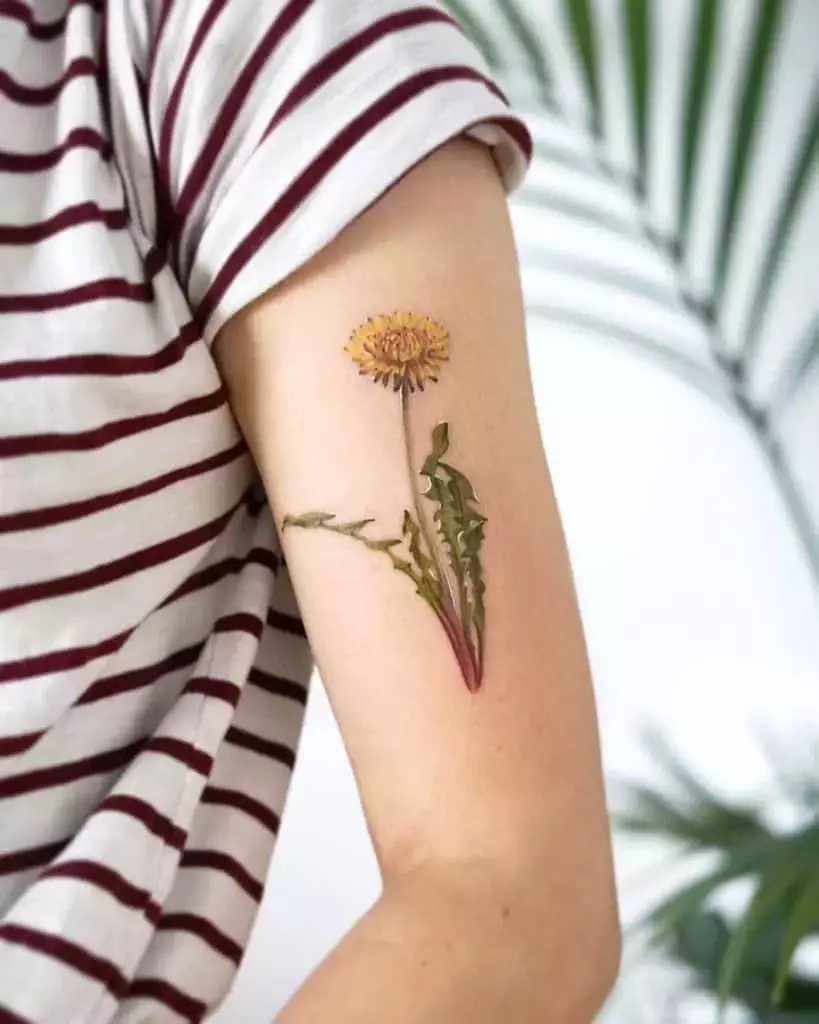 19. Yellow Dandelion Tattoo 
This yellow dandelion tattoo looks real. This vibrant tattoo features a yellow blossom paired with green leaves and a stem, making it an excellent option for creating a realistic and exquisite tattoo.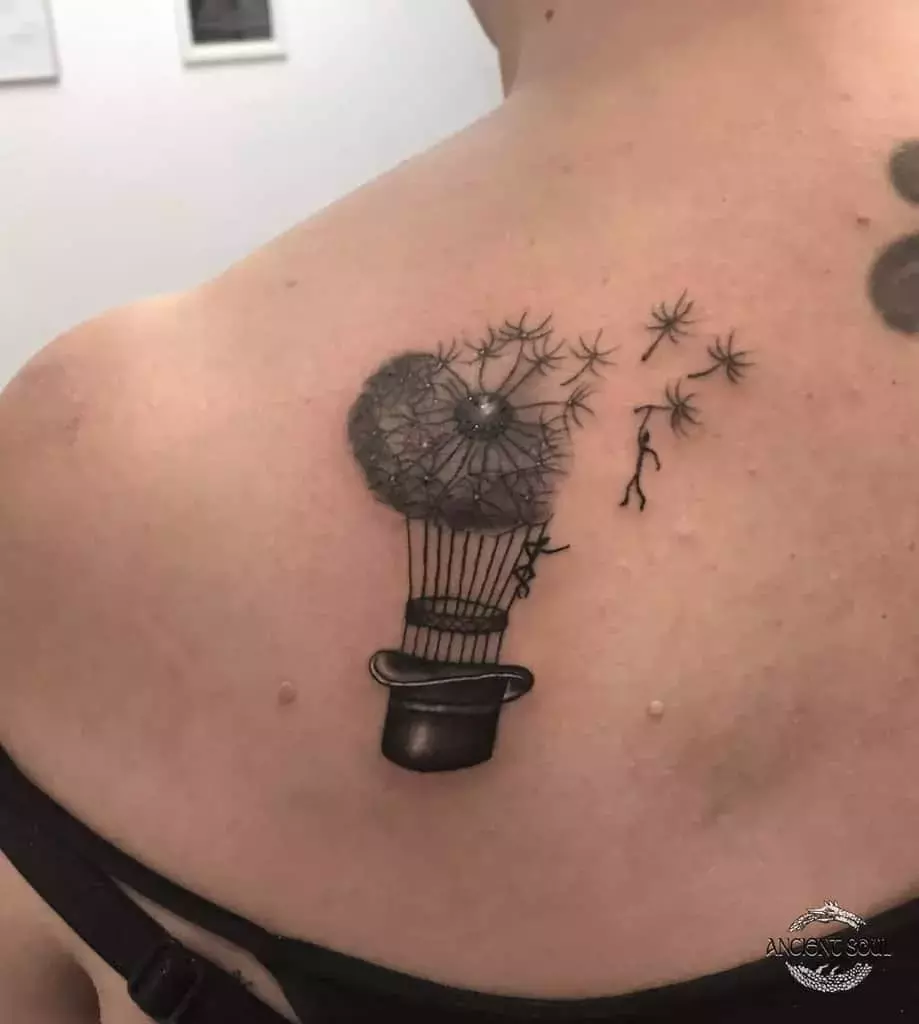 20. Dandelion Tattoo With Variations
You should try this tattoo if you're searching for a vibrant, eye-catching dandelion tattoo. The tattoo design materialised as a stunning hat and an air balloon, adorned with a miniature depiction of two individuals attempting to catch dandelion seeds in midair.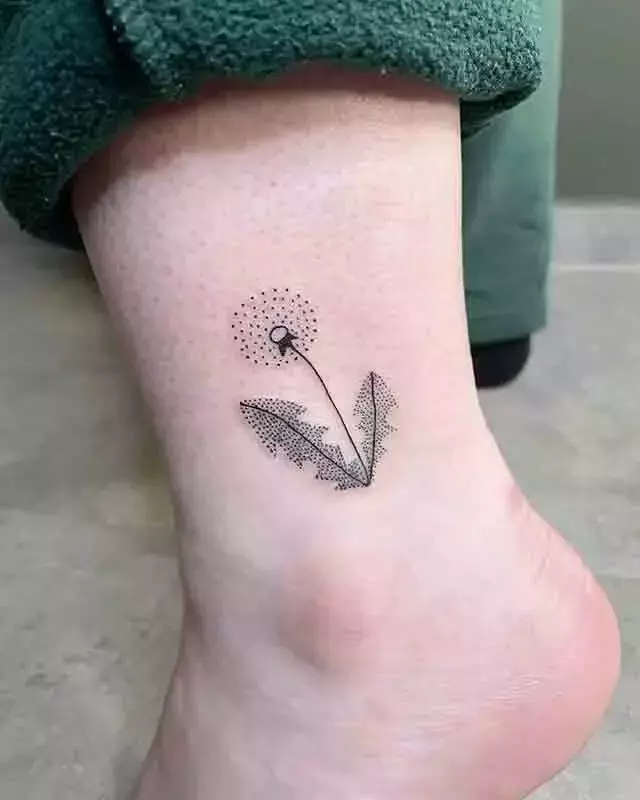 21. Dot Work Tattoo
The intricate dot work in the tattoo is captivating. The tattoo design is also amazing because of the artistic way the dots are created to resemble a dandelion flower and the tiny dots that create the sharp leaves. This is a very artistic and one-of-a-kind dot work dandelion tattoo.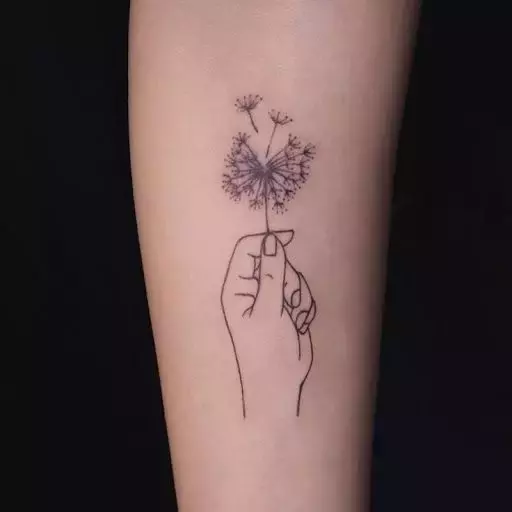 22. Wonderful Dandelion Tattoo
Art a solitary hand clutching a dandelion blossom with its seeds cascading outward appears serene. This tattoo appears subtle overall because it is inked in black. The meaning of this dandelion tattoo is to think positively and always rise in life.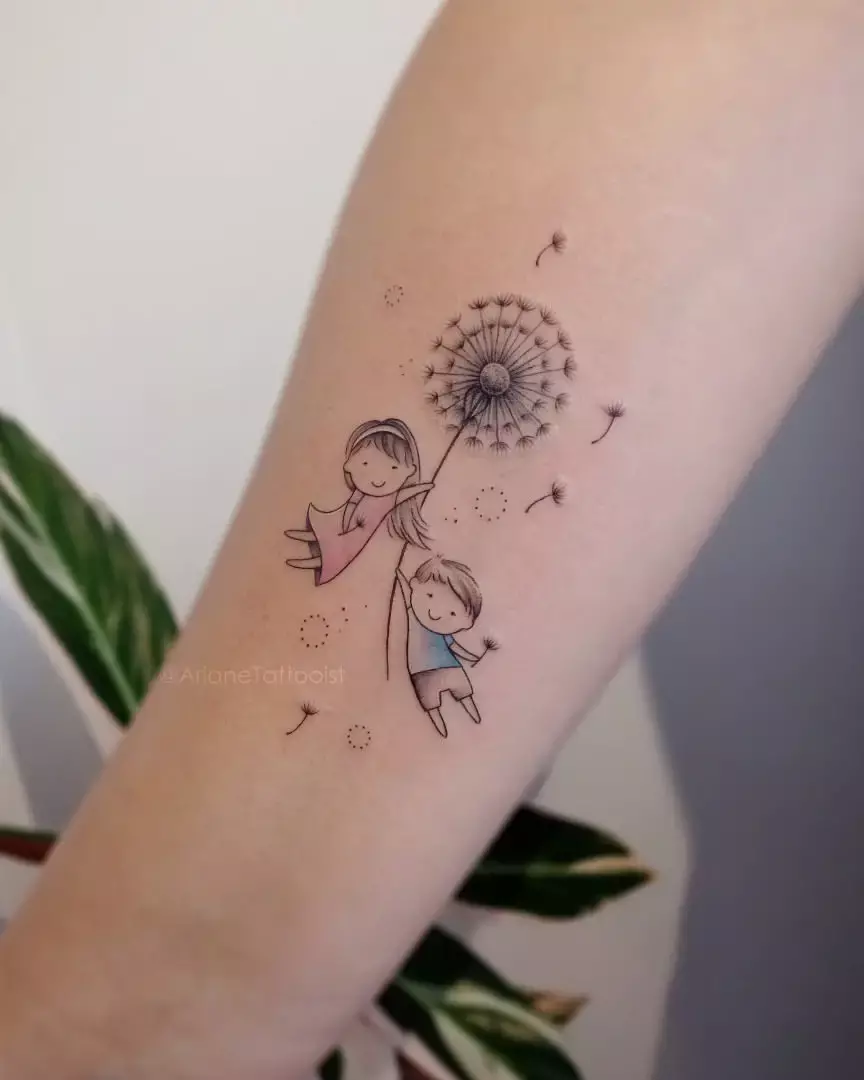 23. Happy Tattoo Design
Capture this adorable tattoo of two small, adorable children holding dandelion flowers in their hands. The background of the tattoo is enchanting. This tattoo of dandelion is delicate and vibrant.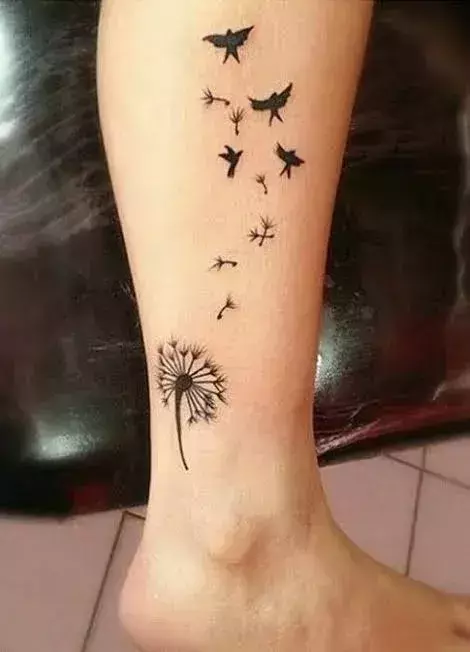 24. Dandelion Tattoo On Leg
The dandelion tattoos on the leg can be elegant and adaptable, offering a range of sizes and design possibilities. Your preferences and the message you wish to convey will determine the exact design and placement on your leg. You can place a graceful, long-stemmed dandelion on the leg with seeds and birds flowing above. This style can make your leg appear longer and more elegant.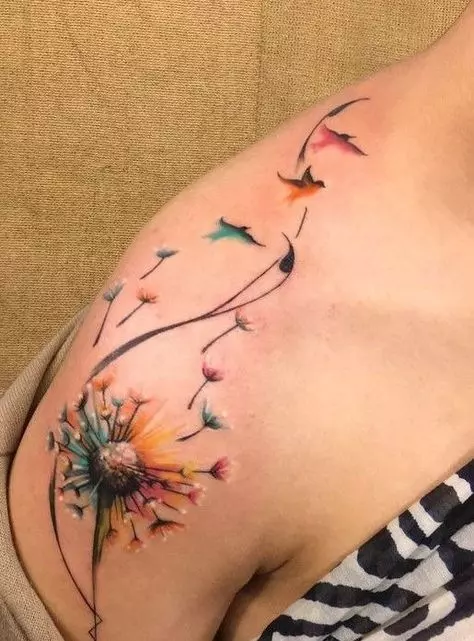 25. Watercolor Dandelion Tattoo
Any part of the body can be adorned with dandelion tattoos, which come in a variety of sizes and designs. In addition to being artistic, a watercolour dandelion tattoo can be more colourful and fluid than one done in black ink. Vibrant colours and a flawless balance give the dandelion design a perfect three-dimensional effect.