25 Most Popular Disney Tattoo Designs And Ideas - 2023
Reena R
Updated At 08 Sep 23
   
Cartoons might be meant for children, but deep down, we all know, whether a kid or adult, Disney characters always have a special place in our hearts. You can express your love for Disney via tattoos, but there are just too many characters and shows, so which to wear.
Well, worry not, we might have some recommendations for you. Here are the top 25 most popular Disney tattoo designs that have been all the vogue in 2023.
25 Best Disney Tattoo Designs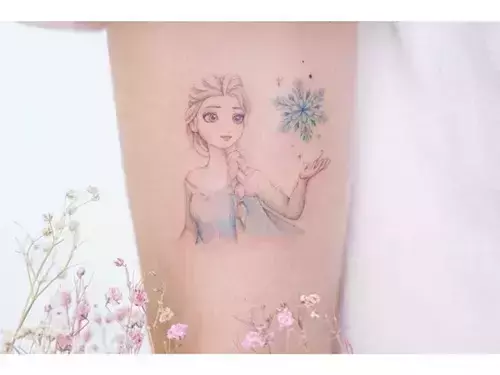 1. Elsa, The Queen from Frozen
Ladies and gentlemen, 'Her'. One of the Disney "Queens" who built a magnificent masterpiece of a castle out of snow crystals is still and will always be an inspiration to future generations. Hey, she's one of the sensible people that questioned Anna's love for a guy she just met. Is there anyone better than Elsa as a tattoo choice for ladies who prefer to be more intellectual than emotional?
Check out our guide to find the best tattoos for women as we list 25+ stunning tattoos which are trending this year.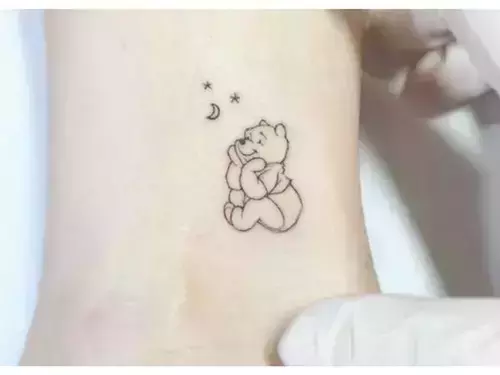 2. Winnie The Pooh 
Winnie the pooh is the only Disney character who teaches us that life is not only about being competitive but also about enjoying nature, stars, and honey.  So why not opt to wear Pooh to get the breezy aesthetic. This design will make a great shoulder tattoo for women.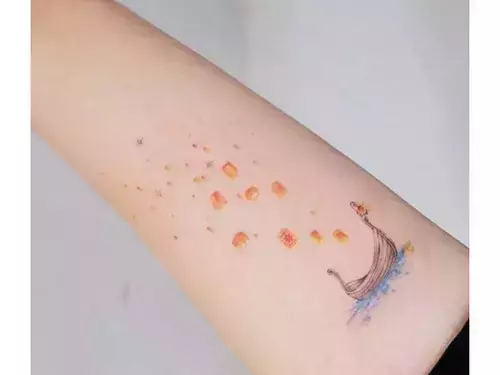 3. Tangled, I See the Lights
Who can ever forget this melodious and romantic scene of Tangled? Watching lanterns soaring in the sky, sitting on a boat with your lover, doesn't that give a fuzzy feeling? Here is an ethereal tattoo of the beautiful scene.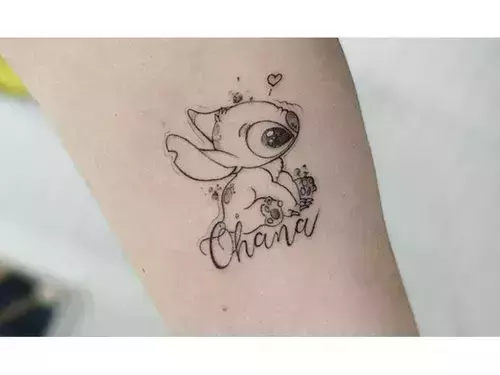 4. Ohana Tattoo From 'Lilo and Stitch
"Ohana means family. Family means no one gets left behind… or forgotten," said stitch, one of the endearing characters who emphasised the importance of family. Is there a more fabulous tattoo to represent the notion of love and family than stitch's ohana?
Do check out our guide on Hawaiian tattoos as we list 51 most popular hawaiian tattoo design ideas for females which have been trending this year.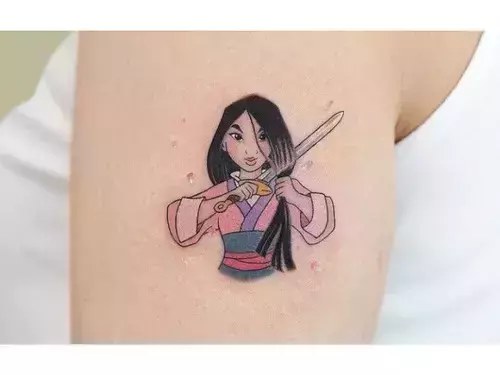 5. Mulan, The Soldier From The Mountains
A woman too can bring honour to her family. This is not just a word but a fact proved by Mulan, one of the strong Disney princesses who went on to fight a war instead of waiting for a prince to save her. Mulan tattoos are pretty popular already, but this one that depicts her chopping her hair gives the meaning of a woman taking a resolve and having no intention to back down.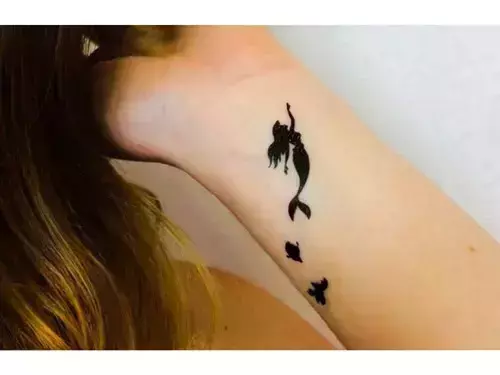 6. The Little Mermaid Disney Tattoo
Ariel showed us that we could leave behind anything for love, including the world in which we grew up. Not just for love but also work or passion. This wonderful tattoo of Ariel seeking the land as she moves away from her natural environment can be interpreted as a metaphor for your journey towards anything you ardently desire.
If you are looking for new options like a butterfly tattoo design, then do check out our guide as we list 25+ most popular butterfly tattoo designs which have been trending this year.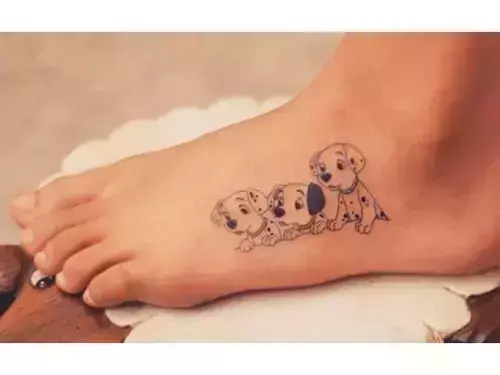 7. Puppies From 101 Dalmatians
Love dogs and Disney? Then why not try the puppy's tattoo from 101 dalmatians. Each of them is cute. We don't have much space, so let's stop with three.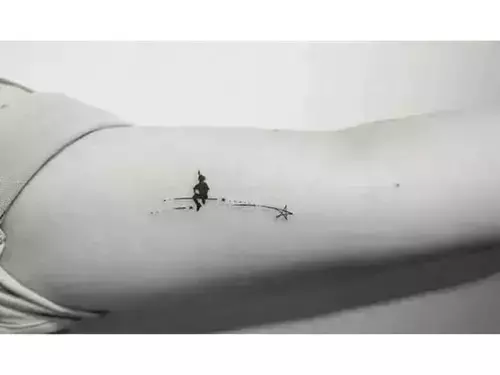 8. Peter Pan Disney Tattoo
To fly, one should stop worrying about the consequences of falling and look forward to the thrill of flying—just a beautiful quote. In a metaphorical sense, not literally. What better tattoo to express this analogy than a tattoo of Peter Pan flying across the sky?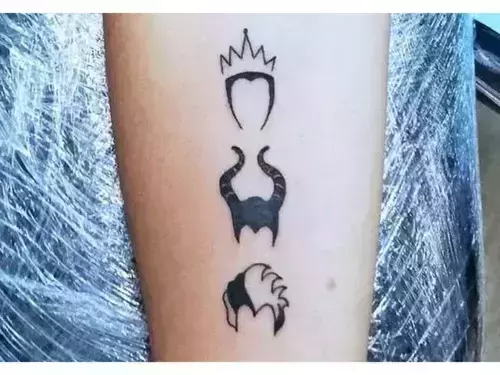 9. Villains Of Disney
Disney princesses? No. Disney Princes? No. Disney Animals? No. Then how about Disney Villains? An absolute Yes! Disney villains got to be one of the iconic, well written and sassiest characters. Out of all the villains, we have to claim that Evil Queen, Maleficent, and Cruella are the most ruthless. Goth or not, if you love them, you wear them.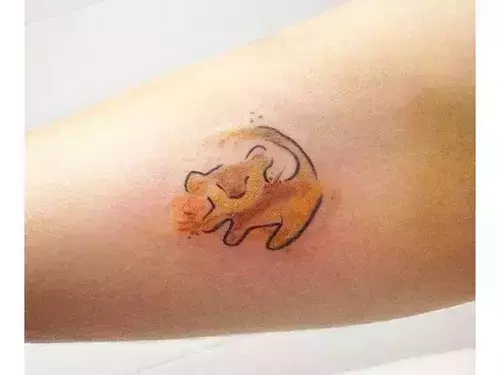 10. The Lion King
Wanting the symbol of the 'chosen one'? Here you go, the legendary symbol present on the skin of future rulers of the lands where light reaches.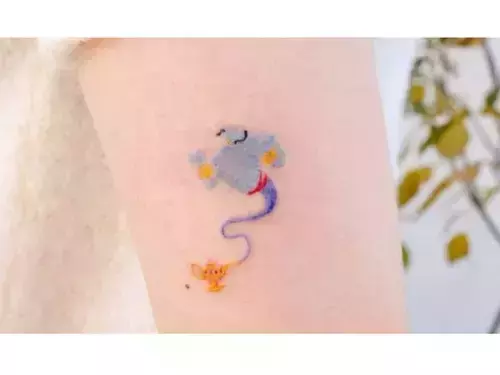 11. Magical Lamp From Aladdin
Ah, those days when we wanted a magical lamp so that we could get three wishes from a witty genie. Although we may not be able to find such a lamp in the actual world, we can still hope for it. Who knows, maybe we'll find the magical lamp we've been looking for one day. Let's get a lamp and genie tattoo until then.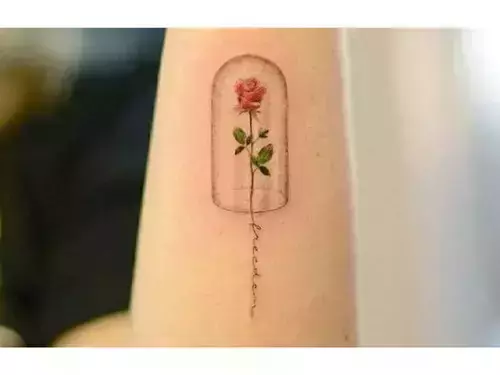 12. Beauty And The Beast
The classic rose imprisoned in a bell jar symbolises the beast's curse. But it appears ethereal, and who can resist the allure of its beauty? This is a lovely rose tattoo yearning for the right to breathe fresh air.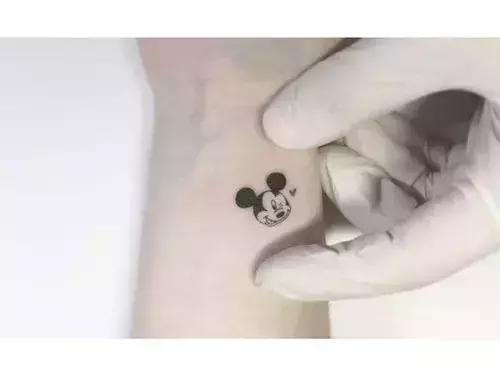 13. Simple Mickey Mouse Tattoo
Speaking of Disney tattoos, wouldn't it be weird if we were not talking about the symbol of Disney. That's right, Mickey mouse. This tattoo of Mickey demonstrating his love with a sweet wink is adorable, but it also gives off a lively, charismatic aura.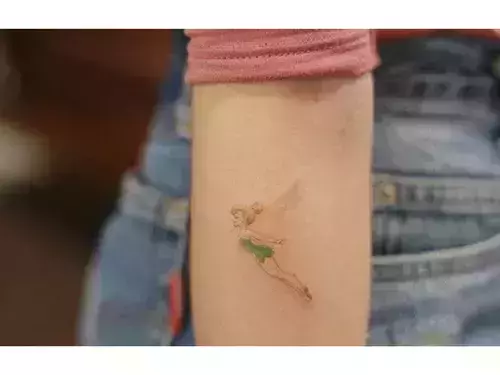 14. Tinker bell
"All it takes is faith and trust and a little bit of pixie dust". It's a sad reality that we're not Peter Pan, and we don't have Tinker Bell to sprinkle us with her magic dust. But we can have her tattoo to feel her charm!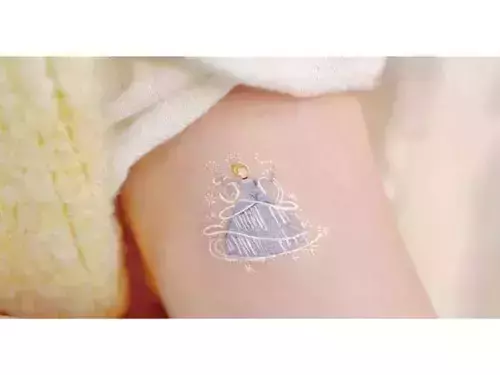 15. Cinderella Disney Tattoo
Watching cinderella and wanting the gown she gets magically as a gift from her fairy godmother is a beautiful classic which will ever be etched on our souls. This is by far the finest of many cinderella tattoos since it is not only elegant but also mystical!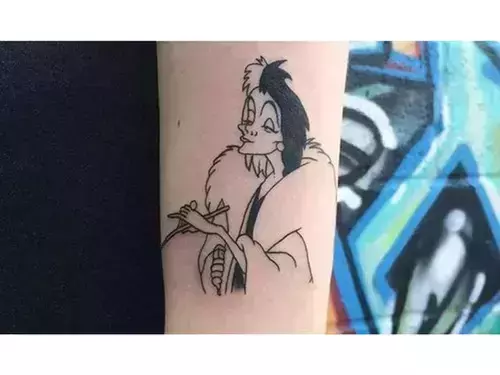 16. Cruella de Vil Tattoo
Disney villains are the epitome of sassiness rather than evilness. And on top of the villains, Cruella de Vil stands at the highest mount. She is not only known for her insane viciousness, but she is also one of the most powerful women who does not fear anyone and speaks her opinion with a languid smarminess, which is why she is still revered. Is there a greater way to honour that woman than by donning one of her cool reactions as tattoos?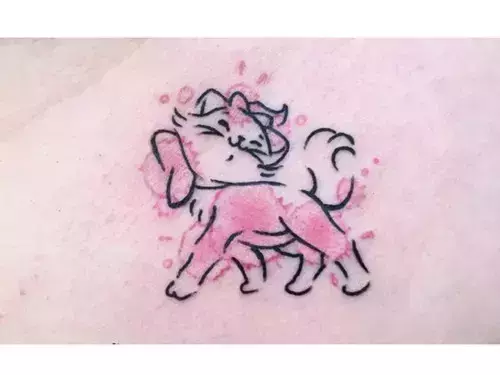 17. The Aristocats
"Ladies don't start fights, but they can finish them". Is there any more accurate quote in a Disney film than this one? Marie, the cat, is unquestionably a symbol of cats' innate grandeur. Whether you like cats or not, you can't deny that Marie the cat is a charming tattoo.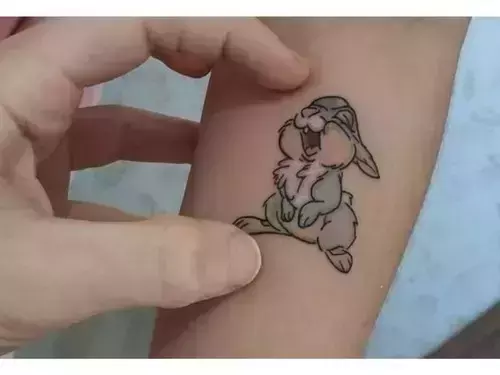 18. Thumper From Bambi
Though Bambii was adorable, we must not overlook his dear bunny buddy, who stole the show with his mischievous antics throughout the flicks. A tattoo of the cheeky bunny giggling heartily is shown here.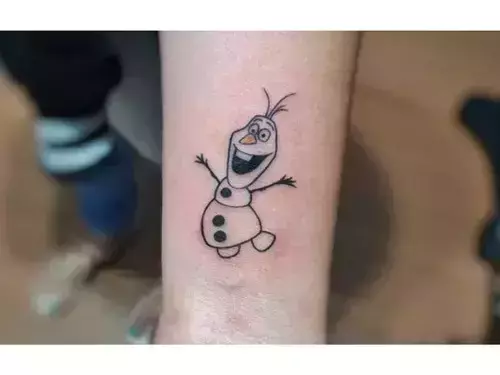 19. Olaf, The Lovable Snowman
One of the beloved Disney characters who carried Frozen with his natural obliviousness, Olaf, said that some people are worth melting for. Here's a tattoo of Olaf laughing and dancing without a care in the world, implying that we should all be like him and enjoy our lives with those we love.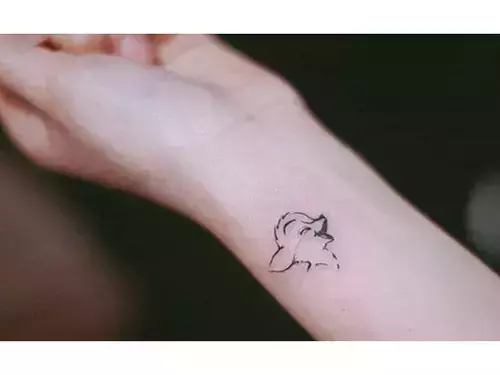 20. Bambi, The Baby Deer
Bambii's sweet smile will make anyone's heart melt. So here's one of the many tattoos that capture Bambi's smiling face's genuine innocence and warmth.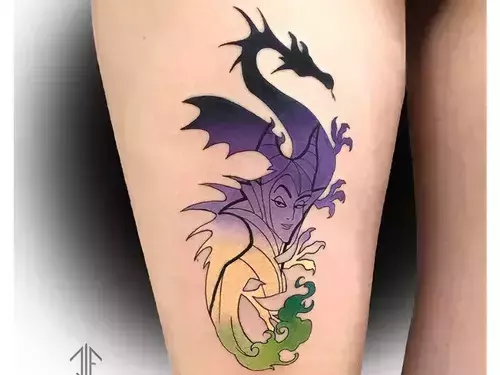 21. Maleficient, The Evil Yet Iconic Disney Villain
It looks like we have got another iconic Disney villain on our list. Maleficent, the evil sorceress with her evil yet sweet sassiness, may have cursed a baby, but did you see her dragon form? Here it is a tattoo of the 'Queen' alongside her legendary dragon form.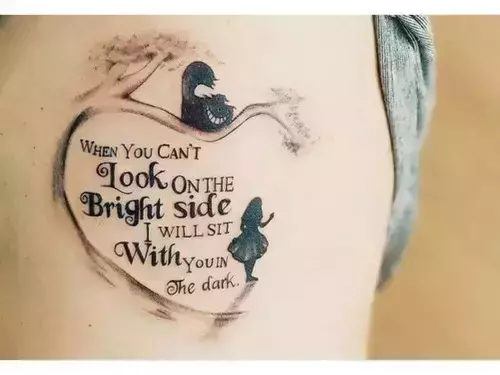 22. Alice In The Wonderland
The fairytale Alice in Wonderland takes place in a realm full of fantasy and mystical creatures. The fairytale might be a simple fantasy, but the quotes are one of the cartoon's most appealing aspects. This lovely quote from Alice in Wonderland deserves to be tattooed.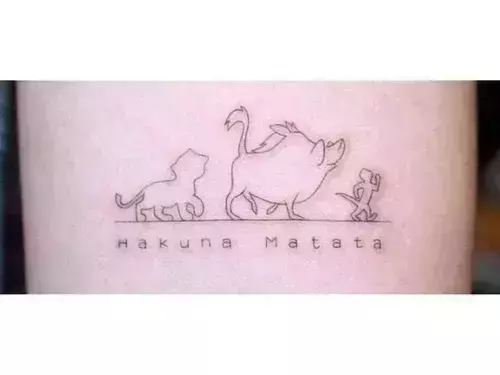 23. Hakuna Matata
Hakuna Matata, or living a worry-free life. Who said Disney was just for kids when all it has are philosophies for living a better adult life? Whenever you feel the revolting adversaries of life, you can get over it with this tattoo.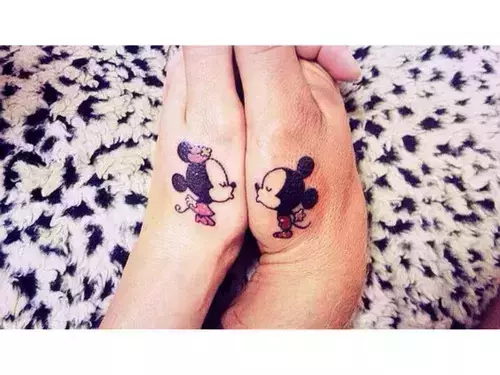 24. Mickey Mouse and Minnie Mouse
Tattoos for couple goals? Then surely it must be mickey and Minnie mouse, right? Our attractive favourite pair embodies a healthy couple who has maintained a solid relationship for over a century. Is there a finer tattoo to symbolise a great romantic connection than our favourite mouse couple?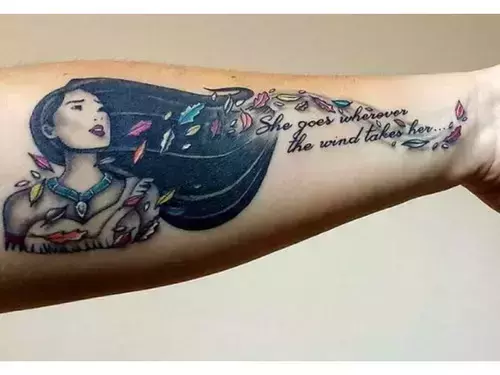 25. Pocahontas
Pocahontas, a Disney princess who is underappreciated yet still ranks among the best-written characters, represents the strength of feminism. She symbolises modern women who do not want to be bound by tradition, and she prefers to wander the outside world rather than coop up inside her home. So why not get a tattoo of her to show the world your resolve?