15+ Stunning Katy Perry No Makeup Photos
Shalu Bhati
Updated At 15 Jul 23
Have you ever seen Katy Perry without makeup? Would you like to? Then, keep scrolling! We have brought for you the 15 most stunning Katy Perry no makeup photos.
Katheryn Elizabeth Perry aka Katy Perry is an American singer and songwriter known for giving hits like I Kissed A Girl, Teenage Dream, Dark Horse, and Prism. She has a powerful and enigmatic presence on stage as she performs. Her voice will captivate you for sure. But, do you know her beautiful looks are equally captivating? And no, makeup has no role in it. Sure, she has given the world many different and some of the most amazing makeup looks, Katy Perry's beauty is not dependent upon makeup. She looks stunning even with a bare face. Don't believe us? Look for yourself!
In this article, we have covered the 15 most stunning Katy Perry no makeup photos. We have also covered some of the best looks of Katy Perry, her favorite beauty products, and some Frequently Asked Questions about her. Also check out 25+ stunning Kylie Jenner no makeup photos which include her no makeup selfies, family photos and many more!
Let's begin!
15 Top Katy Perry No Makeup Photos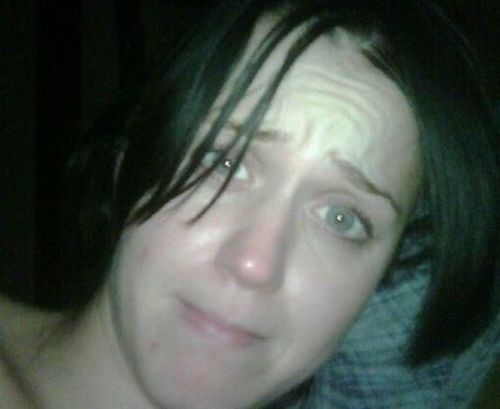 1. Morning Surprise
This was the first time that the world got to see a makeup-free Katy. Her ex-husband Russel Brand was behind the camera capturing a picture of Katy just as she was waking up. He went ahead and posted this Katy Perry no makeup image on his Twitter but later removed it. We can guess why!
Also check out 25+ gorgeous Nicki Minaj no makeup photos which showcase her real natural beauty!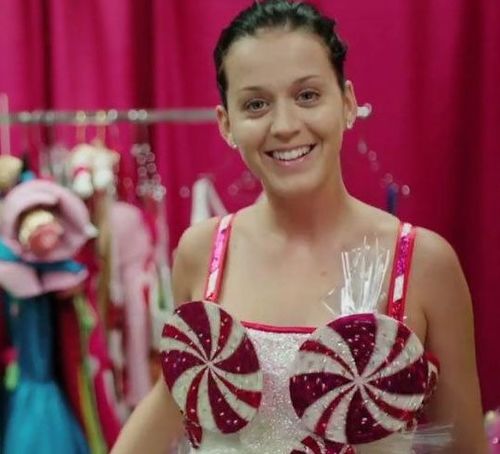 2. Part Of Me
The world saw Katy Perry without makeup once again. And this time, it was different. Katy was seen wearing zero makeup backstage of her Part of Me tour in 2012. Her glowing face coupled with her radiant smile went on to win many hearts.
Also check out 25+ gorgeous Marilyn Manson without makeup photos which includes his no makeup selfies, fan photos, selfies with various actors and many more!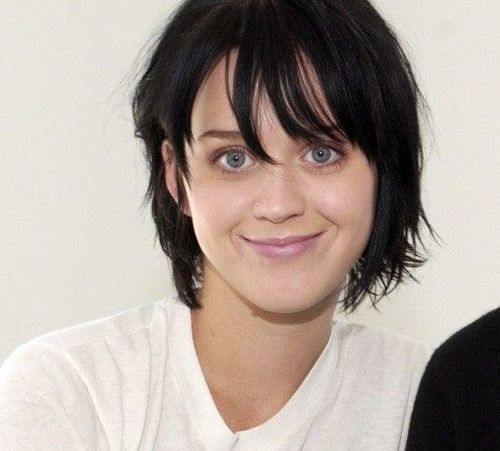 3. Natural Beauty
The Katy Perry no makeup looks garnered instant popularity. Everyone was mesmerized by her natural looks just as they were with her on-stage personas. Without even a speck of makeup, she looks immensely beautiful. Similar to Katy Perry, if you checkout JLo no makeup photos, you would be pleasantly surprised as she looks absoultely stunning even without makeup!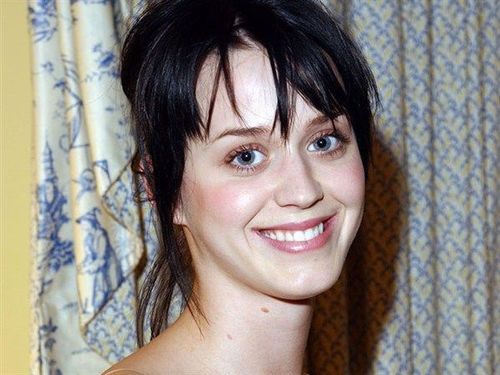 4. Take My Chapstick
Katy Perry changed the scene of pop music with her rhythmic and usually sexually suggestive songs. One such popular hit is I Kissed A Girl. Did you know fans throw cherry chapsticks at the singer even today whenever she performs this song? And we cannot get over the natural cherry colored blush she has on her cheeks.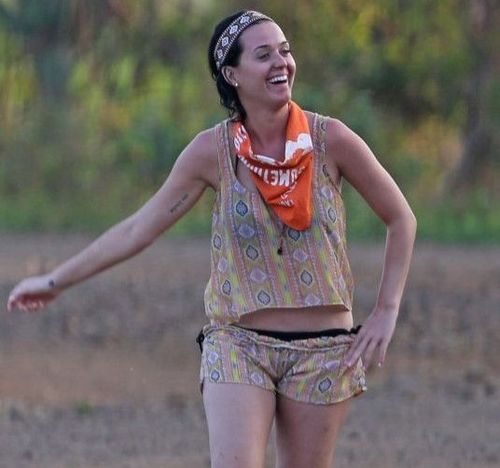 5. Carefree Perry
This Katy Perry no makeup picture was captured when the singer went on a hike with her then-boyfriend John Mayer. Here she is on a break from all the makeup, costumes, and dazzling lights. She walked about happy and carefree with no amount of makeup on her face.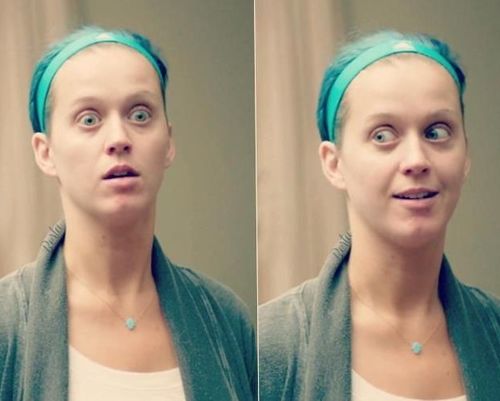 6. Wide Eyed Katy
Katy Perry sure knows how to have some fun especially when she is caught off guard by the paparazzi. This picture is one such example. Katy is confident in her skin and doesn't mind getting clicked with a bare face. This Katy Perry no makeup picture is just another proof of the singer's natural and alluring beauty.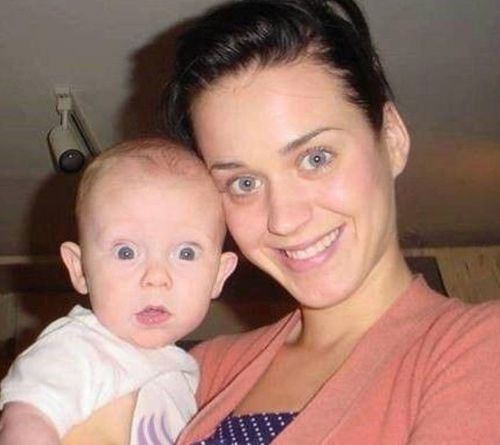 7. The Family Woman
In this picture, you can see Katy Perry without makeup holding her sister's baby. Both share the same big blue eyes. Did you know that Katy had helped deliver this baby in a friend's living room? This goes on to show that Perry is more than just another pretty face.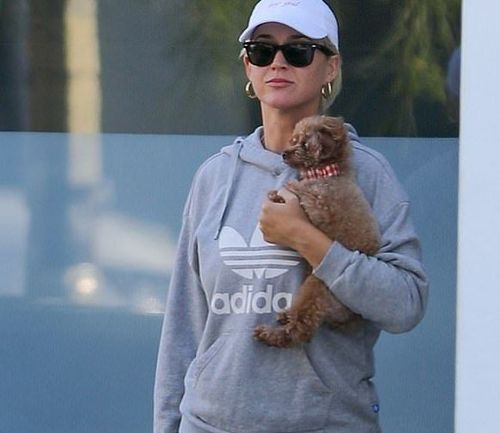 8. In the Sweats
Katy Perry is the ultimate inspiration when it comes to wearing sweatpants with full swagger. Here is Katy Perry without makeup carrying her dog Nugget.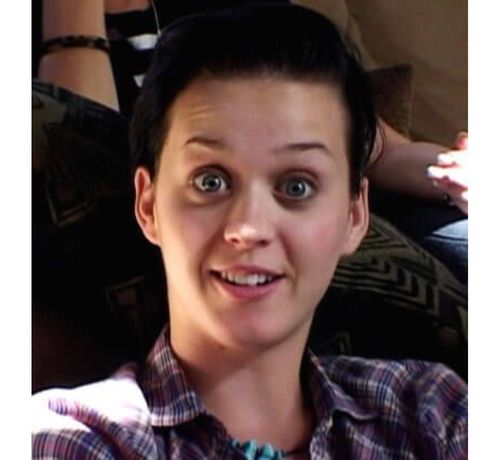 9. Gotcha!
Did we not tell you that Katy Perry is a good sport? Here she was once again taken by surprise. The paparazzi had caught her in the public. Getting the Katy Perry no makeup photo is worth a lot to magazines, tabloids, and blogs among others. But, all that we are concerned about is when is Katy going to drop her skincare regime. Look at that radiant glow on her face!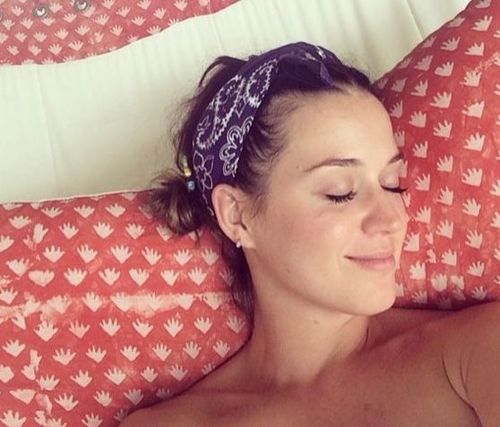 10. Holidaying Right
Katy Perry clicked herself spending a relaxed summer holiday on a hammock. This picture is enough to give us holiday goals. Apart from the chill vibes and her beautiful smile, we could not help but notice her makeup-free face.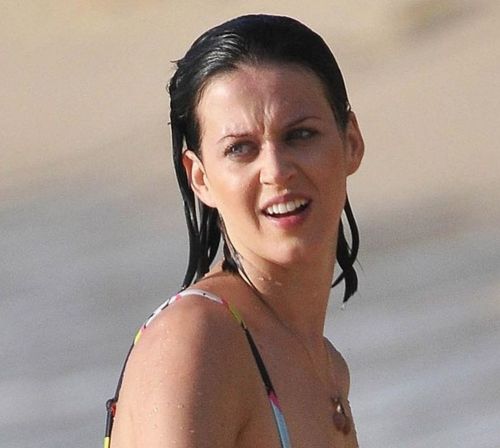 11. Beach Days
When we are talking of leisurely summer days then how can we leave out Katy's makeup-free beach day? This Katy Perry without makeup picture was clicked while the singer enjoyed a dip in the ocean. She looks more radiant than ever!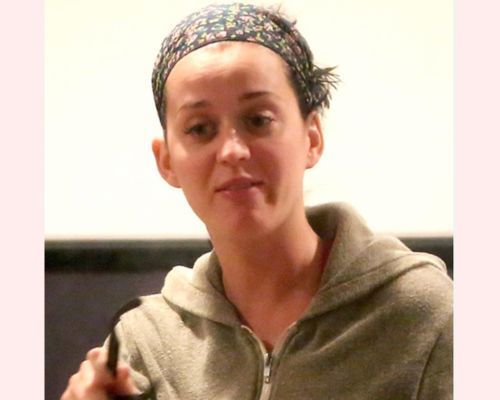 12. Concert Rehearsal
Katy Perry is seen here wearing her headband and tracksuit. A stunning no makeup photo, this was clicked when she was leaving the studio post completion of her rehearsal.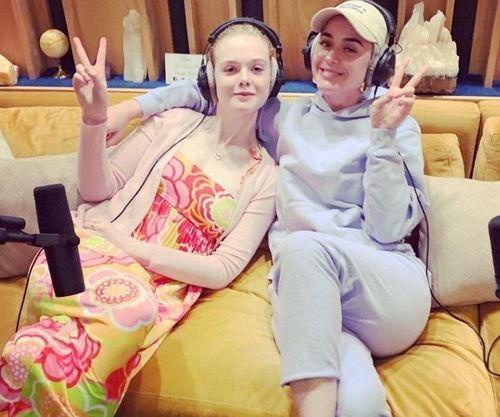 13. In The Studio
Katy Perry got a sneak peek of a film, Teen Spirit starring Elle Fanning and directed by Max Minghella. And we got a sneak peek of Katy Perry without makeup. She was very much impressed with this film which took inspiration from her Part of Me documentary. Her dazzling smile makes her look even more beautiful.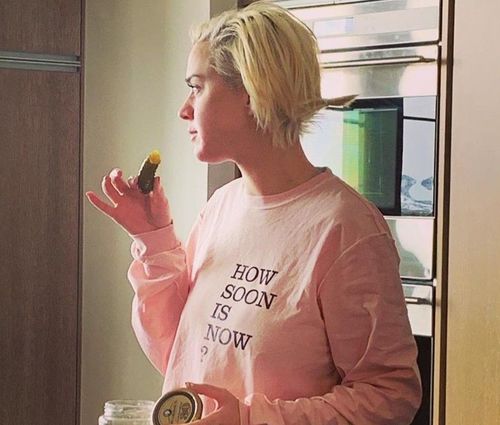 14. Stay Home
The entire world is going through a terrible pandemic that has forced us to stay inside. Katy Perry has the same struggles as the rest of us. Staying at home makes us forget the real concept of time. The Roar hitmaker was feeling the same blues. She posted on her Instagram a picture of herself. She was in her pajamas, without makeup, eating pickles, and asking what day is it even. Relatable, much?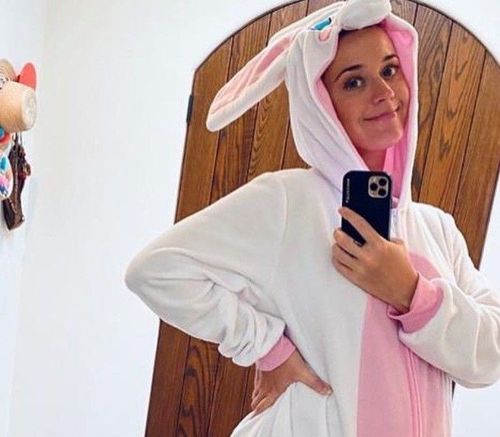 15. Bunny Perry
Just because she is locked in, doesn't mean Katy is not having her fun. She looked amazing as she shared this Katy Perry no makeup image clad in a bunny suit. The mother-to-be was all smiling in the shot and looked gorgeous even without a hint of makeup.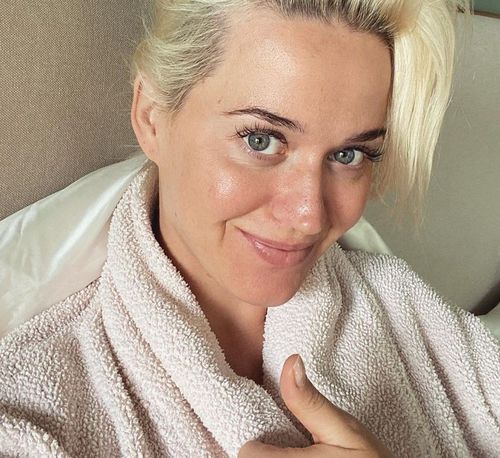 16. The Ultimate Glow
This Katy Perry without makeup selfie was shared by the singer herself. And it took the internet by the storm. The selfie was a close shot of Katy's face which showed her flawless beauty. This image forced its lookers to say it once again that Katy is so beautiful that she doesn't need makeup!
9 Best Looks Of Katy Perry (With Makeup)
We showed you how gorgeous Katy Perry looks without makeup. Now, let us show you some of her best looks over the years. It was not easy to pick just a few. But, we tried our best.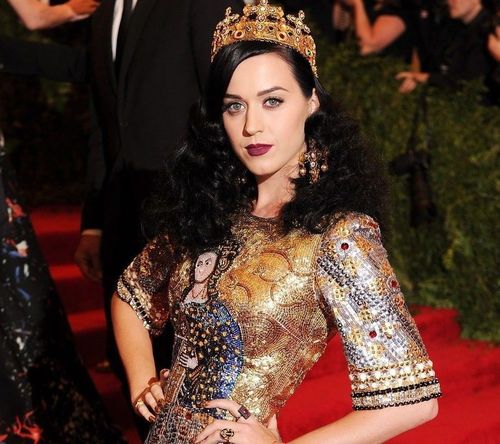 1. Met Gala, 2013
Katy Perry surprised everyone with her 2013 Met Gala look. She landed on the red carpet with an embellished Dolce & Gabbana number that set everyone talking. She accessorized it with a golden crown on her head. She looked very much the queen she is.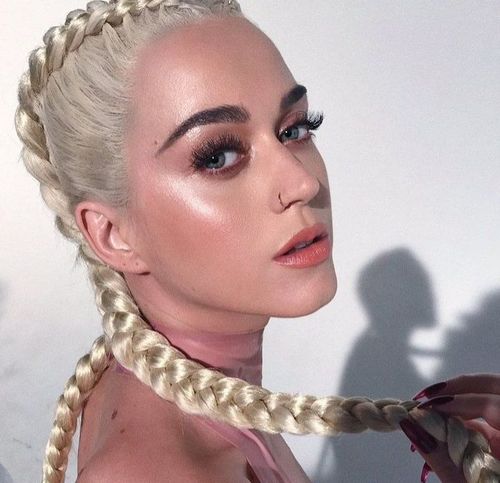 2. Braided Wonder
Long blonde hair? Braided. Highlight? Popping. This is one of the best looks of Katy Perry. Her double boxer braids, popping highlight, and nose ring come together to create an enigmatic look with punk vibes that we fell in love with immediately.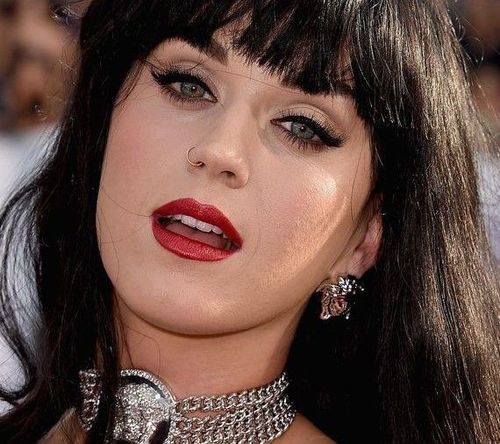 3. The Denim Moment
Who can forget the iconic denim-clad duo, Britney Spears, and Justin Timberlake from 2001? Katy Perry brought back old memories when she attended the 2014 VMAs in a denim dress reminiscent of the infamous Britney Spears look. She wore a custom Versace piece and paired it with a big, bold, metallic choker. Apart from her outfit, it was her makeup that caught our attention.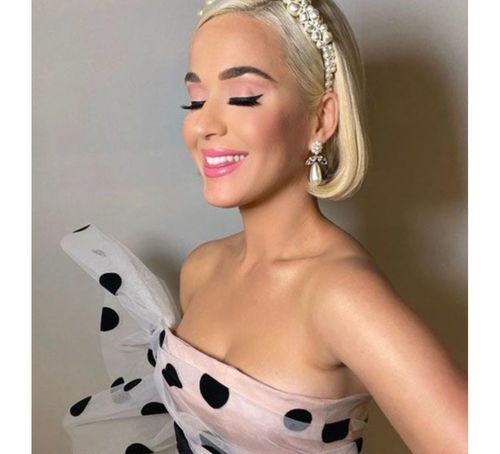 4. The Bubbly Girl
Katy Perry has had a variety of style moments that are inspired by punk rock to the pin-up models of the 1940s. After channeling a punk look for quite some time, we saw Perry again in her fun and bubbly avatar. And look at that amazing Katy Perry eye makeup. The bubblegum pink shadow beautifully matches her lipstick.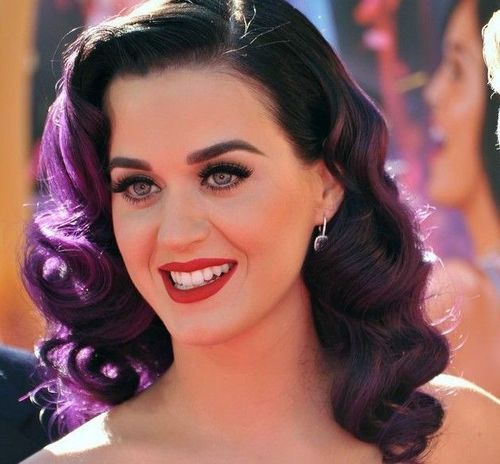 5. Purple Goddess
Katy has never shied away from experimenting with her hair and overall style. Being a brunette suits her so well that you won't be able to tell that she is a natural blonde. We love this look of hers that shows off her vibrant and contrasting purple hair color while her hair is styled with the old Hollywood glam.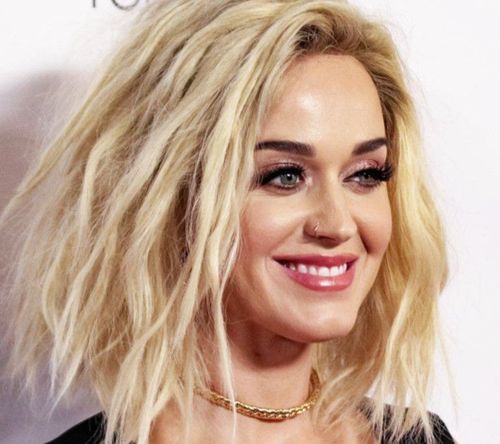 6. Rocker Chic
Katy can carry off any look with equal grace. Here she gives the inspiration to dress rock chic with messy waves, bold liner, and a golden metallic choker to complete the look.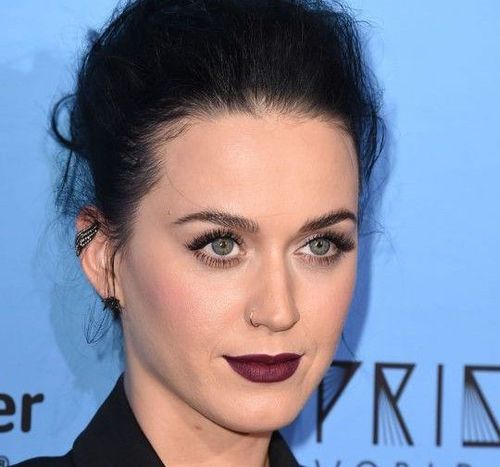 7. Dark Fantasy
Opt for the dark side like Katy Perry. Her dark lipstick is giving us the goals of a lifetime. The dark plum shade, her ear cuffs, and wind-blown bun make this to be one of the best Katy Perry makeup looks.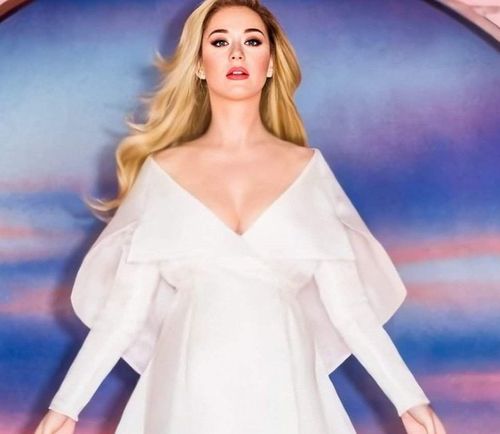 8. Never Worn White
How can we talk about the best looks of Katy Perry without any mention of her iconic white dress? She looked every bit of an angel in this white number. This look was featured in her music video for Never Worn White. What made this dress even more of an iconic number was the pregnancy announcement that Katy did towards the end of the music video while wearing this gorgeous white dress and cradling her baby bump.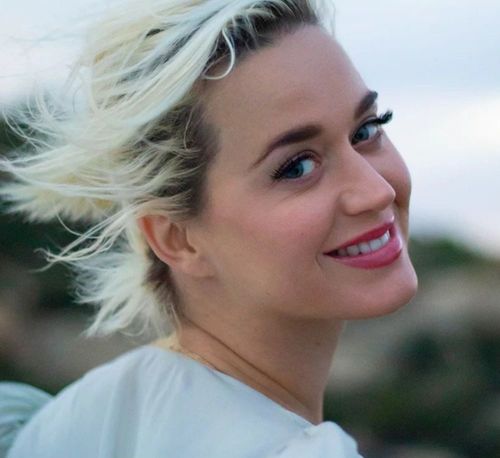 9. The Era of Daisies
This is the latest look of Katy Perry that we can't help but love. Her latest single Daisies is creating a stir and so is her beauty look. She is expecting her first child with fiance Orlando Bloom. Katy has been looking radiant with that pregnancy glow.
Katy Perry Favorite Beauty Products
Following are some of the Katy Perry favorite beauty products: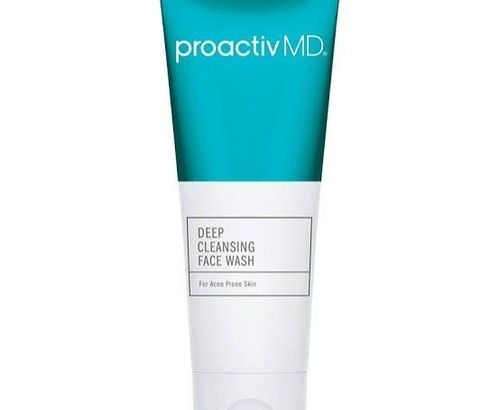 Proactiv Deep Cleansing Face Wash
Katy Perry came into the music industry while she was still a teenager. Hormones, makeup, and stress became some of the factors that gave her acne troubles. She has used the Proactiv treatment to keep her acne issues at bay. She has been using these products since she was 23. She swears by the cleanser and toner even today.
Proactiv Revitalizing Toner
Katy has not only felt a reduction in blemishes but has also found that some of her scars have begun to disappear. Now, that's some incentive to use Proactiv!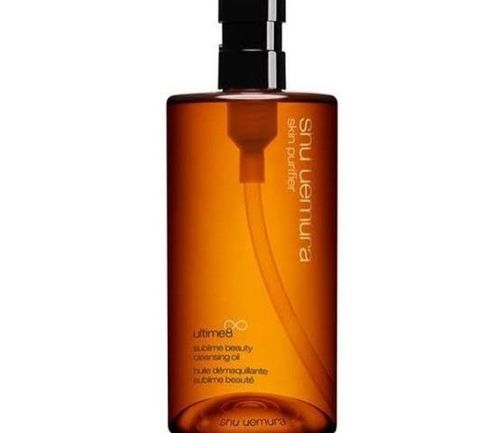 Shu Uemura Ultime 8 Sublime Beauty Cleansing Oil
Katy Perry struggled with getting off the entire residue from her face. Whatever she used, something was always left. Then, one day, Madonna's makeup artist while doing Katy's makeup recommended facial cleansing oil. Now, Katy was never a fan of facial oils. But, she was a fan of Madonna. If the Queen of Pop could use a facial oil, then so could Perry. This oil changed Katy's skin routine.
Katy also collaborated with Covergirl and came out with a range of makeup products. This range of products is heavily influenced by Katy's favorite elements and color palette. Some of the most popular items to come out of this collaboration are:
Frequently Asked Questions
Q. Which are the favorite products of Katy Perry?
Katy Perry swears by the Proactiv treatment for acne. She especially loves their toner and exfoliating cleanser. She also loves using grapeseed oil for moisturizing and Shu Uemura cleansing oil to cleanse her face.
Q. Which is the best Katy Perry no makeup photo?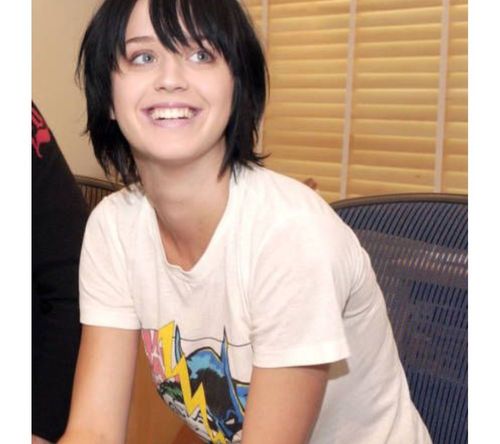 This has to be the best Katy Perry no makeup photo for us. A bare-faced smiling Katy wearing a Batman and Joker t-shirt speaks to us in a very enchanting language.
Q. Which is Covergirl Katy Kat mascara and eyeliner?
Katy Perry collaborated with Covergirl and created a range of makeup products that included mascara, eyeliner, lipstick, and lip gloss among others. The Covergirl Katy Kat Mascara and the Covergirl Katy Kat eyeliner can be used as a combination to recreate Katy Perry's signature eye makeup look that lasts all day long.
Q. Which is Katy Perry Covergirl lipstick?
The Katy Perry Covergirl Lipstick comes with a matte finish. There is also a limited edition pearl lipstick range created by the singer. Both these ranges come with vibrant and vivid colors. One of the shades is named after Katy's pet cat, Kitty Purry.