25 Most Popular Kylie Jenner No Makeup Photos - 2023
Shalu Bhati
Updated At 28 Aug 23
Would you like to see some Kylie Jenner no makeup pictures? Keep scrolling as you have come to the right place.

Love her or hate her but you cannot ignore her. Kylie Jenner is a name that is synonymous with all things beauty, makeup, and fashion. She has achieved it all at the young age of 23. She is a socialite, reality TV star, brilliant businesswoman, and also a mother of one. She has a very strong social media presence. She can make or break a brand with just one tweet. One sponsored Instagram post makes her about $1.2 million richer. She has been in the limelight ever since she was a child thanks to her family's very own reality show, Keeping Up With The Kardashians. She was only nine-years-old when the show started airing in 2007. She was only 21 when she was named the youngest self-made billionaire by Forbes.

Her love for makeup led her on a path to become a successful businesswoman. Despite this love for makeup and her impressive skills at using it, Kylie likes going makeup-free almost all the time. She doesn't want her skin to suffocate under layers of makeup. She is blessed with naturally glowing skin and you can see that yourself in this article.We have brought for you the 25 popular Kylie Jenner no makeup photos. Also check out our guide on the real celeb faces as we cover 100+ celebrities without makeup which includes the likes of Cardi B, Ariana Grande, JLo, Kendall Jenner and many more.
Let's get started!
25 Popular Kylie Jenner No Makeup Photos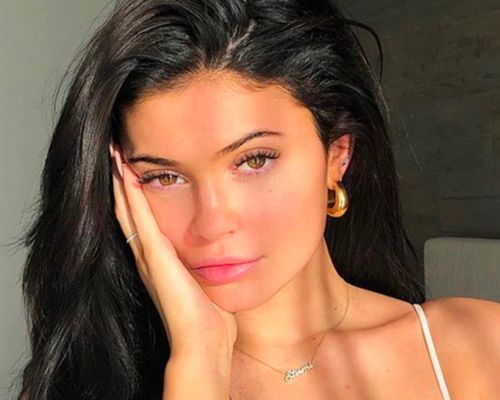 1. Kylie Jenner Natural Beauty
Adore the natural beauty of Kylie as she showcases her face without makeup. She loves going without makeup and inspires others to go makeup free as well. Similar to Kylie Jenner, Ana De Armas hot pictures look stunning.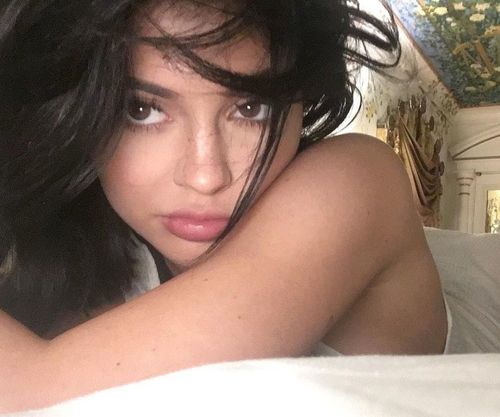 2. The First-Ever No Makeup Selfie
Kylie Jenner's makeup looks are always on point and always a trendsetter. She has grown up and evolved into a beautiful young woman right in front of the public's eye. And it has not always been a pleasant experience for her. Kylie was more than often criticized for wearing too much makeup for her age. So, one day she decided to go bare making this a rare Kylie Jenner no makeup selfie. This is Kylie at 18-years-old lounging in bed and flaunting her freckles.
Also check out 25 stunning Ariana Grande no makeup photos which include her fan photos, no makeup selfies, casual photos and many more.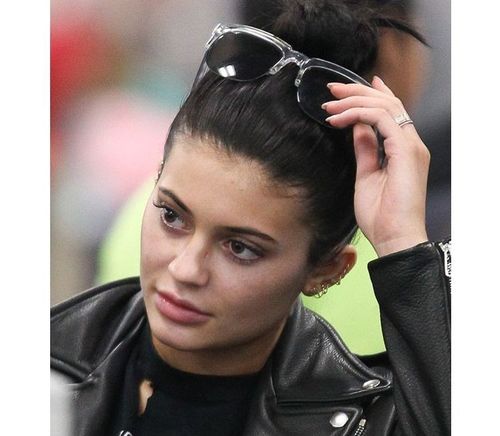 3. The Style Influencer
Kylie Jenner is known for her impeccable fashion sense and amazing makeup looks. The world is obsessed with her glam avatar and also awaits eagerly when she decides to go casual. She loves going makeup-free and understands how important it is to let one's skin breathe. So, you will often find her sans makeup, just chilling. Looking for Kylie Jenner paparazzi no makeup picture, then do check out this airport look.
Also check out 15 stunning Marilyn Manson without makeup photos which include his no makeup selfies, casual photos and many more.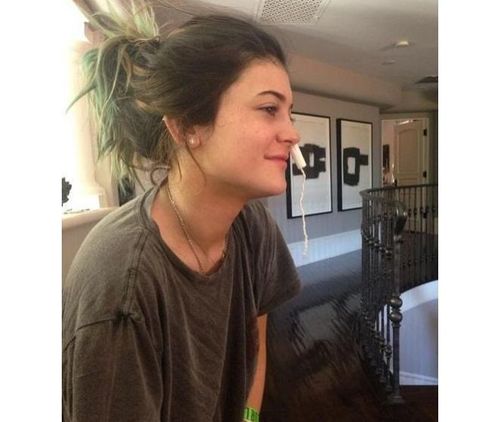 4. Chilling At Home
Initially, Kylie was not comfortable going makeup-free in the public arena. And she took refuge in makeup. But, with time she has grown at ease with the idea of going makeup-free. You can find many Kylie Jenner no makeup looks splattered all over social media. She has embraced her insecurities and now doesn't mind flaunting her bare face.
Also check out 25 most popular Katy Perry no makeup photos which include her family photos, no makeup selfies, shopping photos and many more.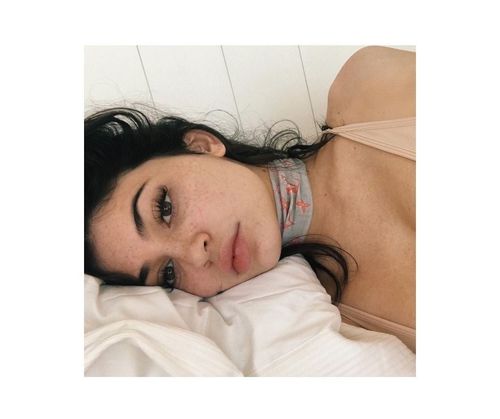 5. Gorgeous Kylie Jenner No Makeup Photo
This gorgeous Kylie Jenner no makeup picture went on to become one of her most popular without makeup photographs. Once she started loving and embracing her freckles, there was no turning back. Her social media witnessed more and more bare-faced freckled selfies. And we can't help but cheer this girl on!
Check out our detailed guide on Kylie Jenner plastic surgery to find out all the surgeries she has undergone to transform herself.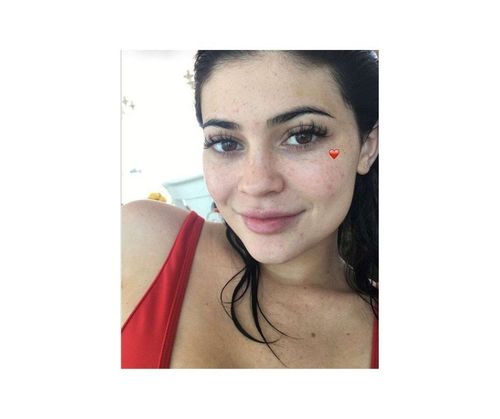 6. Swimsuit Edition
Kylie showed her makeup-free face once again and it got popular, once again. She was on a vacation and so was her skin. Kylie posed in a sexy red hot bikini with zero traces of makeup on her face. This Kylie Jenner no makeup photo took Snapchat by storm.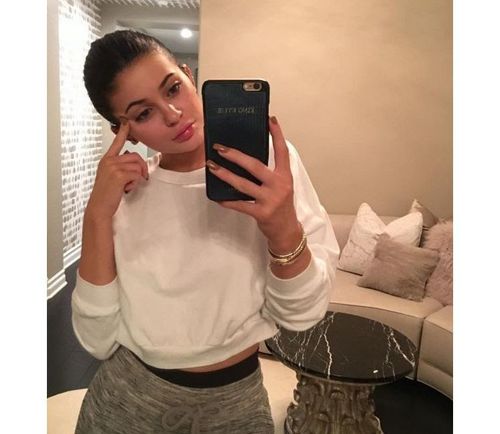 7. Mirror Selfie Queen
Take a look at Kylie's social media accounts and you would know that she loves to take selfies. She has herself confessed that she takes about 500 selfies to get the perfect shot. Though, it is safe to assume that it is a bit of an exaggeration on the actual number. With the kind of selfies she posts, whether they are of her glammed up red carpet looks or the usual Kylie Jenner without makeup pictures, she surely is an expert.
Check out Kim kardashian no makeup photos as we list the top selfies without makeup which showcase her natural beauty!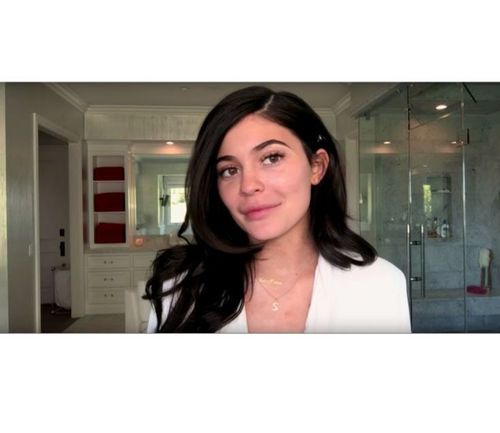 8. This Means Business
Who doesn't want to look beautiful? Kylie is no exception to this desire for beauty. So, she ensures that she takes proper care of her skin. Here is a shot of the famous Kylie Jenner with no makeup face before she starts her daily skincare routine. Her interest in makeup and skincare led her to build businesses on these very same concepts. She started her business empire with the famous Kylie Jenner lip kits and went on to create Kylie Skin, her very own skincare line. Both of these are multi-million dollar businesses as of today.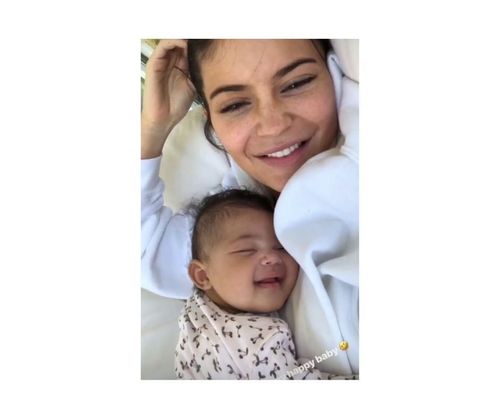 9. Happy Mother, Happy Baby
Kylie Jenner often posts pictures and videos of herself with her daughter Stormi Webster. And in doing so, she gives the world a glimpse of her personal life and more and more of the gorgeous Kylie Jenner no makeup photos. Despite being in the limelight 24*7, Kylie kept her pregnancy under wraps and gave birth to a beautiful daughter with Travis Scott to everyone's surprise. Both the mother and the daughter can be seen sharing some playful times and memories where they both look healthy, happy, and beautiful.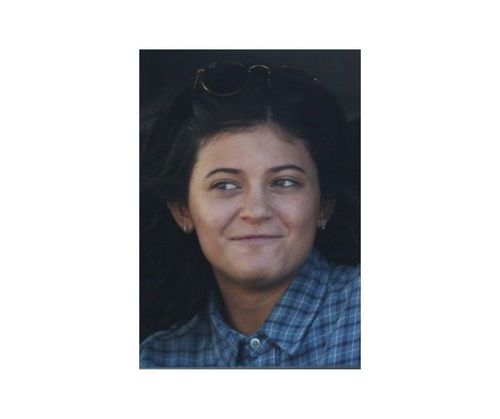 10. Blast From The Past
Let's go back a few years. Let's go back to the time before the famous Kylie Jenner lips came into the picture. This is a Kylie Jenner no makeup no filler photo featuring Jenner in her teens when she hadn't had any procedures done. Kylie was always a natural beauty but she felt insecure due to her thin lips. She went on to get lip fillers that drove the world crazy. Her new lips became a huge trend. But, she got the fillers removed a few years later and now has more natural-looking lips.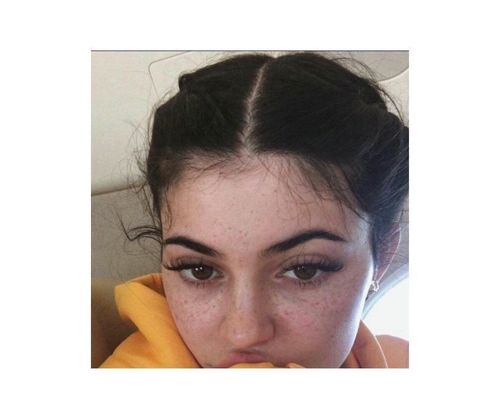 11. Freckled Beauty
Kylie Jenner is an absolute beauty with or without makeup. Here she is seen flaunting her freckles in a makeup-free photo. She looks gorgeous. This is one of the very first Kylie Jenner without makeup pictures that she shared on her social media.
12. Kylie Jenner No Filler No Makeup Pic
One of the photos wherein Kylie Jenner is seen without makeup and with no fillers, this image shows her natural beauty. We can just adore her!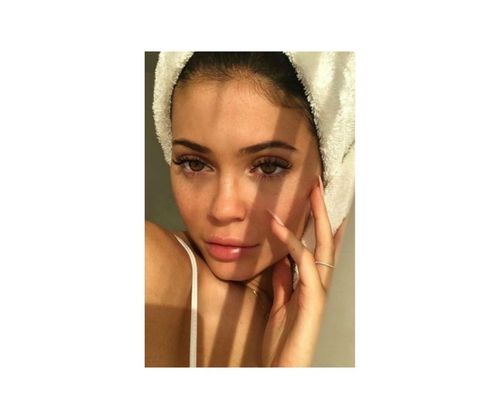 13. Mastering The Poses
Kylie takes a lot of selfies and has mastered the techniques involved. She is comfortable in front of the camera. Even though it took her some time to face it with a bare face, there's no looking back now. We hope for lots and lots of Kylie Jenner no makeup selfies. You go, girl!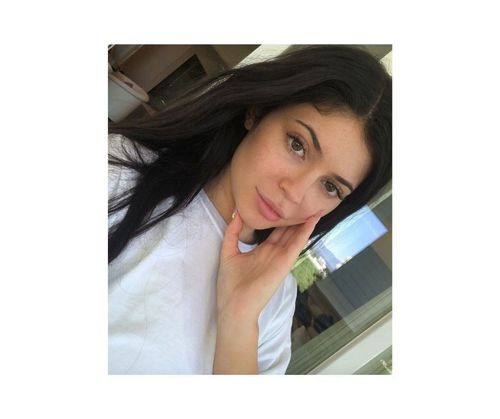 14. Gorgeous No Makeup Photo
Here is another one of the most popular Kylie Jenner no makeup photos. She looks stunning as she poses for this no makeup selfie outside her mansion. Did you know that it takes her almost 2 hours to do a full face of makeup? Remember her efforts the next time you see one of her glam makeup looks.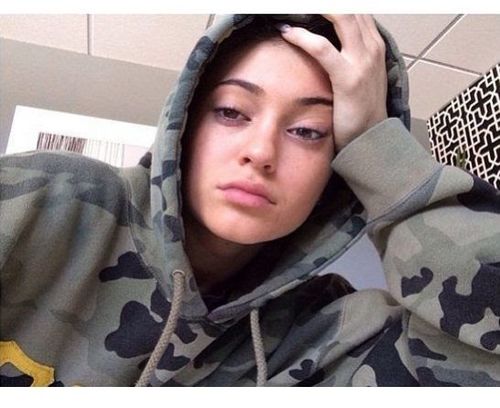 15. Tired Kylie Without Makeup
Kylie Jenner is someone who manages to look beautiful even when she is exhausted. This Kylie Jenner no makeup photo is proof of just that. She is visibly tired and exhausted and has taken refuge in the all-time favorite garment of women, a hoodie. And yet, we cannot help but notice her beautiful and radiant complexion.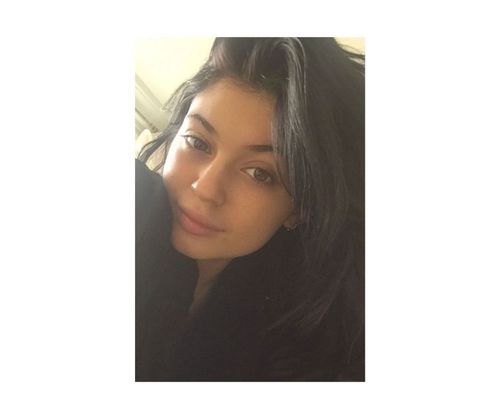 16. Cute Kylie
Here is a cute Kylie Jenner without makeup photo to give you selfie goals. This girl loves makeup. Do you know that she wanted to be a cosmetologist? Now she has her own makeup brand. Lady Gaga is one of her all-time role models and we know how fun and dramatic her makeup looks can get. And yet, she prefers going sans makeup as much as she can.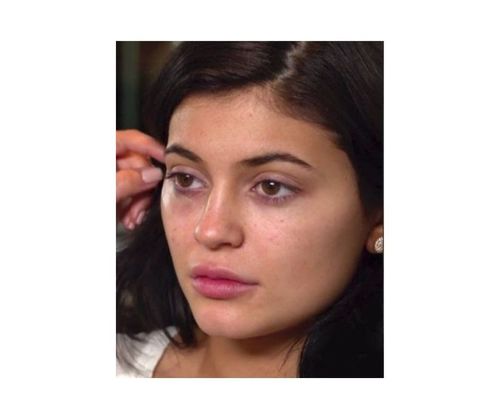 17. Before A Glam Look
If you had any doubts about the genuineness of the bare-faced selfies Kylie posts on Instagram, then this is for you. Here Kylie posted the full process that her face undergoes for the glam red carpet look. This Kylie Jenner no makeup photo is proof that this girl doesn't need makeup to look beautiful.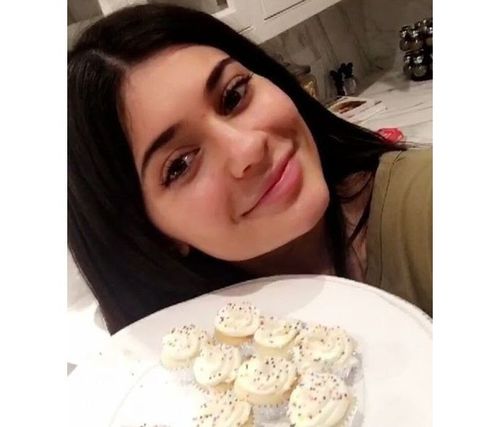 18. Chef Kylie
Kylie Jenner loves to cook and with almost every cooking selfie comes a Kylie Jenner no makeup photo. Here she poses proudly with cupcakes, the fruit of her labor. Kylie is fond of cooking and often posts pictures and videos of recipes that she cooks.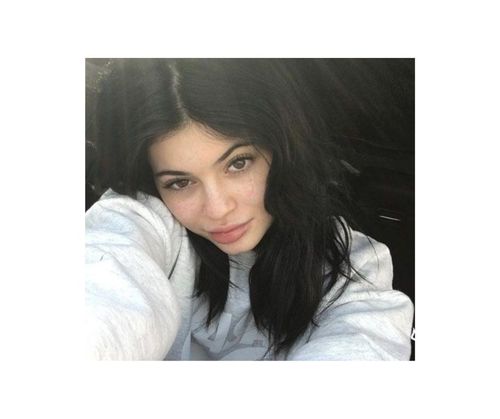 19. Not Another Pretty Face
Kylie Jenner loves taking selfies and with a pretty face like that, no one can blame her. But, she is much more than just being a pretty face. Not a lot many people know, but she has authored two YA novels with sister Kendall Jenner. Her cosmetics business made her the youngest self-made billionaire ever. Just like her mother, she knows how to bank upon a situation that goes against her. She turns negatives and controversies into dollars and if that's not a sign of a brilliant businesswoman then what is?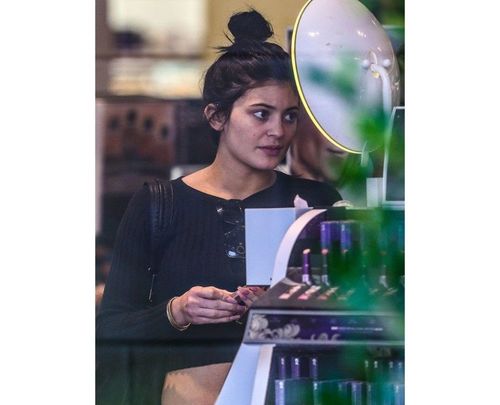 20. Shopping For Makeup
This Kylie Jenner without makeup photo seems like something from ages ago. Here Kylie was shopping for some makeup while being makeup-free. And now? Now she not only has a cosmetic line to her name but also a skincare line. She founded her beauty company, Kylie Cosmetics which has become extremely popular. Her famous lip kits were a part of this cosmetic business. This company became so successful that it made Kylie a self-made businesswoman at a young age.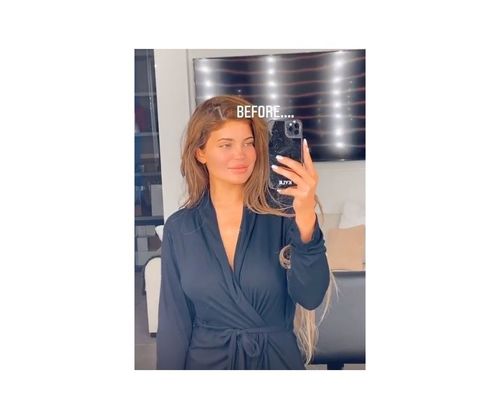 21. Before And After
Kylie once again proved to her haters that she looks 100% beautiful with this 100% legit Kylie Jenner no makeup selfie. This was the before part of her before and after glam look. She looks a lot different without makeup, no doubt. But, here she looks beautiful as always with a pretty flushed and radiant complexion.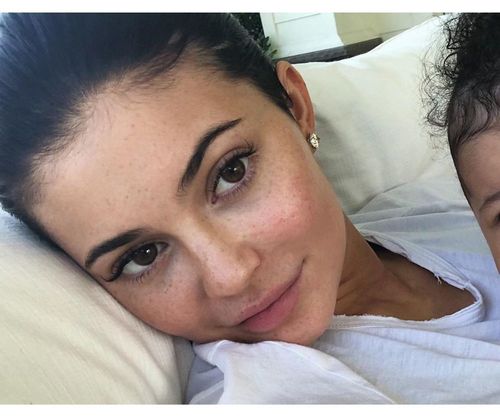 22. Kylie And Her Baby
Kylie is the youngest of the Kardashian-Jenner sisters. She likes posting pictures and videos of her child just as any mother would. Both the mother and the daughter look beautiful as they spend time together. These are also the times where you will find loads of Kylie Jenner no makeup pictures. Unfortunately, even her baby was not immune to the hate and racism on the internet. As a result, Kylie had to delete all the pictures of baby Stormi back then.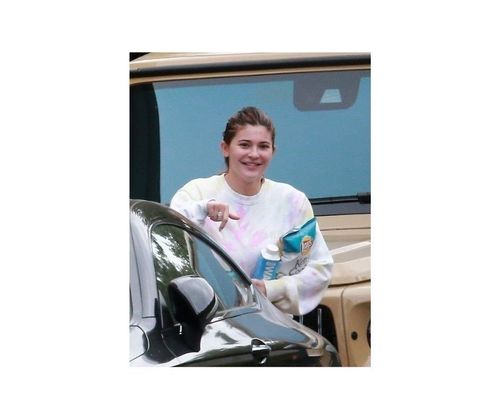 23. Kylie Jenner Without Makeup In Quarantine
The true shock of the celebrity transformation came when Kylie Jenner stepped out during quarantine to buy snacks. The whole world had been shut down owing to the global pandemic. This allowed us to see Kylie in her 100% natural avatar. This was not just Kylie Jenner without makeup but this was Kylie without a fake tan or her hair extensions. Fans couldn't help but notice how "white" she is. Despite what anyone has to say, she looked happy and radiant.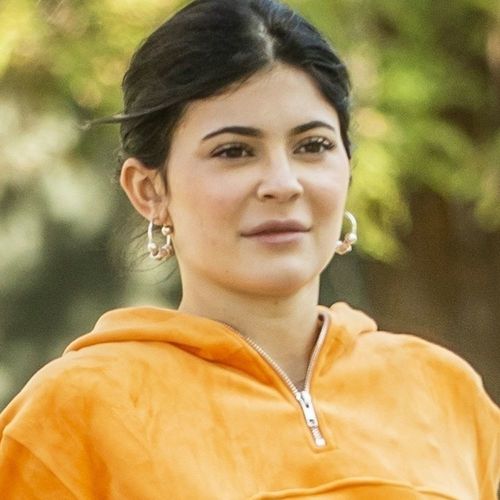 24. Out For The Day
This Kylie Jenner no makeup photograph was taken by the paparazzi when she was spotted in Los Angeles with her favorite makeup artist Ariel Tejada. She looked pretty despite going makeup-free for this outing. It surely surprised her followers as she looked completely different from the pictures they were used to seeing on social media.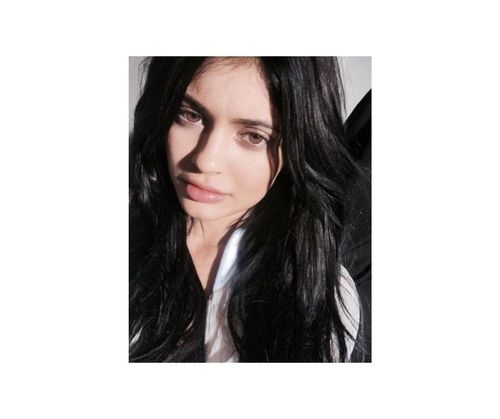 25. Sun-Kissed
Kylie is an expert at taking selfies. She knows exactly what she is doing. She is so good that her selfie styles end up becoming trends. Here she is letting her makeup-free face bask in the glow and warmth of the sun. This Kylie Jenner no makeup picture proves only one point―she doesn't need makeup to look radiant.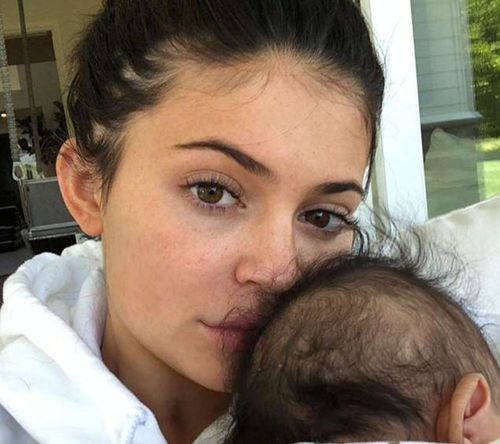 26. Bad Hair, Who Cares?
They say when you are rich, you can make everything look easy and beautiful. Maybe, this is the case. Kylie calls it a bad hair day while posing with a sleeping Stormi. But, even then she looks like a million dollars. This Kylie Jenner no makeup photo is from one of the many sweet moments that the reality TV star shares with her followers.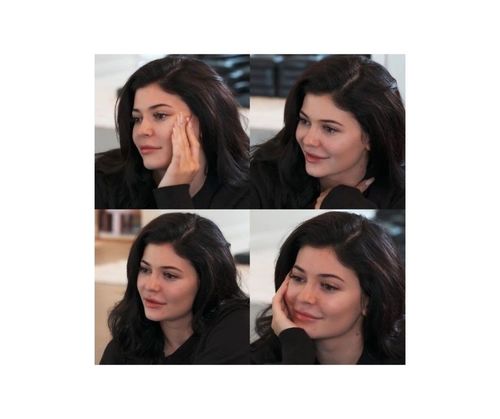 27. Kylie Jenner Without Makeup
Kylie Jenner without makeup looks as beautiful as always. But, this beauty has also faced a lot of public wrath for both right and wrong reasons. It was wholesome when a social media personality, as huge a sensation as her, talked about her insecurities openly. But, then there was also a time where she lied about getting lip fillers. It is also said that she even lied about her miraculous natural weight loss post-pregnancy. She has also been accused of blackfishing, like elder sister Kim.
Related Articles