27 Margot Robbie Hottest Photos And Looks - 2023
KRITIKA GUPTA
Updated At 07 Nov 23
On July 2, 1990, Margot Elise Robbie was born to Scottish parents in Dalby, Queensland, Australia. Like her ascent to movie stardom, Margot Robbie's standing as one of the top Hollywood actresses has been meteoric. Despite having her acting debut in the Australian serial opera Neighbors in 2008, the actress didn't gain much notoriety in the US until 2013, when she appeared in Martin Scorsese's Oscar-nominated film The Wolf of Wall Street with Leonardo DiCaprio. More prominent roles, eye-catching red carpet outfits, and a few designer collaborations soon followed. 
If you are a Margot Robbie fan, you might have seen one of the most popular movies among the youth which was Barbie. She has a great sense of style and here are some of Margot Robbie hot photos.
27 Best Margot Robbie Hottest Photos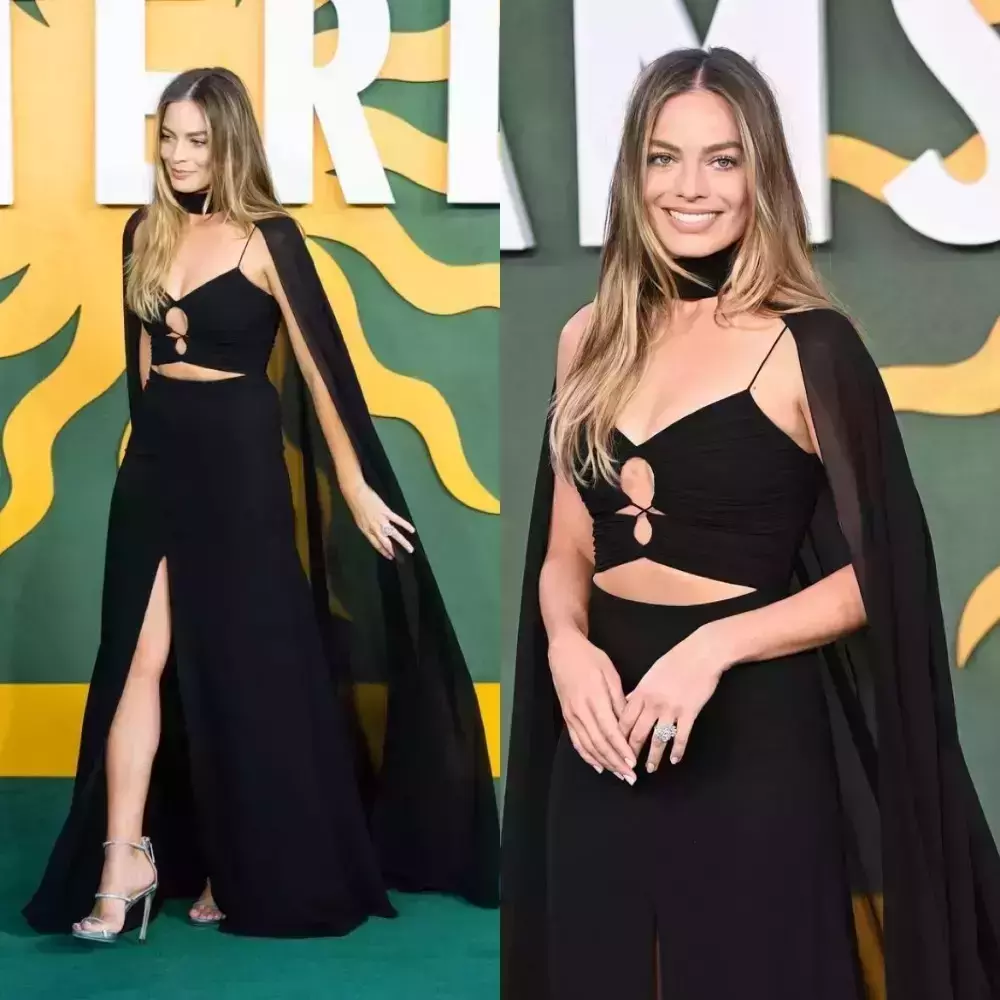 1) Chic in Black
Robbie was seen on the red carpet in a stylish Celine gown for the London premiere of her movie Amsterdam. The dress had a dramatic cape and seductive cuts. Jewels from Messika were used to highlight the ensemble, which was put together by stylist Kate Young.
Also check out Alexandra Daddario hot pictures and looks as we cover her 35 most popular looks which have been trending this year. From bikini wear, casual photos, baywatch photos to beach photos, we cover all her popular ones.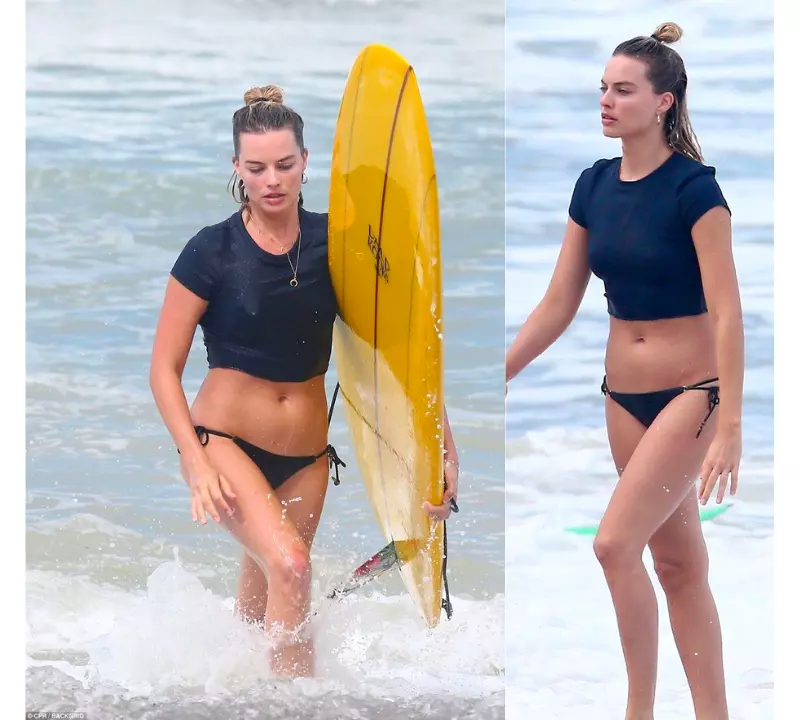 2) Hot In Swimwear
Margot Robbie sizzles in a hot beach photo, epitomizing vacation vibes by the shore. Her toned body and flat stomach can be seen in this stunning picture. Also check out Ana De Armas hot photos as we cover her 35 hottest looks of all time. From beach photos, bikini photos to casual ones, we cover all of them.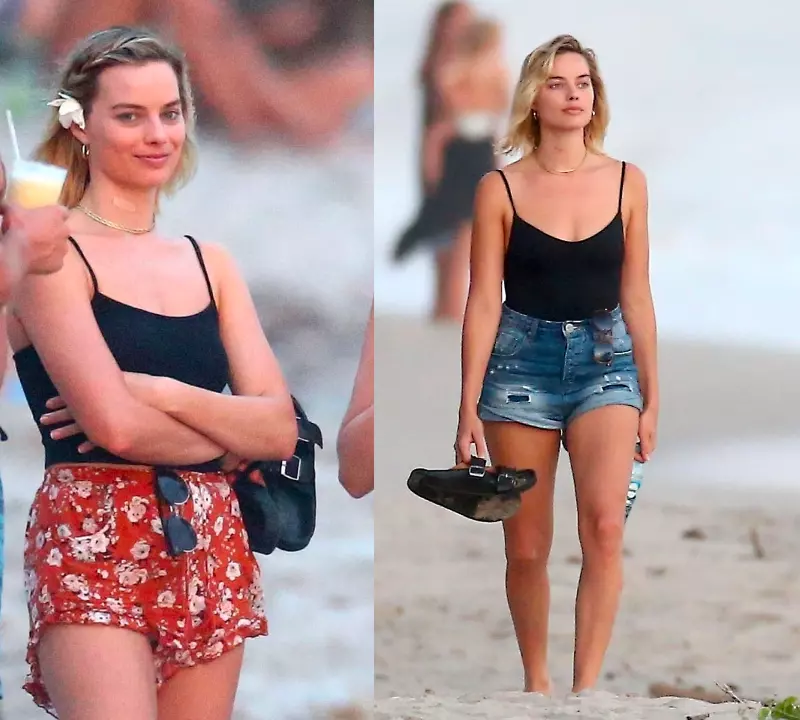 3) Hot In Bikini
Margot Robbie shares this stunning photo in black bikini while enjoying a family vacation in Costa Rica.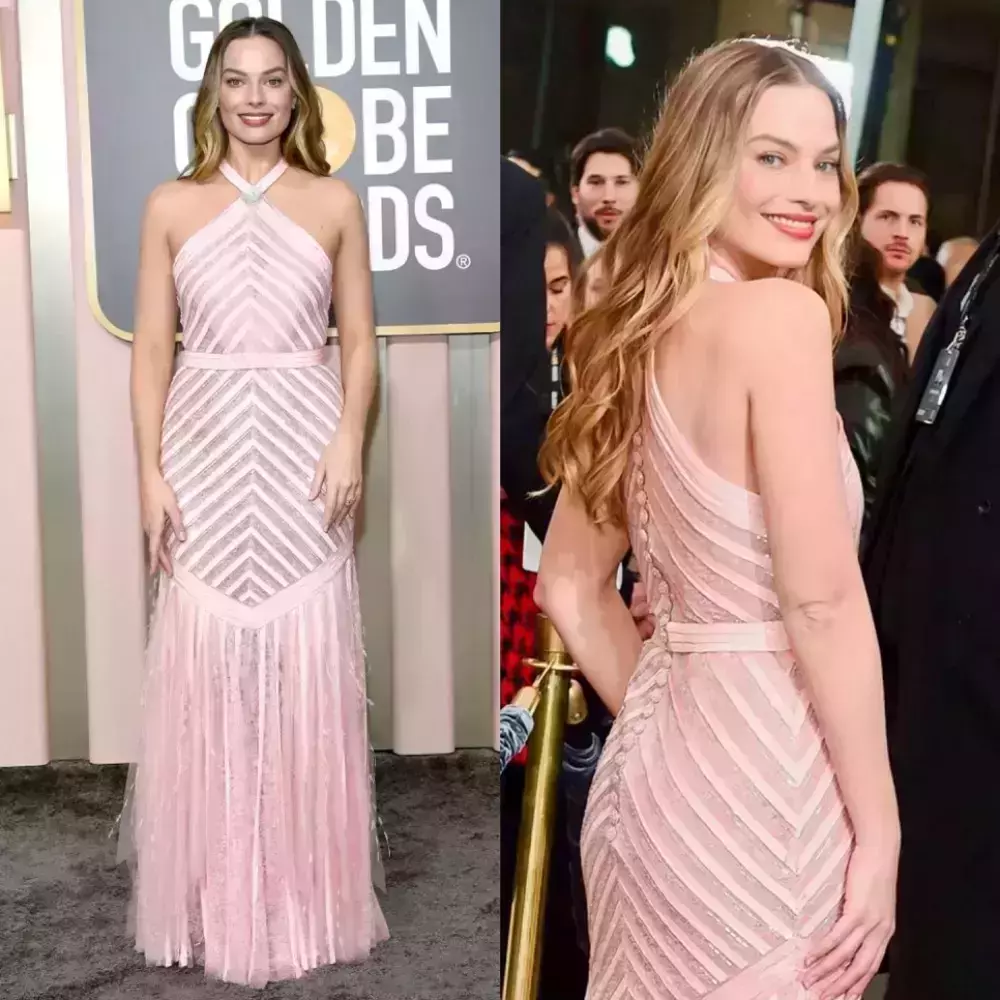 4) Classic Oscar Look
Robbie dressed simply and traditionally for the Academy Awards in a Chanel Haute Couture gown. Her hair was pulled back in a casual ponytail to show off her brand-new bangs. This simple yet hot Margot Robbie look made her stand out.
  
Read More: Mirana Kerr Hot Photos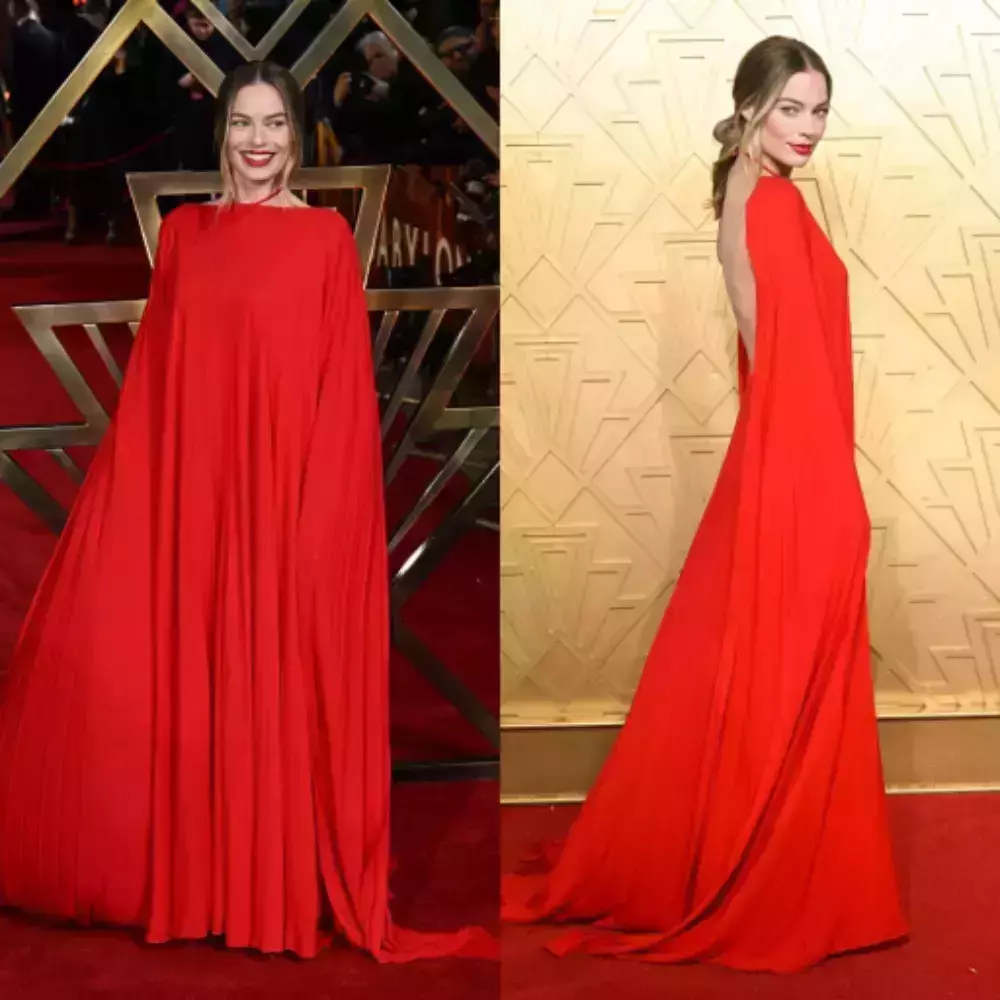 5) Bold and Beautiful
On the Babylon press tour, Robbie delivered the drama, and that included this sweeping Valentino dress from the Spring 2023 collection. The dress had a modest front, but its open back and reverse cape appearance made a big statement.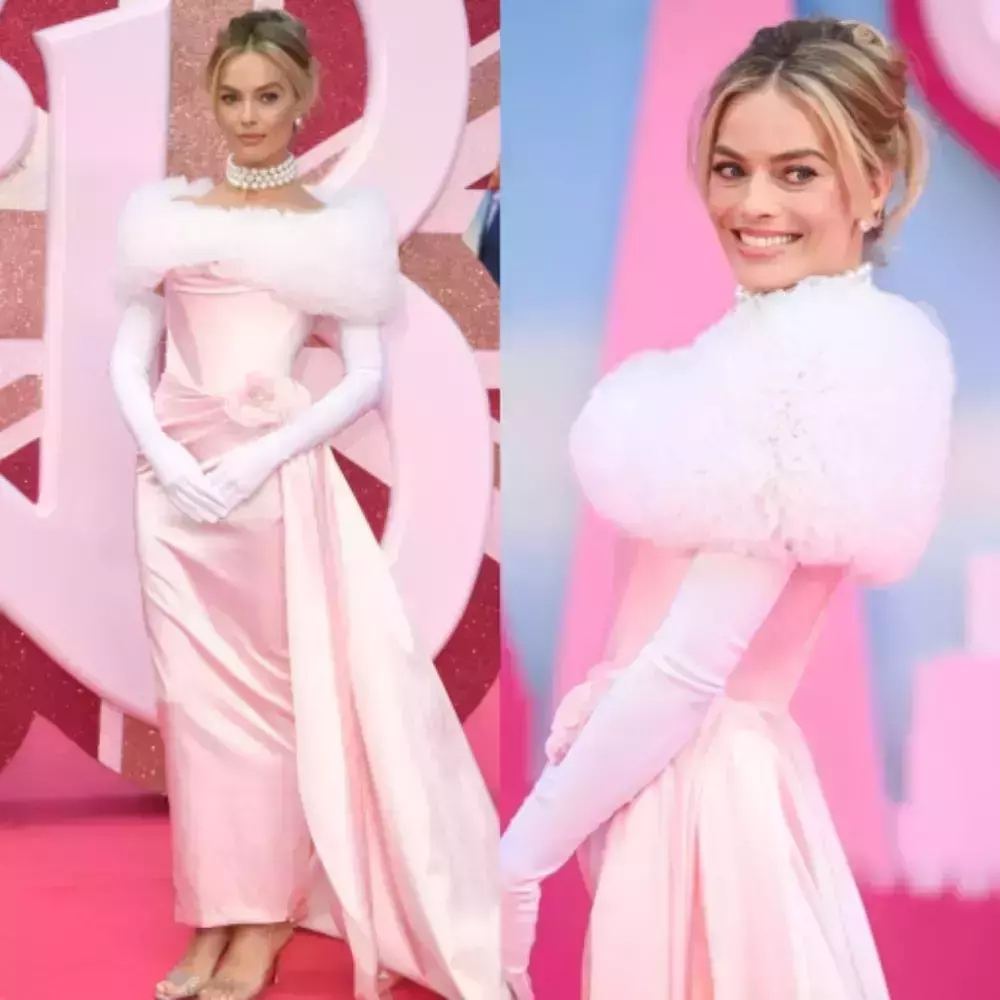 6) The Barbie of Hollywood
Margot Robbie donned a Vivienne Westwood couture gown that was modelled after the "Enchanted Evening" doll while attending the Barbie European Premiere in London. The corseted dress featured a side-draped train made of blush pink satin and white tulle with embroidery. Ivory opera gloves, a pearl choker, and a rose brooch completed her chic appearance. One of the most beautiful women in the world, Margot Robbie looks stunning and gorgeous in this couture gown.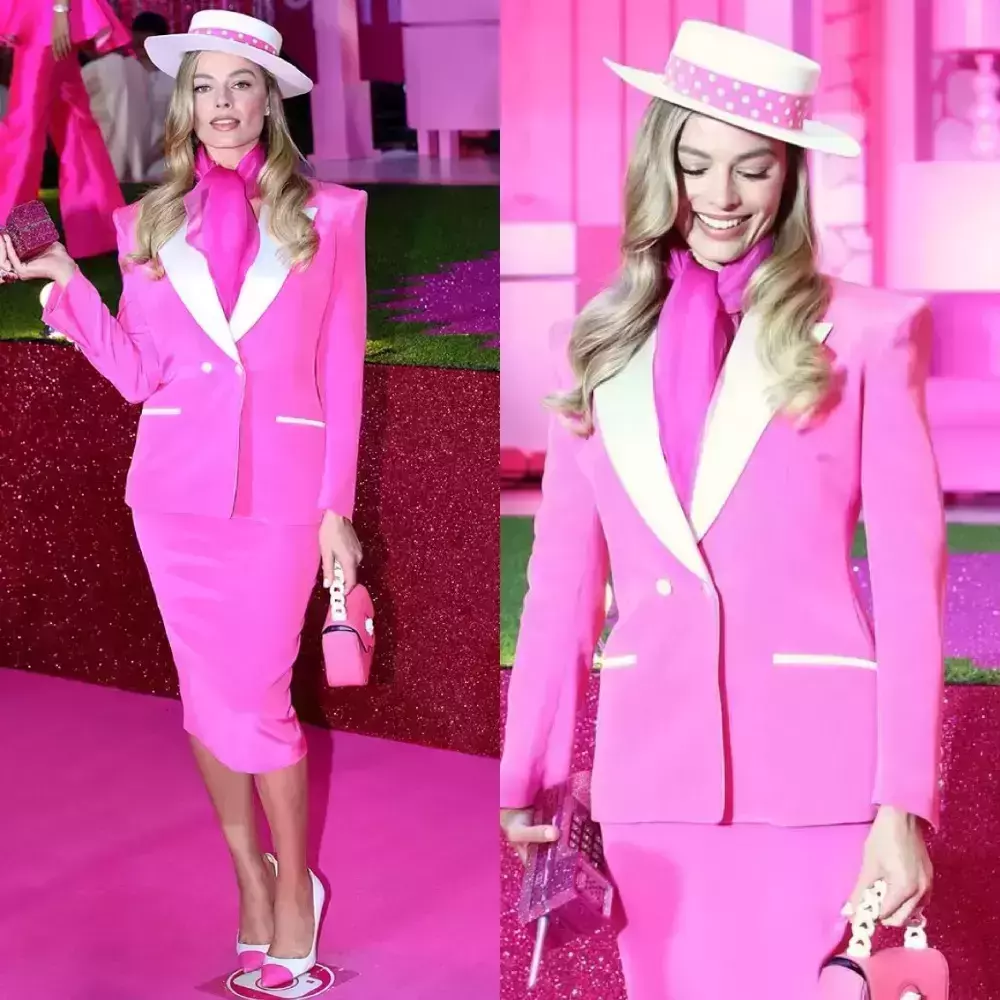 7) Hot Margot Robbie in Pink
In Seoul for the Barbie premiere, Robbie took on the role of Day-to-Night Barbie from 1985. Mukamal combined two distinct Versace clothes to create this appearance. The "Day" outfit featured a Versace pink and white skirt suit with matching hat, heels, and tiny purse. It was vintage-inspired. The bejewelled cell phone-inspired Judith Leiber clutch elevated the ensemble to a whole new level.
Read More: Zendaya Hot Photos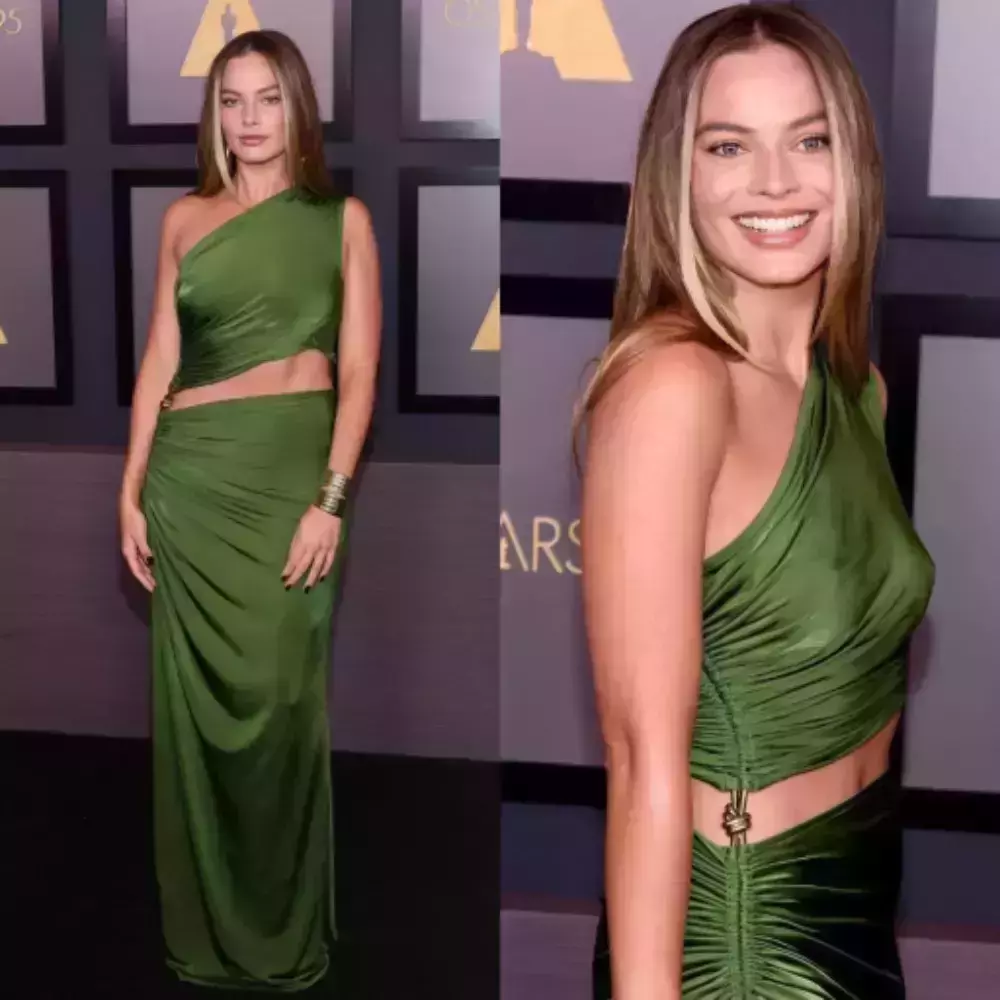 8) Governors Awards Look
Margot Robbie doesn't typically wear colour, so the chartreuse, bare-abdomen Bottega Veneta design was a welcome sight. The photos posted on her social media were really liked by her followers and admirers.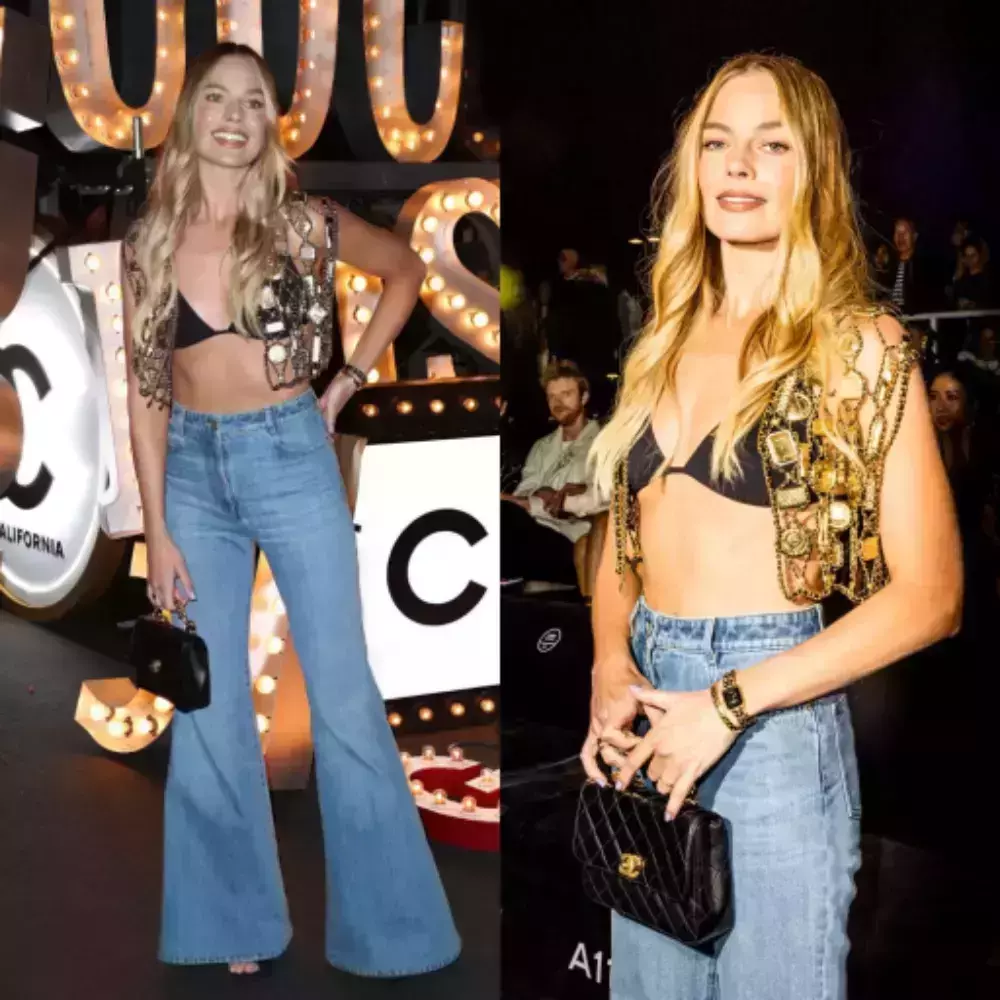 9) Casual But Hot
Here is yet another Margot Robbie sexy look. Robbie began the season of summer with a daring outfit of a bikini top and slacks. The blonde Barbie icon dressed elegantly in a gold chain bolero and Chanel handbag to take a front row seat for Chanel's Cruise 2024 show in Los Angeles.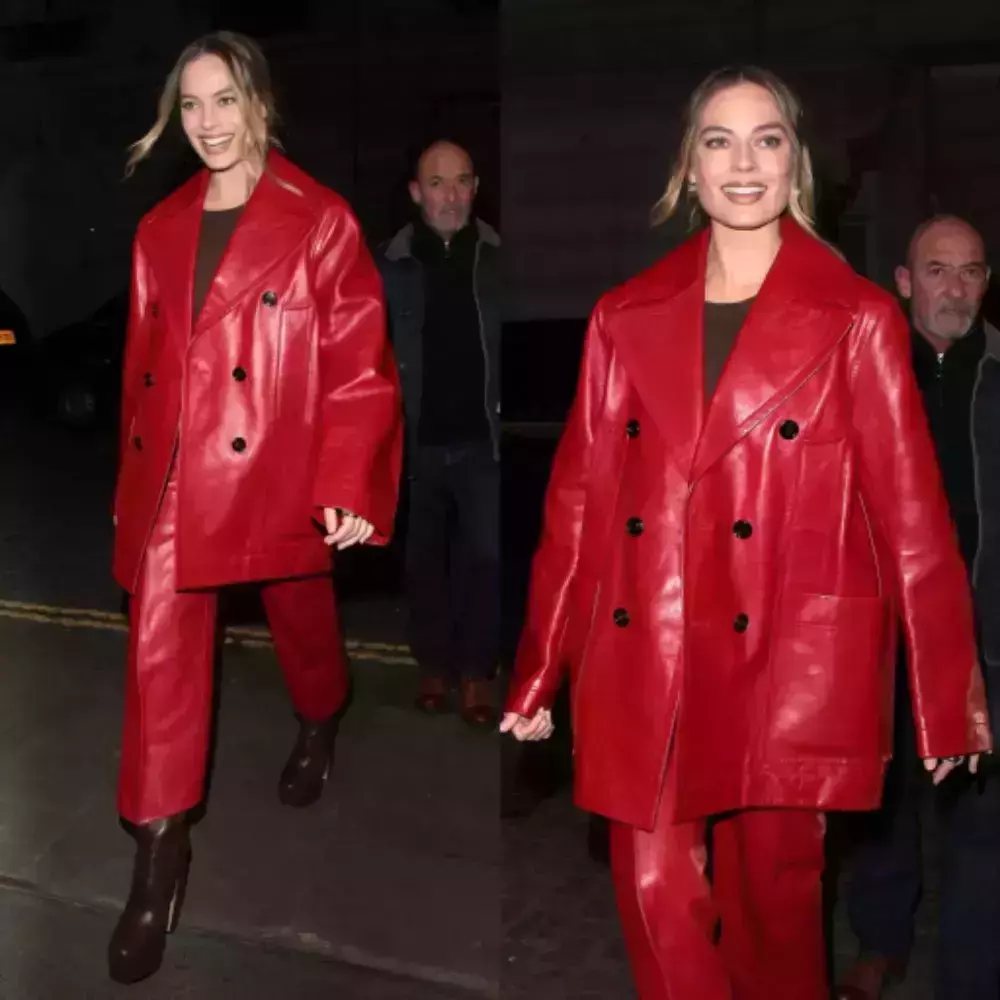 10) Winter Beauty
When Margot Robbie was out and about in London, she looked stunning in a vivid red, oversized leather suit by Bottega Veneta with tall burgundy platforms. This is one of the hottest Margot Robbie look where she simply slayed in her outfit.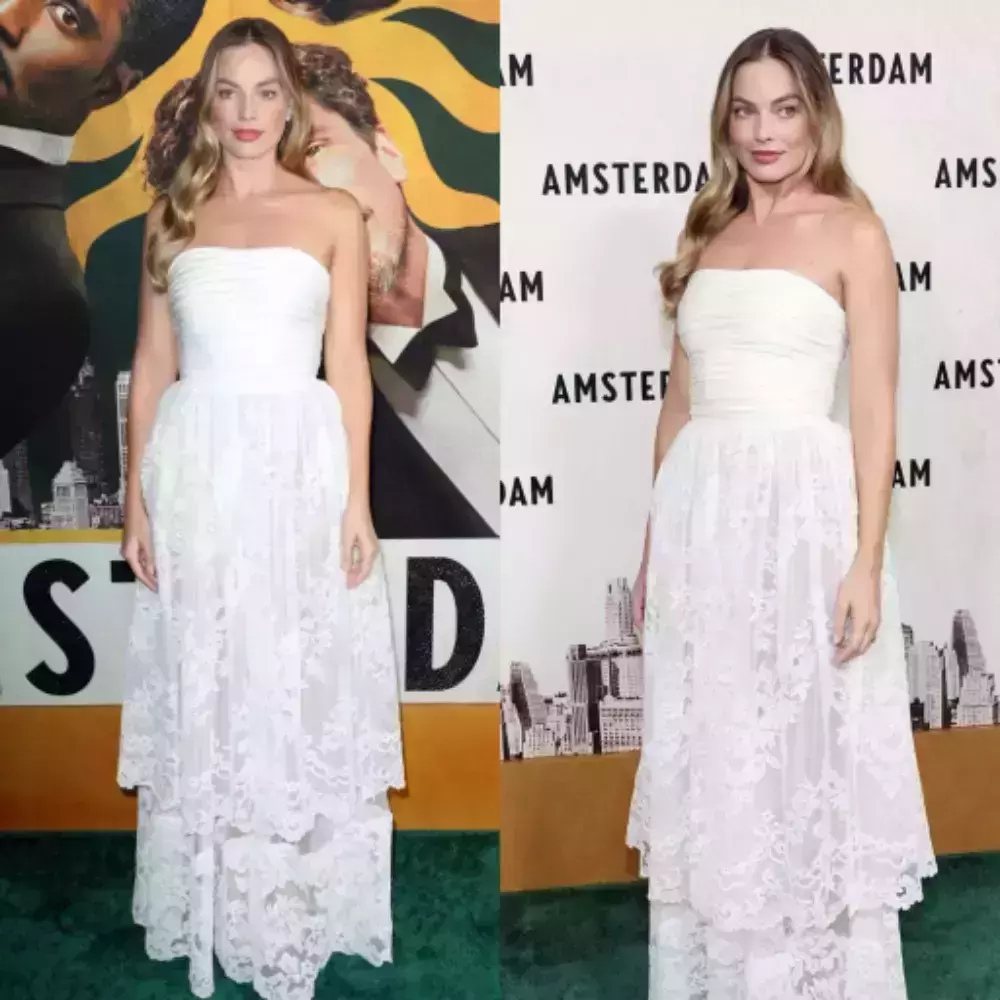 11) Stunning in White
For the NYC opening of her film Amsterdam, Robbie wore a sheer two-piece Chanel dress, reminiscent of a bridal gown, from the upscale French brand's Resort 2023 line. The ensemble featured a lace-tiered skirt and a strapless, ruched top.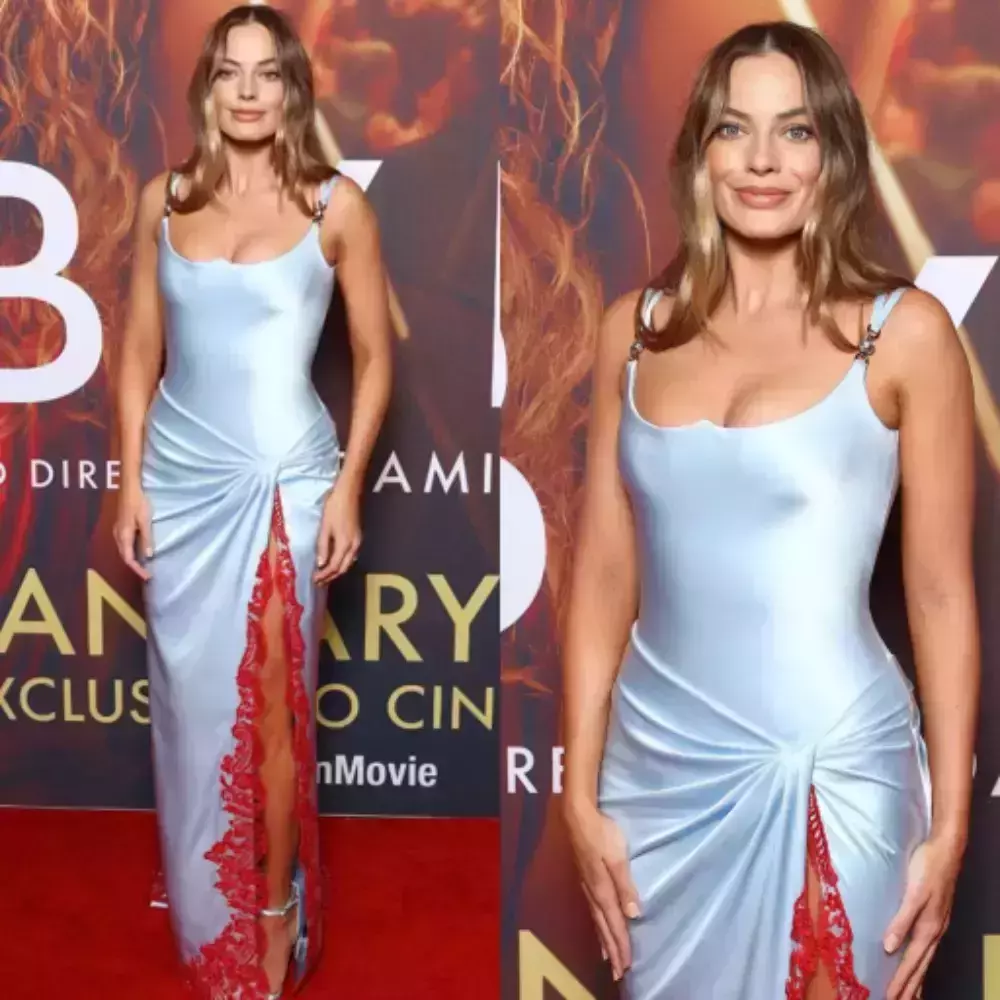 12) Corset Dress
Upon returning to her native Australia for the Babylon global tour premieres, Margot Robbie went all out for her red carpet appearance. The star looked stunning in a flowing gown at the London premiere last week, but for the Sydney screening, she went for a much more form-fitting baby blue Versace corseted dress, which was last seen on Carla Bruni in 1995. The star's retro appearance appears to have been given a 2023 fashion makeover, though, with a crimson lace trim reminiscent of lingerie that covers the dress's thigh-high split.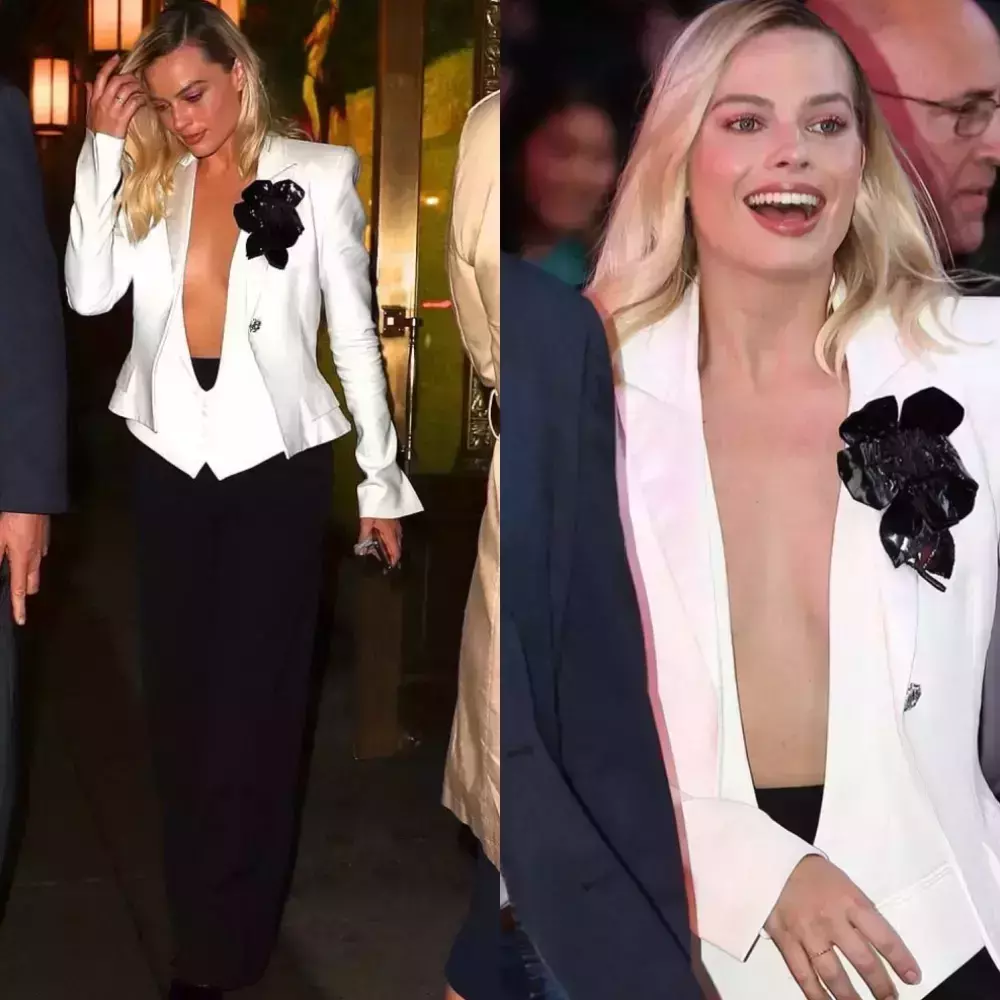 13) Beauty In White
How far are you prepared to go? Daring to wear an open jacket and a white vest, this Margot Robbie sexy look leaves the Polo Bar in New York City. There was a black flower brooch on her collar. This is yet another Margot Robbie hot outfits which clearly presents that she has a great sense of style.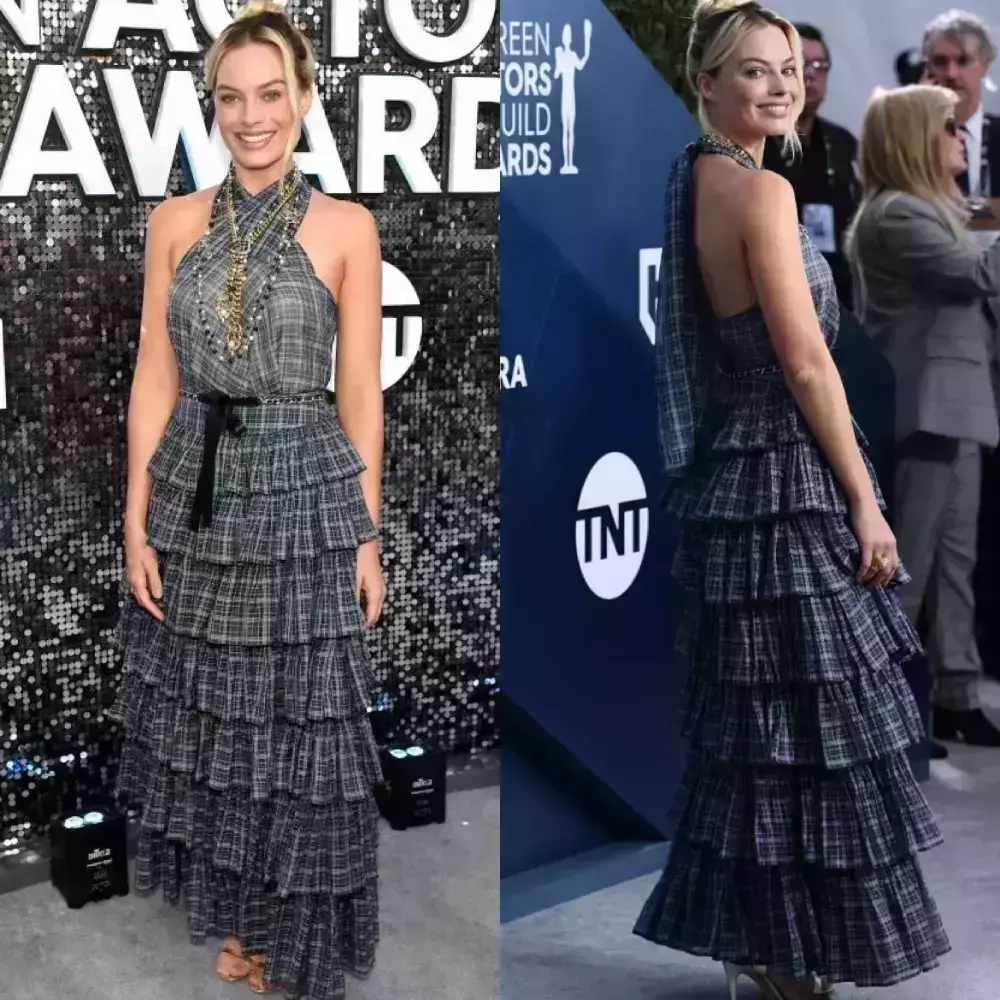 14) Pretty In Plaid
On January 19, 2020, Margot Robbie dazzled in a ruffled halterneck dress with a checkered design in shades of blue, black, and green at the 26th Annual Screen Actors Guild Awards. Her hair was knotted up, and she had a ton of necklaces on.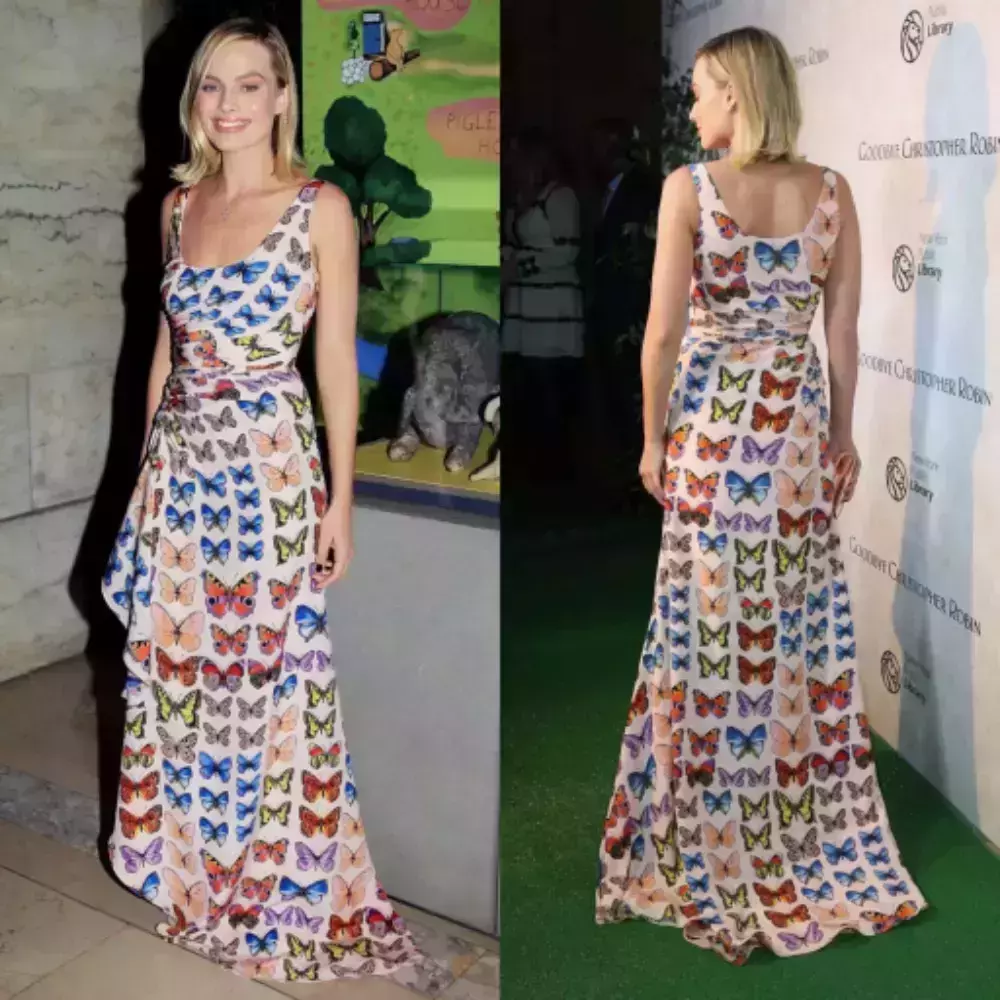 15) Winged Wardrobe
The rainbow butterflies that cover the Suicide Squad actress's sleeveless Versace gown, which features a lovely gathering at the waist, are so striking that we can't help but focus on them.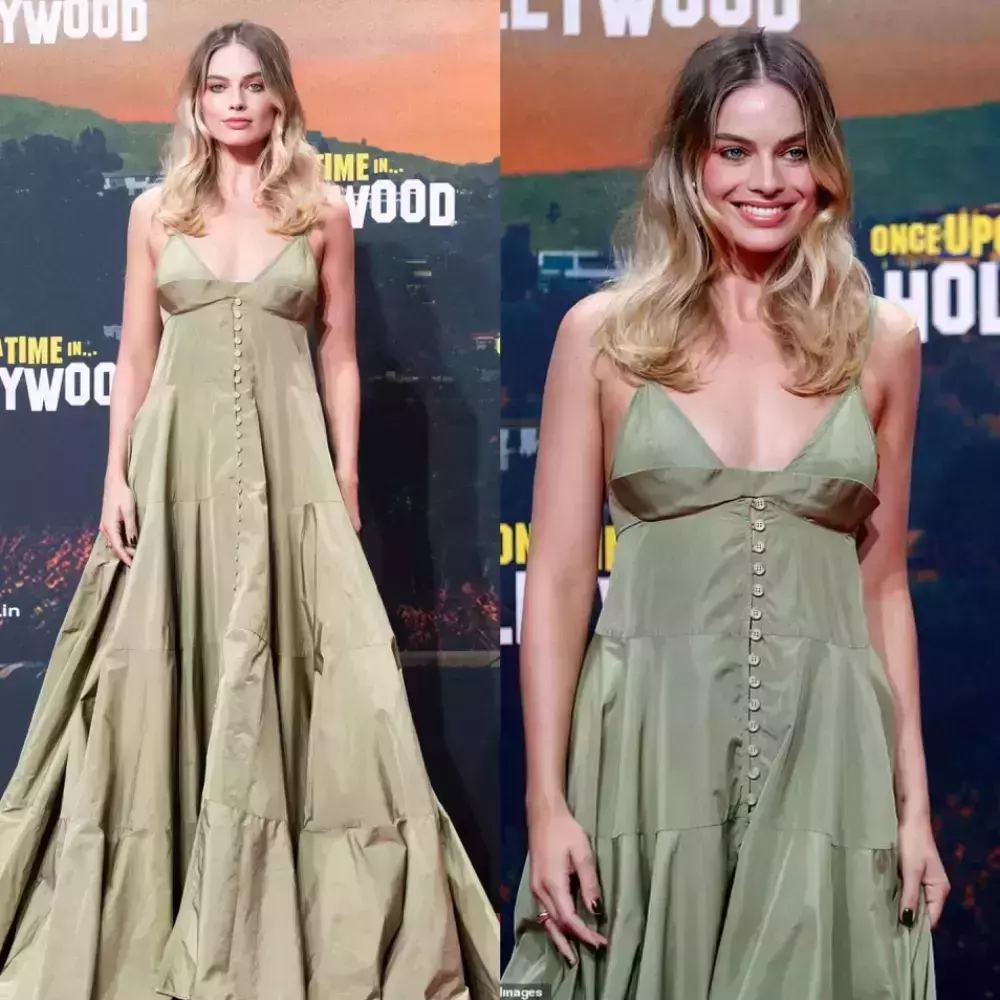 16) Gorgeous In Green
The actress walked the red carpet for her film dressed in a stunning green Jacquemus dress with buttons down the middle. The Tabitha Simmons Eve Gold Shiny Calf Open Toe Strappy Heeled Sandal was the shoe she chose to complete the ensemble.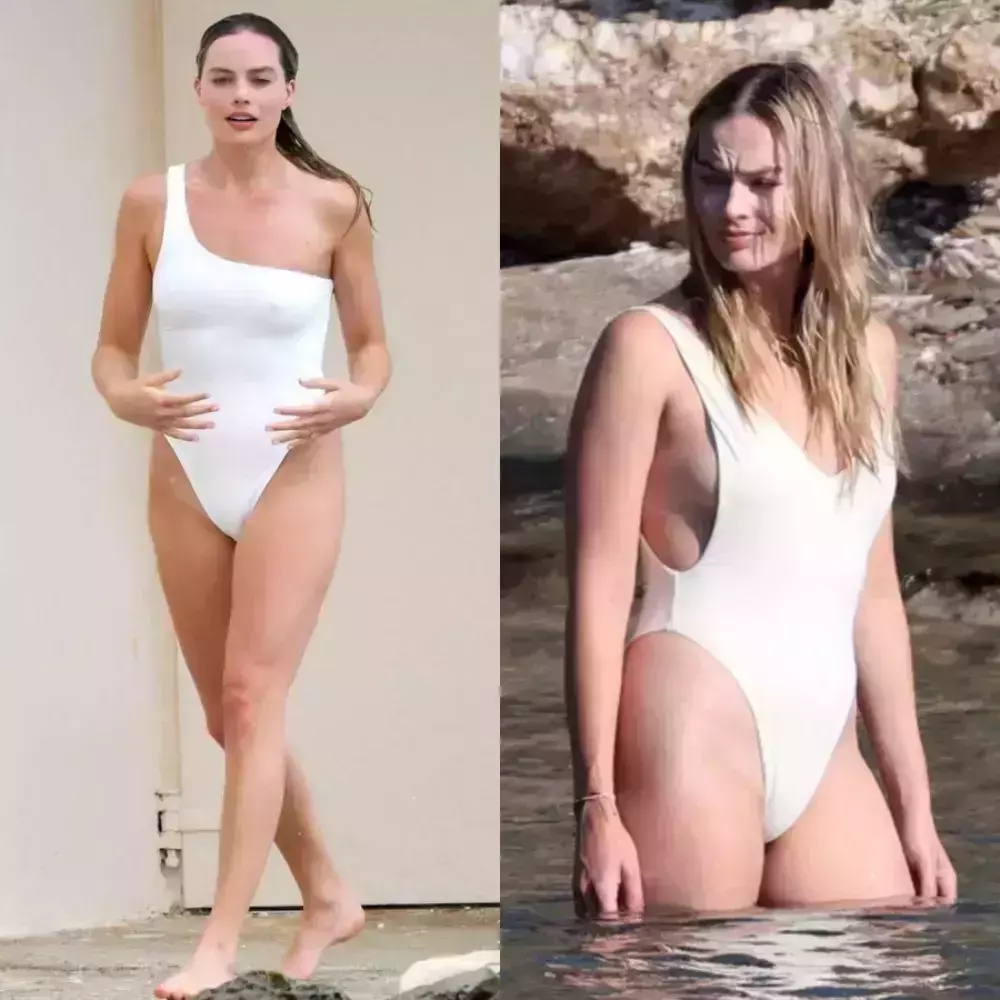 17) Sexy In a Swimsuit
Robbie looked like a movie diva in a white one-piece bathing suit with a high-cut leg and discreetly seductive side cuts. She accessorized the outfit with a large gold chain necklace and a circular pendant. One of thr hottest Margot Robbie bikini look is this white swimsuit look.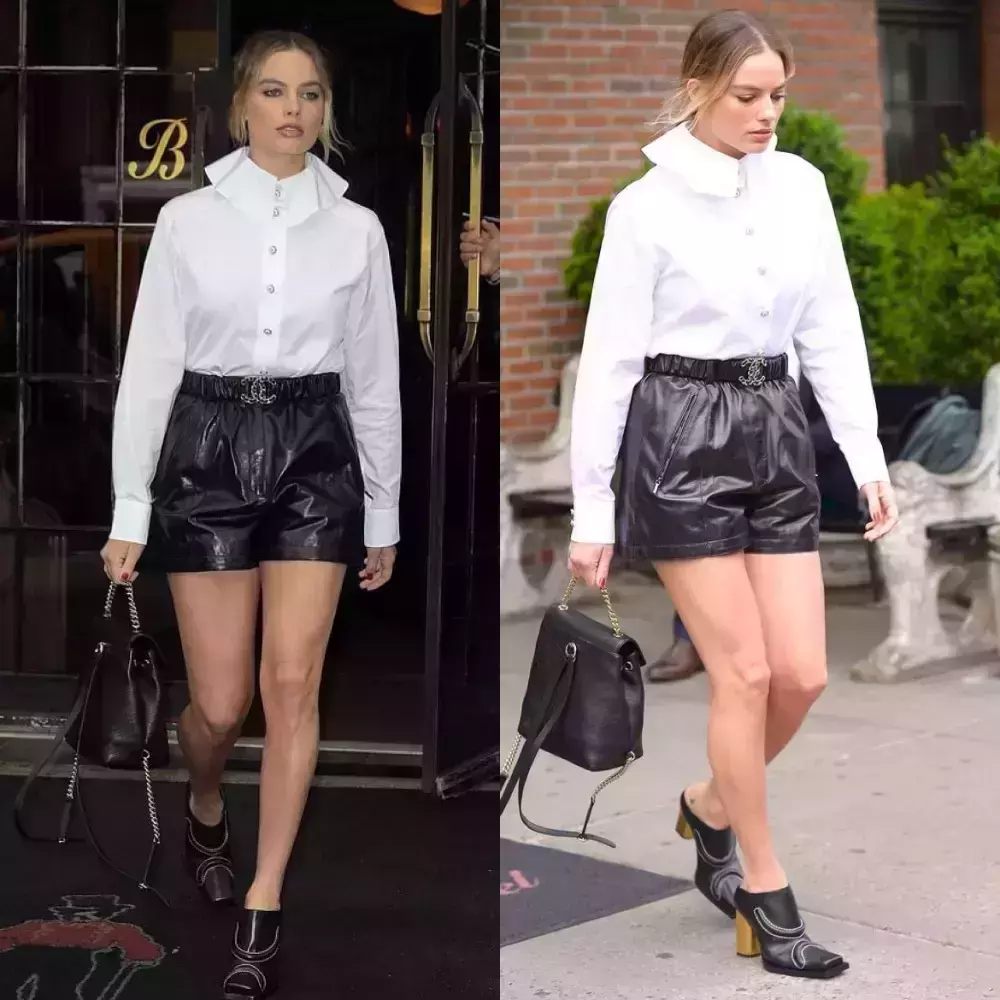 18) Casual, But Make It Chic
Recall that we mentioned Margot's amazing streetwear? Yes, this is the subject of our conversation. Although it's a little more formal than jeans and a sweatshirt, we still think it's great that she paired a chic white top with a relaxed pair of pleather shorts.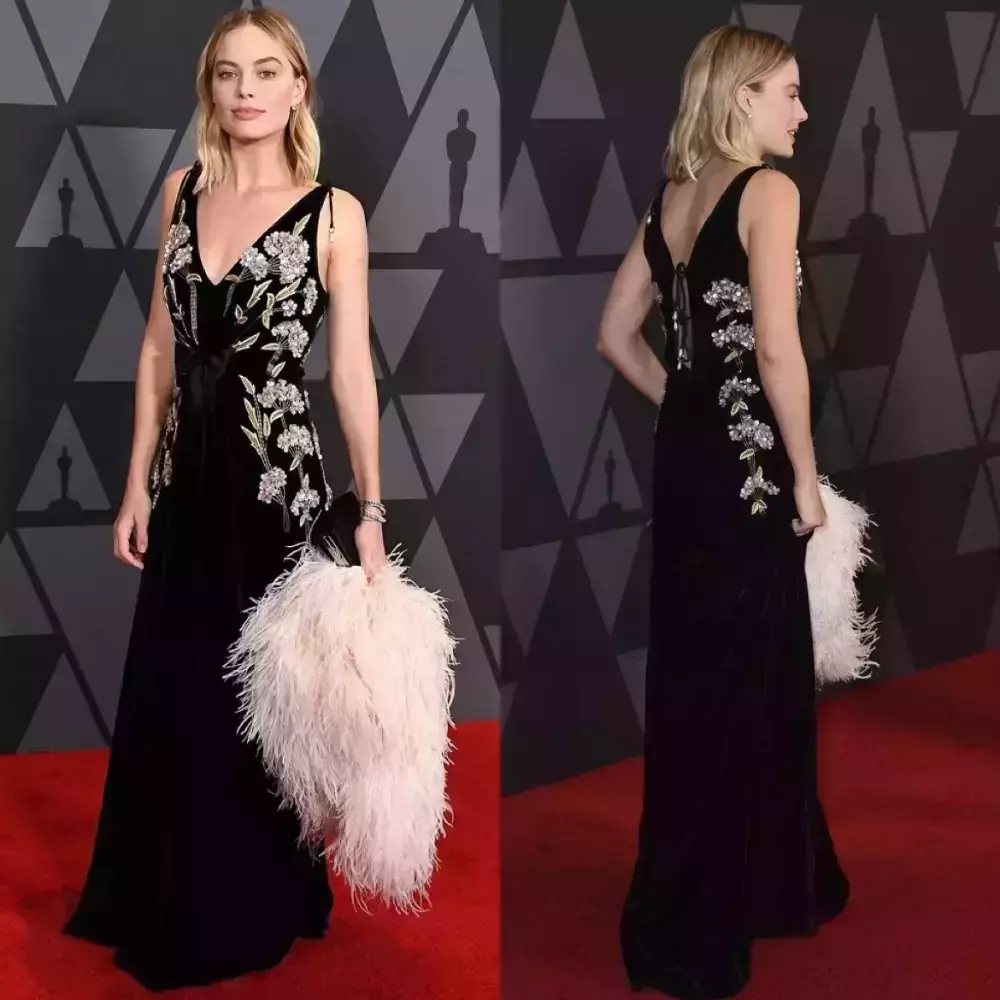 19) Floral Trimmings
Robbie's fluffy, cotton candy-like bag is the stylish exception to our rule of never giving you fluffed-up content. Her black velvet Altuzarra dress with powder pink embroidered flowers stands out well thanks to the purse at the 9th Annual Governors Awards of the Academy of Motion Picture Arts and Sciences.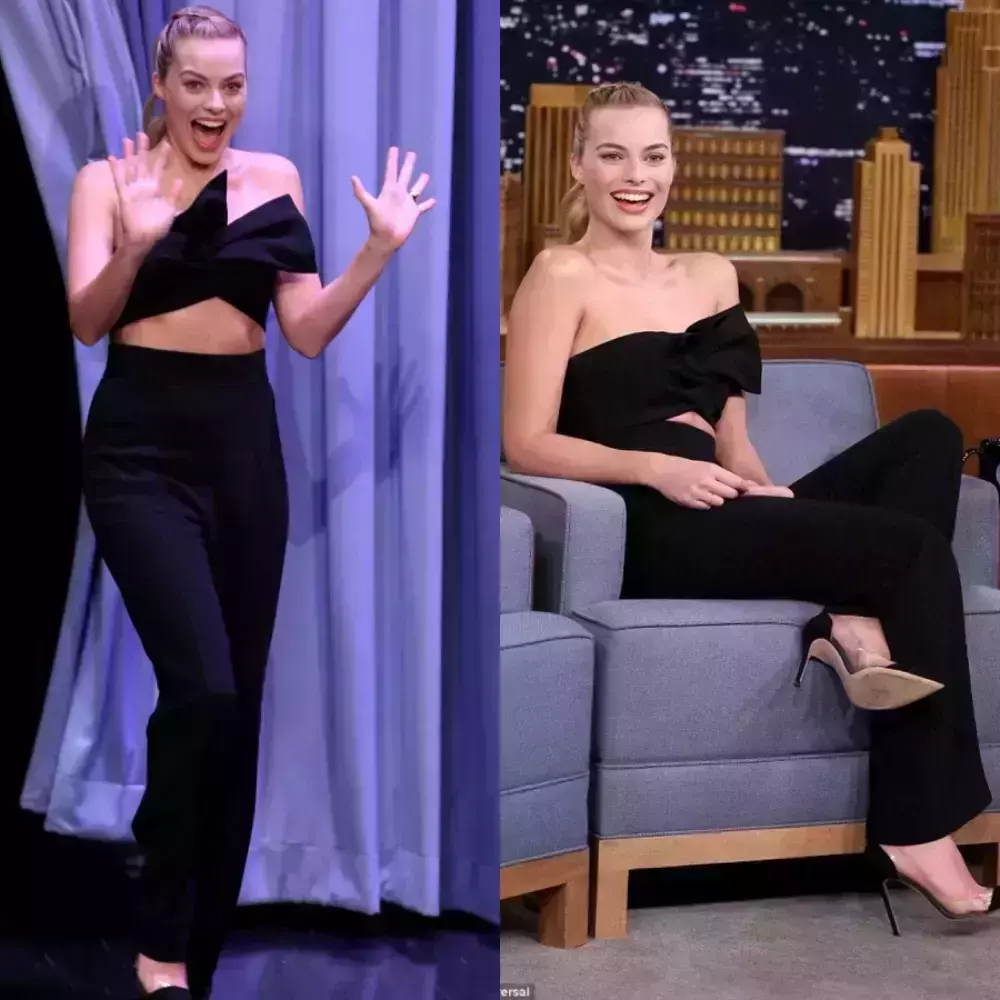 20) Bare-Shouldered Beauty
Even while the playful crop top with a bow is charming on its own, it looks even better when worn with high-waisted black trousers and slender stilettos for a date.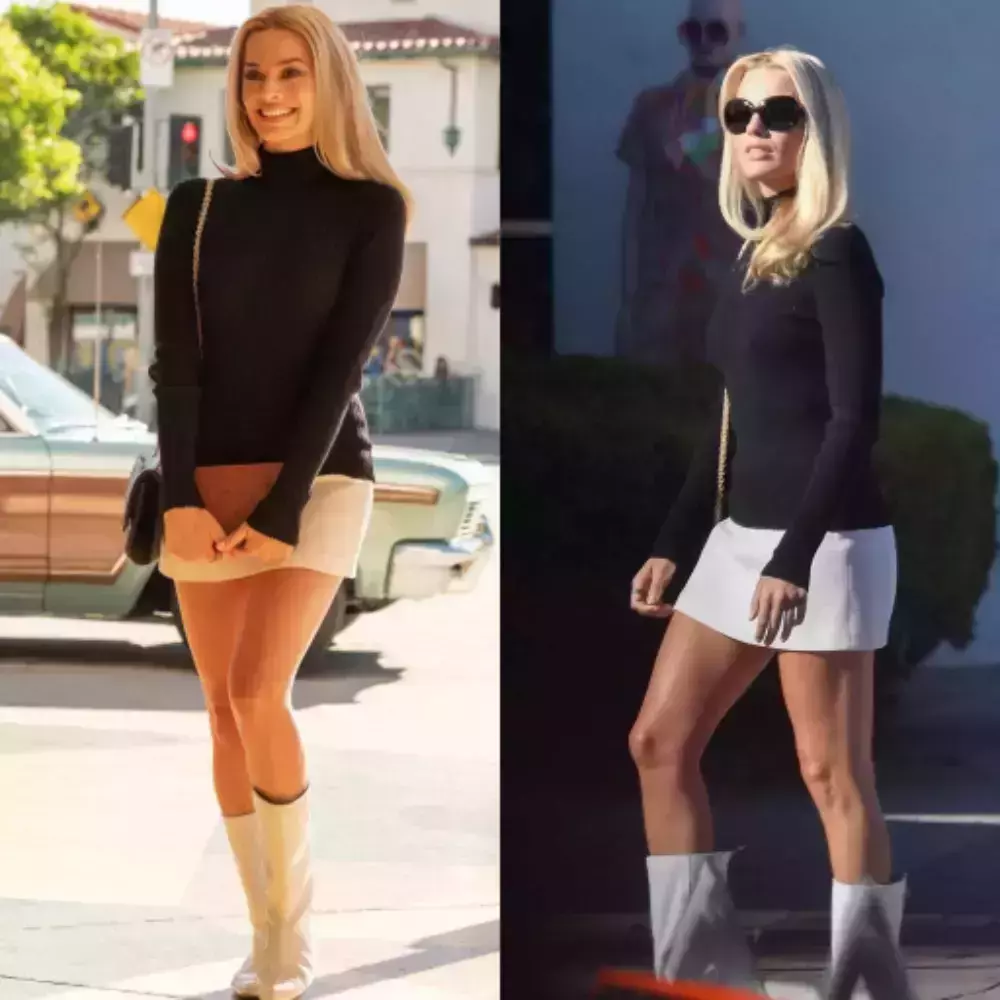 21) Aesthetic Outfit
The actress looks super hot in this yet another casual outfit of hers. She is seen in a turtle neck black sweater and a chic skirt with really cool lomg boots which adds to the outfit.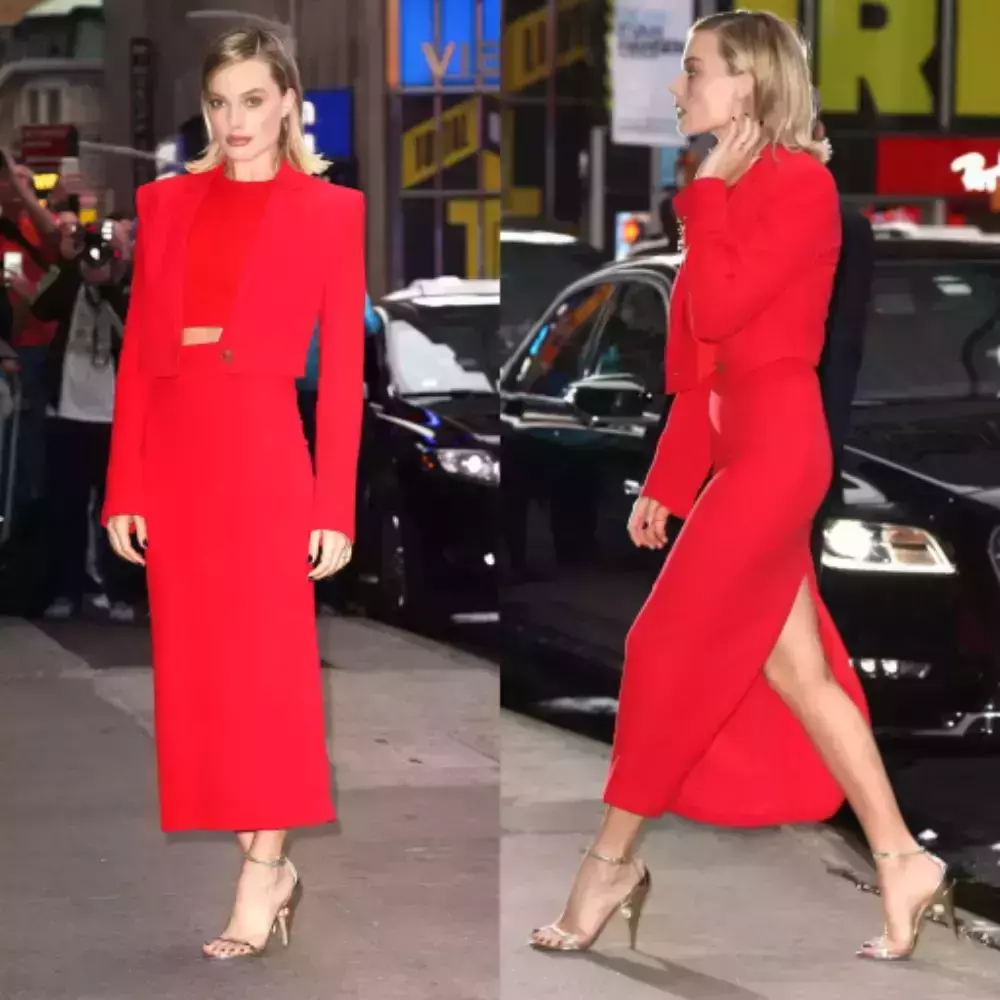 22) Margo in Monochrome
When one searches for Margot Robbie hot photos, this look of hers always makes it into the list. The strawberry-blond actress dons a Versace ensemble that is all strawberry-colored. Separates and a short, structured blazer with shoulder pads create a fun appearance.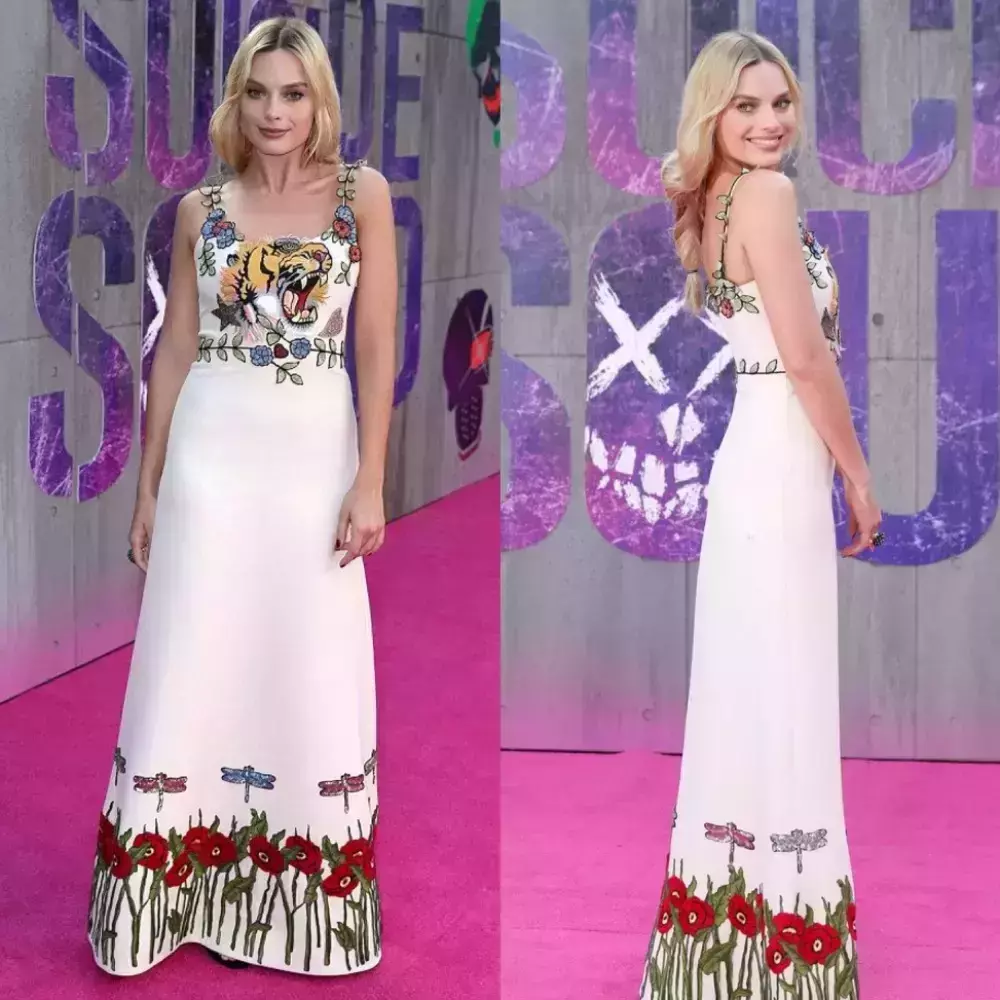 23) Jungle Queen
Margot is the only one who can successfully decorate with a tiger face. The celebrity donned Gucci to the Suicide Squad premiere in Europe.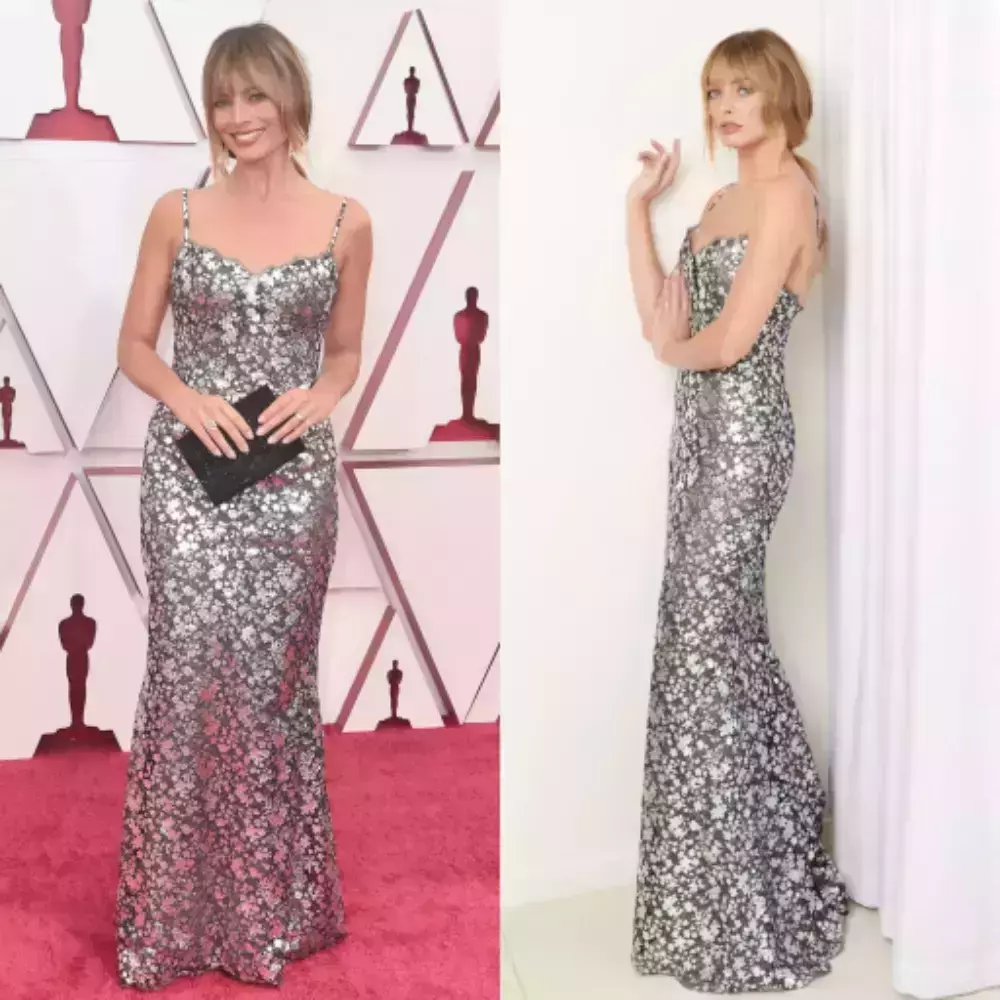 24) Perfect Shimmer
Margot shined brighter than a diamond at the 2021 Academy Awards in the slip shimmery gown. One of the best Margot hot looks.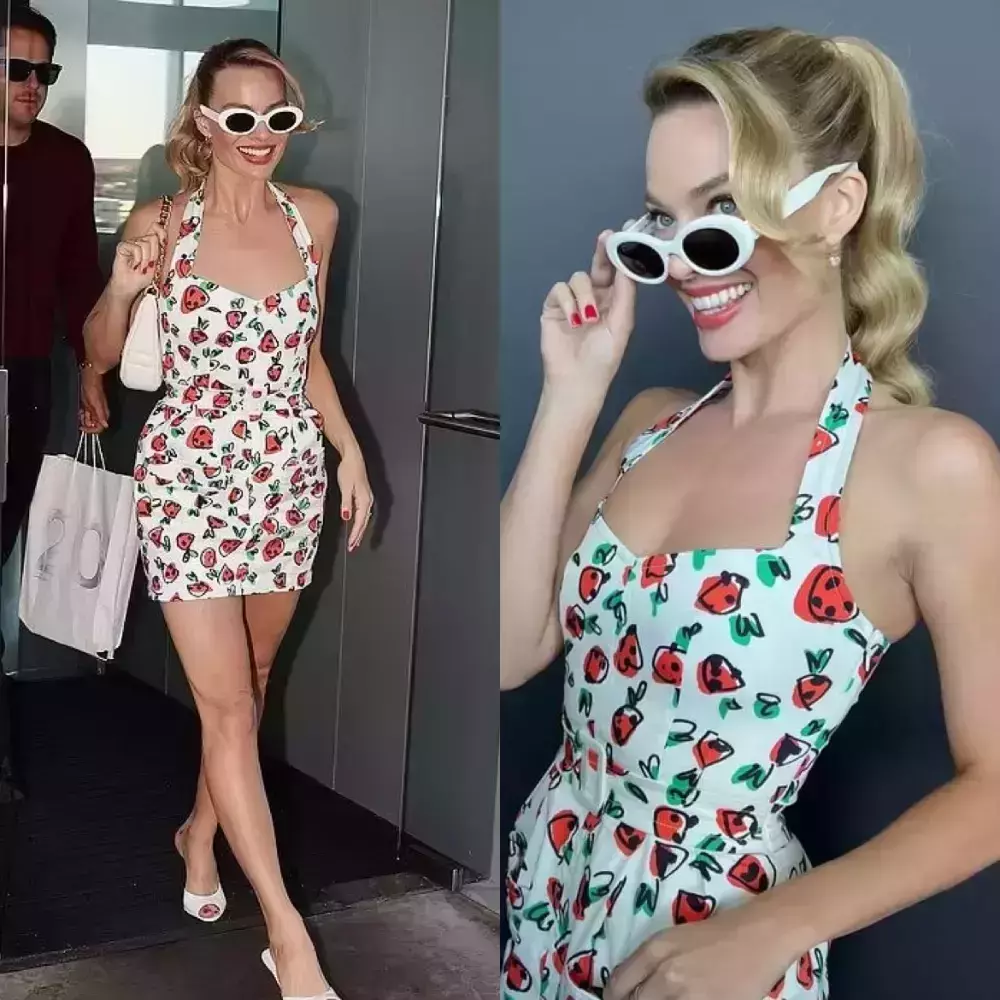 25) Vintage Moschino
Robbie was spotted wearing a vintage-inspired Moschino minidress from the brand's spring/summer 2019 catwalk show between red carpet appearances. Robbie embraced the power of accessories in classic Barbie fashion, donning a pair of white Manolo Blahnik shoes and matching white-framed sunglasses that have since been a staple of her tour wardrobe.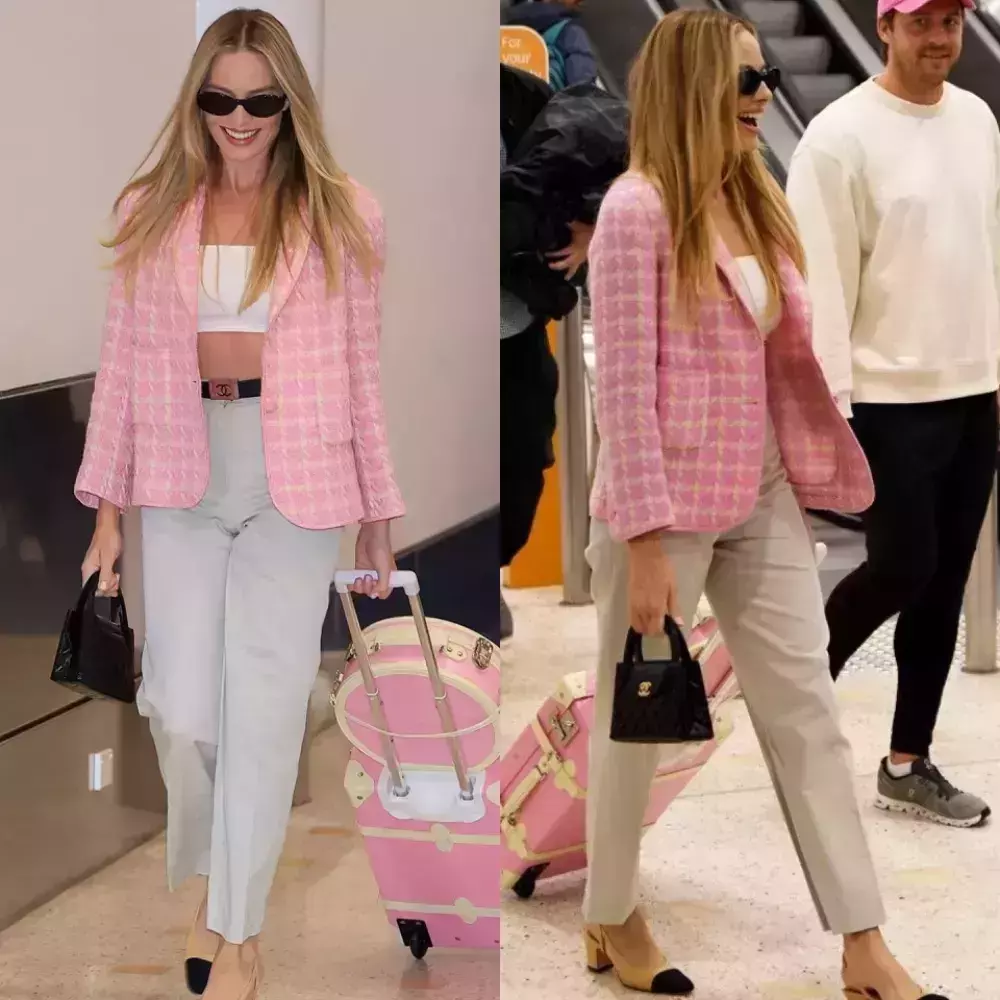 26) Vintage Chanel
The actress was spotted at Sydney Airport sporting a vintage Chanel costume that was first worn by Claudia Schiffer on the spring/summer 1996 runway. It included a checkered pink blazer, classic two-tone slingbacks, and pink vintage luggage—the ideal Barbie carry-on.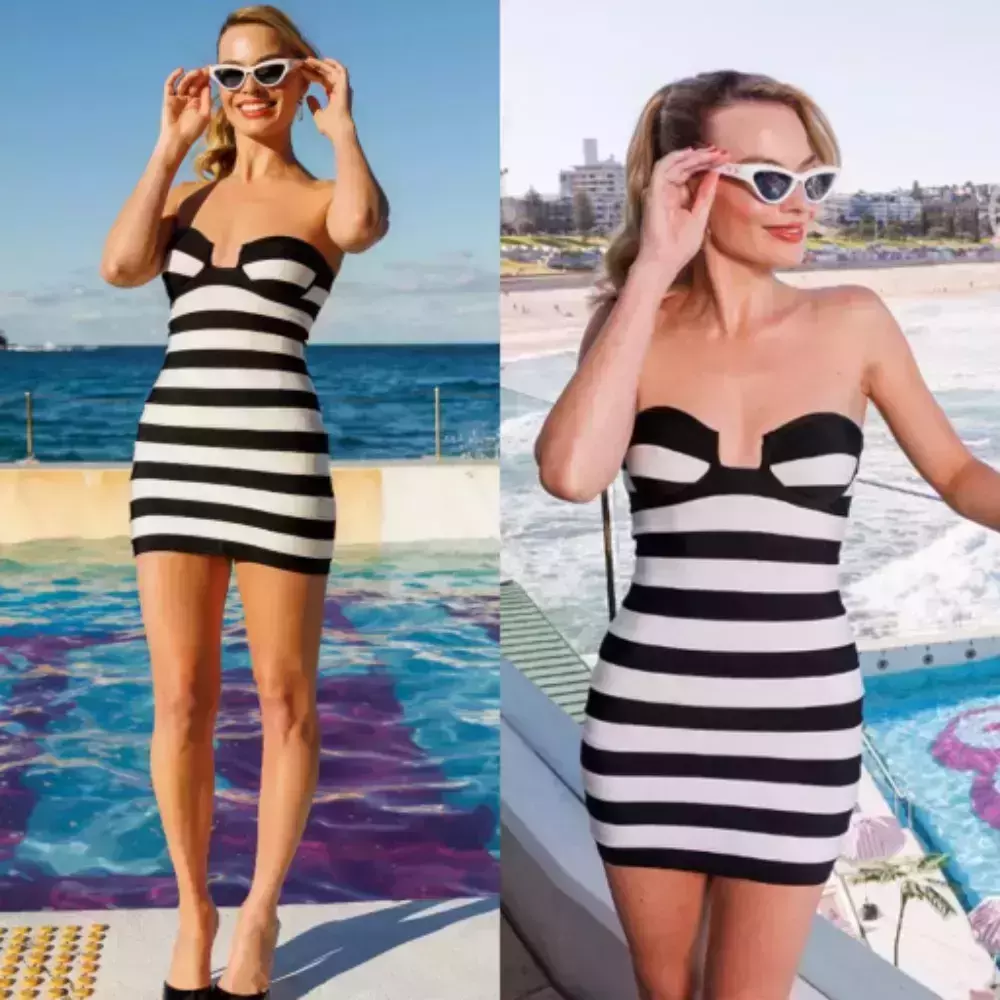 27) Striped Beauty
The caption "the original, 1959" by Andrew Mukamal sums up this appearance wonderfully. He made a contemporary version of the classic swimsuit that the original doll wore, which was black and white. Robbie opted for a striped Hervé Léger dress, white cat-eye Jacques Marie Mage sunglasses, and black Manolo Blahnik mules to get this look. This Margot Robbie hot look makes her a true epitome of beauty and cuteness.