21 Minimalistic Henna Designs Trending In 2023
Shrimanti Das
Updated At 30 Oct 23
Minimalistic henna designs embrace simplicity and elegance in the world of traditional body art. Minimalist mehndi designs exquisite creations focus on clean lines, subtle patterns and go well with your makeup. Delicate floral motifs, geometric shapes, or graceful symbols are meticulously crafted with henna paste, creating a tasteful adornment that's both timeless and versatile. Minimalistic henna designs are perfect for those seeking a subtle yet meaningful expression of their style and individuality. These are simple mehndi designs which are easy to get as well. Whether for a special occasion or everyday adornment, minimalistic henna designs are a captivating choice, celebrating the artistry of restraint.
21 Minimalistic Henna Mehndi Designs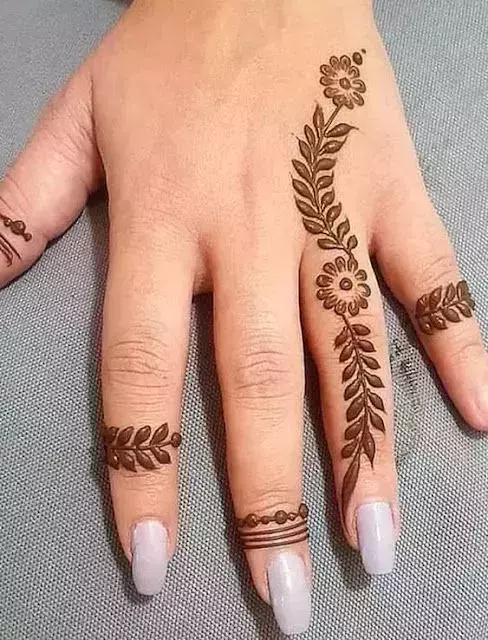 1. Simple Leaf
In this specific back mehndi design, the incorporation of tiny leaves adds a distinctive touch. This simple yet charming  easy mehndi design is quite trendy among young individuals. It's quick to make and can be completed in under a minute. If you're a fan of henna but dislike the long drying time, this design is perfect for you, especially for all you ladies out there.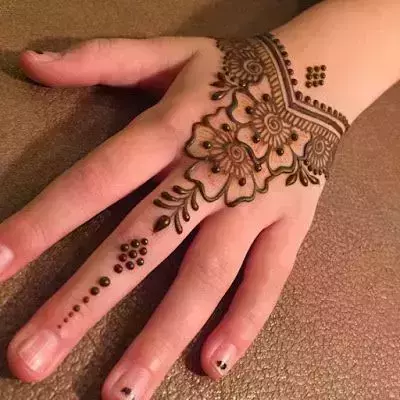 2. Dots and Flowers
This type of minimal henna design starts at the wrist and extends just below your fingertips. It's versatile and suitable for any occasion due to its simplicity and its ability to complement both traditional and Western outfits. The floral pattern and the unique henna design of this simple mehndi make it suitable for individuals of all age groups.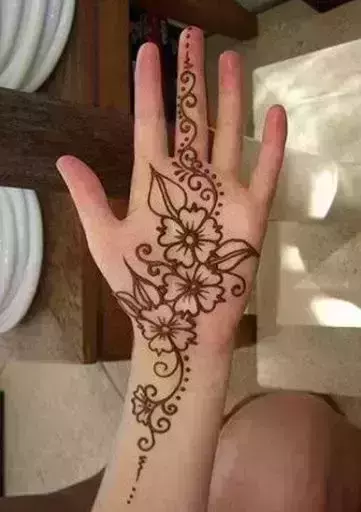 3. Line Design
If you're pressed for time or prefer not to invest in an elaborate mehndi design, opt for minimal henna designs like this one! The inclusion of flowers and dots adds to the charm of this minimalist mehendi design.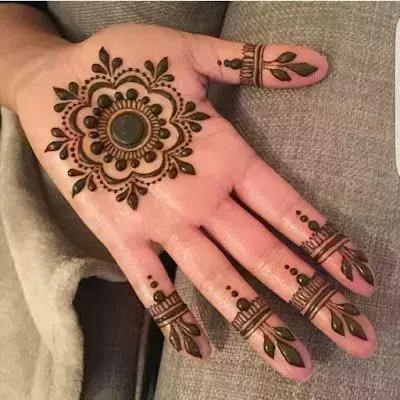 4. Mandala Art
This mandala mehndi design provides a wonderful opportunity to introduce a touch of color to your hands while maintaining a clean and uncluttered appearance for the rest of your palms. It demands minimal time and is particularly appealing for palm application due to its well-defined and bold border lines that enhance the overall design. The intricate finger patterns harmonize with the central mandala pattern, creating a cohesive henna design. Mandala art stands out as one of the most favored minimalistic henna designs.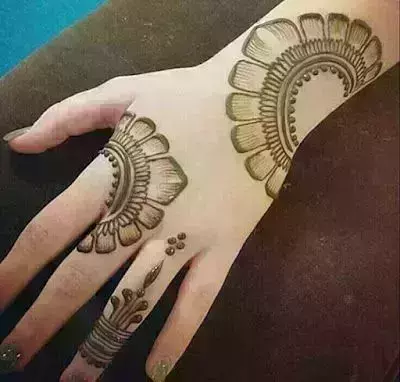 5. Shaded Petals
Opt for a unique henna design by choosing a simple yet sizable floral petal pattern with subtle shading. This design is ideal for intimate family gatherings and small-scale events. Ensure that you maintain a minimal approach for the remaining parts of your hand and refrain from excessively covering the fingers with henna.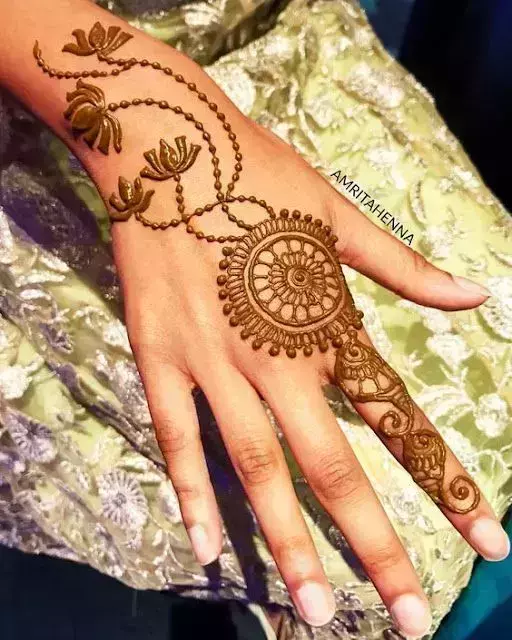 6. Lotus Petals
This modern mehndi design strikes a balance between artistry and simplicity. It features a clean and refined pattern that commences with petite paisleys on the index finger, gracefully descending towards the wrist, and concluding with intricate and lovely suspended lotus motifs. Primarily following a minimalistic Arabic style, this mehndi design exudes a charming and graceful aesthetic.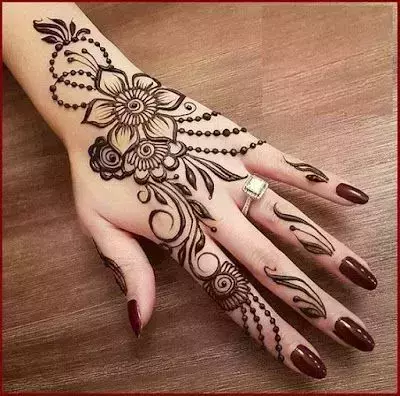 7. Flowery Chain
If you're not a fan of mehndi designs that are completely filled in, then this is a great choice for you! This beautiful Arabic mehndi pattern maintains a sense of simplicity and elegance without excessive detailing.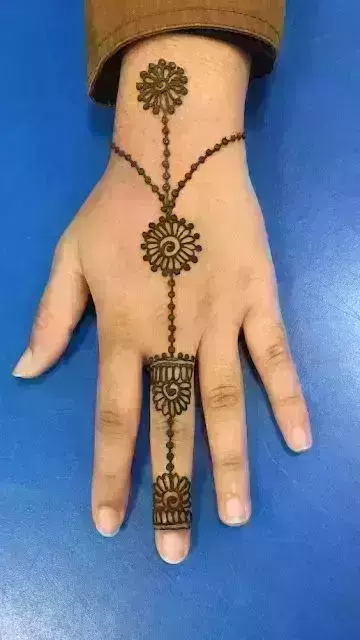 8. Ornamental
This design resembles a jewelled ornament, commonly referred to as "Hathphool" in India, rather than a conventional mehndi pattern. It displays a high level of creativity and is ideal for times when you prefer not to overload your hands with actual jewellery. It exudes an elegant and traditional appearance, making it an excellent choice for those who appreciate a classic aesthetic.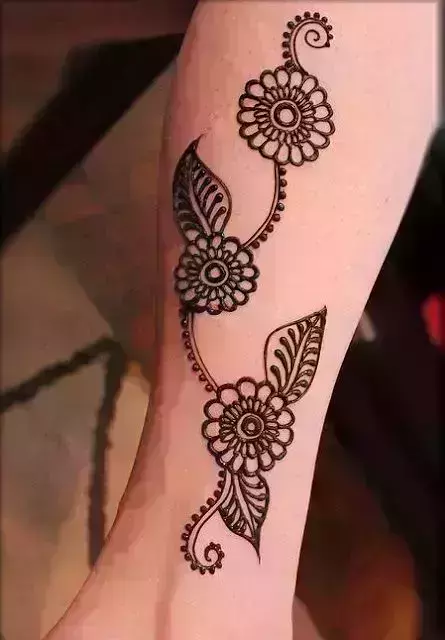 9. Cute Henna Design
This design is incredibly adorable and perfect for beginners, as it is one of the simplest designs to attempt when applying mehndi on your own. It's a straightforward mehndi design that you can effortlessly create on your palm, the back of your hand, or even on your feet.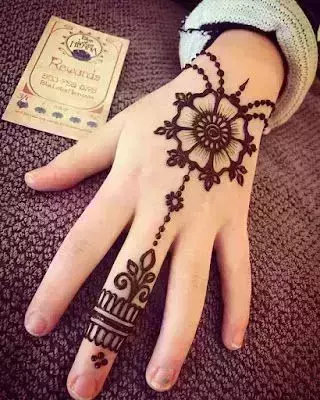 10. Hathphool Design
The inspiration for mehndi artists has often stemmed from jewelled haathphool designs, a tradition that has endured for a long time. While jewelled mehndi designs can be challenging to replicate on hands, this particular pattern is remarkably straightforward and creates a mesmerizing effect when applied. The solitary flower, with its bold outlines, gains even more elegance when connected to the middle finger by delicate floral motifs and leaves. This design is versatile and can be applied to anyone, whether it's your daughter, your mother, or even your own hand. The haathphool design also ranks among the most popular minimalistic henna designs.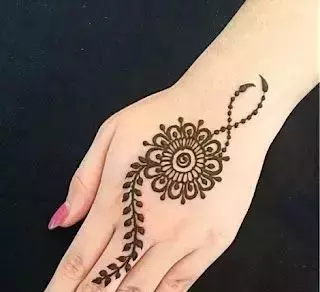 11. Hanging Design
If you're inclined towards minimalistic henna designs for festive occasions, then this lovely and uncomplicated small mehndi pattern, resembling an exquisite rakhi on its own, is the perfect choice! Moreover, creating this design is painless and straightforward.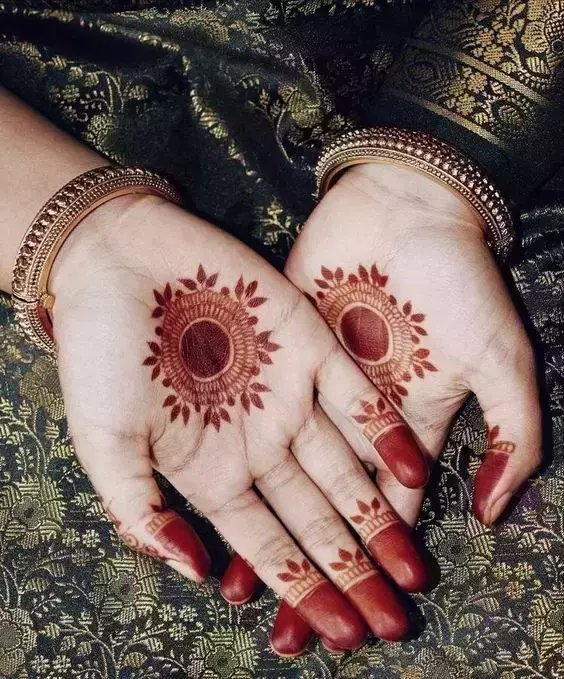 12. Elegant Henna Design
This elegant henna design can be worn by females of any age. This is a real-time minimalist henna design for any occasion.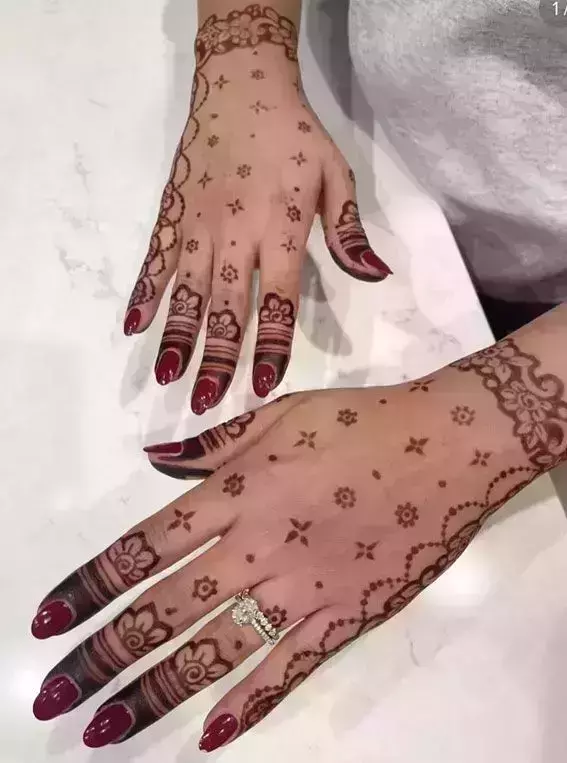 13. Star Henna
This minimalist mehndi design is filled with small stars and flowers all over the back of the hand with little designs around the fingers. The flowery design adds beauty to this super easy backhand mehndi design. This unique henna design fills the entire finger flawlessly.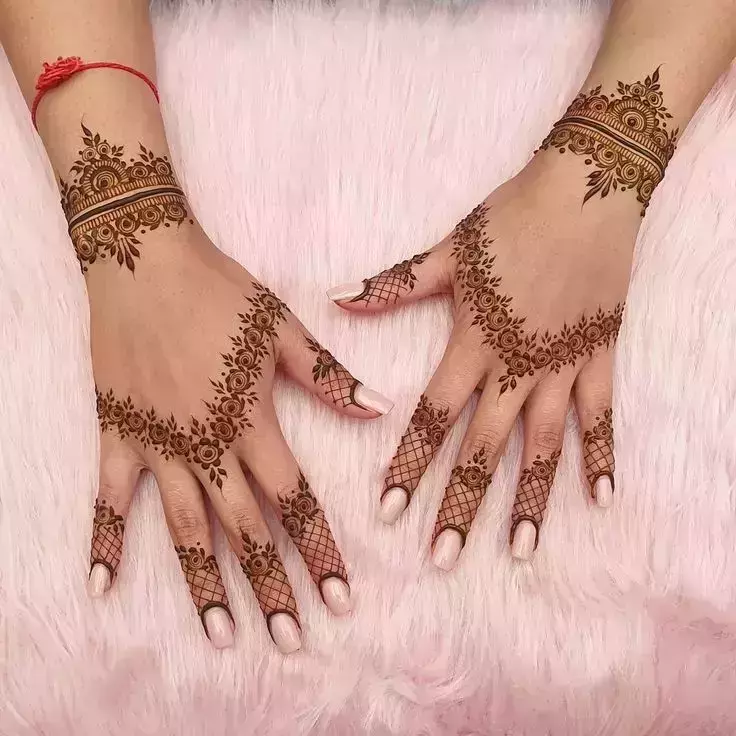 14. Patterned Flower with Nets
Today people want their life, as well as hands, clutter-free. Simple elegant henna designs are easy to carry as well as easy designed to draw. Light patterned floral designs add beauty to the hands. You can extend the pattern and create the perfect full hand mehndi. It would look simple but very elegant.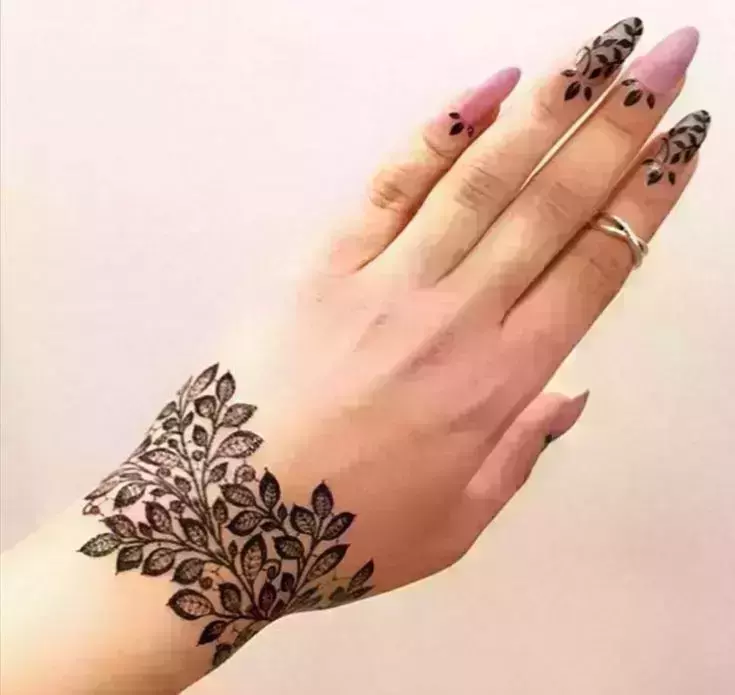 15. Leafy Wrist
This modern henna design adorns the wrist of the hand. If you are willing to apply mehendi on a specific part of your hand then, this design is perfect for you.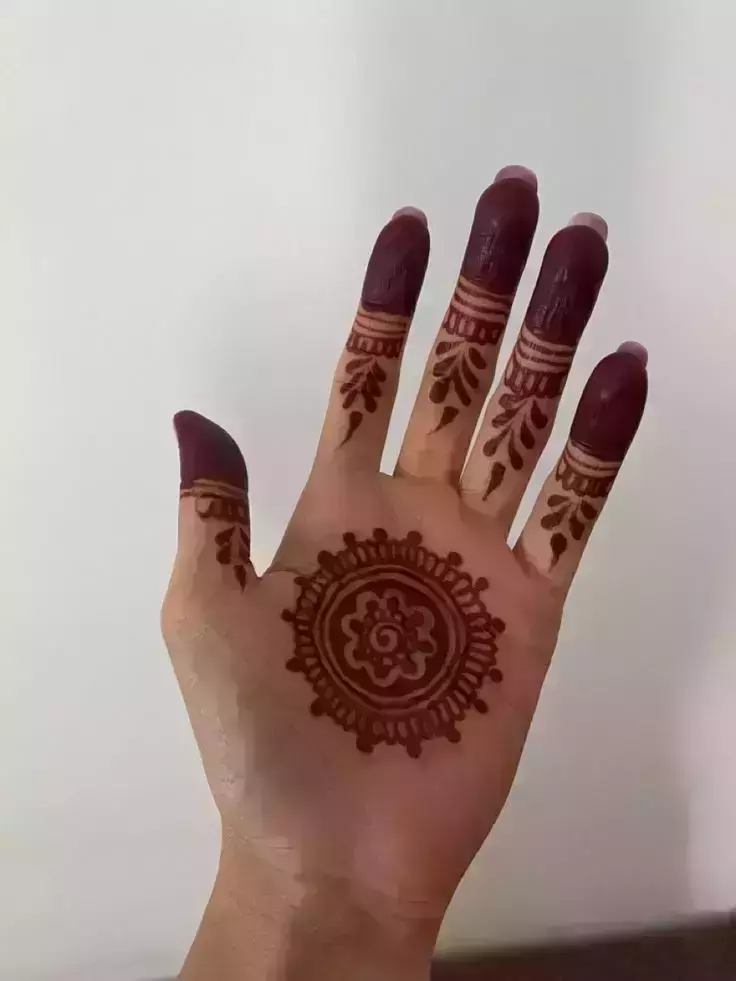 16. Dark Mandala Palm
The timeless appeal of mandala designs endures. Embrace this effortless mandala design, and rest assured that the results will be enchanting. Whether you're six or sixty, this simple henna pattern is suitable for all ages. The fondness for mandalas is everlasting.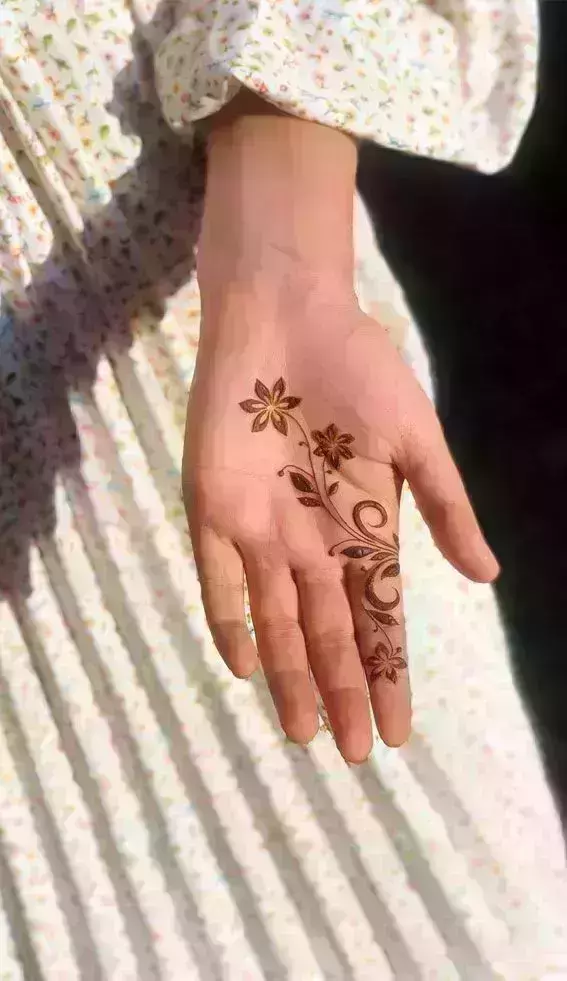 17. Minimal Henna Design
It's not necessary to go for a complex henna design when you can go for this minimal henna design. Draw some simple flowers, add some curvy lines and you are ready.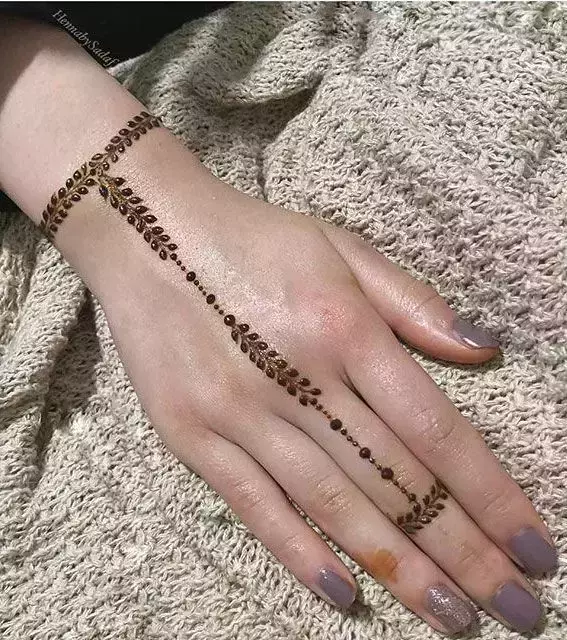 18. Leafy Dots Design
Adorn your hands with leaf designs - it may sound unconventional, but it's proof that even leaves can enhance your charm. This modern henna design not only conserves valuable time but also adds allure to your hands. Prioritize efficiency over excessive effort!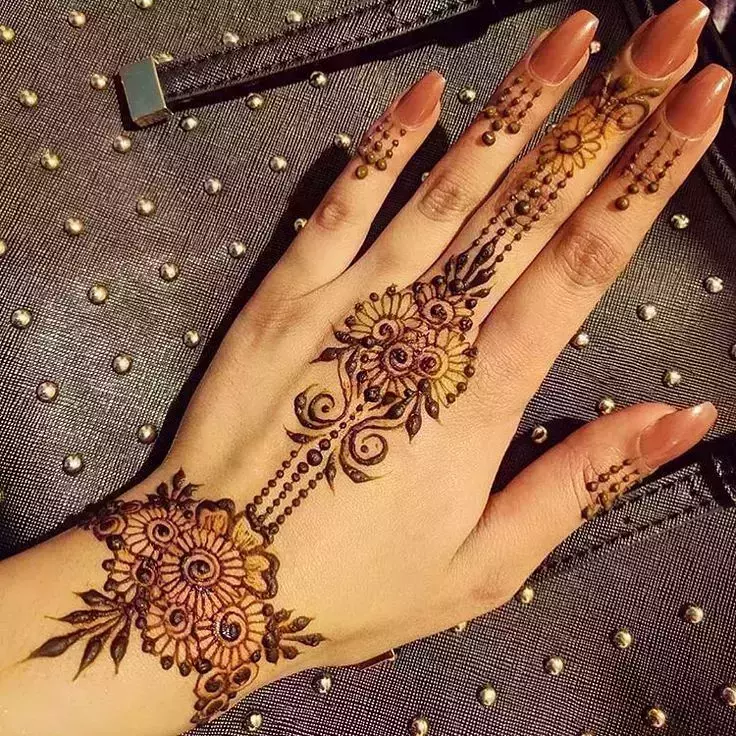 19. Chain Designs
Simplicity and grace are the essence of this floral chain henna design on the back of the hand, making it a top choice for modern brides. However, it's not limited to brides alone; even bridesmaids adore these types of simple elegant henna designs.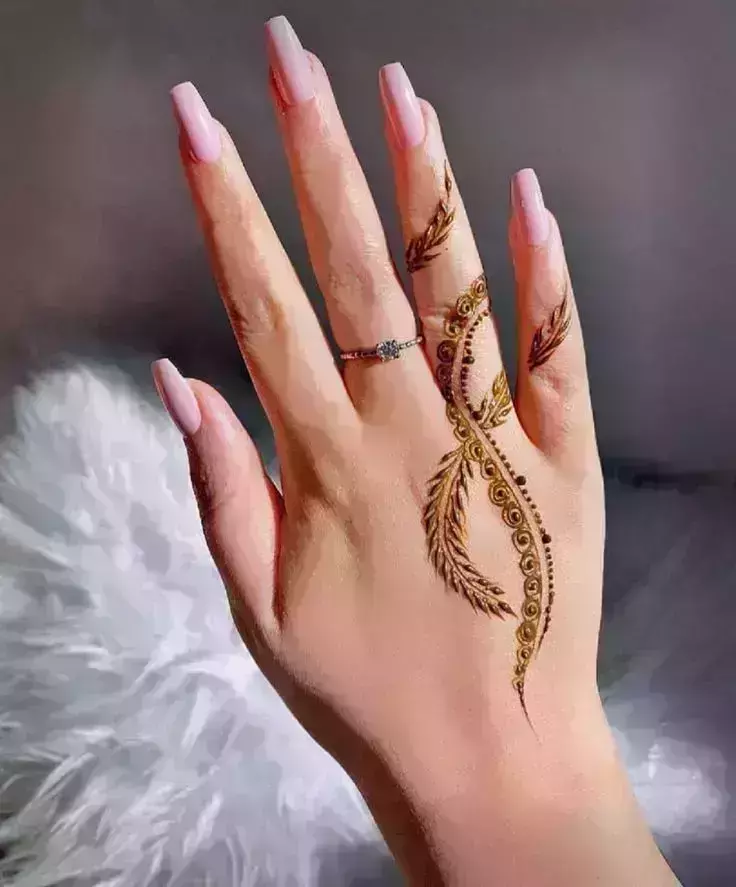 20. Minimalist Mehndi
This minimalist mehndi design adorns the fingers and back side of your hand. If you are willing to apply mehendi on a specific part of your hand then, this design is perfect for you. One benefit of minimalist mehndi designs is that they can be done by yourselves.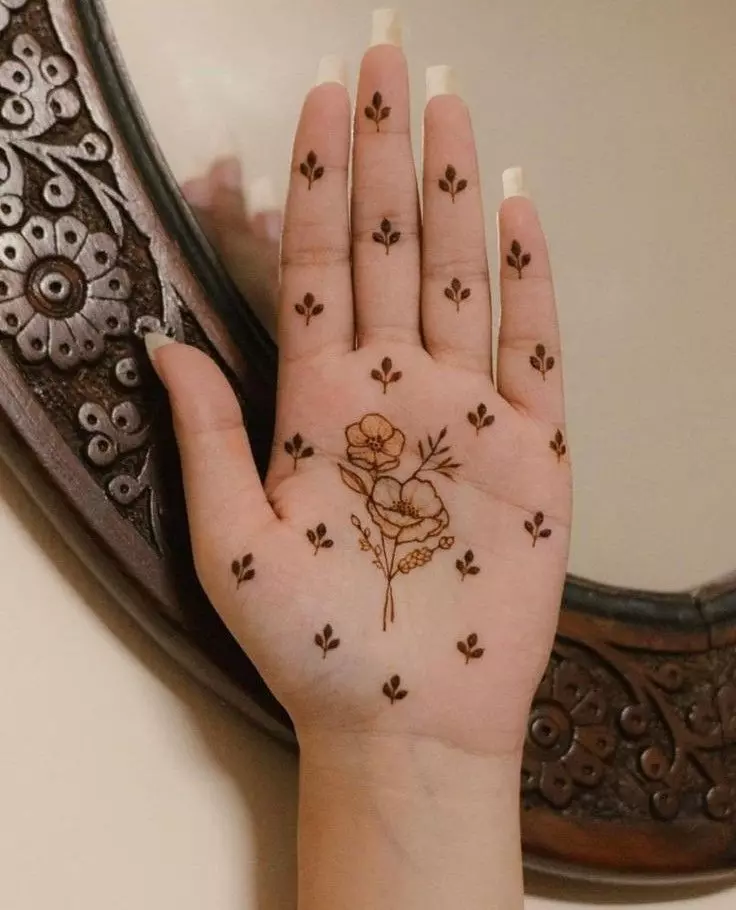 21. Simple Flower
This beautiful and elegant henna design can be done by self. This is a must-try design for beginners as it is fresh and unique with a modernistic touch to it. This design will be suitable for weddings and parties.