25 Stunning Mandala Mehndi Designs - 2023
Olivia
Updated At 29 Aug 23
Traditional patterns continue to have value even in a time when fashion is dominated by elegant and delicate motifs. For brides looking for traditional mehndi designs infused with modern ethos, there are many options available, including Mandala Mehndi Designs!
Those who adhere to conventional mehndi designs may find satisfaction in the Mandala Mehndi Designs. Look over these lovely mandala Mehndi designs and take screenshots of the ones that look appealing.
25 Best Mandala Mehndi Designs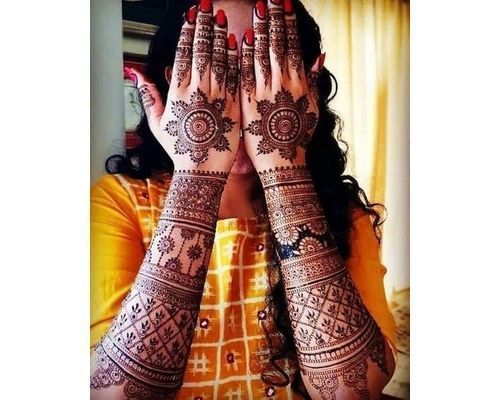 1. Bridal Mandala Mehndi Design
These patterns are intended for brides who enjoy mandala patterns but also look for elaborate mehndi creations. This bridal mehndi design is an excellent option for the bride to make the special day memorable.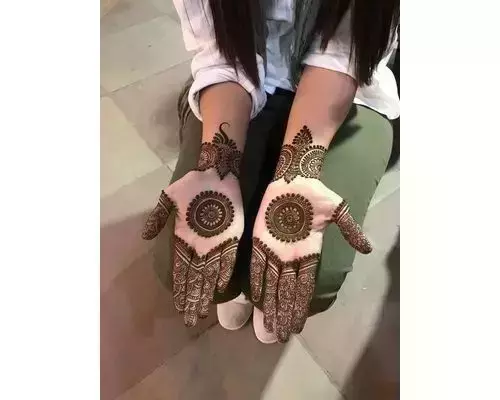 2. Bangles Mandala Mehndi Design
This mandala mehndi pattern is what you are searching for if you want something to replace your bangles and are also looking for an easy mehndi design. An ideal layout for each pre-wedding event.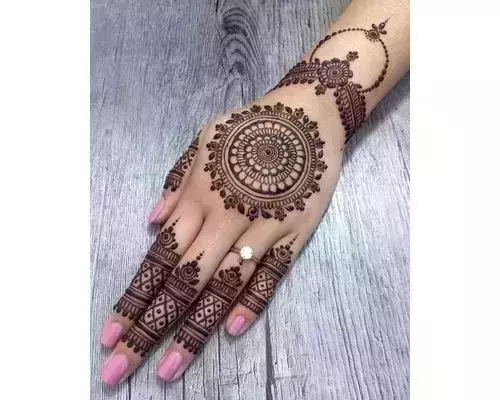 3. Chained Mandala Mehndi Design
Most brides love mandalas, as do their moms and other important women. Clusters of concentric circles give a design that is so appealing that it is difficult not to try it, and they are frequently paired with florals and booties. Each bride treasures it and wishes to include it in their mehndi creations.
Looking for the best mehndi decoration ideas? Do check out our guide as we list 50+ ideas for decoration which have been trending this year.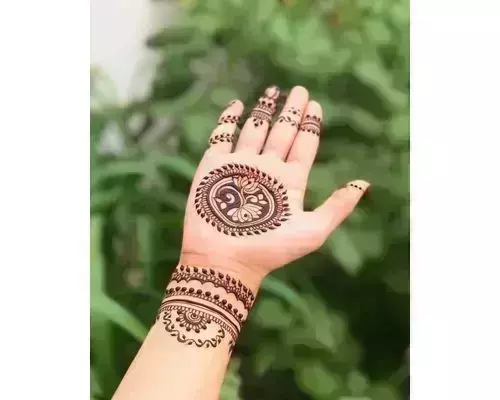 4. Floral Mandala Mehndi Design
From the index finger/round base to the wrist and beyond, these types of Round Mehndi designs typically have a stunning flowery and leafy trail. They look great for simple functions.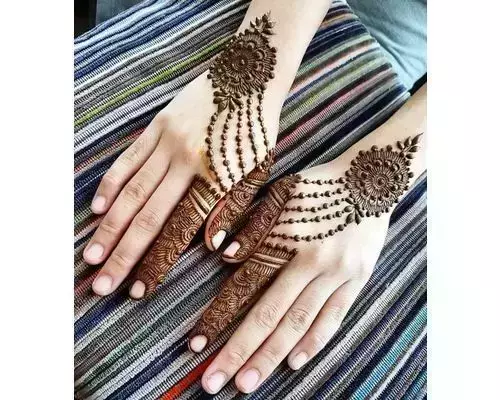 5. Arabic Mandala Mehndi Design
Taking inspiration from Arabic mehndi design, this kind of Mandala design is a great visual treat for the eyes.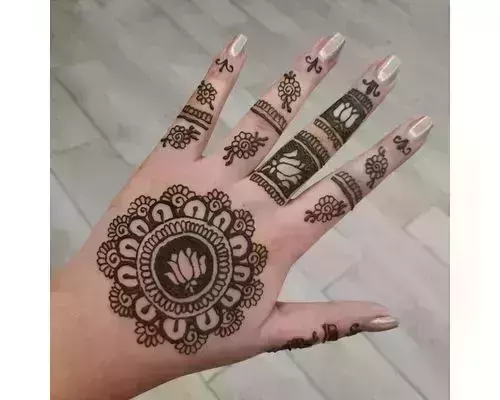 6. Lotus Mandala Mehndi Design
Undoubtedly, anyone can create a variety of mandalas in a single round mehndi design! Who says there has to be just one Mandala? While some circle mehndi designs or Mandala Mehndi Designs contain brief, lovely leaf patterns, others are connected to detailed patterns that cover your hands' palms. Arabic round mehndi designs and circle mehndi have a unique appearance.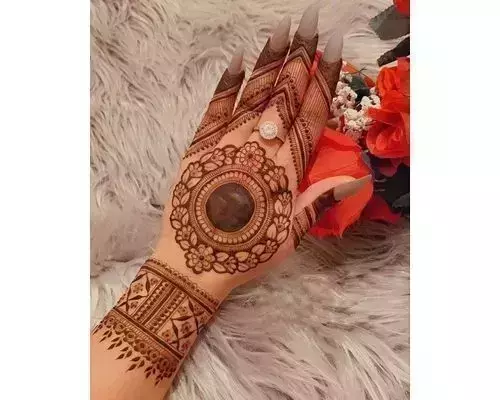 7. Backhand Mandala Mehndi Design
The round mehndi designs typically encompass the index finger/round base, the wrist, and beyond with exquisitely lovely floral and foliage patterns. This pattern appears energetic and feminine with its nature-inspired concept. A traditional pattern is used on the front finger. The captivating easy round shape with beautiful flower motifs.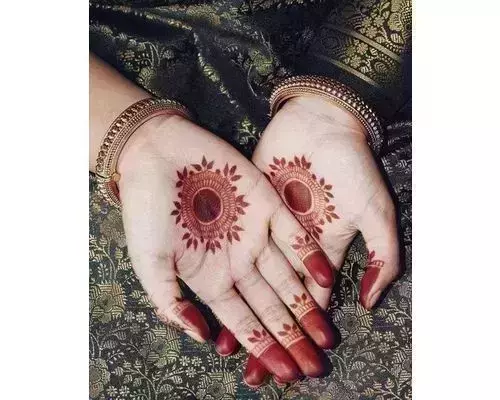 8. Simple Mandala Mehndi Design
A perfect design, if you are gearing up for a small ceremony or an evening soiree! The second design has a class-elaborated pattern that is extended from the chain-link pattern.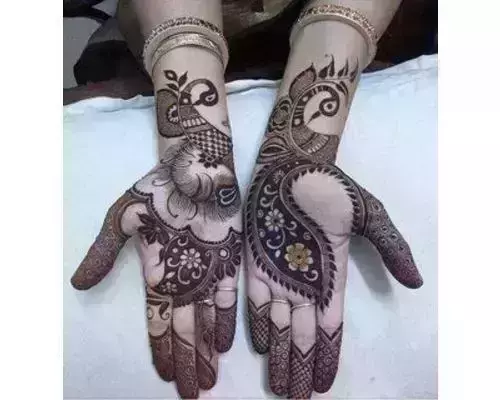 9. Peacock Mandala Mehndi Design
Grandeur, opulence, and a variety of beautiful hues are displayed by peacocks. The peacock's grace in the mehndi pattern never fails to electrify. Simple brides and bridesmaids will look beautiful with this mandala mehndi design.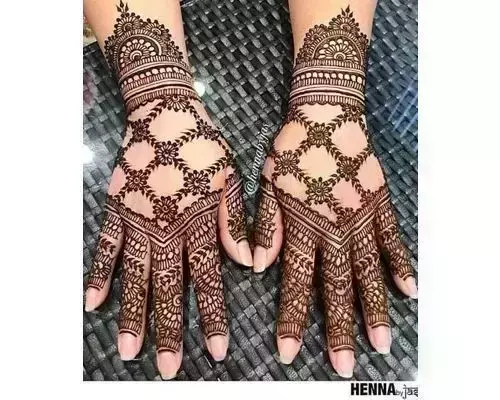 10. Symmetrical Mandala Mehndi Design
The way the mandala emerges from the bridal mehendi pattern in such a distinctive way is what makes this design unique. To avoid mixing things too much, choose a simple, yet stylish, symmetrical back hand mehndi design.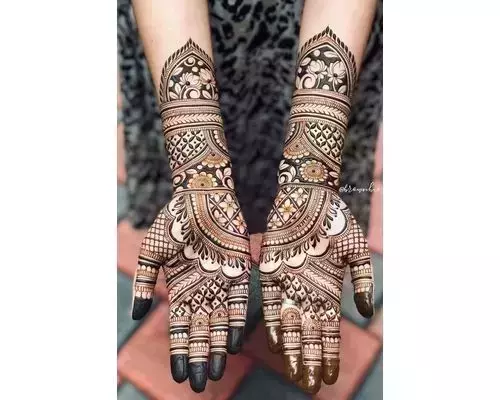 11. Half And Half Mandala Mehndi Design
This unusual half-and-half mandala design is a showstopper. These partially bold, thin lines are all that's fashionable right now and would make the ideal bridal mandala henna design. It is a complete show-stopper for modern brides looking for creative henna designs.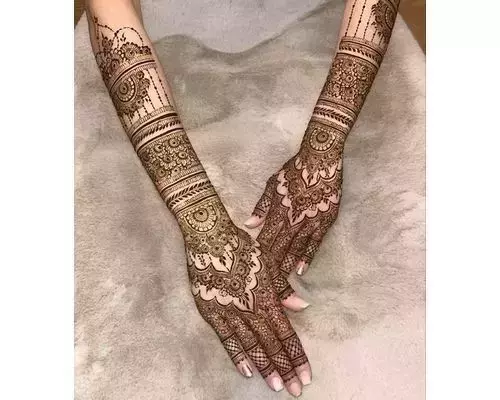 12. Elaborate Mandala Mehndi Design
This is a great full hand mehndi design which incorporates typical mandala mehendi patterns. Consider swearing by this voguish one, where the mandala is exquisitely extended on the arm! This mandala mehendi design adheres strictly to tradition while giving the greatest consideration to its history.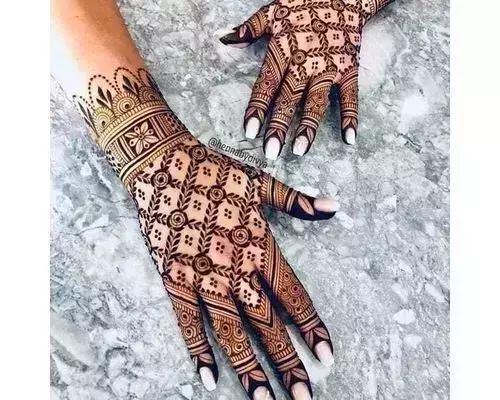 13. Patterned Mandala Mehndi Design
Check out this one featuring a diamond-encased mandala! Keep the tips of your fingers as classic as possible and make your hands as detailed as possible. Isn't it eminently beautiful?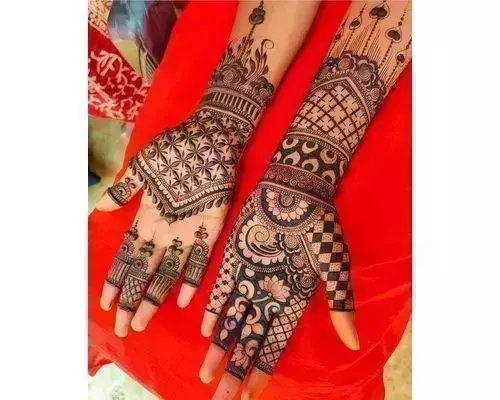 14. Jaalwork Mandala Mehndi Design
The finest of both worlds may be found in this elegant mandala mehendi design. Among the top mehendi patterns to date!
If you are looking for new types of mehndi designs, you may also check out our guide on peacock mehndi designs as we list 25 most popular options for mehndi.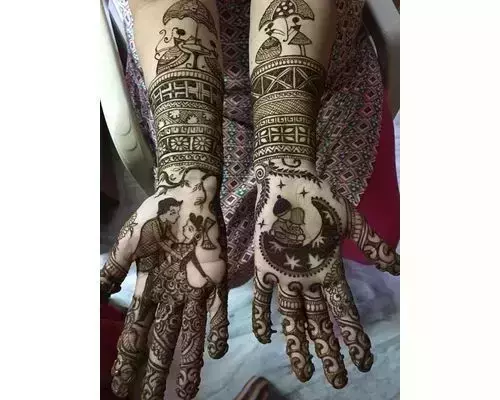 15. Portrait Mandala Mehndi Design
Personalization in moderation is beneficial. This bride and groom portrait-adorned mandala mehendi design will surely make you cry.
16. Minimalist Mandala Mehndi Design
The "diamond" details captured our attention. This serves as a reminder that a mehendi with a mandala design would look stunning with a new French manicure.
One can also check out jewellery mehndi design options as many of these fall under minimalistic meehndi designs and look elegant.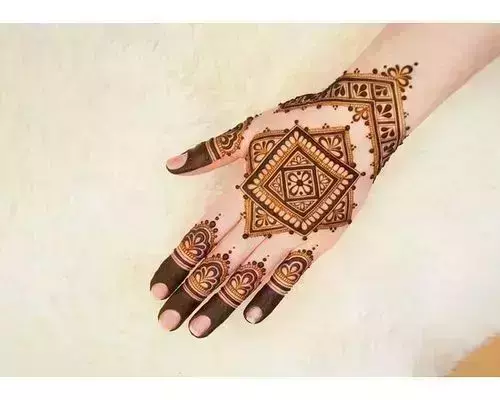 17. Square Mandala Mehndi Design
Simpler patterns used in square Mandala Mehndi designs include magic squares, numbers, passages from the Quran, and other geometric shapes like sacred square patterns.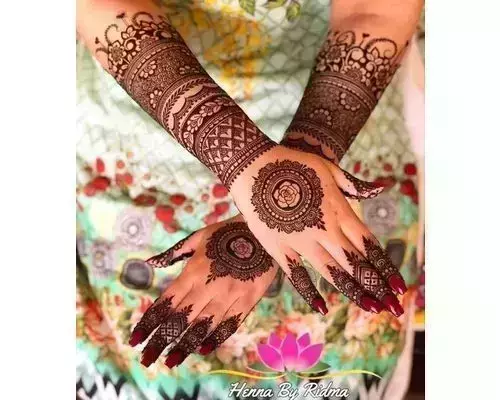 18. Bridal Mandala Mehndi Design
We bet your mood board will include this traditional mandala mehndi design with its geometric forms and whirling swirls!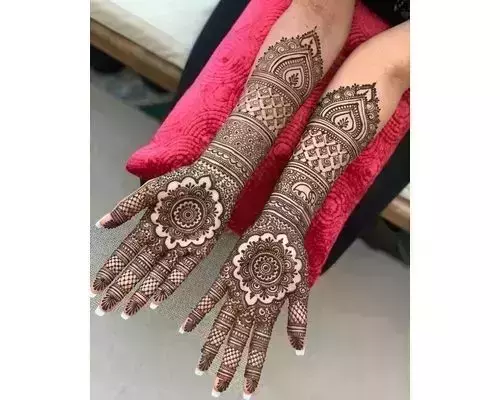 19. Full Hand Mandala Mehndi Design
This simple mandala mehndi design has a timeless feel to it thanks to the abundance of leaves, jaal, and delicate patterns.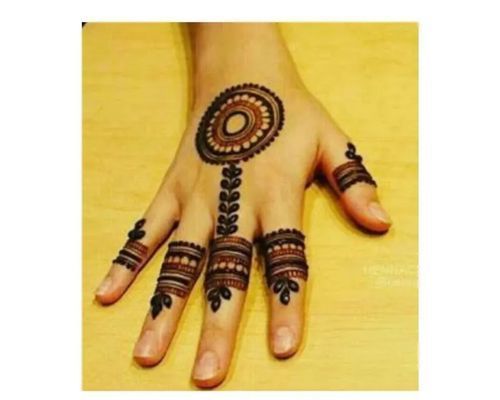 20. Ring Finger Mandala Mehndi Design
Here is the most unique mehendi mandala pattern! Is it not? This henna mandala design is stunning and lives up to its name.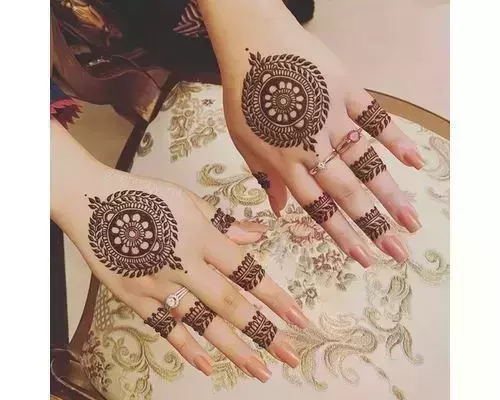 21. Floral Mandala Mehndi Design
Interested in the mehndi design on the back of the hand with the central arrangement of dispersed flower mandalas? It looks very lovely! Here is your chance to mix florals with a touch of tradition, if you are one of those people.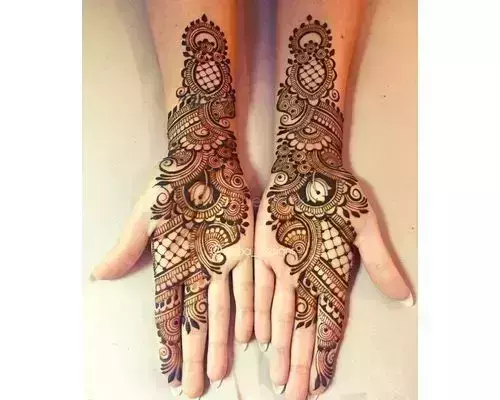 22. Detailed Mandala Mehndi Design
This traditional mandala mehndi pattern with a hint of eccentricity is made out of pure love. Totally in love with this look.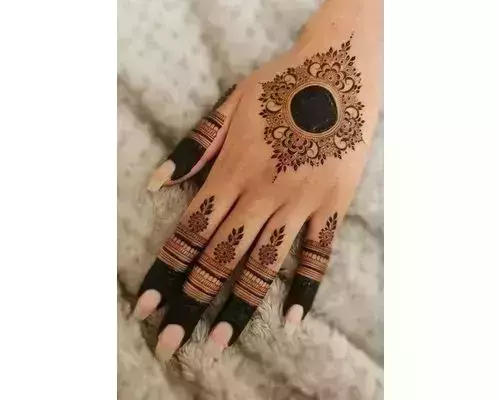 23. Classic Mandala Mehndi Design
So, an antique mehndi design is unique and cannot be replaced! So, without thinking twice, save this if you do not want to experiment.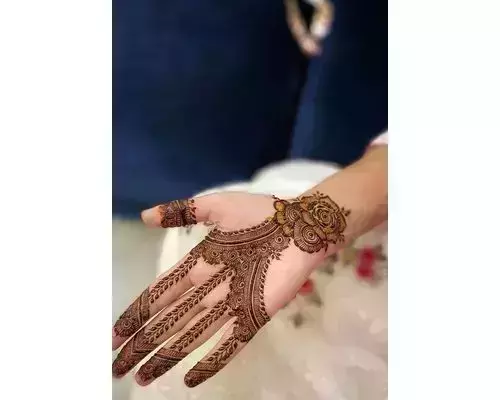 24. Insta-worthy Mandala Mehndi Design
This full-hand mehendi design with artistic mandala motifs will further enhance bridal beauty! It is fashionable and unquestionably something a bride would want on her hands because it is oh-so-beautiful.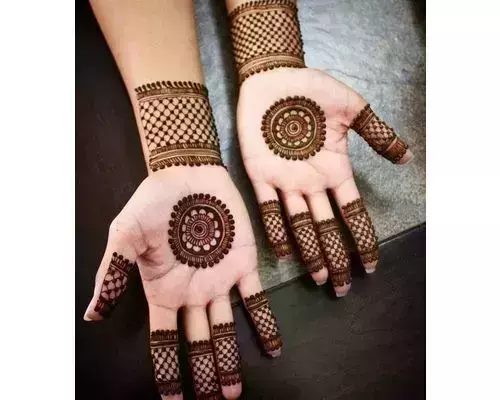 25. Checks Mandala Mehndi Design
The finest of both worlds may be found in this elegant mandala mehendi design. Unlimited potential for becoming a favourite design.
Mandalas are quite popular among riders as well as their bridesmaids and mothers due to their simplicity and old-world charm. It is difficult for a mehndi enthusiast to resist giving this pattern a try because the pattern of these concentric circles, which are frequently accompanied by florals and motifs, is so pleasing. Every bride would value and desire a piece of what they serve in their mehndi design.
Related Stories