25 Stunning Moroccan Mehndi Designs - 2023
Olivia
Updated At 08 Jan 23
Mehndi culture is popular not just in India, but also in Morocco, where they have their own unique historical religious importance. The mehndi has its famous religious meaning in Morocco. While finding the perfect mehndi design is tricky, we are listing below 25 stunning Moroccan mehndi designs which would make your search easier.
25 Best Moroccan Mehndi Designs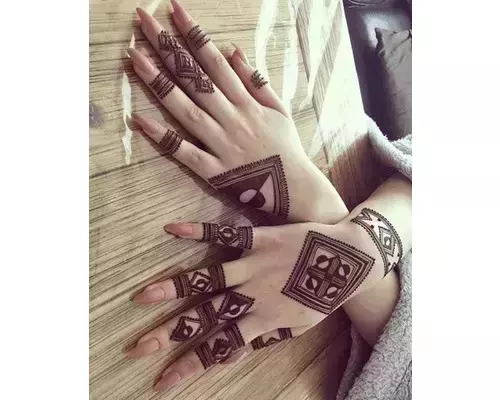 1. Creative Moroccan Mehndi Design
The current trendy pattern in this mehndi design appears to be quite linear. This pattern, which is rhombus-shaped and circular patterns on the fingers and the back of the hand can be a go-to pattern for every occasion. The mehndi pattern is quite beautiful because it is very detailed.
Moroccan mehndi is one of 12 types of mehndi designs and has been gaining popularity consistently. Do check out our guide to find out the details of all the type of mehndi.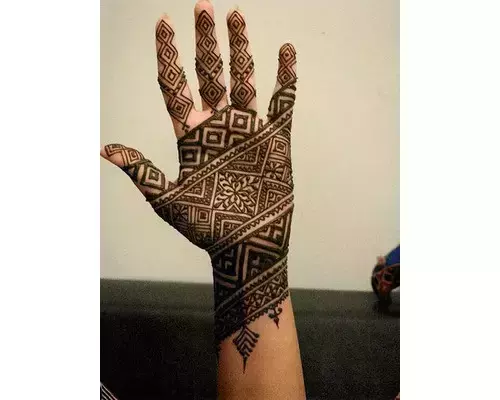 2. Diamond Pattern
For someone seeking a blend of tradition and modernity, this style is ideal. This layout attempts to reach the ideal balance. The entire mehndi design is made to look lovely by the linear and straight lines.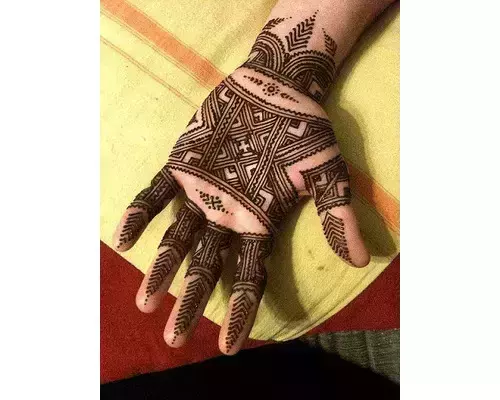 3. Square Pattern
The front and back sides of the hand look great with the Moroccan mehndi art pattern. This design is lovely, and the pleasing symmetry it displays. Using elaborate designs that make it look stunning, it has almost completely covered the hand, which is another feature which enhances its appearance.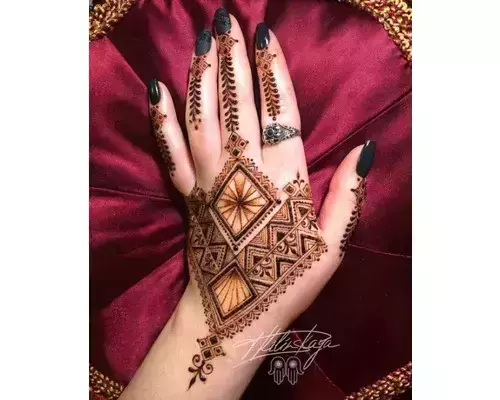 4. Simple Moroccan Mehndi Design
These mehndi patterns are fantastic for both women and young girls. To finish the appearance, add more tiny dots to the empty spaces. Either construct a pattern resembling the palm's pattern or use mehndi to fill in the fingertips. This mehndi pattern has a pretty stunning shading effect.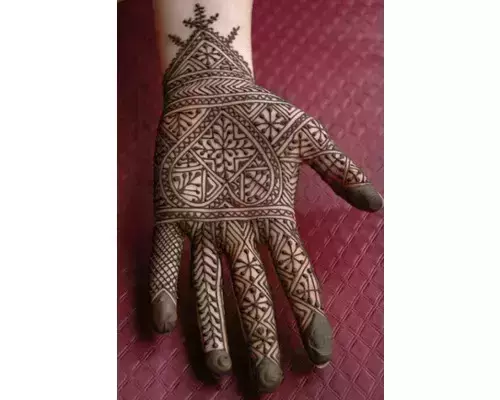 5. Moroccan Mehndi Design For Wedding
This design is a little unique compared to others. There are several nice-looking linear patterns on this list of mehndi designs. Therefore, it is a perfect design to demonstrate the overall object's excellent symmetry. The centre of the mehndi pattern is a heart, which looks lovely especially if you're doing it for your wedding purpose.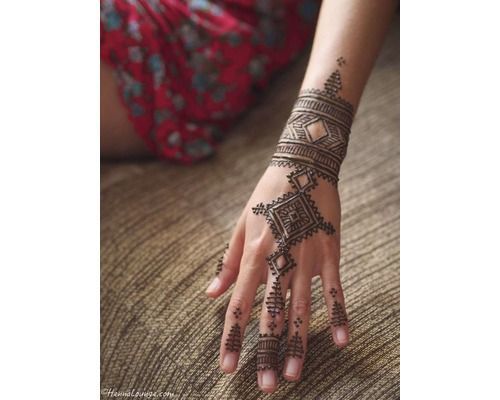 6. Anchor Pattern
Square and an outstanding linework pattern are applied on the middle finger. Additionally, there is lovely symmetrical work. The intricate design seems attractive because of how well it is coordinated.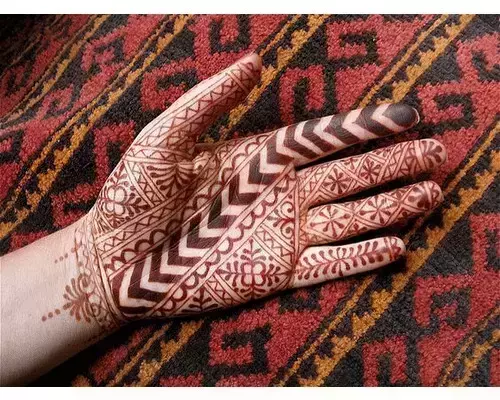 7. Lines and Patterns
If you also like your designs to be symmetrical, this Moroccan mehndi art design is for you because the lines and patterns are symbolic of symmetry. It's really simple to create the index finger pattern that connects the rest of the design.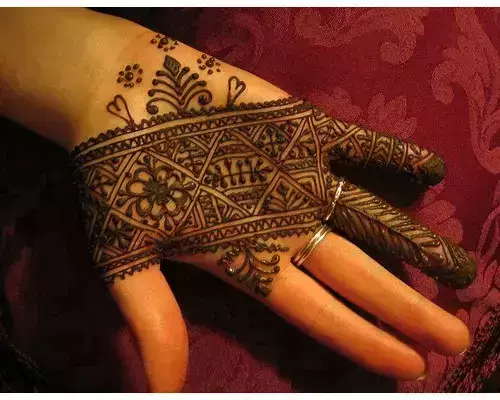 8. Storyline And Patterned
Despite the strong lines and patterning, it looks well-coordinated and symmetrical. It's crucial to leave the right spacing to help these striking Moroccan mehndi art designs pop out. Overall, this pattern is both beautiful and sophisticated. The simplicity of this mehndi pattern is appealing.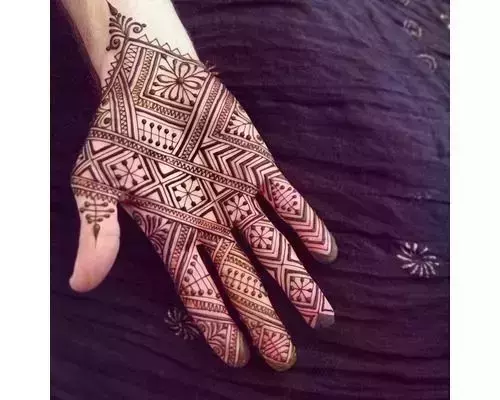 9. Enchanting Moroccan Mehndi Design
Similar to the previous design this Moroccan mehndi art style is glamorous. Designs like these are an excellent alternative to jewellery, making them appropriate for lengthy gatherings or festivals. Additionally, it enables every design to stand out and be displayed separately.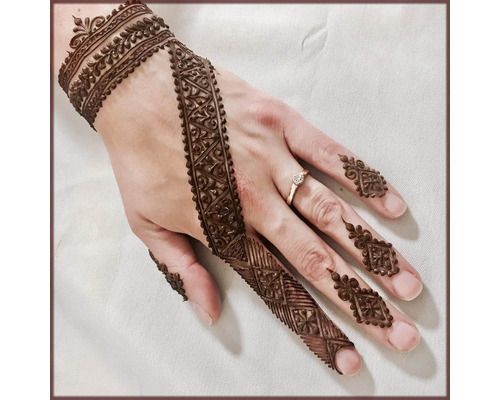 10. One Finger Moroccan Mehndi Design For Hands
This pattern exemplifies the easiest Moroccan mehndi art design you can create. If your front design is sheen you can have the most straightforward pattern on the back of your hand. You may truly take a minimalistic approach to the design by getting some straightforward designs like this one.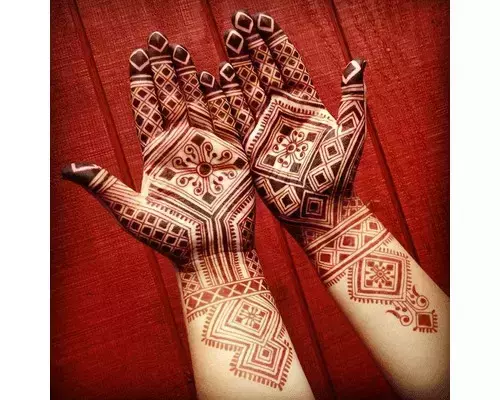 11. Full Hands Moroccan Mehndi Design
This Moroccan mehndi art design immediately catches your eye because of all the bold motifs it has, which create a variety of geometric patterns. A traditional-looking rangoli design can be seen in the hand's centre. The fingers are decorated with rhombus-shaped patterns and striking dot work.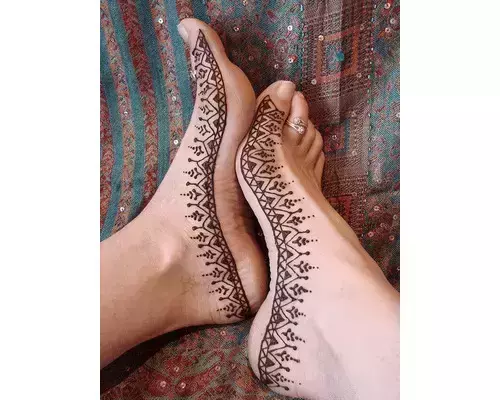 12. Traditional Moroccan Foot Mehndi Design
Because wearing an anklet is so prevalent in Moroccan culture, this design works better overall. This incredible mehndi design, which incorporates traditional Moroccan mehndi design concepts, is incredibly cool.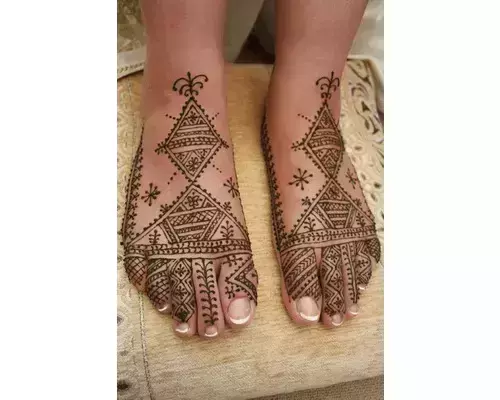 13. Tribal Moroccan Design
The mehndi art design is amazing. The front of the foot has been given a fantastic design. With such odd patterns, this design is always lovely and has a tribal appearance. The design is a fantastic method to make your work look amazing, especially for social and cultural events.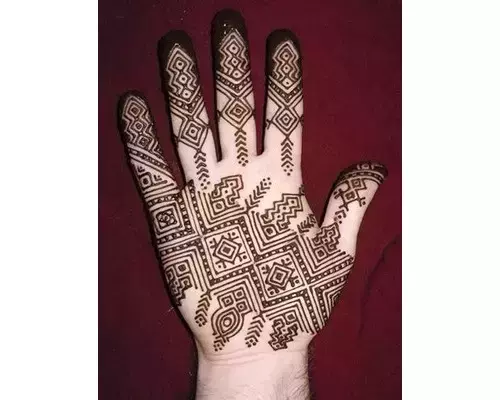 14. Abstract Pattern
Designs in the shape of a V are really popular right now. You can always use additional colours and glitters to embellish simplistic designs like this one.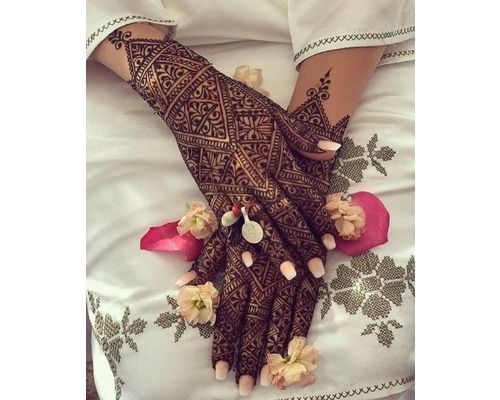 15. Classic Moroccan Mehndi Pattern
Moroccan mehndi art has a truly traditional appearance. The pattern and design used, is incredibly exquisite. You should keep an eye out for this Moroccan mehndi art design.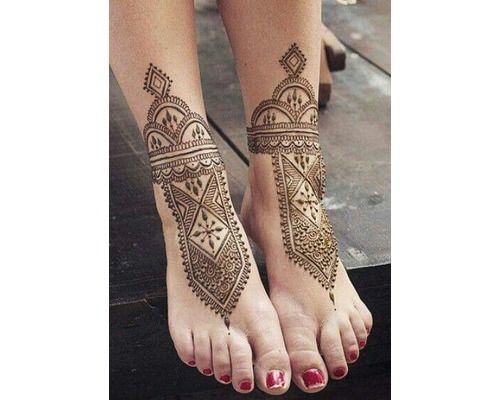 16. Alluring Moroccan Foot Mehndi Design
Many people pick the super-trendy Moroccan mehndi art design on the feet. This Moroccan mehndi art design gives them a fantastic opportunity to create such a magnificent design that is also really symmetrical and appears very nice when worn.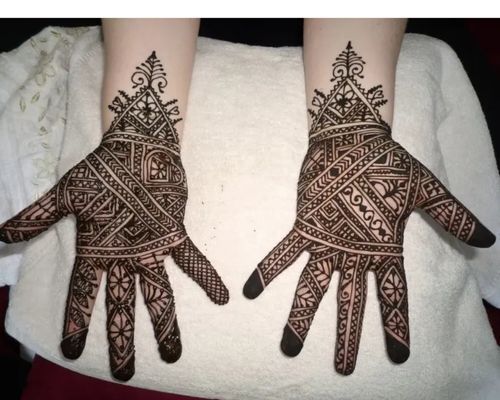 17. Full Palm Design
A lovely modern Moroccan mehndi art design that can be used for both conventional and non-traditional occasions. Western nations have seen tremendous growth in the popularity of this trend.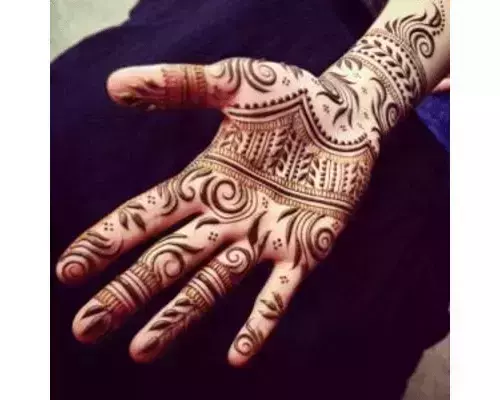 18. Bohemian Moroccan Mehndi Design
This pattern may be ideal for you if you desire a straightforward, minimalist mehndi design. Look at those lovely swirls and the way the Moroccan mehndi design's curvature drapes gracefully on the wrist. It appears to be influenced by Moroccan mehndi art, and it has a bohemian and stylish appearance.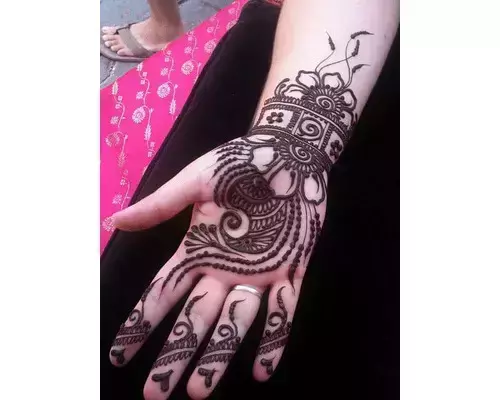 19. Creative Pattern
It's usually a good idea to incorporate glitter and gems into your Moroccan mehndi art design because they give it more vitality. It will undoubtedly lessen the mehndi's dull black tone and offer more textures to your work. This type of experimentation will look fantastic with this Moroccan mehndi art design.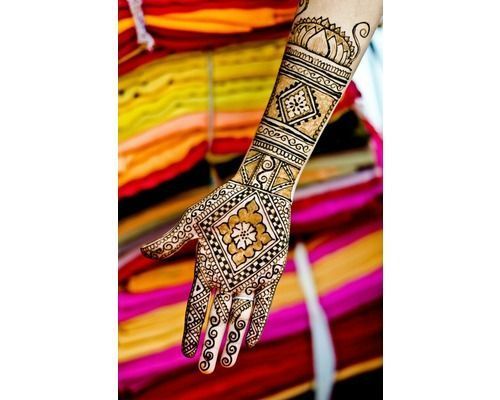 20. Full Arm Moroccan Mehndi Design
The intricate patterns and motifs in this mehndi design make it appear very stunning. For those seeking something more elaborate and sophisticated than simple patterns, the design's thinness is fantastic.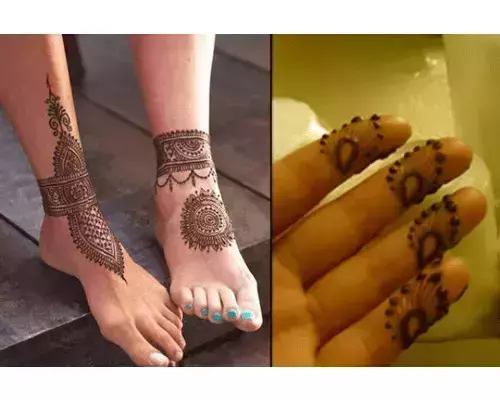 21. Ethnic Motif Design
These two designs use dot work that looks just stunning. When it comes to the feet and arms, you can choose elaborate and detailed mehndi designs or even basic yet striking ones.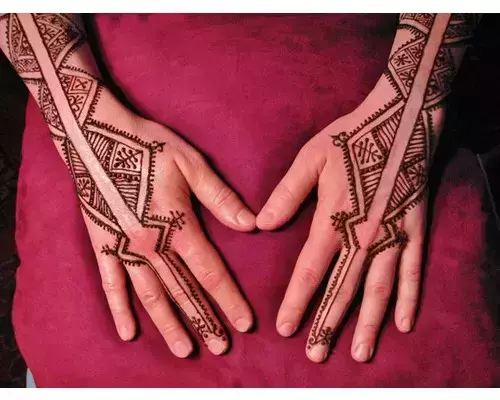 22. Symmetrical Pattern
There appears to have been quite an elegant and regal mehndi pattern created here. Since it beautifully highlights the traditional Moroccan mehndi motifs, this design is widely used for traditional functions. This is symmetrical and has a royal appearance.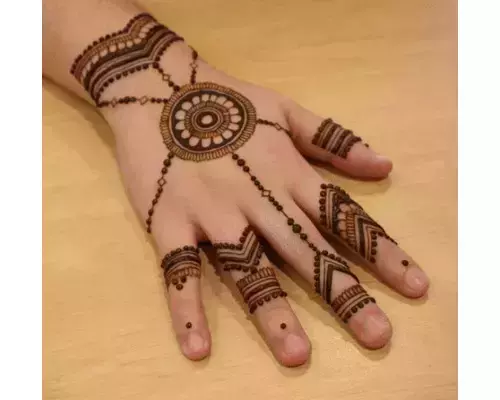 23. Ornamental Moroccan Mehndi Design
This incredible mehndi design, which in Indian culture resembles jewellery or a rakhi. This mehndi pattern is quite stunning and resembles lovely jewellery. This is the most common pattern and appears to be quite good.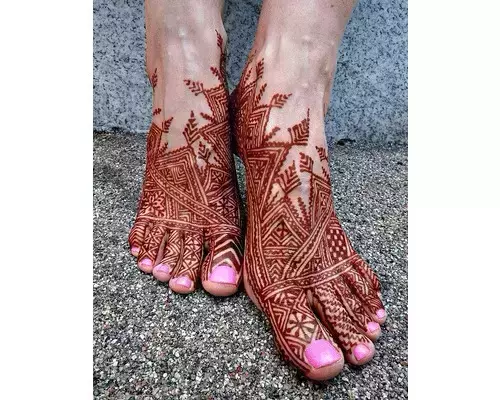 24. Ultimate Moroccan Henna Design
The crisis cross patterns that predominate the theme are the main concept. Since the linear patterns cover half of the feet, the mehndi design has some degree of symmetry. In addition, it appears that the feet are covered in something.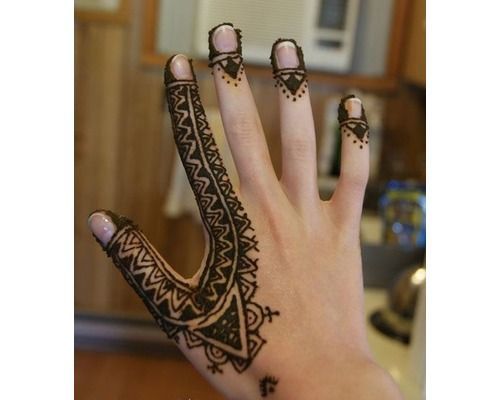 25. Two Finger Moroccan Mehndi Designs
This fresh would look fantastic for you if you don't want a bold pattern for your mehndi design. A lovely linear and symmetrical design that would look wonderful when printed on the middle two fingers.