11 Amazing Beauty And Skincare Tips From Taylor Swift - 2023
Tanumita Mishra
Updated At 25 Mar 23
Taylor Swift, an American singer and songwriter shot to fame at a tender age of 23 and has always been a sensation! She has been admired not only for her artistry and hits that she has given us but also her marvelously groomed body and personality. Ever since, her gorgeous and classy looks have fascinated girls all around the world.
She looks amazingly ravishing without putting on excess makeup and is known for her unique and natural looking curly hair. For all the beautiful young ladies out there, here's a list of 11 Taylor Swift skincare tips and fitness secrets that might help you achieve a look as striking as hers. Check these out!
Taylor Swift's Proven Beauty And Skincare Tips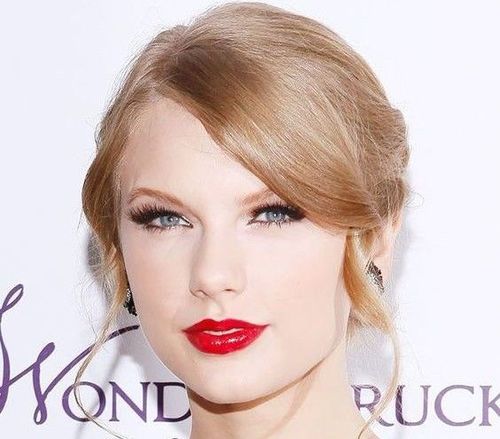 1. Keep Your Lipstick Smudge Free By Following Her Beauty Tip
She's exceedingly fond of that red lipstick in which she beams at the paparazzi, most often.
She loves wearing her signature red colored lipstick or flaunting her crimson lips at shows, on beaches, on the red carpet and also when hanging out with friends. She uses the red lipsticks of brand Cover Girl Lip Perfection in Hot and applies it in an unusual way by putting a single layer followed by dabbing in with tissue and repeating the same again. She makes sure it doesn't get smudged on her teeth. The process helps lipstick stay for long. So, now you know that you can simply put on your darker shade anytime and anywhere.
Apart from Taylor Swift, Selena Gomez skincare has been quite popular, however she prefers to go minimal on makeup.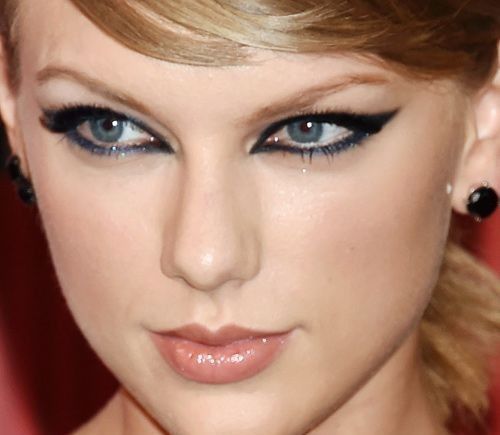 2. Go For Cat Eyes For A Perfect Makeup Look
She loves to wear the cat eye makeup most often and when asked, she reveals that she cannot do without her liquid liner. She suggests to get the right angle from bottom lash line following the angle up, in order to achieve that perfect winged eyeliner look. Her worthy advice says that you need to draw a fine line and try to get the eyeliner close to your lash line. She stays away from using a sharpie to line her eyes and doesn't recommend this as well. According to her, using a liquid liner is easier and effective.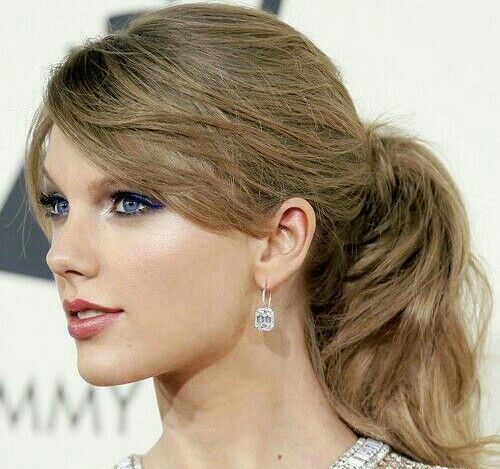 3. Say No to Too Many Hair Products
She avoids using any of the hair products as she doesn't want to spoil those naturally amazing bouncy curls. Taylor Swift curly hair tips are something you might be looking for! She simply re-curls her naturally curly hair during shows using conair ceramic instant heat spiral styler. She says that she has never dyed her hair in order to save them from getting damaged due to chemicals. She goes for graceful sideways braid if it's a bad hair day. So, keep experimenting with hairstyles too and stay away from excessive use of hair products.
Also Read: 19 Best Hairstyles Of Taylor Swift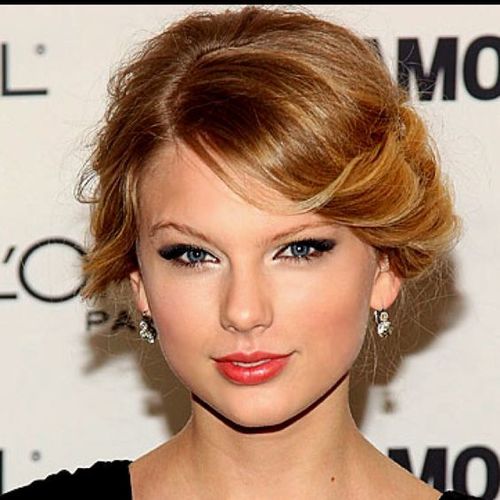 4. Eyeshadows In Sync With The Look
She goes for earthtone or neutral color eyeshadows with a tint of matte eyeshadow to give it a deeper look and quite a dark shaded eyebrow pencil to amp up the look. She has been spotted wearing jewel-toned eye makeup or silver shimmery eyeshadow, bronze eyeshadow and even a red or white one at shows and award functions. She often coordinates her eyeshadows to her dress colors or simply goes for smoky eye look.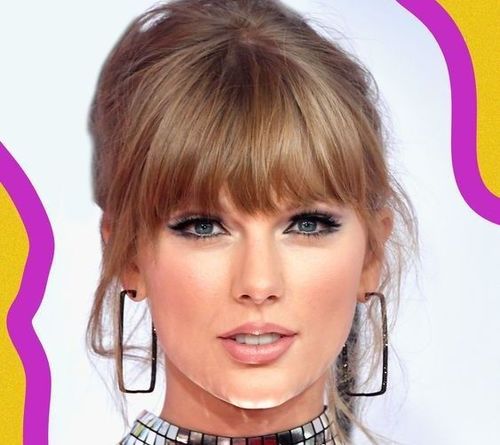 5. Experiment But Own Your Makeup Looks
She is grateful to her mother for introducing makeup to her. She makes sure that her hair and makeup is done, as according to her, it makes her look a better version of herself. In the process, she enjoys experimenting with her looks.
Her makeup essentials are mascara, liquid eyeliner, lipstick, natural brown eye shadows, a lash curler, and a Kate Somerville moisturizer.
The eyeliner gel brands that she prefers are black gel liner and a MAC Studio Tech NW 20, as they come with brush applicator making it easy to apply and preventing it from getting smudged.
6. Style It With New Haircuts
She's lucky enough to have been blessed with naturally perfect hair. She is known for her graceful curly locks. But apart from the soft curly hair look, she has looked really attractive in multiple hairstyles from wild, straight, long bob, shoulder length wavy hair and more. So she simply loves experimenting with hair-cuts and hairstyles.
Also Read: 11 Biggest Hair Trends Of The Year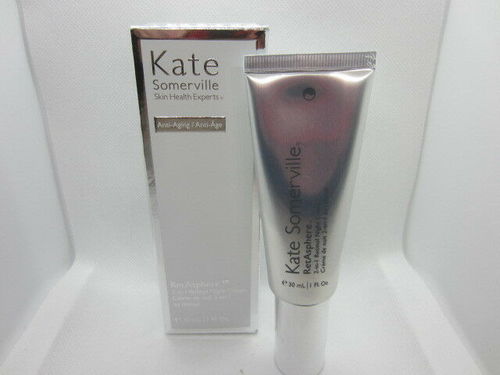 7. Use The Right Products
The beauty icon has always amazed all with her beautiful and flawlessly glowing skin aced up with harsh contour. Her spotless skin is something we've all dreamed of. Taylor Swift night cream is the Kate Summerville night cream and this is what she never fails to apply before going to bed and before putting on makeup in the morning, in all seasons.
Another product she prefers is body shop coconut body butter and a sun-block to protect her skin from damage of sun-rays. So, this makes a point that keeping the skin hydrated and protecting it from problems caused due to sun's exposure is a must.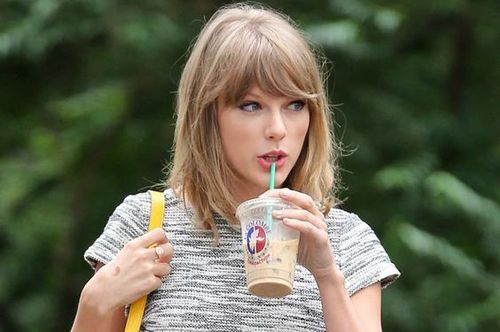 8. Stick To A Healthy Diet Plan
This is such an amazing fact to know that Taylor is extremely passionate about cooking and simply loves to eat. She has never followed an intensive diet plan as she's a foodie and doesn't like staying away from her food. Her breakfast is heavy and delicious which may include buckwheat pancakes topped with ham, parmesan and fried egg, while the other meals remain comparatively lighter. She prefers taking light food stuffs like salads, sandwiches and yogurts or sometimes vanilla lattes.
Also Read: 16 Best Balayage Hairstyles For Black And Brown Hair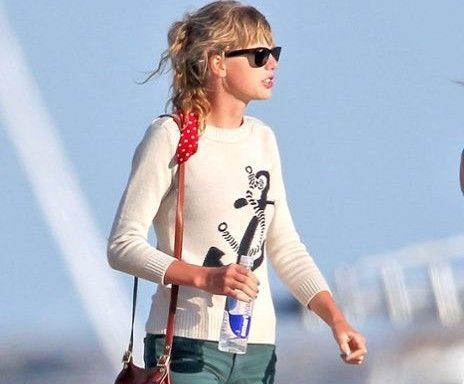 9. Water For Fitness
Taylor is so particular about taking enough quantity of water throughout the day. As per what she tells, her water intake is about 10 bottles per day and sometimes even more while she is travelling. Drinking plenty of water keeps your body hydrated and flushes out toxins from body, thus keeping it healthy. Apart from boosting immune system, drinking water, also enhances complexion and adds a natural glow to face.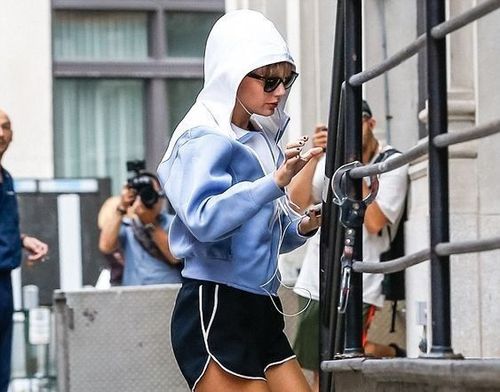 10. Work It Out
Though, Taylor Swift doesn't have a fat gaining body, yet she is committed to regular exercising and workout. No matter how busy the schedule is, she finds time for gym, not to lose weight but to stay fit, healthy and in shape. She believes that exercising lets you sweat which in return helps in getting rid of toxins from body and in preventing fat. The star is habitual of doing an hour long cardio exercises and workout on treadmill. So, her fitness tip says that you can eat whatever you want but don't forget to work it out. As simple as that!
Also Read: 11 Biggest Makeup And Beauty Trends You Must Know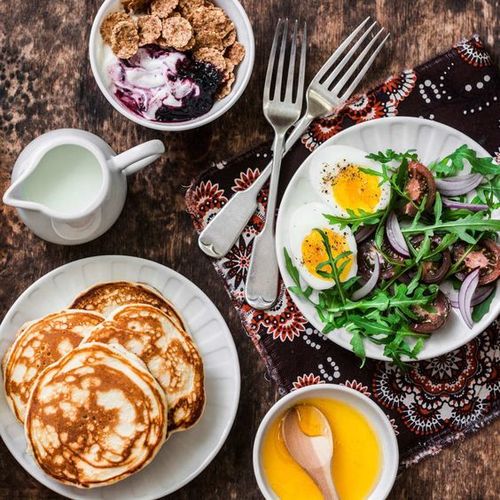 11. Avoid Sugar Rich Food
She avoids beverages like coffee and other aerated drinks which contain good amount of sugar in them and also add up to more calories. Rather, she drinks orange juice every morning, without fail. During weekdays she makes sure to eat healthy, something like nutritious salad, vegetables, fish and yogurt. This keeps her not only fit and healthy but also keeps her thin.
She breaks rules on weekends and relishes everything she loves. She takes baked cookies, chicken, pasta, burgers and ice-creams.
FAQs on Taylor Swift Skincare
Q- What products does Taylor Swift use?
Taylor swift makeup products include the following:-
MAC Retro Matte Lipstick In Ruby Woo
COVERGIRL LineExact Liquid Eyeliner Very Black
Nars Velvet Matte Lip Pencil in Dragon Girl
MAC Liquidlast Liner Point Black
MAC Studio Tech Foundation NW50
Q- What is Taylor Swift's favorite color?
Taylor Swift's favorite color is red. She has revealed it in the past that red is amongst her preferred colors.
Q- Who does Taylor Swift makeup?
Lorrie Turk, her make up artist is the key person behind her amazing makeup.
Q- What is Taylor Swift's eye color?
Taylor Swift has green eyes.
Her beauty and fitness tips might inspire you to try and take your look to another level. Do tell us in the comment section how these tips enhanced your appearance.
Related Articles