25 Best Stylish Looks Of Gigi Hadid
Shailee Basu
Updated At 14 Dec 22
The top 25 stylish looks of Gigi Hadid- from sweatsuits to rompers, you'll love it!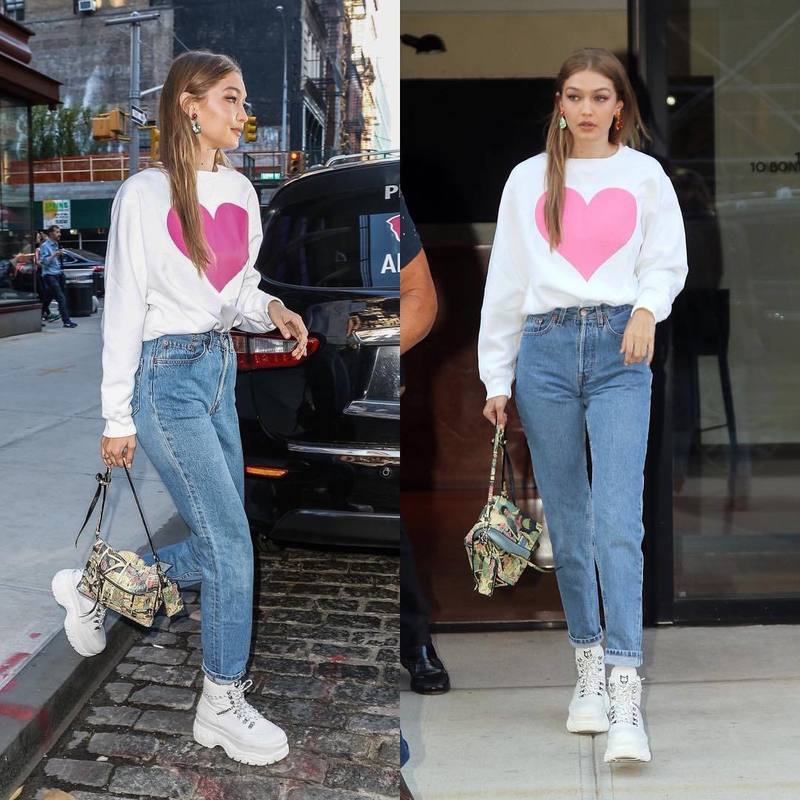 1.We heart this!
Gigi Hadid is making a statement by wearing regular fit denims and a simple yet snazzy white sweatshirt with a huge pink heart. The perfect weekday outfit look that is nothing too extravagant, just the right amount of chic and of course- comfortable!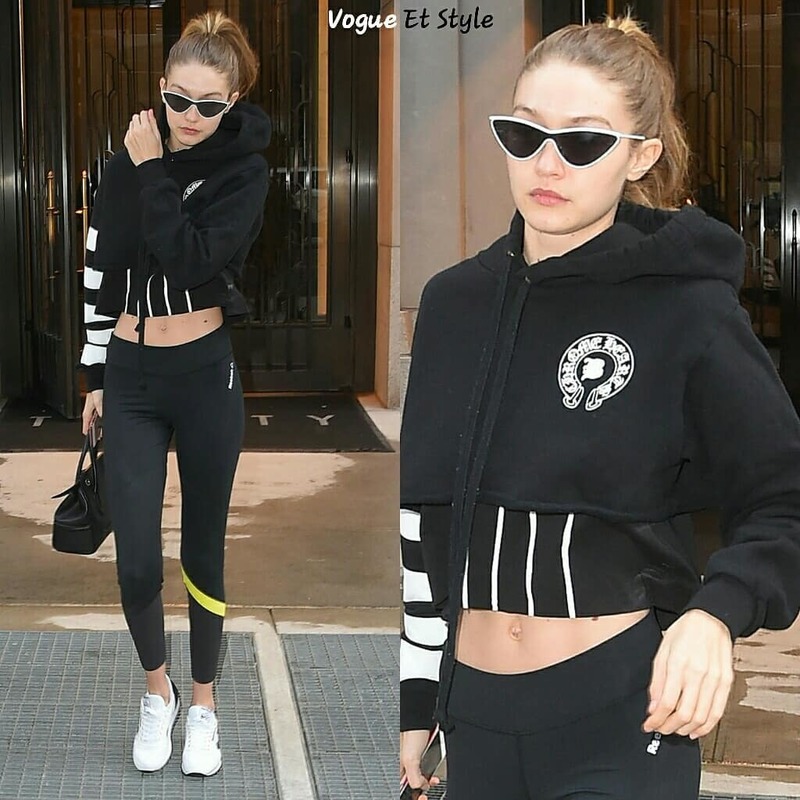 2. All Black, everyday!
Black basics will never go out of style. Here, Gigi is wearing a Chrome Hearts cropped black sweatshirt, Reebok tights. She compliments this look with fugitive sunglasses and a versace Palazzo Empire bag. The best Gigi Hadid look!
Also Read: GiGi Hadid X Maybelline Launches in India!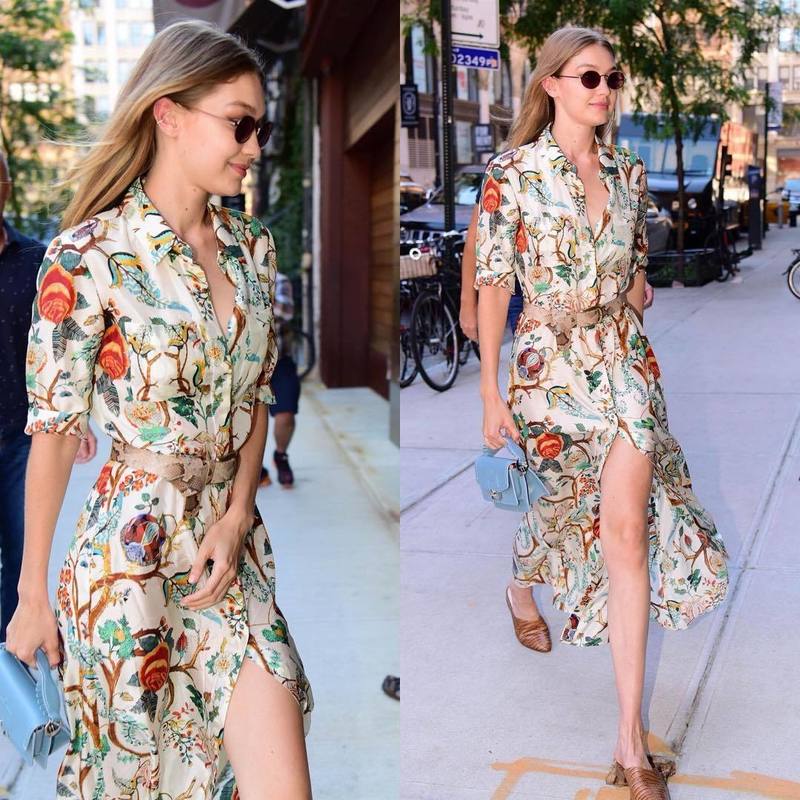 3. Summer dress vibes!
This stylish Gigi Hadid outfit look makes you want to fill your closet with split dresses this summer! If maxi's are too warm for you then opt for a breezy floral split dress for that summer vibe! Wear rounded sunglasses and carry a small statement purse in pastel color to compliment your outfit of the day.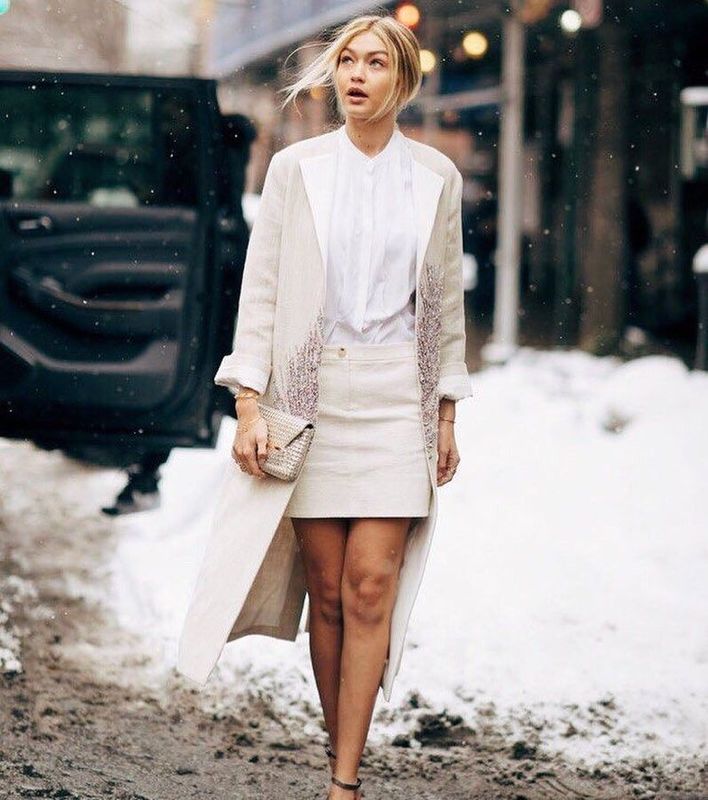 4. Nude fever!
Gigi Hadid is turning heads with this perfect nude palette outfit! A long jacket with some detailing near the lapel, an elegant white shirt and a short pencil skirt and an envelope clutch that matches the jacket- she's sorted for the weekend!
Also Read: 15 Things You Didn't Know About Supermodel Gigi Hadid!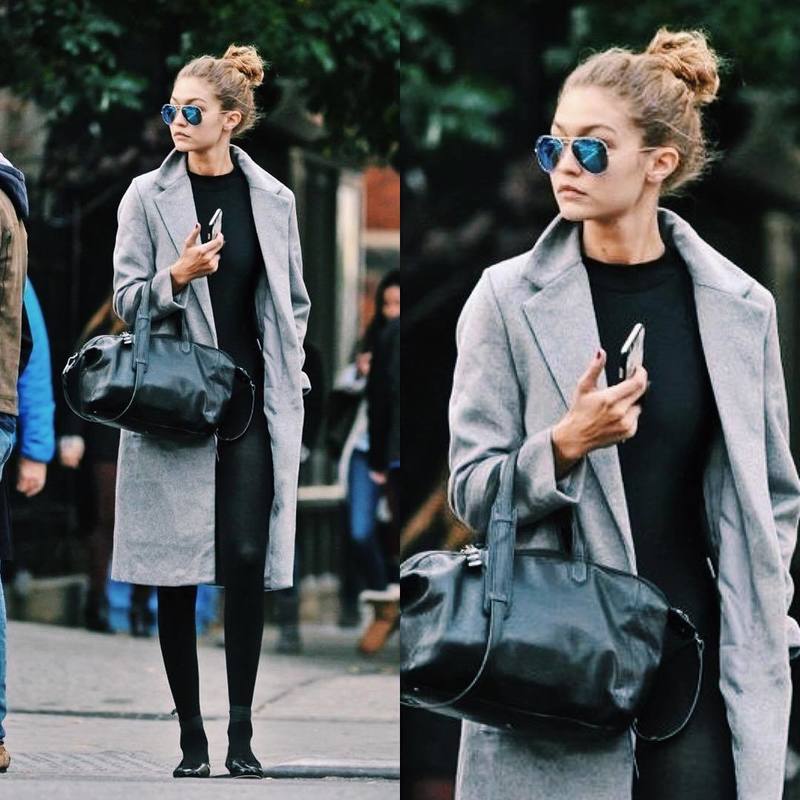 5. The cosmopolitan look!
A duster coat in grey, a high neck black shirt, black leggings, black doctor bag and blue aviator shades- this is one of our favourite Gigi Hadid looks- it's simple, it's chic, it's comfortable. Wear it for a rendezvous, as workwear or street style, wear it anywhere!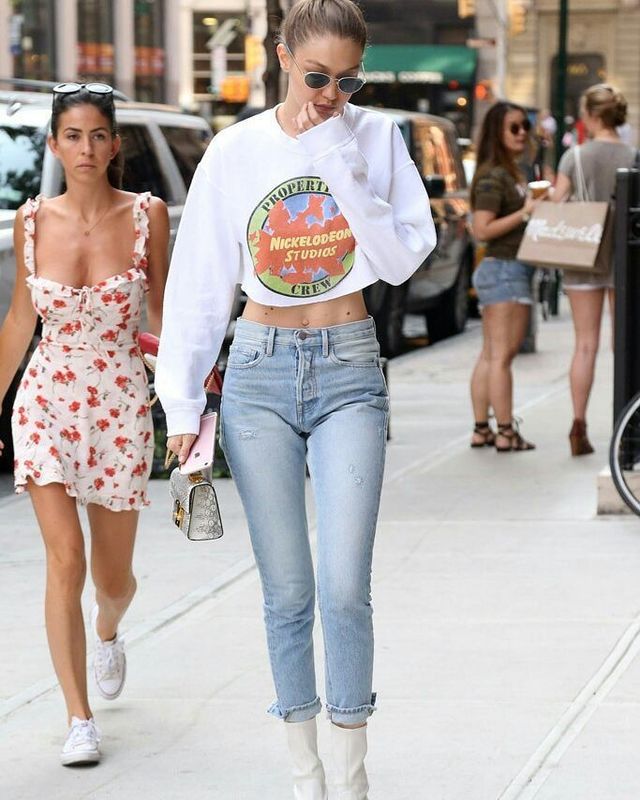 6. Sweatshirt it!
Gigi rocked an old-school Nickelodeon Studios cropped white sweatshirt with light denims, aviator shades and white boots. Gigi Hadid's tall and has a height of 1.78 meter. Her hair has been slicked back tight into a bun. Minimalistic style can never go out of style!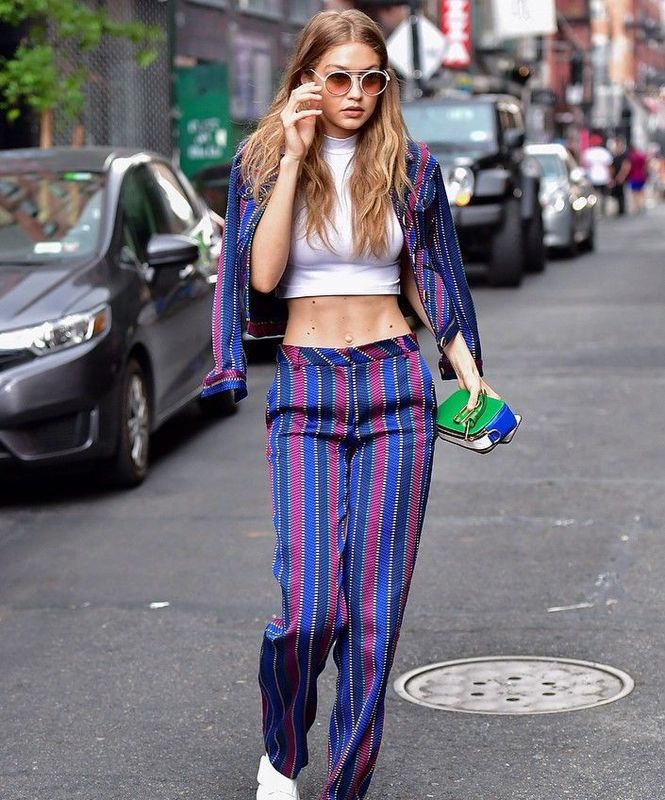 7.Co-ord-ing it like a bawse!
Her outfit game is on fleek with this striped pant and jacket co-ord, a white cropped turtleneck tee and graded sunglasses! She's taking the road less travelled and wearing the jacket over her shoulders.
Also Read: 11 Amazing Beauty Tips From Selena Gomez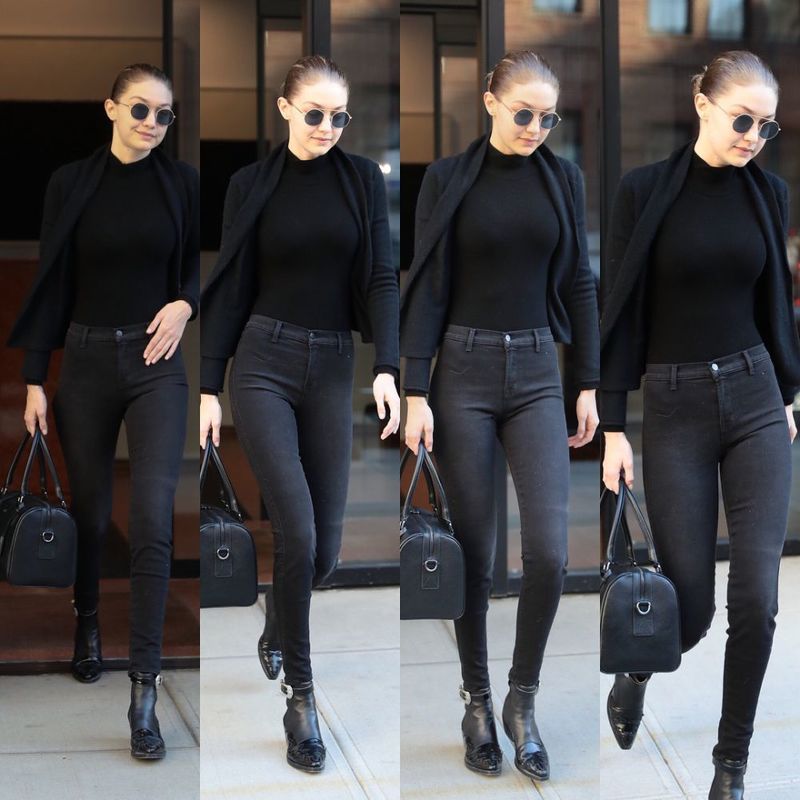 8.Clad in black!
It's all black everyday for Gigi Hadid! She's clad head to toe in this black outfit style. A high neck black shirt, a black cardigan, black pants, black sunnies, black duffel bag and black boots. We love this laid back outfit!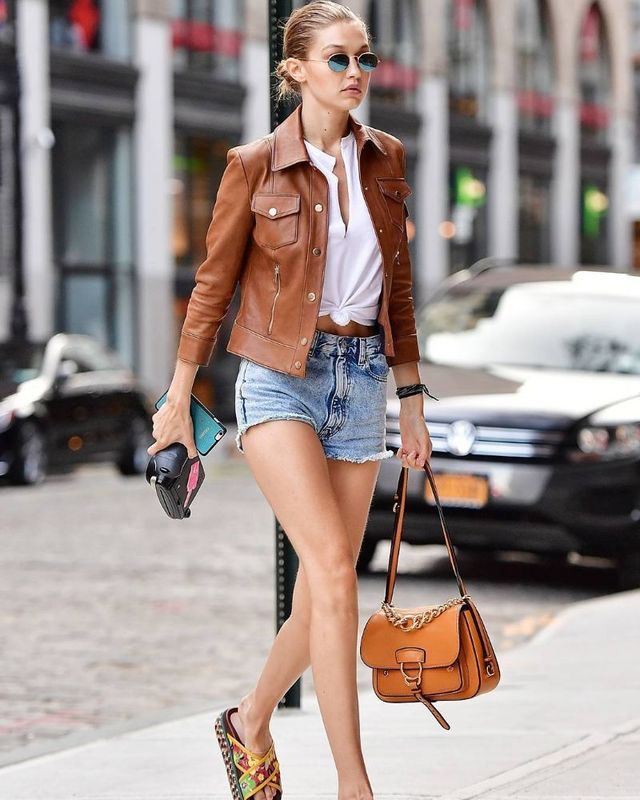 9.All about the snazz!
Slicked back hair, a white knotted shirt, denim shorts and the coolest brown leather jacket- it's street style at it's best and Gigi Hadid is perfection personified with this outfit!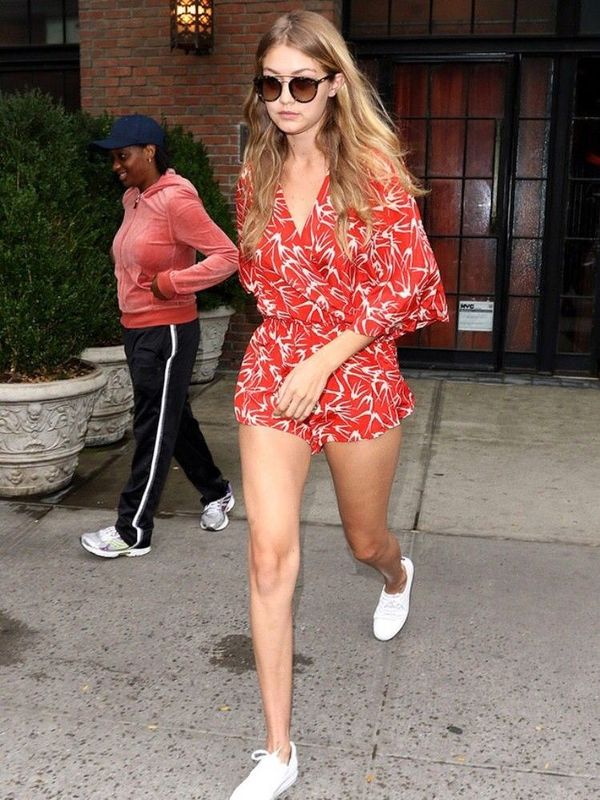 10. Romping around!
Opt for a romper suit in bright vibrant colors this summer to beat the heat and to make a fashion statement! Here, Gigi is seen wearing this comfortable and chic romper paired with oversized sunnies and white sneakers!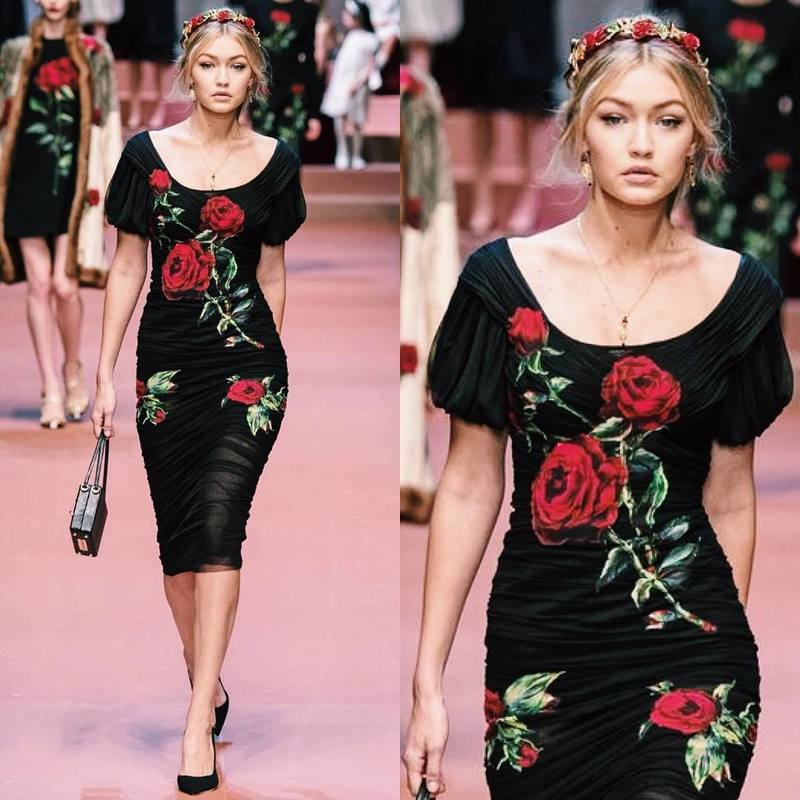 11. Date night!
We absolutely love this lovely runway style by Gigi Hadid- a midi dress with humongous rose prints paired with a headband of roses, it's perfect for a romantic evening date! Gigi Hadid's age is 23 years and she know's how to rock!
Also Read: 7 Secrets About Kate Middleton's Beauty Routine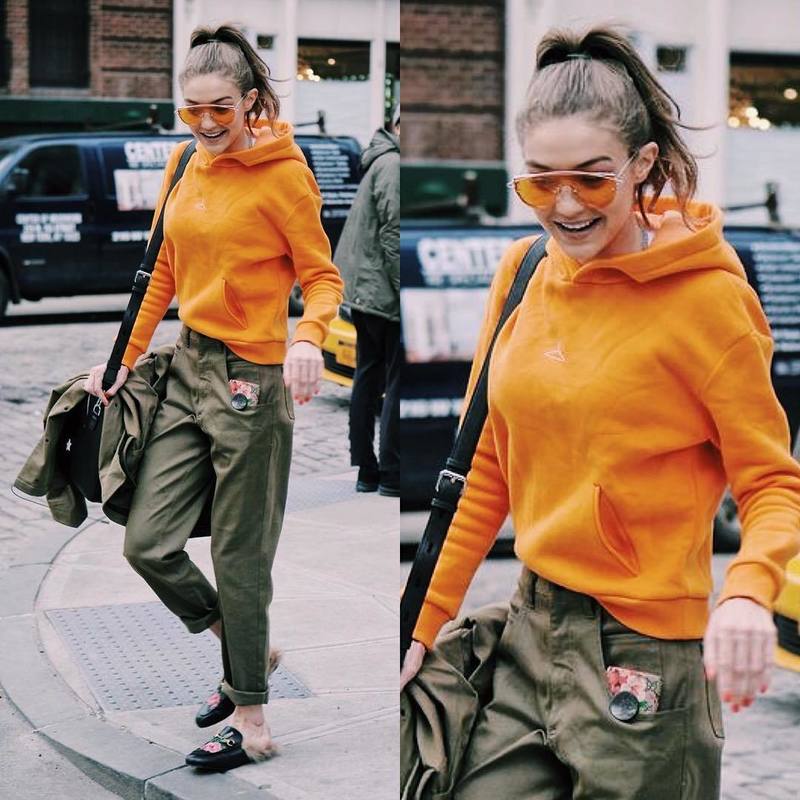 12. Tangy tangerine!
This bold bright shade is shaping up to be one of summer's hottest colors and if you don't believe us, just ask Gigi's tangerine hoodie and shades. And what compliments orange better than khaki green?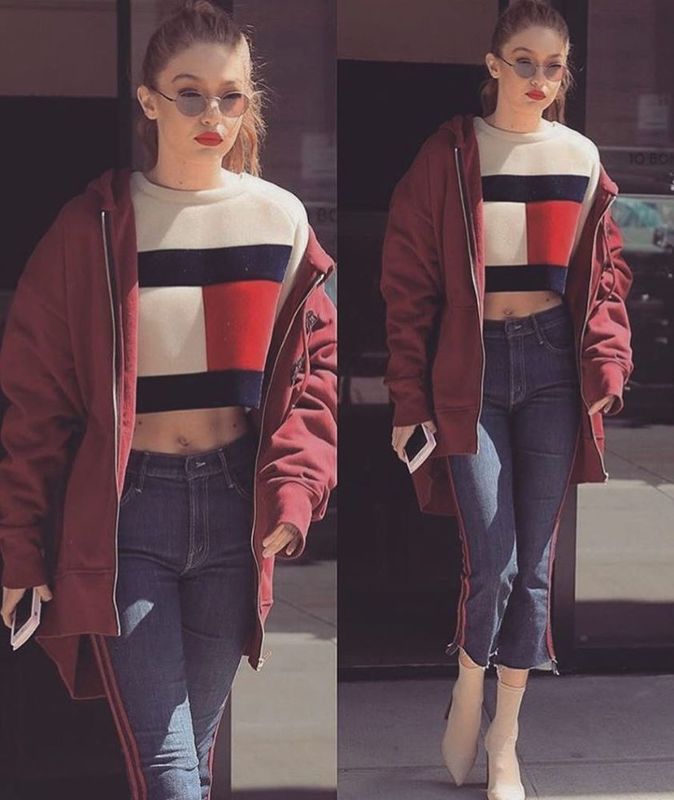 13. Gigi Hadid X Tommy Hilfiger
Gigi Hadid collaborated with Tommy Hilfiger earlier this year and she slays in their collection! Here she's seen wearing a cropped sweatshirt, a crimson oversized jacket and a cut out hem pants. To compliment the whole outfit, she's wearing the classic red lipstick! Gigi Hadid collection no doubt is amazing!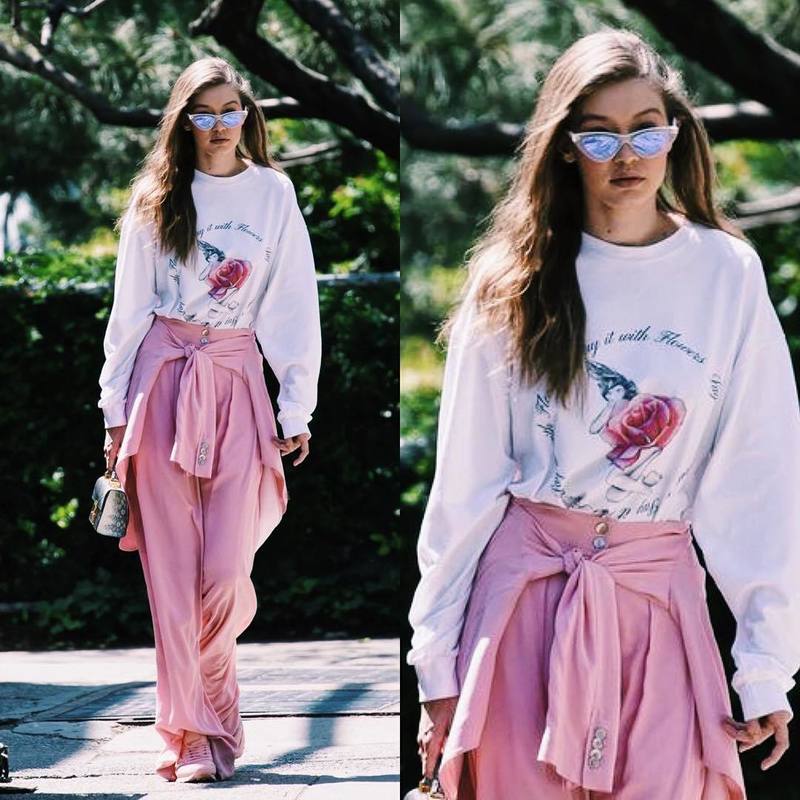 14.Pink kinda day!
Summer calls for pastel and light colors! Gigi slays this style by sporting pink loose pants and a white oversized sweatshirt and angular shades. She's tied her jacket around her waist.
Also Read: The Best Celebrity Eyebrow Transformations Of The Season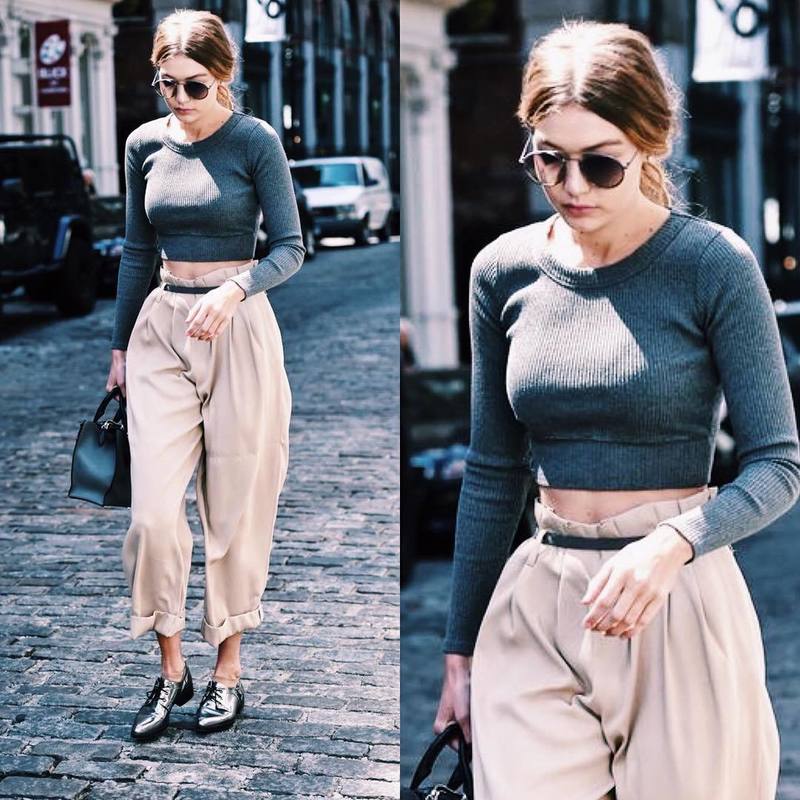 15.Bagging all the attention!
Paper bag trousers are in style- just look at how effortlessly she's rocking this off white paper bag pant and a simple yet chic dark grey cropped sweater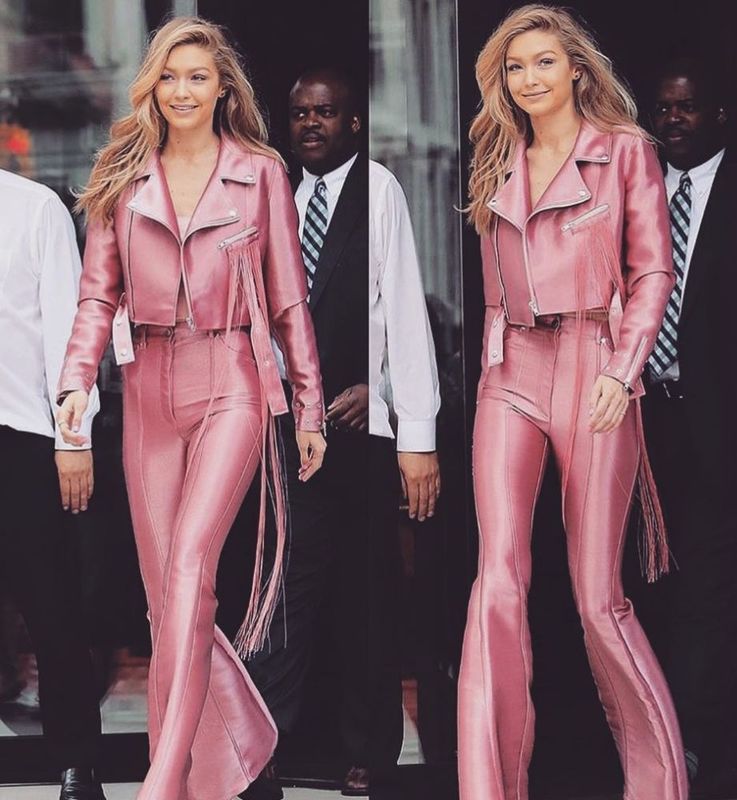 16. Retro-ing in pink!
Just when you thought pink from head to toe would look tacky- Gigi Hadid shows you how to be a badass and rock this metallic pink jacket and flare pants!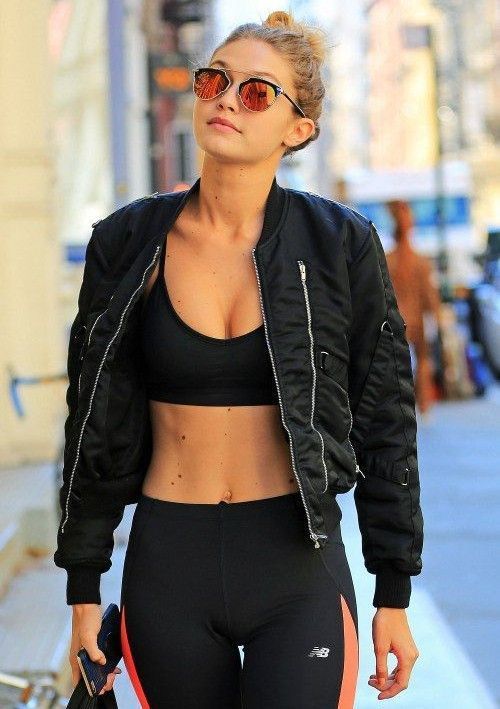 17. Workout look!
Gigi shows off her toned body in this perfect workout look- a black sports bra, black pants and a black bomber jacket!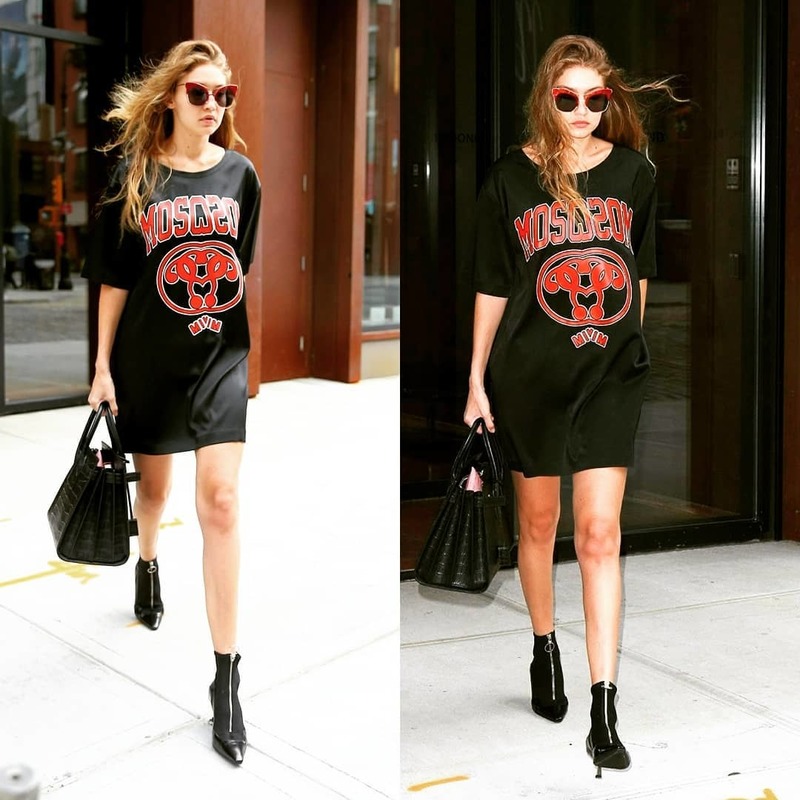 18. Comfort at its zenith!
Gigi knows how to pull off a t-shirt dress! Just pay attention to accessorizing if you're planning on stepping out in a simple t-shirt dress. Here Gigi is wearing red rimmed sunnies, black boots and a black tote bag.
Also Read: 7 Popular Cosplay Characters For Comic-Con 2017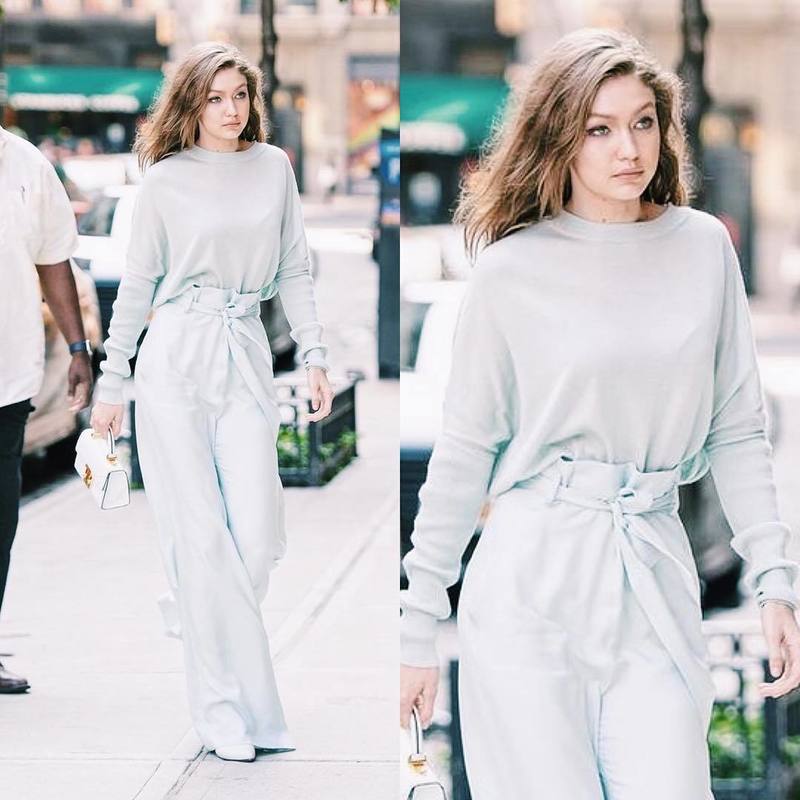 19. Pastel for summer!
We love this pastel outfit that Gigi Hadid is wearing- blue paper bag trousers and a matching sweater accessorized with a white mini bag- perfect for any occasion!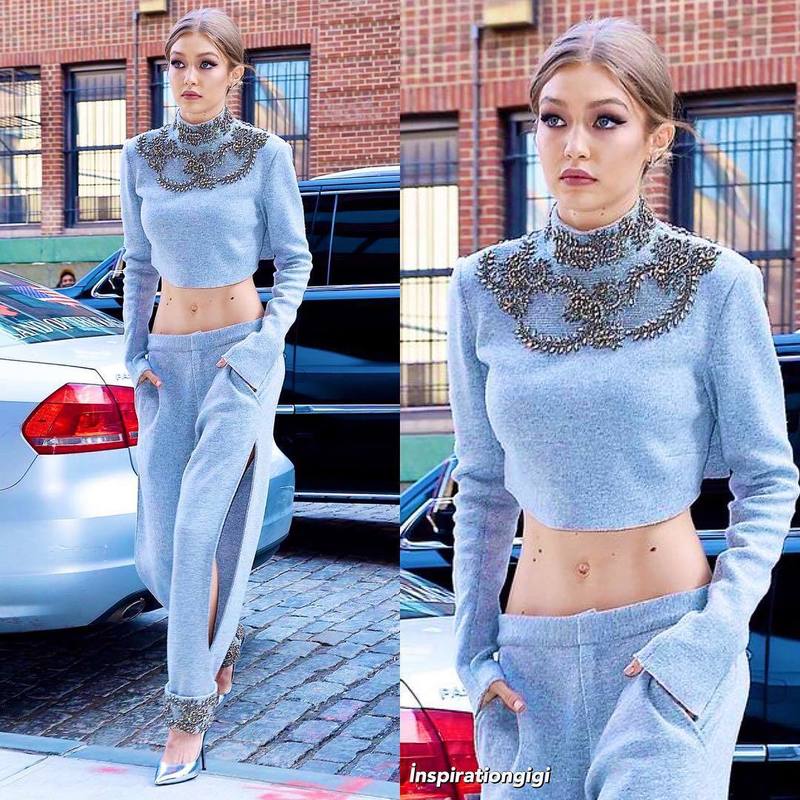 20. Sweatsuiting like a Queen!
We've got to admit- Gigi's wardrobe is presumably dominated by sweatsuits and this one's an offbeat one- with thigh slits, a high collar and a conspicuous eye catching detail. It's a Sally LaPointe set.
Also Read: 6 Amazing Makeup Lessons To Learn From Manushi Chhillar!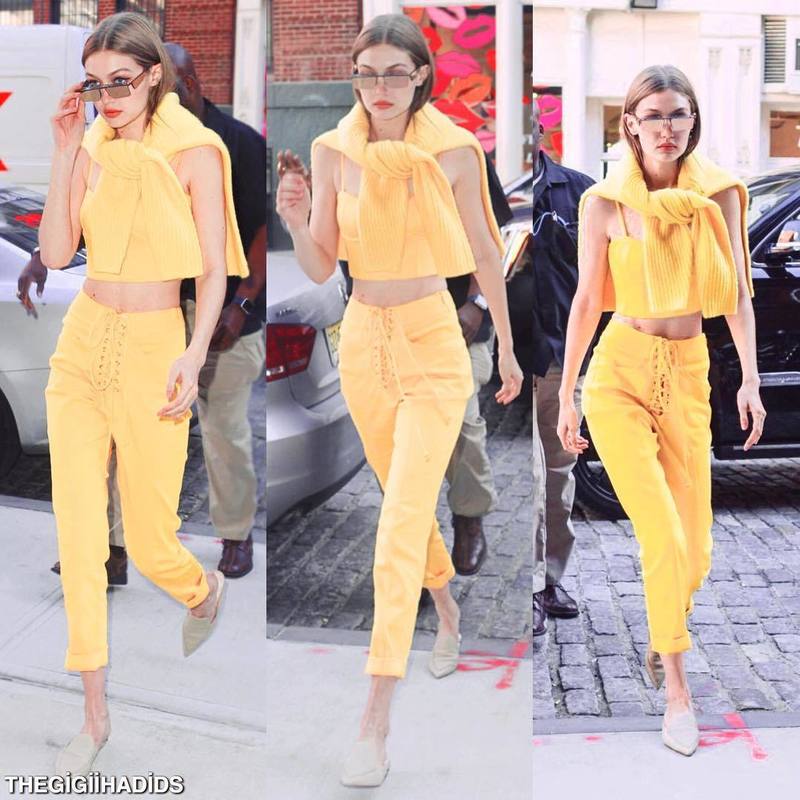 21. Glowing in yellow
When you see Gigi sporting this all yellow outfit- a yellow cami, yellow jacket tied around her neck and tie up pants, you just feel like giving your monochrome wardrobe a makeover with summer hues!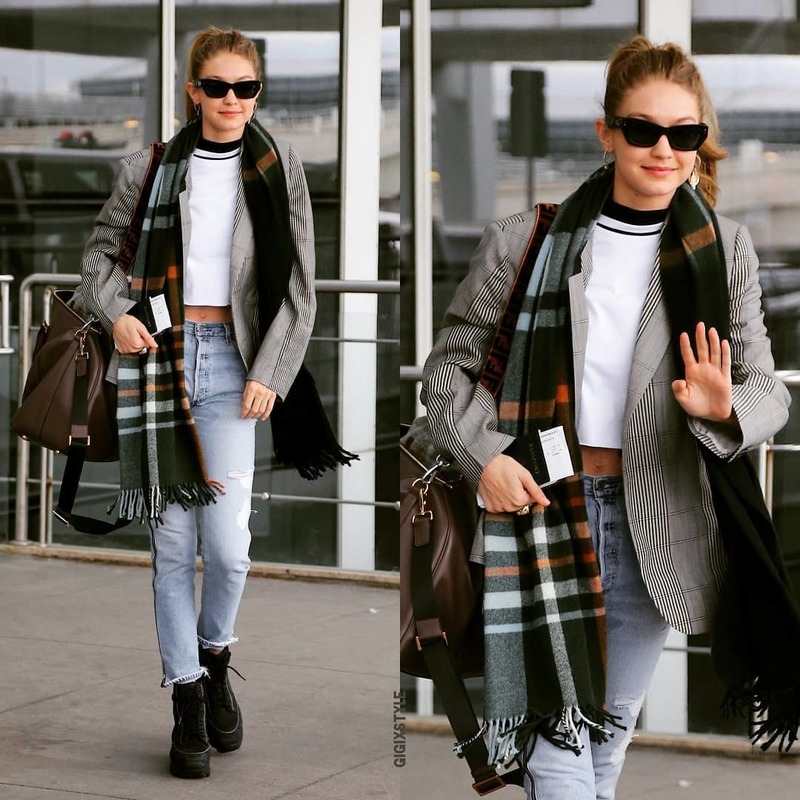 22.Scarf it up!
Add a few cool statement scarves to your wardrobe! This makes up for the perfect airport look- denims, a shirt, striped monochrome jacket and a humongous scarf that steals the show!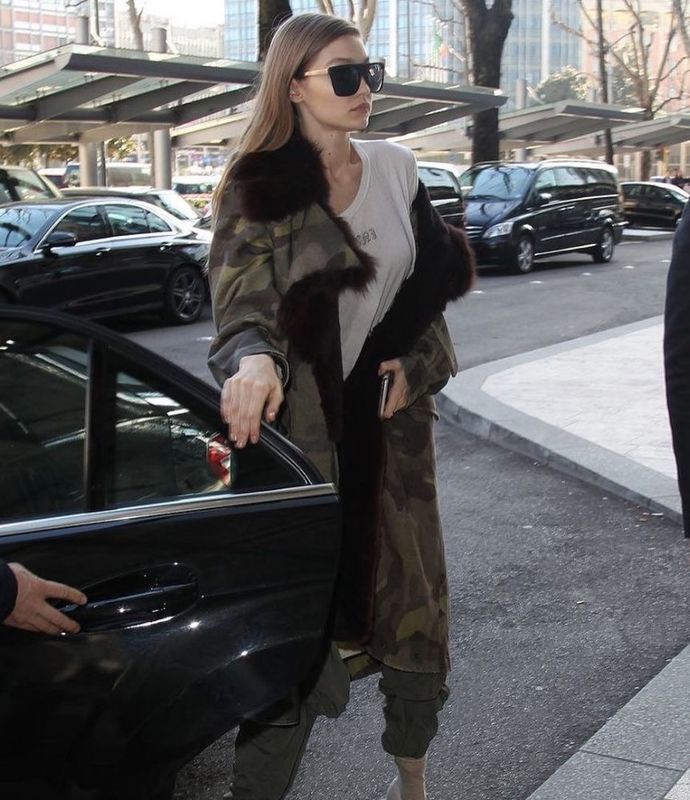 23.Love for duster coats!
Gigi Hadid shows us how to camouflage our early week blues with this oversized military print duster jacket lined with fur at the lapel and oversized wayfarers.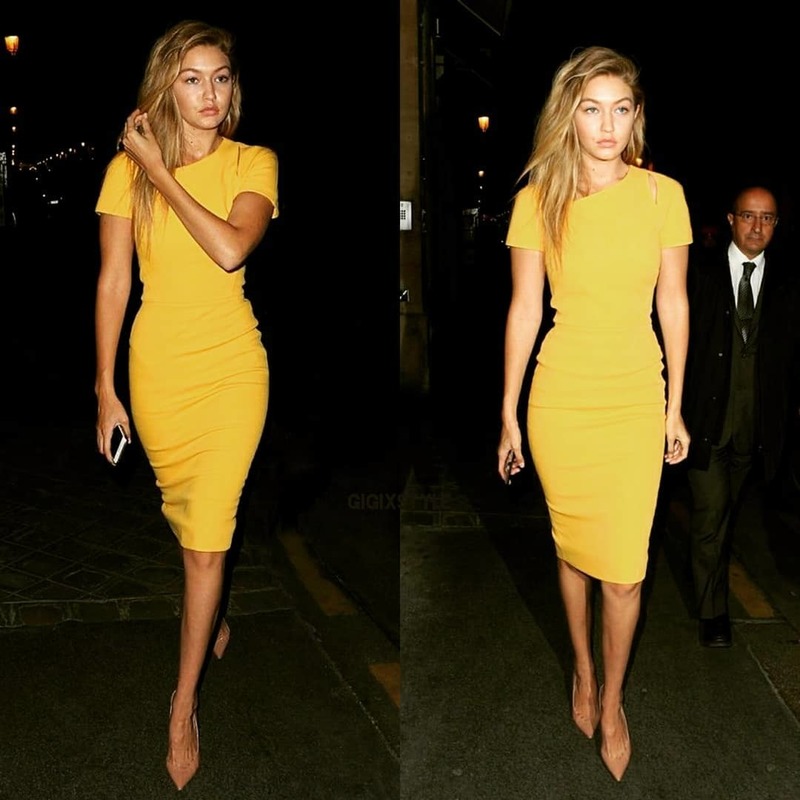 24.The perfect outfit!
Yet another effortless yet snazzy outfit by Gigi- a yellow bodycon dress! Wear this for sunday brunch or a date night and you'll feel the glowy yellow vibe throughout.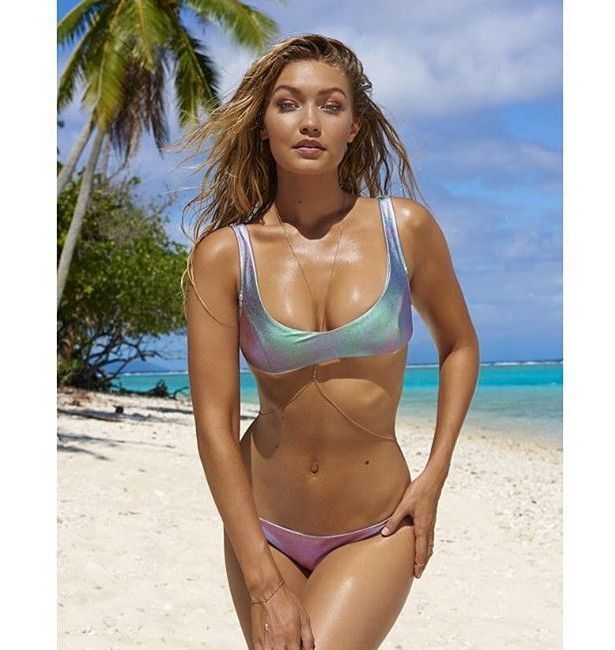 25. Beach day
Last but not the least- this is the most trending style of 2018- holograph!
You've seen holographic hair, holographic makeup, it's time to wear this stunning holographic bikini for the perfect beach day!
Related Articles: