25 Simple Henna Hand Designs For Beginners - 2023
Olivia
Updated At 09 Mar 23
Henna, also called Mehndi, is a beautiful art that can be created on one's hands and legs for any casual or traditional event. If you are new to mehndi and would like to make or learn this mehndi art, then let's check out some coolest henna designs which are simple and quick and specially made for beginners. Here are 25 simple and easy henna hand designs for beginners. Lets begin.
25 Simple And Easy Henna Hand Designs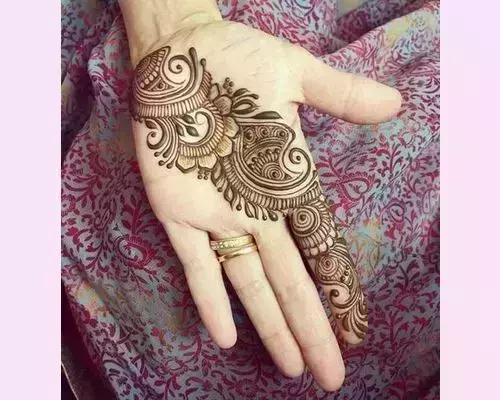 1. Easy Arabic Henna Designs
Arabic henna designs are simple mehndi designs that can be quick and beautiful too. This beautiful henna design for hands is nicely created with mehndi elements such as leaves, flowers, and paisley. A must-try henna design for beginners.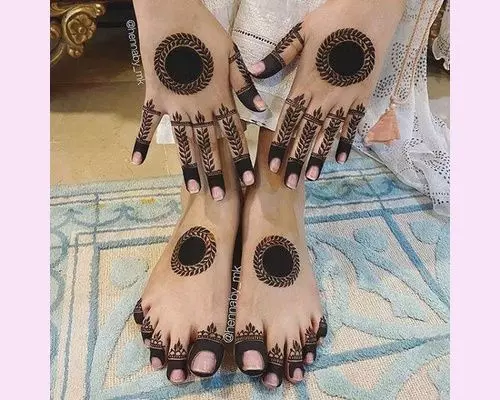 2. Beautiful Combination Henna Design For Beginners
This is a classic collection of Mehndi designs for people who love to have minimal and beautiful henna designs for hands and legs. You can try this simple henna design for your traditional event. The bold circle accompanied by leaves looks mesmerising. This is a choice for front-hand henna designs and also back-hand henna designs.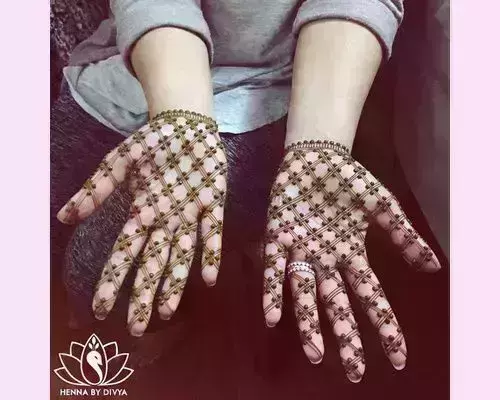 3. Simple Henna Design With Jaal Pattern
A modern mehndi design with a jaal pattern all over the palms looks stylish. The criss-cross lines and motifs make this a henna design for beginners. This design can be replicated on both sides of the hand. If you are looking for henna designs which can be used for all occasions, then this can be an amazing option.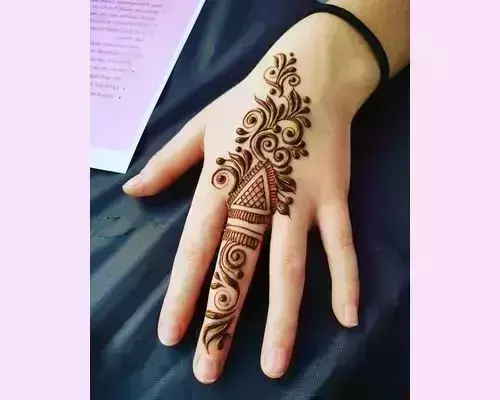 4. Finger Henna Designs For Beginners
This design is also meant for beginners. It's a simple henna design which looks beautiful. The straight mehndi pattern on the backhand is creative. You can take ideas from this and create designs for other fingers too.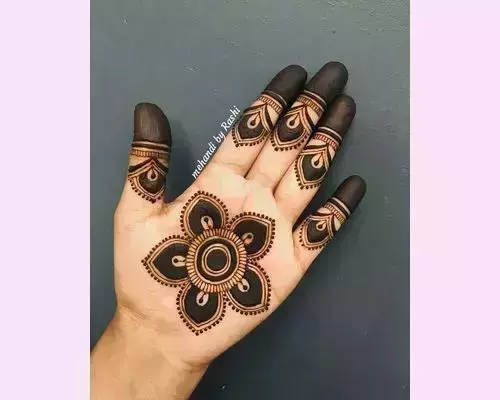 5. Bold And Beautiful Henna Designs For Hands
The bold floral element in the middle of this henna design and the semi-curve designs on the fingers are stunning. The minute dotts play the outline border which gives a perfect finish.
Do check out our guide on creative henna designs as we list 25+ stylish and trending henna designs. These include new designs made from elements like leafs, paisleys, spaced out designs and many more.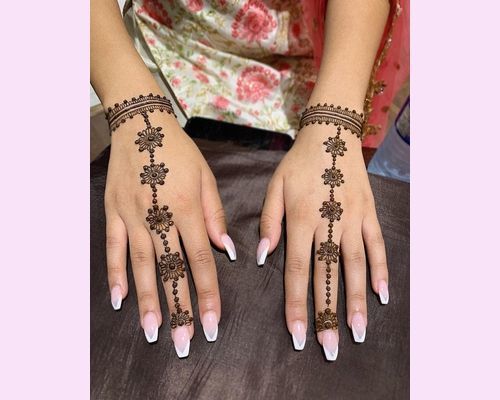 6. Front Hand Henna Designs
This sleek front-hand henna design is charming. This front hand henna design can be easily made by beginners and gives a jewellery feel. If you do not want to wear hand jewellery, then this chain henna design can be replicated to decorate your hands for a traditional event.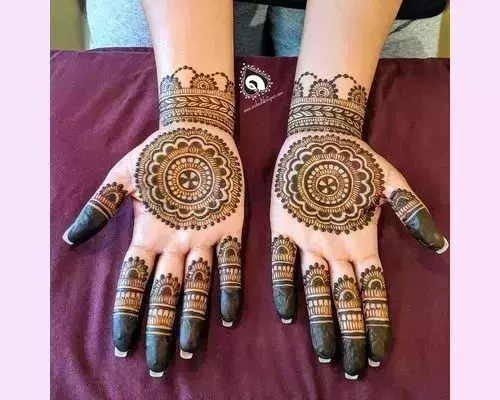 7. Mandala Henna Design For Beginners
The mandala mehndi design is trending and when this henna design is applied on the front hands, it gives an elegant appearance. The circular mandala design on the centre of the palm and the bracelet design on the wrist look perfect. If you love designs that give a royal look, this beginner Heena design is a must-try.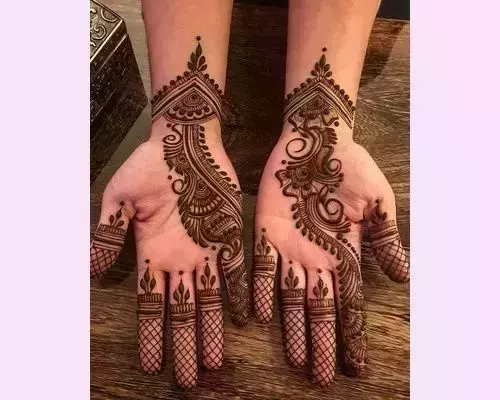 8. Indo-Arabic Henna Design For Beginners
How about trying a variation in the mehndi design? Trying different mehndi strokes and making elements can be good learning for beginners. This Indo-Arabic henna design is made for backhand and is easy to make if made with proper spacing. The curvy veil moving towards the single finger is Wow. The jaal pattern on the fingers also complimenting the entire henna design.
Do check out our guide on front hand mehndi designs as we list 50+ stunning designs which have been trending this year.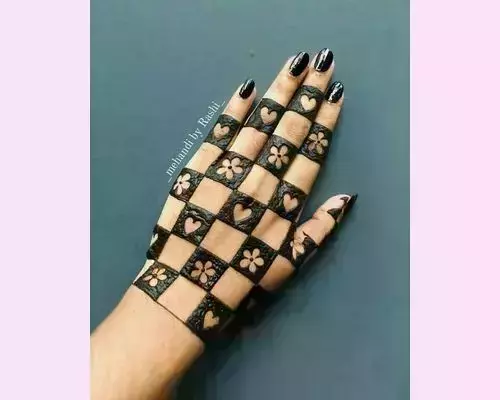 9. Block Henna Design For Beginners
The Simply WoW mehndi design is so classy and modern. Try this block mehndi design or call it a chess design, this mehndi design can be created by beginners. Try making bold blocks and keep the alternate block empty for a better appearance. The elements filled in these blocks are a simple flower and a small heart. You can try different small elements in this block and create new simple henna designs.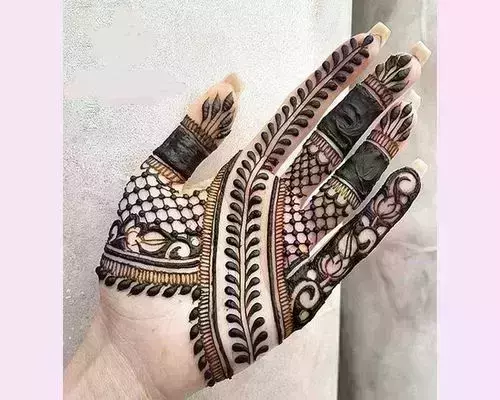 10. Beautiful Leaf Henna Design For Beginners
A perfect front-hand henna design, this mehndi design has multiple elements involved and is one of our favourite simple henna designs. The Leaf pattern, the jaal pattern, the shaded roses and the leaf motifs are beautiful and overall it creates a mesmerising henna design for this season. If you are a beginner, then you should surely try this simple henna design.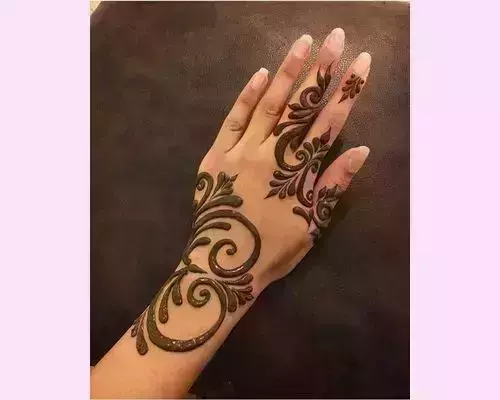 11. Back Hand Henna Design For Beginners
Everyone wants something different for their mehndi design and so we love to showcase different styles of mehndi designs. This Heena design is surely a different and unique Heena design you can try, which is an easy henna design for beginners. The bold semi-curves and leaves are adding grace to this entire back hand mehndi design.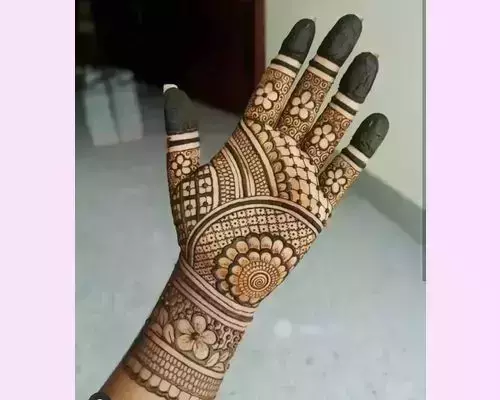 12. Classic Henna Design For Beginners
This beautiful henna design for hands is a classic choice for many. You can try this simple henna design with different mehndi elements and give it a perfect look. This design is easy and can be a choice for traditional events.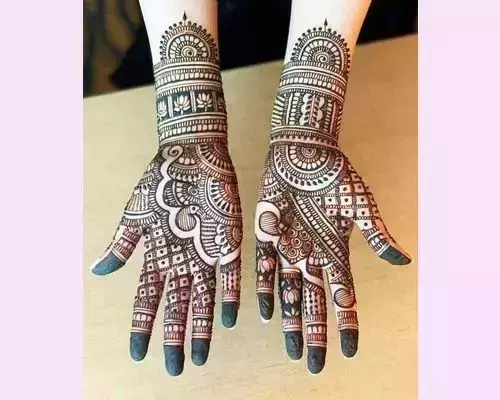 13. Semi-Bridal Henna Design
We are in love with this filling henna design which is made of florals, paisley, motifs, and dotted lines with different elements and patterns. The bracelet design around the wrist brings a charming effect to the entire henna design. We recommend a must-try beautiful Heena mehndi for beginners.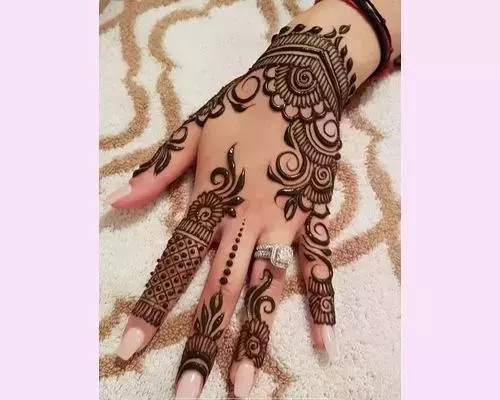 14. Leafy Veil Simple Henna Design
If you are new to the mehndi scene, then you must try out this simple henna design pattern with a leafy veil and floral elements. Such beautiful henna designs are abstract designs, which are the best easy henna designs for beginners.
If you are looking for alphabet mehndi designs, do check out our guide on S letter mehndi designs as these are very popular and have been trending this year.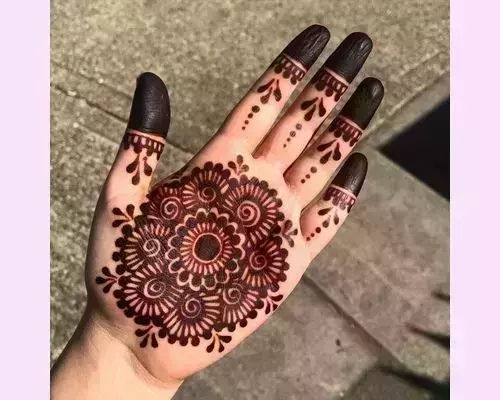 15. Half-Hand Henna Design For Beginners
Simple and easy henna designs should not be elaborate with a lot of empty spaces. This palm design with leaves, floral and motifs patterns is always a hit among minimalist designs. A quick and beautiful henna design complements your traditional and casual look.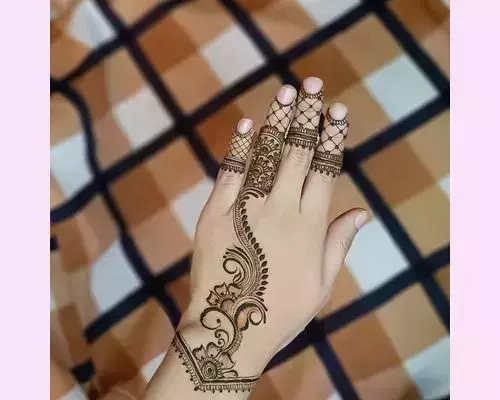 16. Ring-Finger Henna Design
A minimal henna design for the backhand, which floral and leaves motifs moving towards the ring finger is beautiful. This design is loved by many, especially suited for engagement day.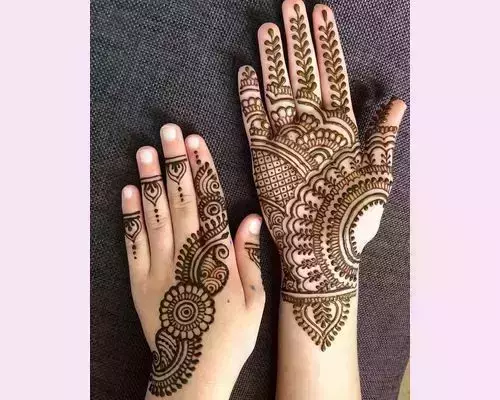 17. Simple Henna Design for Hands
This front and back hand mehndi design is a beginner henna design with floral and paisley motifs. The palm-sized design is easy and beautiful. You can combine this entire mehndi design for your event and we are sure it would look perfect!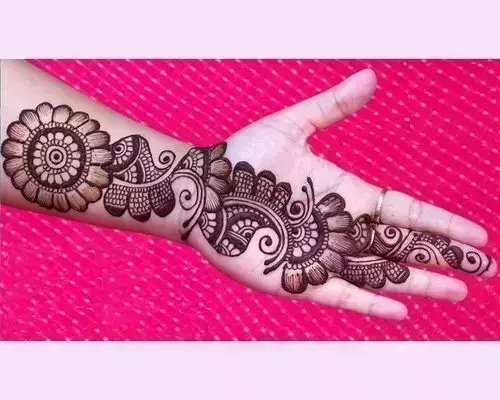 18. Tailored Pattern Arabic Henna Design
While such mehndi trails are very prominent for the backhand, this floral and paisley motif Arabic Henna design is a well-detailed trail on the front hand. It looks great with broadline work and easy to make design, especially for starters.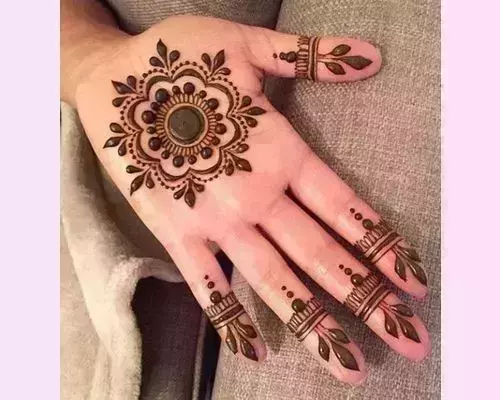 19. Floral Mandala Henna Design For Beginners
Circular mehndi art, also named mandala represents the universe. It is considered auspicious for the brides and the family members; hence, it is involved in the mehndi, especially during weddings. The circular floral pattern and the simple work on the fingers are magical.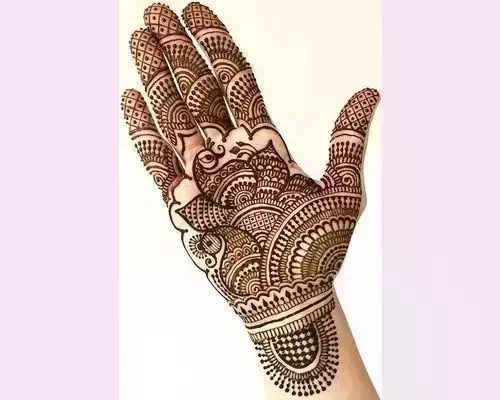 20. Simple Peacock Henna Designs For Beginners
A filling mehndi design, with detailed work, is mesmerising. The finer work of floral, curve patterns and paisley-made peacocks is beautiful. Beginners can try utilising different mehndi elements for the henna design.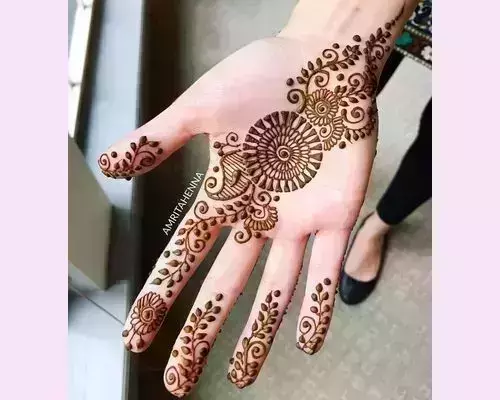 21. Circle And Leaves Henna Design For Back Hand
This simple henna design with a small circle and curvy leaves is an extremely simple and easy style henna pattern for the backhand and is a great option.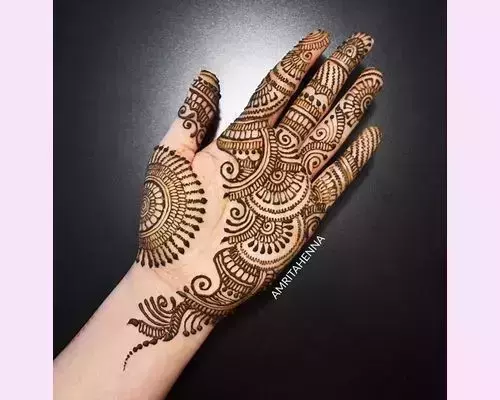 22. Mesh Henna Design For Beginners
Nowadays, everyone prefers elegance to mehndi designs. This gorgeous henna design is a must-try design, with simple mesh and curves, one of the popular patterns for this season and a wonderful choice to go for!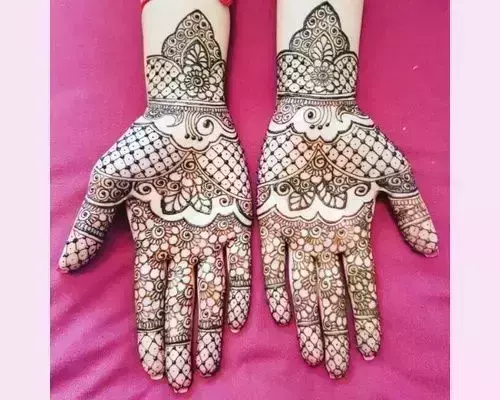 23. Simple Jaali Henna Design For Beginners
The small cross jaali on the palm and the fingers are easy elements of mehndi. One can create some florals and leaves also, with this design and create a hand-filling mehndi design.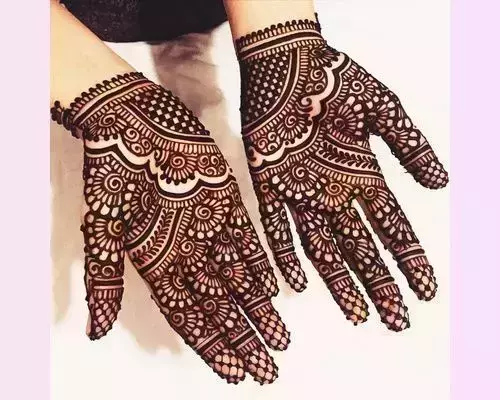 24. Elegant Heena Design For Beginners
Concentric circles brought to life with dotted highlights look so soothing to the eyes. Further, the identical belted patterns on the fingers is delicately done. However, the bracelet part is yet another highlight of this charming of this mehendi design.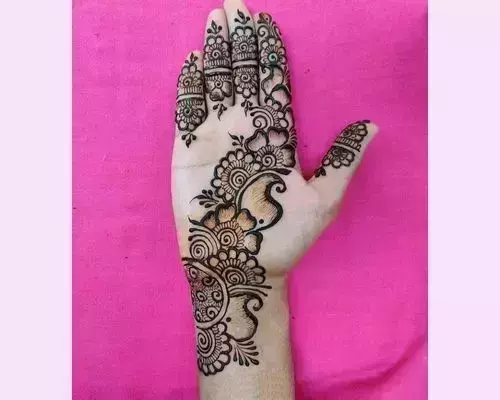 25. Classic Arabic Heena Design For Beginners
Another Arabic Heena design for beginners which looks classic is simple and beautiful. One can try this henna design on the front and back hands both. It covers the palm and the wrist nicely with floral patterns and paisley. The unique design on the fingers which are detailed with semi-floral work is a good mehndi creation.