Victoria's Secret Model Workout and Diet Plan - 2023
Ankita Ghoshal
Updated At 25 Feb 23
Victoria's Secret models have been giving us body goals since forever. Every Victoria's Secret model workout game is super strong. Thanks to their immensely successful careers, these ladies are in shape all through the years. They start preparing months before their runways and always look spectacular.
Victoria's Secret Angels follow a strict diet plan and workout regime. If you want to have a physique like them, we are here to help you. Keep reading to know all about Victoria's Secret model diet and workout plan.
We have covered the following topics for you:
Diets and Workouts of Famous Victoria's Secret Models
Victoria's Secret Model Diet Plan
Victoria's Secret Model Workout Routine
Victoria's Secret Model Training Tips And Skincare Secrets
Diets and Workouts of Famous Victoria's Secret Models
Let's look at the diet plans and workout routines of some of our favorite Victoria's Secret models:
· Bella Hadid
Bella Hadid Diet: Hadid makes sure that her diet is high on 'hard protein'. She keeps her hydrated at all times and maintains a healthy diet.
Exercise: Hadid works out for as many as three hours a day to keep herself in perfect shape.
· Georgia Flower
Diet: Fowler always has a strict yet reasonable diet. She tries to have 80% fruits and vegetables, 10% fats, and 10% protein in her daily diet. This Victoria's Secret model diet plan includes an avocado a day, plenty of nuts, lots of fish, as well as fruits and veggies. She avoids process foods, excess dairy, and carbs.
Exercise: Flower works out at least five to six times every week. Ideally, she goes for a cardio/cycling/boxing session, a HIIT session, two weights sessions, and a Pilates class.
· Victoria Lee
Diet: This model diet plan includes lots of vegetables, quinoa, and protein. Lee always makes sure to consume food items that nourish her body. She does not believe in counting her calories.
Exercise: Lee exercises for an hour every day for six days a week. Her go-to workout is Simone Dance Cardio's Body. She finds it super fun to do. Her favorite is the Full Body class which is an amazing combination of strength and cardio.
· Karlie Kloss
Diet: Karlie Kloss, the gorgeous Victoria's Secret model diet plan is packed with whole foods. She loves to have egg white omelet, porridge or protein shake in her breakfast. Sometimes, she also replaces these with fresh fruits and yogurt.
Exercise: Thanks to Kloss' endless swimwear shoots, she stays in her shape all through the year She's been indulging in combinations of high-intensity cardio such as SoulCycle as well as Pilates-type strength training and using rubber bands for strengthening arms and legs.
Do check out our article to find out the exact details of Cara Delivingne Diet who is one of the best models! Her diet and workout are the 2 main reasons for her perfect figure.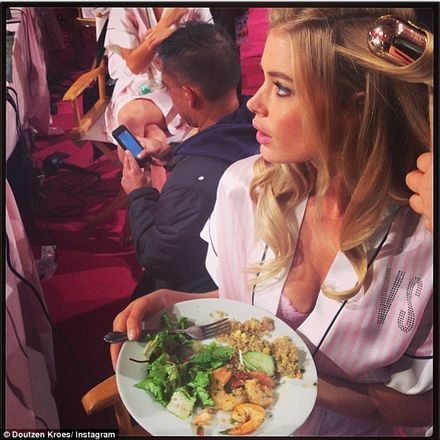 Victoria's Secret Model Diet
None of the meals in Victoria's Secret model diet plan is cooked with salt. All the food is prepared using herbs, olive oil and lemon for adding flavor to the food. The models acquire all the proper nutrients from these meals which help them in keeping the skin healthy, feeding their muscles while pumping them with energy.
The models make sure to have plenty of fluids throughout the day and their breakfast includes no nut butter or protein powders. Alcohol, dairy, sugar, and gluten are a strict no-no. Dinner is usually their biggest meal of the day and they don't eat three hours before going to bed. The primary focus is on optimal function and health. The super-clean diet teamed with workout keeps their muscles glowing while flaunting their physique and strength on stage.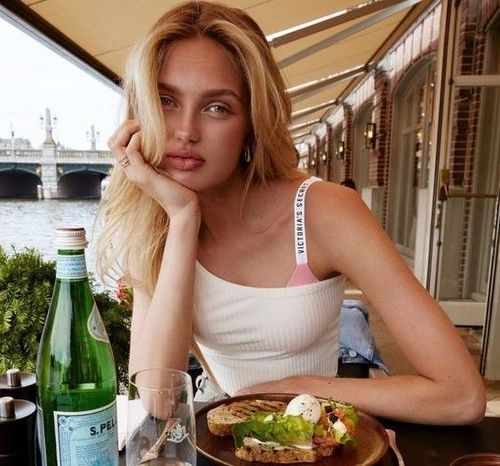 Victoria's Secret Model Diet Plan
Now that you know all about the famous supermodel diet, let's go through a day-to-day breakout of Victoria's Secret diet plan. You can follow this diet routine for staying in shape or to lose some extra kilos.
· Morning drink: A shot glass of apple cider vinegar
· Breakfast: Half grapefruit and half avocado sprinkled with a little cinnamon/ a piece of any fruit with a green smoothie/ a bowl of quinoa with berries/ egg white omelet with spinach and turkey
· Lunch: Green salad with proteins and vegetables
· Snack: A handful of berries or nuts
· Dinner: Healthy carbs liked quinoa, brown rice or sweet potatoes steamed veggies with lean protein
The day before their show, Victoria's Secret diet plan includes:
· Morning drink: Lemon, dandelion and detox tea
Dandelion tea helps in tightening the skin around the muscles.
· Lunch: Plenty of lemons, flax seeds, spinach, and blueberries.
· Dinner: High protein such as tuna or salmon with steamed asparagus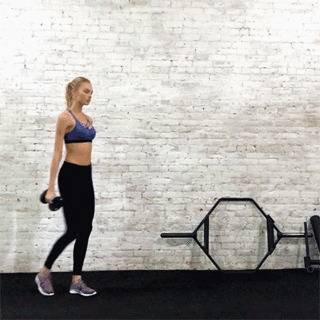 Victoria's Secret Model Workout Routine
Victoria's Secret model workout regimen is very strict and thorough. It can be very daunting for most people to follow it. Here's a detailed workout plan of the supermodels for you to challenge yourself and get in shape:
· Start your workout with setting the treadmill incline to 10 and start walking for getting the heart rate up. You can also start by jogging half a mile.
Now comes the real deal! Practice these exercises regularly to see a major difference:
SET 1
· 100 abs ( 25 Bosu ball abs, 25 toe touches, 25 supermans, 25 sit-ups)
· Dumbbell squats (Press 12)
· Dumbbell incline (Press 10)
· 20 seconds mountain climber
· 30 seconds jogging
Do the set thrice every day.
SET 2
· 15 weighted squats
· Step-back lunges along with a curl (Do 6 for each leg).
· 10 bent over row
Do the set thrice every day.
· Lay on the ground and thrust your hips up in the air, hold while doing twenty tricep extensions.
· 12 elbow planks to push-ups
· 30 seconds plank hold
Victoria's Secret Model Training Tips
Kirk Myers, the famous personal trainer of various celebrities and Victoria's Secrets models, has his fitness and training tips to keep his clients in shape. Some of his tips that fitness freaks must swear by are:
· Say goodbye to your scale
Your body weight fluctuates from 3-5 pounds, it depends on the meals you had the night before, the type of scale you used, if you went to the washroom, if you bathed, time of the day when you weighed, and so on. Many girls start doing weight training without realizing that muscle weight is higher than fat. So, it is fine to add weight while looking a lot better.
· Spot-training is a must
Many supermodels swear by weight training. They love to do butt and legs with heavyweights. The trainer needs to split the exercises for their particular body parts. One day they will do the upper body, the next day they will do legs, then they will do more core.
· Try ankle weights
Myers adds resistance to fire hydrants and donkey kicks for taking them to the next level. To make it more challenging, you must add ankle weights to it. Pulses can also be used in it.
· Don't be scared of bulking up
Adding muscle is way harder than people think. Myers always motivates his clients for building strength with weights heavier than they'd usually lift.
· Seek balance
Myers makes his clients do deadlifts and sumo squats on Bosu ball. It is an effective way of training as it forces the clients on activating their core.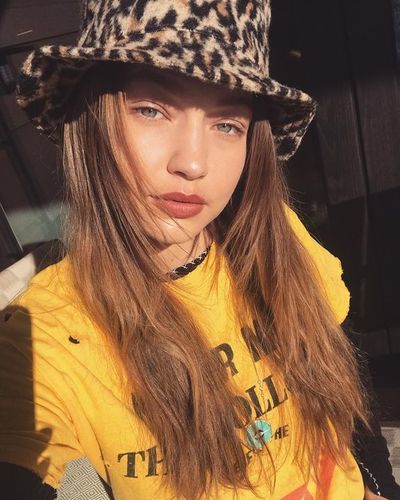 Victoria's Secret Skin Care Secrets
Every flawless skin care model of Victoria's Secret goes through meticulous eating, diligent beautification and religious workouts for hitting the runway. Here are some beauty and skincare secrets straight from the VS squad for you:
· Bella Hadid loves to rejuvenate her skin and hair by using plenty of masks. She also doesn't wear makeup on days she doesn't have shoots or a fashion event. She keeps herself hydrated at all times and goes for heavy detoxing. This helps her to get her body back, just the way she likes it.
· Alessandra Ambrosio maintains complexion perfection while fighting premature aging. She uses lots of face serums and moisturizers to keep her skin hydrated. For preventing wrinkles, she never steps out of her home without an SPF.
· Sara Sampaio believes that her hair just needs a good conditioner and a good haircut. She takes care of her mane very well and uses many products to maintain her hair. She always takes a shower to get rid of all the product residue from her hair that may also cause breakouts.
· Taylor Hill cannot live without coconut oil. She uses it all over her body and at times, even on her face. She carries it even when she is traveling.
· Gigi Hadid has a great makeup tip for you all- use blusher on the eyelids to make the blue veins look healthy. Gigi Hadid diet is full of balanced food and her regular workout is the reason behind her perfect figure.
· Candice Swanepoel revealed that she goes for skincare products that have natural antiseptic properties. She uses facewashes rich in green tea and tea tree oil for keeping her skin clean after removing heavy makeup.
· Vanessa Moody knows that using too much heat and too many products can make the hair dry and damaged. So, she uses a nice deep-conditioning treatment every few months to give life to her hair.
· Stella Maxwell's secret to her flawless skin is diligent exfoliation. She loves using face and body scrubs for removing all the makeup, gunk and products.
Now that you know all about Victoria'Secret model workout, diet plan, and skincare secrets, get ready towards achieving a healthier body, skin, and face that would make you love yourself a little more.
Related Articles