Laser Skin Tightening Guide: Process, Pros, Cons And Side Effects
Ankita Ghoshal
Updated At 14 Sep 22
Over the years, laser treatment have gained quiet a momentum for eye surgeries, hair removal, and for treating acne. What is stealing the limelight these days is the laser skin tightening which many people are raving about. It is a one of its kind facial rejuvenation technique which gives drastic results, reducing the appearance of fine lines and wrinkles. As the name suggests, it tightens the skin and makes it look smoother and a lot younger. If you are wondering what all of this is about- the pros and cons of laser skin treatment, its side effects, and so on; here is everything that you need to know:
What Is Laser Skin Tightening?
It is a laser skin treatment which non-surgically rejuvenates the face by producing instant and impressive results.
If you are looking for an option to repair your minor skin flaws but do not want to go for a surgery, then laser skin tightening is a good option.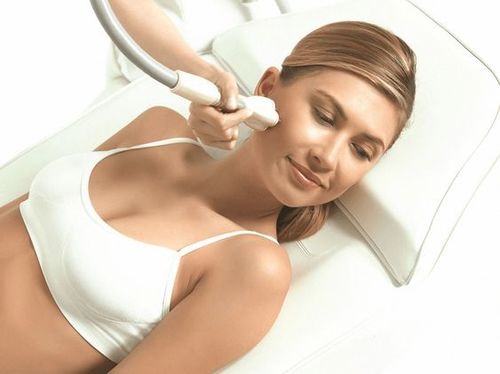 The Procedure
This procedure is absolutely safe and FDA- approved, providing the patients a youthful, refreshed appearance after just three-four treatments. It is carried out by a highly-trained skin expert- a plastic surgeon or a dermatologist, in an office. Here is how the process goes on:
The professional firstly applies a topical anesthetic ointment on the region which is to be prepared for the treatment. The patient is given an eyewear for protecting the eyes from the laser.
During the laser skin treatment, short pulses of laser energy will be applied by the doctor to the skin of the patient with the help of a handpiece. For maintaining the comfort of the patient, the laser keeps exuding cool bursts of air. Most of the systems are designed in such a way that the doctor can apply to the region of treatment for at least 3-4 times for achieving the optimum results.
The session can go on for 30 minutes to 1 hour, depending on the location as well as size of the treatment region. One of the best parts of the treatment is that the patient can go on with his/her life immediately after getting the skin tightening done. They can go back to their mundane activities and work right after stepping out of the practitioner's office as you don't need any time to recover from the procedure.
Also Read: Microdermabrasion Treatment: Pros, Cons and Side Effects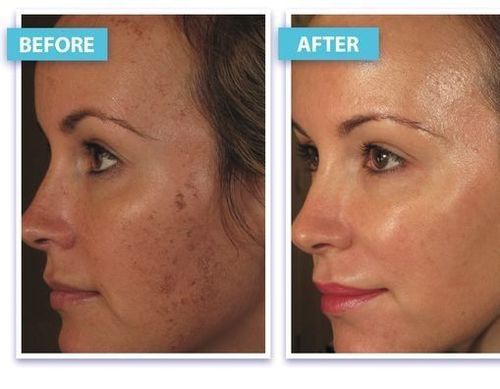 Results - Laser Skin Tightening Before And After
As captured in the laser skin tightening before and after pics, one can definitely expect positive results if the treatment is done correctly.
Laser skin tightening treatment is revered for giving immediate results because the natural collagen of the skin starts regenerating automatically after the process. The young, smooth look that it gives would keep improving once you are done with the treatment. This happens as the collagen in your skin start replenishing them slowly.
Although the skin continues improving in the next few months, the patient must still get 2-3 more laser skin tightening treatments to get the best outcome. Just make sure your treatments have a gap of at least one month between them.
Also Read: Cysteine Hair Treatment Guide: Pros, Cons, Side Effects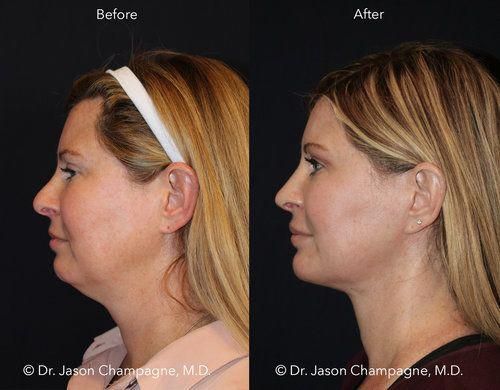 Laser Skin Tightening Pros And Cons

The pros and cons of laser skin tightening treatment are the primary things that you need to know before undergoing the treatments.
There are various advantages as well as disadvantages of laser treatment for skin.
Pros:
Laser skin tightening before and after results are drastic, and that too without even having to go for a surgical face lift.
After the procedure is carried out, the patients get a smooth and younger-looking skin.
It reducing the appearance of wrinkles, crow's feet, fine lines, and sagging skin.
The results can be seen immediately and they improve in the next weeks and months.
Cons:
There are a few disadvantages of laser treatment for skin. The key ones include:
Patients with skin concerns such as rashes, breakouts, herpes, or skin cancers must consult their doctors before going about with the treatment.
You may get swelling around your eyes for which the doctors would prescribe you medications or steroids.
This is not for nursing and pregnant women.
People at the risk of developing keloids or scars must stay away from laser skin tightening.
Patients using medications for a ne may get adverse skin reactions after getting the treatment so prior to the procedure, they must check with their doctors.
Also Read: Lip Fillers: Know Everything About Injecting Your Lips

Laser Skin Tightening Side Effects
The potential laser skin tightening side effects include:
Scarring on the face
Injuries or burns due to the heat of the laser
Bacterial infection
Change in the skin pigmentation- skin may appear lighter/darker in certain regions
Also Read: Acne Vulgaris: Types, Causes, Prevention And Treatment Guidelines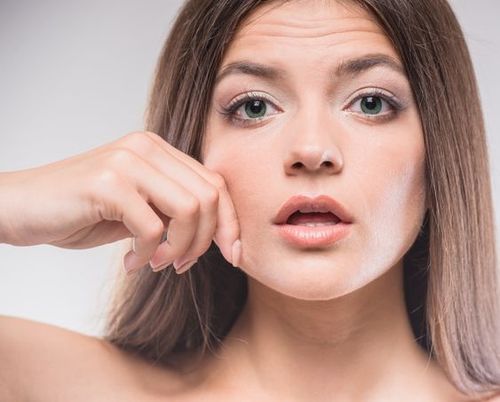 What Precautions Must The Patients Take?
You need to keep in mind the laser skin tightening precautions before getting started with the treatment. Here are some of the important precautions that you must not forget:
Prior to visiting the practitioner's chamber, the patient must make sure their face is squeaky clean. Remove all makeup, creams, sunscreens, serums, oils, etc.
Although the process involves little no pains, the patients must consider going for an over-the-counter medication for pain in case there is any kind of discomfort during the process. This is important especially for the sensitive skinned people as they may feel a stinging sensation which stops as soon as the treatment is over.
Laser Skin Tightening Vs Botox
Laser skin tightening and botox are two very different kinds of treatments. It totally depends on what results you are looking for.
If you want an instant solution for your wrinkles, you should go for botox. However, if you want a more rejuvenated and younger-looking skin, laser treatments would be the right choice.
The best way to figure out which treatment would work the best for you is by consulting your plastic surgeon. A plastic surgeon will tell you about all the pros and cons and details of the treatments which would help you in making up your mind. You can even go for both the treatments as they are very complimentary and give dynamic results when combined!
Also Read: Acne Rosacea: Causes, Treatment And Skin Care Guidelines

Laser Skin Tightening Vs Ultherapy
Ultherapy is a non-invasive alternative for facelift which targets appearance, loss of the jawline definition, deeper wrinkles, etc. With the help of ultrasound, it lets the body produce healthy and fresh collagen for skin tightening.
On the other hand, laser skin treatment uses infrared light for heating up the skin's surface layers and stimulating collagen formation for addressing broken capillaries, dark spots, fine lines, and wrinkles.
While ultherapy just requires one treatment, you need at least two-three treatments of laser skin tightening to reap the maximum benefits.
However, if you are looking for quicker results, laser treatment is for you as you would notice the difference right after the first treatment whereas ultherapy takes three to six months for showing visible results.
Final Verdict
To conclude, laser skin tightening treatment is a low-invasive process which gives drastic results to the patients. From reducing wrinkles and fine lines to managing sagging skin, it helps in a lot of skin issues without making you go under the knife. Not just face, laser skin tightening is good for almost all parts of the body such as calves, thighs and neck.
With little to no side effects and no time required for recovery, this treatment is one of the easiest and fastest methods for getting great results in no time.
Without any surgery or prior checkups, patients can just walk in to the doctor and walk out with a fresh and younger looking skin. Laser skin tightening is definitely a revolutionary method for addressing the skin issues and working on them so amazingly. If you want a youthful skin, you must definitely give it a shot.
However, before making a final decision, always consult your doctor.
Related Articles