25 Best Braided Hairstyles For Black Women -2023
KRITIKA GUPTA
Updated At 25 Oct 23
Braids are a quick and enjoyable method to stop styling your hair for months, give it a rest, and shield it from damaging environmental elements. You will also get admiring looks, real smiles, and attention with the amazing hairstyles shown below. Brid hairstyles for black women allow for inventiveness. To make each head distinctive, there are a variety of fascinating braiding hairstyle techniques. Black braided hairstyles are a great option if you're seeking for a playful or expressive method to style your hair. While appreciating your natural texture is lovely, maintaining it might take some work. However, if you feel like giving up heat styling and throwing out  your products, braids could be a perfect substitute. While looking for various black girl hairstyles, you could take into consideration some of the following.
25 Best Braided Hairstyles For Black Women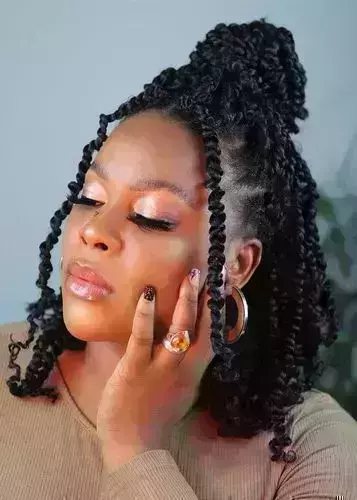 1) Passion Twist Braids
Passion twists are one of our favorite braided hairstyles for black women because they are very elegant and feminine. They were developed by Miami hairstylist Kailyn Rogers and are all about texture. They are made with Freetress water wave extensions and a contemporary method for two-strand twists. For girls who love the summer, this is the best option because you can moisten the braids.
Looking for more inspoiration for twist braids? Do check out out guide on Senegalese twist hairstyles as we list 50+ stunning options.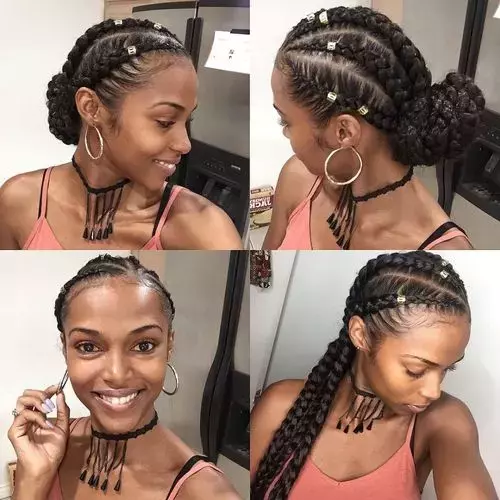 2) Feed-In Braids
The benefit of using the feed-in technique is that it produces a narrow and flat point at the hairline, giving cornrow hairstyles a more natural appearance and making them seem less bulky. Additionally, less stress is created, and the edges are secured. Any African hair braiding salon may perform this style of braiding.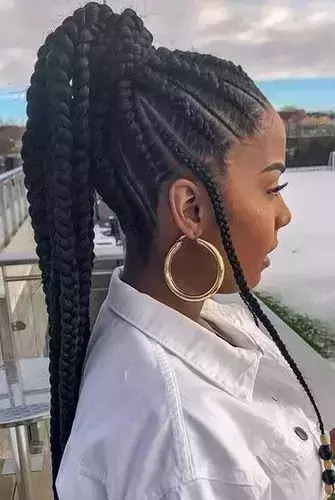 3) Braided Ponytail
Despite how beautiful it may be to create unique protective styles with braids, braiding hair can occasionally seem weighty when it comes to hairstyles with individual plaits. A cornrow ponytail is a simple updo that won't tug on your edges. If you are looking for a cute  braid hairstyle for black women this is a perfect choice.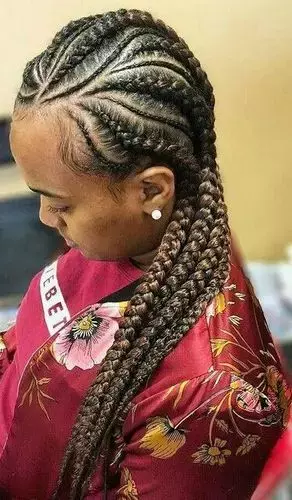 4) Snake Braids
Another braide style for black women would be this snake braid. Despite not being your typical cornrows, lengthy and wavy braids have a very similar idea. Try snake braids if you're seeking for a creative way to have your hair braided close to the scalp. Golden beads can be added for more glitz! One can also go for box braids with beads as it looks stunning.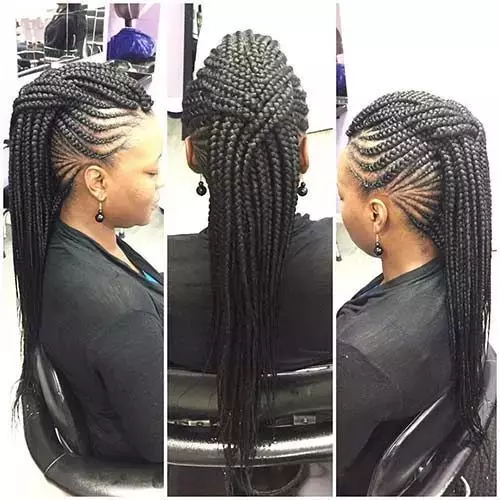 5) Chunky Mohawk Braids
Trying the shaved look without really cutting your hair is simple with mohawk braids. Additionally, there are a plethora of styling options for the long section of your hair, including individual African braids, twists, and cornrows like in the example.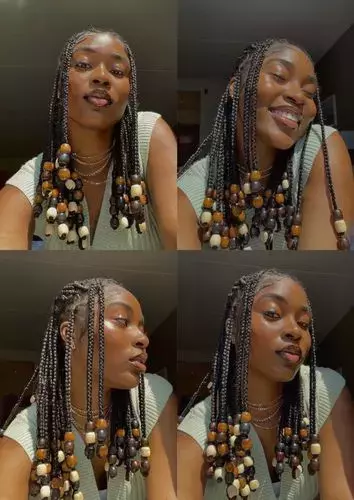 6) Knotless Braids and Beads
The target market for knotless braids with beads is young people and people who are still young at heart. The side S-shaped cornrows and the beads all convey the idea that girls just want to have fun. A position we can support!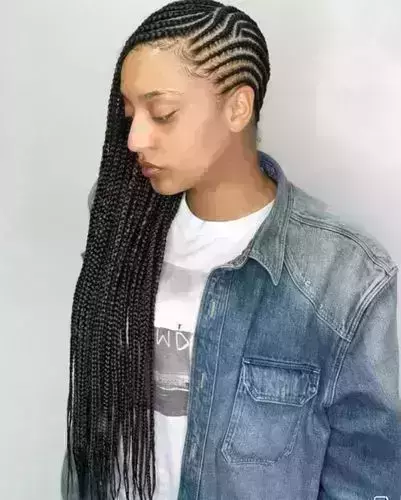 7) Side-Swept Cornrows
Parts are the key component of this design. The cornrows, still going front to back, have sections that bend in the same direction and are almost exactly the same size. The entire appearance is flawlessly balanced and unifies the complete style.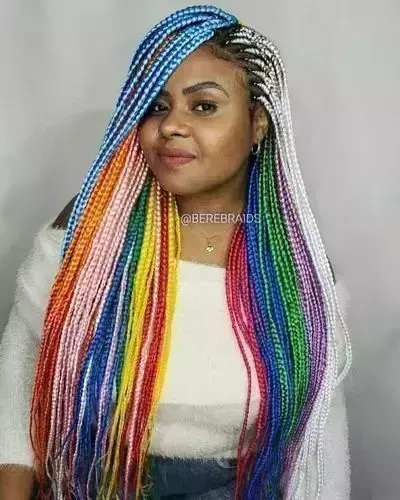 8) Colorful Box Braids
This summer, give a vibrant box braid some thought. With these colorful box braids, you may arrange your hair in a fun and fashionable way. Your hair can have a fashionable appearance with this popular box braid hairstyle for black ladies. These rainbow box braids can be made using colorful hair extensions in striking shades such as pink, green, blue, purple, and many more, rather than using a variety of natural hair colors. please one can go for a single color as well. Purple black hairstyles and red one looks amazing on long hair.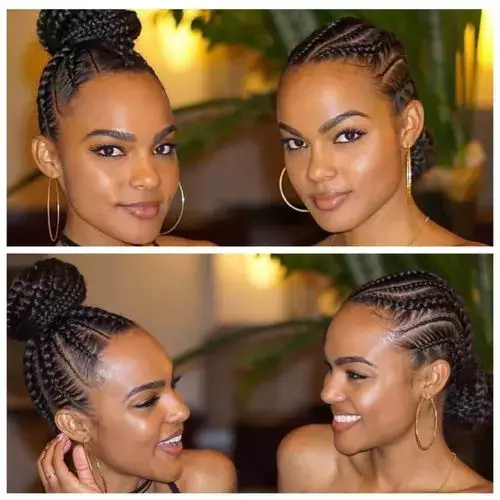 9) Upside Down Braids to Bun
For a look that is bold and incredibly modern, go for upright braids. Make a bun or a ponytail out of the cornrows' ends. The ends can be left down for a more casual appearance or pulled back into a bun for a somewhat dressier look.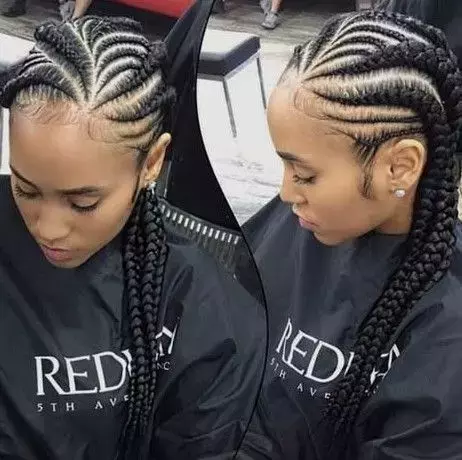 10) Wavy Straight-Back Braids
The straight-back appearance is one of the most traditional cornrow looks. Because the pattern is straightforward and it doesn't require much time to create, it's frequently the first hairstyle that novice braiders master. Ask for curved pieces to produce a wavy appearance to give it a softer twist.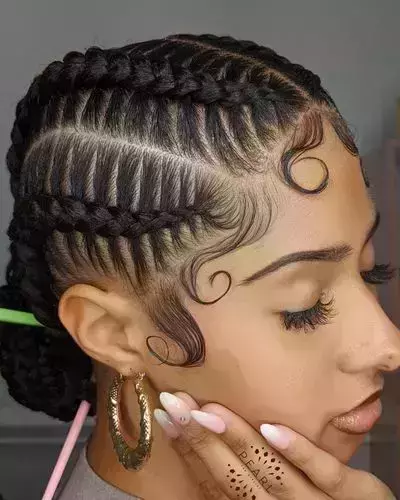 11) Jumbo Side Cornrows with Curly Bun
The straight-back appearance is one of the most traditional cornrow looks. Because the pattern is straightforward and it doesn't require much time to create, it's frequently the first hairstyle that novice braiders master. Ask for curved pieces to produce a wavy appearance to give it a softer twist. This is a perfect look for a single braids hairstyles.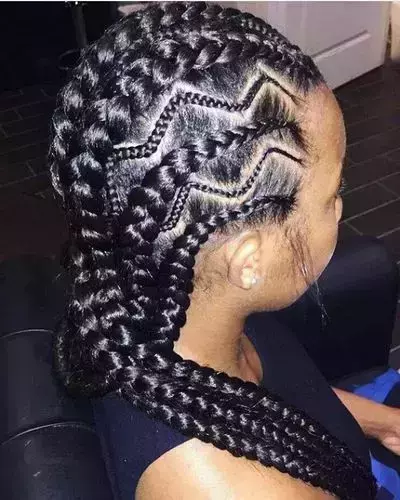 12) Intricate Box Braids
One eye-catching approach to display both your personality and particular choice is through your hair. Box braids hairstyles are undoubtedly attractive and protective. Look for elaborate braided hairstyles that will both preserve your natural hair and enhance its appearance.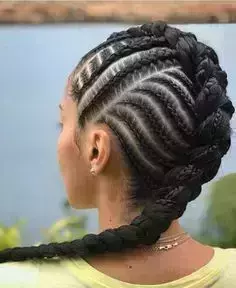 13) Long Braided Faux Hawk
With its execution, complexity, and literal height, this Empire-inspired fake hawk elevates braided hair to a new level. There are various different braiding patterns, and the sides and back have naturally braided hair. Choose a style and type of hair you want to use for extensions, then create the twisted roll that forms the faux hawk and the waterfall of braids spilling out of it. The braids can be thick, thin, long, short, or medium length.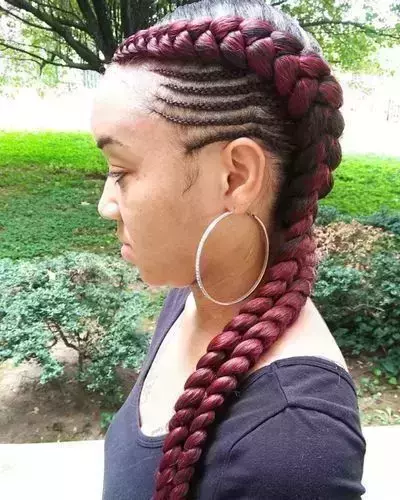 14) Gorgeous Pocahontas Braids
This eye-catching double-plait is updated with color and enhanced by side cornrow braids for a look you'll be proud to wear out on the town or to a special occasion.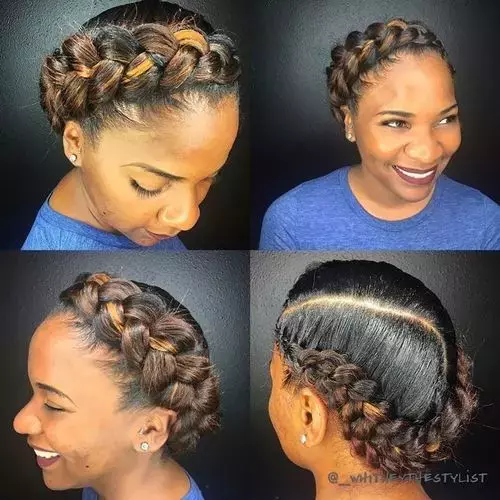 15) Black Crown Braid
The crown braid updo is easy to do but very stylish and tried and true. Choose the braid style that best suits your face shape and facial features by lifting it closer to the crown of your head or letting it fall along the hairline. This is a really cute braid hairstyle.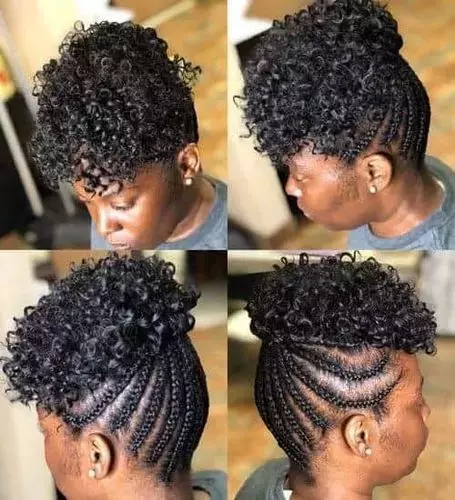 16) Mohawk with Criss-Crossed Braids
Nothing less than jaw-dropping describes the way the braids cross one another. The top curls give the whole appearance some fun, volume, and bounce. This fresh updo is fantastic to try if you like to mix different styles.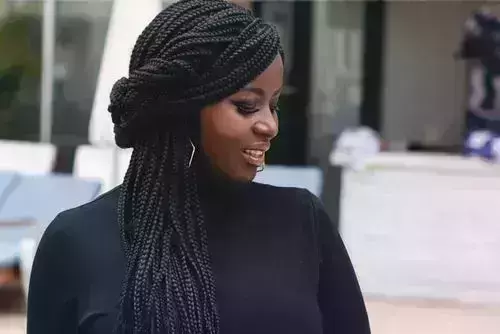 17) Front Knot Box Braid
A stylish, elegant hairstyle that is ideal for formal settings like weddings. a stunning box braid hairstyle that looks intriguing and fashionable on black women. The hair is first box braided throughout the entire head, then the braids are tastefully wrapped with a front knot from one side, and the remaining hair is pulled back into a ponytail below the shoulder.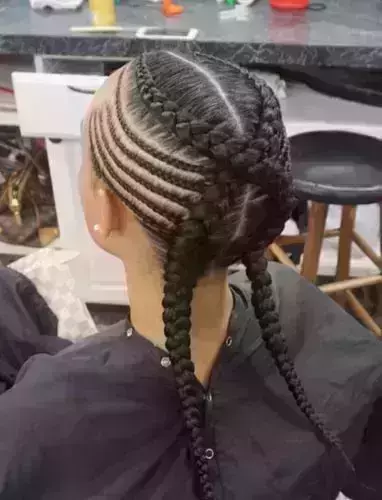 18) Criss-Crossed Braids with Feed-In Cornrows
Simple braids no longer amaze anyone in today's society. Crisscross braids, varying their thickness, attempting new angles, and experimenting with various permutations of parts are all
ways to update your braided hairstyle and create something distinctive that is deserving of a second look.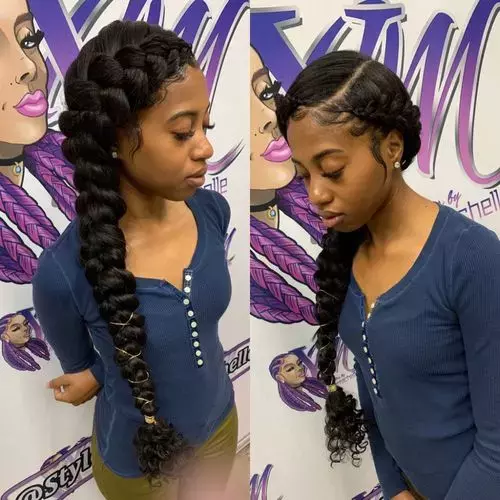 19) Butterfly Braid
For people who desire to stand out and want an eye-catching hairstyle, go no further than butterfly locs. With the underhand method and a long, hefty finish, this magnificent enormous design is formed down the middle of the head. For the length and fullness you want, hair extensions could be necessary.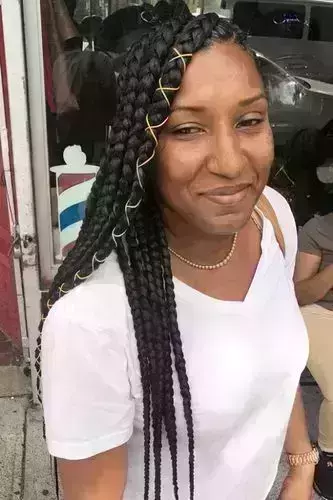 20) Crochet Braids
As crochet braids are simpler to put in, you won't need to be on the salon chair for hours. How do you accomplish them? To do this, thread hair extensions through a cornrow base with a crochet hook. From there, you may style the hair anyway you like. This involves including adorable extras, like thread, for an eye-catching splash of color.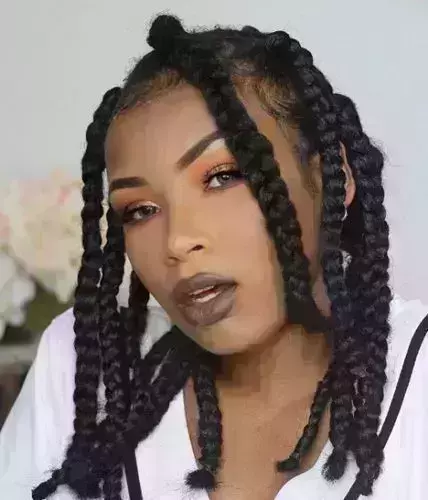 21) Dookie Braids
Some of the sexiest celebrities in the world have been seen wearing doofy braids, which were popular in the 1990s. Due to their thickness and the way each piece falls freely, they are impossible to overlook. The fact that they are not braided to the scalp distinguishes them.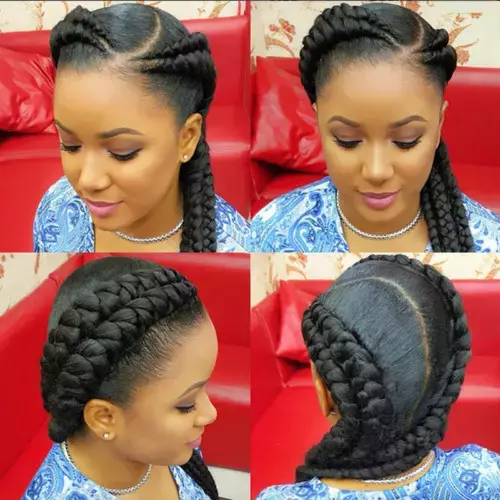 22) Fishbone Braids
Few hairstyles are as intriguing and complex as fishbone braids. The genius of this style is the pattern it makes on the scalp, which is accomplished by shaping the hair into two thick strands that go from the sides to the back and two thin cornrows on the sides.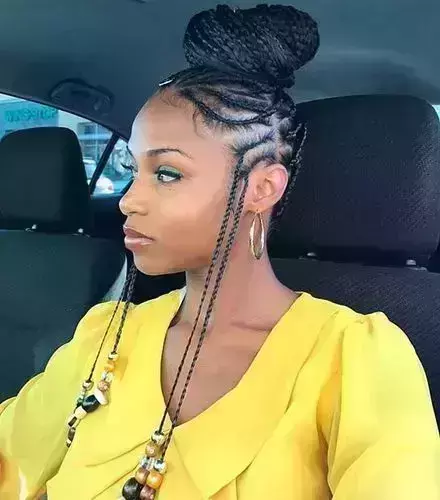 23) Fulani Braids
The Fula tribe of West Africa are the source of inspiration for Fulani braids, which makes this hairdo both beautiful and significant. The plaits on the sides of the head and the middle braided crown (which will be even more obvious if you embellish it with accessories) make it simple to identify.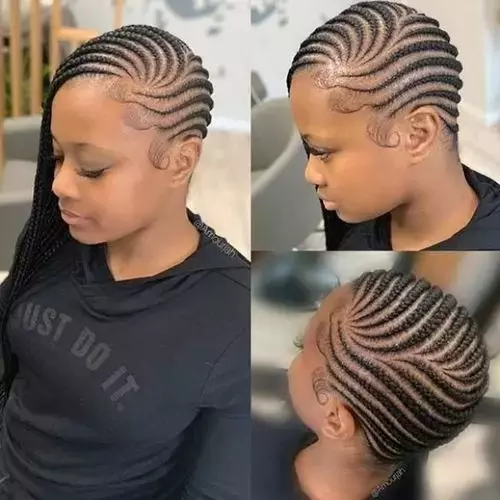 24) Lemonade Braids
Lemonade braids (which have gained popularity again since Queen Bey donned them on her album cover) will appeal to you if you love Beyonce as much as we do. They are designed to appear left and right over the head and are sleek and easily stylish. This is different from typical braided styles, which are straight backstyled. But who doesn't desire something distinctive and eye-catching?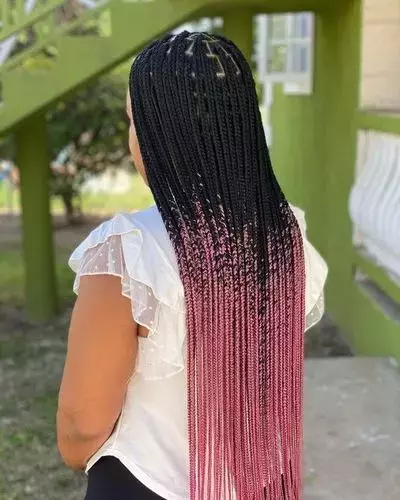 25) Ombre Box Braids
An ombre box braid is the ideal way to play with color. The colors you choose are entirely up to you, and the hair coloring procedure produces an exquisite blend of darker and lighter tints. You might use natural colors for a more understated result, or you could be daring and use bolder, synthetic dyes.