31 Best Wedge Haircuts For Women Over 60
Shrimanti Das
Updated At 08 Nov 23
Wedge haircuts for women over 60 have been a popular choice for decades, and they continue to be a stylish and timeless option. A wedge haircut typically features shorter hair at the back and gradually longer layers toward the front, creating a distinctive wedge shape. Here you can find different short and long wedge haircuts for women over 60.
31 Best Wedge Haircuts For Over 60
1. Voluminous Wedge
Opting for a voluminous wedge haircut is suitable for a wide range of hair textures. Achieve fullness and shine by applying a volumizing mousse and employing a round brush during styling. It's important to note that the thickness of your hair will determine the roundness of your hairstyle. Thicker hair will result in a rounder shape, while thinner hair may appear flatter and less rounded. Hairstyles tailored for women over 60 can refine your appearance and boost your self-confidence. One of the best over 60 hairstyles, this short haircut looks stunning and also adds volume to your hair.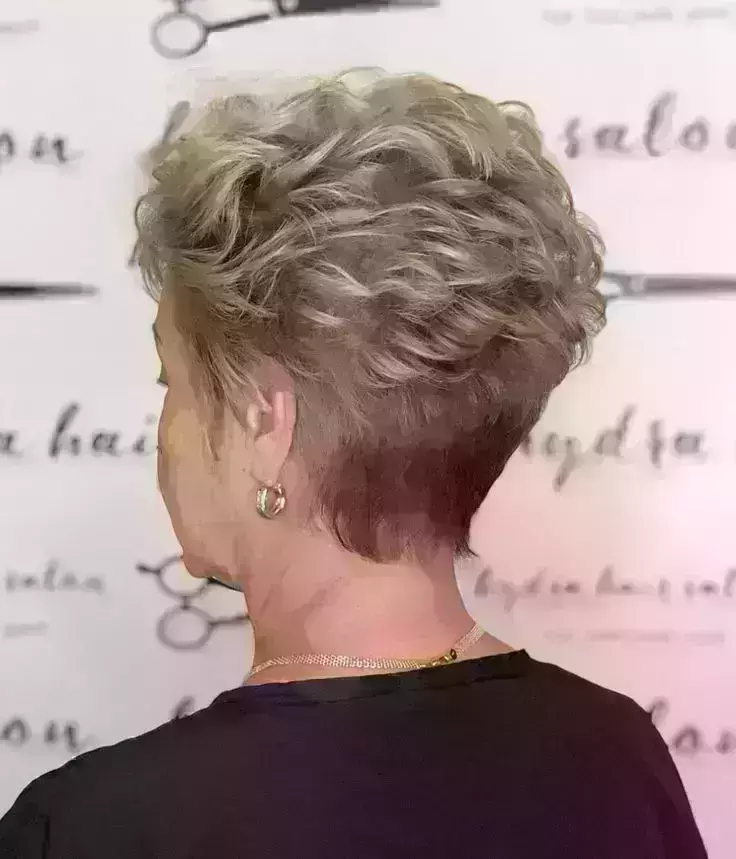 2. Feathery Pixie Wedge
Consider adopting a youthful pixie haircut to appear a decade younger. When consulting your hairstylist, suggest incorporating a subtle undercut to your wedge for a contemporary, textured effect. Opt for texturing or point cutting to enhance the shape and durability of your haircut. Rather than using a curling iron, embrace a more current look by styling it straight and tousled. These type of styles are short wedge haircuts for over 60.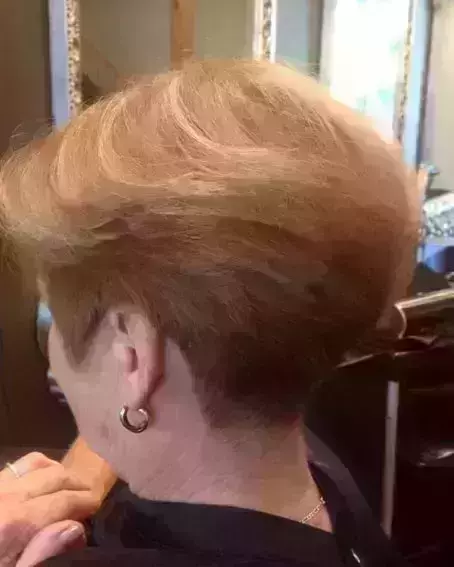 3. Low Maintenance Wedge
Consider a low-maintenance wedge haircut if you're seeking an effortless style. Longer layers at the crown ensure a simple and sleek look that requires minimal effort. To achieve this, use a round brush or your fingers to blow-dry the hair backward from the face. Keeping the ears covered helps to conceal any visible regrowth and extends the time between haircuts. Don't let age deter you from staying fashionable!
Read More: Haircuts For Women Over 65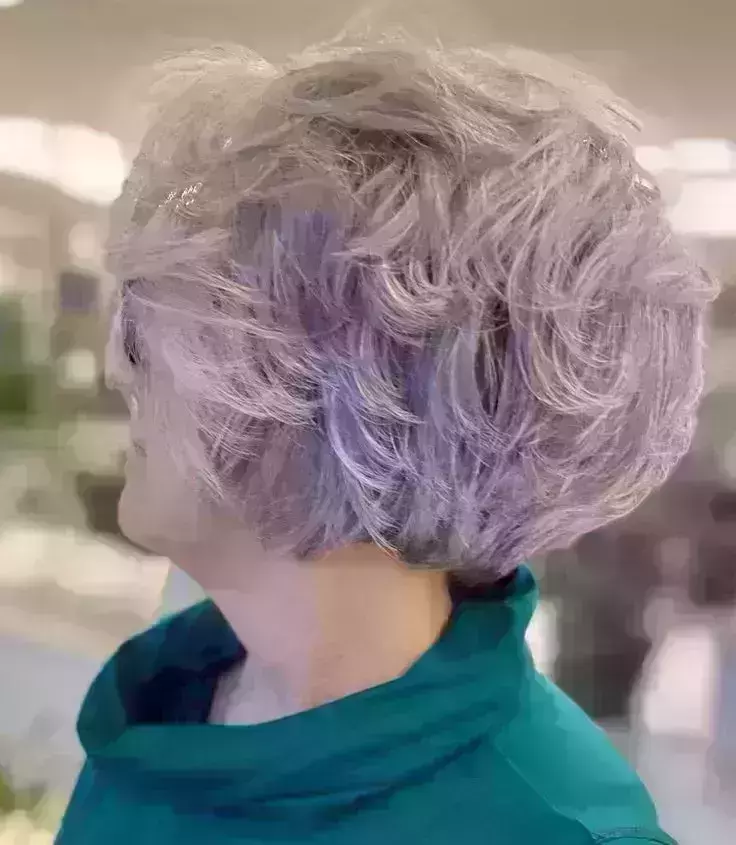 4. Bouncy Grey Cut
If you're looking to add significant volume to short hair, a simple technique is to trim your hair very short at the nape of your neck. This will direct attention upwards to the fullest portion of your hairstyle at the crown. One of the top short haircuts for women over 60, this adds volume to your hair and provides you ample options to style your look.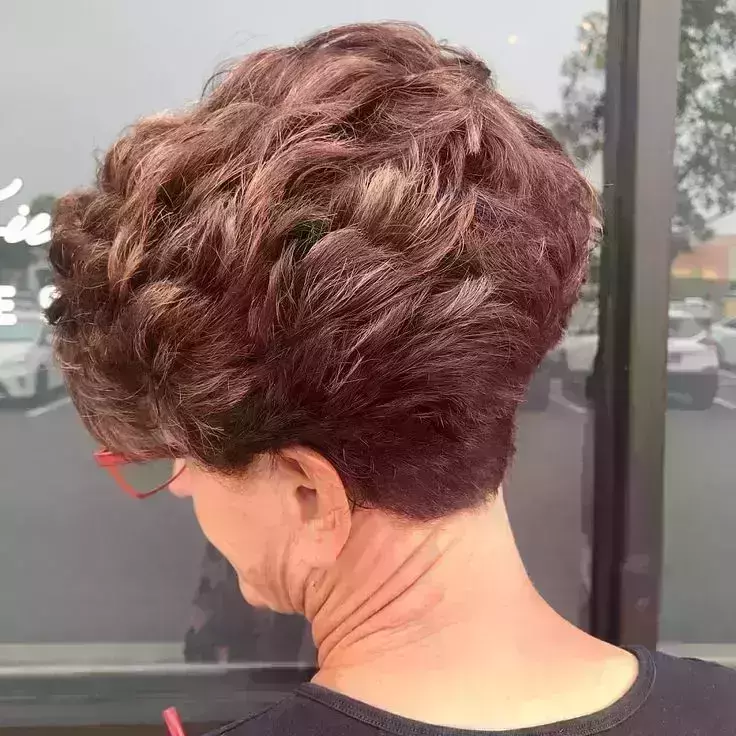 5. Fluffy Wedge 
A fantastic choice for autumn hair colour is a blend of deep red with highlights of blonde. Incorporating a voluminous and airy texture adds body to your hair, making it especially suitable for those with thinning hair. This style can be achieved with or without an undercut when sporting a wedge haircut, but having substantial layering on the upper portion of the hair draws attention to the rich, textured appearance. To create this look, you can part your hair slightly off-centre and use a round brush and blow dryer to fashion short, controlled waves.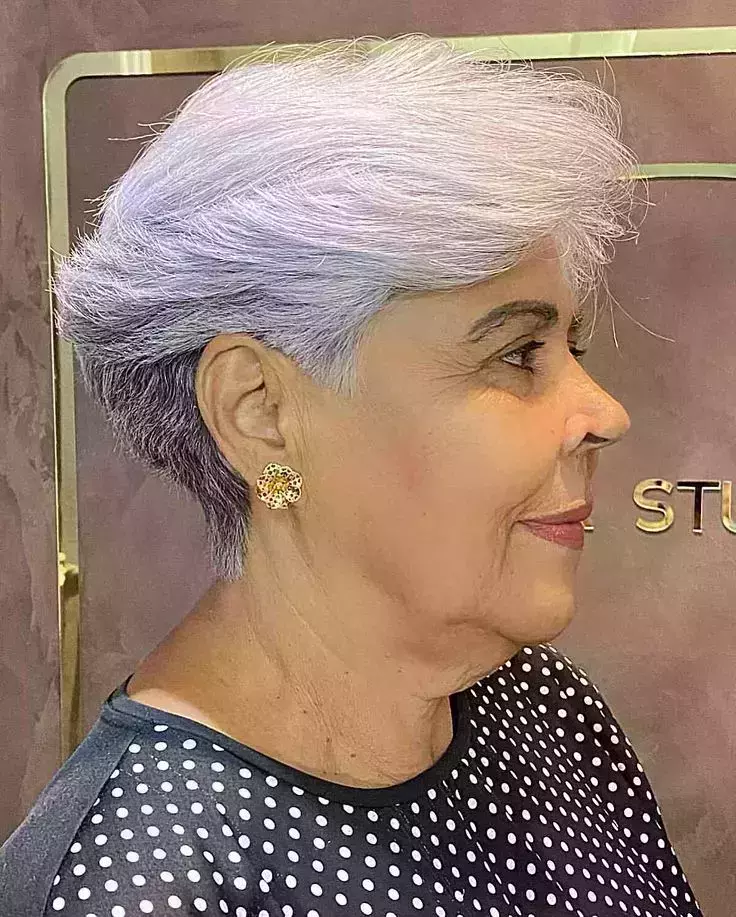 6. Lavender Grey Wedge Cut
The lavender grey wedge pixie haircut for women over 60 is a captivating and daring choice. This unique hairstyle combines the elegance of a classic wedge with a modern twist—lavender grey tones that add an air of sophistication and creativity. Short, edgy layers create a playful and youthful appearance, proving that age should never limit one's sense of style. It's a statement-making look that empowers mature women to embrace individuality and make a bold fashion statement.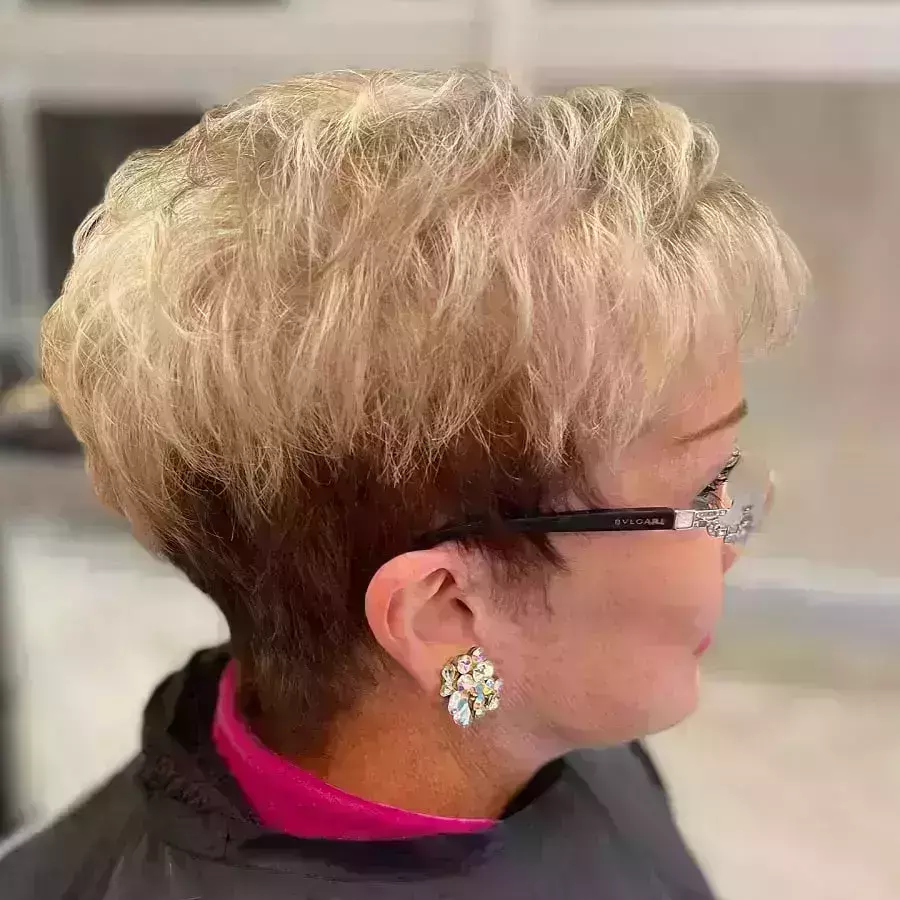 7. Blonde Lowlights
Maintain a youthful appearance with a pixie wedge haircut that features blonde coloring on the upper section and a gentle, wavy texture. This style is particularly well-suited for individuals with long, slender faces and thin or fine hair. Gradually taper the lower part of your hair, utilizing mousse to achieve the desired texture on the upper portion. Incorporating lowlights is an excellent choice if you wish to add depth and dimension to the lighter color on top.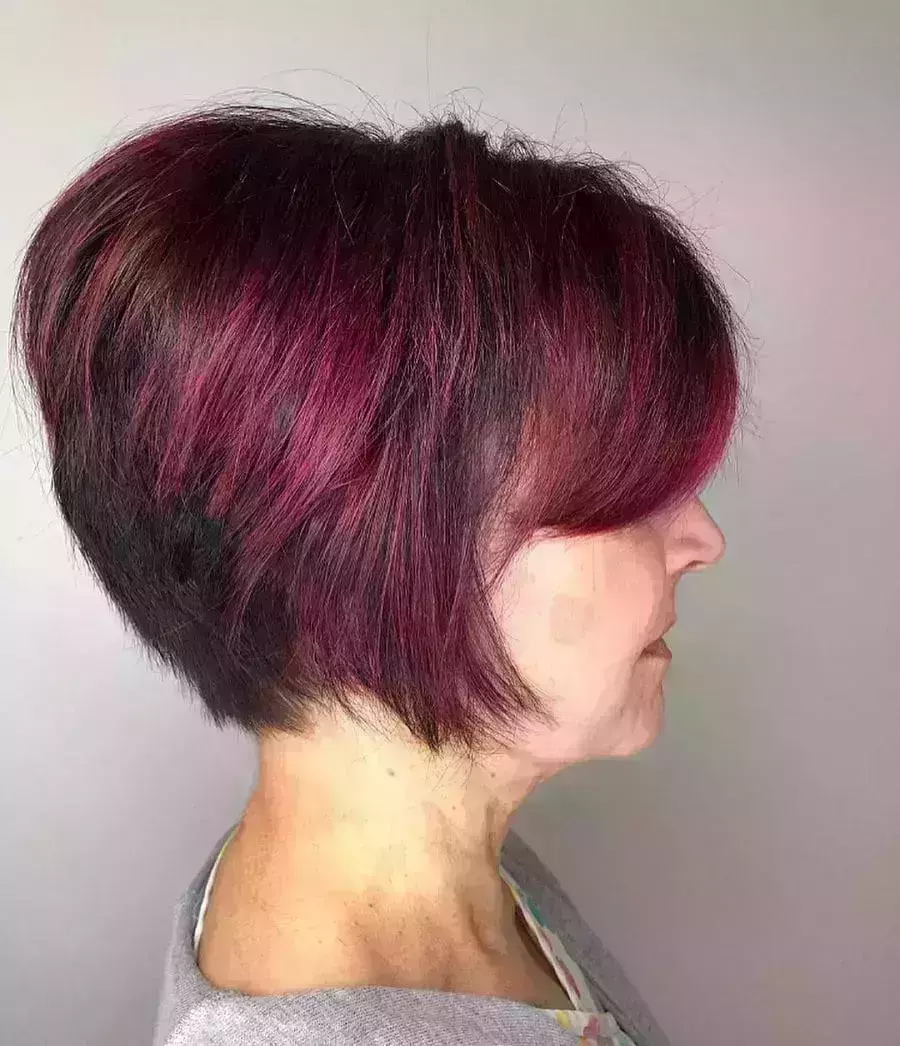 8. Coloured Wedge Hair
Magenta and purple are excellent choices to embrace the arrival of autumn. Consider these rich hues for a layered, short haircut featuring side bangs. This is perfect for mature women who appreciate dark and trendy colour combinations. Apply a blend of deep purple and magenta to your entire hair for a vibrant dye job. Leaving the lower layers in their natural dark shade will accentuate the bold colors. Straighten your hair while adding some teasing at the crown to create volume.
9. Sleek Wedge Cut
Consider a long wedge haircut if you have thin hair and desire a style that can create the illusion of thicker hair. Among all the hairstyles for women over 60 with thin hair, this one stands out the most. Regular salon appointments are essential for maintaining this look. While it may require some effort, the stunning results make it all worthwhile. Who minds a little extra effort when your hair looks this beautiful?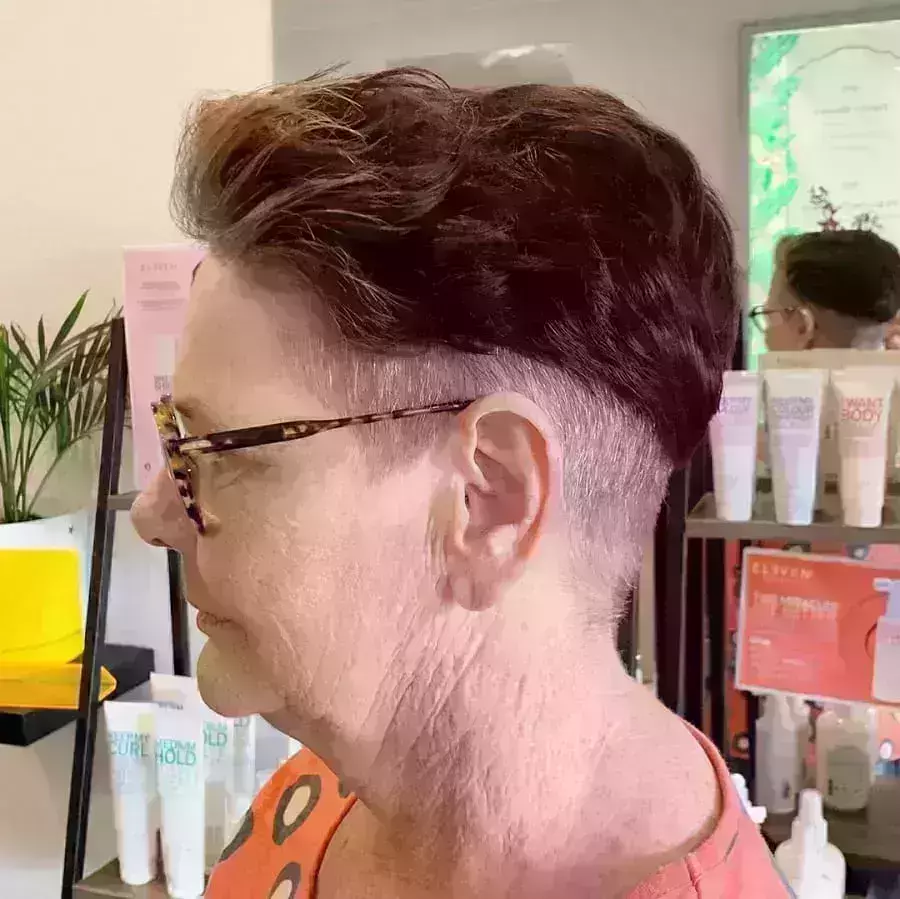 10. Distinct Layers
Opt for a short, layered hairstyle with a noticeable weight contrast to complement your eyeglasses. This style is perfect for women who wear glasses and appreciate a bold and distinctive haircut. When consulting your hairstylist, request short layers in a wedge haircut, creating a clear division in volume between the upper and lower sections of your hair. Consider colouring the upper half with a dark shade and the lower half with a lighter one.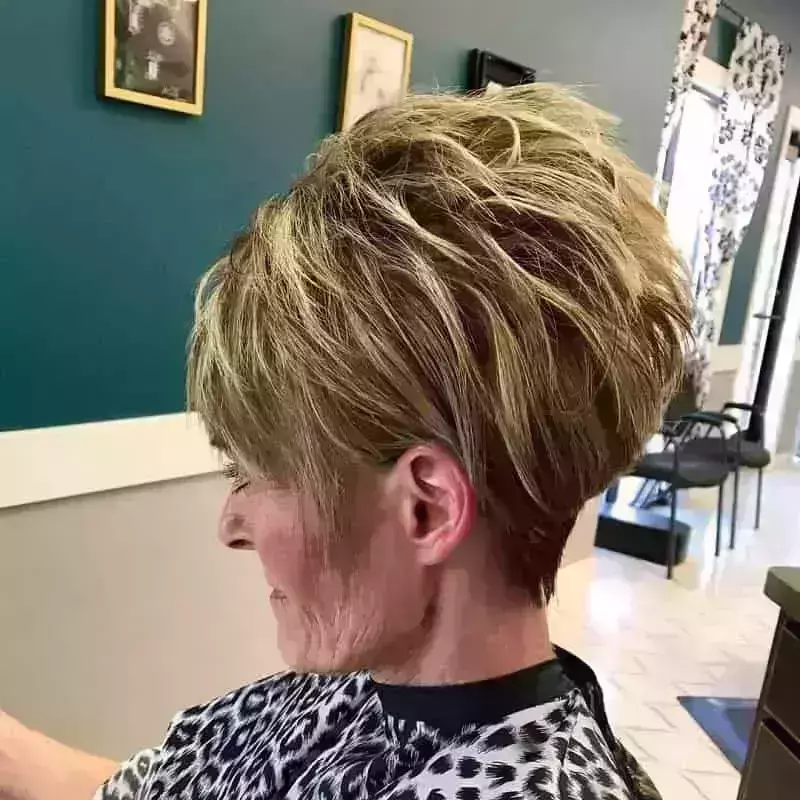 11. Punk Layers and Highlights
This haircut features short layers arranged elegantly, enhanced by intricate highlights. It's a perfect choice for women with angular facial features, offering a distinctive and contemporary hairstyle. It represents a trendy addition to the wedge haircut options for ladies over 60. To style, use a brush to sweep the hair tips backward for a polished finish. For a bold appearance, simply run your fingers upward through the layers.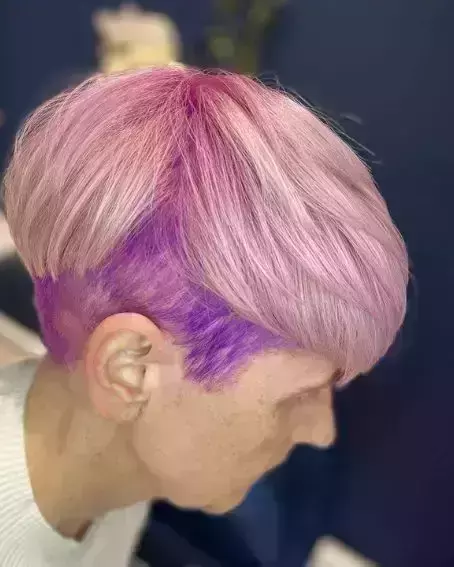 12. Coloured Undercut Wedge Cut
The coloured undercut wedge cut for women over 60 is a vibrant and edgy choice that defies conventional norms. This haircut features a classic wedge shape with an exciting twist - an undercut adorned with bold and fashionable colors. The juxtaposition of the traditional and modern elements creates a unique and captivating look, allowing mature women to express their individuality with style and confidence. It's a bold statement that proves age is no barrier to embracing creativity and color.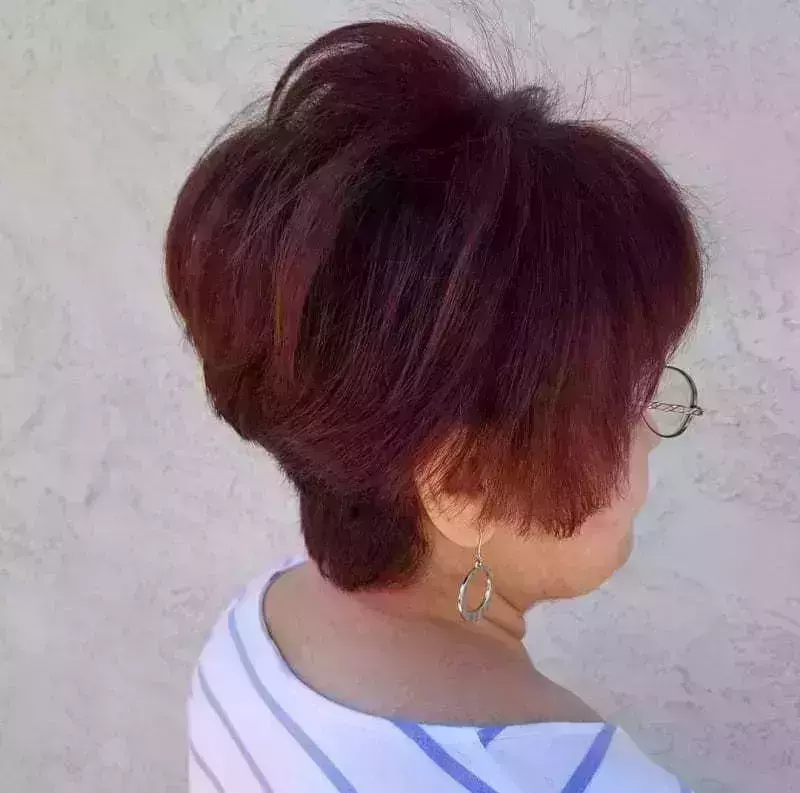 13. Puffed Up
The hairstyle involves shaved ends and a gradual increase in hair volume toward the upper part. Hair is parted at the top to achieve added height. This bold and striking haircut is well-suited for individuals with oval or square-shaped faces and makes a strong statement. It appears especially impactful when done in dark hues. To achieve an airy, voluminous effect, use a brush to lift the backside from underneath.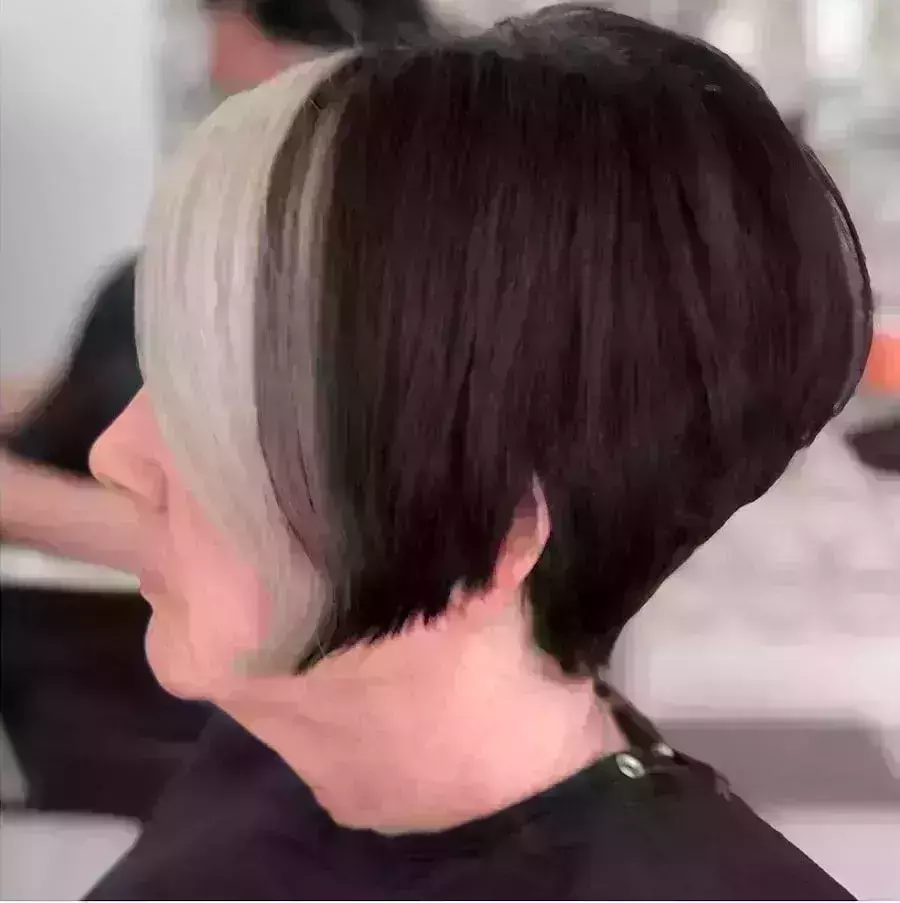 14. Face Framing Highlights
Seeking a more unconventional hairstyle? Create a bold and striking appearance by incorporating a mix of light and dark colors. This distinctive look is particularly suitable for those with a fair complexion and straight hair. Request blonde highlights framing your face, followed by a gradual transition to brown and black tones. Wear your hair straight for the desired effect.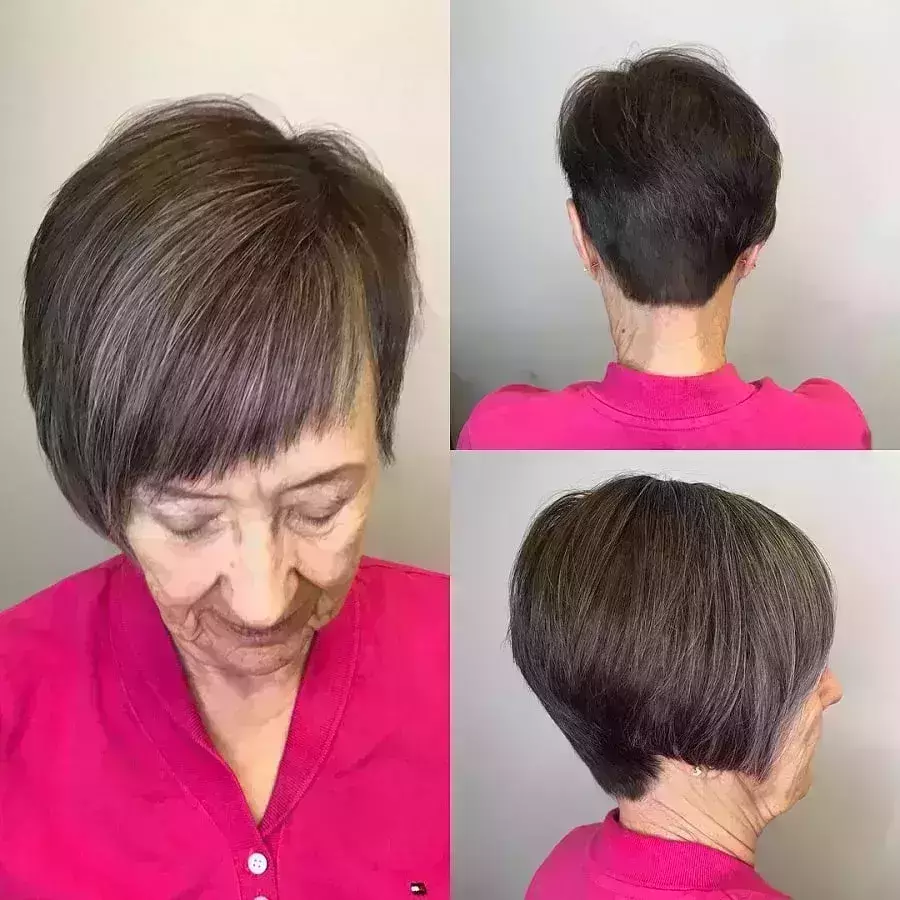 15. Asymmetrical Wedge
Do you notice more salt and pepper tones in your hair? Consider forgoing colouring and instead opt for a stylish short haircut to embrace this natural change. This look is well-suited for those with slender, oval-shaped faces. When you visit your hairstylist, request an asymmetrical wedge haircut. To accentuate the tapered layers and side bang, wear your hair straight.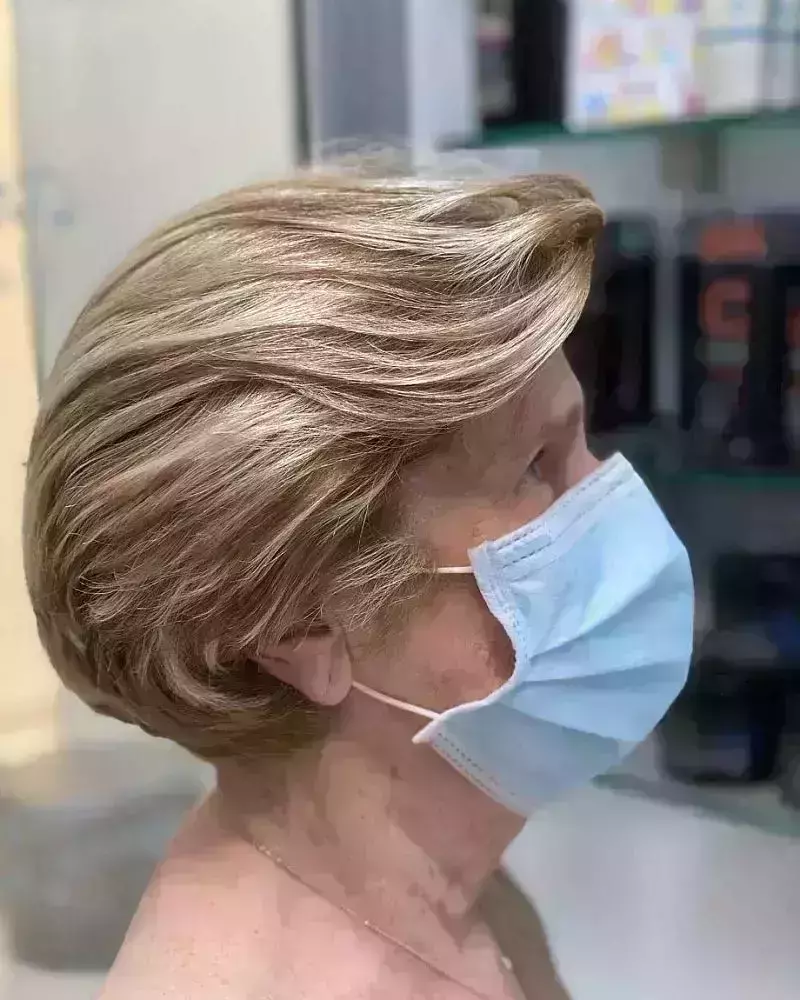 16. Wavy Wedge Cut
This wedge haircut for women over 60 enhances the texture of fine hair can provide it with a much-needed lift. Introducing point cutting into your hair imparts movement and thickness. When consulting your stylist, consider requesting texturing for your layers to prolong the longevity of your haircut's structure. Alternatively, opting for highlights not only adds volume but also conceals any signs of hair thinning. A fresh haircut can rejuvenate your appearance, diminishing the visibility of wrinkles and leaving you feeling rejuvenated.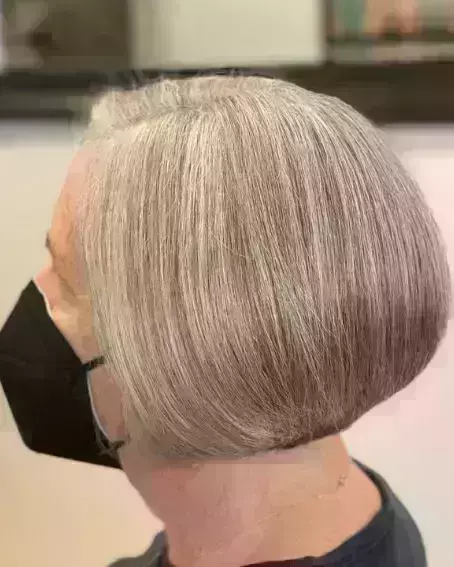 17. Grey Blonde Round Cut
Medium wedge haircuts for women over 60 strike a perfect balance between classic elegance and contemporary style. This versatile haircut features a moderate length with shorter layers at the nape of the neck, gradually extending to longer layers on top. It's an age-appropriate option that adds a touch of sophistication and a youthful vibe. This haircut complements various face shapes and is easily adaptable for various styling preferences, making it a timeless choice for mature women seeking a stylish and manageable look.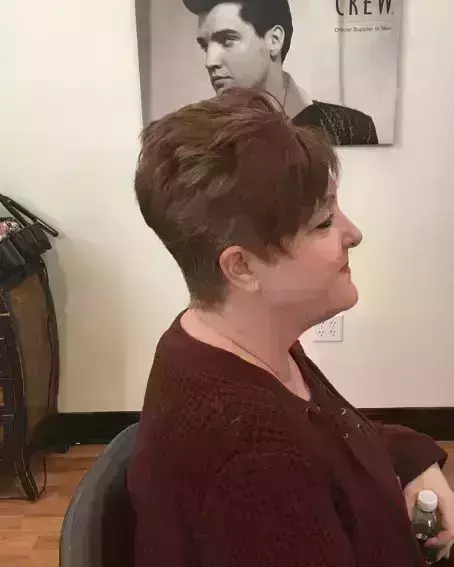 18. Brown Pixie wedge Cut
Perfect wedge haircuts for women over 60. Give your hair a nice brown colour and shape your hair to achieve a sophisticated look.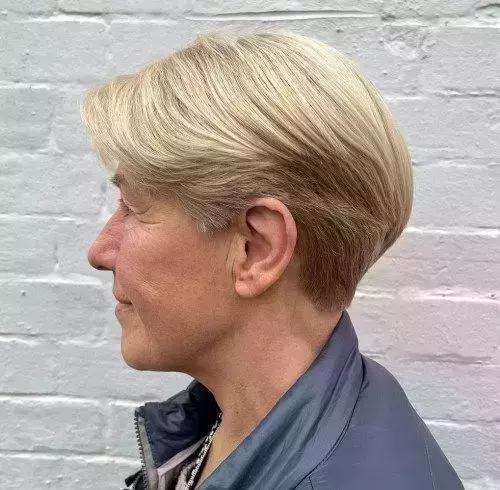 19. Side Wept Wedge Cut
Experiment with a lengthy, textured top while sharply trimming the sides and back to maintain a sophisticated, professional appearance. Overcomb the top and let the strands naturally fall to the sides. This is the most simple style among other short wedge haircuts for over 60 with thin hair.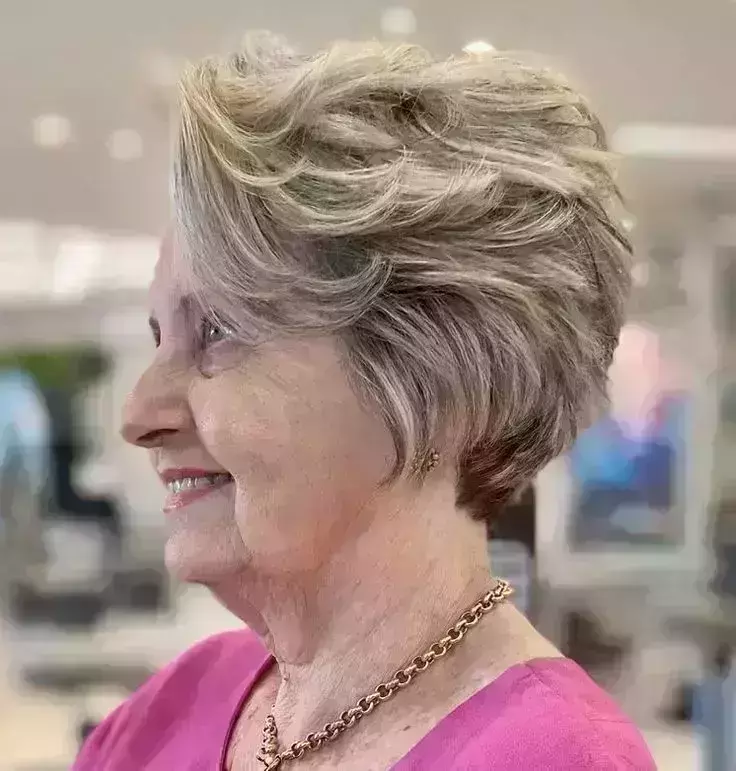 20. Messy Wedge Cut
Consider switching up your hairstyle with a tousled crop cut featuring delicate, airy layers. Trimming the short layers away from your face can enhance your facial features. Opting for a shorter style also comes with the advantage of easy maintenance. To add some volume, use a small round brush while blow-drying the feathery layers.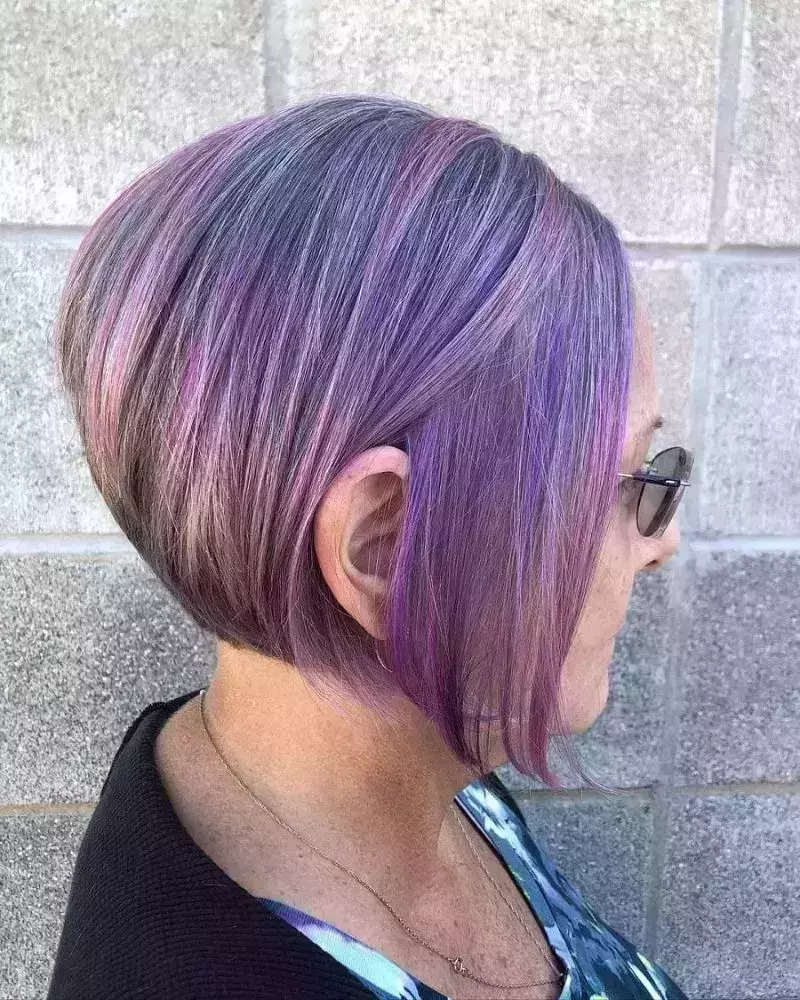 21. Unicorn Highlights
Unicorn hair is a perpetually fashionable wedge haircuts for women over 60, and it's a style that knows no age boundaries. It pairs wonderfully with grey hair, making it an excellent choice for older women who enjoy vibrant and playful colours. Consider blending shades of pink and purple with your grey hair to achieve a stunning unicorn-inspired look.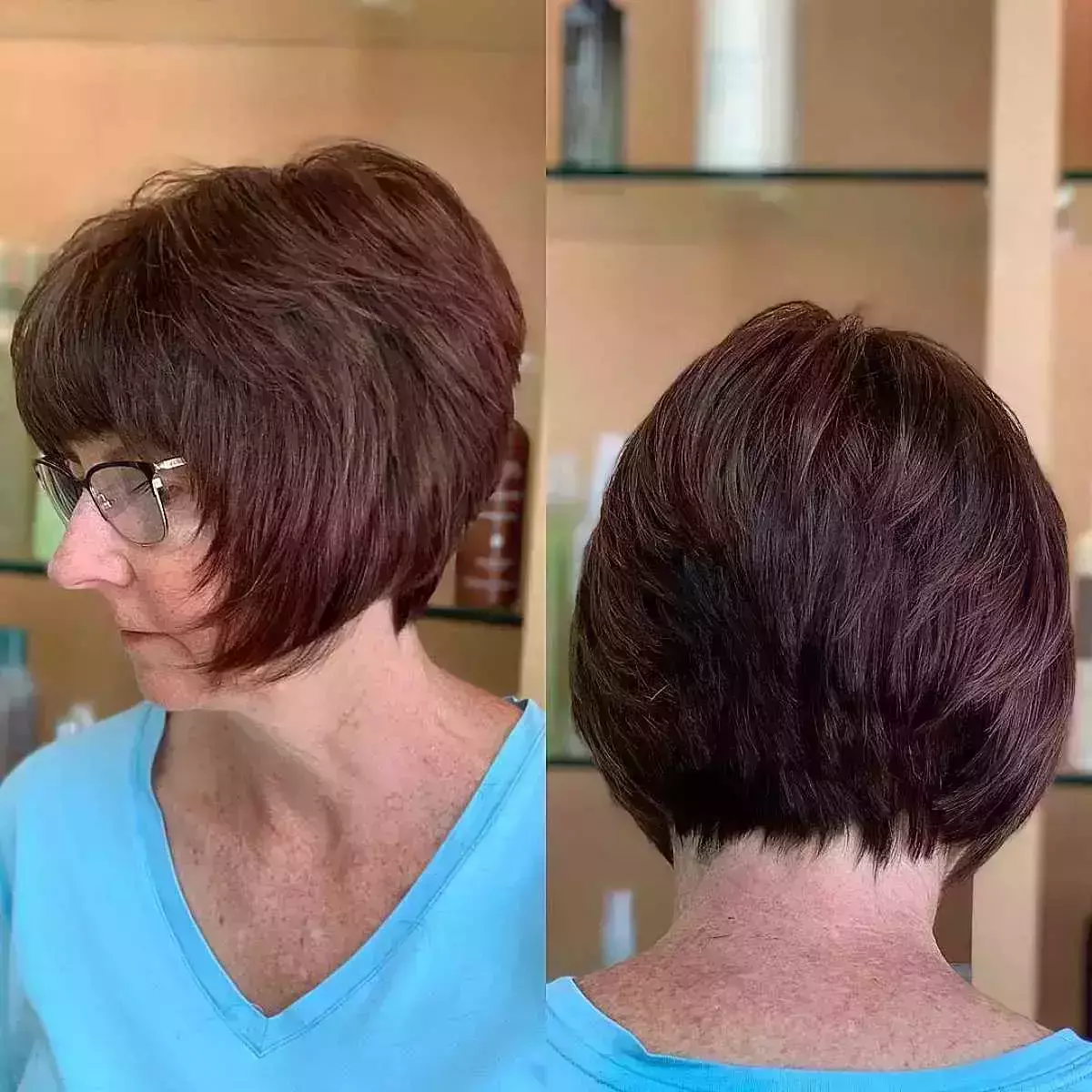 22. Front Bangs Wedgecut
The spirited wedge haircut with glasses offers versatility – you can wear it forward or backwards, depending on your mood. Wedge haircuts back view is shown for proper understanding. When you visit your stylist, request layers to create a more tousled appearance. Use a medium-sized round brush and a touch of gel while blow-drying for a deliberately dishevelled finish. Embrace the opportunity for change and opt for medium wedge haircuts for women over 60.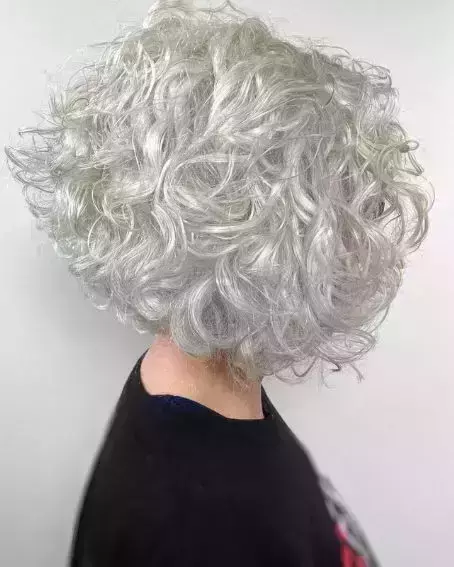 23. Curly White Wedge
The curly white wedge haircuts for women over 60 is a chic and sophisticated hairstyle that combines timeless elegance with a modern twist. This haircut features short, curly layers that create a voluminous crown while maintaining a clean, tapered back. The pristine white colour adds a touch of grace and refinement. It's a versatile choice that complements various face shapes and brings out a youthful charm, making it an excellent option for mature women looking for a stylish and age-appropriate look. if you are looking for hairstyles for curly hair over 60, then do check out our guide as we list 50+ stunning options.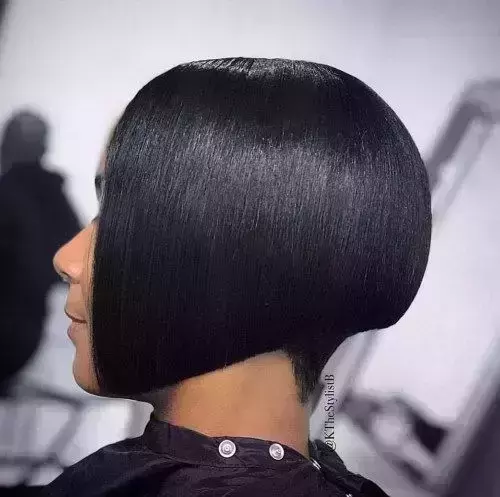 24. Blunt Dark Wedge Bob
This bold black hairstyle is definitely worth experimenting with. It offers a stylish and sharp appearance while remaining simple to style and keep up. Utilize a suitable hair styling product to achieve a polished and glossy finish.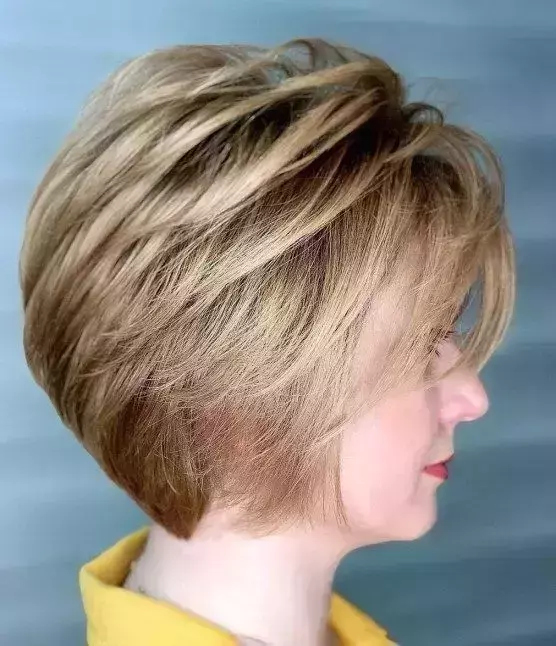 25. Classy Soft Wedge Cut
The classy soft wedge haircuts for women over 60 exude timeless sophistication and grace. This hairstyle gracefully combines shorter, tapered layers at the back with longer, soft layers on top, creating a subtle wedge shape that beautifully frames the face. Its understated elegance complements mature beauty, making it a perfect choice for women in their sixties. This versatile haircut offers a chic, low-maintenance look that adds a touch of refinement and confidence to any ensemble. Layered bob is another excellent option if you ar looking for short haircuts for mature women.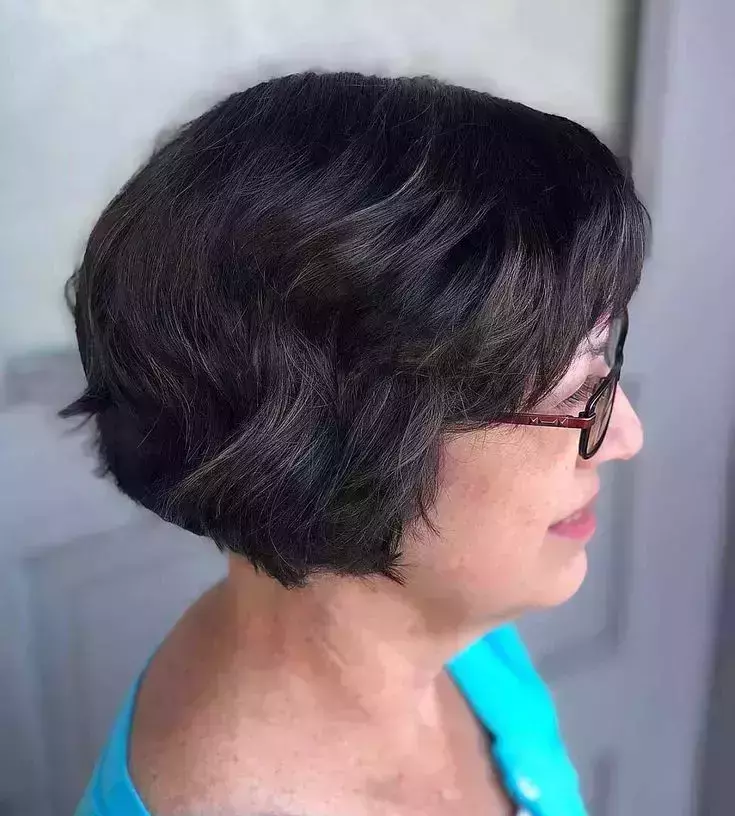 26. Black Wedge Cut
Opt for the short wedge bob not only for its fashionable allure but also for its gentle appeal. A chin-length haircut suits most face shapes, but incorporating some layers can give it a slightly tousled appearance. I suggest leaving this hairstyle slightly dishevelled when styling to achieve a soft and relaxed finish. And if you happen to be a grandmother, rest assured that this haircut is universally flattering and will complement your look beautifully. This is also a wedge haircut with glasses for women over 60.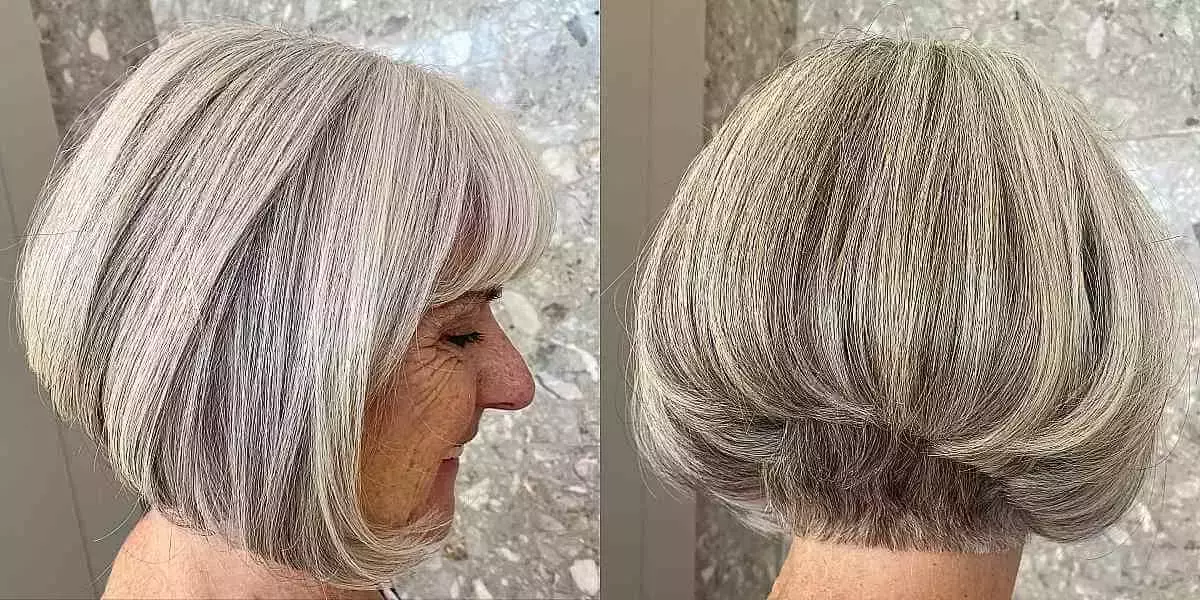 27. Bob Wedge Haircuts for over 60
Bob wedge haircuts for over 60 are an excellent choice to guarantee your hair appears voluminous. This bob wedge haircut for over 60 can also be styled with glasses. When consulting with your stylist, request that the length be trimmed around your chin and cheeks to maintain a slimmer and more youthful appearance for your face. To describe the desired shape, you can ask for graduated layers, which create the characteristic wedge shape. Wedge haircuts back view shows how classy the hairstyle is!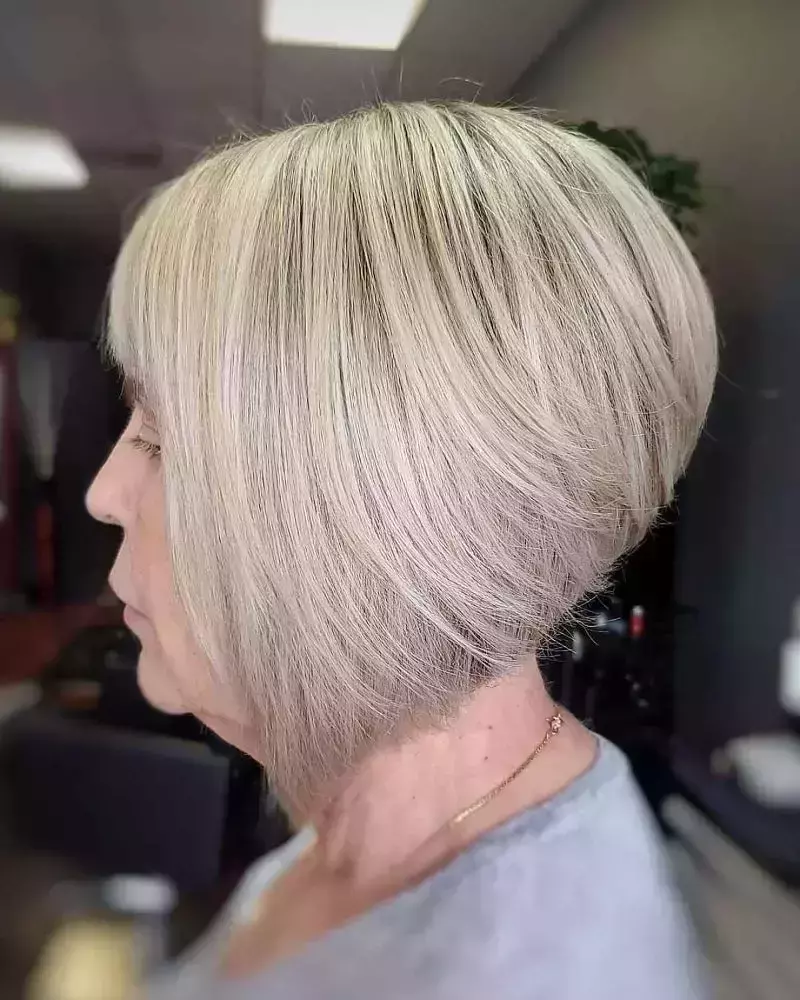 28. White Round Wedge Cut
The white round wedge haircuts for women over 60 is a stylish and age-defying choice. This haircut features a rounded shape with short layers at the back, gradually transitioning to longer layers on top. The pristine white color adds a touch of sophistication, while the round shape softens facial features and complements mature skin tones. It's a versatile and flattering hairstyle that exudes elegance and confidence, making it an excellent option for mature women seeking a timeless and chic look.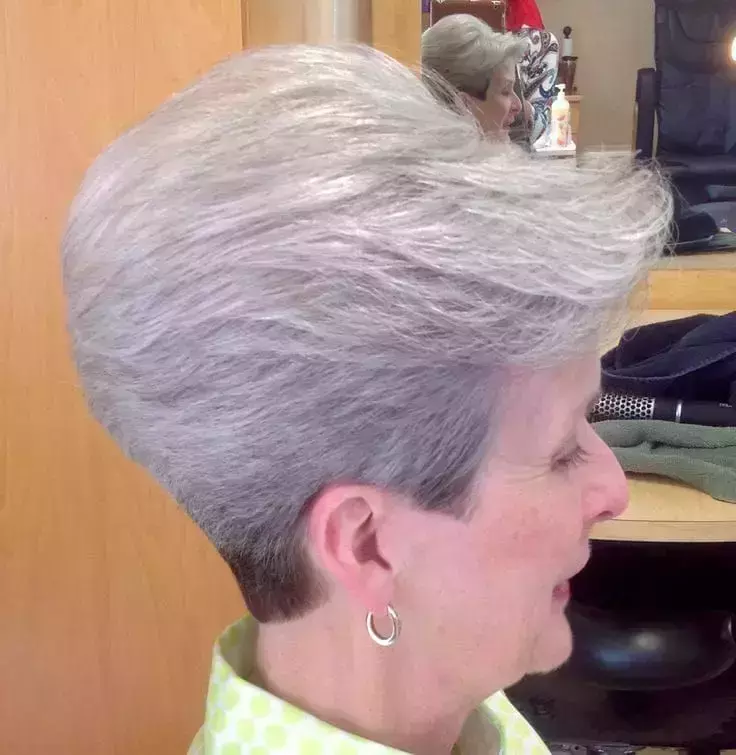 29. Pixie Wedge Cut
The pixie wedge cut for women over 60 is a youthful and daring choice that defies age with its bold charm. This haircut showcases short, layered sides and back, with slightly longer layers on top, creating a playful yet sophisticated look. Its low-maintenance nature makes it ideal for mature women seeking a carefree style that exudes confidence. The pixie wedge cut adds a touch of contemporary flair while embracing the beauty of age, making it a perfect choice for adventurous women in their sixties.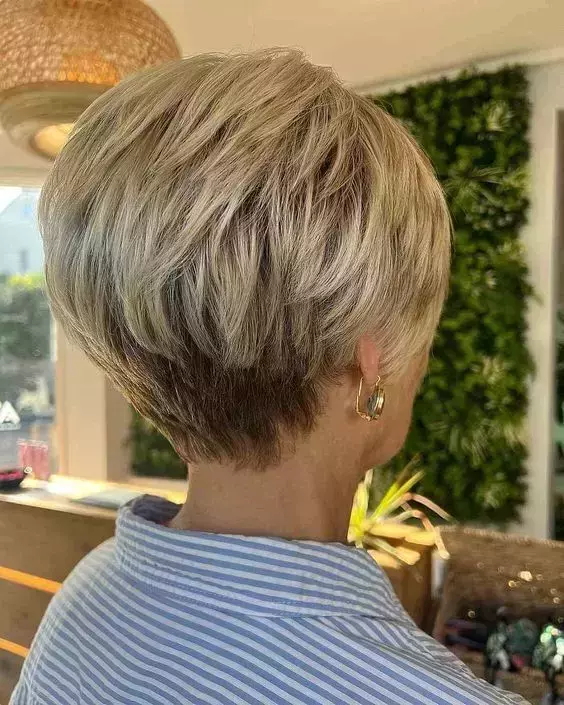 30. Highlighted Layers
Wedge hairstyles typically feature shorter layers at the rear and longer sections on top. While there's a basic structure to follow, there's room for personalization and creativity. Enhance your unique twist on the style by incorporating golden blonde highlights, which will make you stand out and showcase your fresh look!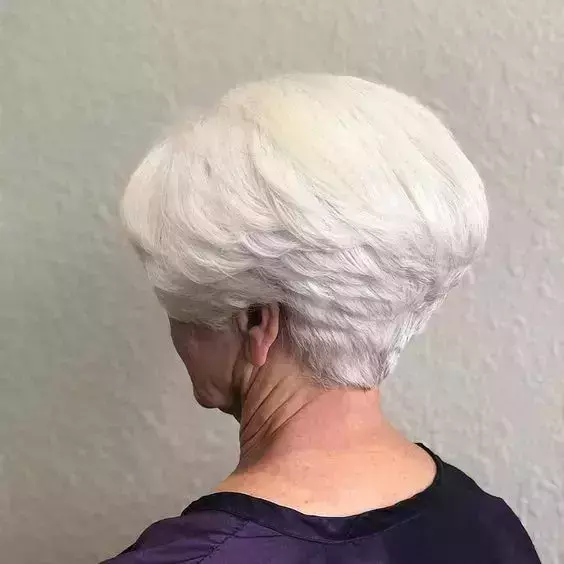 31. White Feather Cut
Consider a layered haircut for your thick hair, and you'll undoubtedly receive numerous compliments. By maintaining longer layers on top while tapering the sides and back, you achieve a fantastic and well-defined shape. This haircut is especially suitable for thick hair as it fully highlights the wedge and accentuates all the graduated layers. It's essential to remember that regular trimming, approximately every four weeks, is necessary to maintain its fantastic appearance. Youthful long wedge haircuts for women over 60 can genuinely boost your self-confidence and leave you feeling fantastic.