25 Short Choppy Hairstyles For Over 70 - 2023
Riya Lisa Ghosh
Updated At 10 Sep 23
Age is just a number, and when it comes to hairstyles, that's especially true! For our lovely ladies over 70, there's a plethora of chic, short choppy hairstyles that can enhance your beauty and confidence. Whether you have thin hair, fine hair, wear glasses, or have a round face, we've got you covered with fabulous short haircuts for women over 70 that will make you feel like a style icon.
Let's dive in!
25 Best Short Choppy hairstyles For Over 70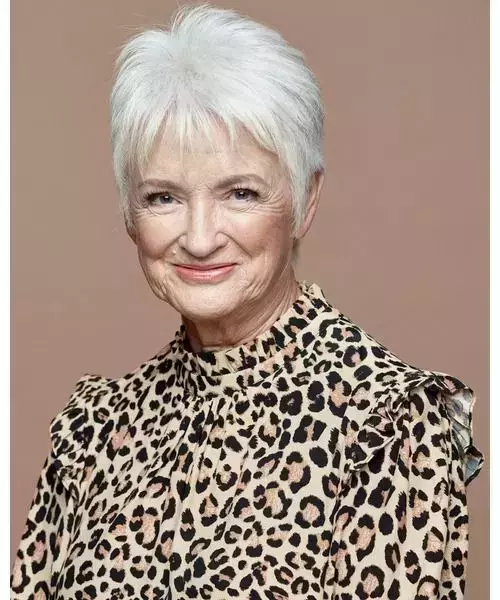 1. Classic Pixie Cut
One of the best hairstyles for over 70, this timeless pixie cut is perfect for ladies with fine hair. It's easy to maintain and adds a touch of youthful charm to your look. Plus, it's ideal for women over 70 with glasses.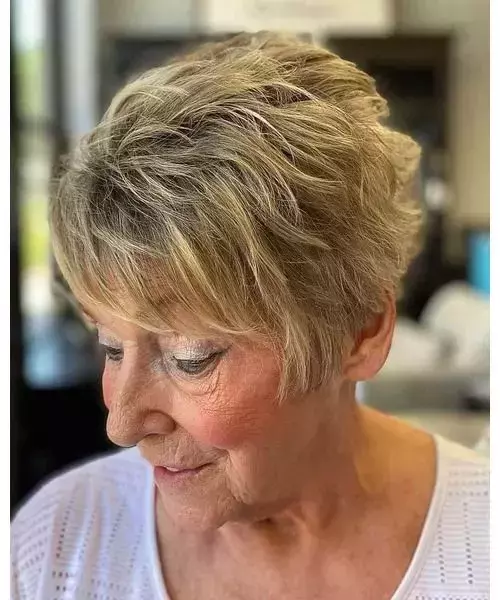 2. Textured Crop Cut
The textured crop cut is short, sassy, and oh-so-stylish. It's perfect for round faces, as the texture adds dimension and complements your facial features.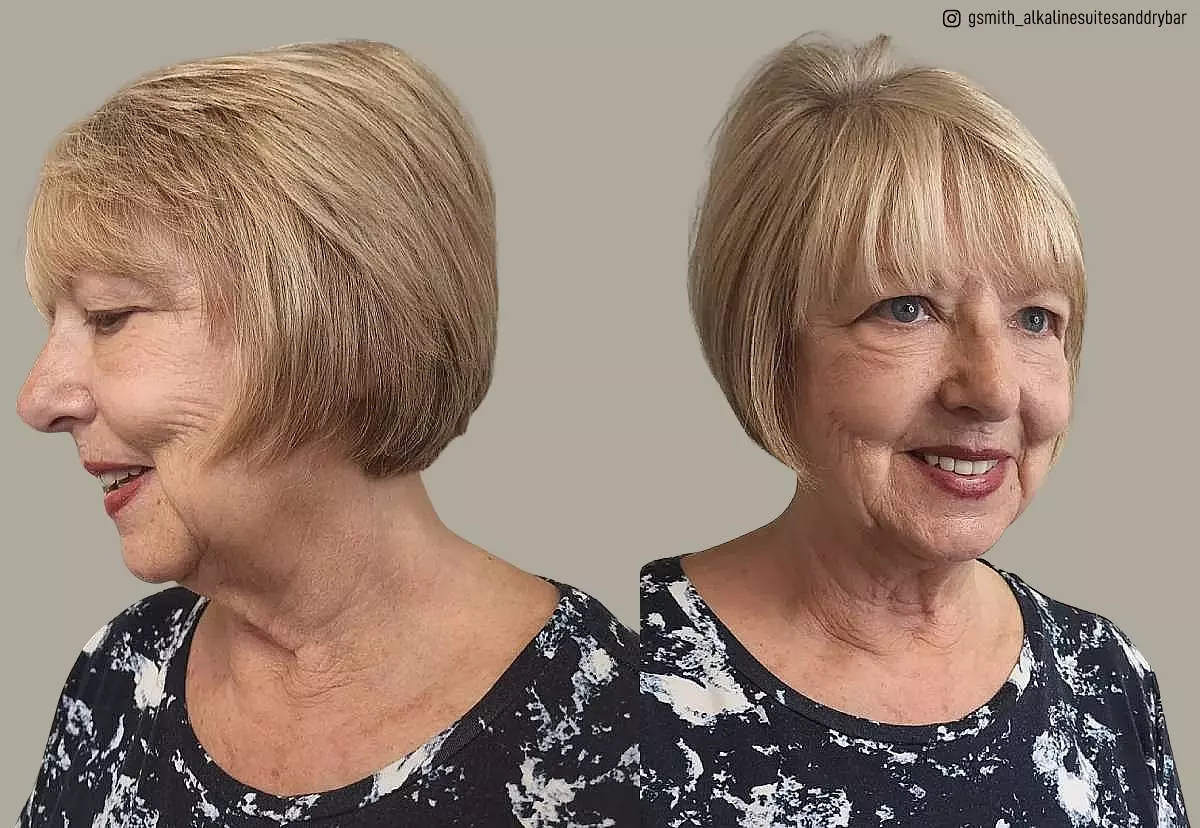 3. Chin-Length Bob with choppy layers
A chin-length bob is a chic and versatile option for older women. It's easy to manage and can be customized with layers or bangs to suit your style. 
Looking for more inspiration for bob hairstyles for over 70? Do check out our guide as we list 25 most popular bob haircuts. From lob, short bob to layered bob, we cover all the popular hairstyles.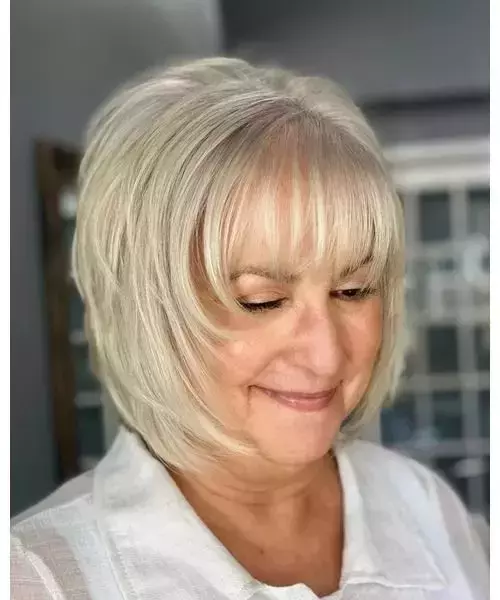 4. Modern Shaggy Bob
The modern shaggy bob offers a playful and carefree look. It's an excellent choice for those with fine hair, as the layers create movement and volume. This is a suitable choppy hairstyle for over 70 with thin hair.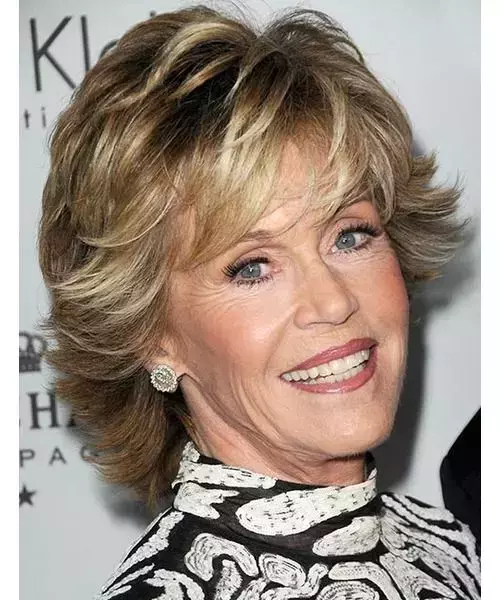 5. Layered Crop with Side Swept Bangs
This layered crop cut with side-swept bangs is a fantastic choice for those who want to soften their facial features. The layers add texture and depth.
Looking for more Jane Fonda hairstyles for inspiration? Do check out our guide as we list 55 popular jane fonda hairstyles. She shows us ample options for layered hair, shaggy haircuts, choppy hairstyles, pixie cuts, bangs and many more.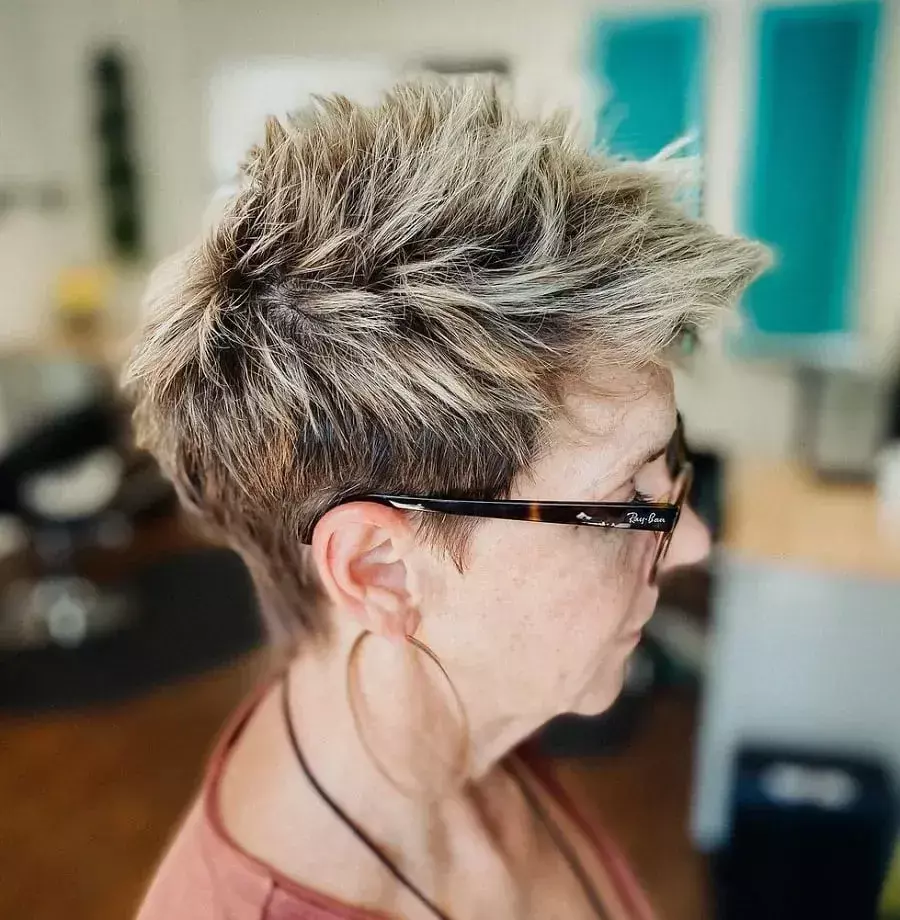 6. Textured Spiky Pixie
Embrace your inner rebel with a textured spiky pixie. It's an excellent choice for ladies with a strong sense of style and confidence. If you are looking for short hairstyles for over 70 with glasses then this can be an amazing option.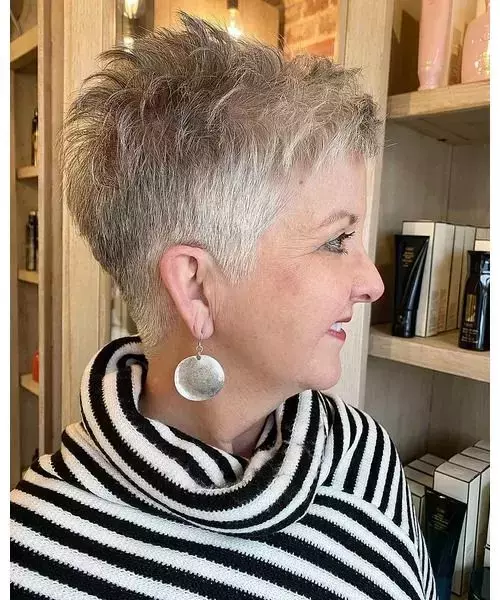 7. Razored Pixie
The razored pixie cut is all about sharp, edgy lines. It's a bold choice that showcases your individuality.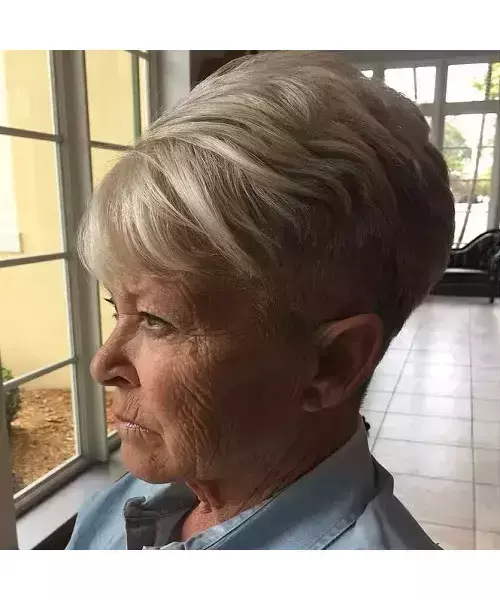 8. Elegant Undercut with Choppy Layers
An undercut adds a modern twist to your hairstyle. It's a bold choice that's sure to turn heads. Adding dimensional choppy layers to your undercut adds with a quirky take on it.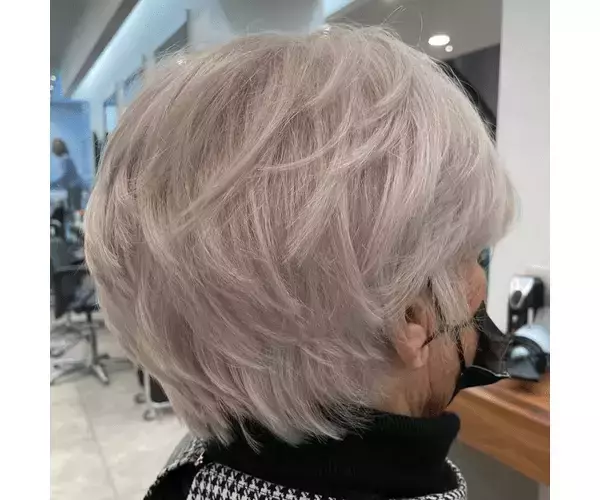 9. Choppy Layers with Volume
Add some oomph to your hair with choppy layers that create volume and movement. It's a youthful and fun choice. This is a suitable short choppy hairstyles for over 70 with fine hair.
10.  Short And Sassy
Go all out with a short and sassy hairstyle with a choppy cut that showcases your confidence and individuality. It's a statement-making look that's bound to impress. This looks amazing with glasses.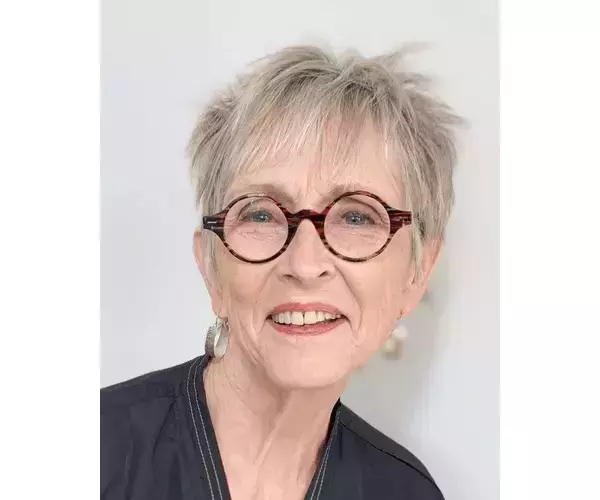 11. Side Swept Pixie
Wrap up our list with a side-swept pixie cut. It's a versatile and elegant choice that complements various face shapes and styles. A pixie cut for over 70 looks stylish and elegant. You can even pair it with glasses and it looks modern too.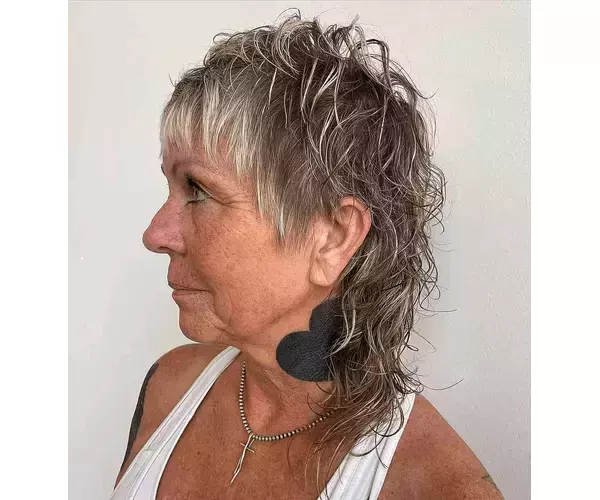 12. Modern Mullet With Choppy Edges 
The modern mullet offers an intriguing blend of edginess and sophistication. Short layers in the front provide a classic touch, while the slight length in the back adds a contemporary twist, making it a daring yet chic choice. Looking for inspiration for medium length hairstyles for women over 70, then do check out our guide as we list 50+ most popular options.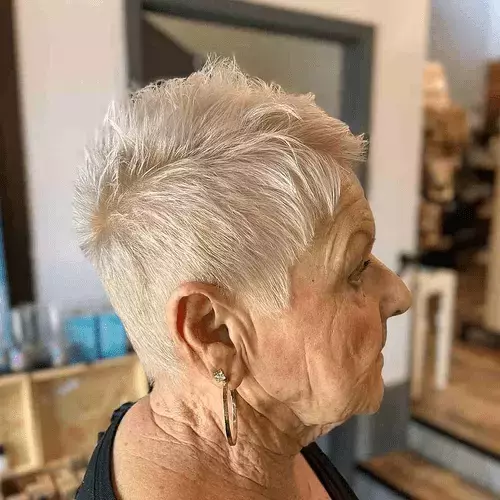 13. Short Layered Mohawk
Unleash your inner rock star with a short layered Mohawk. It's a bold choice that exudes confidence and individuality. The short sides and longer top layers create a striking contrast that demands attention.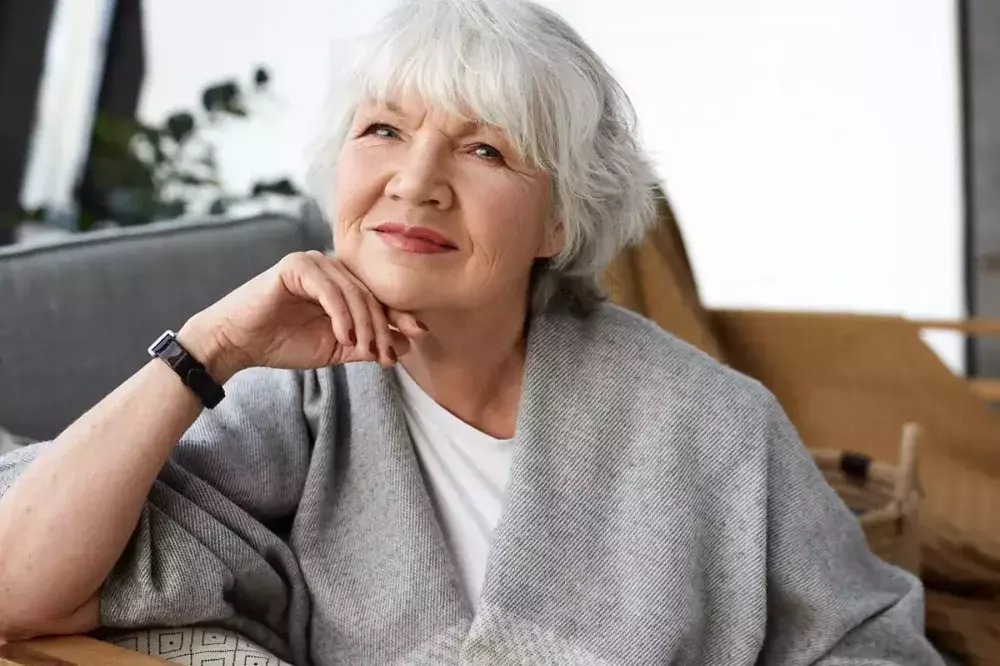 14.Textured Bowl Cut with Fringe
This textured bowl cut is a delightful mix of classic and modern. The fringe softens the look and frames your face gracefully, while the texture adds a youthful, carefree vibe.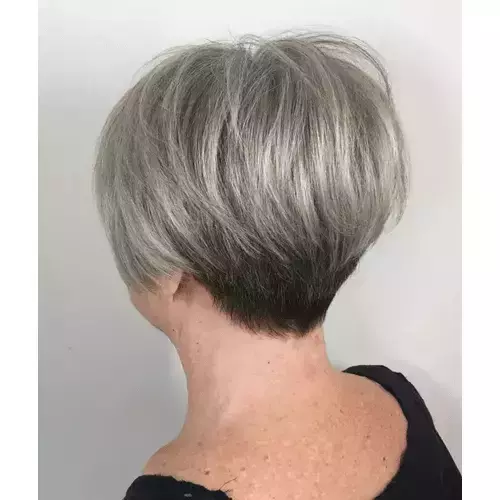 15. Blunt Cut with Color Accents
Enhance a classic blunt cut with subtle colour accents. Highlights or lowlights can be strategically placed to create a mesmerizing effect, emphasizing your hair's texture and vibrancy.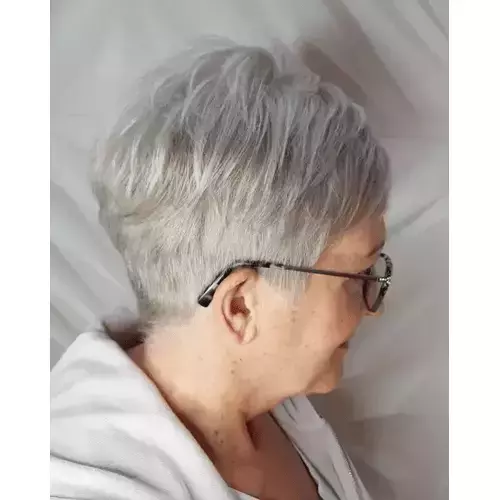 16. Short Tapered Cut
The short tapered cut boasts precision and sophistication. Its clean lines and well-defined angles make it a polished choice, perfect for accentuating your facial features.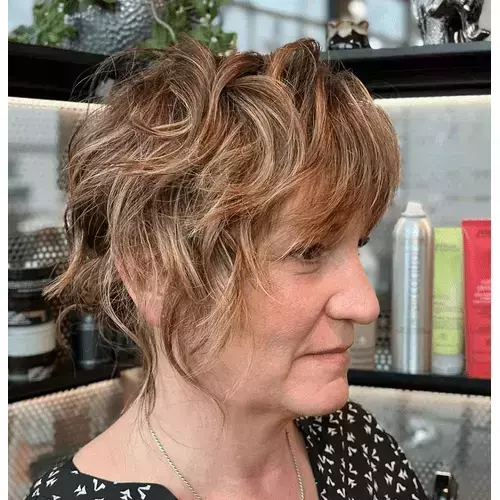 17.Short Shaggy Crop
This shaggy crop cut with short layers adds texture and movement to your hair. It's a playful choice that brings a sense of spontaneity to your appearance, perfect for showcasing your fun-loving spirit.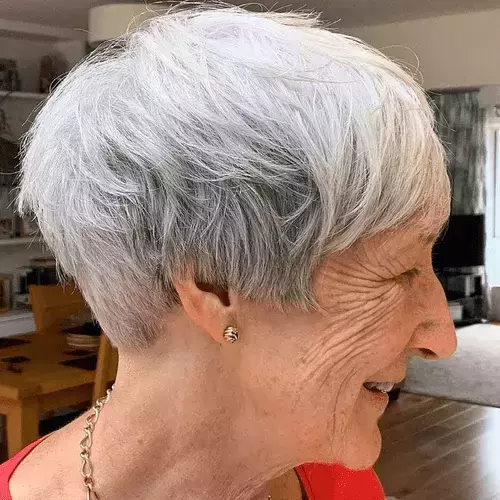 18. Choppy Bowl Cut
The choppy bowl cut is an artistic choice that sparks intrigue. Its avant-garde appeal challenges convention, creating a fashion-forward statement that's bound to turn heads.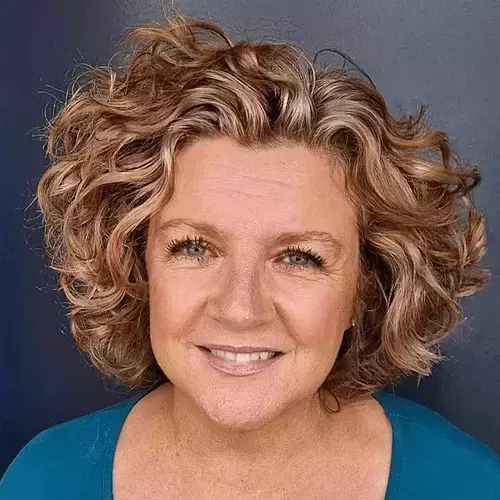 19. Short Voluminous Curls
Short voluminous curls make a bold statement, adding a touch of glamour and confidence to your appearance. These curls are vivacious and full of life, reflecting your vibrant spirit.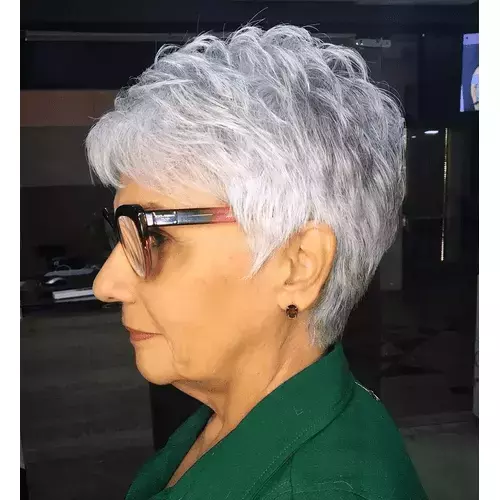 20. Feathered Undercut
The feathered undercut is an alluring blend of soft and edgy. The feathery layers on top contrast beautifully with the shaved sides, creating an intriguing and visually captivating hairstyle.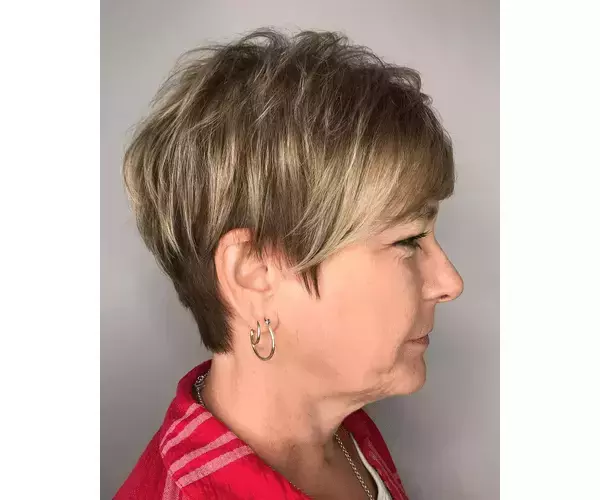 21. Feathered Undercut with bangs
Combine feathers and an undercut with bangs for a unique and visually captivating hairstyle. This is a suitable short choppy hairstyle for over 70 with round face.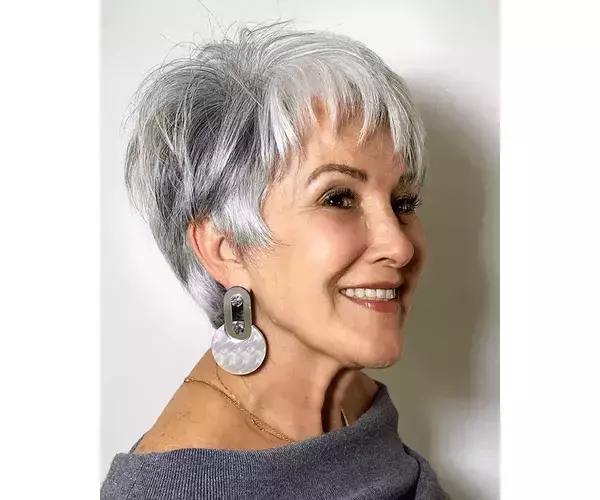 22. Tapered Pixie with Long Sideburns
The tapered pixie with long, stylish sideburns is a subtle yet distinctive detail that elevates your overall look. It adds a touch of sophistication and flair to your hairstyle.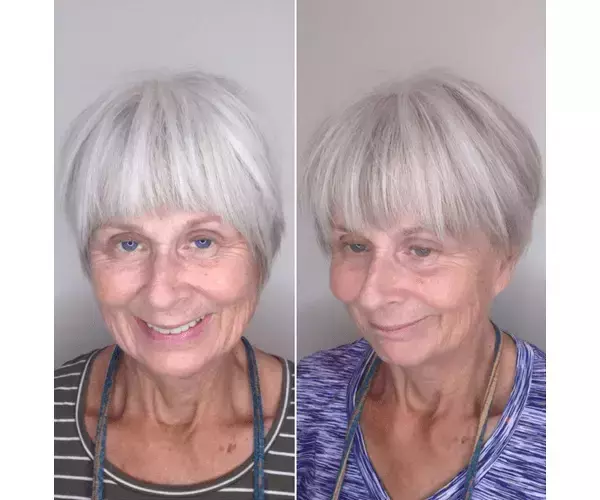 23.Textured Bowl Cut with Colourful Highlights
Take the classic bowl cut to new heights with vibrant, colourful highlights. This artistic style allows you to showcase your individuality and creativity while celebrating your natural beauty.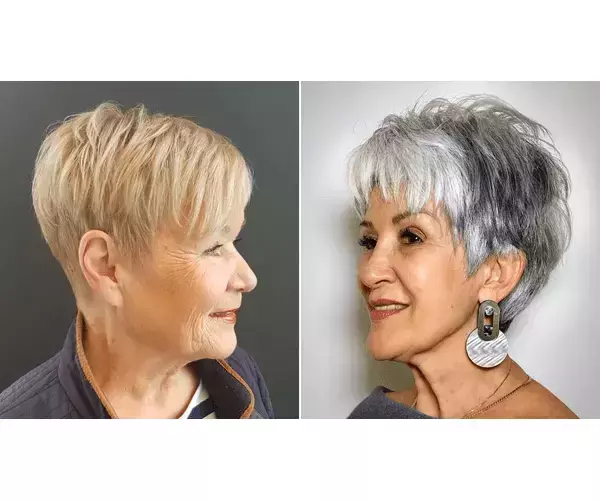 24.Geometric Pixie with Asymmetrical Bangs
The geometric pixie with asymmetrical bangs is a contemporary and artsy choice. Its unique lines and angles make it a captivating and visually stimulating hairstyle.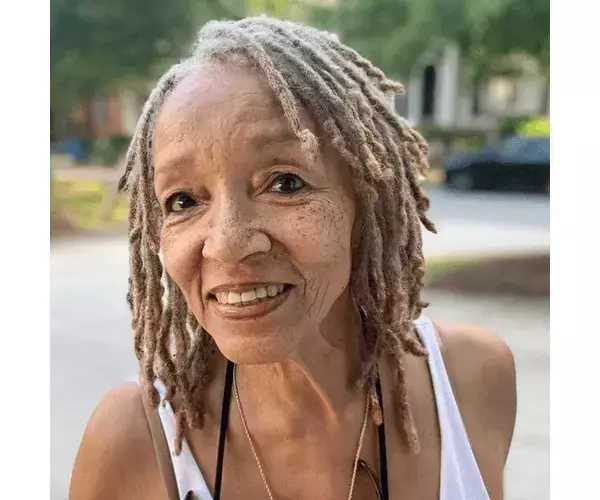 25. Short Faux Locks
For a low-maintenance yet stylish option, short faux locks are a trendy choice. They offer a chic, bohemian look that requires minimal styling, giving you more time to enjoy life. 
These unique short choppy hairstyles for women over 70 are more than just haircuts; they are expressions of your personality, confidence, and timeless beauty. Whichever style resonates with you, remember that it's an opportunity to make a statement and show the world the vibrant, creative, and beautiful individual you are. So, don't hesitate to consult your hairstylist and embark on a journey of self-expression through your unique hairstyle!