25 Stunning Ankle Mehndi Designs - 2023
Pooja Angurasu
Updated At 10 Feb 23
One of the most cumbersome decisions for girls is to choose the ankle mehndi design that looks unique and makes their overall appearance glamorous. If you are having a difficult time to find the best mehndi design, then we have got you covered. We list the 25 stunning ankle mehndi designs for any occasion. Lets get started!
25 Gorgeous Ankle Mehndi Designs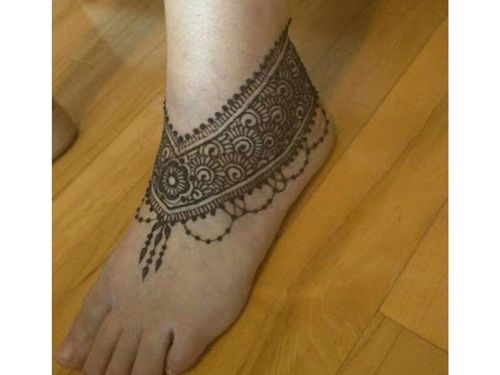 1. Heavy ankle mehndi design
Don't have any anklets to wear? This gorgeous ankle mehndi design is here to give a heavy jewelry look. This design gives an anklet-like look so avoiding heavy silver anklets is a good idea.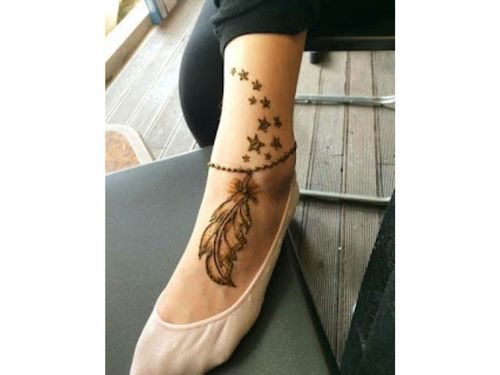 2. Sparkling Ankle Henna
There has been an influence of lots of contemporary elements and motifs in traditional henna art. Some women apply ankle Mehandi designs as temporary tattoos and if one wants a modish look try this feather leg design with starry sparkle.
If you are looking for groom mehndi designs do check out our guide as we list 25+ most popular designs which are trending this year.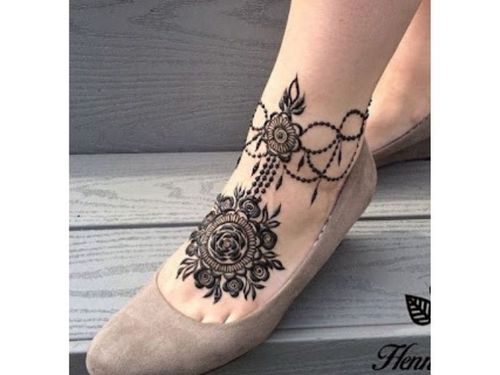 3. Floral Mehndi Design For Legs
A flower in the center with smaller flowers encircling it gives a very dreamy vibe while this is connected to a dotted anklet with a triple line of thick dots. This intricate ankle mehndi design gives a mesmerizing look.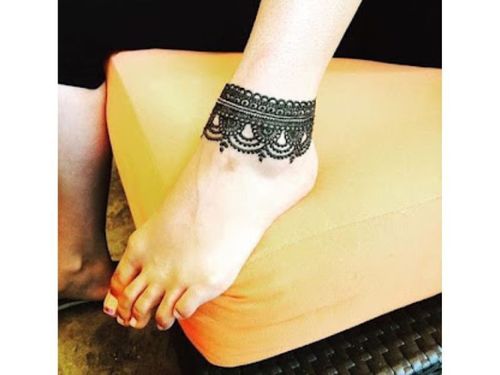 4. Thick Ankle Mehndi Design
Ankle mehndi design is loved by all women and this thicker ankle mehndi design makes for a gorgeous visual appeal. It will not require much time to apply and women can get it applied for simpler occasions.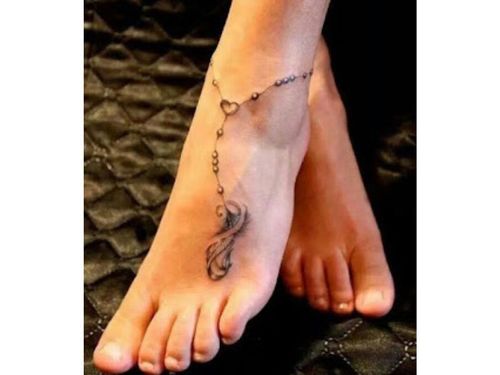 5. Heart Motif Ankle Mehndi
This charm bracelet-inspired ankle mehndi design with a heart motif is ideal for intimate valentines day or anniversary celebrations between couples. One of the simplest and most minimal ankle mehndi designs for women.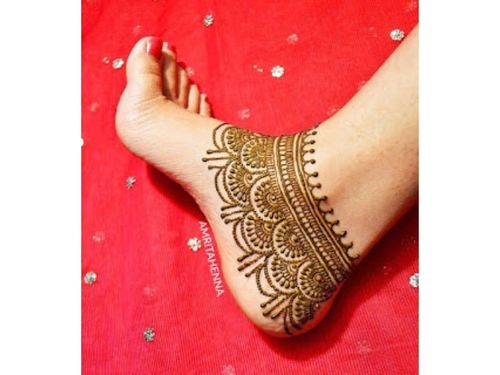 6. Traditional Mehndi
This henna design gives an illusion of Payal with an anklet design. This way of using ankle mehndi design will adorn your ankle. Decorate your feet with this traditional ankle mehndi design.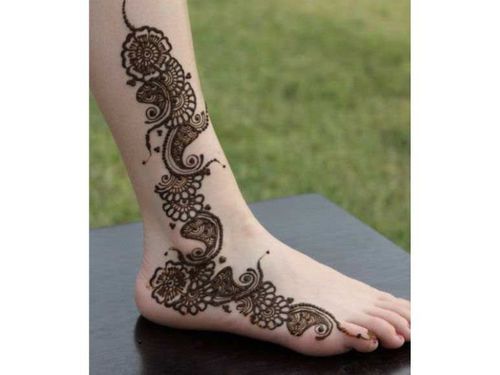 7. Arabic Design
'Arabic Mehndi' originated in Arabian countries and it gained popularity in Asia, especially India and Pakistan. The ladies who do not like the heavy patterns or the ones who are working can opt for the Arabic ankle mehndi design which looks gorgeous and surprising.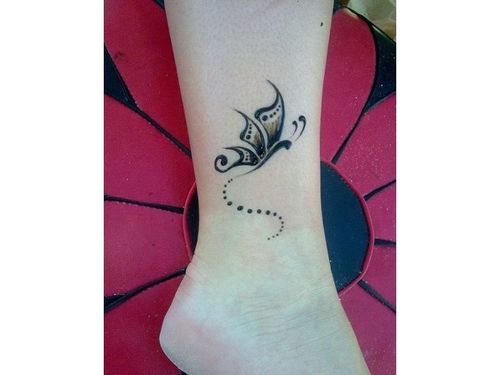 8. Tattoo Henna Design
This ankle mehndi design seems to be like a temporary tattoo that is perfect for non-occasions. The design is appropriate for teenage and young girls who love tattoos. One of the modern and minimalist Ankle Mehndi Designs for girls.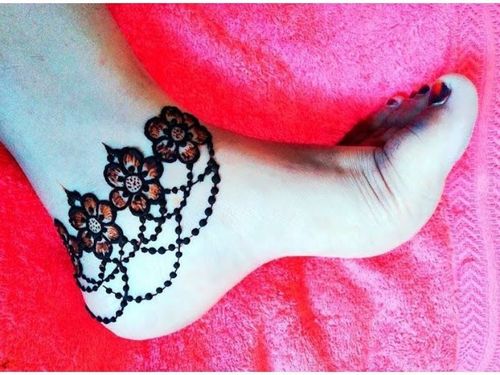 9. Ornamental Mehndi
The Indian wedding celebrations are incomplete without applying the ornament-designed mehndi which is considered auspicious and a sign of prosperity in Indian culture. This ankle mehndi design is always a women's priority.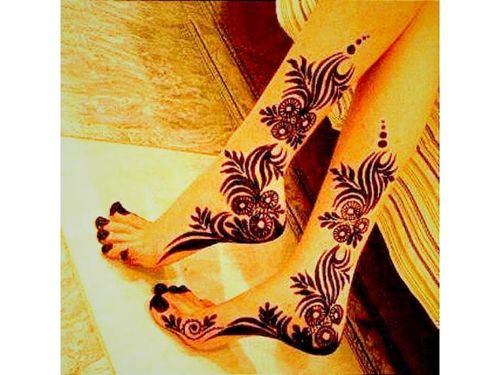 10. Sideway Ankle Design
The sideways ankle mehndi design is quite different from the side-slanting pattern. It is usually more elaborate which is the first choice of young or college-going girls. It is designed in L-shape in a free-flowing style.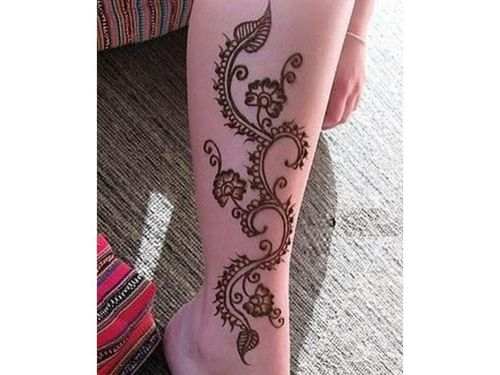 11. Spiral Ankle Henna
This spiral ankle mehndi design for feet is suitable for festive occasions as the design is quite tricky and complicated. This ankle mehndi design looks very delicate, and eye-catching, and makes a strong impression.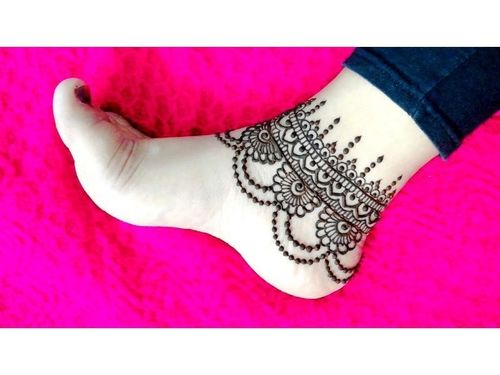 12. Dotted Chain Design
One can render a magnificent appearance to the feet by considering beautiful and creative ankle Mehndi designs. These graceful dotted chain ankle Mehndi designs are simple, easy to draw and accentuate the whole Mehandi look.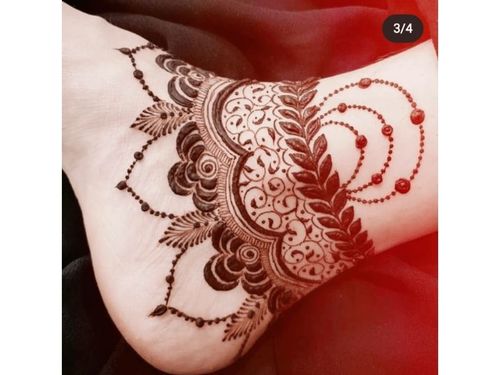 13. Ankle Mehndi Design For Bride
These ankle Mehandi designs are usually quite intricate but once produced perfectly can amaze any woman in the ceremony. This ankle mehndi design is engraved with leaf motifs, and floral curves to give a traditional look.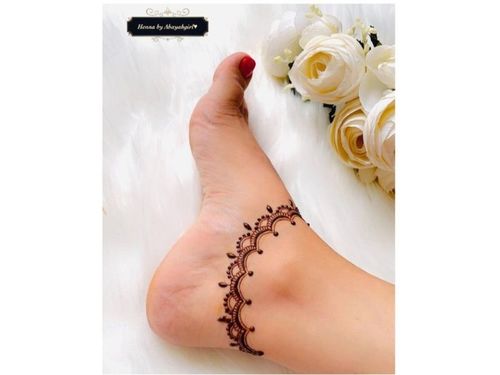 14. Minimalistic Design
This minimal ankle mehndi design looks lovely with curtain patterns and dot style. It has two layers of design and it is quite broad for a minimal look. This ankle mehndi design goes well with western outfits.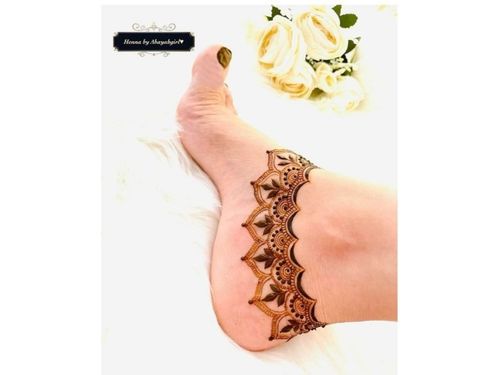 15. Intricate Henna Design
A broad and intricate ankle mehndi design is nailed with three layers of the pattern including curtain design, leaf pattern, swirls, and dots. It includes a lot of detail and those patterns make this ankle mehndi design more elegant.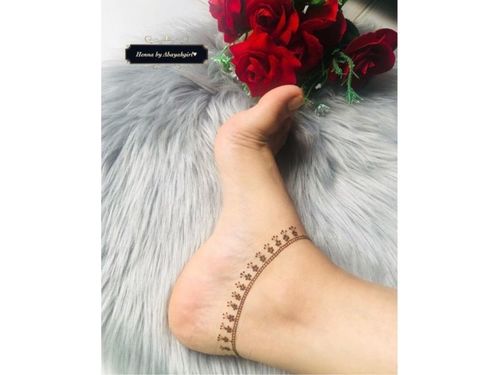 16. Dotted Floral
It is an ultra-thin layered ankle mehndi design with dainty floral patterns with dots. It looks like a simple piece of jewelry. Beginners can try this ankle mehndi design. So go ahead and give it a try.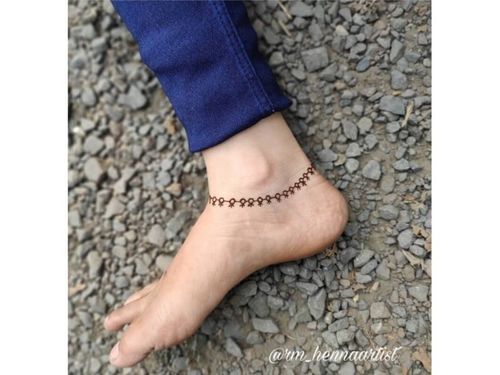 17. Tiny Circles
This unique and quirky look doesn't require a lot of effort, as only one layer of the pattern is styled and it involves tiny circles connected with lines and three-line droplets on it. One of the best ankle mehndi designs for modern outfits.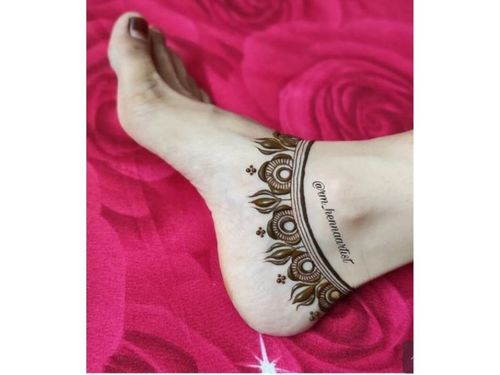 18. Hanging Florals
A hanging floral ankle mehndi design is decorated with lotus flowers which make the design look unique. The flowers are connected to the base of one thick and three thin lines and it has scattered dot patterns too.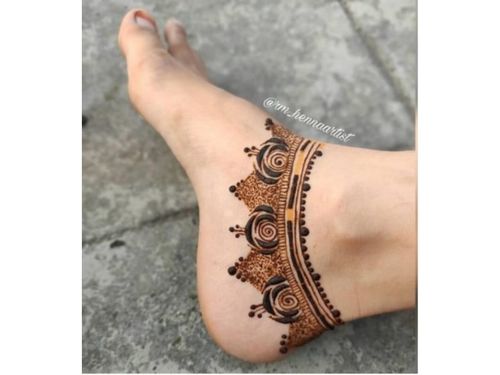 19. Aesthetic Trending Mehndi
A grained dot pattern makes this ankle mehndi design adorable. The roses in this ankle mehndi design are lovely! This ankle mehndi design will be suitable for the wedding ceremony.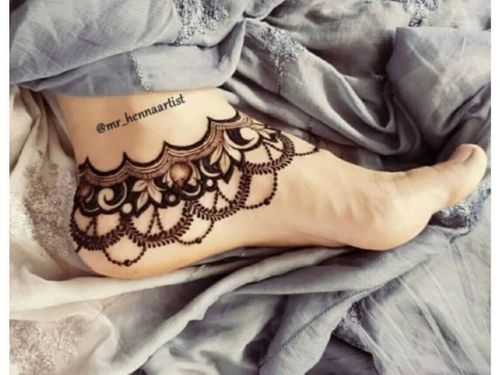 20. Elaborate Stylish Mehndi
In this elaborate ankle mehndi design, four layers of curtain patterns are overlapped with a beaded curtain design and the leaf patterns make the ankle mehndi design more stunning.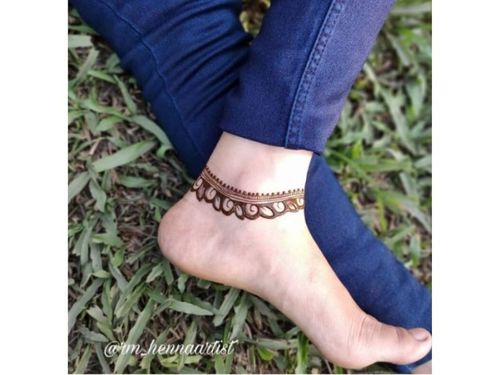 21. Peanut Shaped Mehndi
This ankle mehndi design is good for casual hang out. It will be a cool temporary tattoo that includes a band of shaded peanut patterns with dotted lines. Get a stylish look with this ankle mehndi design.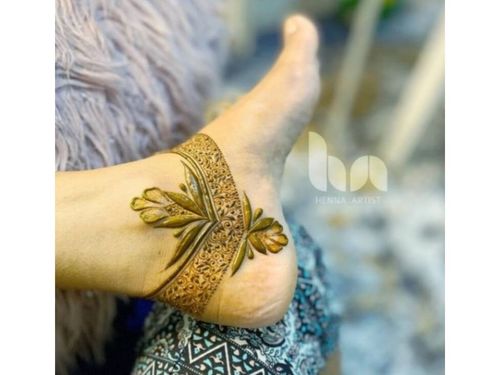 22. Necklace Ankle Design
This grand and marvelous ankle mehndi design will be perfect for the bride's legs. It has been engraved with swirls, a necklace, and dots. The shaded floral petals make the design majestic!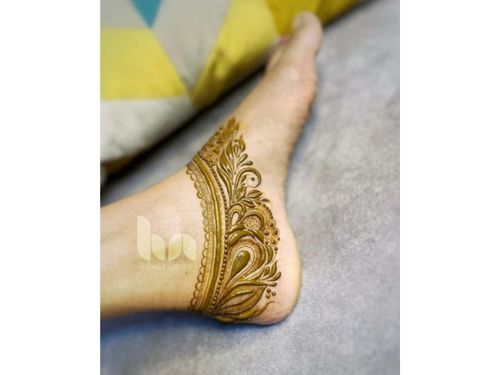 23. Ankle Mehndi With Swirls
Adopt a royal look with this aesthetic ankle mehndi design. A swirly floral is made with broad layers that would be perfect for a grand occasion. Such a pretty ankle mehndi design for women!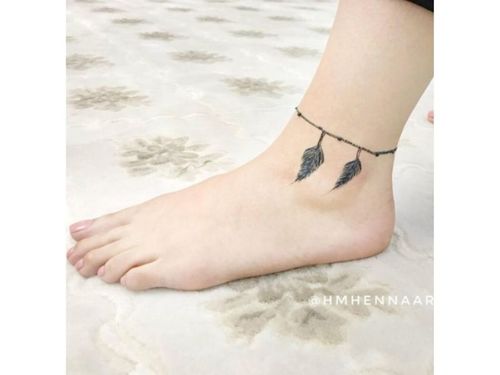 24. Modern Ankle Mehndi
Modern ankle mehndi designs are so cool to decorate on the legs. They look gorgeous in western outfits. People who prefer to be modern but simple can opt for this ankle mehndi design.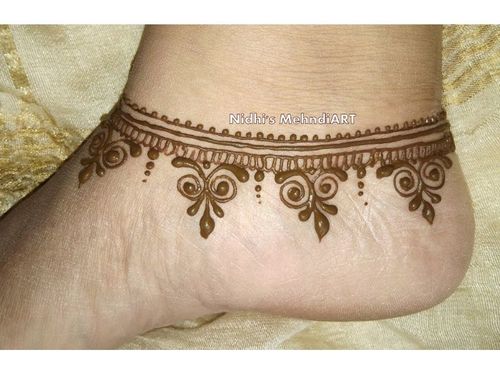 25. Easy Ankle Mehndi
This easy ankle henna pattern follows an anklet-like pattern with dotted and striped lines with hanging flower motifs. This ankle mehndi design can go well with traditional outfits.