Chris Hemsworth's All 5 Tattoos & Their Meanings
Sristi Shaw
Updated At 12 Nov 23
Where charisma and talent collide, Chris Hemsworth is a beacon of Aussie charm and acting prowess. Born on August 11, 1983, in Melbourne, Australia, Hemsworth's journey from the land Down Under to the glitzy streets of Tinseltown is nothing short of a cinematic adventure.
Before the godly hammer and the Marvel Cinematic Universe, Hemsworth started his career on the small screen in Australia. Chris Hemsworth swung the Mjolnir to debut as the God of Thunder in 2011 in the film "Thor," directed by Kenneth Branagh.  

The actor has demonstrated his flexibility across a variety of genres, ranging from the high-octane action of "The Avengers" to the comedic brilliance of "Ghostbusters" to the serious drama of "Rush." His versatility as an actor and his dedication to his art is displayed in his ability to switch between different types of roles with ease.

Keeping aside the glam on-screen life, Hemsworth's personal life dictates his commitment to family. Married to Spanish actress Elsa Pataky since 2010, the couple shares three children. Having said that, most of his tattoos have the names of his children, further emphasizing the importance of family in his life. In this guide, we will look closer at Chris Hemsworth's five meaningful tattoos, unraveling the personal narratives etched onto his canvas.
Table of Contents
5 Chris Hemsworth Tattoos And Their Meanings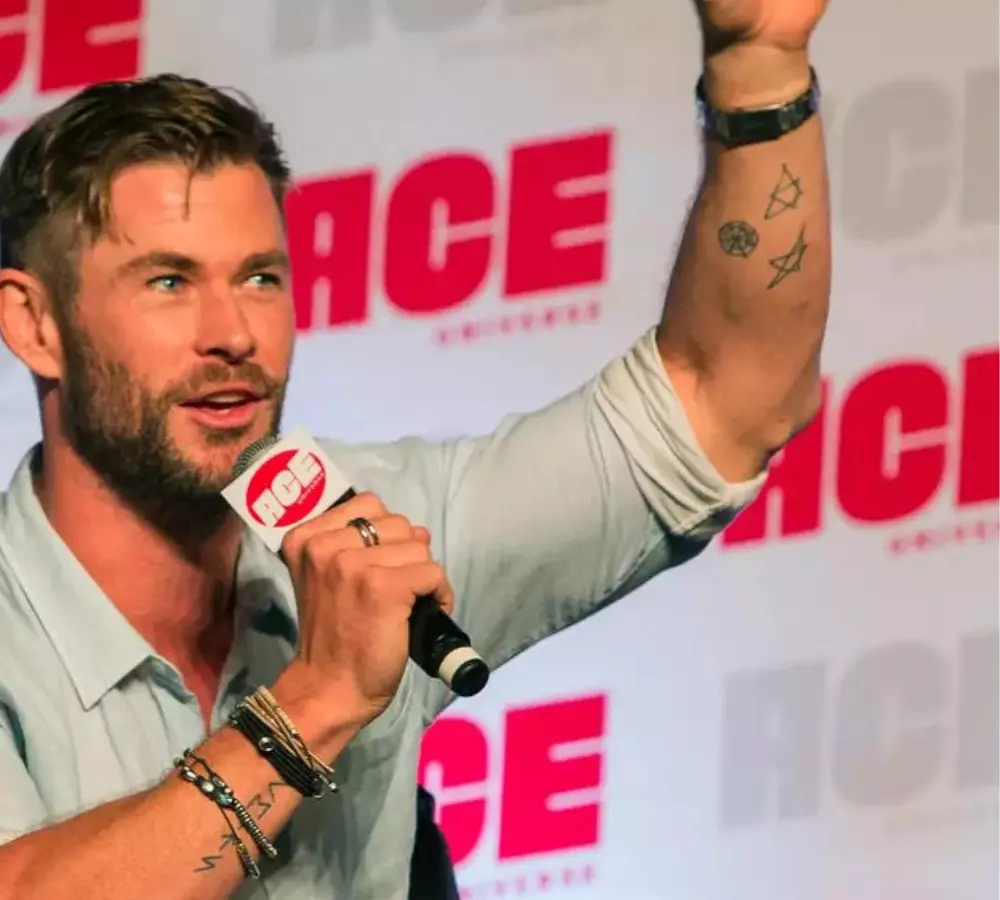 1. Family First: The Celtic Knot 
At the core of Chris Hemsworth's tattoo collection lies a powerful tribute to family. The actor sports prominent Celtic knots on his left bicep to represent his daughter's drawings. This tattoo design consists of a dharma wheel with eight points and two stars. This act of his symbolizes the unbreakable bond he shared with his daughter. For Hemsworth, family is not just a concept but a living, breathing force that shapes his identity and grounds him amid Hollywood glamour.
Also check out Chris Evans tattoos as we list all his 9 tattoos with meaning.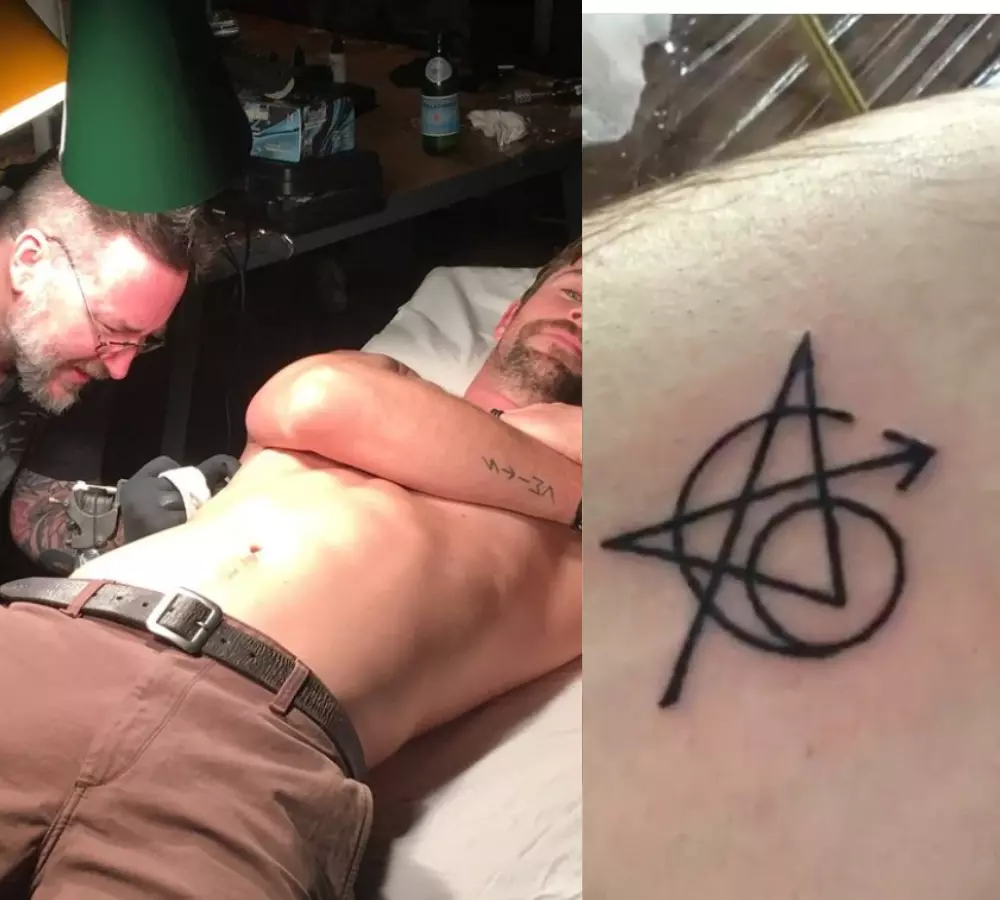 2. Avenger: Embracing Thor's Legacy
There is no doubt that the role of "the Norse God of Thunder" for the Marvel Cinematic Universe has an indelible mark on Hemsworth's heart. To commemorate this journey, the whole Avenger Group, Iron Man, Black Widow, Hawkeye, Captain America, and Thor, got the same design inked in 2018. Chris has this tattoo on his right-side ribcage.
When talking about his tattoo, Hemsworth often emphasizes the impact that the role of Thor has had on his career and life. The tattoo is a permanent reminder of his journey in portraying the God of Thunder and the significance of that chapter in his acting career.

Ps: Did you know Hemsworth's wife, Elsa Pataky, has a small Thor symbol tattoo on his right arm, too? She got this tattoo before she even met Chris. What a coincidence! 
Also check out Scarlett Johansson tattoos as we list all her 8 tattoos with meaning.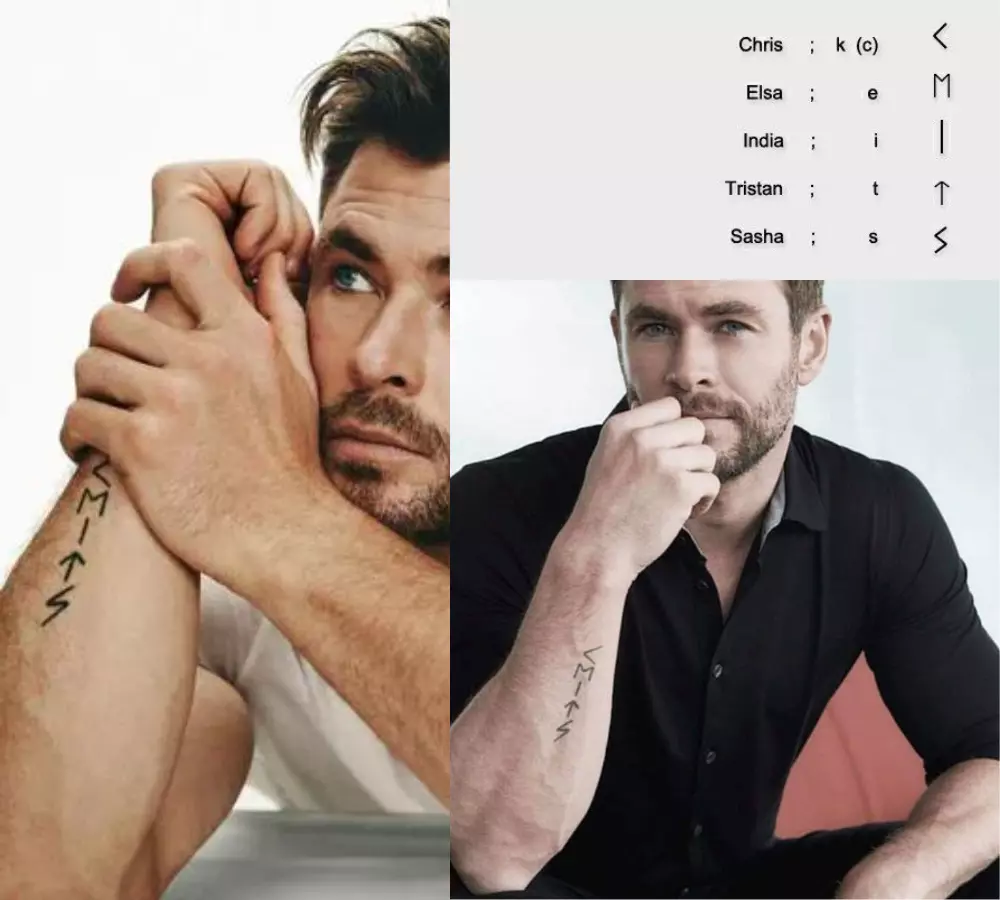 3. The Tributes: Family's Names
In a touching display of paternal love, Chris Hemsworth has inked the initials of the names of his three children and his wife—Elsa, India, Tristan, Sasha, and Chris—on his left forearm. Each name is adorned with a delicate script, showcasing the actor's commitment to his role as a father.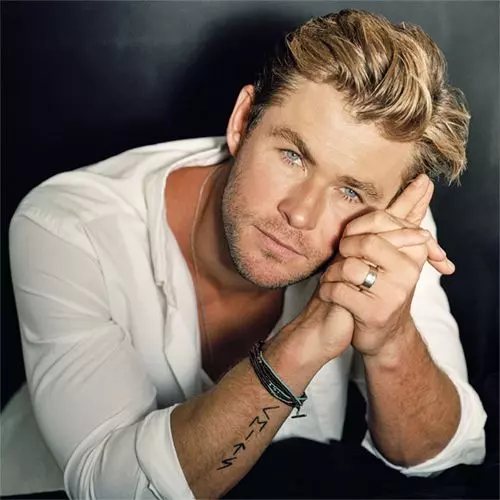 This tattoo is a constant reminder of the joys and responsibilities of parenthood, offering a glimpse into the personal side of a Hollywood star often shielded from the public eye.

Ps: Chris and his wife, Elsa Pataky, share this matching tattoo.
Read More: Ariana Grande Tattoos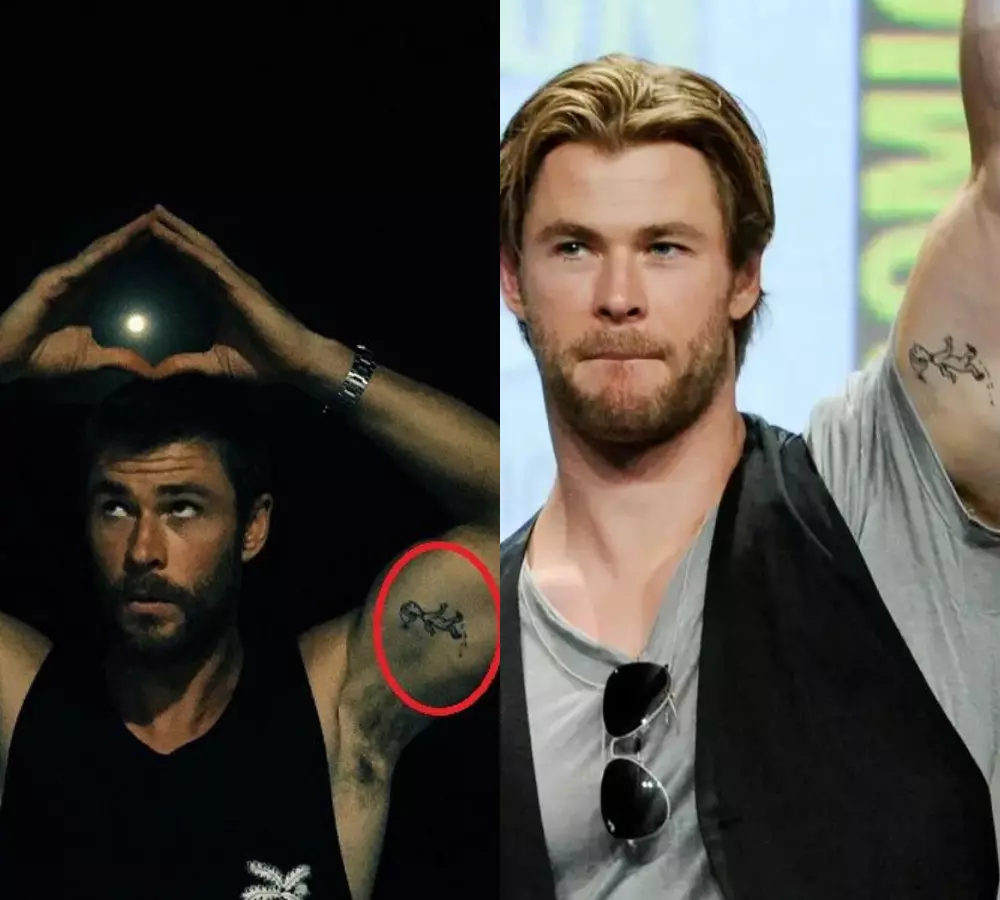 4. Dr. Seuss: A Fandom
It is no hidden fact that Chris loves to get inked related to things he loves. Another such example is this tattoo of Dr. Seuss. One of the best small tattoos for men, Chris got this on his left bicep.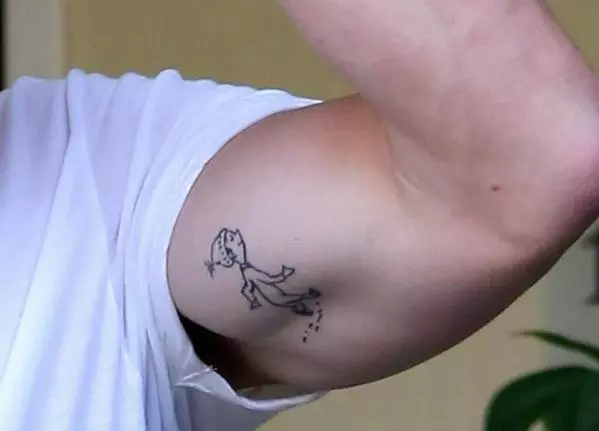 This tattoo is a figure from the Dr. Seuss book "Oh, the Places You'll Go." Even though Hemsworth hasn't said what the tattoo means, he has said that he reads this book to his daughter a lot.
Read More: Selena Gomez Tattoos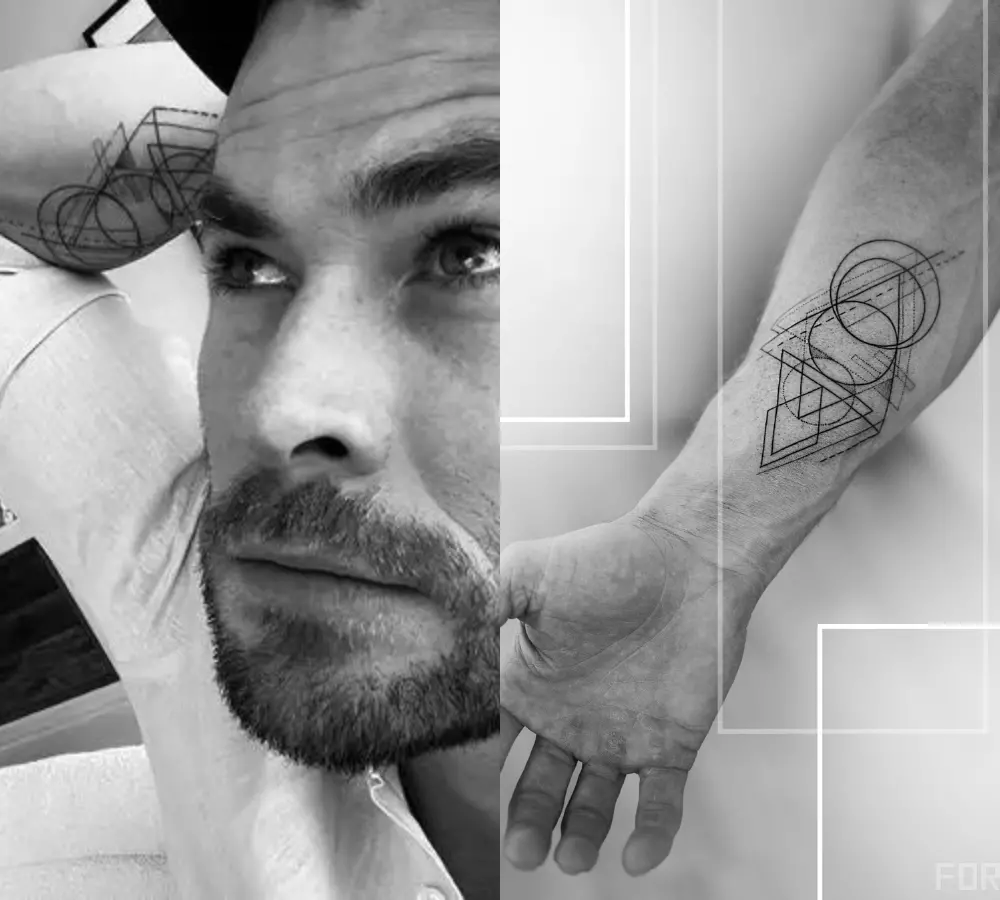 5. Sacred Geometry: A Visual Appeal
Although Chris has been a man of meaning when it comes to his tattoos, this "trippy sacred geometry" design, as he addressed, is just for aesthetics. This geometric tattoo was inked on his right forearm in April 2022 by the artist Dillon Forte. According to Chris, he inked this design because he thought it was "cool," like a "pool"!

Among the hot celebs with ink, Chris Hemsworth stands out for his tattoos have underlined meaningful stories woven into each design. From honouring his family bonds with XX to celebrating his career milestones with XX and embracing cultural connections, Hemsworth's tattoos visually narrate his personal and professional voyage. 

Beyond the showdown of Hollywood, his inks express a man who is grounded in his values and navigates life's journey with love, resilience, and a profound appreciation for the meaningful chapters of his life.
Read More: Demi Lovato Tattoos
Frequently Asked Questions
Q: What does Chris Hemsworth neck tattoo mean?
Chris Hemsworth does not have any neck tattoos. 
Q: Where did Chris Hemsworth get his Avengers tattoo?
Chris Hemsworth got his Avengers tattoo in New York by the tattoo artist Josh Lord. The tattoo is inked on the lower right side of the torso.
Q:Where is Chris Hemsworth's Avengers tattoo?
Chris Hemsworth got his Avengers tattoo inked on the lower side of his right torso.
 
Q: Does Chris Hemsworth have tattoos in real life?
Yes, Chris Hemsworth has a couple of tattoos in real life. In total, he has five tattoos across his body.
 
Q: What is the Chris Hemsworth tattoo in extraction?
The Viking compass inspires Chris Hemsworth's tattoo extraction, Vegvísir. This Chris Hemsworth back tattoo of a compass is used as a charm to guide people home, mainly through storms.
 
Q: What does Chris Hemsworth tattoo runes say?
Chris Hemsworth arm tattoo runes spells C, E, I, T, and S, after the names of his family. These initials are Chris, Elsa, India, Tristan, and Sasha.
Read More: Kylie Jenner Tattoos