31 Engagement Mehndi Designs For Bride - 2023
Olivia
Updated At 04 Mar 23
Henna is used to making intricate designs on the skin as part of the traditional body art known as mehndi. For weddings and other festive events, mehndi designs are frequently applied to the hands and feet. Depending on one's likeability, one may prefer to choose from a variety of mehndi patterns. Mehndi patterns come in a broad variety of styles. We present to you today various mehndi designs that will be significant for an upcoming bride for her engagement because mehndi is an important component of weddings and other events. During the wedding traditions, brides decorate their hands and legs with mehndi. Let's look at these 31 gorgeous engagement mehndi patterns, which were chosen especially for stunning brides.
31 Best Engagement Mehndi Designs For Bride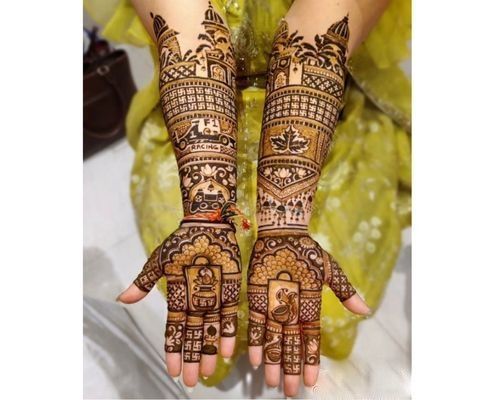 1. Bridal Mehndi For Engagement
Swastik drawn on the hands and fingers adds a traditional touch to the mehndi pattern that is specially created for the bride, along with some individualised elements and a holy emblem. This customary bridal mehndi for the ring ceremony can be customised with various aspects according to the bride's preferences. This mehndi design features excellent placement of all the mehndi components, producing a work of art.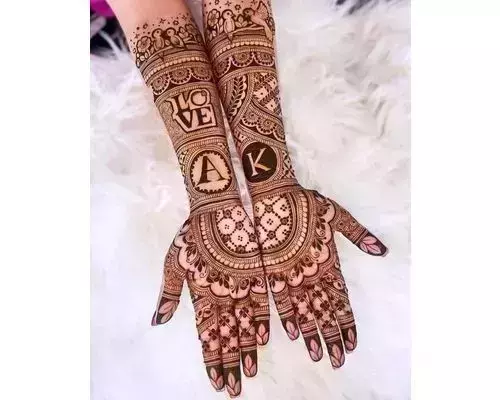 2. Bride And Groom Initials Mehndi Design
A lovely method to include initials in the mehndi design for an engagement ceremony is to use a bride and groom initials mehndi design. The bride and groom's initials can be used to create a full hand mehndi design, which is so heartfelt. This mehndi design is filled with affection and blessings from every component. A bride must surely attempt this design.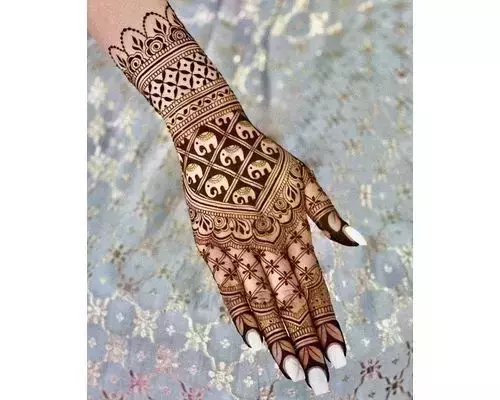 3. Elephant Block Bridal Mehndi
This mehndi design features a distinctive backhand pattern, a superb elephant on a geometric block, and coloured boxes that are brimming with elegance. The bride will undoubtedly adore having the ideal backhand pattern for her ring ceremony. The use of leaves, intricate motifs, and elephants is common in wedding and engagement designs because they are pure and symbolic of good fortune.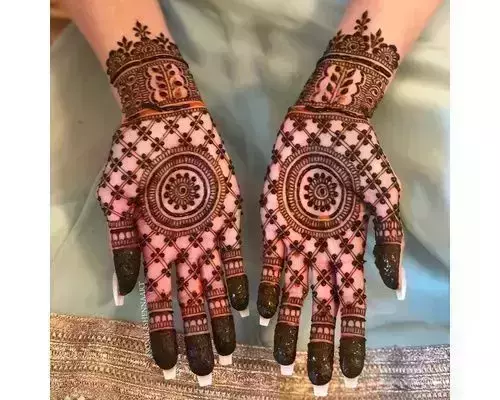 4. Elegant Bridal Mehndi Design
This palm-filled mehndi design with mesh motifs and circular work is fantastic if a bride prefers to go with a straightforward yet exquisite mehndi design. Both traditional and western clothing will look great with this mehndi pattern.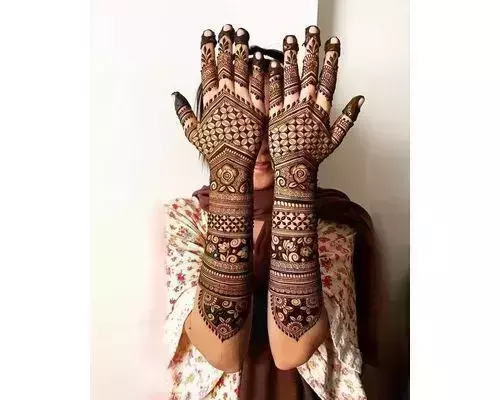 5. Full Hand Bridal Mehndi For Ring Ceremony
For her special day of the engagement ceremony, a bride can also select a conventional full-hand mehndi design. The bride's traditional attire will undoubtedly complement the traditional mehndi design and make it appear gorgeous if the entire hand is covered in traditional and classic matching elements. This mehndi pattern was meticulously detailed by a skilled artist, without a doubt.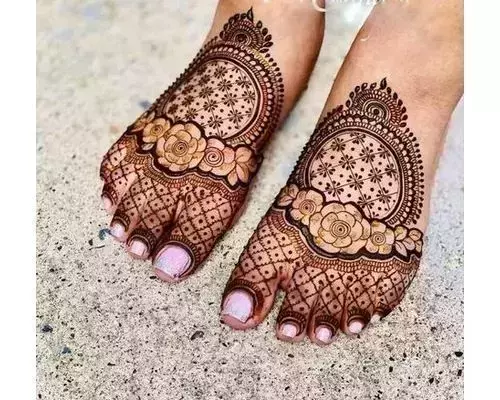 6. Stylish Mehndi Design For Legs
Leg mehndi patterns can be especially lovely and intricate because there is more room to work with than on the hands. The bride can choose this semi-traditional and fashionable mehndi design, which features exquisite flower work that is slightly shaded and a circular design with fine meshwork.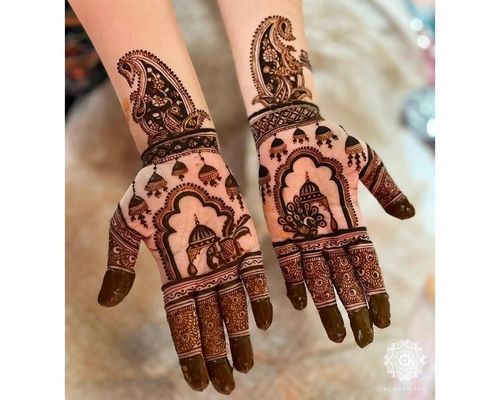 7. Paisley Mehndi Design For Bride
Paisley patterns are very common for mehndi and appear especially beautiful on brides. Starting at the wrist and extending up further, you can make a succession of paisley shapes. The passageway is tastefully decorated with floral designs. The block pattern on the wrist is excellent, and the detailed pattern on the fingers gives the design a very creative edge. Wedding chimes are all over the palms, and an elephant and a lovely small peacock are complimenting.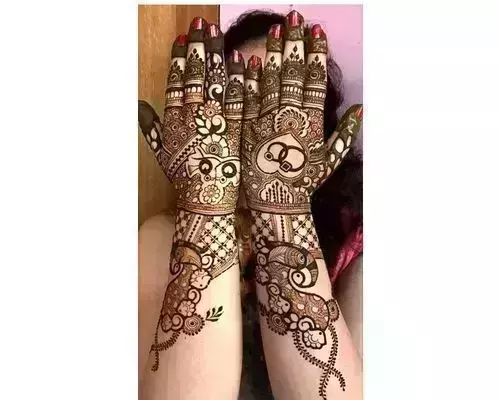 8. Engagement Mehndi Design For Backhand
One can go for a mehndi design according to the occasion. An engagement ring pattern is one option available to brides. The mehndi components that are used in this pattern for the bride include paisleys, leaves, intricate veils, and florals.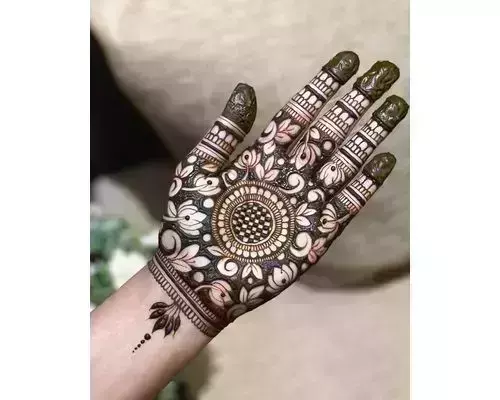 9. Shaded Bridal Mehndi Design
A bride can look stunning with a brief and lovely mehndi pattern. Beautiful floral patterns with a dark backdrop and a circle in the centre can be seen on the palms. A bride who values style and fashion may opt for the complete palm mehndi design. We adore this season's popular shaded floral mehndi design.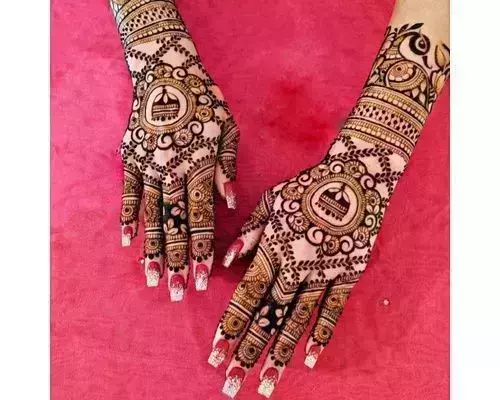 10. Beautiful Mehndi Design For Bride
A bride will always pay much more attention to her backhand mehndi pattern for an engagement ceremony. During the exchange of rings, the bride's backhand mehndi pattern becomes the focus of attention. The primary emphasis of this back hand mehndi design is the nicely styled leaflets pattern on the hands.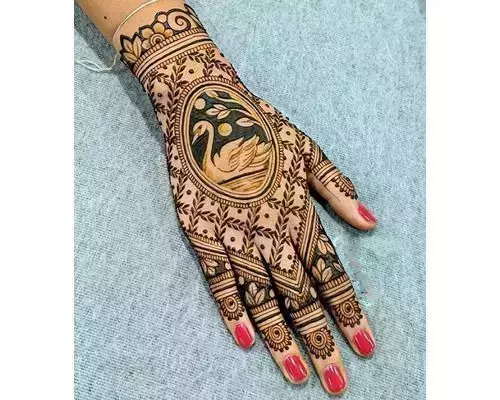 11. Portrait Bridal Mehndi Design
In the oval frame in the centre of the hands is a sweet love portrait. A cute duck portrait featuring a full moon and a nighttime setting. There is a lot of affection in this bridal mehndi design. The oval frame design is the major focus of this mehndi design, and we can be positive that a bride will choose it for her groom and to express her love.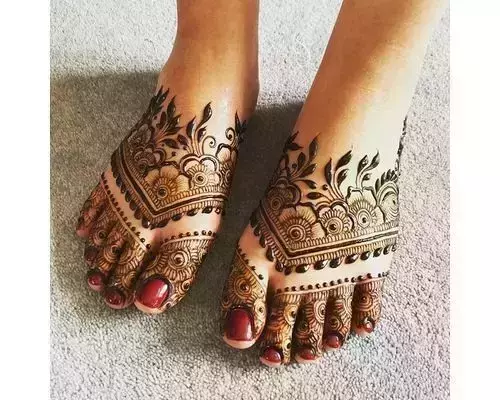 12. Simple Bridal Mehndi For Legs
Another straightforward bridal mehndi design with flowers is a good choice for the legs. The delicate florals that are expertly made with curve-finishing lines and the intricate circular patterns on the fingers are both lovely.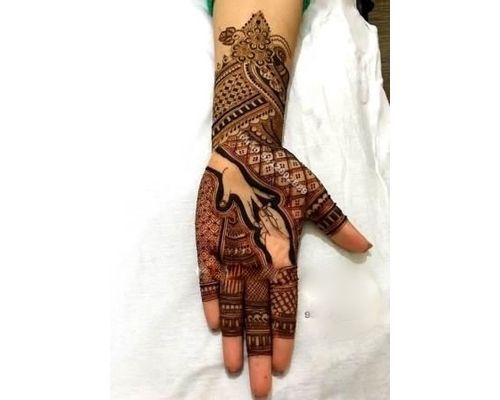 13. Engagement Mehndi Design With Rings
The lovely idea of displaying a groom placing a ring on his bride's hand is the ideal design for the perfect special occasion. The wrist and palms' complete design is very detailed and intricate. The lovely hands of the bride and groom are in an engaged position in the centre of the palm. This bridal mehndi pattern will undoubtedly be a pleasant surprise for the bride's future husband.
You can also check out our guide to find the best mehndi designs for groom as we cover 30+ amazing mehndi designs which have been trending this year.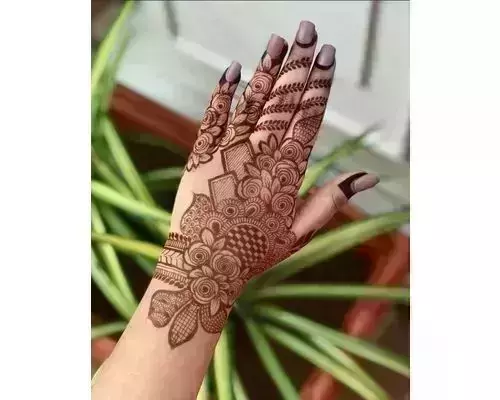 14. Bridal Mehndi With Roses
Roses, the bride's favoured flower, can be intricately incorporated into the engagement mehndi design. This mehndi design features a variety of lovely rose designs that are tastefully complemented by leaves, square patterns, paisleys, and other themes for the bride's special day. Beautiful and fashionable, this backhand mehndi pattern is also.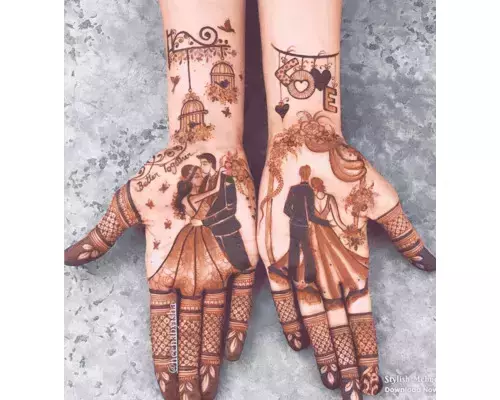 15. Personalised Engagement Bridal Mehndi
With a unique touch, this bridal mehndi is a personalised design. This bridal mehndi design depicts a bride and groom enjoying their engagement ceremony. The portrait of the bride and groom is a superb piece of art. Amazing hanging characters are above the wrist. The bride customised this entire mehndi pattern for the occasion.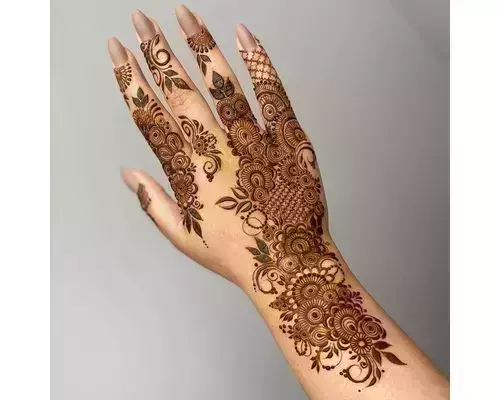 16. Arabic Mehndi For Bride
One can choose this Arabic bridal mehndi design with unique mehndi patterns created on the fingers. This design will suit well on both sides of the hands. Brides who are Arabic mehndi lovers can opt for this mehndi design.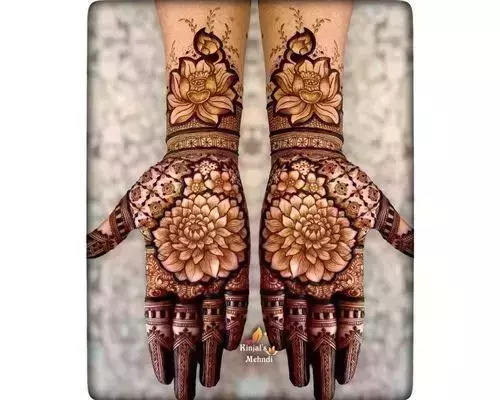 17. Floral Mehndi Design
This intricate 3D floral mehndi pattern is amazing. Floral motifs and abstract patterns on the fingers serve as inspiration for the complete mehndi pattern. It's a well-liked mehndi design that features various floral themes and patterns. These designs can be simple and clear-cut or intricate and detailed.
18. Mandala Inspired Mehndi Design
A bride for her engagement can also find this mandala-inspired mehndi design as her choice. The design features a central circular motif with intricate detailing, often with smaller circular shapes and lines. This design also has floral motifs arranged in a circular pattern, with intricate details and shading. It's a full-hand mehndi design with a lot of mixed elements.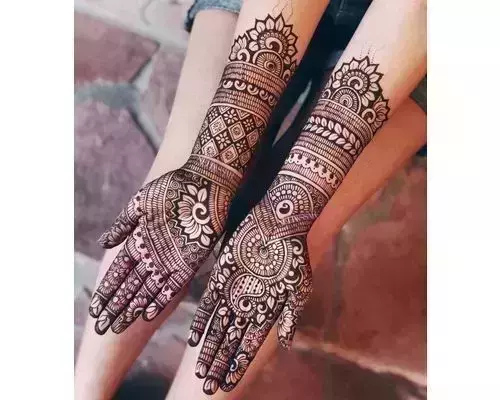 19. Lotus Mehndi Design
A flawless finishing and artistic touch have been applied to this lovely mehndi design. The quality of this mehndi pattern is palpable. Darkened lotus and geometric forms with richly detailed patterns are beautiful. This is a perfect engagement mehndi design for the bride and you can surely bookmark it.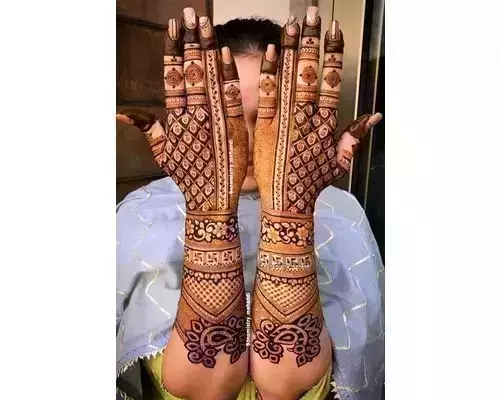 20. Fusion Mehndi Design
This Fusion mehndi design for the bride is a creative and innovative style of mehndi art that blends traditional elements with modern and contemporary designs. This design incorporates a mix of patterns, styles, and cultural influences to create a unique and personalized look. The straight line with a floral veil on the ring fingers is a great idea for the engagement mehndi design.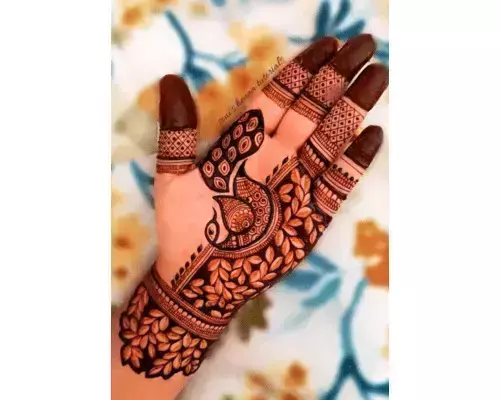 21. Peacock Engagement Mehndi Design
Peacock mehndi designs, which have intricate patterns and motifs modelled after peacock feathers, are a much more well-liked and occasionally fancy form of mehndi art. These designs, which feature vivid colours and intricate detailing, can be used for engagement parties and other special events. The peacock feathers and leaves in this mehndi pattern are striking and gorgeous.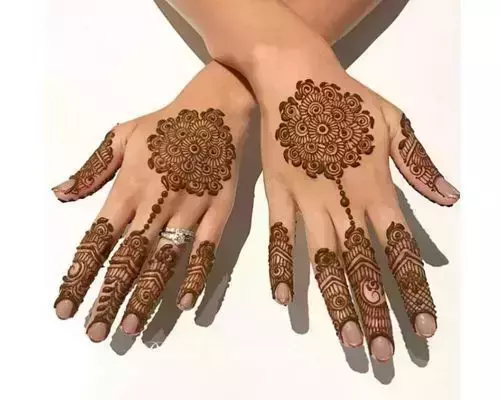 22. Morden Engagement Mehndi Design
The mandala pattern is modernized in this engagement mehndi design with bold circular patterns, a clean aesthetic, and a contemporary feel. A modern pattern is incorporated into traditional mehndi patterns in this mehndi design, which is a modern form of mehndi art. These designs are ideal for those who want a subtle, more understated mehndi design because they have a minimalist, clean appearance.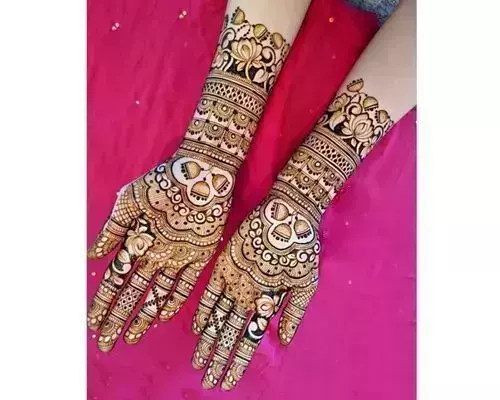 23. Classic Mehndi Design For Bride
Classic mehndi design is a mixture of traditional patterns and motifs that have been used in various cultures and forms. This design is characterized by intricate details, beautiful curves, and delicate lines. This mehndi design is often used by brides for their engagement wedding and other occasions.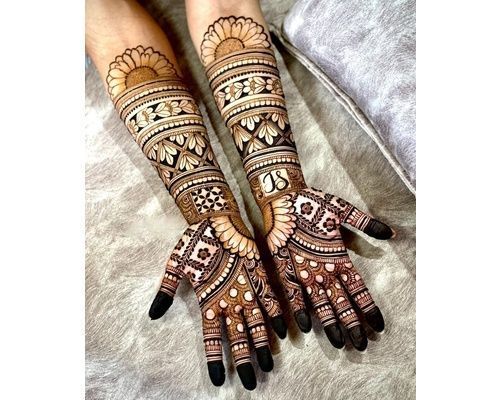 24. Sunflower Mehndi Design
This Sunflower mehndi design is a unique style of floral mehndi art that feature intricate patterns and motifs inspired by the beautiful sunflower and other floral work. This design is much suited for engagement or wedding occasions for the bride. The entire design is nicely made with different floral effects and shading.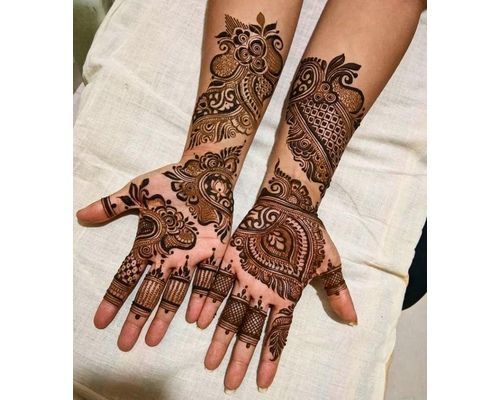 25. Western Mehndi Design
This three-layered mehndi pattern is contemporary and western. The pattern is perfectly calibrated by exquisite craftsmanship and perfect spacing. The graceful floral patterns, leaves, and spiral-patterned meshwork on the fingers. This mehndi design is something a bride should attempt for her engagement, as it goes well with both traditional and western attire.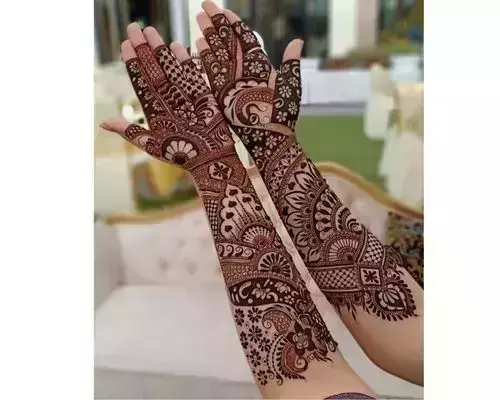 26. Mix And Match Mehndi Design
This bridal mehndi design combines a variety of components, including floral patterns and geometric shapes that are artfully made with shading. The complete mehndi design is stunning, especially the spacing pattern. There are numerous distinct components and patterns used in this distinctive mehndi creation.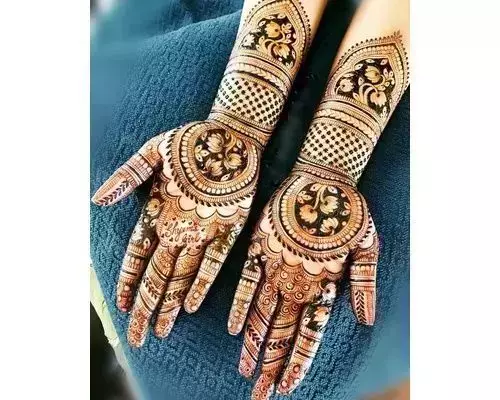 27. Geometric Mehndi Design With Lotus Motifs
This mehndi design combines traditional mehndi patterns with bold floral shaded blocks and bold circular, meshwork. The intricate designs on the fingers are beautiful and the design is personalised by the bride with a unique greeting on her engagement to the groom.
28. Mesh Mehndi Design
A net-like pattern on the hand is made using delicate lines and shading with leaves in this gorgeous and intricate mehndi design known as meshwork. This style is popular for weddings and other special events and is distinguished by its intricate detailing and lovely pattern. On the meshwork, the bold and delicate floral effect is striking. This is one of the popular mehndi patterns for backhand.
29. Linear Mehndi Design
The linear and abstract designs in this bridal mehndi design have detailed details and shading. The design is neatly divided into a variety of patterns and floral shadings in a horizontal linear style.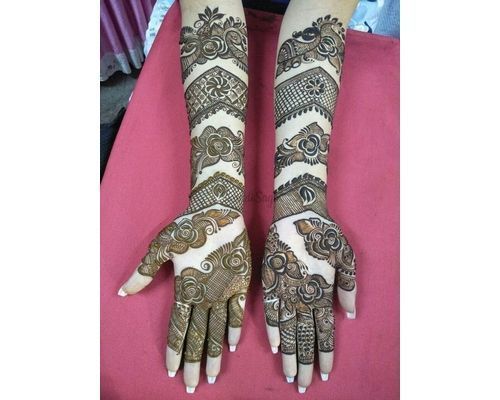 30. Bangles Mehndi Design
This bridal mehndi design is a full-hand pattern. This design has a combination of bangle patterns and floral motifs, covering the entire hand. The main attraction of this mehndi design is the perfect spacing managed between the design pattern.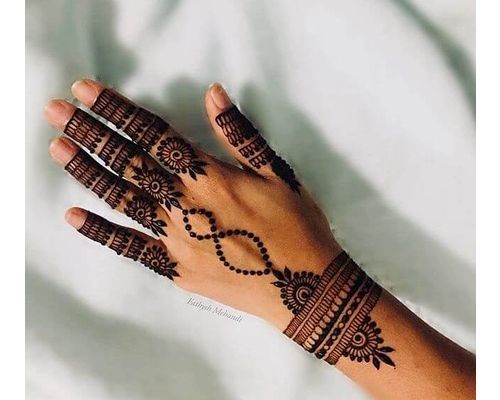 31. Arabic Jewellery Mehndi Design
For their special day, brides are replacing their hand jewellery with this Arabic jewellery mehndi design, which is a popular trend. This mehndi pattern is ideal for the bride's engagement ceremony and will look gorgeous on any outfit the bride chooses.