31 Beautiful Instagram Mehndi Designs For 2023
Hanisha Sharma
Updated At 16 Nov 23
Mehndi is the art of decorating your hands and feet with intricate designs using henna. This art has crossed the cultural boundaries to become a global trend. In the age of social media, particularly on Instagram, Mehndi artists like to showcase their creativity and captivate the audience with mesmerizing designs. From simple and intricate, to elegant and graceful, Instagram mehndi designs offer a diverse range that has something for every occasion and taste. 
In this creative journey, we will take you into the world of Instagram Mehndi designs, exploring back hand, front hand, and various mehndi design styles which are a perfect source of inspiration for Mehndi enthusiasts and those seeking perfect designs for various events.
31 Stunning Instagram Mehndi Designs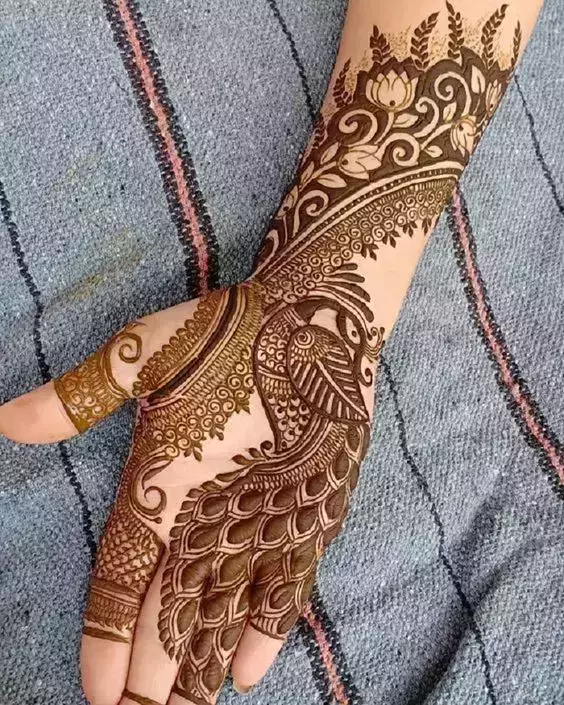 1) Peacock Mehndi
This is one of the easy mehndi designs that features the intricate details of a peacock which extends gracefully on your hand. The feathers are adorned with delicate swirls which create a timeless and regal appearance. A beautiful and unique Instagram Mehndi design.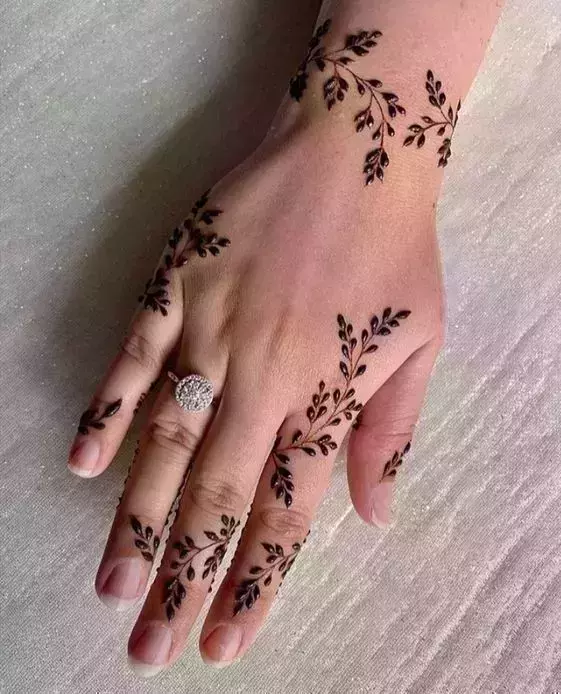 2) Wine And Leaves
This design is a minimalist approach featuring a winding vine with tiny leaves. This simple and elegant design is perfect for casual gatherings as it adds a touch of nature's beauty to the hands. It is a beautiful Instagram Mehndi design back hand.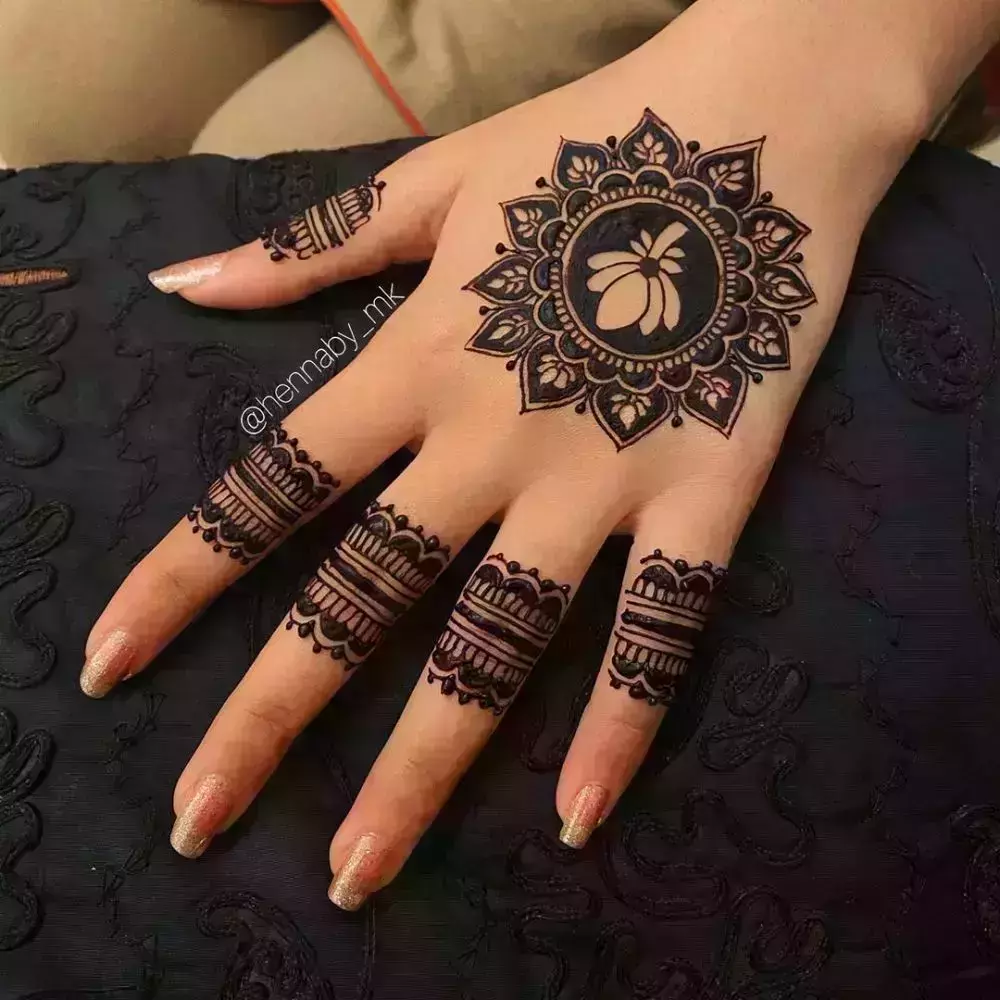 3) Lotus Mandala
A mandala pattern with a lotus symbolizes purity and enlightenment. This design combines geometric precision with floral grace, creating a harmonious and eye-catching effect. Check the way finger mehndi design complements the mandala design to create a stunning look.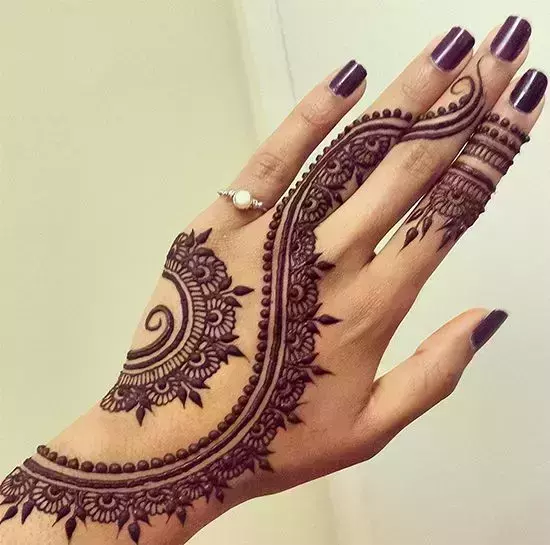 4) Khafif Lace Pattern
Inspired by Khafif's artistry, this design incorporates lace-like patterns that delicately trace the fingers and palm. The fine lines and details create a mesmerizing effect that mimics a delicate lacework. This is a beautiful Khafif Mehndi design which looks elegant and stylish.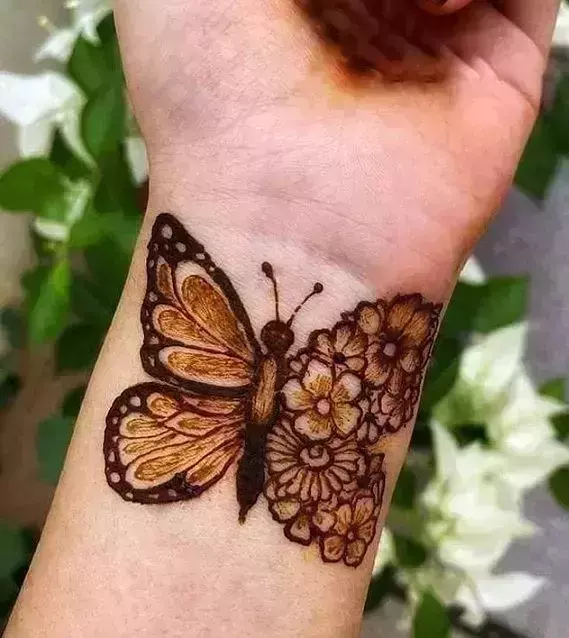 5) Butterfly And Blossoms
Tailored for young girls, this design features playful butterflies and blossoms, evoking a sense of innocence and joy. The patterns are light and whimsical, perfect for celebrations and festivities. A unique Instagram Mehndi design for girls.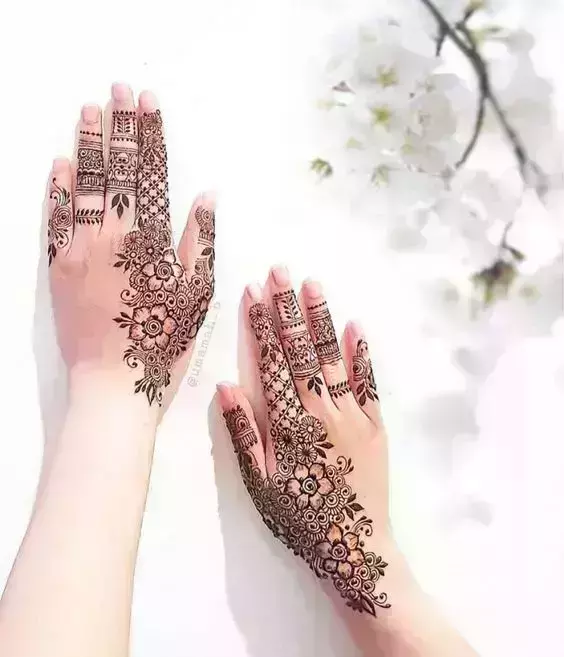 6) Spring Blossoms
This new mehndi design is perfect if you want to capture the essence of spring, this design showcases blooming flowers and swirling vines. This design reflects the beauty and vitality of the spring season. A beautiful Instagram Mehndi design back hand.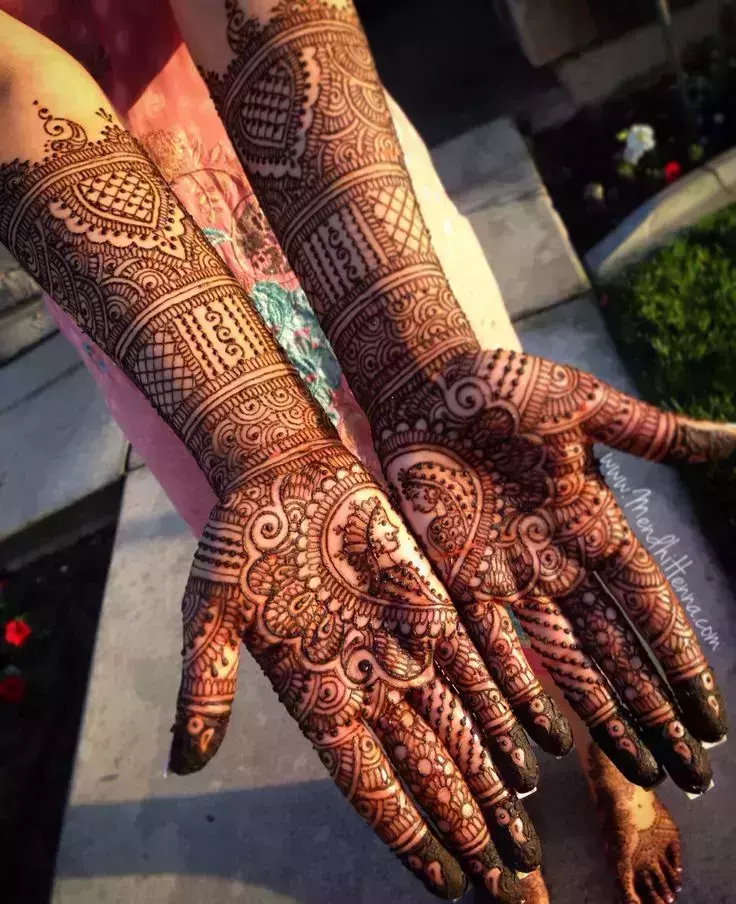 7) Bridal Elegance
A bridal henna design that incorporates the initials or symbols significant to the couple adds a personalized touch, making the mehndi a symbol of the couple's unique love story. This is an enchanting front hand mehndi design which looks gorgeous.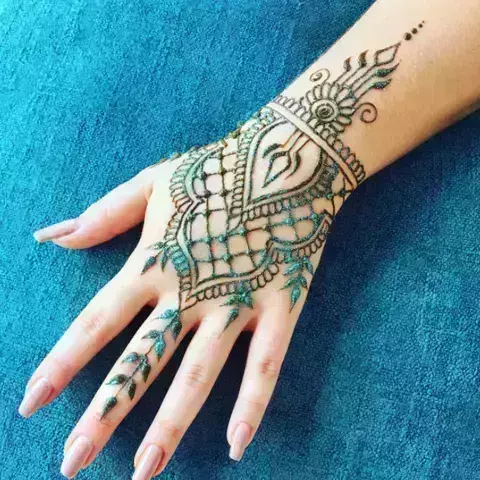 8) Blue Hues
Taking a break from the traditions, this simple mehndi design features hues of blue which creates a contemporary and chic look. Colored elements like crystals or glitter can also be added for a modern twist.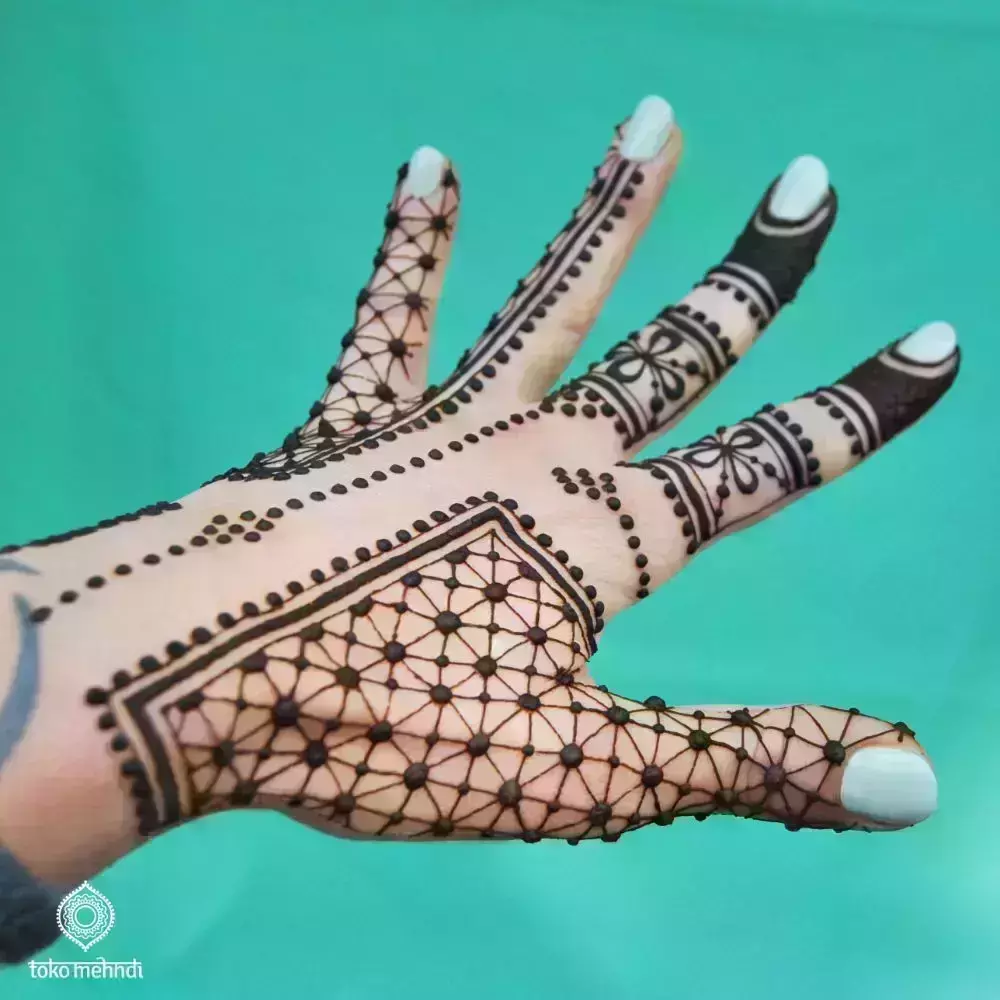 9) Geometric Henna
An innovative design that blends mehndi designs with geometric shapes, especially for those who prefer a mix of traditional and modern designs. This fusion creates a modern and dynamic appearance.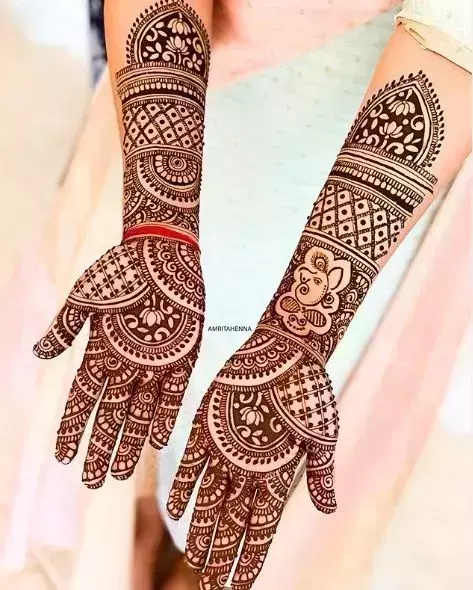 10) Mehndi Tapestry
A traditional design that covers the entire hand like a tapestry, and features a mix of traditional motifs, elegant swirls, and intricate details. The result is an absolutely breathtaking and detailed Mehndi masterpiece. One of the most popular types of mehndi designs, full hand mehndi is apt for big and important occasions.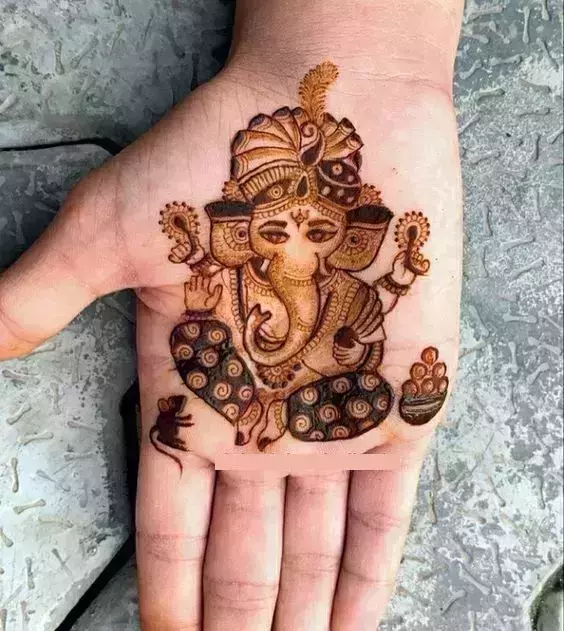 11) Ganesha Motif
This is a fusion design that incorporates a Ganesha motif which is a perfect blend of Indian tradition with Mehndi art. This design is a beautiful symbol of wisdom, prosperity, and blessings.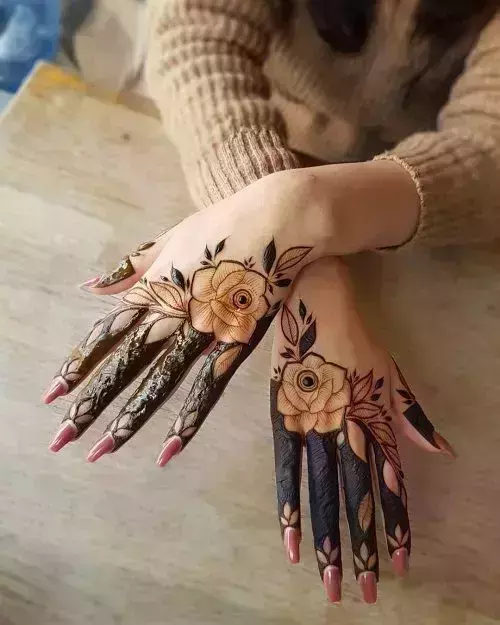 12) Flowers Design
This beautiful and unique design features easy-to-make flowers and leaves. It is a perfect design for those who love nature and are inspired by it. This is an Instagram Mehndi design simple and unique with a touch of youthfulness in it.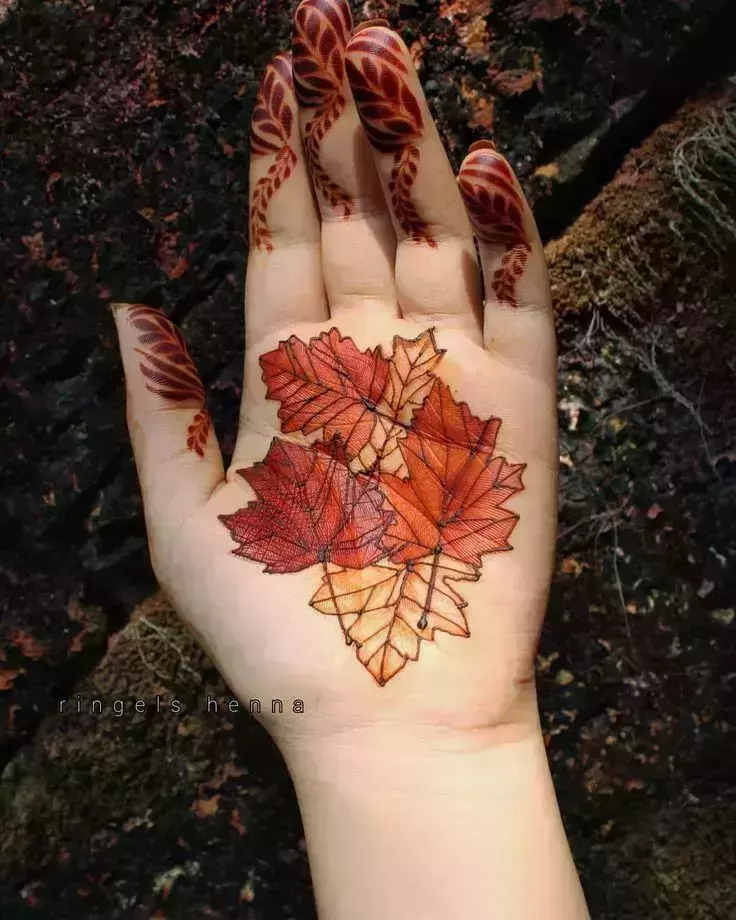 13) Autumn Leaves
With this design, you can embrace the colors of autumn. This design is unique and captures the essence of the season just perfectly, suitable for the fall season. This is one of the most beautiful Instagram Mehndi designs for girls.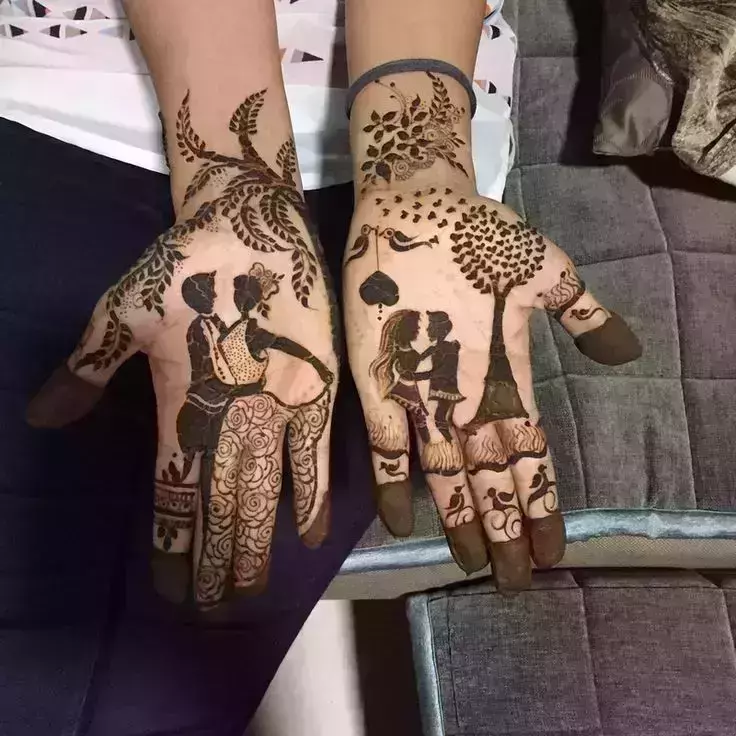 14) Sunset Silhouette
A beautiful and trendy bridal Mehndi design that features a couple sitting against a sunset backdrop. This modern twist adds a contemporary touch to the traditional bridal design.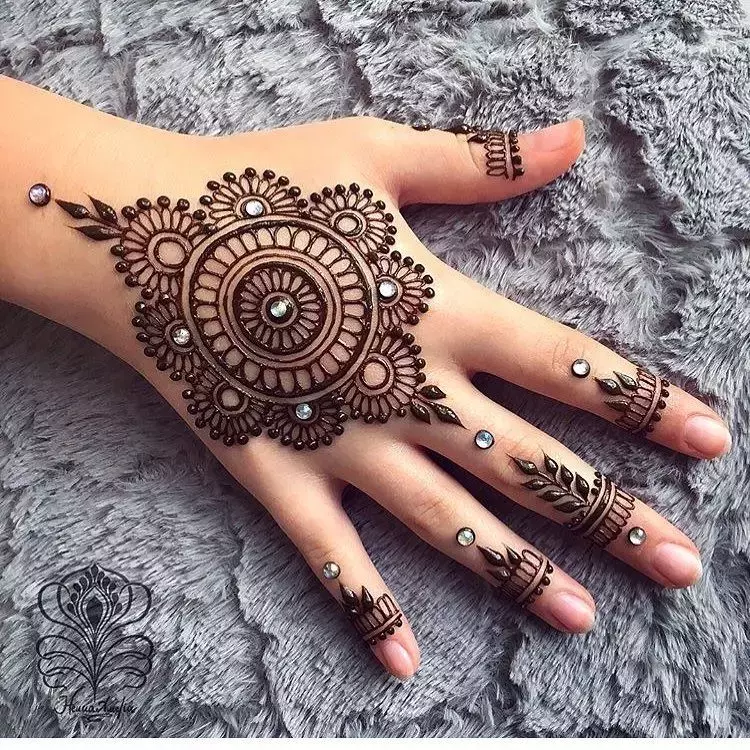 15) Crystal Mehndi Art
Take your Mehndi game to the next level by adding crystal embellishments to the traditional design. Strategically place the crystals within the mehndi. The result is an eye-catching Mehndi design. This is a unique and modern Instagram Mehndi design for front hand. Also check out our guide to find the best mehndi decoration ideas as we cover 25 trending ideas for this year.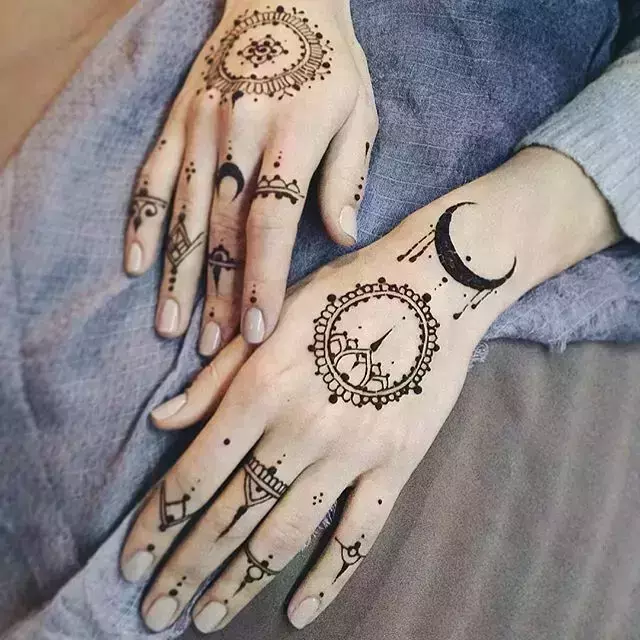 16) Dark Henna Art
The dark henna is usually used to create bold and dramatic designs. Stars and moons are the most common elements made by dark henna. They create a beautiful starlit night.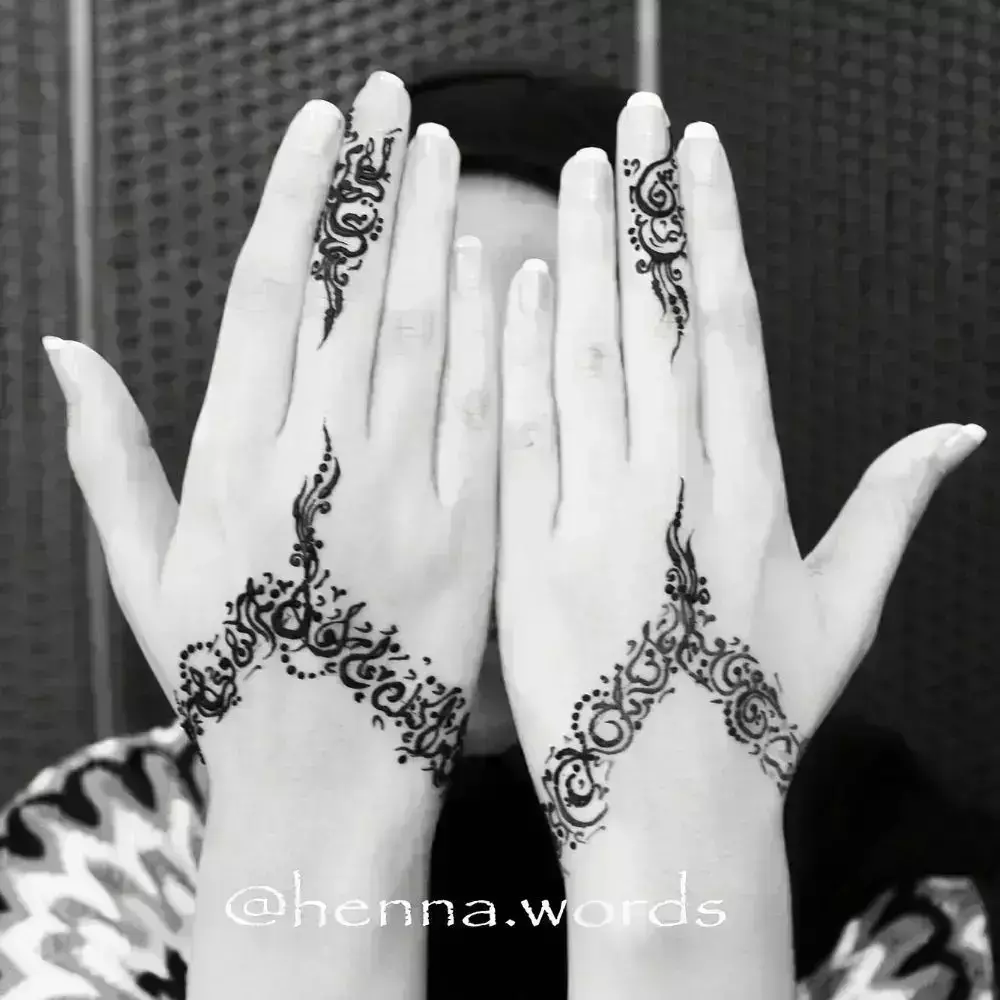 17) Arabic Design
This innovative fusion differentiates this Arabic mehndi design. Words or phrases that are of significant meaning can be added to the design to give it a personal touch.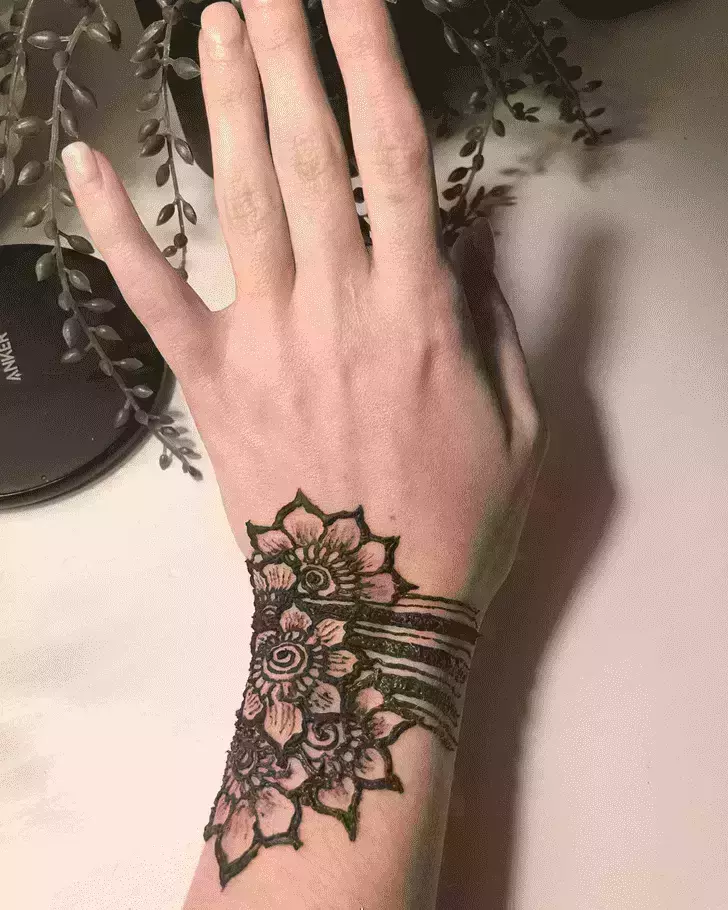 18) Floral Bracelet
This is a delicate design that wraps around the wrist elegantly to give the illusion of a bracelet. The floral pattern is intricately detailed which creates an eye-catching result. This is an Instagram Mehndi design simple and stylish and can be used for every occasion.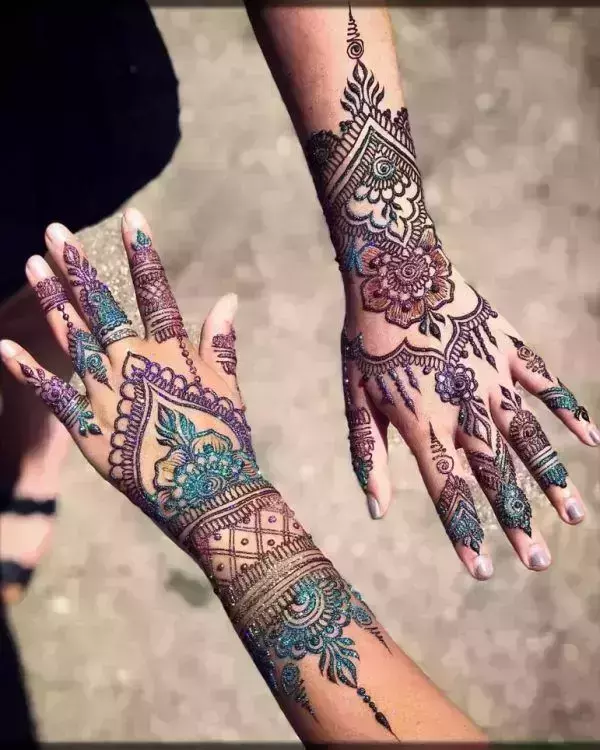 19) Watercolor Mehndi
The inspiration for this design has been taken from a watercolor painting. It features a Mehndi design in different colors. The colors merge seamlessly and give the design an artistic touch.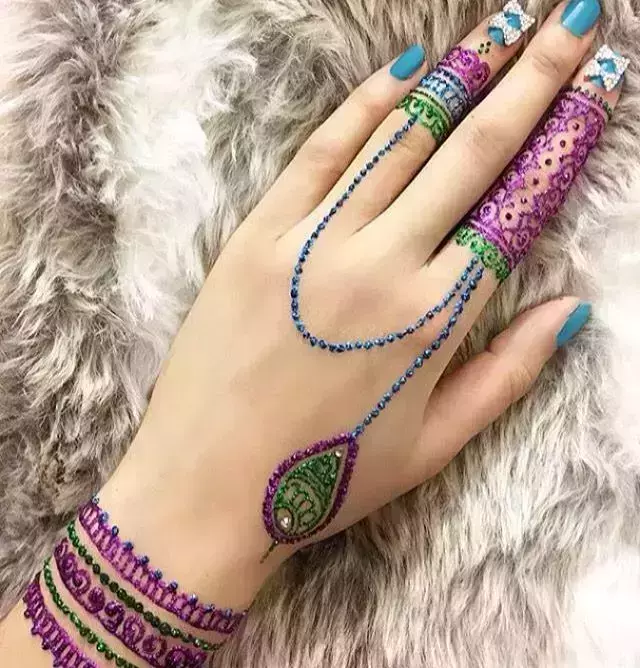 20) Glitter Mehndi 
If you're looking for a unique Mehndi design for this festive season then this is the one for you. Mehndi with glitter accents and different colors adds a touch of sparkle to the design. Indeed, a beautiful Instagram Mehndi design.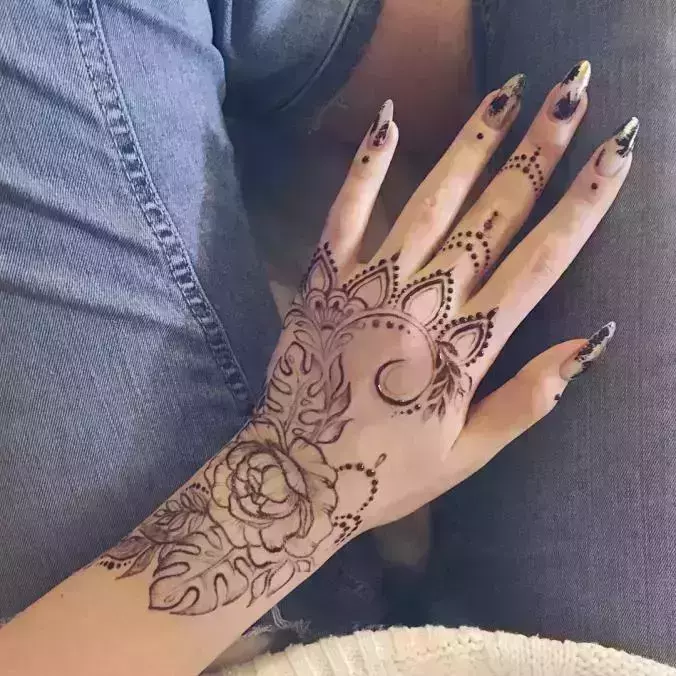 21) Beautiful Peonies
This Mehndi design features Peony flowers which are famous for their lush and full blossoms. The detailing of the Peony petals creates a design that is enchanting and beautiful.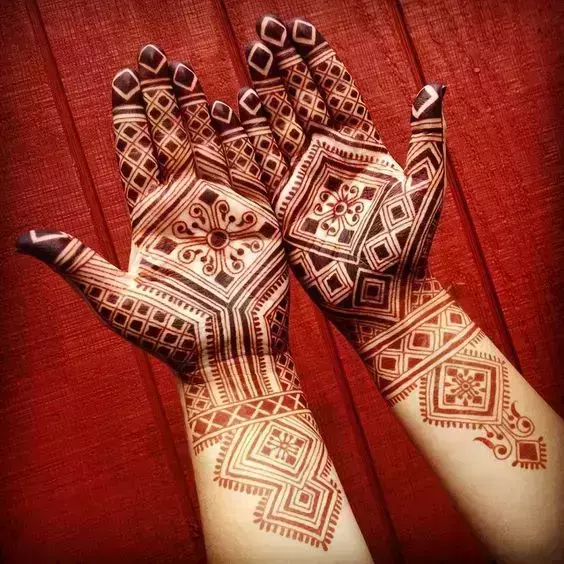 22) Geometric Patterns
If you want to take a break from the traditional designs, then this design features abstract geometric patterns which creates a symmetrical effect. The result is a modern and edgy Mehndi design.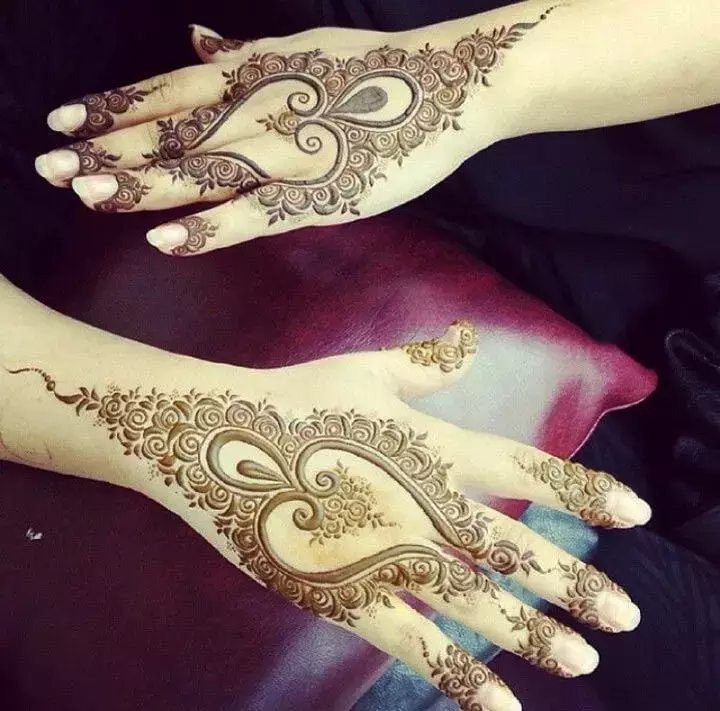 23) Hearts And Swirls
This modern design adds a touch of playfulness to the Mehndi design. This Instagram Mehndi design is for girls who like whimsical hearts and swirls. It is a fun and vibrant design.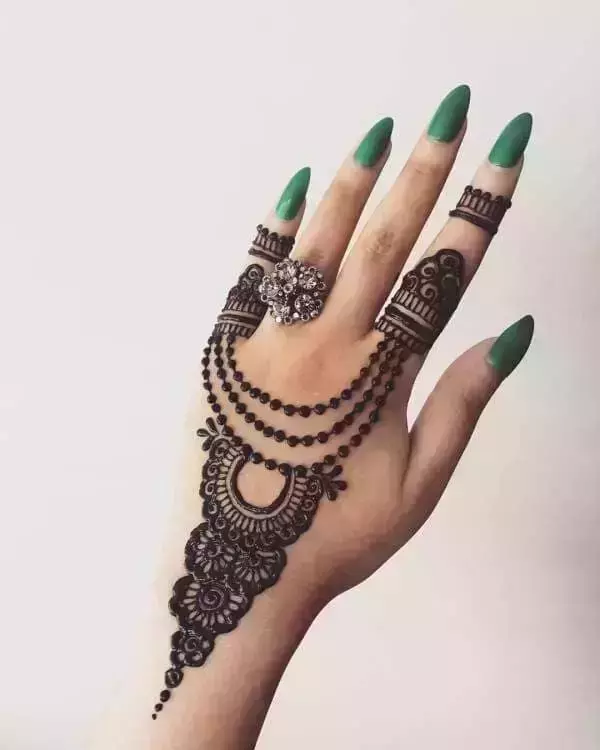 24) Jewelry Inspired Mehndi
This design mimics the appearance of jewelry, the pattern is a resemblance of a ring and a bracelet. This Mehndi design is a unique way to adorn your hands without putting on actual jewelry. This is one of the most beautiful Instagram Mehndi designs for girls.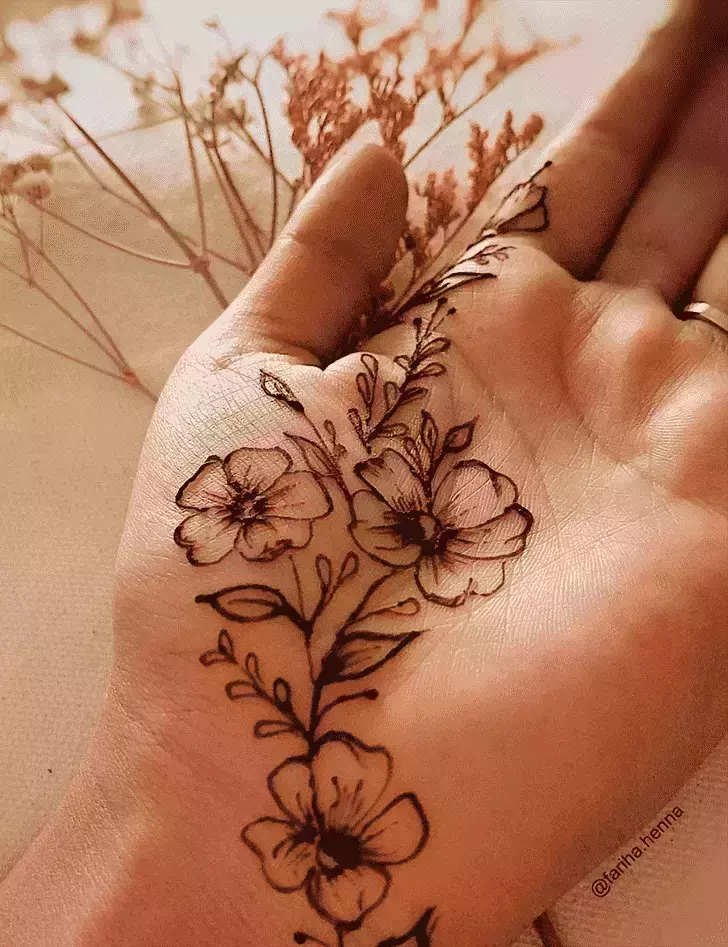 25) Minimalistic Blossoms
Inspired by the beauty of the cherry blossoms, this design is perfect for those who like minimalistic floral designs. The delicate branches and flowers exude an elegant and graceful pattern.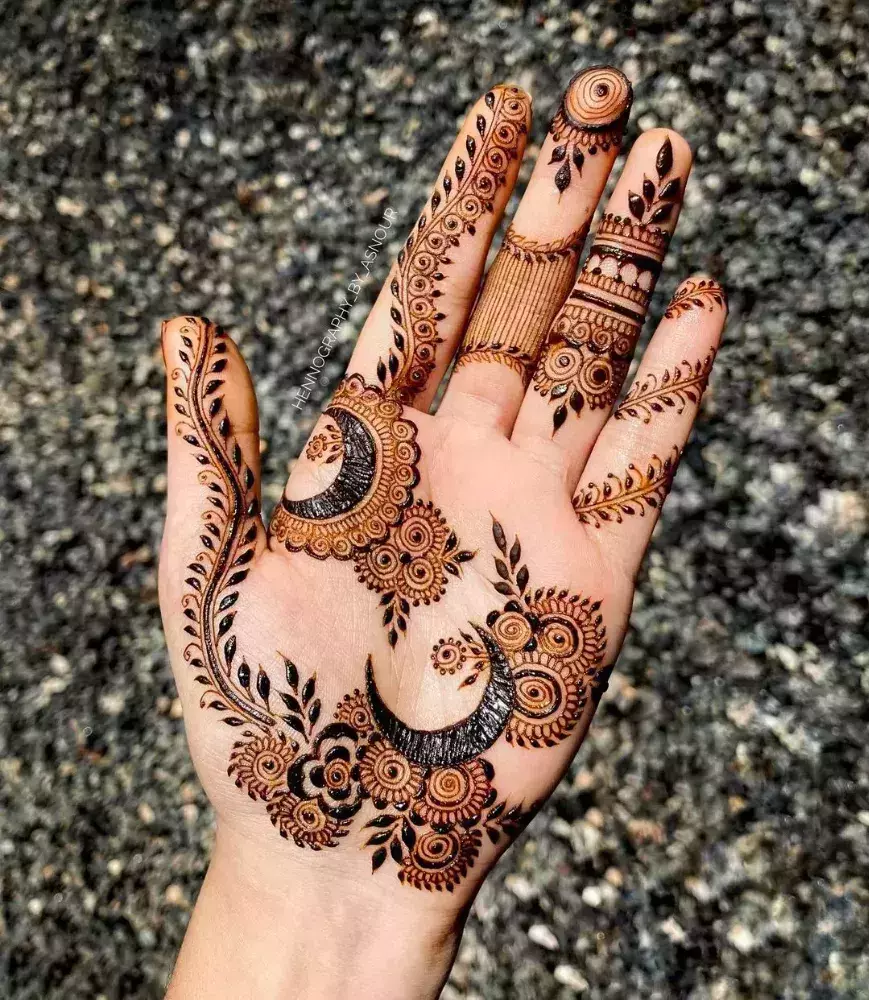 26) Moon Magic
For all the selenophiles out there, this design features the moon and stars which creates a celestial and magical appearance. This Mehndi design is perfect for those who love a moonlit night.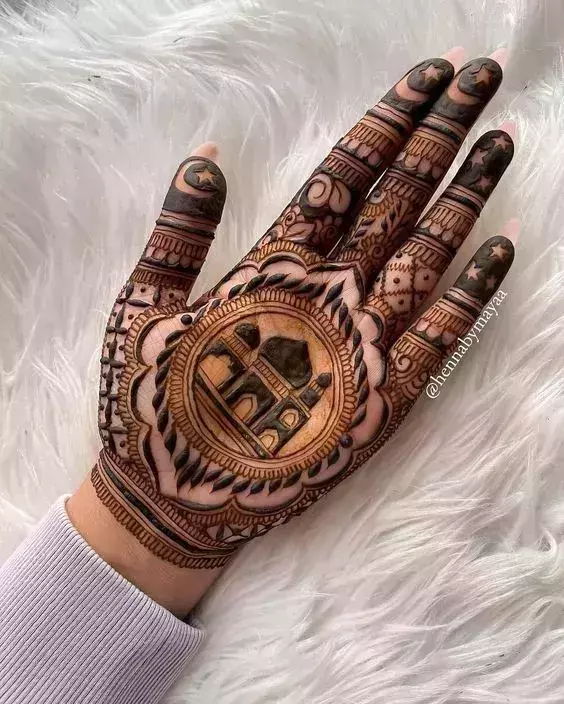 27) Blend Of Cultures
This unique and edgy design features a blend of different cultural motifs which creates a unique fusion that celebrates diversity. It is a tribute to the Mehndi art across the globe.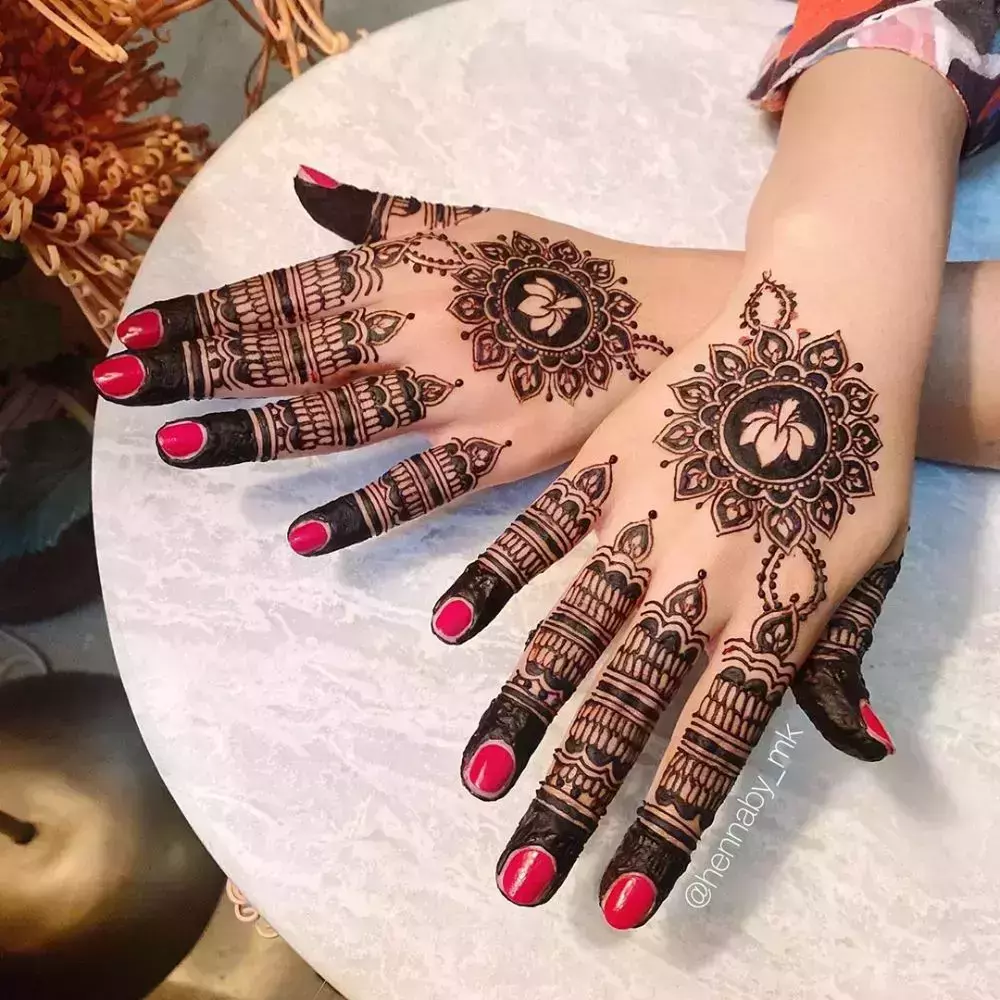 28) Mandala Mehndi
Inspired by the intricate mandala patterns, this Mehndi design has circular patterns that are intricately detailed and radiate beauty and symmetry. Mandala mehndi designs are also famous for their spiritual and symbolic significance in some cultures.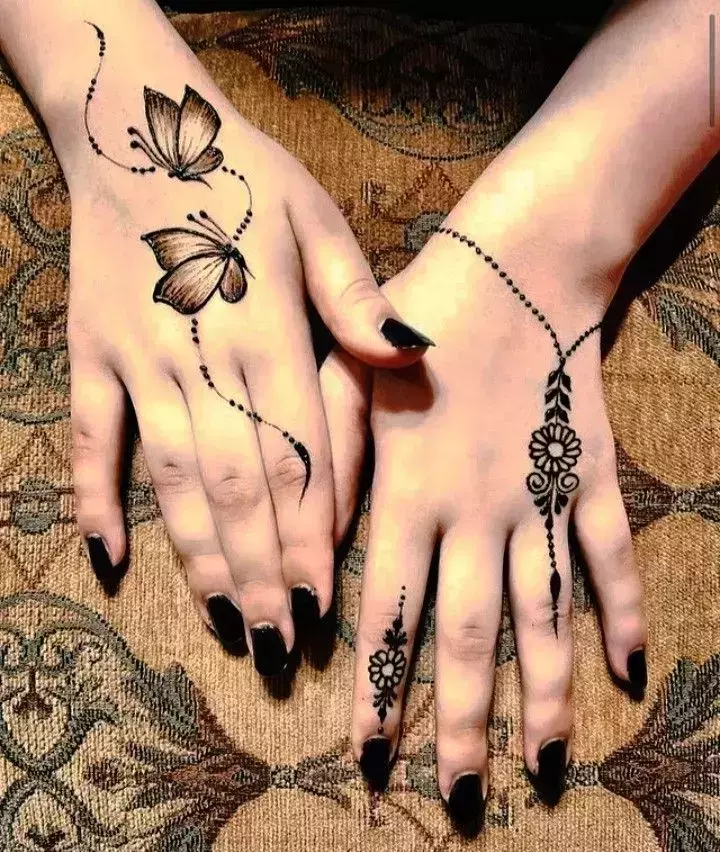 29) Butterfly Mehndi
This design is perfect for capturing the beauty of childhood and adulthood in one pattern. Each butterfly is perfectly detailed which adds a touch of magic and joy to the design.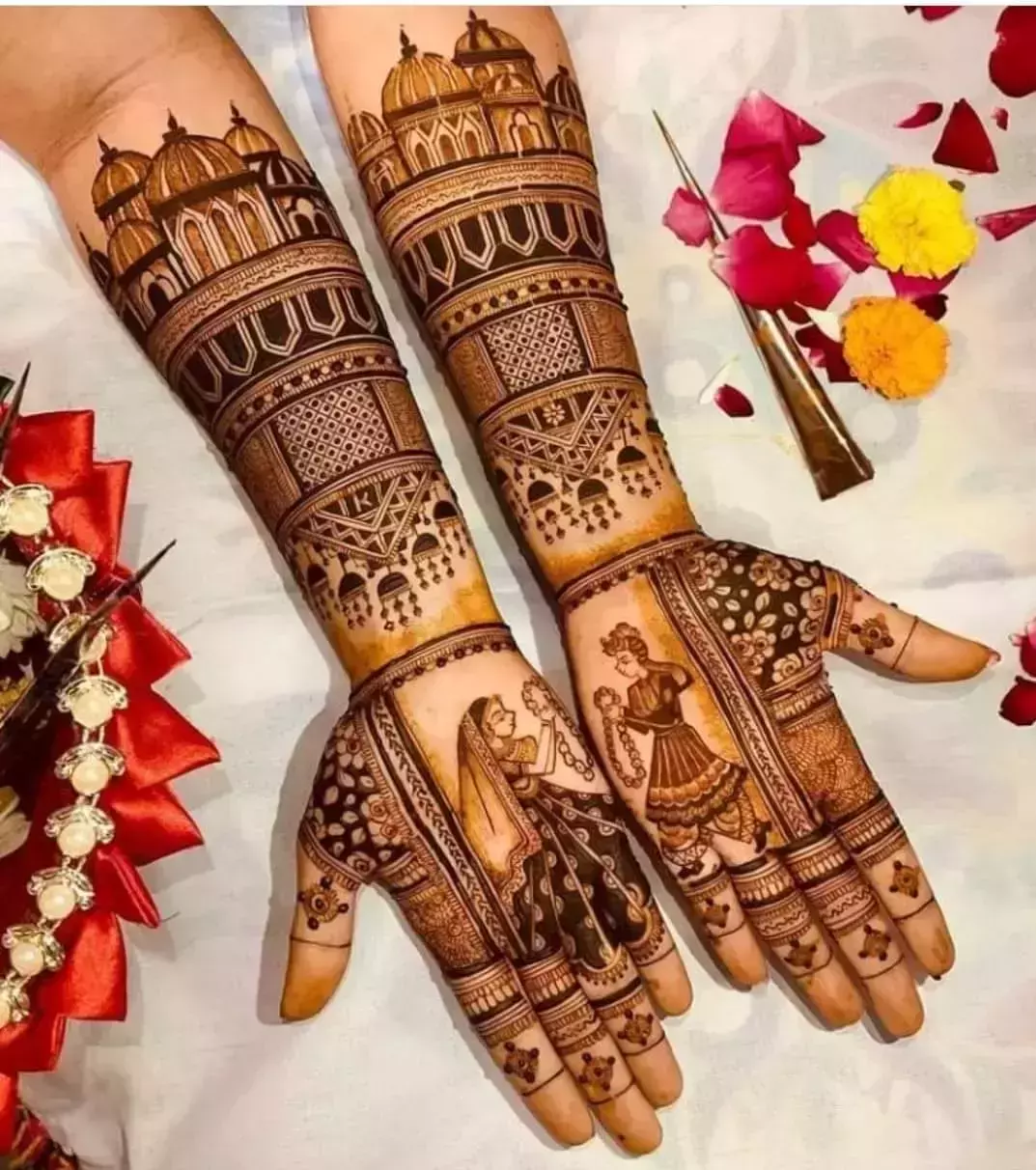 30) Traditional Rajasthani Design
This design draws inspiration from the rich cultural heritage of Rajasthan. It features peacocks, palaces, and intricately detailed patterns and swirls. It celebrates the vibrant culture of the region.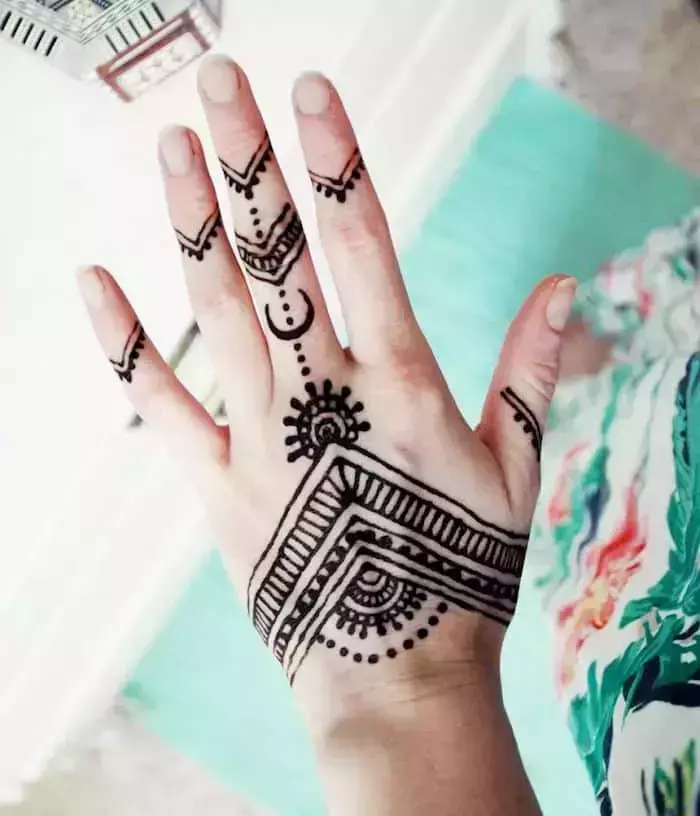 31) Lines And Dots
This is a modern and beautiful Mehndi design which is perfect for beginners. You can also expand this design by adding your own creativity and personal touch to this design.
These beautiful 31 Mehndi designs showcase the diversity and creativity within the world of Mehndi art. Starting from bold and dramatic designs for brides to playful and youthful designs for girls, each design tells a unique story which is a tribute to this unique form of art. Instagram continues to be a dynamic platform by encouraging these art forms daily.