25 Best Khafif Mehndi Designs - 2023
Olivia
Updated At 06 Jan 23
A particular style and variation of mehndi design that has gained the attention of many women is the Khafif mehndi design. The Arabic word Khafif means intricate. In these mehndi designs, the focus is more on the details and elaborations inside the motifs. This style of mehndi design has precise patterns, making it a great choice for engagement or bridal mehndi. These designs are trendy and are becoming fashion statements for the season.
25 Best Khafif Mehndi Designs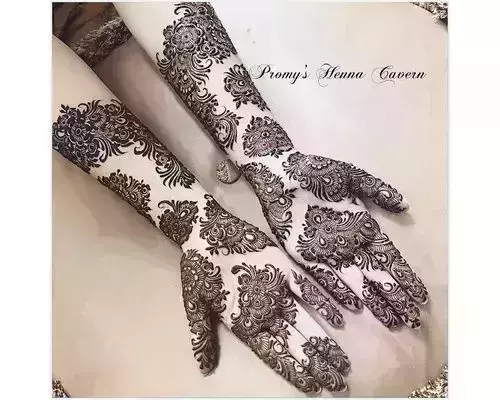 1. Patterned Khafif Mehndi
One of the best types of mehndi designs, Khafif mehndi design has been gaining popularity consistently. This pattern with beautiful flower and leaves elements also has proportionate spaces. The design is very intricate and one can enjoy the grace of this mehndi. For a similar look, you can also apply this design to the backside of your hands.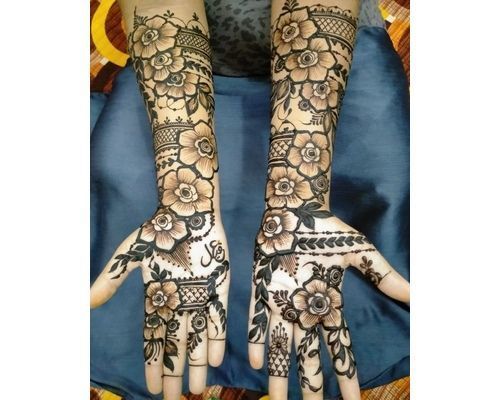 2. Floral Pattern Khafif Mehndi
Taking floral patterns to a whole new level, this khafif mehndi design takes details to a whole new level. This design when created by skilled and professional artists, this pattern is pretty elegant.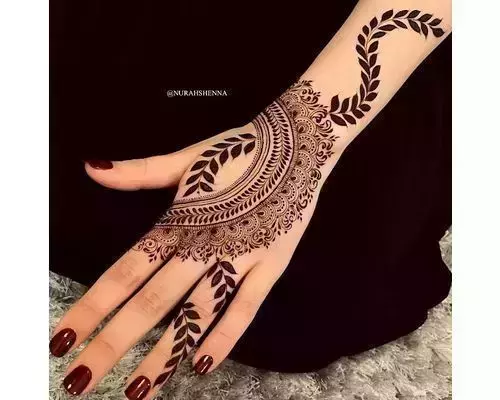 3. Khafif Leafy Swirl Design
A curved leaf design looks perfect on the backhands. This design can be worn, by those who like to follow the fashion trend. The intricate design with a half curve design followed by a leaf pattern makes a wonderful design.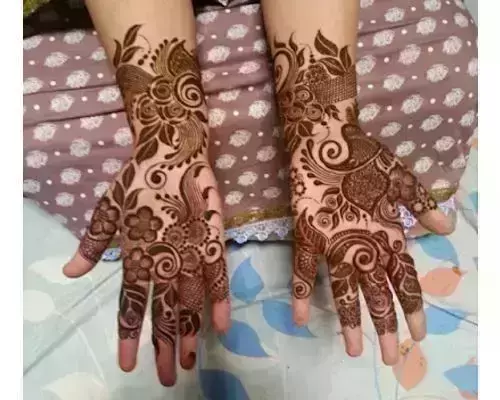 4. Shaded Floral Khafif Mehndi
A nice blended mehndi design which covers the entire palm and wrists with floral, leaves and motifs as elements is a perfect mehndi for any occasion. The shading inside the flower elements and leaves creates magic in this design.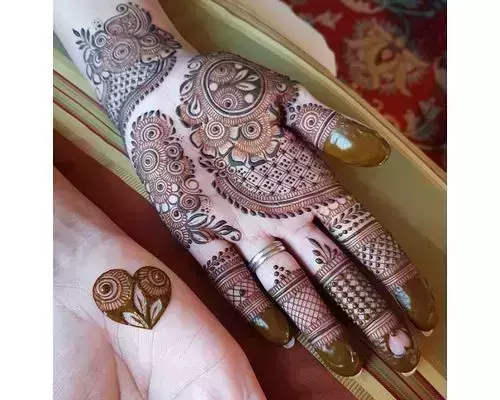 5. Elaborate And Detailed Traditional Khafif Design
A very elegant and rich shaded detailed mehndi design with spaces covering the pattern on two sides of the hands makes it a beautiful khafif design. An ideal design for the season for a stylish design that talks!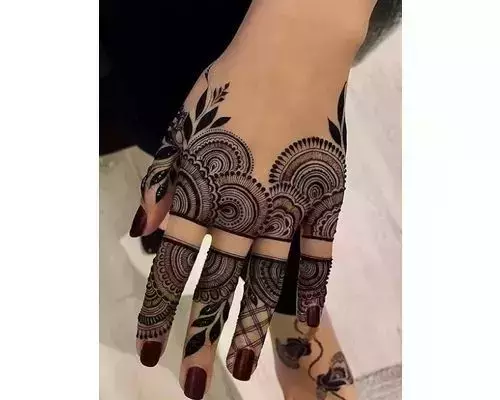 6. Khafif Finger Mehndi Design
Looking for a simple and subtle finger mehndi design, then this Khsfif finger mehndi design works wonders! The space between the two-sided design on the fingers is making the pattern look graceful. Every finger has a complimenting different design which is modish.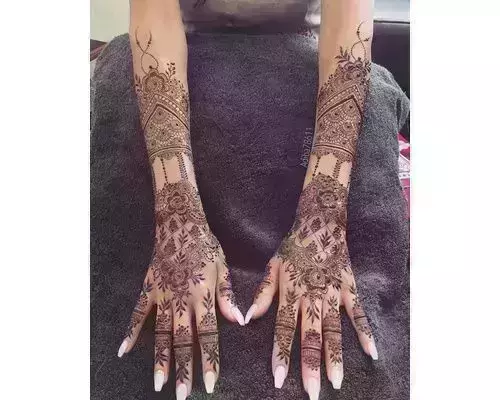 7. Intricate Khafif Mehandi Designs
This khafif mehndi design which is intricate has fine and delicate strokes, which is covering the full hands. This is a perfect fit for the brides, for celebrating their special wedding day. This pattern can also suit the bridesmaids or anyone who has to attend. This design is created on the backhand, but this design can go well with the front hand too.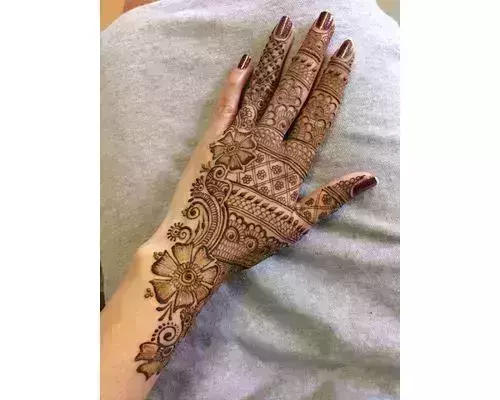 8. Latest Khafif Mehndi Design
This latest striking Khafif Mehndi design is a beautiful creation, with the little finger being blank and empty. The entire backhand has a beautiful design with pattern lines and a filled design with an outline of floral elements.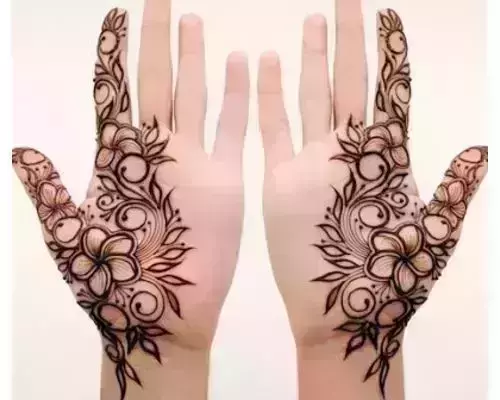 9. Western Khafif Mehndi Design
This Khafif mehndi design with the matching pattern on both hands is mesmerizing. The thick and thin swirls give a more prominent look, which seems to have a tattoo effect. This is a western Khafif pattern. The overall look of this design is stunning. Looking for a minimalistic creation of mehndi design, this is the best-suited design. Simple and quick mehndi design which will look adorable when applied on the hands. This mehndi also goes for traditional occasions or also to keep a glam party look.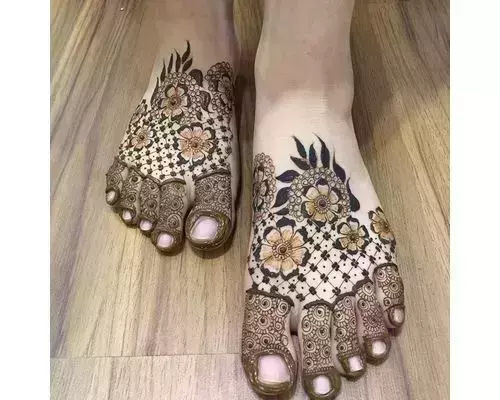 10. Floral Khafif Design For Legs
Quicky khafif mehndi design for legs, with flowers, leaves and a dotted pattern seems amazing. The bold-shaded leaves complete the look. The intricate design on the leg fingers and cover-up on nail borders is the art of detailing in this design.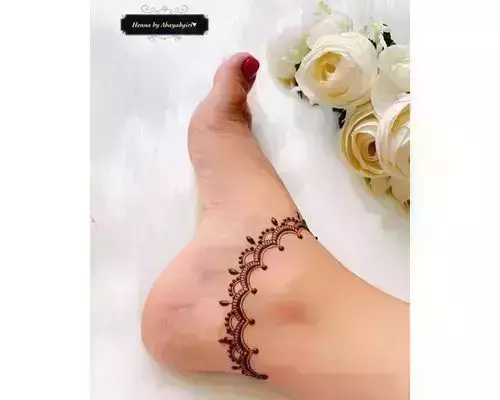 11. Anklet Khafif Design
A simple and quick design for the young generation is this anklet khafif design. This khafif mehndi design looks like wearing a bracelet. This design on the legs is replacing the jewellery with an anklet design and can be made on any occasion.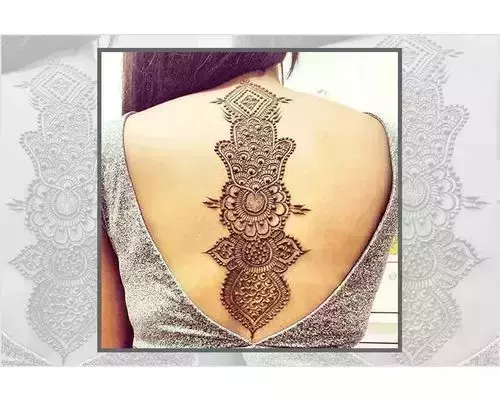 12. Tattoo Designed by Khafif Mehndi
Nowadays, for people who apply mehndi as a replacement for a tattoo and wish to avoid the pain of tattoo application, this tattoo designed by Khafif Mehndi is a hit! The simple straight design on the back shoulder gives a feel of a tattoo design. Nowadays such fancy designs are recreated for a casual look. A must-try design!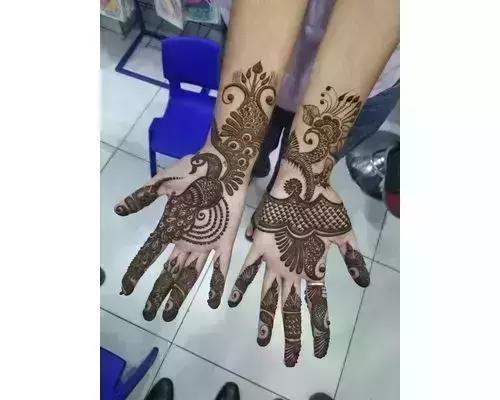 13. Peacock Khafif Mehndi
The peacock khafif mehndi design is simple and stunning. Peacock has been a very important element in mehndi design and such chaff designs with peacock creation such designs give a traditional and detailed look.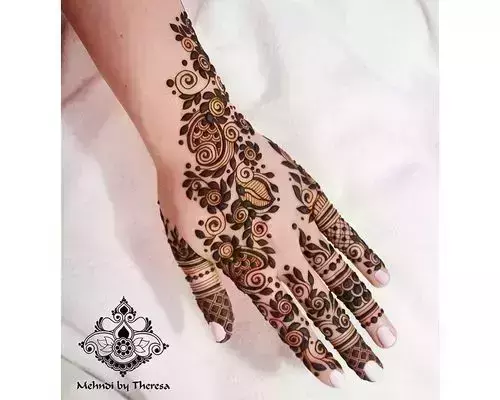 14. Ethnic Khafif Mehndi Design
A meld of different elements like flowers, leaves, motifs and spiral design is used to create this gorgeous ethnic khafif mehndi design. The combination of different finger designs on the back of the hand with measured spacing is the basic pattern of this design. This design can be similarly created on the front hand too.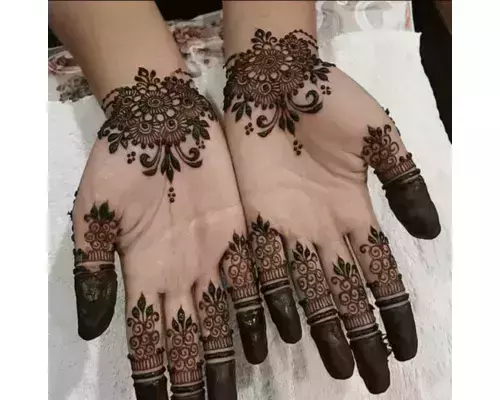 15. Trendy Khafif Mehndi Design
For those who are looking for a trendy, simple and quick design which involves a minimum of mehndi art and minimalistic design, this is the right design. The design of this pattern with filling the fingers and floral design on the wrist of the front hand gives a trendy cally appearance. The palm is kept empty with no design and the top and bottom effect works effortlessly.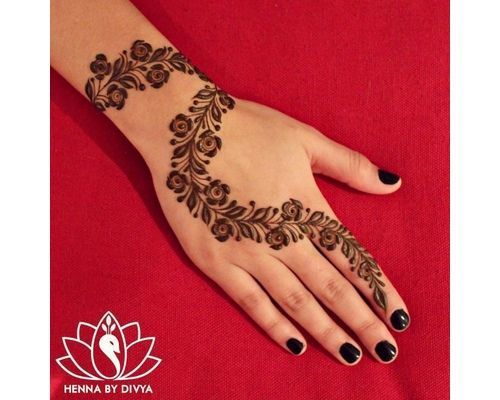 16. Single Finger Leaf Khafif Mehndi Design
A simple, elegant classic mehndi design element like a leaf pattern, gives this design a prominent one. Simply, a single-finger mehndi is perfect for the backhand mehndi design.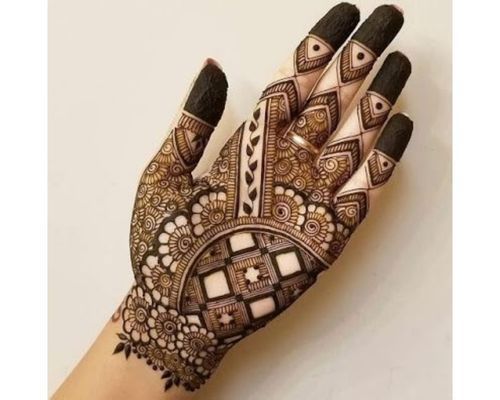 17. Geometric Khafif Mehndi
This Khafif mehndi pattern has a touch of Moroccan mehndi as its main feature is the geometric elements. The angular strokes on the fingers and diamond spacing around the palm are the effects of this geometric khafif mehndi design. The floral and leafy strokes give a traditional blend to this adorable mehndi design.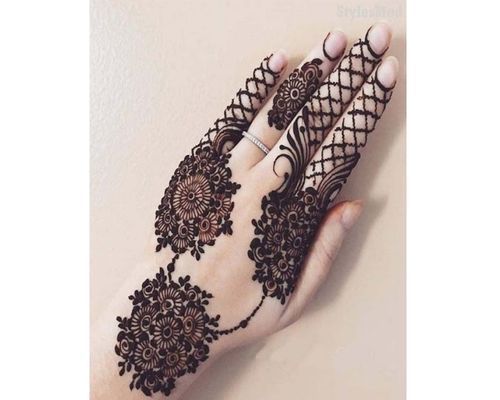 18. Netted Design Khafif Mehndi
The floral motifs spread on three distinctive sides of the backhand are connected with dotted curves. The ring finger has a floral motif while the other fingers are covered in netted styled western look. This pattern is a trendy design.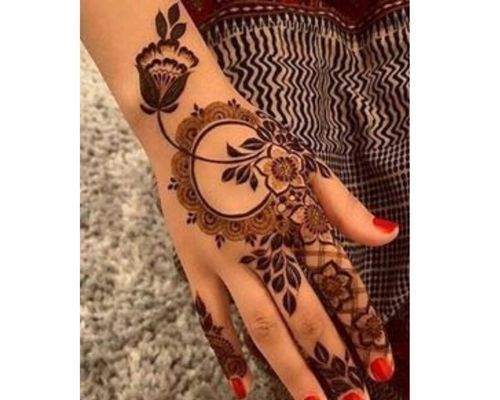 19. Tulip Khafif Mehndi Design
This pretty tulip mehndi design flows from the fingers to the hand looking attractive. The forefinger has a combination of floral and net which moves downwards into an intricate circular pattern. A Tulip flower at the end makes the overall design more attractive giving a twist of a fancy look.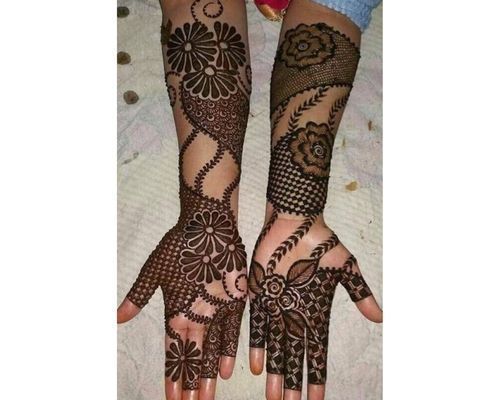 20. Bold Khafif Mehndi Design
The bold shaded design of different flowers on both the hands and the connecting leaves with check boxes and motifs give a traditional look to this bold khafif mehndi design.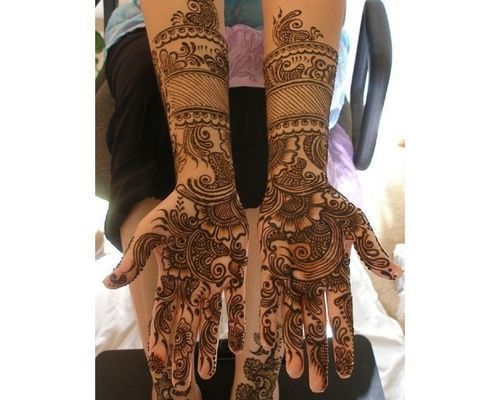 21. Bridal Khafif Mehndi Design
The Bridal design has to always be very detailed and more attractive covering the entire length of the arms on both hands. This Khafif mehndi pattern is especially for brides with floral strokes, curves, motifs, and leaves. This bridal khafif mehndi details positivity and good luck.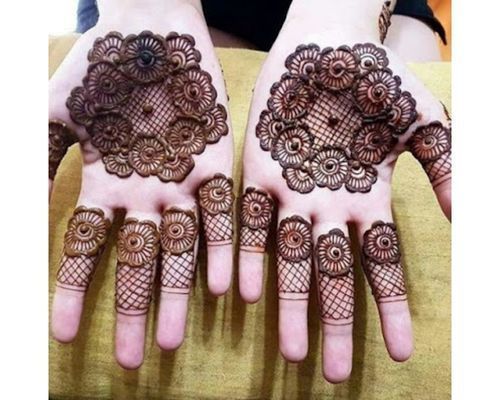 22. Floral Circle Khafif Mehndi Design
The circular strokes create a small floral design creating a circle on the palm of both hands. The single flower and the jaal pattern on each finger compliments the entire design.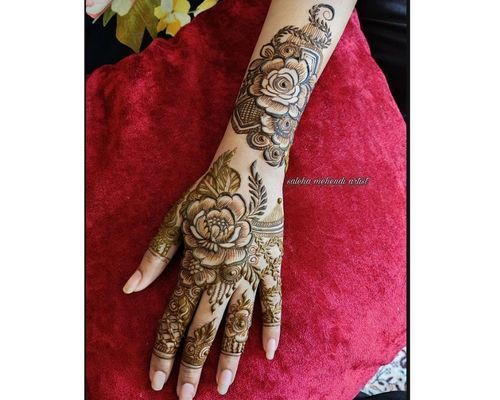 23. Rose Khafif Mehndi Design
The rose elements are the main attraction of this mehndi design. A khafif mehndi with shaded roses makes the design look stunning. A must-try design.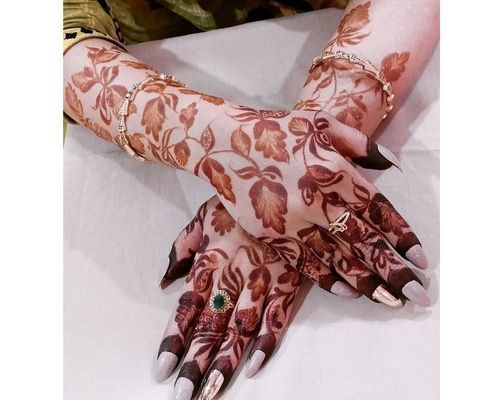 24. Leafy Khafif Design
The khafif design with the shaded leaves all over the hands creates a modern look. The detailed shading on every leaf is attractive. This design can be made on both sides of the hand.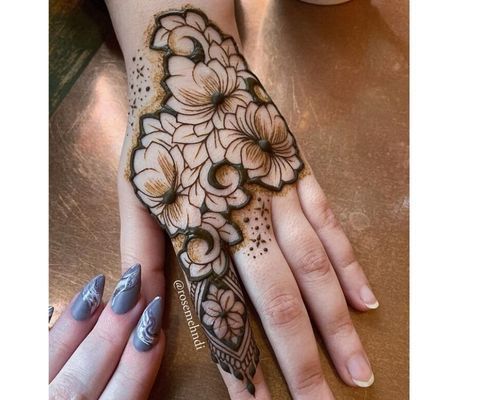 25. Lotus Khafif Mehndi Design
The thin element of lotus design and leaves is the artistic khafif mehndi design, which is perfect fot for young fashionistas. This design goes well with casual, semi casual and western wear too.
Related Articles