25 Stunning Cardi B No Makeup Photos
Shalu Bhati
Updated At 08 Nov 23
Do you want to see some Cardi B no makeup pictures? Then hang on and keep scrolling!
Cardi B is an American rapper and a megastar of today. Her success story is a truly inspirational one. Born and raised in the Bronx, the rapper is proud of her upbringing. She has a mass fan following and continues to make history with her music. Her latest single WAP featuring Megan Thee Stallion garnered s much attention that it broke a few records. It became the most streamed song in the first week of its release and also started a conversation about sexual empowerment in women. How cool is that?
Cardi B loves fashion and her bling. She is known for her bold and outlandish fashion choices and beautiful looks. But she also never shies away from posting her no-makeup selfies. Now, this is a woman who is truly comfortable in her skin. So, let's take a look at the 25 most stunning Cardi B no makeup photos. Don't miss to also check out 25 top Nicki Minaj no makeup photos. She looks stunning indeed!
Let's begin!
25 Stunning Cardi B No Makeup Photos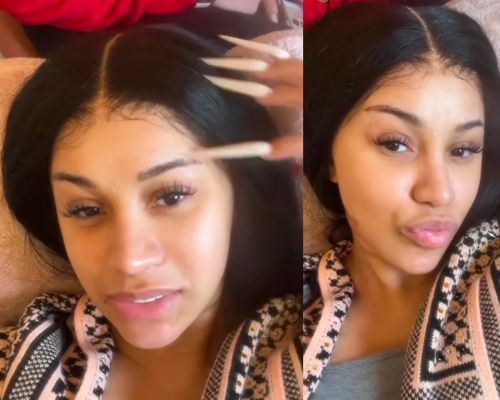 1. Cardi B No Makeup No Filter Look
One of the most natural and stunning photos of Cardi B has been this no makeup no filter photo. She mentioned that this photo was taken as his husband requested the same. She quotes, 
"My hubby said take a video like this. No makeup. No filter,"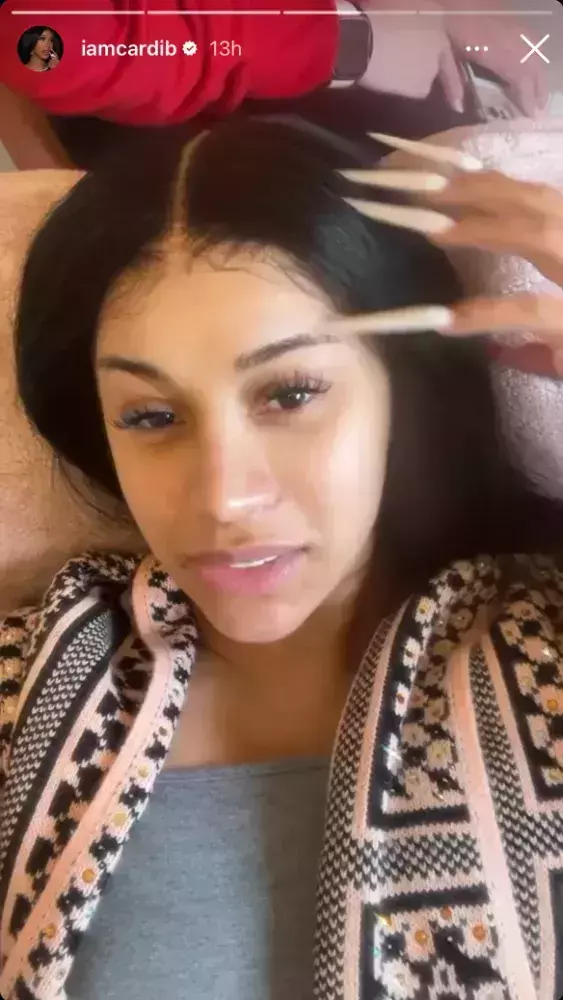 Her natural face looks stunning without any imperfections. She does seem to have used artificial lashes though. If you are looking to find out Cardi B without makeup, then you got the answer.
Read More: Zendaya Without Makeup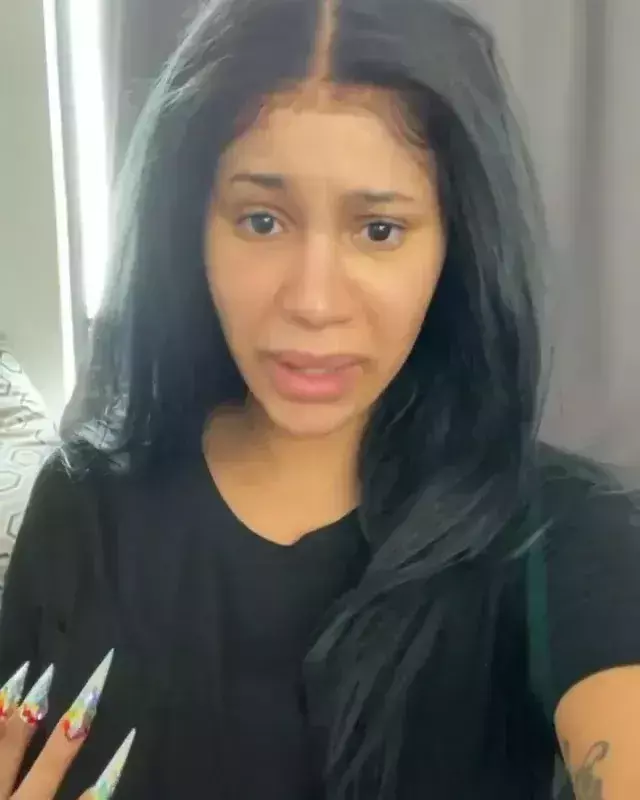 2. Cardi B Natural Photo
Cardi B shared her no makeup photo after waking up wherein she is seen without any makeup. Additionally, her hair are also unbrushed. She mentioned,
"I just wanted to let y'all know that I feel comfortable in my skin,"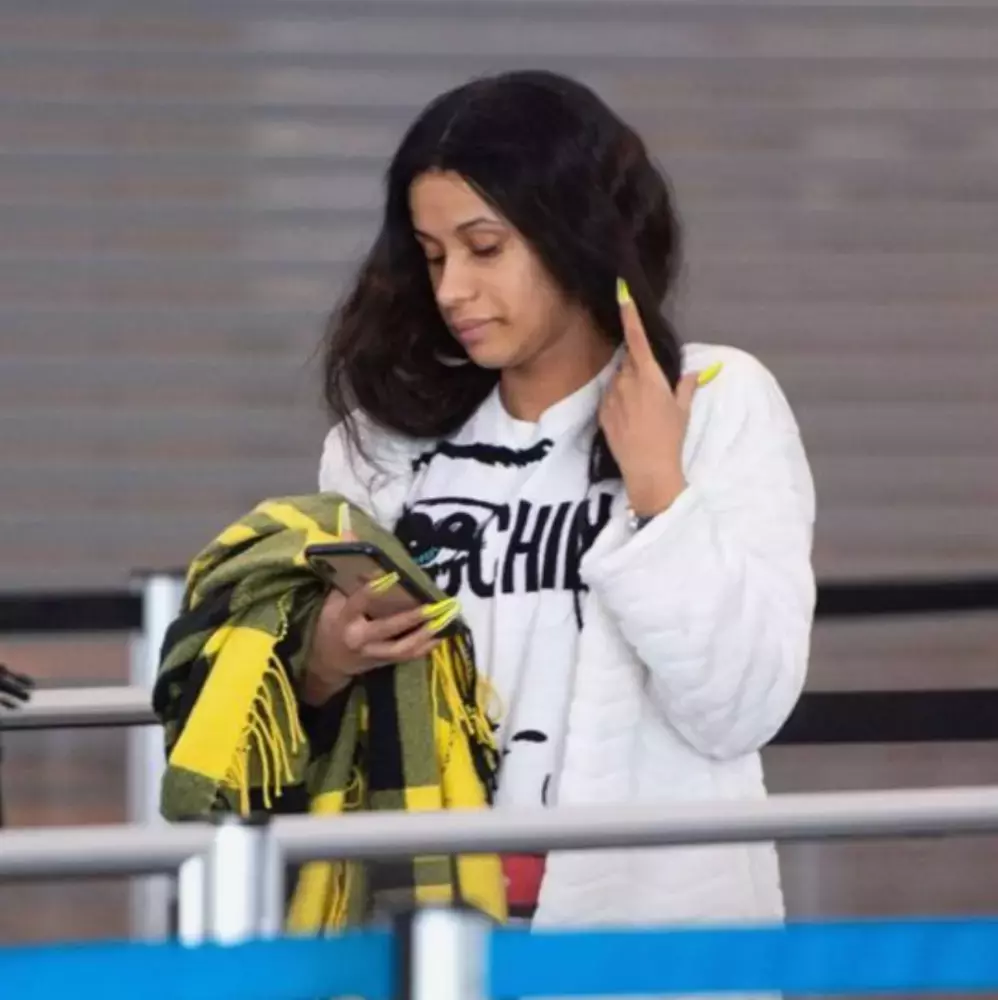 3. Cardi B At JFK Airport
Cardi B confidently strolled through JFK Airport, sporting her natural face, as she rocked a classic white top with no makeup. Her effortless style and au naturel beauty turned heads and made a statement. This is one of the most gorgeous Cardi B no makeup pictures.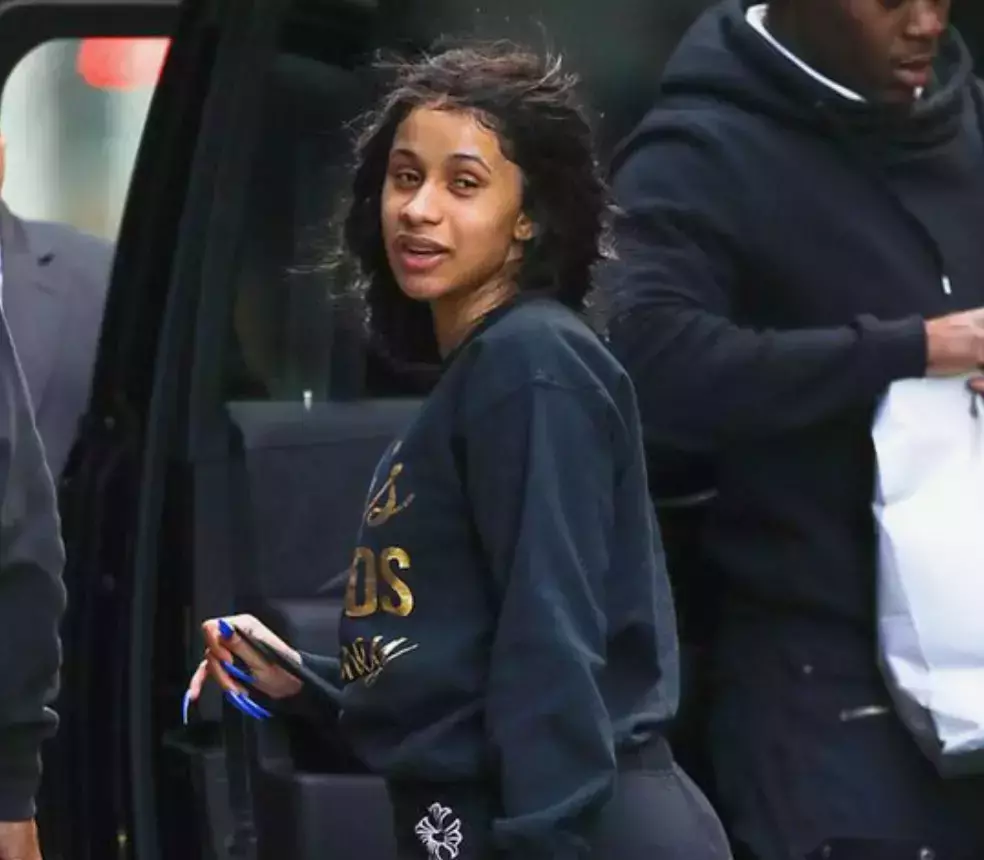 4. Cardi B No Makeup
Some paparazzi spotted Cardi B without makeup in New York and it sent the internet in a frenzy. She looked so different without any makeup on. Many even called her "Catfish B". But haters are always going to hate. And we can't help but be mesmerized at how fresh-faced the rapper looks. Now she can let go of makeup but Cardi B rarely ever lets go of her nails.
Also check out our guide on no makeup photos as we cover 100+ stunning photos of celebrities without makeup.
Read More: Camila Cabello No Makeup Photos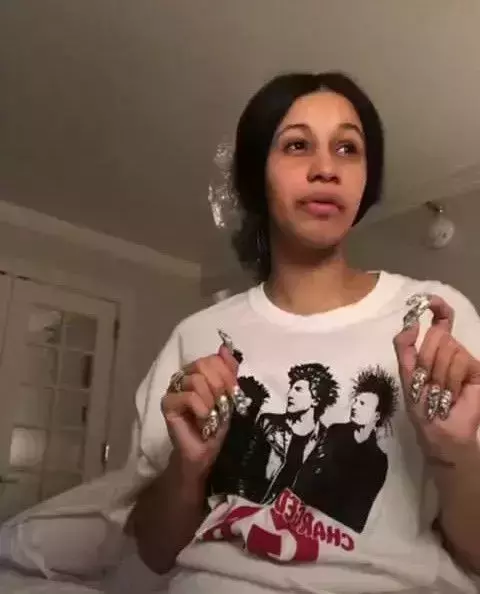 5. Cardi B In White T Shirt
Cardi B kicked back on her home couch, embracing her natural beauty with no makeup. Clad in a simple white T-shirt, she proved that comfort and authenticity are always in vogue.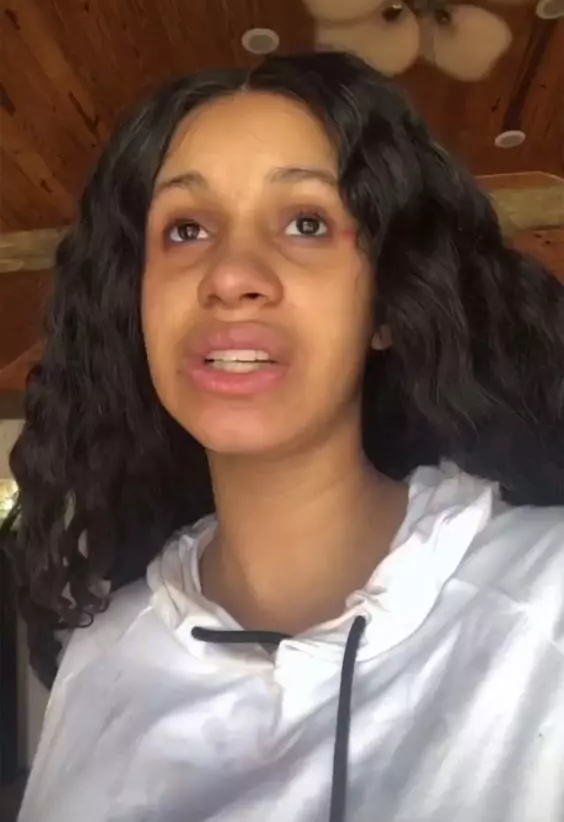 6. Cardi B Without Makeup
Cardi without makeup looks a lot different and this is what everyone observed when the rapper posted this makeup-free video in an interaction with fans. Cardi B again received a lot of flak for looking so different than her stage looks. What people often forget is celebrities are also people. They don't look glamorous 24*7. They are just like us and deserve some off days.
7. Cardi No Makeup Selfie 2.0
Cardi B is very comfortable in her skin. This is something that not everyone can do. She often goes without makeup at home and is unapologetically herself when interacting with fans. This is one such Cardi B no makeup photo taken from a fan interaction video on social media.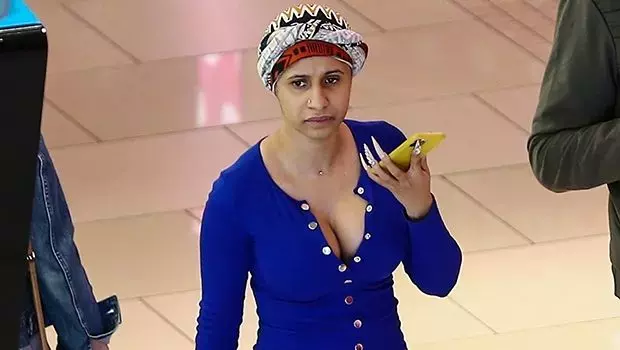 8. Shopping In Miami
Spotted again: Cardi B without makeup at the Miami Adventure Mall. She was doing some good old Christmas shopping in a blue button dress and a bare face. This is a Cardi B no makeup picture that took the internet by the storm.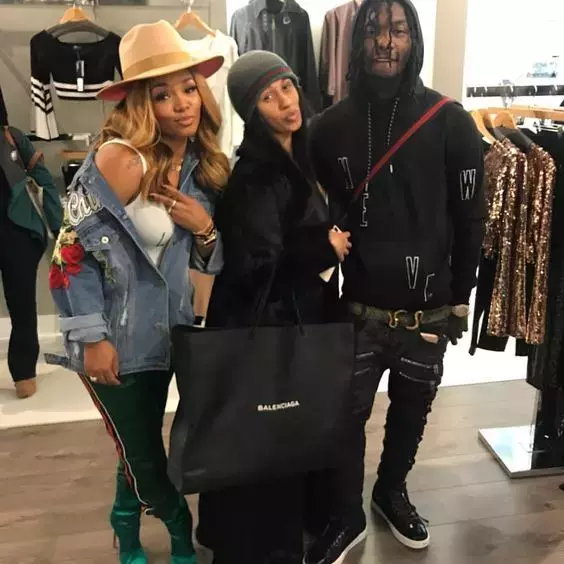 9. Spotted Without Makeup
This Cardi no makeup picture is from when she was spotted in Atlanta with her husband, Offset on a shopping spree. She looks simple yet chic in this no-makeup look and all-black attire.
Also check out 25+ Ariana Grande no makeup photos as we cover her natural looks and she looks absolutely stunning in her no makeup selfies.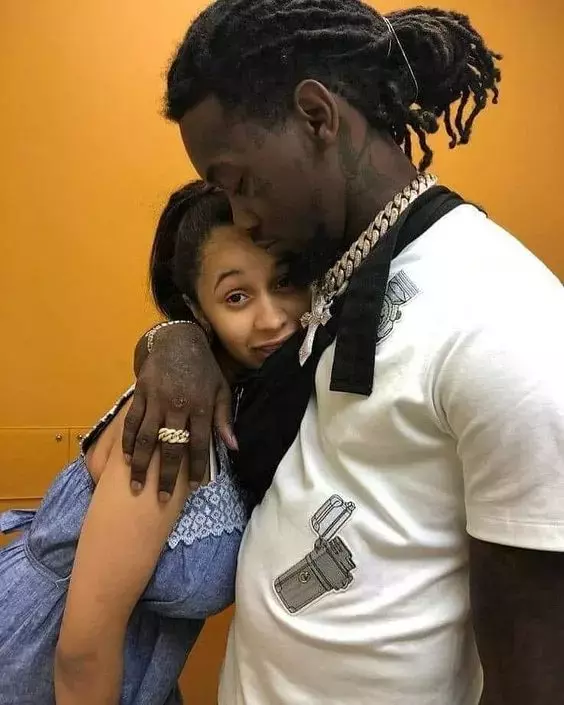 10. Lovely Duo
Here is yet another Cardi B no makeup photo where she is with her husband. She looks really pretty and fresh-faced. Look at that healthy glow she exudes.
Also check out 25 Kylie Jenner no makeup photos as we cover her no makeup selfies, casual looks and many more natural looks!
Read More: Kylie Jenner No Makeup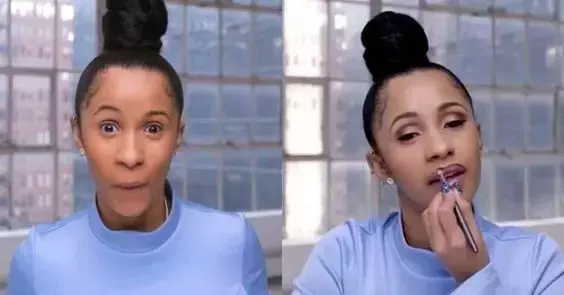 11. Cardi B With And Without Makeup
Cardi B revealed her bare face in a makeup tutorial where she was showing her fans how she usually does her makeup. So, here is a before and after screengrab for you. We got to see the Cardi B no makeup look in its full glory. She has flawless skin and never shies away from showing it off.
Also check 15+ most popular Katy Perry no makeup images wherein we cover her casual looks, family photos and many more stunning images!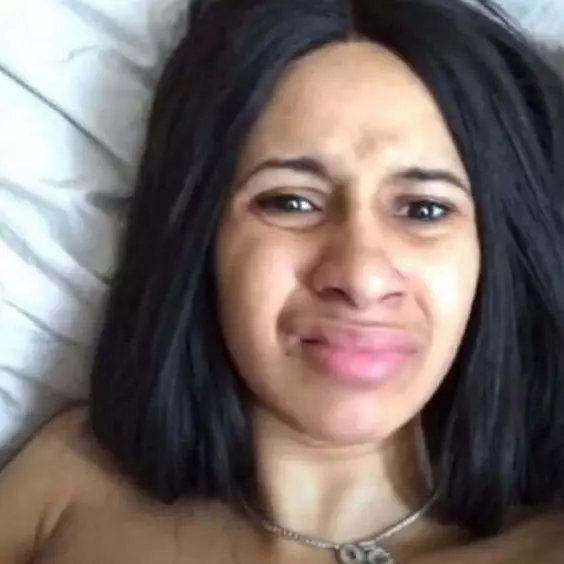 12. No Makeup Selfie
We absolutely love the cute and sassy expression in this Cardi B no makeup photo. Have you ever wondered how Cardi got her name? This is how the story goes. Her sister is named Hennessy. So she got the nickname Bacardi and from Bacardi came out Cardi B. Her real name is Belcalis Almánzar.
Read More: Beyonce No Makeup Photos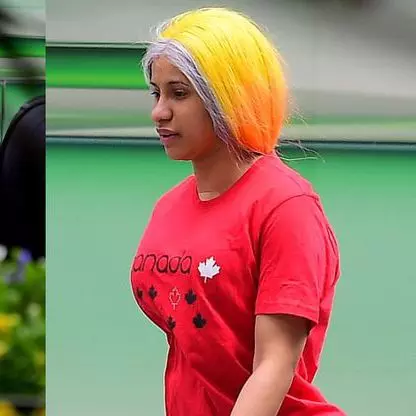 13. As Bright As The Sun
Cardi B was clicked wearing a vividly colorful wig while being without makeup. The yellow color of her hairpiece reminds us of her hit single, Bodak Yellow that made her an instant success.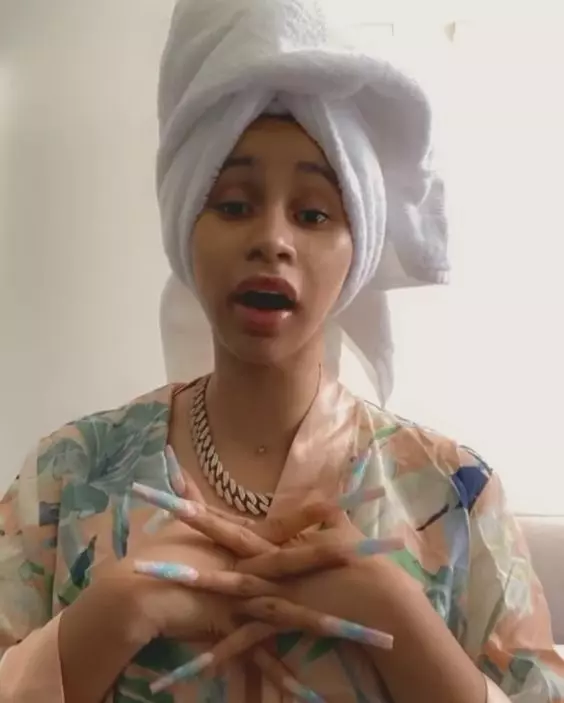 14. Interacting With Fans
Cardi B regularly interacts with her fans through her social media and is also known to lend a helping hand to her fans in need. In this Instagram video, she announced a team-up with Fashion Nova to help those who were harshly impacted by the Coronavirus. She told her fans that sometimes they have to stop being shy and ask for help. What we couldn't help but notice was the Cardi B no makeup look and her pretty nails. Look how her nails match the aesthetic of her robe.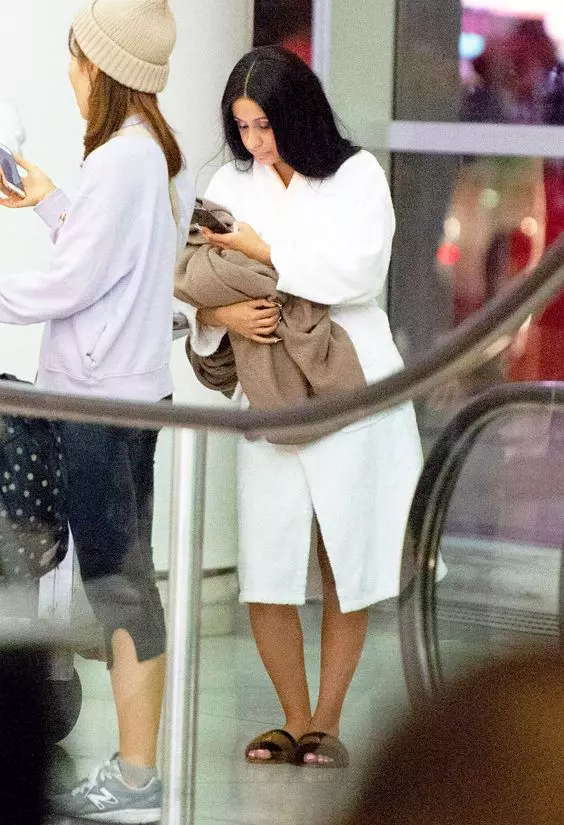 15. Airport No Makeup Look
If anyone knows how to travel comfortably, it is Cardi B. She was spotted at JFK being as comfortable as one can. This was Cardi without makeup wearing a fluffy bathrobe and slip ons. Yes, you read it right. And she looked damn comfy and good.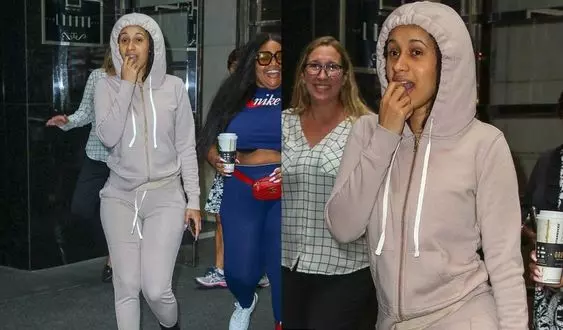 16. Simple Yet Beautiful
When you got beauty like that of Cardi B, you don't need much to serve some looks. Here she was spotted wearing a comfortable tracksuit and she had no makeup on. This is one of the most popular Cardi B no makeup photos.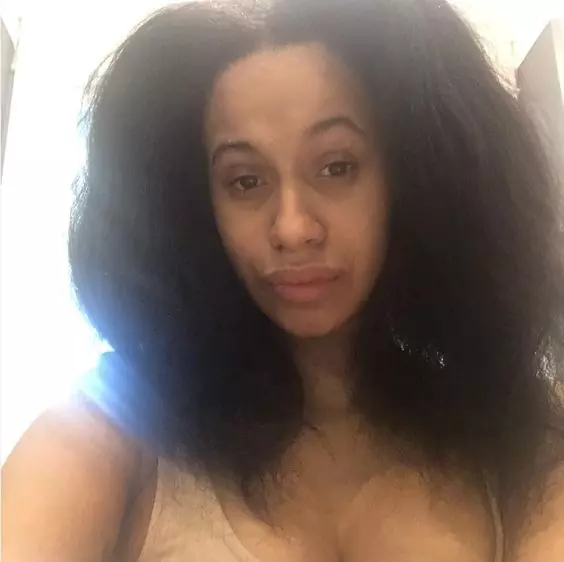 17. The Pregnancy Glow
Cardi B without makeup looks really beautiful. And she proved it again when she posted this makeup-free selfie on Instagram. Here you can see a pregnant Cardi with a natural glow on her face and her hair in their natural texture.
Read More: Lady Gaga No Makeup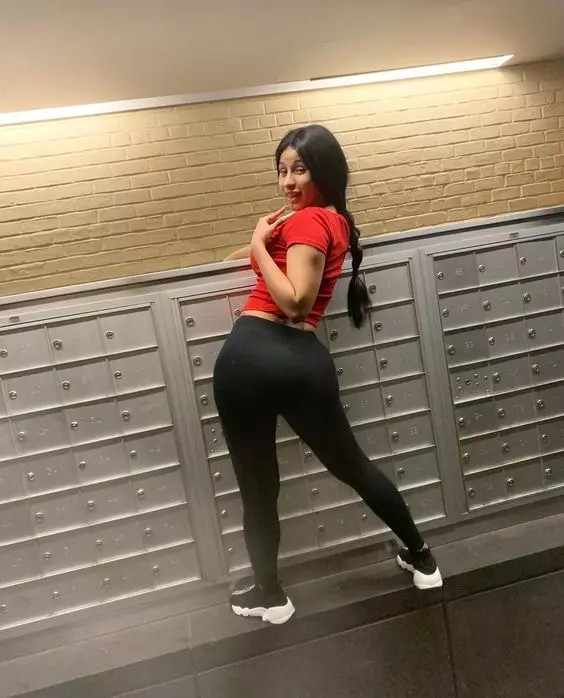 18. That's Some Pose
Cardi likes to do her share of fun and here she is seen doing a fun pose without a speck of makeup on her face. When you look at Cardi without makeup, you will see she has naturally glowing and flawless skin. This woman has some blessed genes.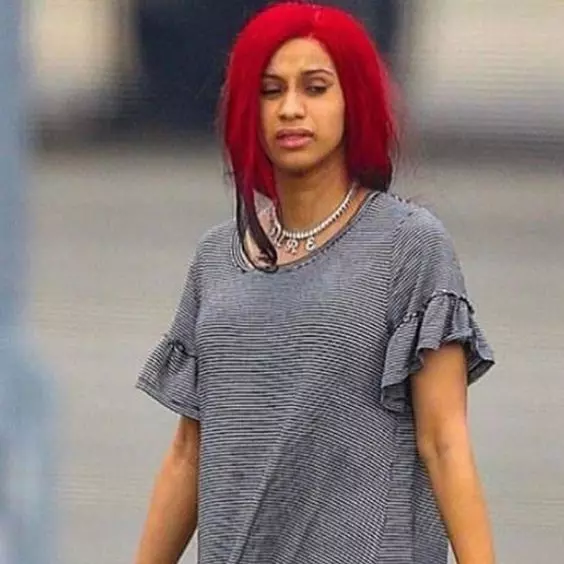 19. No Makeup Game Face
Cardi B looks beautiful even without makeup. She knows it and she owns it. She posted this Cardi B no makeup photo on Instagram telling her fans that this is her with a bare face.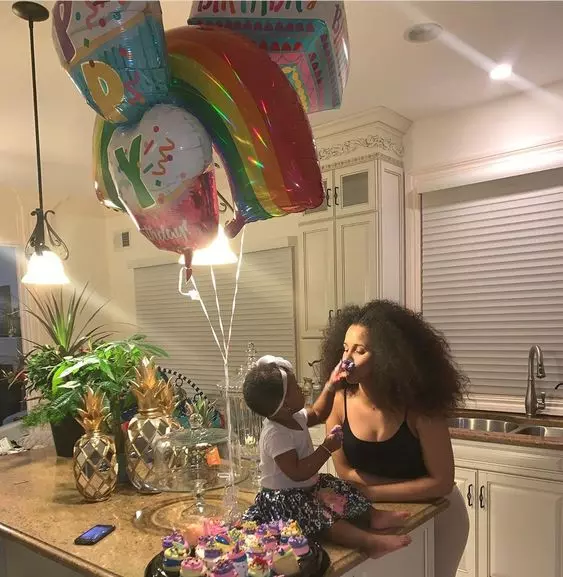 20. In Her Natural Glory
This candid Cardi B no makeup picture was posted by the rapper herself on her Instagram account. This was taken on the occasion of her daughter Kulture's first birthday.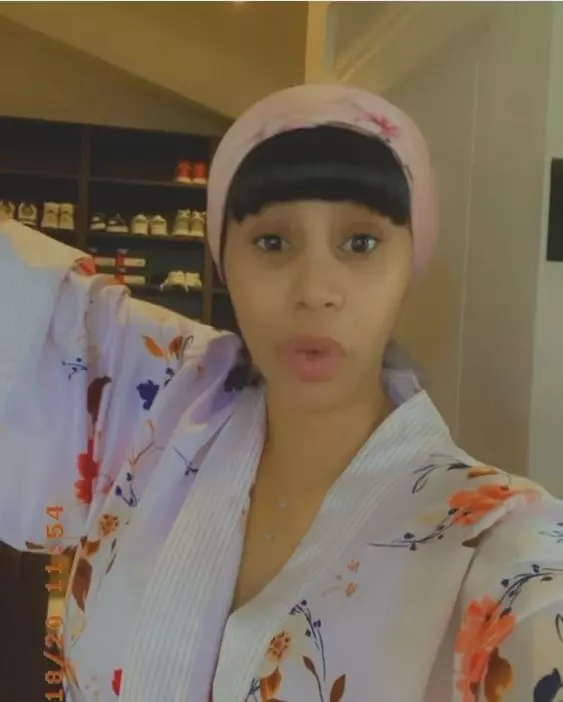 21. It's For The Fans
Cardi loves her fans and has always been open about her life. She is an inspiration to many. She worked at a cash register at an Amish Market and later on as a stripper. She has also been open about the surgery that she underwent at the age of 19. She says that it made her a better dancer. Her honesty is one of her many laudable qualities. Look how lovely she looks even without makeup in this pretty floral bathrobe.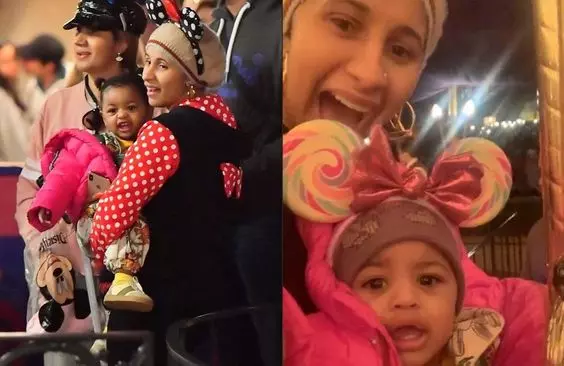 22. Family Time At Disneyland
This Cardi no makeup picture is from her family time at Disneyland. She was seen enjoying with her daughter Kulture wearing no makeup and the customary Minnie Mouse ears.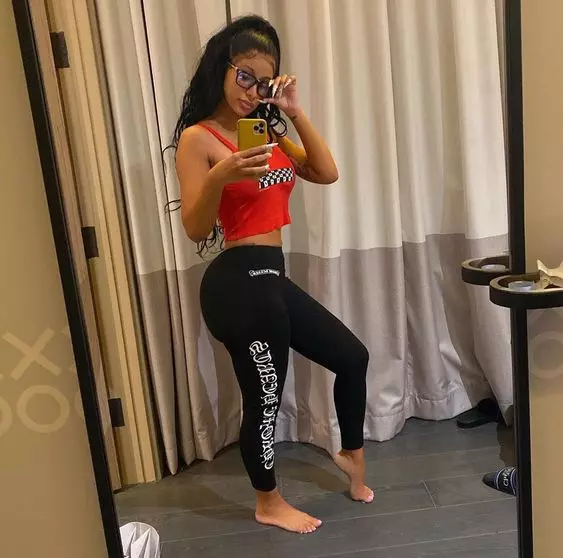 23. Without Makeup Mirror Selfie
We cannot get enough of Cardi B without makeup. So, here is more. This is Cardi B posing without makeup in front of a mirror. That pose is totally giving us some major mirror selfie goals.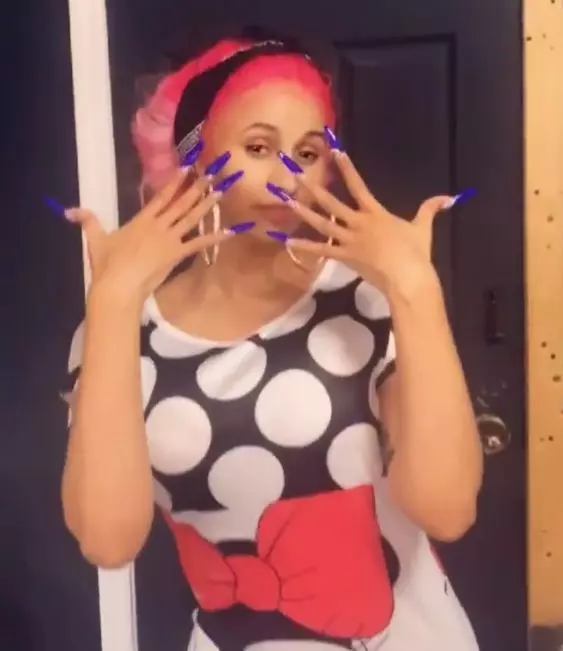 24. For The Love Of Nails
You can find Cardi without makeup but what you cannot find is Cardi without her sensational nails. She loves her bling and she loves her nails. You will always find her with some serious bedazzled talon nails. That's her signature style. This Cardi B no makeup photo is taken from an Instagram video where the rapper was dancing with happiness after getting her nails done.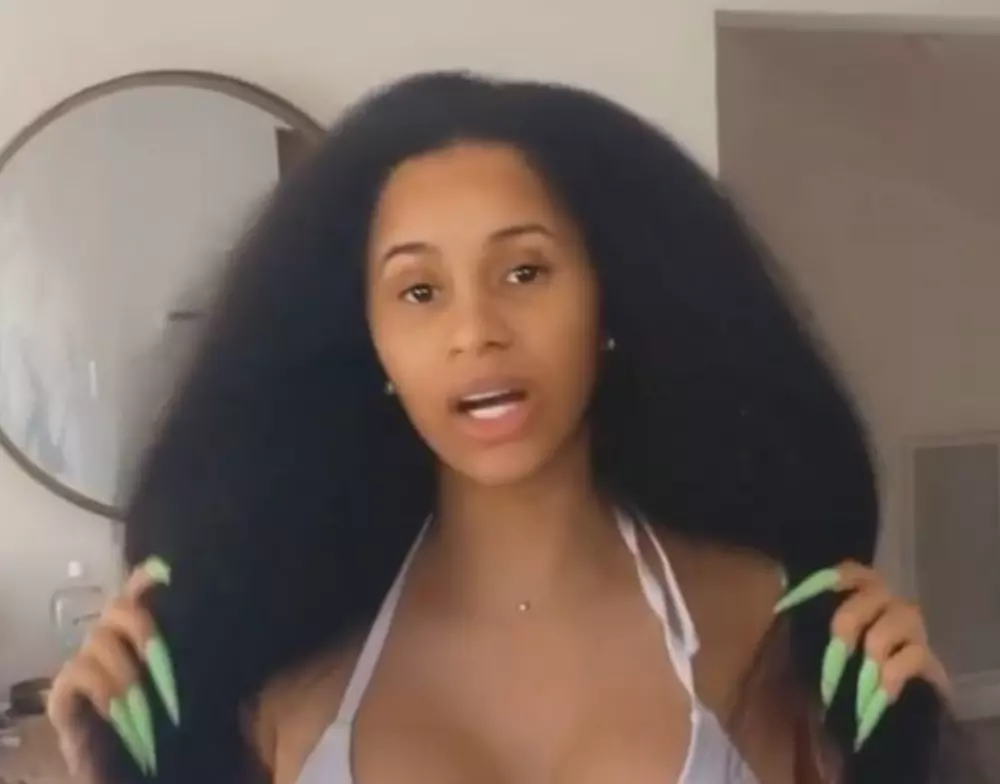 25. Day Of The Hair Mask
This is yet another Cardi no makeup photo taken from her Instagram story. Here she was seen being in her all-natural avatar. She taught her fans how to make a hair mask and also showed the real texture of her hair.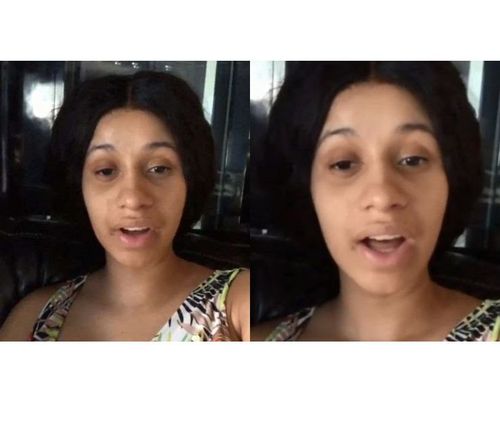 26. Cardi Without Makeup
Here is yet another Instagram story where you can see Cardi without makeup. She has healthy and glowing skin. Her no makeup pictures are a good reminder to take care of yourself and your skin.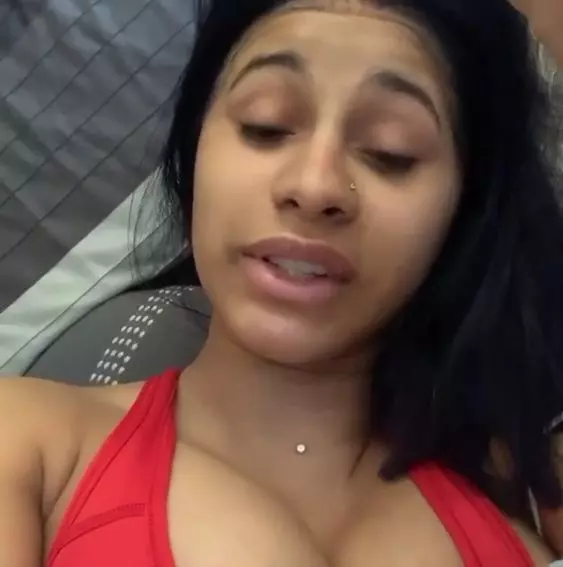 27. Cardi No Makeup Picture
Do you know that Cardi enjoys reading about the structure of the US government? The rapper has a genuine interest in this topic. She has revealed that she is obsessed with knowing how the system works and how the President gets elected.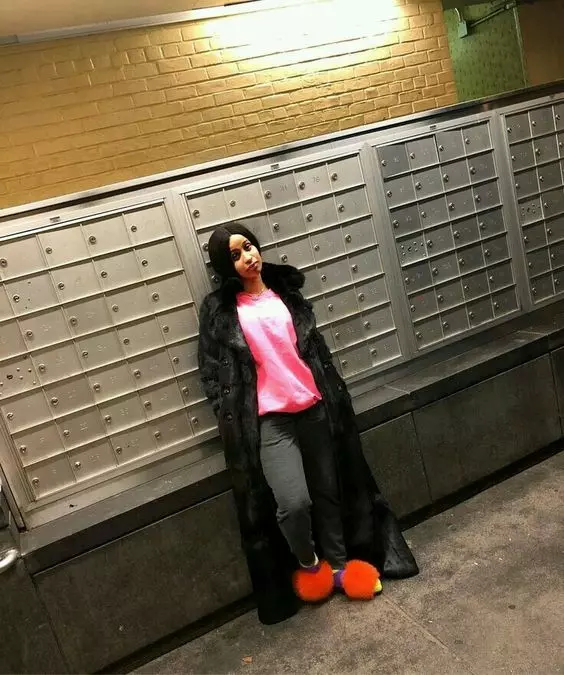 28. Cardi B No Makeup Look
Cardi B is a true icon and inspiration. Her determination and hard work have helped her reach where she is at today. Despite the huge fan following, she keeps on being humble and honest to her roots. She loves wearing makeup but is not a slave to it. She just likes to sit for the added drama. She says:
"I feel beautiful without makeup on, but when I do put makeup on, it just gives me this extra pop."
And it is true. She looks stunning even without makeup but when she wears some, she definitely serves some looks.
This brings us to the conclusion of our list of the 25 stunning Cardi B no makeup photos. Don't forget to check out the rapper's many DIY hair masks that she often shares on her social media.
Related Articles