Rob Kardashian Weight Loss : How He Lost 50 Pounds?
Shalu Bhati
Updated At 14 Jul 23
There is nothing more inspiring than a celebrity weight loss story. And we bring you the latest stories to derive inspiration from. Keep reading to get to know more about the Rob Kardashian weight loss story.
As the Kardashian in his name would have suggested, Rob Kardashian is a member of the renowned Kardashian-Jenner family. To be precise, he is the son of Kris Jenner and Robert Kardashian. He is known for making his appearance along with his sisters on the famous American reality TV show, Keeping Up With The Kardashians (KUWTK) and its various spin-offs. Apart from being a television personality, he is also involved in multiple business ventures.
Over the last few years, the conversation related to Rob has mostly revolved around his dating life and ultimately his weight. Things got so bad that he had to remove himself from the eye of the media. However, it was the news of the Rob Kardashian weight loss that put him back on the popularity charts.
Rob has undergone a major weight loss transformation and has lost about 50 pounds. This journey, however, has not been easy for him. In this article, we will take you through the Rob Kardashian weight loss story, how he achieved his goal, his diet and exercise schedule. We will also show you the latest Rob Kardashian weight loss photo.
Let's begin!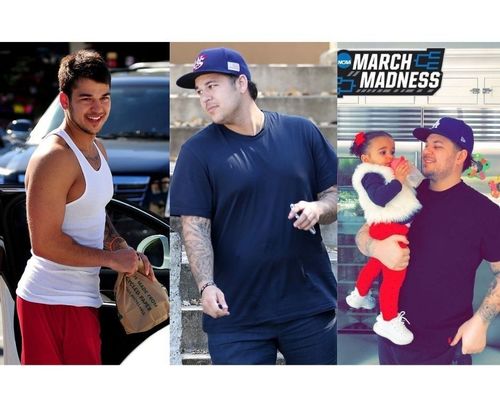 Rob Kardashian Weight Loss Story: How He Lost 50 Pounds
Rob Kardashian came into the major spotlight with his family's very own reality TV show, Keeping Up With The Kardashians in 2007. His hot and handsome looks made him quite popular amongst the ladies. He was also a model back then and had started dating actress and singer Adrienne Bailon. Everything was perfect and going smoothly in Rob's life until it wasn't.
The reality show that gave him fame had also put his life under a "magnifying glass". Things began to get rough when he admitted to cheating on his then-girlfriend Adrienne on an episode of KUWTK. Ultimately, the couple broke up in 2009. And with this break up began Rob's journey into a downward spiral that ultimately led to his disappearance from public life.
Things got awkward and bad for Rob in 2012 when he broke up with then-girlfriend singer Rita Ora. It was a very public affair and took a toll on Rob's physical as well as mental health. He was spiraling and by the next year, he started showing signs of weight gain. The media was not kind to him and it clearly hurt an already vulnerable Rob. In 2014, he has had enough when he went on to Twitter to express how he felt about all the conversations on his weight. He tweeted:
So I found out I was trending on Twitter for being fat…thank you all it really made my day… no one will ever understand how much it hurts.
The Kim Kardashian and Kanye West wedding was another highlight of 2014 as well as of Rob's life. His condition was getting worse. He was already upset and had severe body image issues which were pushing him into depression. On top of this, the media attention and body shaming made it even more difficult for him to cope. He was flying with his family to attend his sister's wedding but was met with an eager press at the airport that pushed him into hiding. Years later, he recalled this incident as:
I was doing suit fittings in Paris right before the wedding and I just wasn't comfortable. I am 6'1" and at my most, I probably weighed 300 pounds…there were cameras at the airport on our trip there and I was very unhappy with the person I saw in all the pictures.
This incident at the airport made him skip Kim's wedding. Rob was not seen in public for multiple years. He had gone into hiding. No one knew what he was up to. He distanced himself even from his family which surely didn't help his cause.
Along with Rob, you can also check out Kim Kardashian weight loss story as she lost 20+ pounds!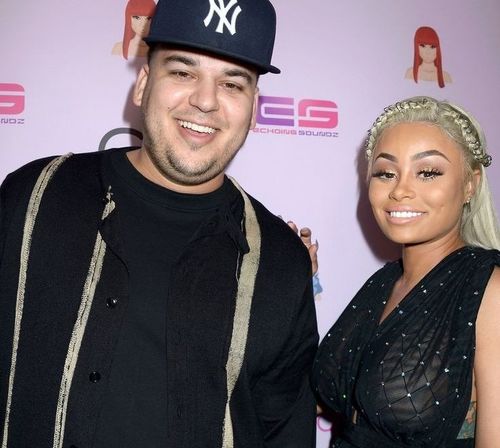 The next we heard of Rob Kardashian was in December 2015 when he was hospitalized for not taking insulin while suffering from type 2 diabetes. This was a wake-up call for Rob. He knew he had to change his lifestyle if he wanted to survive. This is roughly the time when the Rob Kardashian weight loss journey began. The family came together to help Rob but it was Rob's then-girlfriend Black Chyna who played a major role in his transformation. She was a positive influence and helped him through his self-esteem issues. She also cooked for him to get him to eat healthily. Along with Rob, make sure to check out Melissa Peterman weight loss story as she also lost a lot of weight by sticking to a diet and exercise schedule!
The birth of their daughter Dream in 2016 further motivated Rob to get healthy. His diabetes was finally under control but he was still packing extra kilos. The very public breakup with Black Chyna brought his issues back. He retreated into isolation. However, things were different this time. Rob had to keep fighting for the sake of his daughter. So, with the help of his famous and fit sisters, Rob pulled through. He ate healthy meals and worked out regularly. He slowly came out of his shell and was finally happy again. Being a father motivated him to keep working on himself.
The effects of the Rob Kardashian weight loss journey were clearly visible. He flaunted his new fitter physique at sister Khloe's birthday party. Since then Rob has been seen attending many Kardashian family events. He has also returned to social media after losing 50 pounds. He looks and feels better in the current year. After seeing him struggle for years, his fans are also happy to see him healthy as well as happy. In year 2022, his weight is around196 lbs.
Also check out Melissa Mccarthy weight loss details and how she lost a whopping 75 Pounds!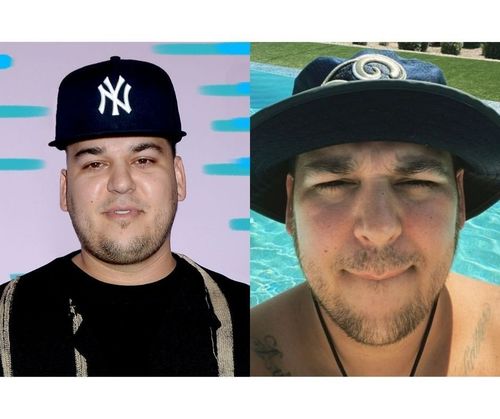 Rob Kardashian Weight Loss And Fitness Routine
Rob's seemingly perfect life came crashing down after his very public breakups. He took to the route of binge eating as a form of coping mechanism. But it didn't help. He gained an unhealthy amount of weight over the years. The whole family tried to help him but he was stuck in a never-ending cycle where he would always be back at binge eating. Rob's struggle with weight loss and depression was further fanned by the media frenzy focussed solely on his weight gain. His self-esteem was at an all-time low while living in a household full of fitness enthusiasts. He broke down during an episode of KUWTK in 2018 and revealed his state of mind over his body:
I am sad. I don't even want to sit down because of how fat I am. I just don't know what to do.
But, with support from his family and ex-Black Chyna, Rob started making changes. The Rob Kardashian weight loss journey began sometime back. He struggled to stick with the routine and dietary changes but he kept going. Support from his sisters and being a father to Dreamy kept him motivated enough to drop a whopping 50-pound. Similar to Rob Kardashian, Kylie Jenner weight loss story is also inspirational as she lost 25 Pounds.
Here's how Rob Kardashian achieved his weight loss: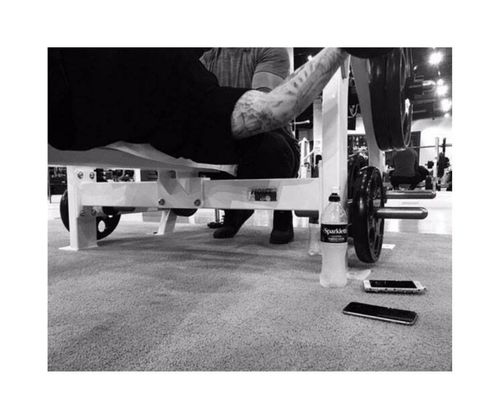 Rob Kardashian Weight Loss Exercise Routine
Rob works out for five days a week twice a day. He works with his trainer for the first round and often invites his friends for the second one. This plays a great role in encouraging him to keep moving.
He also works out with his famous sisters at their home gyms and it allows him to bond with his family. His sisters have really come together in his support.
A typical Rob Kardashian weight loss workout plan includes gymming, cardio, running, push-ups and deadlifts. He also indulges in weight lifting to tone his muscles.
Being a father is Rob's secret behind his much-talked transformation. Kylie Jenner who is also a mother motivated Rob to keep pushing to be his better and healthy self for the sake of his daughter Dream. And it has really worked.
As a parent, he is almost always on his toes as he runs after his daughter and is actively involved in her upbringing.
Apart from indoor workouts, Rob also likes to go on a lot of walks and hikes. His preferred weekend activity is to go a hike to the Runyon Canyon in Los Angeles. It's no secret that walking and hiking are great forms of workout and are clearly helping Rob.
Also check out the details of Jake Gyllenhaal Weight Loss as he losta whopping 30 pounds for his movie Nightcrawler!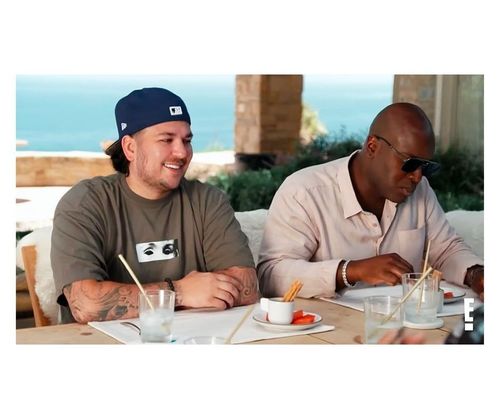 Rob Kardashian Weight Loss Diet
A regular workout is an essential part of a weight-loss routine but it would be useless without significant diet changes. Here is what the Rob Kardashian weight loss diet looks like that led to the 50-pound shift in his weight:
Home-cooked meals are a lifesaver. This is how Rob made his first attempt at weight loss after being hospitalized for diabetes. His ex Blac Chyna helped him manage his diabetes by cooking healthy, tasty, and nutritious meals for him and it made quite a lot of difference.
Rob was a binge eater and to get his weight under control he had to give up on his favorite ice-creams, milkshakes, in-and-out burgers, and other fast foods he was fond of eating.
The Rob Kardashian weight loss diet is healthy, nutritious, and low in sugar. Rob focuses on proteins and green vegetables. His diet mainly consists of fruits, vegetables, salads, fish, chicken, and eggs.
Rob likes to start his day with a fruit and a protein-rich breakfast. Eggs are a regular part of his first meal of the day.
Keeping hydrated is another significant change made by Rob. This means drinking adequate amounts of water and no sugar-filled drinks or even alcohol.
All work and no play can prove to be very dull, and thus, he likes to take a break from the Rob Kardashian weight loss diet now and then. Rob saves his cheat days for special occasions where he indulges in a burger or anything else that he is craving. But, always in moderation.
Also check out Ariel Winter weight loss story as she lost almost 30 pounds through a combination of diet, exercise and change in medication.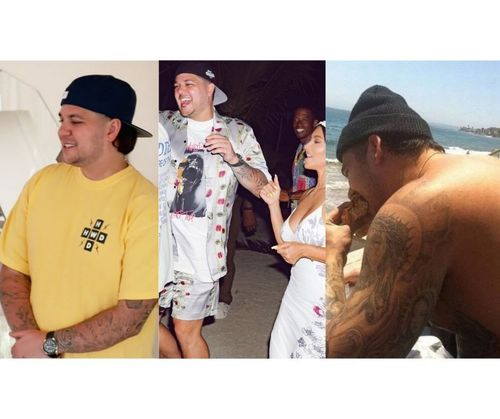 It is great to see Rob coming out of his shell once again as a healthy person. He is getting physically fit and is mentally at a good place too. He struggles but he keeps going. While everyone is talking about his return to the spotlight after shedding a massive 50-pounds, Rob doesn't want to get stuck at the numbers. He wants to keep working on himself until he looks at the mirror and sees the person he wants to be. So, the Rob Kardashian weight loss journey began with his dissatisfaction and disappearance and will end with his own satisfaction and validation.
Frequently Asked Questions
Q. What is Rob Kardashian weight and height?
Rob Kardashian now weighs about 248lbs and he is 6'1".
Q. How much weight was lost by Rob Kardashian?
Rob is said to have lost about 50 pounds during his weight loss journey since 2018.
Q. What is the secret of Rob Kardashian's weight loss?
The secret behind the Rob Kardashian weight loss is his daughter Dream Kardashian. It was being a father that really pushed Rob to take a step towards a better lifestyle. Following a healthy diet and fitness routine are important but they will be wasted if you are not motivated to keep going and for Rob it was his daughter who kept him going despite all his struggles.
Q. What is Rob Kardashian net worth?
The current net worth of Rob Kardashian is calculated as $10 million.
Q. Who is Rob Kardashian wife?
Rob Kardashian doesn't have a wife. He was engaged to Blac Chyna in 2016 but went through an unpleasant breakup in 2017. He also has a daughter with her, Dream Kardashian.
Q. What are the top weight loss tips from Rob Kardashian?
The top weight loss tips from Rob Kardashian include:
Find a physical activity that works for you. It can be as simple as going on walks or hikes
Training with friends and family not only brings you closer but also boosts your spirit. It can help you in the long run and ensure that you are motivated
Being consistent is important and struggling to cope with the weight loss journey is normal. What matters is that you accept your struggle and continue moving the next day
Eating healthy homemade meals can be a game-changer in any weight loss journey