How Ariel Winter Lost 30 Pounds - Amazing Weight Loss Journey
Ashwini F
Updated At 26 Dec 22
Weight gain or loss is a natural process, and you can't hold on to something you can't control. All you have control over is how you treat your body, mind, and spirit. Ariel Winter lost 30 pounds and we uncover the details of the same. Similar to Ariel, Bella Hadid weight loss story has been equally inspirational.
Ariel Winter Weight Loss Journey
Ariel Winter Weight Loss Issues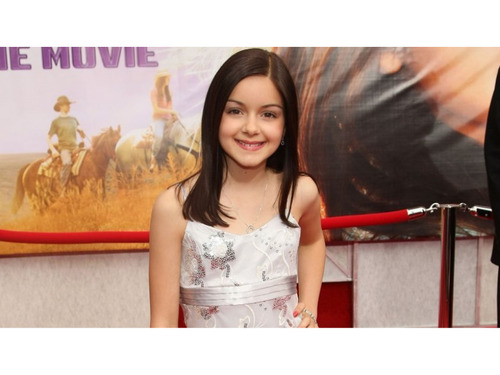 Ariel Winter's Experience With Body Shamer's
Ariel has dealt with body shamers for a long time, dating back to when she was just 5 years old and her first appearance on film in ads was noticed. Some of you may recognise her as Alex Dumphy, the fat child from Modern Family. As she grew up watching television, we saw her alter over time. Her alterations throughout the years have been significant, as she seemed destined for celebrity after relocating to Hollywood. Stardom brought fat-shamers to her attention, putting her through a lot. She drew all of the attention to her figure while she was in her adolescent years in 2016. She faced a lot of criticism which she talked about in an interview with Seventeen,
Ariel said,
It's hard being self-conscious and having the world be able to tell you how they feel about you. Before Twitter and Instagram, if you felt a certain way about a person you didn't know, you couldn't tell them. Now I wake up, and people have tweeted to me about how I'm a fat, ugly blah-blah. It is disheartening to see how people make somebody feel like this. Three or four years ago, I would have been devastated, like, Why do people feel this way about me? I'm just me.'
My sister helped me understand that people will say those things regardless of how you look. I tell myself every day, "I look fabulous."
Ariel Winter has never hesitated or refused to discuss her anxiety issues. She was recently discovered addressing her improving mental health as well as her massive weight reduction change. The 24-year-old American actress said that her body is shedding weight as a result of a shift in depressive drugs, which accelerated her metabolism. She said that changing her medications, as indicated by her psychiatrist, was the greatest workable answer for her depression concerns and weight reduction. Ariel is pleased with her appearance now that she has lost weight. She advises individuals to seek out the best remedy for their weight insecurity.
Also check out Khloe Kardashian weight loss story as she lost a whopping 60 pounds through mainly diet and exercise. We cover all the details which include her diet, workout, weight loss tips along with her personal experience.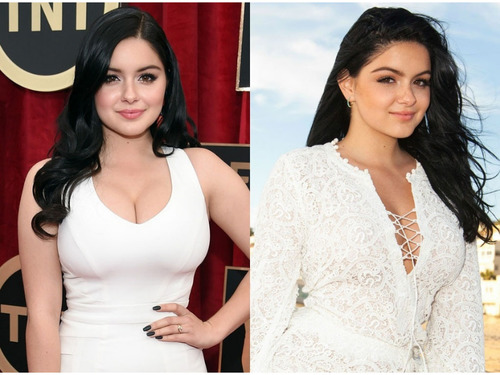 Antidepressants Were To blame For Ariel's Weight Gain
Ariel's weight gain was caused by the antidepressant pills she was taking to assist her cope with her ever-increasing workload. She was unable to look for herself due to her hectic schedule, and the medications assisted her in releasing the strain and stress. Antidepressants are known to have an impact a few weeks later, resulting in a significant shift in mood, appetite, activity, and sleep.
According to a Mayo Clinic, these medicines have a slew of irritating side effects, including Ariel's unwelcome weight gain. She took the medications for around 4.5 years and gained weight, with the major issue being that her workout and diet were not helping.
Also check out the details of Melissa Peterman weight loss story to find how how she lost 60 pounds. From diet, workout to all the weight loss FAQs, find out everything she did to lose weight naturally!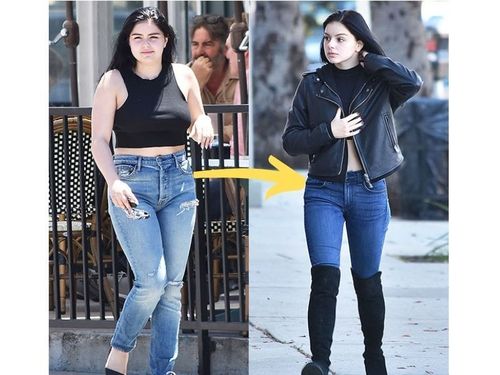 How Ariel Winter Lost 30 Pounds?
There have been various factors which contributed to her weight loss. From change in antidepressant medicines to diet and workout, there have been multiple factors which aided her weight loss.
Antidepressant Treatment Regimen Alteration
Her weight reduction journey began gradually, and she was accused of using drugs like amphetamine for her rapid weight loss, while some believed she had undergone some type of fat-dissolving procedure to slim down. She has been shown to be fairly active in responding to concerns about her weight and depression; she was once questioned, "Why so thin?" during an Instagram Q&A session, and she answered with a genuine statement claiming that the true cause for her weight loss was changes in her prescription medicines.
With the aid of her current drug regimen, Ariel has shed up to 30 pounds. She went on to say that her therapist and psychiatrist came up with a better medication combination that helped her lose weight. She stated that her weight reduction was only a natural consequence of the new medicines because she didn't use any weight loss supplements or restrict her diet.
Ariel Winter Weight Loss Diet
According to the 24 year old actress, you can eat anything in moderation. During an interview with E!, she spoke about her diet plan which she followed for her transformation.
Ariel says, "I believe, you know, you eat everything that you want in moderation, you know, if you can, if you're not allergic, whatever". She added, "Anything you can in moderation I think it's best, that way you're not like, really wanting something you can't have and like, you absolutely tell yourself you can't have it when, you know, you probably could, just in moderation."
Ariel Winter is fond of carbs and sugar so instead of giving them up totally she exercises.
Ariel mentioned,
I also love to eat like, pasta and cheese and candy and all this stuff, so for me, I think it's important for my actual health to go in and make sure that I'm exercising. So I think right now it's probably just, health is my main motivation for going in and working out.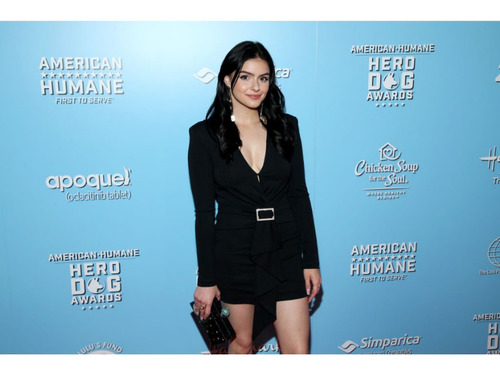 Key Reason For Ariel Winter Weight Loss
During an interview, Ariel also disclosed that the secret to her rapid weight reduction. She mentioned,
It came with drugs and happened swiftly. Losing weight was beneficial when I changed medications and began to feel better about myself psychologically since it helped me feel like I wasn't stuck. I despise being stuck in any situation.
She also stated that she had previously attended several gym sessions but had never seen any improvements because her depressive medications were interfering with her physique and metabolism. She does not advocate the use of weight-loss drugs since she prefers natural methods of weight loss.
Ariel's Breast Reduction Surgery
Ariel underwent breast reduction surgery in 2015 and it reduced her bra size from 32F to 34D.
She says that she felt "awkward" for her to be developing so much as a young girl and it made her very uncomfortable. She underwent breast reduction surgery and she has no regrets for the same. Infact, she recommends it for anyone who wants to go ahead with the same.
On her breast reduction experience, she says,
10/10 recommend!!! I am so happy I did mine. I'm so much more comfortable now. My back doesn't hurt. My shoulders no longer have indents. It's a really nice feeling.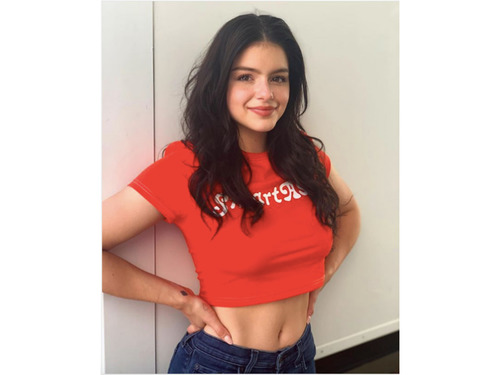 Ariel's Workout Regime
If you follow The Modern Family actress on Instagram, you've probably seen her regular sweat sessions. She intends to build up her muscles in order to get the "Big Butt" and "Michelle Obama" arms. During an interview, she discussed women's health and her current eating plan, as well as her desire to build core muscles. She even shared a motivational photo of herself sweating it out with her trainer Mackfit. "I am never the most enthusiastic person to go to the gym," she said in her post, "but feeling better and seeing the work you put in pay off makes it worth it." "Also... @mackfittraininggym is a BOSS and always reminds me of my goals."
When asked about her curves in an interview, Ariel replied, "I've always had curves, and I like having curves."
People praised her shrinking figure, but she refused to give up her voluptuous figure, saying, "I believe the one thing that irritates me the most is when people remark, 'Oh thank goodness she lost weight, she used to be so heavy.'" 'While she wants to gain weight right now, too much weight gain in a short period of time is not healthy.'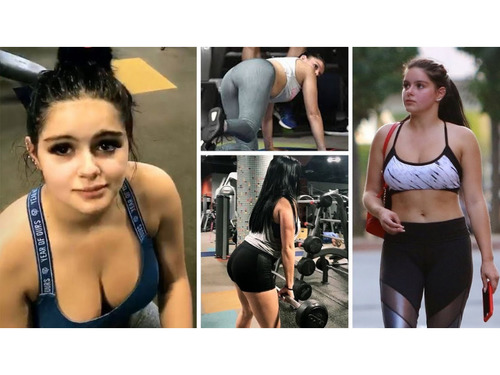 During an interview, Ariel revealed that she received a lot of DMs inquiring about her makeover.
I get so many DMs [asking] 'What medicine are you on? I'd like to lose weight and take that medicine. What I'd like folks to realise is that every drug has a varied effect on various people. We're all built in our own unique way. Everything is unique.
Ariel's change and effort to lose weight is extremely inspirational. She dropped weight in a healthy and natural method without using any weight reduction pills, which is highly recommended. People should remember that everyone's weight loss or gain journey is unique, and they should accept the information directly from the source rather than questioning or making assumptions.