31 Simple Mehndi Designs For All Occasions - 2023
Shalu Bhati
Updated At 06 Jan 23
Are you looking for easy to do simple mehndi designs? Want some simple yet impressive designs for beginners like leaf mehndi design and small flower mehndi design? Then keep scrolling.
Mehndi has been a part of our festivities from as long as anyone can remember. It is not just weddings but festivals too feel incomplete without henna painted hands. This is why we have brought for you a list of 31 simple mehndi designs for all occasions so that you can get inspiration all year round.
Let's begin!
31 Simple Mehndi Designs For All Occasions - 2023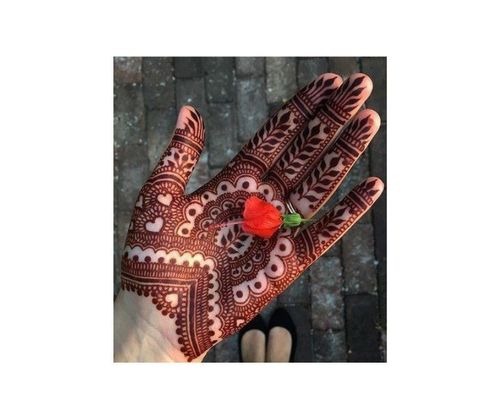 1. Beautiful Persian Mehndi Design
If you are looking for an arabic mehndi design then this can be an apt choice. It is time we showed some love for beautiful Persian designs like this one. This is a simple mehndi design which is not just easy for the beginners but looks insanely attractive. The mixing of small and intricate motifs with bold and larger motifs makes this design of mehendi look ethereal.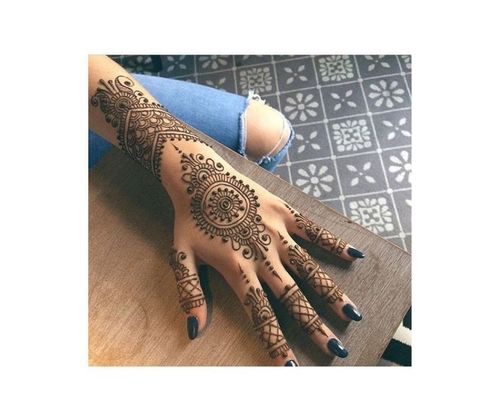 2. Floral Mehndi Designs
This simple mehndi design is heavily dosed with floral power. It takes inspiration from the mandala design and starts with a circle. The placement of dot motifs, however, helps it take the shape of a flower. The addition of more flower and leaf motifs takes the beauty of this design to the next level. The addition of the net patterns on fingers is another addition that we love.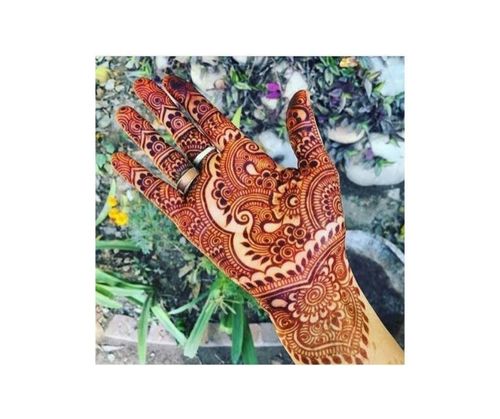 3. Mehndi Design With Paisley And Flowers
If you are looking for a bridal mehndi design then this one containing paisleys and flowers can be an apt choice. Whether it is a simple mehndi design or a more complex one, paisleys and flowers have their charm. This design too banks on their charm. It mixes simple motifs in various sizes with bold outlines and ends up looking stunning.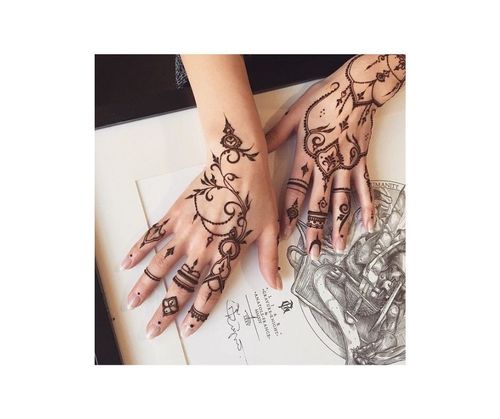 4. Simple Arabic Mehndi Design
This one is a beautiful Arabic mehndi design that uses several patterns and motifs which are then arranged smartly so that they complement each other. This leaf mehndi design is intricate and pretty.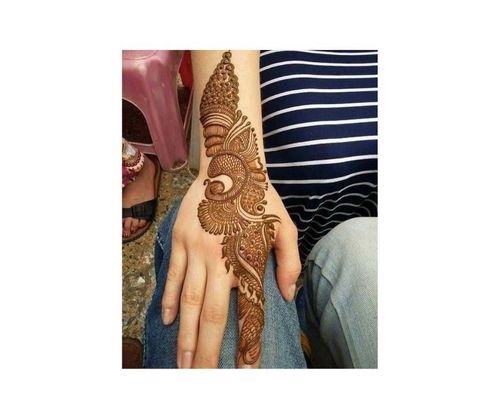 5. Simple Mehndi Design For Back Hand
This is another simple mehndi design with paisley and floral patterns. Each paisley is filled with different details. It spreads from one finger to the entire hand up to the cuff area. The addition of floral patterns and dot motifs adds to the beauty of this design.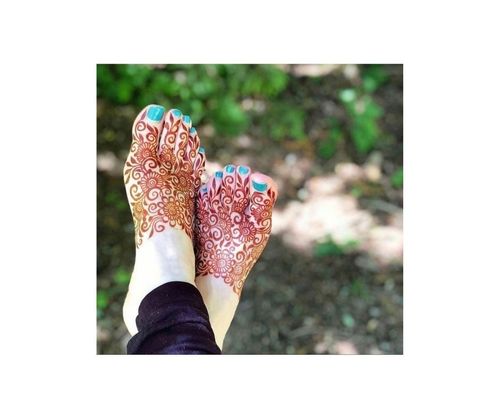 6. Floral Design For Feet
This is one of those mehndi designs which screams go big or go home. It is a very bold and prominent leafy design that covers the entire foot and is very aesthetically pleasing.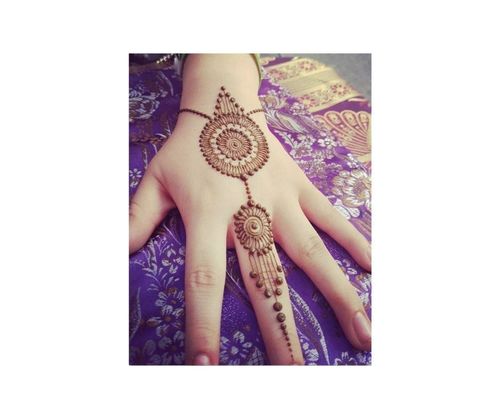 7. Hathphool Mehndi Designs
The jewelry mehndi trend is here to stay and this design of mehendi id the proof of that. Now, this design might be simple but it does not compromise on the beauty factor. It imitates a hathphool. With just two flowers joined by a chain, it makes to be a very stunning design that exudes elegance.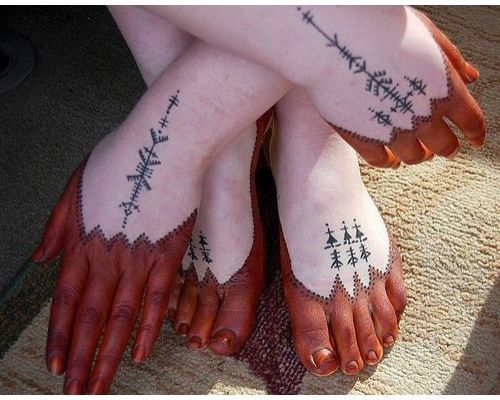 8. New Mehndi Designs
A lot of simple designs can come together to make for a gorgeous design like this one. A variety of simple and minimalistic mehndi designs are in trend this year. The design pictured here is a very unique and latest example of this trend. Mehndi stained fingers are paired with symbols from Tunisian runes giving the whole design new meaning.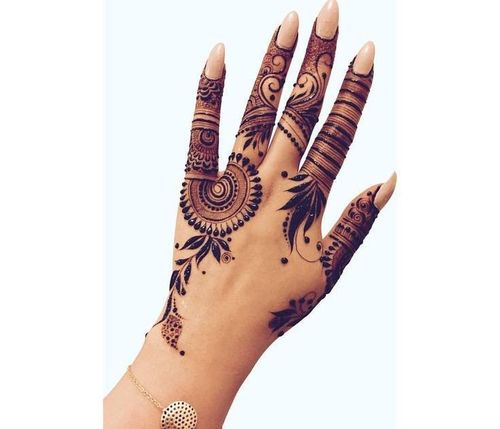 9. Minimalistic Chic Design Of Mehendi
This is a mehndi design that is not only simple but also minimalistic. Who knew a mere combination of dots and circles could make up such a graceful design. Each finger has a different pattern and looks extremely gorgeous.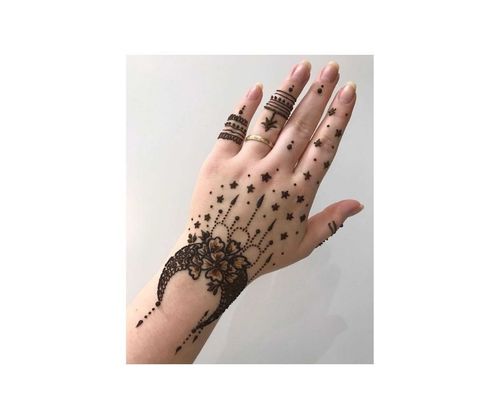 10. Starry Night Simple Mehndi For Eid
Embrace your love for the moon and stars with this pretty mehndi design. We love how the moon takes place at the cuff and the stars fill the rest of the hand. This is a simple mehndi design which will make you stand out in the crowd.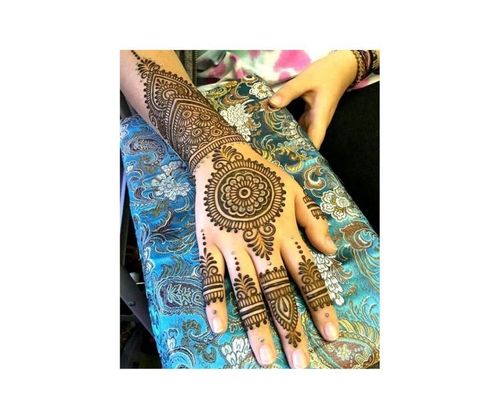 11. Simple Mehndi Design For Back Hands
Old is gold and in the case of mehndi designs, you can never go wrong with old traditional designs. Here is a floral mandala that is easy to make and takes over all of the backhands and goes up till arms. It is a popular design that continues to win hearts due to its versatility. If you are looking for a simple one which has round mehndi design, then this can be a perfect fit.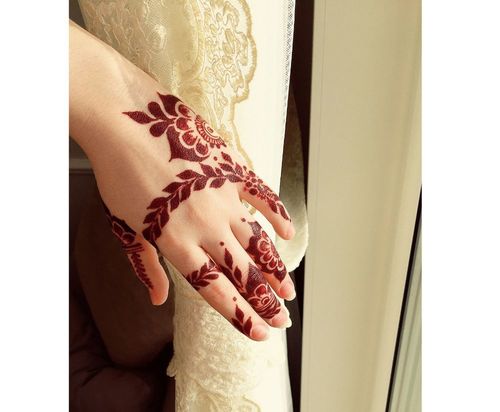 12. Simple Mehndi Design With Flowers
This is one of the best examples of simple mehndi designs for beginners. It does not include small intricate details but bold and prominent floral and leafy design. This design has a vine starting from one side to the other and acts as a differentiating line between the bold floral motif on the hand and the smaller ones on the fingers. Check out our guide to find the best floral mehndi designs trending this year.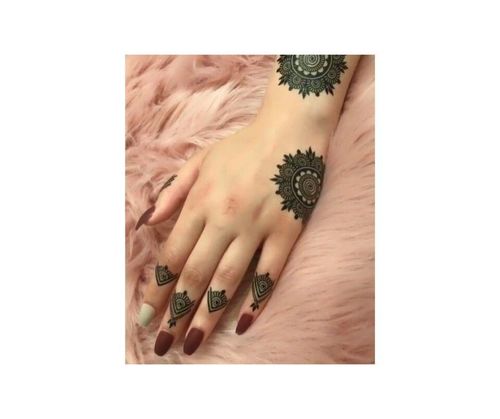 13. Floral Mandala
This is a very elegant and sophisticated design of mehendi. It is minimal and does not depend on complex designs. All it has is two mandala designs and a pretty small flower mehndi design on each finger. This is the perfect design for those who wish to make a statement that less is more.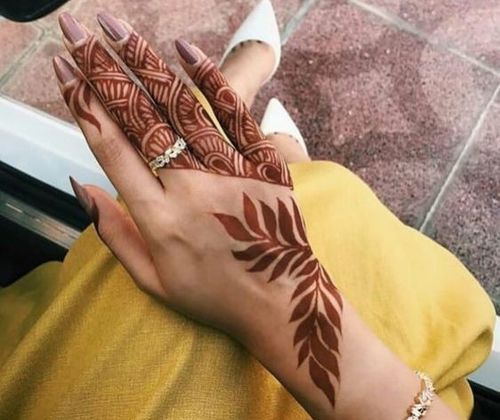 14. Bold Leafy Design For Hands
You don't need intricate details to make mehndi designs look attractive. And this leafy design of mehendi is proof of just that. It uses bold and prominent leafy motifs to complete the whole design. The floral motifs on fingers add an elegant touch. This is a mehendi design we would like to call minimalistic chic.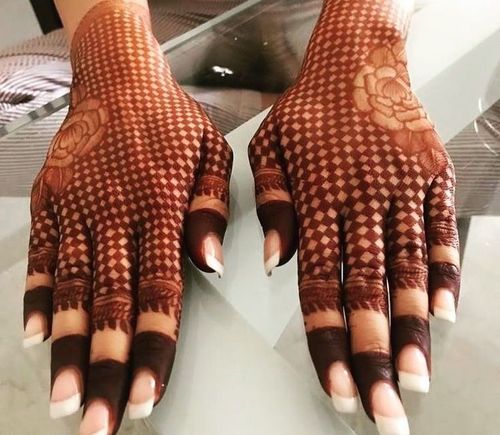 15. Check Me Not
The checkered design has taken everything by the storm. From bags to sarees, this design has gained a lot of popularity. Then, why not use it as a simple mehndi design for your hands? Another thing we love about this design is the placement of roses in this simply stunning design.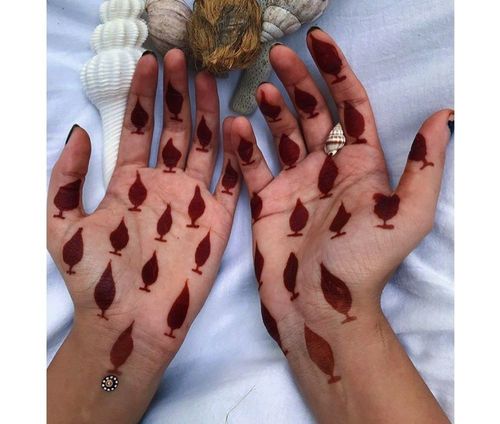 16. New Geometric Design
Looking for something new and different? Then this front hand mehndi design is everything that you could dream for. It is nothing like the mehndi designs you must have seen and there is a reason for that. This year such mehndi designs have taken Instagram by storm. The aim is to present mehndi designs in a new and modern light.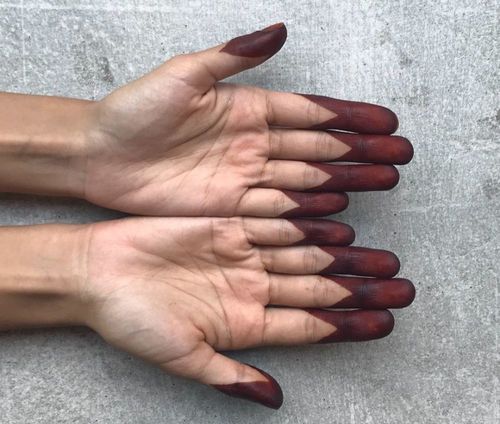 17. Not So Basic Henna Stains
If you are confused as to which design to pick, we would suggest you go for this simple yet effective mehndi design. It is a cleverly executed henna stain on fingers that is simple, elegant, as well as eye-catchy. This is the modern way of doing mehndi as per various Instagram bloggers.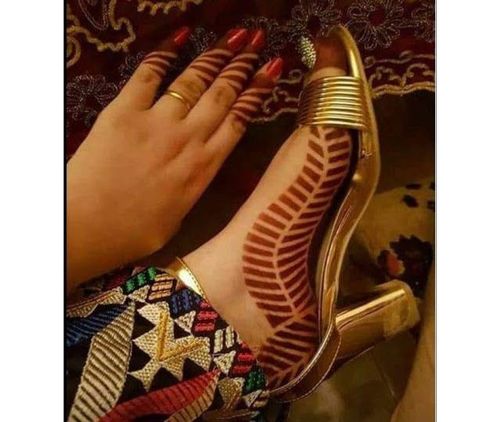 18. Tropical Reminder
Ever thought of going for a vacation to the tropical rainforests? If you haven't yet, then this design will surely make you. it is a simple mehndi design that imitates the large scaly leaves and gives you ultimate vacation goals. It might look simple but the clear spatial symmetry makes even more impressive.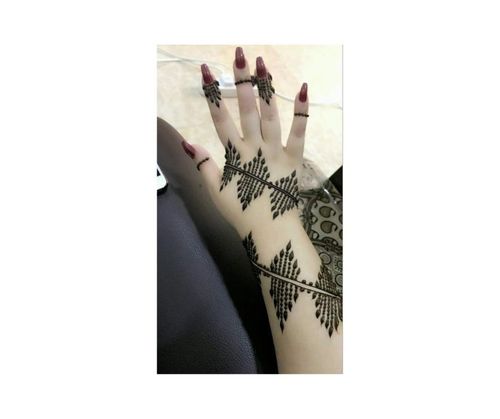 19. Beautiful Symmetric Design Of Mehndi
Looking for mehndi designs for hands which are symmetrical and look gorgeous? This is a simple mehndi design that can stand out with its simplicity and beauty. the dual alternating designs on the fingers fit extremely well.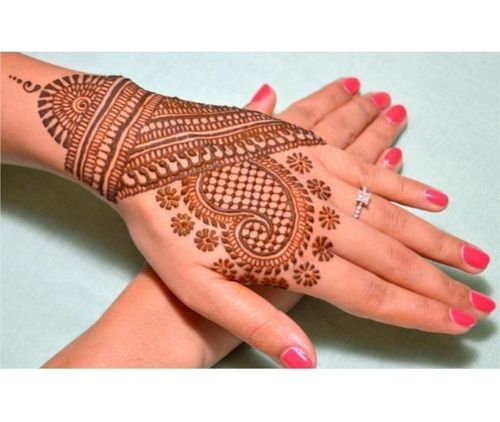 20. Simple Mehndi Design With Paisley
If you want a simple mehndi design that is different and yet do not want to let go of the paisley design, then this is the one for you. This is an impressive design of mehendi which uses paisley as its central piece. The broad slanting border brings uniqueness to this design. We loved the small floral motifs surrounding the paisley.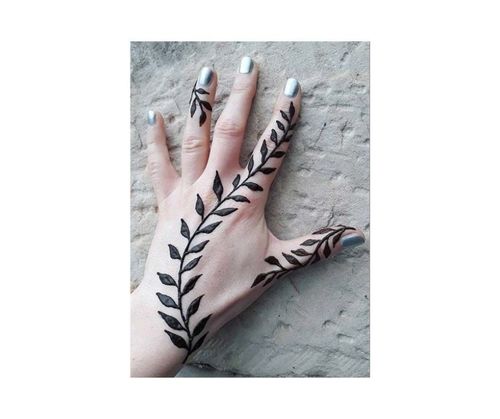 21. New Leafy Vine Design Of Mehndi
If nothing works out, then draw a basic leaf mehndi design like this one. This is one of those mehndi designs which are simple yet exquisitely beautiful. This is a simple mehndi design where a leafy vine covers the whole hand and yet leaves out ample of space to stand out.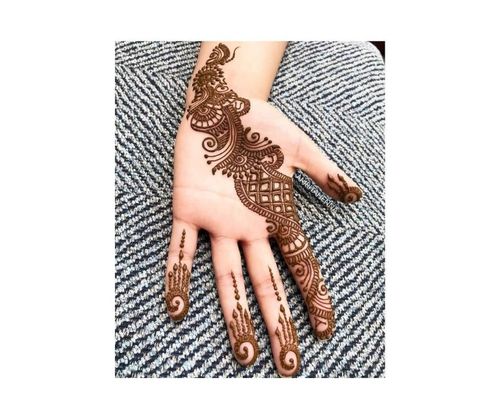 22. The Basic Design
This is yet another one of the simple mehndi designs for beginners. It uses most of the basic patterns and motifs including the floral pattern, paisleys, net pattern, and circular motifs among others.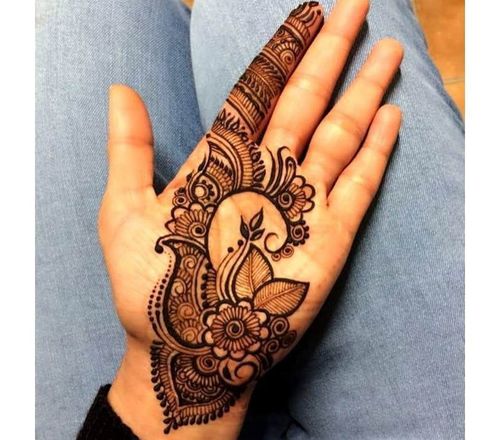 23. Beautiful Floral Mehndi
Floral designs never go old. This simple mehndi design with floral patterns is here proving this fact. This mehndi design combines both floral and paisley patterns with some spiral leafy vines. It looks stunning and can be drawn easily by anybody.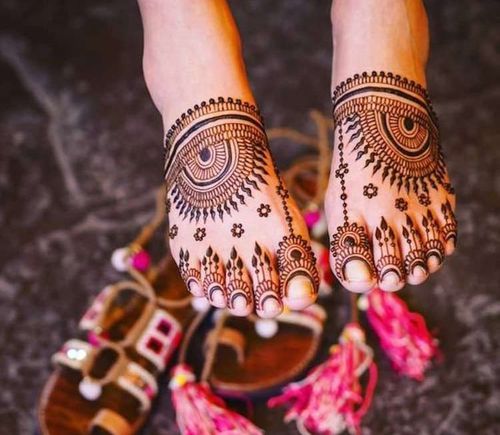 24. Beautiful Mehndi Designs For Feet
Jewelry mehndi designs are not just limited to hands. This simple mehndi design is a new and refreshing take on the jewelry design trend. It comprises of detailed sun-like design in the center and is finished off with a couple of thin and thick lines forming a border. The decorated toes complement this whole design beautifully.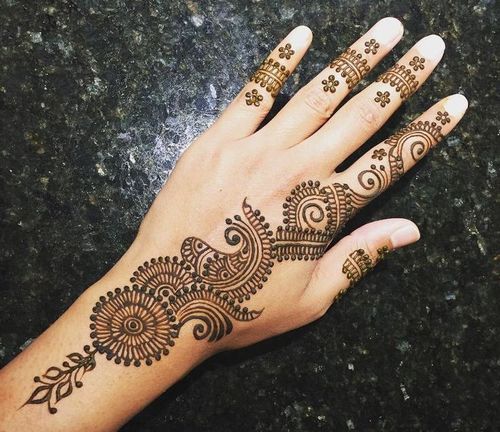 25. Simple Mehndi Designs For Beginners
This mehndi design is a perfect example of the Indo-Arabic mehndi design. It simply consists of paisley and floral patterns. This one is gorgeous and we love it.
26. Simple Mehndi Designs For Eid
This is yet another mehndi design for Eid. But this doesn't mean you cannot make it on any other occasion. This design uses a combination of roses and the moon. If you love either or both of these elements, then this is the design for you.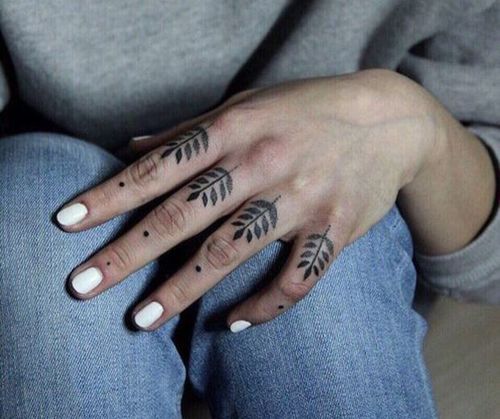 27. Chic, Minimal, And Simple Mehndi Designs
Gone are the days of a fully painted backhand. You can also move on from a simple Arabic design which is usually the choice for backhand designs. Choose this simple mehndi design instead, with its amazing leafy motifs drawn simply on the fingers paired with dots. It is a very simple, modern, and elegant mehndi design that you can carry around as you go about your daily life.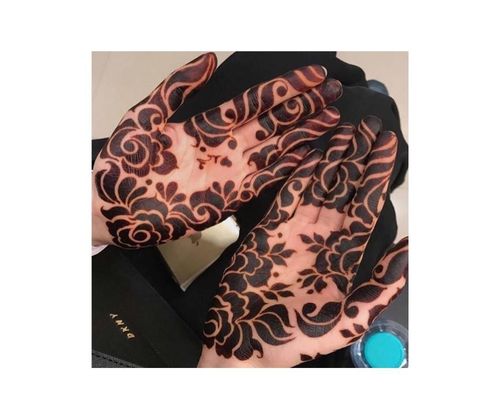 28. Simple Design Mehndi With Roses
This is a bold and thick Arabic mehndi design. It has strategically placed roses coupled with the visible space which makes this design ethereal.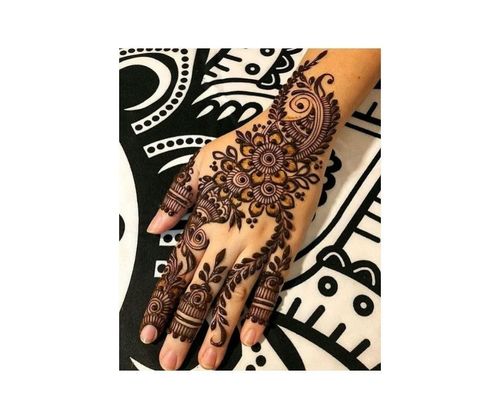 29. Beautiful Design Of Mehendi
This simple mehndi design uses the floral and leafy vine motifs to create something entirely new. The light shading inside the floral pattern is eye-catchy and adds to the beauty of this mehndi design.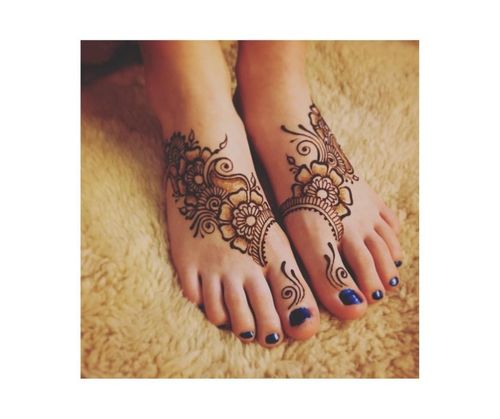 30. Simple Mehndi Designs For Feet
This is a mirror mehndi design for feet which means the design one foot is the same as on the other. It is a simple design for beginners. It uses simple floral and paisley designs in a pretty cluster along with some leafy and spiral vines.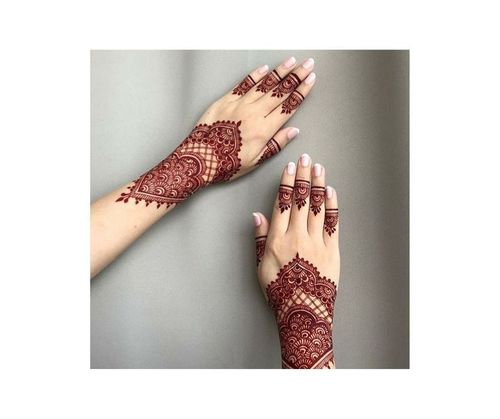 31. Simple Mehndi Design For Cuffs
Moroccan mehndi designs are known for their exquisite details especially on the cuffs and fingers. This is one such design. A simple floral pattern sits amidst an arch-like design. The details are simple yet beautiful and look very sophisticated and graceful.
This marks the end of our list of the 31 simple mehndi designs to help you choose the best designs and be ready for any occasion you want to take part in. Get inspired by the variety of designs we presented and we promise you would love it.